It's almost that time of the year again — the holiday season! Here are some holiday email marketing tactics to entice customers and boost sales.
Spread the cheer this year with a killer holiday marketing strategy. Email is a great channel for holiday marketing campaigns. Use it to boost conversion rates and capture some of that holiday spend.
The holiday shopping season is huge for both ecommerce giants and small businesses. In fact, the holiday season generates 20-30% of retailers' annual sales.
To get the most out of this holiday season, it's important that your holiday emails stand out.
Need inspiration? Here are a few ways to make your holiday email marketing campaigns sparkle.
What are the benefits of holiday email marketing?
Email marketing is perfect for holiday campaigns. Use holiday email marketing to reach your target audience where they are.
Here's why holiday email marketing matters:
Boost brand awareness: Get noticed during the holidays. Emails are one of the best ways to rise above the noise during the busy holiday season.
Attract new customers: Grow your audience with special offers and holiday promotions. Then run campaigns after the holidays to turn first-time shoppers into loyal customers.
10 holiday email marketing strategies that spark sales
For holiday email marketing campaign success, you need a strategy.
1. Send targeted holiday emails with segmentation
A targeted holiday email generates more engagement than a generic email blast.
Segment your holiday email lists by:
Interest: Group subscribers based on previous purchases or website interactions.
Year-round vs seasonal shoppers: Year-round customers have different needs than holiday shoppers. Reward the first group with a loyalty program. Entice the second with discounts and promotions.
Coupon lovers: Target only price-sensitive customers with coupon codes. This way, you don't miss out on customers who are willing to buy full price.
In the example below, Airbnb offered a holiday-themed discount and personalized location suggestions.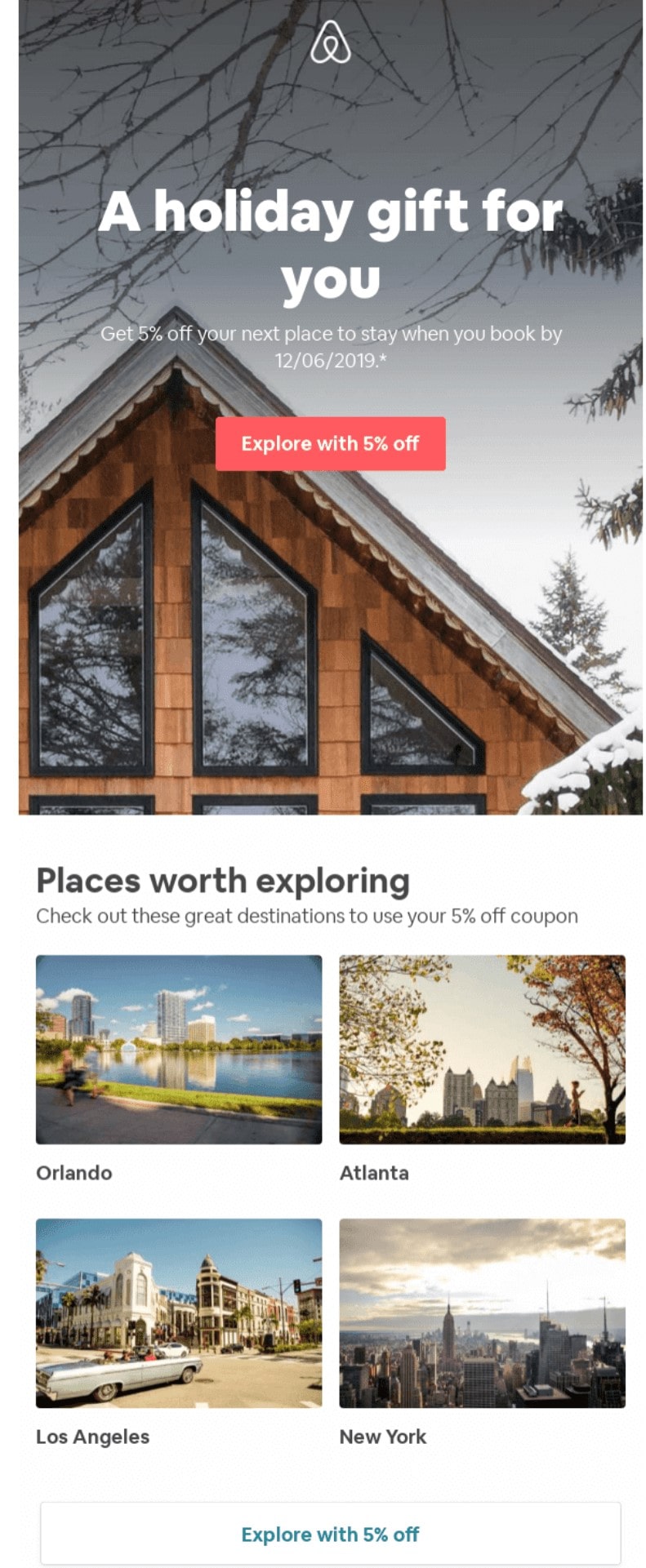 Further reading: Using Segmentation in Your Email Marketing: A Comprehensive Guide
2. Run automated holiday email campaigns
Email automation is one of the most versatile marketing tools. Use it to reach the right people, with the right message, at the right time. This is especially important during the busy holiday season.
Here are a few email automation strategies to get the most from your holiday emails:
Set up abandoned cart automation workflows. Send abandoned cart emails to secure sales during the holidays.
Target warm leads using lead scoring. Send emails to leads who are likely to buy. Email marketing tools like Brevo track user behavior. You can then create lead scoring based on this data.
Use a seasonal welcome email. Target new subscribers over the holidays. Send a welcome email with a special discount or holiday theme.
The Black Friday email below alerted a customer about an item they viewed. The "reveal new price" button encourages the subscriber to click.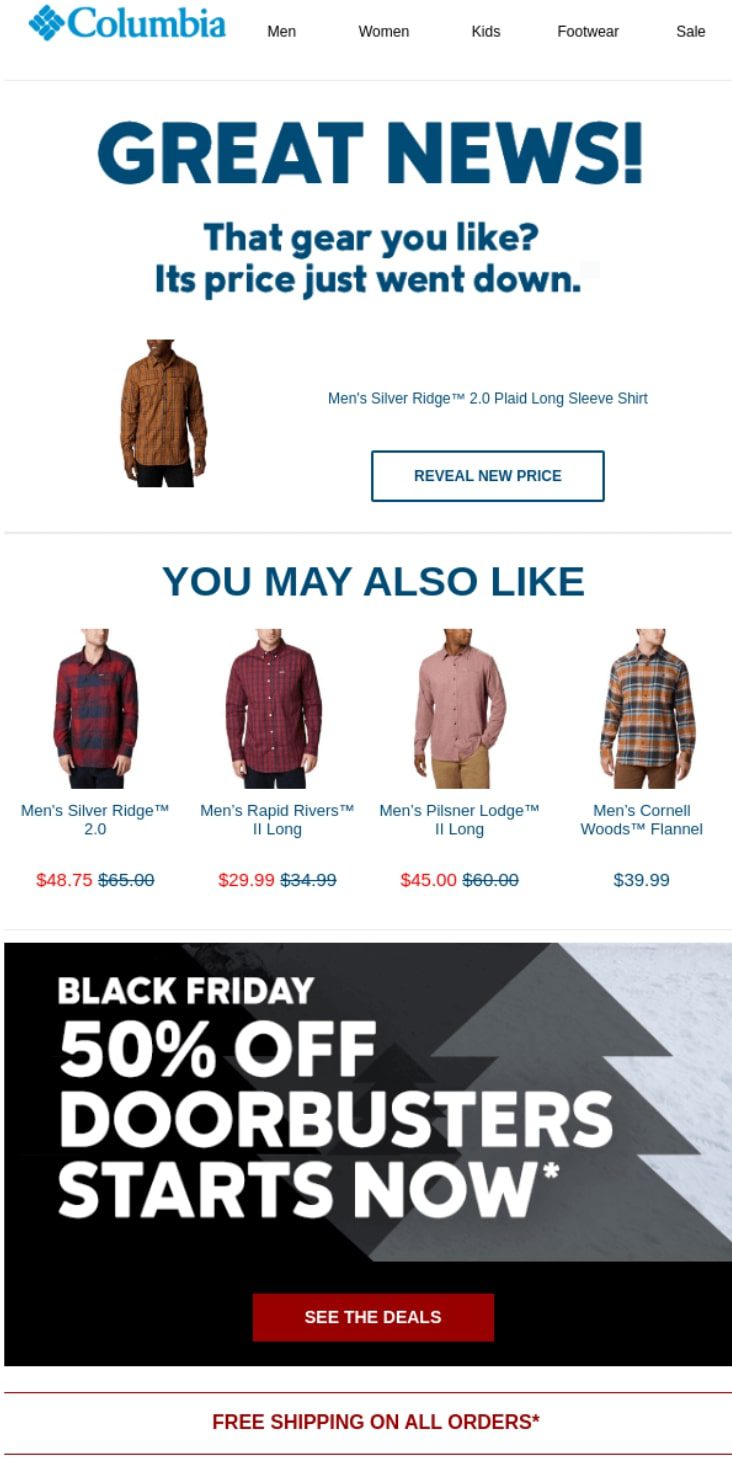 3. Send personalized holiday email campaigns
More than social media and other channels, email is easy to personalize. Engage your email subscribers with targeted content. Add a first name to the subject line. Send campaigns based on customer behavior like purchase history.
A personalized touch will make your campaign stand out from the competition. Use email personalization to capture your subscribers' attention and drive sales this holiday season.
4. Spruce up your holiday email subject lines
A killer holiday email subject line is one of the best ways to boost open rates. Engage subscribers with attention-grabbing subject lines. Use FOMO, emojis, personalization, and more.
5. Share holiday gift guides
Play Santa this year and entice your customers with a holiday gift guide. This puts your products front and center. It also inspires holiday shoppers. After all, who doesn't have trouble coming up with Christmas gift ideas?
This kind of holiday email marketing strategy provides value to your customers. The holidays are hectic enough without having to shop for loved ones. Your gift guide takes some of the stress out of the holiday shopping experience.
This holiday email marketing campaign from Perch & Parrow is a great example.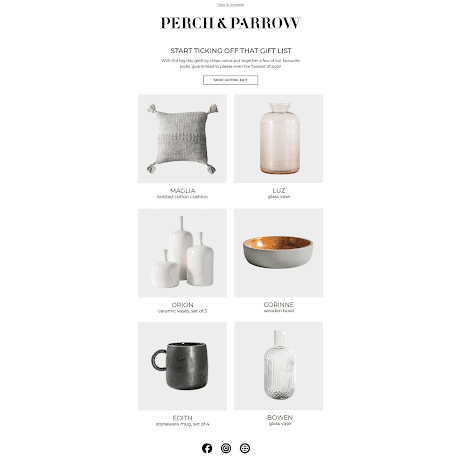 Created with Brevo
6. Run campaigns on lesser known holidays
Big shopping events like Black Friday and Cyber Monday dominate holiday email marketing. Stand out from the competition by running campaigns on lesser known holidays as well.
Think about Giving Tuesday, Green Monday, and Small Business Saturday. An impactful campaign during one of these holidays can engage customers and make your business stand out.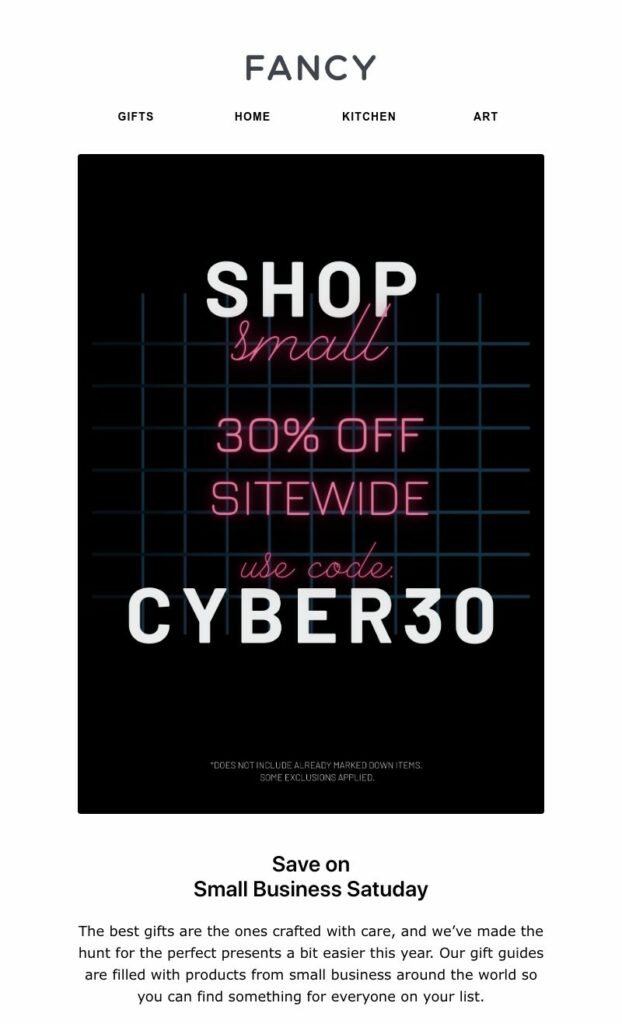 7. Promote holiday sales early
Two of the biggest shopping events of the season are Black Friday and Cyber Monday. Start promoting these holiday sales early. Don't wait until the last minute to send out your campaigns!
Let your subscribers know ahead of time so they don't miss out on your holiday offers. Build anticipation with countdowns. Share limited-time deals and early bird specials. And always: stick to a smart holiday email campaign schedule.
It's better to start small and ramp up your efforts as the holidays approach. A good rule of thumb: don't increase your year-to-date email frequency by more than 3X during the holidays. Otherwise your emails will start to look like spam, which can result in unsubscribes.
8. Send post-holiday email campaigns
Your holiday email marketing strategy doesn't need to end as soon as the holidays are over. Send a post-holiday email campaign to keep your holiday customers around.
After the holidays, follow up with a post-purchase email campaign. This will encourage customers to make future orders. Or, share a fun promotion like in the post-Christmas example below.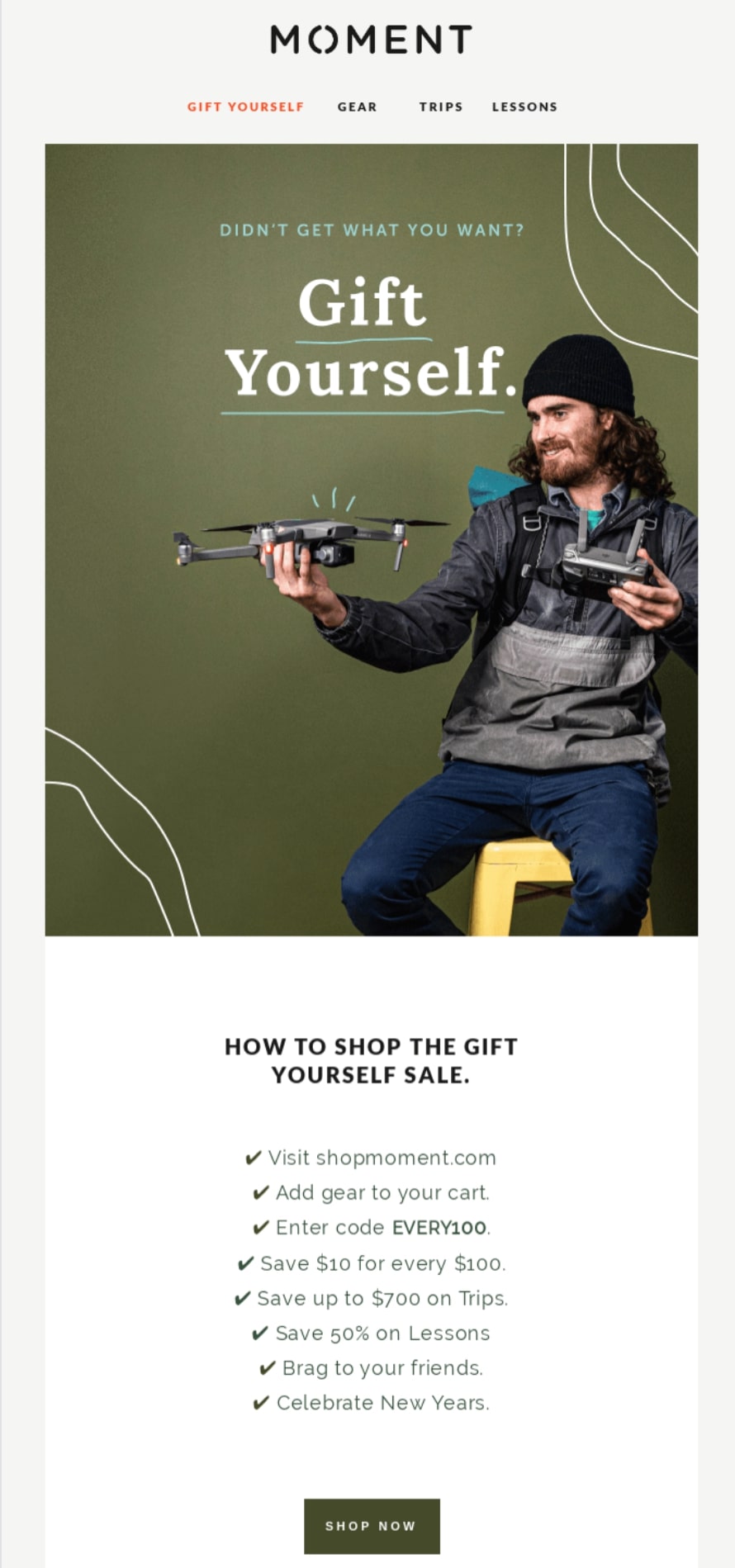 9. Boost sales with mobile-friendly holiday emails
These days, more people shop on their mobile devices. Mobile purchases make up 40.4% of ecommerce sales. This trend is unlikely to go away anytime soon.
Most people also open emails on their phones. This makes the inbox a great place to target holiday shoppers.
With responsive email templates, it's easy for you to send beautiful, mobile-friendly emails that boost sales.
10. Use holiday email templates
Engage customers with a festive, eye-catching email design. Play around with your branding and add a touch of holiday visuals.
This holiday email marketing campaign from Starbucks is a great example.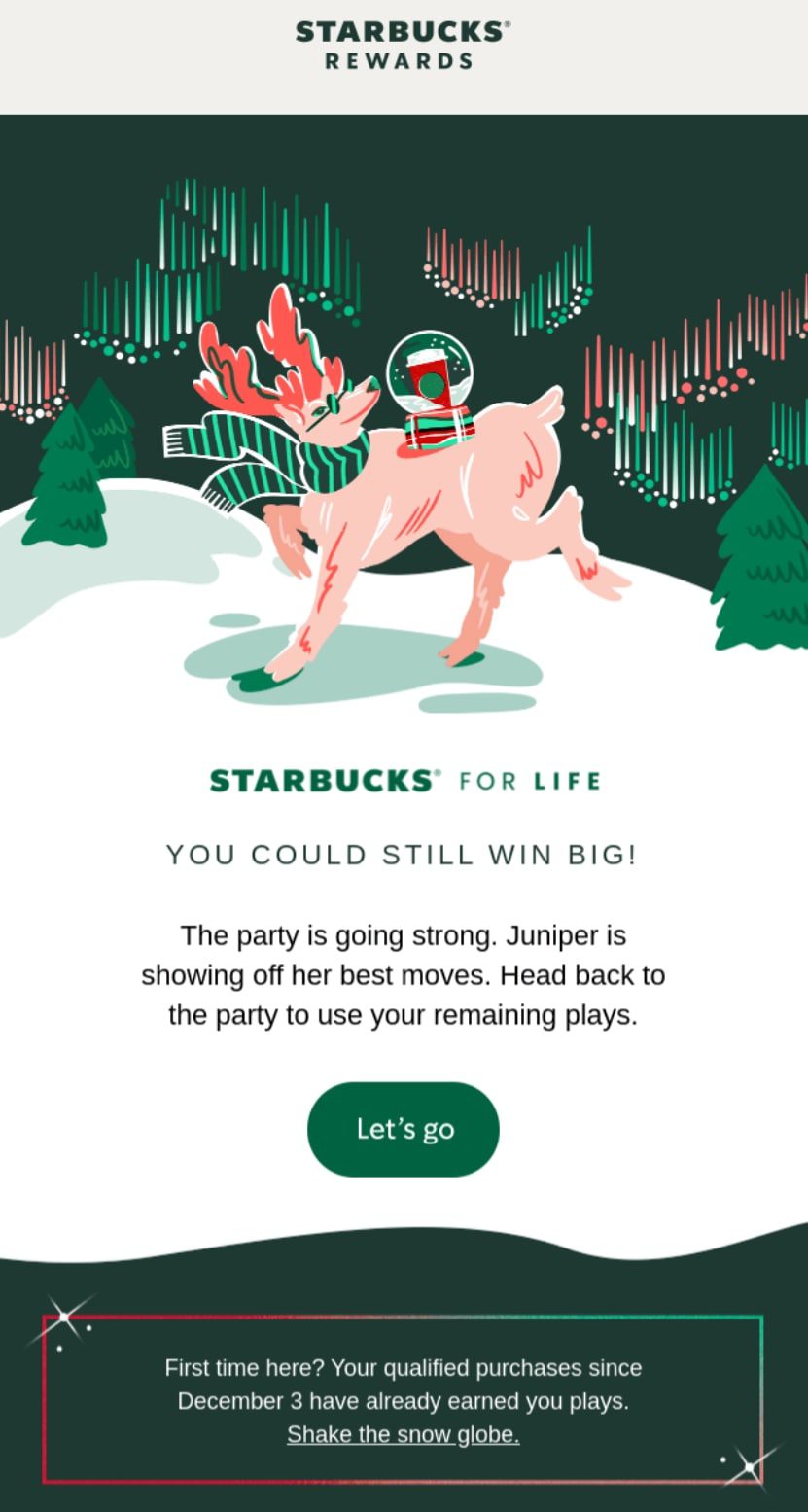 Get your free holiday email marketing template
This season, make your holiday email marketing campaigns sparkle.
With Brevo, building the perfect holiday email marketing campaign is quick and easy with our Drag & Drop editor. You can also choose from our library of free holiday email marketing templates.
Launch your holiday email marketing campaign with Brevo
Get started sending email campaigns with Brevo. Free plan includes core email marketing features, unlimited contacts, 300 emails/day, and over 40 email templates.