Reading time about 13 min

Black Friday is just around the corner. Time to make major sales! This year, ramp up your Black Friday marketing strategy and send Black Friday emails that convert. Here's how.
Black Friday marks the start of the holiday shopping season. For both ecommerce and small businesses, Black Friday is a huge sales driver.
Retail sales for in-store and online shopping for Black Friday increased 12% from 2021 to 2022, reaching new records. Competition for Black Friday customers is fiercer than ever. This season, capture some of the Black Friday spending with a killer Black Friday email campaign.
Start sending Black Friday emails that boost open rates and drive sales. We've gathered the best Black Friday email examples to inspire your Black Friday email strategy.
How do you write Black Friday emails?
Black Friday email marketing doesn't have to be complicated. In fact, great Black Friday emails need just two ingredients:
Sense of urgency: Black Friday deals only come once a year. Play on your customers' fear of missing out (FOMO) with irresistible sales and limited-time offers.
Clear email copy that fits your brand: Most customers expect businesses to offer Black Friday deals. Your campaign should be specific. Be sure to say 1) what your Black Friday offer is and 2) when it will take place.
Not sure where to start? In this article, we've gathered a few of the best Black Friday email examples to inspire your campaigns.
Black Friday email examples and tips that boost sales
Get inspired for your Black Friday email marketing campaign with these examples and tips.
Write a top-notch Black Friday email subject line
You only have a few seconds to grab the reader's attention. Stand out from the flood of holiday emails with eye-catching Black Friday email subject lines.
Entice customers with the mention of "sales," "free shipping," and markdowns. Optimize your subject line to add to the sense of urgency with phrases like "won't last" and "ends at midnight."
Add email personalization to the subject line. This will encourage subscribers to click on your Black Friday campaign. ("Jane, get these Black Friday deals while they last!") 
Emojis in email also encourage open rates so long as it's not excessive, so don't forget to include them in your Black Friday email subject lines too.
Use a simple Black Friday email design
Make your campaign stand out with a Black Friday email design. Your visuals shouldn't be over the top. A simple Black Friday email template will call focus on key pieces of information.
Email marketing services make it easy to design beautiful campaigns your customers will love. With Brevo's drag-and-drop editor, you can build holiday email marketing campaigns in minutes.
When it comes to Black Friday, less is more. Many brands opt for a clean all-black or black-and-white email design in honor of Black Friday.
This minimalist Black Friday email design from Herschel is a great example:

Ultimately the design is up to you, so if simple isn't part of your brand identity, no need to make it minimal.  
It's still important however to make your call-to-action button (CTA) stand out. And don't forget an unsubscribe button for legal compliance (don't worry, Brevo includes this for you automatically in its email templates).
Build excitement with a Black Friday countdown
Nothing builds excitement more than a countdown timer. In the days leading up to Black Friday weekend, send emails with a countdown. This creates a sense of urgency and plays on your customers' FOMO.
Check out this Black Friday email example from Skyscanner for inspiration: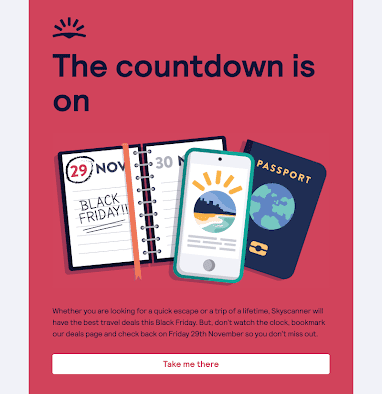 Showcase your products and deals
This holiday season, let your products and Black Friday deals take center stage. Tell your email subscribers exactly what they can expect from your Black Friday sale.
Follow email design best practices to get the most out of your Black Friday campaign. If you have a huge markdown, write it in bold font. Drive conversions with high-quality images of your products and a clear call to action. 
This Black Friday email design from Aesop is a perfect example:

Run an alternative campaign
Black Friday is an important sales event. It's also an opportunity to make your business stand out from the pack. Go beyond your average, run-of-the-mill Black Friday shopping. Run an alternative Black Friday campaign to raise brand awareness.
On Black Friday, REI reaches customers with their annual #optoutside campaign. Their Black Friday messaging shifts from buying REI's products to enjoying nature. This fits with their brand mission and engages customers on a personal level.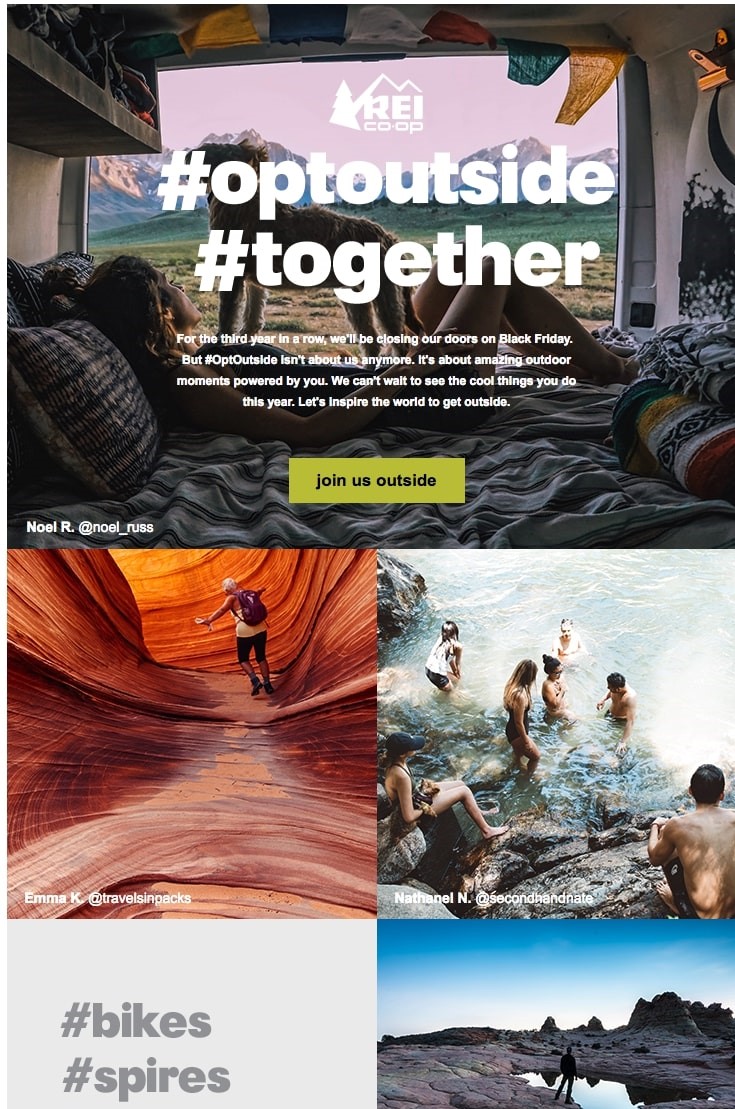 Offer a free gift
Go beyond Black Friday sales by offering your customers a free gift. This will entice customers who can't be swayed by flashy discount codes. After all, who doesn't appreciate a freebie?
Throw in a complimentary item when customers buy a particular product. Or, let them know your Black Friday drink is on you. In your Black Friday email campaign, be sure to clearly explain how customers can claim their free gift.
In this Black Friday email example, Carbonmade offers their subscribers two months of their Pro plan for free.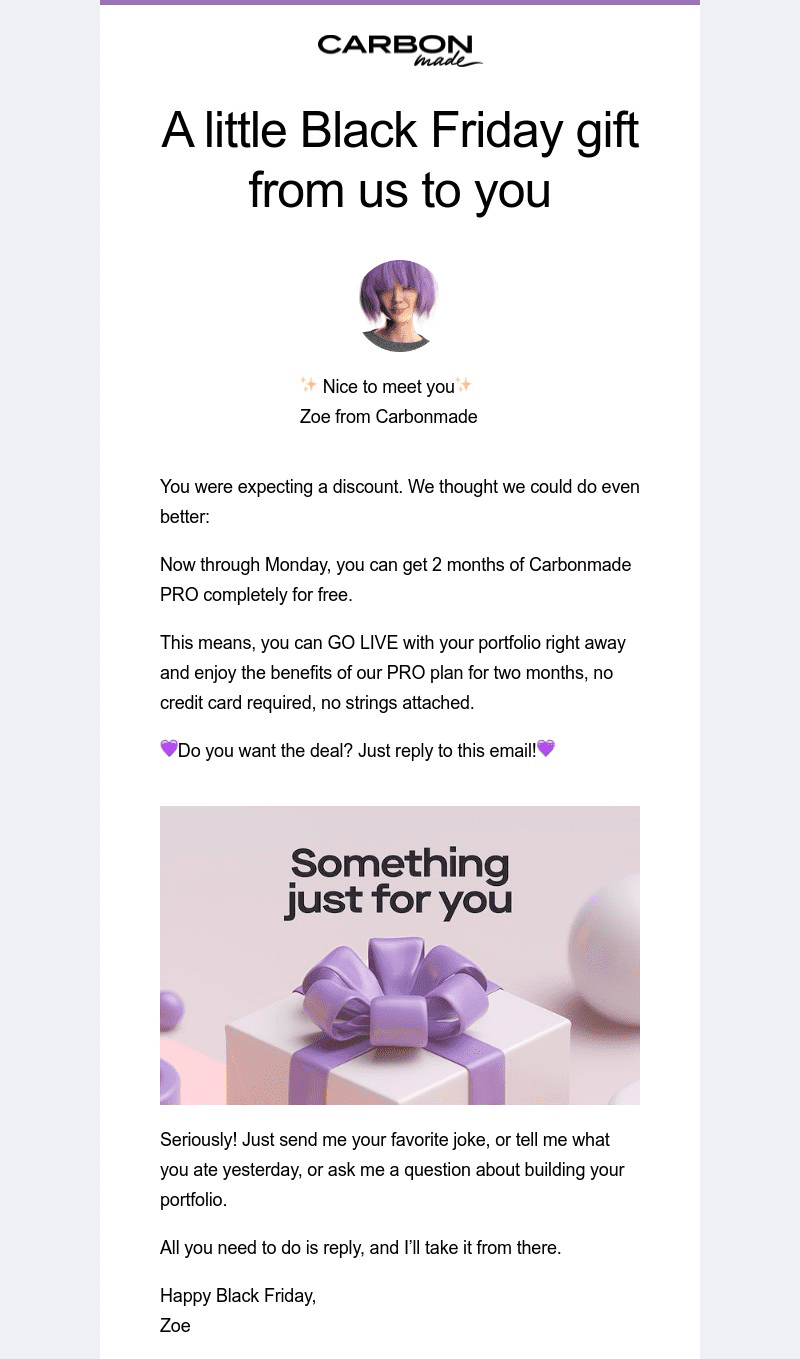 Run a limited-quantity sale
Let your subscribers know you're having a Black Friday sale on your most popular products — but only for the first 100 sold. This is bound to create a sense of urgency for your fans.

Treat your subscribers to a VIP access sale
Your subscribers are already in the club, so reward them for it! Invite them to an exclusive early-access sale and send them a promo for your online store.

Pioneer takes the extra step to announce their member-only sale in advance in this Black Friday mailer. 
Their marketing message here makes subscribers feel like royalty by calling their coupon a "personal discount code". Use email copy that resonates with your audience for more engaging emails.
Bring out the brand identity
Your subscribers follow your brand because they liked what they saw. So let your brand voice shine on Black Friday (and every day).
This Black Friday email by Bottle Rocket Hot Sauce Co. is unforgivably true to its brand identity. From the email copy to the CTA button, this marketing message couldn't be more authentic.
Subject line: all sauces are $6.90 each today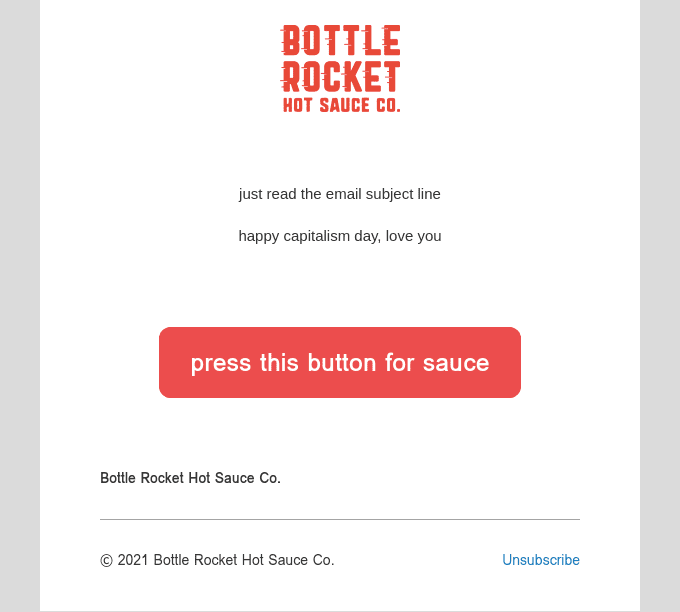 Run a giveaway
On Black Friday, consider running a giveaway. Like complimentary gifts, everyone loves a chance to win a free goodie.
Let customers know what kind of prizes you're offering. For example, this Black Friday giveaway from Huckleberry gives email subscribers the chance to win a Casper mattress.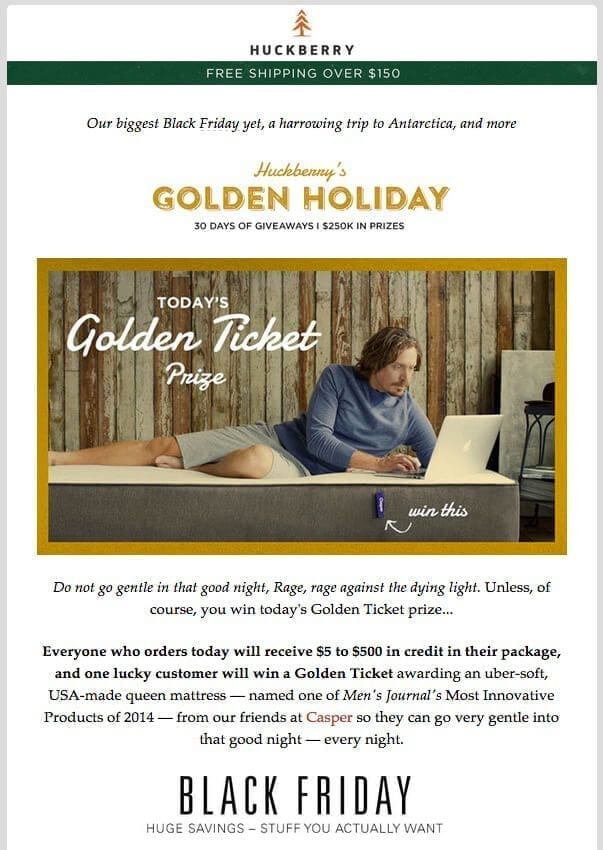 Create excitement with a randomized discount
Add some fun to your Black Friday email campaign with a randomized discount or prize. Use attention-grabbing gifs in email to make it even more engaging.
This Black Friday email example uses an eye-catching scratch card design. The animated gifs call attention to Forever 21's Black Friday discounts: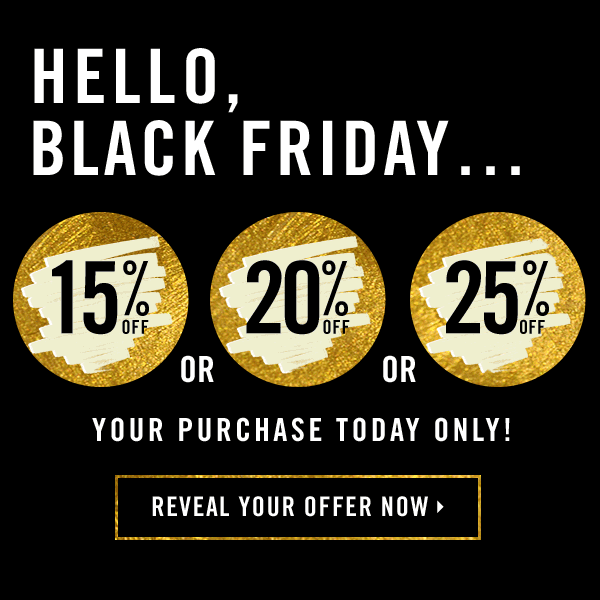 Give back
Shoppers are growing more conscious of their purchases. This Black Friday, help your customers spread some good. Consider donating a portion of your Black Friday proceeds to an important cause.
In this example, Italic announced they will donate 10 trees for every Black Friday order to help offset retailers' environmental impact: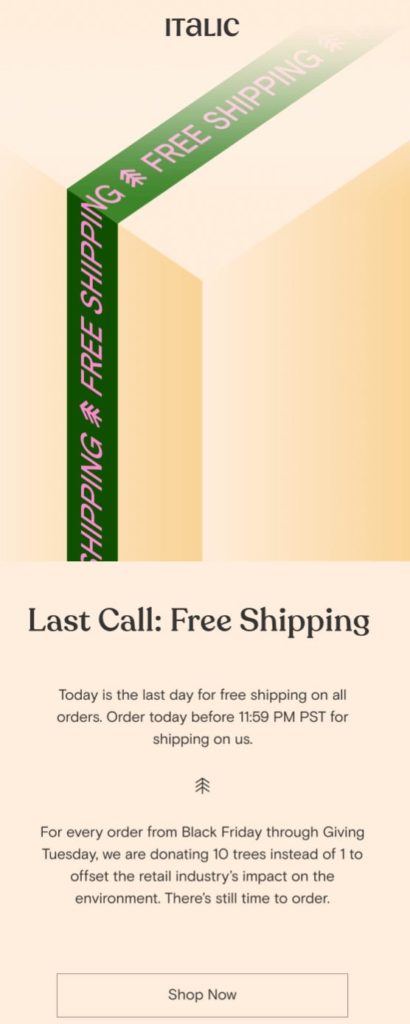 How do you announce Black Friday sales?
When it comes to announcing Black Friday sales, it's important to strike the right balance. You don't want to come across as spam. At the same time, you want to make sure customers don't miss out on your Black Friday deals.
Typically a Black Friday email marketing sequence includes at least three emails: teaser, launch, and last chance.
1. Teaser email
Your Black Friday teaser email should build anticipation for your Black Friday sale. Give customers information. Let them know what kinds of deals to expect and when the sale will take place.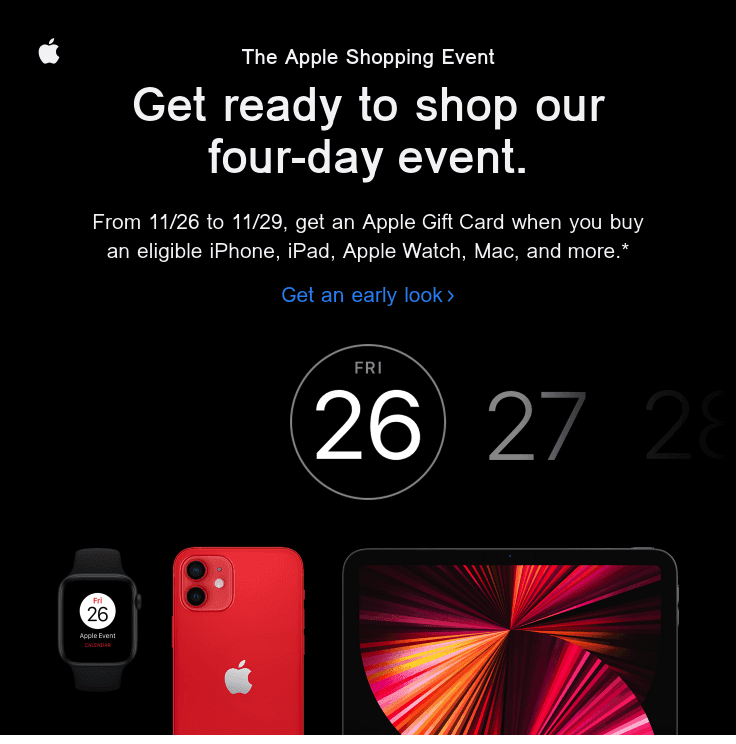 2. Launch email
Tell customers when your Black Friday sale is live. Let them know how they can take advantage of it. Highlight your best Black Friday offers. And don't forget to include a clear CTA!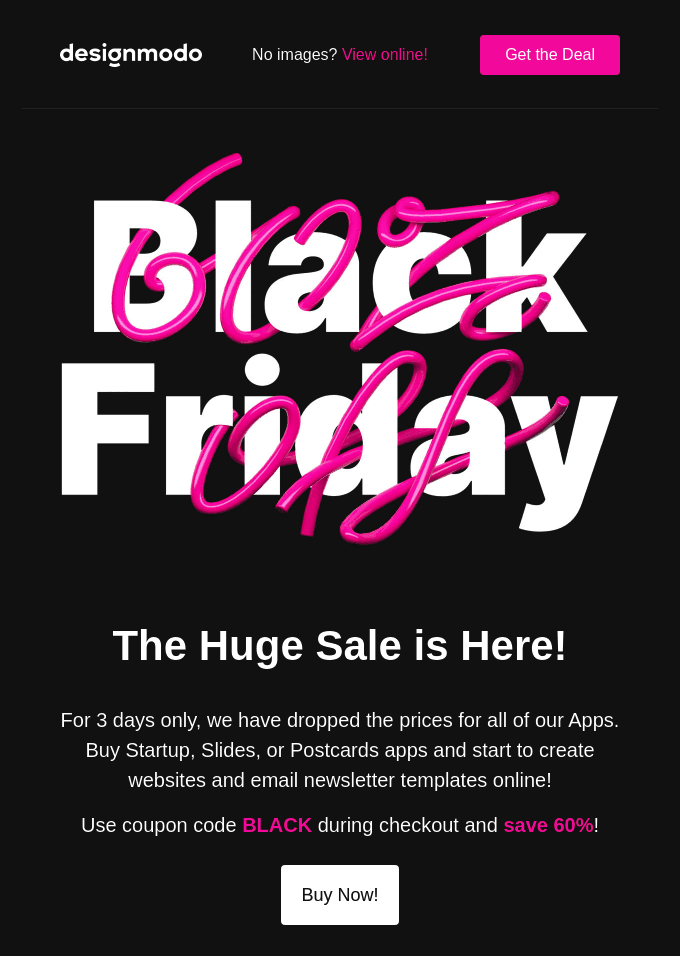 3. Last chance email
Right before your Black Friday sale ends, let customers know they can still get in on the deals. This creates a sense of urgency. It might also catch those who missed your previous emails.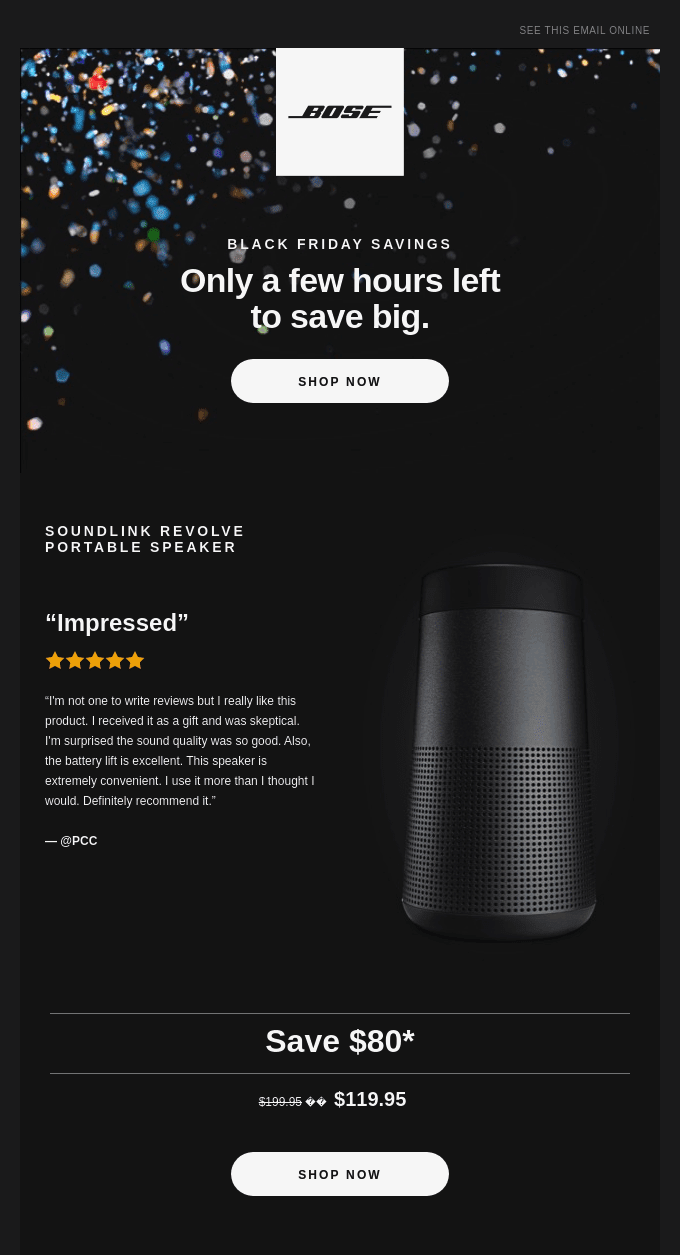 When should you send Black Friday emails?
Send your first email on Friday, November 17th, one week before Black Friday.
Follow up with a second email to announce the start of your Black Friday sale on the morning of November 24th. 
In the final hours of Black Friday, send a last-chance email to encourage customers to make a purchase. If you decide to extend your Black Friday sale, a fourth email the next day is appropriate.
How many emails to send during Black Friday?
It is standard to send two Black Friday sale emails on the day itself. One email to announce the start of the sale, and a second to let customers know the offer is almost over.
However, not every business needs to follow this exact rule. It depends on your goals for your Black Friday campaign and your relationship with your audience. In the REI example from earlier, one email was enough (and was also the whole campaign).
Here's a suggested Black Friday email marketing sequence for sales and special offers:
Email 1: One week before — Black Friday teaser
Email 2: Sale launch — Black Friday sale announcement
Email 3: Final hours — Last chance reminder
Email 4 (optional): One day after — Extended Black Friday sale announcement
Email automation allows you to plan your Black Friday emails in advance. With Brevo, automate your Black Friday email marketing campaigns to save valuable time and effort.
Create your Black Friday email today
Brevo's free plan includes access to 40+ email templates, 300 free email sends/day, and signup forms to grow your contact list.