Reading time about 12 min

What is a lead scoring model?
A lead scoring model is a way of assigning a "score" to each one of your contacts. It's an estimate of how interested they are in your business and how likely they are to buy your product or service. This score qualifies prospects for lead-nurturing actions such as marketing messages or sales outreach.
---
A lead scoring model is a powerful tool for finding your potential customers, making sales, and saving time doing it all. When it comes to nurturing prospects, don't rely on your gut feeling. Create a sales cycle backed by data and improve your marketing strategy. 
Follow along for:
The benefits of using a lead-scoring model
How to build a lead-scoring model
How to set up lead scoring in a CRM
Other use cases for lead scoring
The benefits of using a lead-scoring model
Nobody likes to feel like they're being sold something. It's uncomfortable and can sometimes even feel invasive, especially if you're not looking to make a purchase at that exact moment.
This is what often happens when businesses don't take the time to nurture or guide leads through the acquisition life cycle and why lead scoring is so beneficial to a business.
A lead scoring model helps you find the potential customers who are the best fit for your product and enables you or your marketing team to more effectively nurture them down the sales funnel.
Find your most qualified leads
It's better to spend time on one high-quality lead than on 10 uninterested or unqualified leads.
A lead scoring model is based on customer details that are important to your marketing and sales goals. This methodology allows you to focus on contacts who are most likely to convert so you don't waste your marketing efforts elsewhere.
Know where a prospect is in the customer journey
Many businesses, particularly B2B, require a large amount of trust and education before they can convince leads to make a purchase. That's why it's so essential to track potential customers.
As they move closer to a conversion, adjust your marketing tactics to nurture them from a marketing-qualified lead (MQL) to a sales-qualified lead (SQL).
Optimize your campaign strategy
Knowing if a lead is still an MQL discovering your product or if they are sales-ready means you know what kind of campaign is best to get them closer to that purchase. For example, send a campaign with customer testimonials to warm leads to encourage them to buy.
You can also send more frequent marketing messages to leads with a higher score since they are more interested in your business or product.
Improve the conversion rate of leads
Lead scoring models build on previous customer data to help you create a smoother sales process for the next lead.
Streamline sales and marketing alignment
Sending a prospect to sales when they aren't ready can turn a lead away from your business and send them to a competitor.
Having numerical values for leads makes it clear when a lead is ready for the sales department, and when a lead needs to spend more time being nurtured with marketing campaigns.
Lead scoring works particularly well with email marketing. Here's a video explaining the concept:
How to build a lead scoring model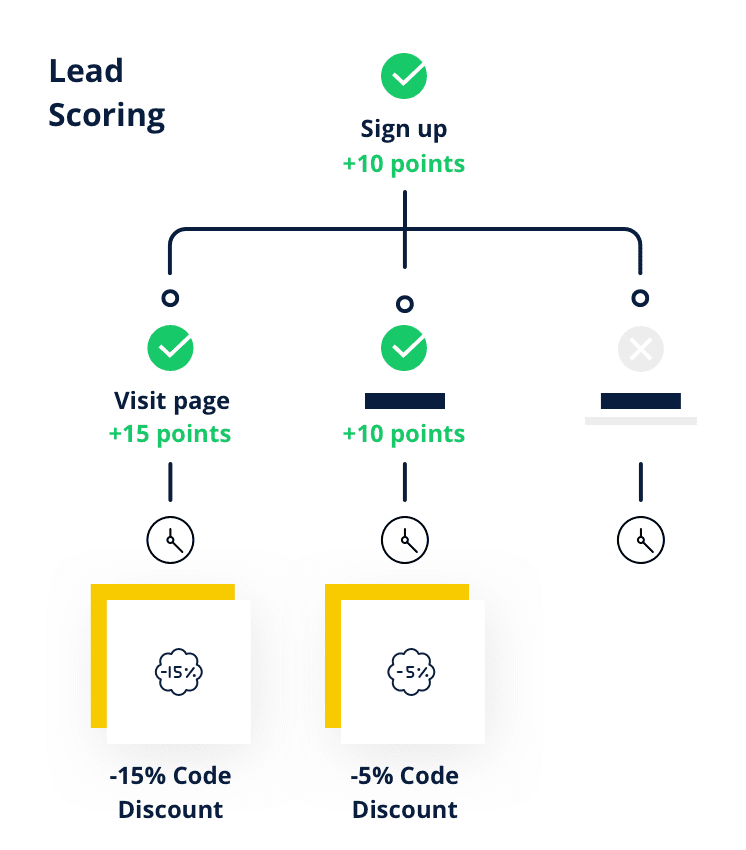 Building a lead scoring model is a joint effort between you and your sales team. Together you will look at previous customer data to see what steps customers took before buying something and assign it a numerical value by importance. Let's see how it's done. 
1. Define the important steps leads take before acquisition
The first step is mapping out your acquisition life cycle. This usually consists of 4 stages:
Awareness
Engagement
Exploration
Acquisition/Retention
For lead scoring, you should really focus on the first three stages.
To create your lead scoring model, identify key actions that leads take and categorize them into these stages. After, determine the proper amount of points to assign to each action for your lead-scoring automation workflow.
Awareness
Awareness is at the very top of the acquisition funnel: the very first actions users take when they visit your site.
When lead scoring of known contacts, this is usually signing up for your email list. You can also include people who give you their email addresses at events or to enter a contest.
These actions are typically worth a relatively small number of points (e.g. 5 or 10) of your lead scoring model.
Engagement
At this stage, contacts move beyond just having heard about your business to actually engaging and showing real interest. Actions at this stage include:
Downloading an ebook or other resources from your site
Frequently engaging with your email campaigns (e.g. opened your last 3 newsletters)
Actions in this stage should receive more points than the previous (e.g. 10 or 20) because they show a higher level of interest in your business.
Exploration
This is the final stage before conversion. Typically, it's the point when leads realize they need a solution and are researching their options. Exploration actions include:
Contacting sales
Filling out a form for a quote
Visiting your pricing page
These actions shouldreceive the highest amount of points (e.g. 30+) and should push your contact into the category of "sales qualified leads (SQL)." At this stage, your prospect is ready to be passed to the sales team for a sales rep to make contact.
For more information on how to create these workflows in Brevo, see our detailed tutorial.
2. Assign points to your scoring criteria
You have your acquisition steps outlined, but how to decide how many points prospects get for each step?
The points you give or take depend on a lead scoring model that you create. You need to decide what criteria are important for your sales cycle.
When prospects are good leads, follow the same steps as other customers who converted or match your ideal customer profile they gain points. Negative scoring is equally important. Take away points when a prospect shows they're losing interest.
Let's dive into detailed examples of point-scoring criteria.
Characteristic criteria
What kind of buyer persona are you targeting? Are you looking for a specific job title, company size, or age group? Look at demographic and firmographic data and build your ideal profile for your goal.
Behavioral criteria
Actions taken by your potential customers can also affect their score. Interactions that show interest include:
Social media engagement
Email opens
Click-throughs
Website visits
Webinar signups
Unsubscribes (negative scoring)
Unopened emails/texts (negative scoring)
Meeting no-shows (negative scoring)
As you can see, there's a lot of information to keep track of. Using lead scoring software (typically a CRM) will make this process exponentially easier.
3. Set up a lead scoring system with a CRM
CRM software tracks all customer data points in a single view. The good ones also have lead-scoring capabilities right out of the box.
A CRM uses machine learning to help you find your best leads with automation. This means you can easily do predictive lead scoring for new contacts based on previous customer data by setting up a marketing automation workflow.
You can not only automate sending marketing campaigns (email, SMS, WhatsApp, etc.) but also assign points to contacts based on how they interact with them. All you have to do is tell your software which actions get how many points.

Example lead-scoring action/event
In this basic lead-scoring example, a contact opens your welcome email, clicks on a link and ten points are added to their score.
The logic is that a contact who clicks on this link in your welcome email clearly has a higher interest level in your business than a contact who doesn't make the same click.
This is a simple example and would be just a small piece of a larger lead-scoring model, but hopefully, it illustrates the idea.
You can use Brevo's Marketing Automation to build a powerful loyalty or lead-scoring process to save yourself hours of work.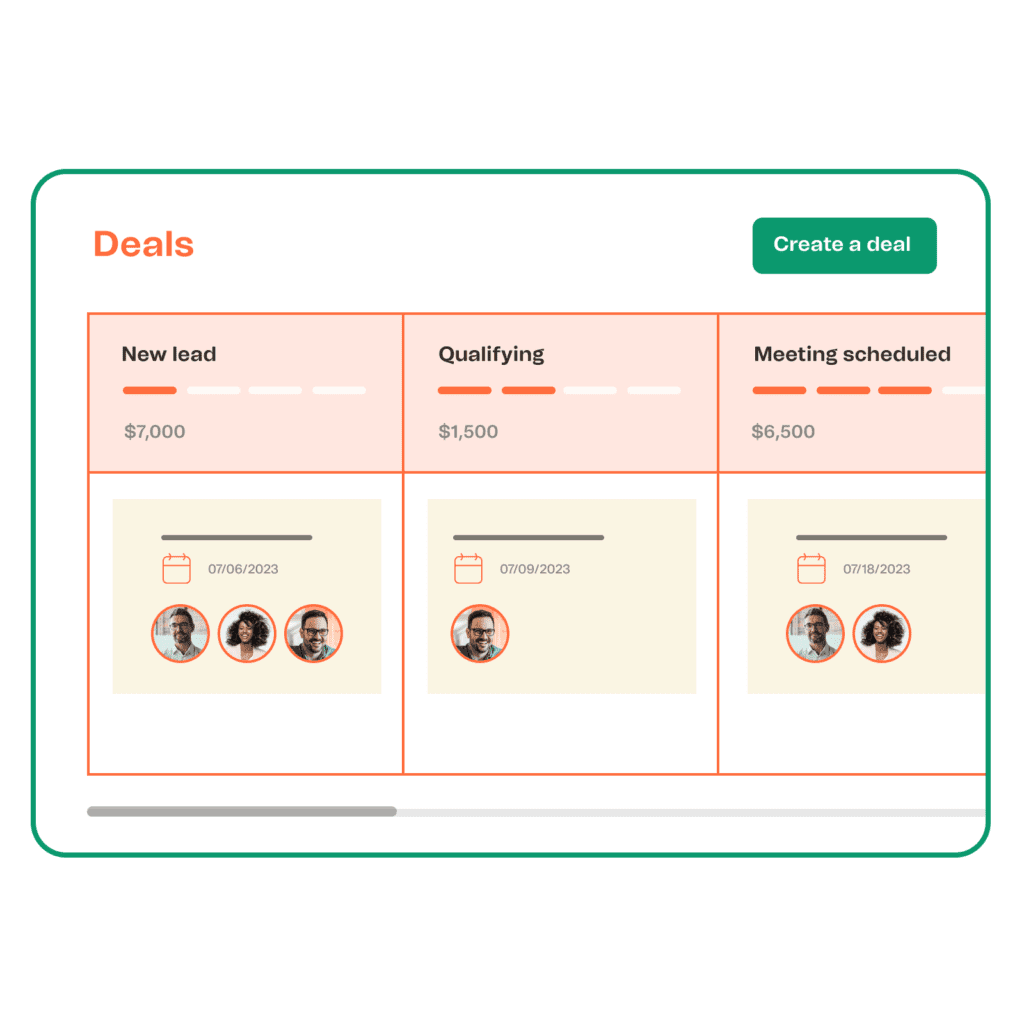 How to set up lead scoring in a CRM
You've identified the key actions your contacts take before becoming customers. Now it's time to put your lead scoring model into action with the Brevo CRM suite.
Don't have a Brevo account yet? Sign up for free and try the Marketing Automation feature. Our free plan lets you set automation workflows for up to 2,000 contacts.
1. Assign points to actions in marketing automation workflows
Once you're a Brevo user, start by creating a 'SCORE' contact attribute. Do this by clicking "Add a new attribute" in your Contacts -> Settings.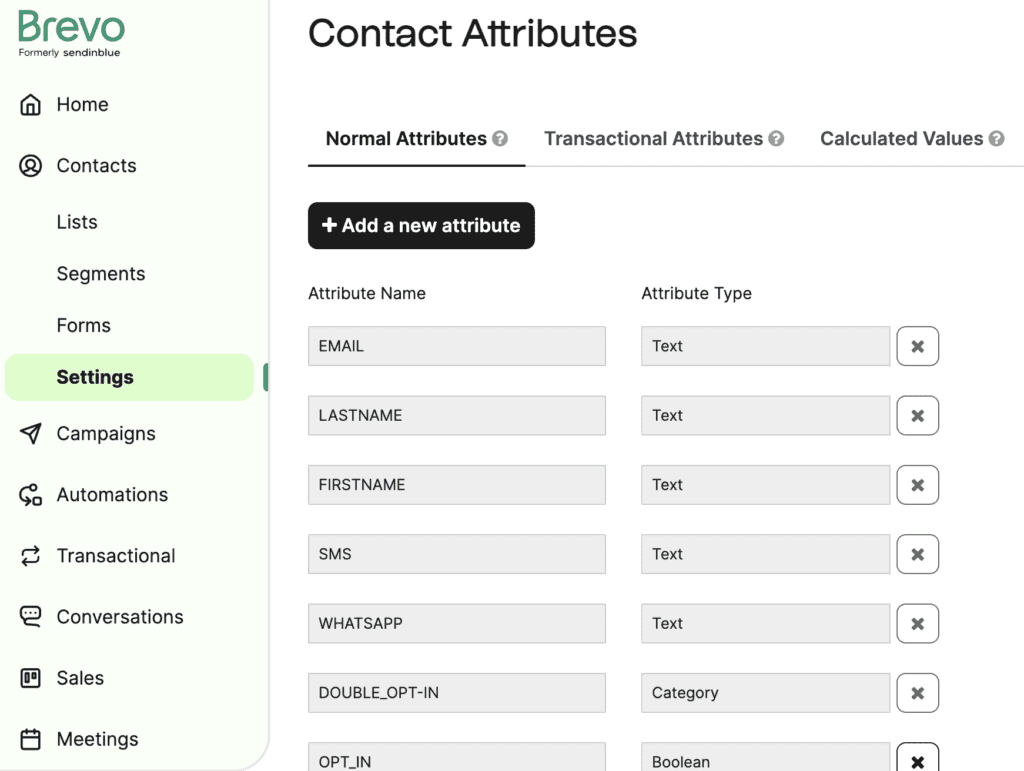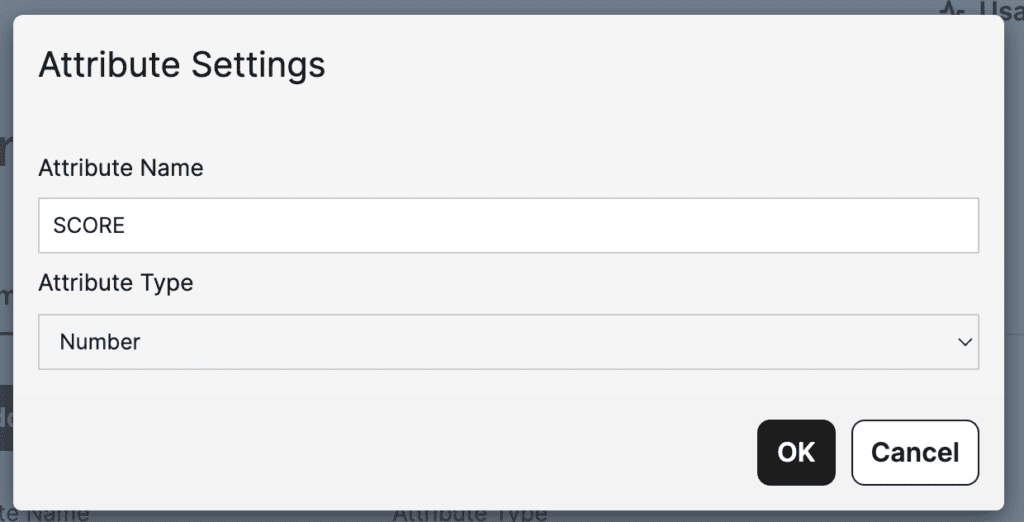 Then, determine which actions will impact a contact's score and by how many points. Create workflows for as many actions as you need to update contact scores on autopilot when taken.
Simply add a step to the workflow at the point when the action's taken and select 'Update contact attribute'.

Select the 'SCORE' attribute you created and put in the number of points this action's worth when taken.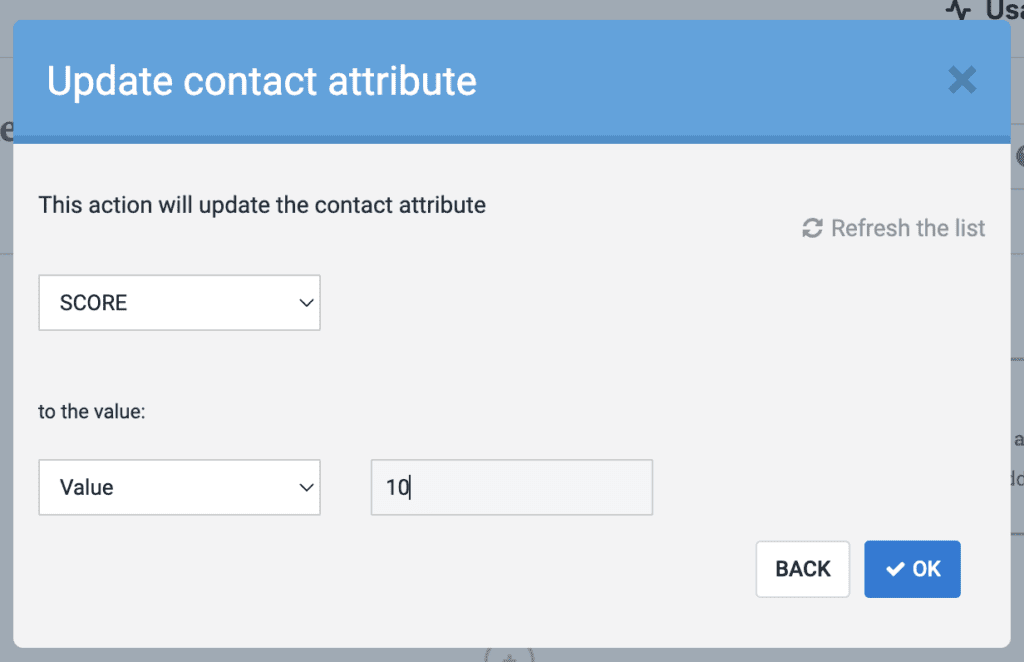 If you're following along, make sure to check the box allowing contacts to enter the workflow multiple times (see below).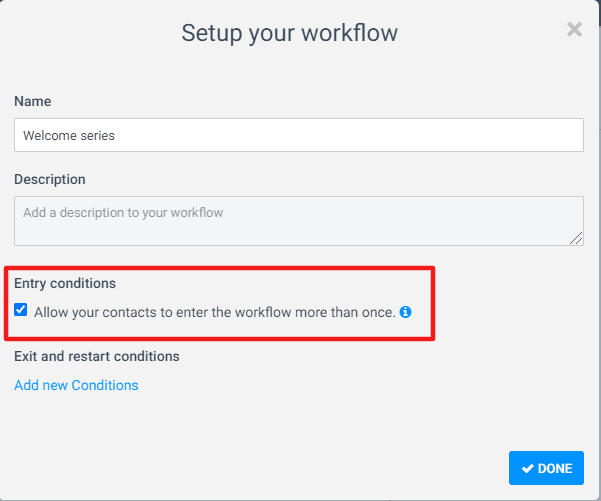 This will ensure that they receive points for any of the key actions in this category.
2. Use dynamic list segmentation together with lead scoring
Dynamic segmentation uses marketing automation to arrange contacts into lists based on characteristics or behaviors. You can then better target them with marketing emails in real time.
Once you create your lead scoring model, each contact's score is saved in your CRM as a contact attribute. Use it to put them on the right email list and send them relevant campaigns.
Example: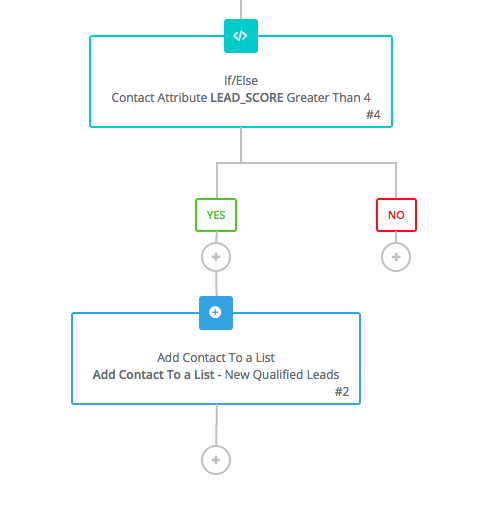 Here, when a contact reaches a score that is greater than 4, they will be added to a list of "new qualified leads."
3. Create targeted contact lists
As we've just mentioned, you can use the lead score attribute to automatically add your contacts to targeted lists according to their interest level in your product or service.
To do this, simply assign point values to different categories of leads. Here is an example:
New leads: Scores <20
Warm leads: Scores of 20-49
Qualified leads: Scores 50-80
Sales qualified leads: Scores >80
After defining these parameters, you can set up your segmentation workflow to add users to each corresponding list.
Be sure to include an "escape" that resets a lead's score if they lose interest. Use a condition based on their engagement with email campaigns in a set period of time (e.g. the previous 30 days).
Note: If some actions alone are worth a lot of points (e.g. requesting a quote from sales team), your lead scoring model workflow can have a rule that automatically adds those contacts to your "sales qualified leads" list.
Other use cases for lead scoring
Although we mostly talked about using lead scoring for dynamic segmentation, it can also be used for other purposes:
Use lead score to trigger a specific email or SMS.
Set up an action-specific score (e.g. newsletter clicks) that is important to your goals and track engagement in detail.
Find your most qualified leads to target on platforms like Facebook and X.
Go deeper: find out how one of our partners uses email sequencing for lead generation with Brevo.
Boost conversions with lead scoring
Hopefully, this guide inspired you to use a lead-scoring model to better target your leads. These tips as a starting point — adapt the workflows to match your business goals.
And just one last piece of advice: when implementing this type of data processing, always obtain your subscriber's consent using double opt-in.
Start lead scoring with Brevo
Visual workflow builder, if/then logic, multichannel steps, performance tracking and ready templates to use. Free for 2,000 contacts.