Reading time about 11 min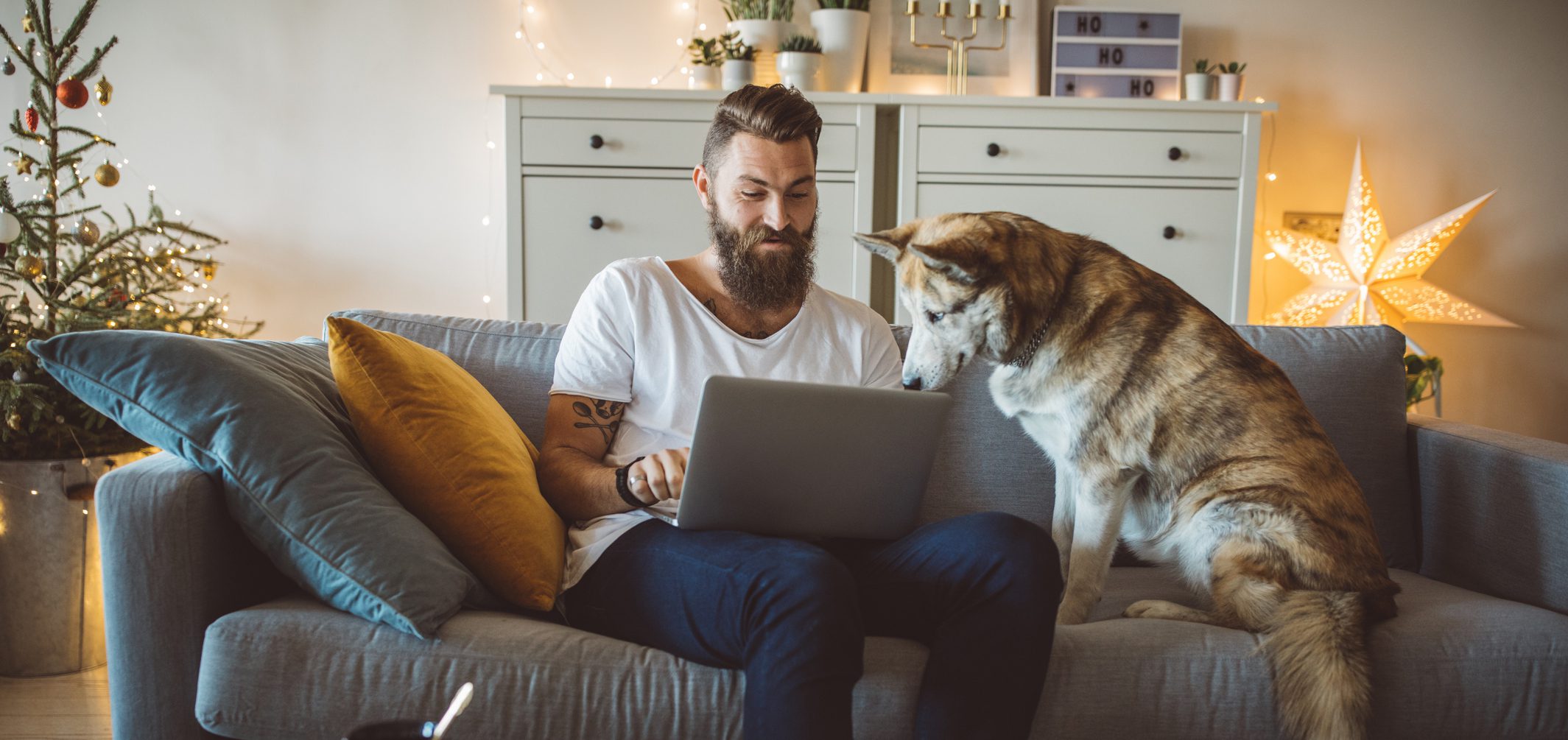 Green Monday is the last day before Christmas to bag all-important online sales. But more than that, it's a chance to win your customers' loyalty long-term by helping them out during a busy and expensive time of year.
The challenge is standing out in a season full of sales and special events. Read on to discover how to get your online store ready for Green Monday success.
What is Green Monday?
You've heard of Black Friday deals and Cyber Monday sales, but you might not be so familiar with Green Monday.
In the US, Green Monday falls on the second Monday of December. The name was coined by eBay back in 2007. It describes the spike in sales figures they experience on this day of the year as customers make their final pre-Christmas purchases. And it's on the rise. From 2019 to 2020, Green Monday sales grew 15.3% to $3.1 billion.  
What can you do for Green Monday or mid-December sales?
Let's step into the customer's shoes. It's less than two weeks until Christmas. They've still got holiday shopping to do. They might be turning to credit cards or personal finance to afford the last few gifts on their list. They want quick and affordable purchases to get them over the finish line to Christmas Day.
Mike Nemeroff, CEO and co-founder at Rush Order Tees says, "It's important to remember that this shopping holiday exists because people realize it's the last day they can buy online to get items in time for Christmas. Anything you can do to make their panic buying more convenient will work in your favor."
Offer holiday deals and discounts
Deals and discounts will entice new customers and reward your loyal fans. The key is to promote strategically, not at random. Discounting your most popular products will definitely grab their attention.
Or, try "buy one get one free" offers, combining your bestselling product with a poor-performing line. It still feels like a bargain to your customer, but you get to offload unwanted products. Another way to get people to spend is by offering bonus points on loyalty programs. This helps your regular customers feel appreciated.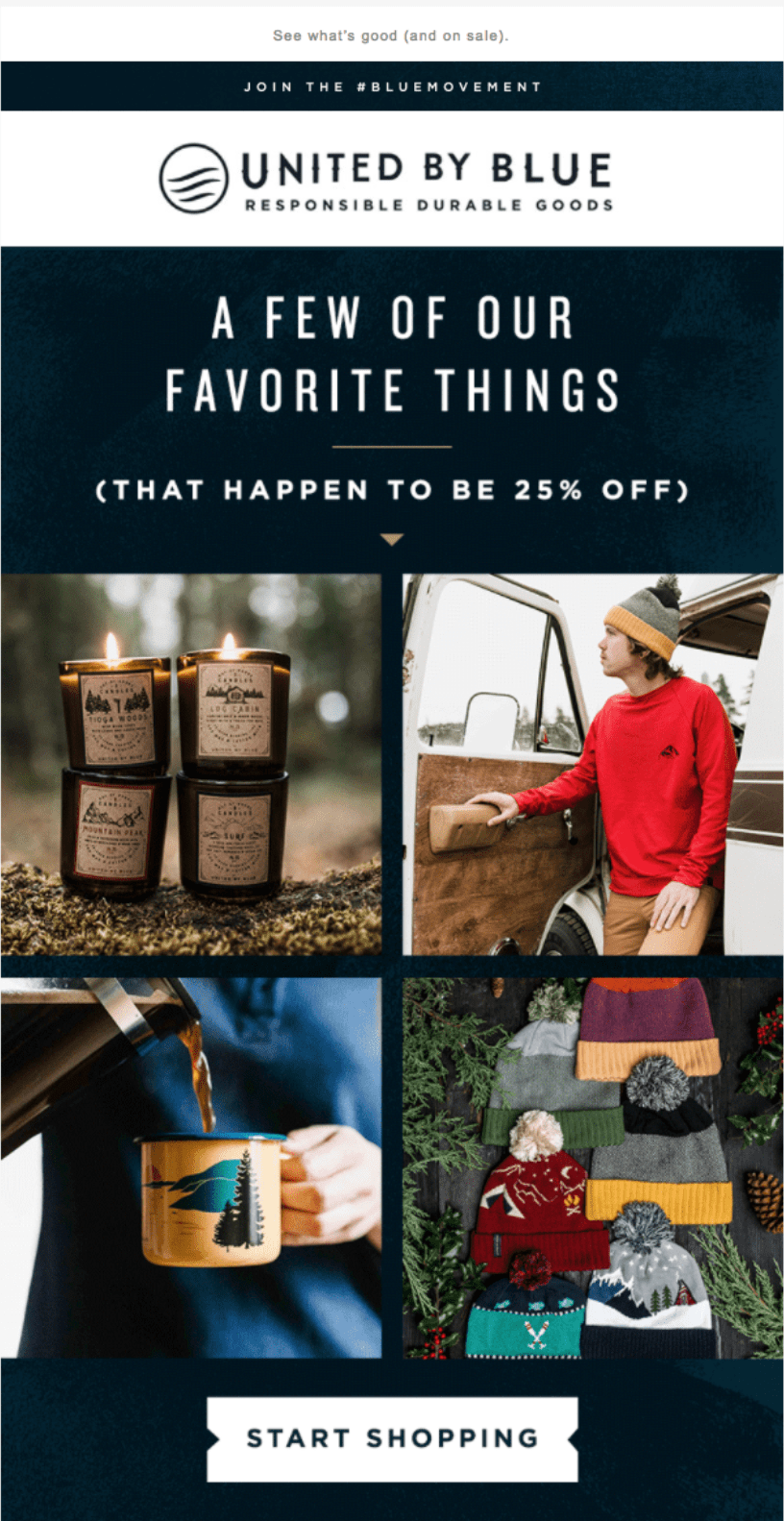 Stay profit-smart
If your ecommerce business is feeling the pinch this holiday season, the thought of site-wide discounts might be too much to bear. There are still smart ways you can make your customers feel special without hacking into your profit margin.
Discounting groups of products rather than individual items results in a better margin for you. Reserve bigger discounts for the products you have too much of or want to get rid of.
Bump up your average transaction value by including a gift or bonus service with purchases over a specific amount. Free gift wrapping goes down especially well at this time of year. You're saving your customer money and time in their busy holiday season schedule.
Offer free shipping
A popular but inexpensive freebie among retailers at this time of year is free shipping. David Janssen, CEO and founder at VPNoverview says, "It removes one last stumbling block in the selling process and can push a hesitant shopper over the finish line."
To your customers, getting items ahead of the holiday without paying extra for rush delivery is enticing. Consider adding a minimum spend to make sure your promotion remains profitable.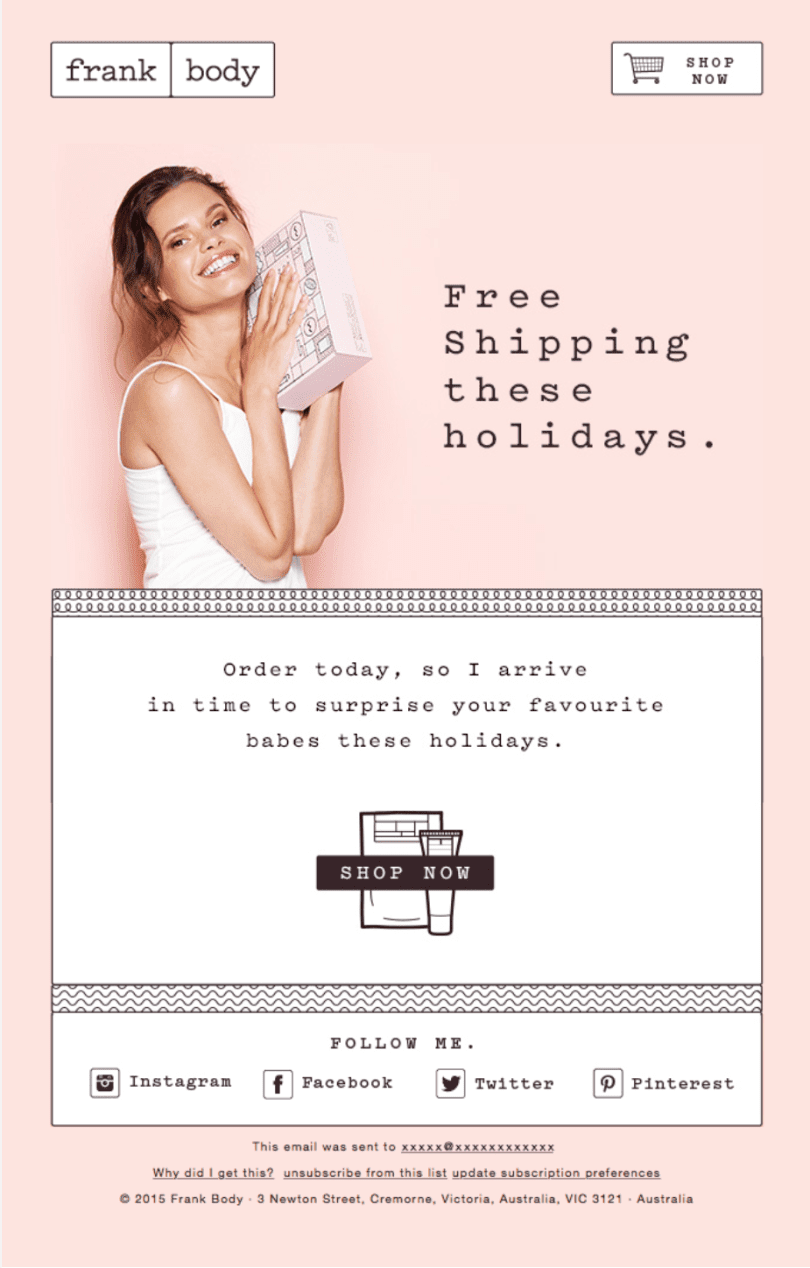 How to promote your Green Monday deals?
You've decided on your discounts, deals, and promotional activity. Now it's time to get the word out. Follow our tips and marketing ideas to create a buzz around your business this Green Monday.
Set a start time
Flash sales are an effective way to create a stir around your seasonal discounting. Set a start and end time for your event. With Christmas around the corner, you have a valid reason for a cut-off to make sure customers get their orders in time.
Use a countdown timer, like this one from Wix, on your homepage and email marketing. It will draw attention to the exclusive nature of your deals. You're encouraging customers to seize their last chance to grab a bargain before the Christmas sales.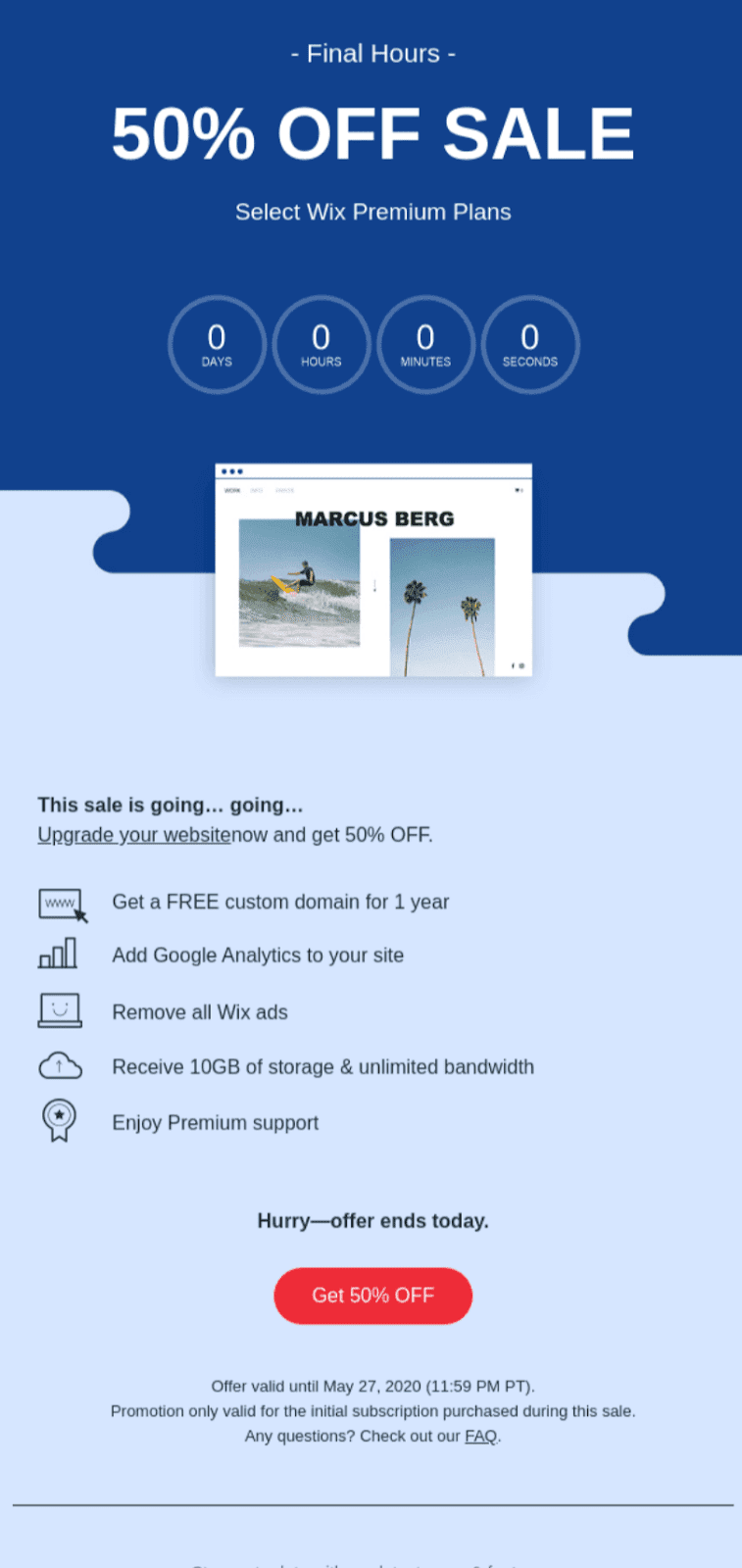 Build anticipation on email
With your sale times set, start promoting your discounting on email. Build momentum by sending preview emails in the downtime between Thanksgiving and Cyber Monday.
Customers want to feel like they're getting exclusive offers so send special sale previews to those registered in your loyalty program. Even if they don't buy, you're reminding them of how much you value them.
Michael Dean, co-founder at Pool Research likes to focus all his energies on email marketing. "Our customers are directly available to us through our mailing list. This is our first port of call when it comes to promoting holiday sales and offers. There's obviously a huge increase in the volume of promotional emails this time of year. Taking the time to perfect our email content is vital. One of the ways we do this is by analyzing data from previous holiday sales. This ensures we're always learning and improving our marketing efforts compared to last year."
To stay on top of your email data and send perfect, planned promotional emails, give Brevo a try. Get started on the free plan with 300 emails a day and unlimited subscribers.
Create a buzz on social media
86% of women use social media for shopping advice. So, supplement your email marketing with promotions on the platforms.
Rather than spreading yourself too thin across every platform, target those on which your customers are most active. To get the best out of the channel, consider bringing an influencer on board. 80% of consumers bought a product on an influencer recommendation. The trick here is to build a relationship with the personality beforehand so that your marketing feels authentic.
Get great graphics
Whether it's email or social, you can't overestimate the importance of cohesive sales banners, graphics, and digital content to use across your platforms.
Whether your customer encounters your marketing in their inbox, on their social media feed, or in paid ads, they'll instantly know it's you. You'll keep your business top of mind, increasing the chances they'll make the purchase.
Create user-generated content
User-generated content is a great way to create more content quickly and inexpensively. It also increases customer engagement as they love to see themselves in your feed.
Launch a prize draw on social media where the customer has to post or share some content to be entered. Their shares and likes will spread the word about your business organically.
Another great source of social content is reviews and testimonials. Reviews from users increase conversions because they feel genuine and build trust. Create lists of your most devoted consumers and interact with them on social media, encouraging them to review your products or services.
Or, why not take your user-generated content out into the real world? This is something major retailers like Amazon, Walmart and Home Depot could never dream of doing, so it will help you stand out and make Green Monday shopping fun.
"What about hosting a holiday party where people come in for cookie decorating or Christmas card making? They get creative, have a latte and a pastry, and plan their gift-giving," says Robin Brown, CEO at VIVIPINS. You can create crossover by sharing photos of the event on your socials.
Use personalization
Customers love to feel your marketing is curated for them. "Personalization allows you to reproduce a terrific in-person shopping experience online," says Matt Weidle, business development manager at Buyer's Guide.
"Data drives those online experiences, so make sure your platform is set up to collect it. Gathering your customer's name and email address is a good place to start," he continues. Encourage website visitors to share this information with you in exchange for an initial offer, such as a free shipping code or 10% off their first order.
And lastly, "Once data is collected, use it to tailor every aspect of the online shopping experience, from greeting customers to reminding them of abandoned carts to sending thank you emails and inquiring about product satisfaction." 

Create a gift guide
A gift guide of your store's best buys is a winning content idea at this time of year. Remember, it's mid-December. If they haven't thought of a gift yet, chances are they're having trouble.
Give your gift guide a boost by releasing a brand new item. This will generate anticipation as it's not a time of year we typically associate with newness. For those still hunting for the perfect gift, you'll help them feel they've finally found 'The One'. For the ever-indecisive shopper, be sure to include a gift card option.
Get your tech in order
Promos in place, discount codes ready, now's the time to check your tech is up to scratch. This is an essential step for all online retailers. Is your site ready for increased traffic? Is your search populated for people hunting down last-minute gifts? Is your mobile site user-friendly?
Lots of people searching for the best Green Monday deals will grab their mobile phones to do so. Make their lives easy: check that all links, buttons, and fonts are legible and clickable on smaller displays. Equip your site with convenient search options and autocomplete forms.
Encourage your customers towards your mobile app on Green Monday by offering extra discounts for those who shop there. With the option to send them push notifications direct to their device, you'll be able to remind them when the last day of the sale rolls around and mop up any final hesitant buyers.
Give back
And finally, when you're all set for a profitable Green Monday, consider giving back.
"We have a policy around these events, including Black Friday, whereby we don't discount or push sales, but instead will focus on our charitable donations," says Ann Lowe, head of community at Spice Kitchen.
Final tips to get Green Monday-ready
Green Monday is a chance to show your customers you care by making their holiday preparation that bit easier. Do so, and you could earn yourself retail sales, profits, and brand loyalty. Remember to:
Plan in advance: profit-friendly discounts and timed sales work well.
Get promoting: use email and social to give plenty of warning of your deals and discounts, and your customers will thank you.
Help your customer: gift guides and free shipping options will tempt them to part with their cash.
Make it all about them: user-generated content and personalization make your marketing feel authentic and relatable.
Give back: share the generosity by giving to a worthy cause.
For more content like this, sign up for our monthly marketing tips newsletter and follow us on X.