Reading time about 15 min

Looking for Giving Tuesday email examples? Welcome aboard. Now before you think you can robotically copy their templates and messages, let's set the record straight—persuading people to donate is tricky.
Several cognitive biases and underlying motivations influence decision-making. Email marketing for nonprofits should take them into account to achieve Giving Tuesday donation goals.
To know exactly which bias to activate can be daunting. Though since you're here, consider this problem solved. In this blog post, we'll analyze some stand-out Giving Tuesday email examples and the psychology behind why they convert.
What is Giving Tuesday?
Giving Tuesday is celebrated on the Tuesday after Black Friday and Cyber Monday (BFCM). Amid the holiday season, people donate to or volunteer for causes and charities closest to their hearts.
The movement of year-end giving started in 2012 and has since picked up momentum. In 2022, the Giving Tuesday organization reported $3.1 billion worth of donations in the U.S. alone.
The best part is, you don't need to be a charity to participate, so if you have a cause near and dear to your heart that you'd like to support, read on! The Giving Tuesday email examples below will help you kindle people's urge to donate.
7 Giving Tuesday email examples to inspire your campaign
These Giving Tuesday email examples showcase some of the most effective best practices to help you fine-tune your campaign email strategy.
1. A warm-up Giving Tuesday email to loyal supporters
…who've steered your donation drive over the years toward success. Tell them you value their change-making pledge and to stay tuned for more Giving Tuesday emails from you over the next few days.
In their email, Operation Warm gives donors full credit for giving a gift of hope to those in need. Moreover, to make sure they don't forget to give this year they provide an "add to calendar" option, which is a smart addition to this email marketing campaign.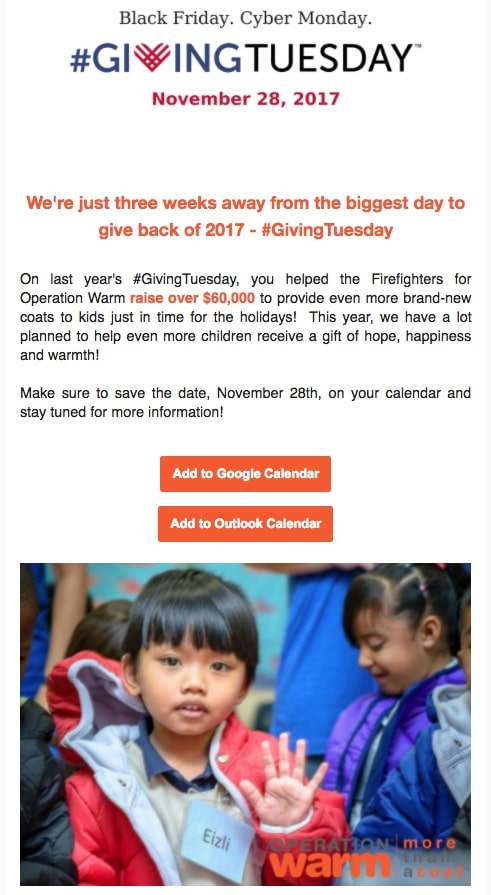 Here's one charity email example from CARE Australia. The header says "because you care" to kickstart a one-to-one conversation. Plus, the statistics about last year's success become a shared moment of pride. They start their Giving Tuesday message on a highly positive note.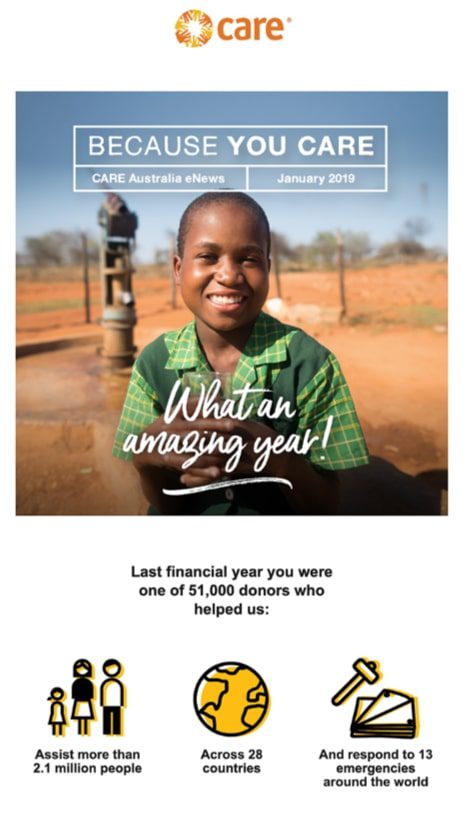 Why do these Giving Tuesday emails work?
As humans, we have a strong desire to be seen as someone consistent in our behavior and beliefs. Naturally, when repeat donors receive an email that appreciates their generosity, they prepare to donate again.
So far as the statistics go, recurring donors give 42% more over 1 year than a one-time donor. Even if they want to donate for purely altruistic reasons, your email will prepare them to play their part.
2. Follow up with a Giving Tuesday announcement email
Focus on the impact you've made in the past.
Mention how much you raised over the years and how it benefited your cause.
Include statistics for donors to see where their contribution was used.
Use images and photographs to evoke emotions and crack their hearts open.
Charity: water does all the above convincingly. The photograph, which acts as a directional cue, and the accompanying message evoke feelings of hope and empathy.
At the end of the email, they also give an option to read more about their fundraiser. This is particularly useful for first-time donors who might want to know more.
What's also worth noting is their email subject line — This #GivingTuesday, make history with us! It creates a curiosity gap that gets the recipient excited about the event and so your open rate goes up. The lesson being, your Giving Tuesday subject lines should build excitement and pay off too.

Why does this Giving Tuesday email work?
We believe every decision we make is a good one. So when donors receive an email affirming their kindness and acknowledging them for supporting a particular charity, it reinforces their confidence in their decision-making. Result? They donate again.
The same applies to first-time donors. Seeing the good done by the charity or a small business like yours, they feel good about having chosen you. So don't skip the Giving Tuesday announcement.
3. Hype current and potential donors with stories
Good stories are key to a powerful Giving Tuesday message. They can make you feel a whole bunch of emotions, such as anger, sadness, suffering, empathy, and hope.
This email from Help for Heroes — though not a part of their Giving Tuesday campaign — is a good example of how to melt hearts. You can see Carl's life change in front of your eyes.

Moving on, storytelling needn't be restricted to written words. Explore videos as an alternative format.
In this Giving Tuesday campaign example Sears shares a video captioned "Watch the work Sears and St. Jude — and you — are doing together'". It's the phrase "and you" that makes donors feel like they have an important role to play in someone else's life. Meaning? They're persuaded to donate.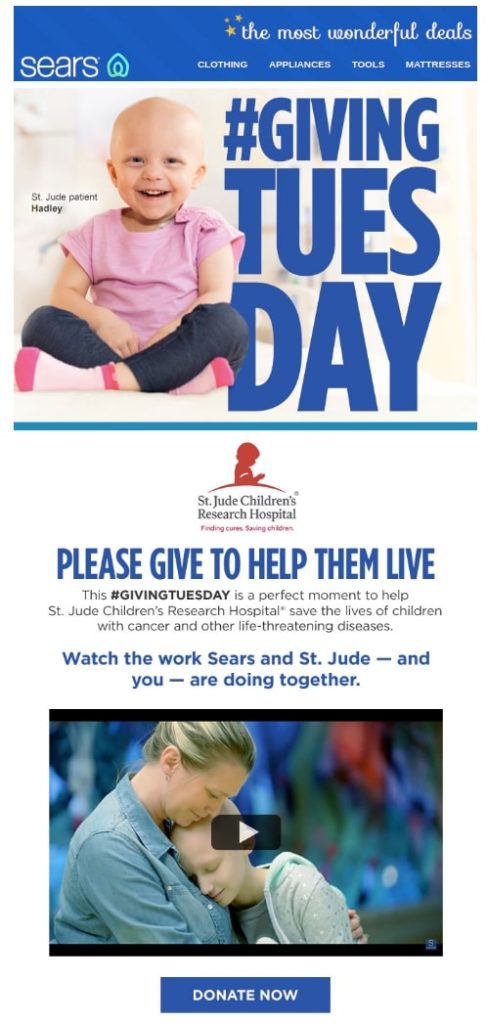 Why do these Giving Tuesday emails work?
The stories in both Giving Tuesday email samples center around one person. This one-person hook is important to trigger the identifiable victim effect. Turns out, it's easier for people to empathize with the struggle of an individual over an abstract, nameless group of people. Ultimately, this motivates them to help in any way possible.
Moreover, the most striking part about such stories is that they don't depend on a history of shared experience. If they're told well, they motivate people to feel others' pain and do something to end it. So run with this idea and trigger empathy through your Giving Tuesday emails.
4. Nudge supporters to make a lasting impact
Many charities and nonprofits mention how far they are from their fundraising goal while some add a countdown or notify how long before the donation drive ends. These are tried and tested Giving Tuesday email templates to get people to donate right away.
For list subscribers who've already donated (use email segmentation to find out who they are), thank them and simultaneously ask them to forward your email and/or share it on social media.
This will amplify your reach and get you closer to the finish line — or even better, exceed your goal. Just make sure you add social sharing buttons and a preloaded message to make it easy to share.
Here's how to leverage this conversion tactic. Note that this is a classic email personalization move. The recipients respond well to such emails because they are relevant and specific to the actions they've taken.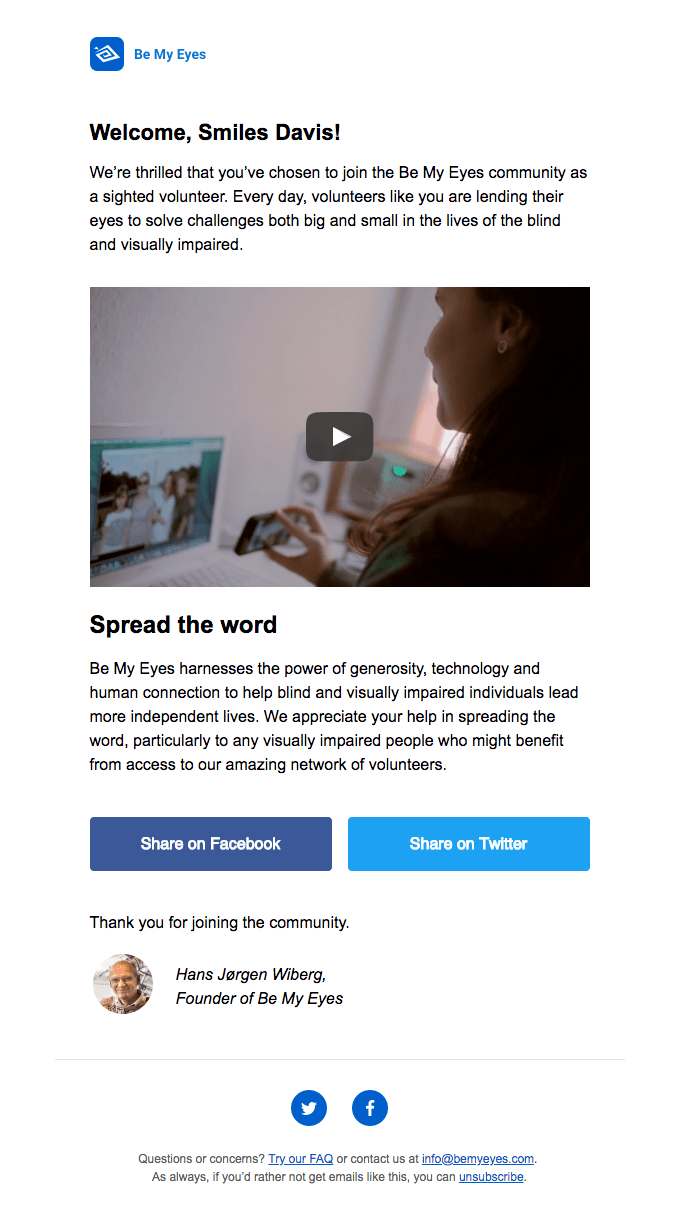 Why does this Giving Tuesday email work?
Credit goes to the foot-in-the-door technique in which you follow up your first request with another one.
The charity email example also gives a concrete reason to share, which is important as people share stuff if they can extract value from it. In this case, by forwarding the Giving Tuesday email, the sharer hopes to be recognized as a force of change and influence over others. #goodkarma
5. Promise a donation match
Matching campaigns, not surprisingly, double the funds raised and the impact. But do more than just announce your collaboration. Focus on the impact each dollar of the donation amount is going to accomplish. Add a time ticker or a progress bar to put on a bit of pressure.
North Shore Animal League's Giving Tuesday email template follows all these best practices to push their call-to-action — or rather — call-to-value.

Why does this Giving Tuesday email campaign work?
The answer is by creating a sense of urgency. With a time limit attached to the matching Giving Tuesday campaign, donors experience a sense of loss if they don't donate.
6. Make giving easy
There's a large chance your subscribers are already buying your product consistently. Throw in a limited-time gifted donation with every purchase and give loyal shoppers and new customers alike an extra reason to place an order.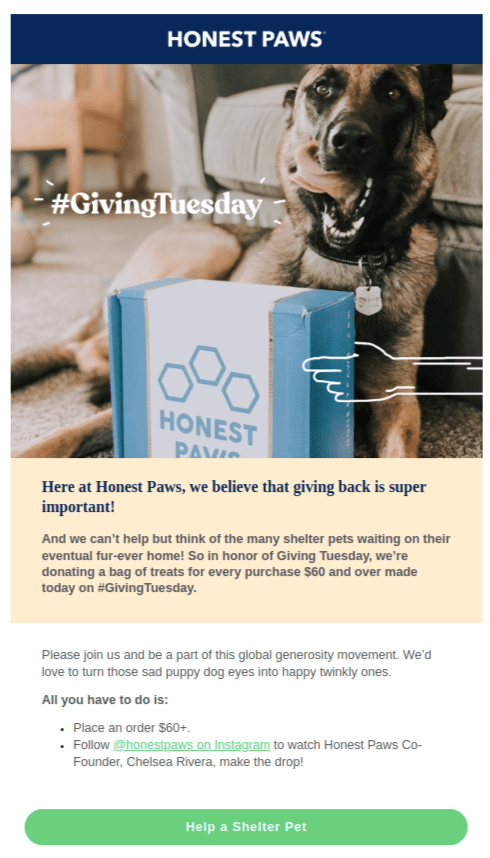 Why does this Giving Tuesday email work?
This Giving Tuesday email campaign by Honest Paws makes donating easy. Subscribers just have to buy their favorite products, and a donation is automatically made — it's a win-win!
Rather than use a run-of-the-mill call to action, Honest Paws asks donors to "help a shelter pet". When subscribers click that CTA, they know they're making a difference.
Check out our guide on how to create a fundraising campaign email for more of the best fundraising email tips and examples.
Check out our guide to how to create a fundraising campaign email for more of the best fundraising email tips and examples.
7. Send a Giving Tuesday thank you email the next day
Tell your donors that you cherish their support. It doesn't have to be an elaborate Giving Tuesday thank you email, but one that has sincere thanks coming from you. This note of gratitude is important to build transparency and trust.
Feel free to add how much you raised and how you plan to use the funds. You could also redirect them to stories of real people who benefited from the fundraising in the past.
Again, CARE Australia's email is a good charity email example of how it's done.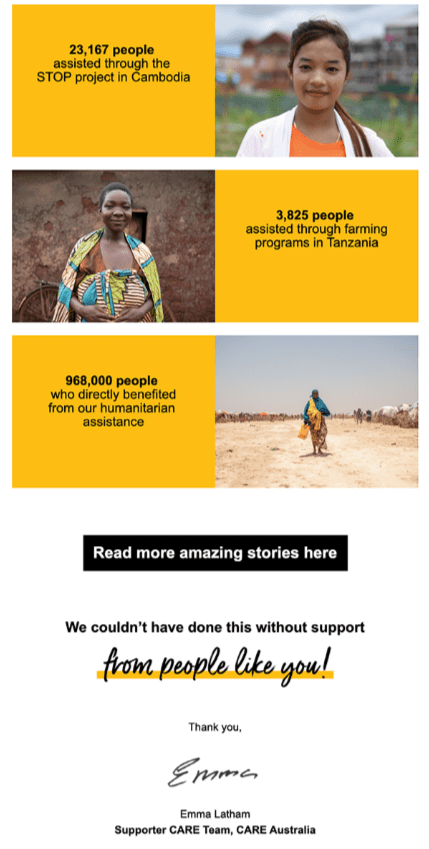 Alternatively, here's an example from Natura that keeps the spirit of generosity alive to inspire your own Giving Tuesday thank-you emails.
Through the dynamic hashtag, they imply that giving could be a year-long thing or even a mindset. You can use both these examples as a Giving Tuesday thank you email template.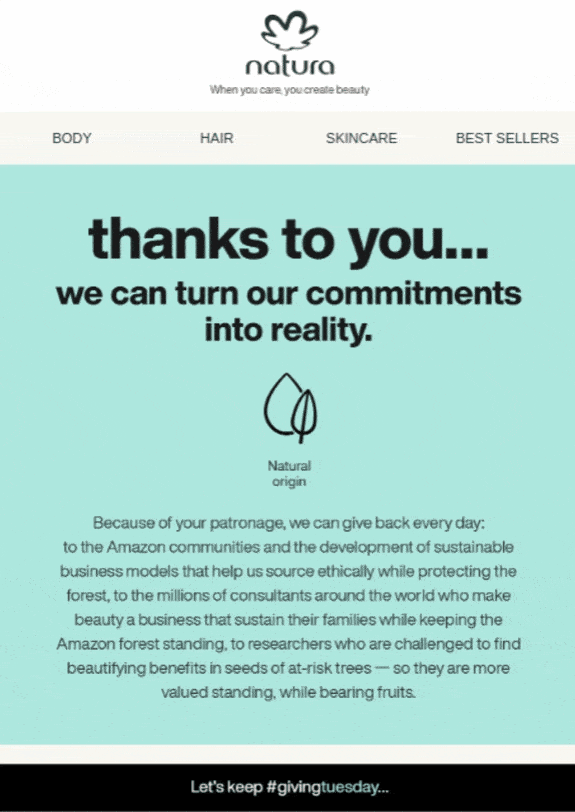 Why do these Giving Tuesday emails work?
Even though these emails are sent to several people at once, it's the second-person pronoun "you" that gives the impression this message has been personally written for them.
These Giving Tuesday email examples let subscribers know how their donation made an impact and makes them feel proud for contributing! Recognizing your donors' efforts is important for a successful Giving Tuesday campaign and for continued success in the future.
Giving Tuesday email best practices
Time your Giving Tuesday emails right
Below we have a guideline to help you know when to send your Giving Tuesday emails.
1st email: two to three weeks before
This email introduces your mission to your subscribers and announces your Giving Tuesday participation. Let them know when and what Giving Tuesday is. You can talk about what you achieved last year (with the help of subscribers like them). You can also link to a blog post or a landing page about the cause you're helping.
A reminder: between one week and one day before
This can be a short and sweet email with a call to action to save the date. You can also ask subscribers to share your email with friends on social media.
3rd email with a call to donate: on Giving Tuesday
This is the big day, so make it count! Send this email in the morning and let your readers know it's Giving Tuesday. Remind them of your mission and reinforce how their contribution will help. Don't forget an empowering CTA to finish it off.
A progress update: halfway through Giving Tuesday (optional)
Keep your subscribers updated on your fundraising progress and convince those who haven't donated yet to participate. This can easily be done by filtering your contacts by those who haven't opened your previous Giving Tuesday campaign email yet.
A thank you email: the day after Giving Tuesday
Don't forget to send a heartfelt email full of gratitude once the big day is over. Celebrate your shared achievements with your subscribers and let them know they're superheroes.
Create thoughtful campaigns
Knowing what to write in your Giving Tuesday email isn't a five-minute task, so we made a quick checklist to guide you. Inspire people to make a donation by including these details in your emails:
Write a compelling subject line.
Include your organization's name and logo. Put it in a banner at the top or after your sign-off.
Use the Giving Tuesday logo. Make your email look the part with the Giving Tuesday logo or other Giving Tuesday graphics.
Write a headline. Your headline states what this campaign is about.
Say what your goal is. Tell your subscribers how much you aim to raise. This is also a moment to tell the story behind your cause.
State how your subscribers' contributions will help. Saying what their donation will accomplish will motivate your audience to participate. Will they feed a pet for a month, or provide a child with new shoes for the school year?
Say thank you! Include a CTA.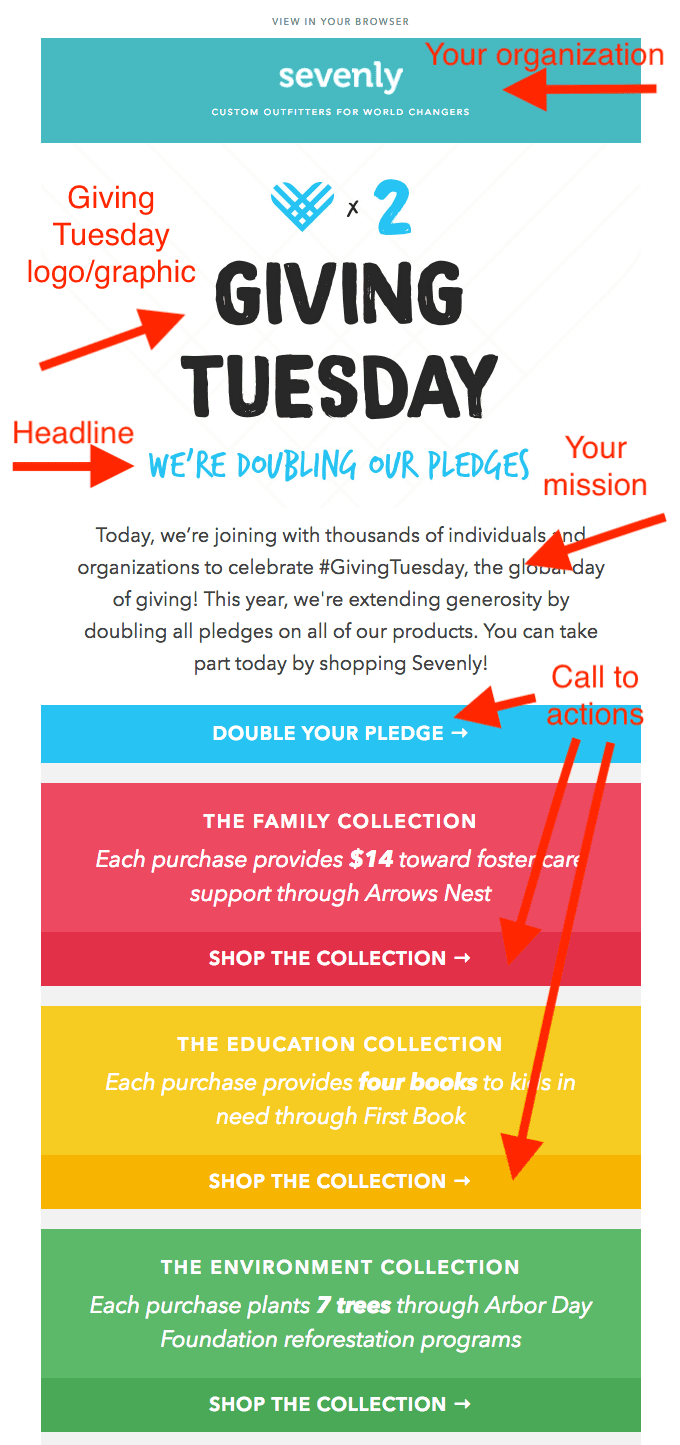 Refer to this Giving Tuesday email template to see where you can include each detail. And remember, at the end of the day, this is your campaign, so if you have a different vision, go for it!
Create your Giving Tuesday email template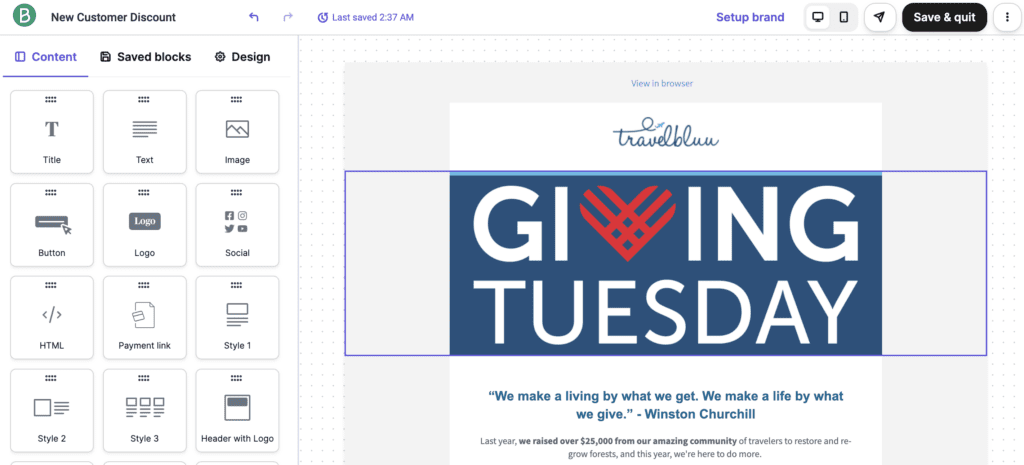 Using a marketing platform like Brevo will make building and sending Giving Tuesday email templates a breeze. Easily upload graphics (or search through Brevo's free stock gallery), create headlines, and drop in donate buttons.
Take these Giving Tuesday email examples to the next level
We know you can, especially now you know the psychology behind what makes people give.
So then, are you ready to create your Giving Tuesday campaign? We say — give it a shot.
We hope you've found this content helpful. Download our free holiday marketing calendar to receive the latest seasonal marketing tips and guides.

2023 Holiday Marketing Calendar
Downloading this calendar means you're signing up to our monthly newsletter, too. If you don't feel like getting regular marketing tips delivered to your inbox, you can always unsubscribe. 😉