Reading time about 12 min

Cyber Monday is the internet's biggest sale and a huge business opportunity. Drive conversions during this online shopping day with standout Cyber Monday emails.
Cyber Monday is one of the biggest shopping holidays of the year. With the rise in ecommerce, competition for online shoppers will be fierce. Don't miss out on this major sales opportunity!
Drive results with a top-notch Cyber Monday email campaign. Here are a few examples and holiday email marketing strategies to help you get started.
Why Cyber Monday matters
Cyber Monday is the internet's biggest sale. It takes place on the Monday after Thanksgiving. This holiday season, Cyber Monday is on November 27, 2023.
Black Friday and Cyber Monday often go hand in hand. Traditionally, brick-and-mortar stores used Black Friday marketing to get customers in the door. Cyber Monday was created as Black Friday's ecommerce equivalent.
The Covid-19 pandemic drove more people to online stores on Black Friday and Cyber Monday. Ecommerce will continue to grow. In fact, Cyber Monday generated a whopping $11.3 billion last year (an average of $325 per person).
Cyber Monday could be a huge opportunity for your business. Get the most out of this sales event with a strong Cyber Monday email marketing strategy. Read on to find out how.
Cyber Monday email examples and tips that get results
This year, create an impactful Cyber Monday email marketing campaign. We've gathered a few Cyber Monday email strategies, tips, and examples to get you started.
1. Offer unbeatable Cyber Monday deals
Grab your customers' attention with irresistible deals. Offer huge site-wide savings. Cut the hassle with an easy return policy and free shipping. In fact, 76% of customers said free shipping would tempt them to shop online.
Check out this Cyber Monday sale email from Levi's for inspiration: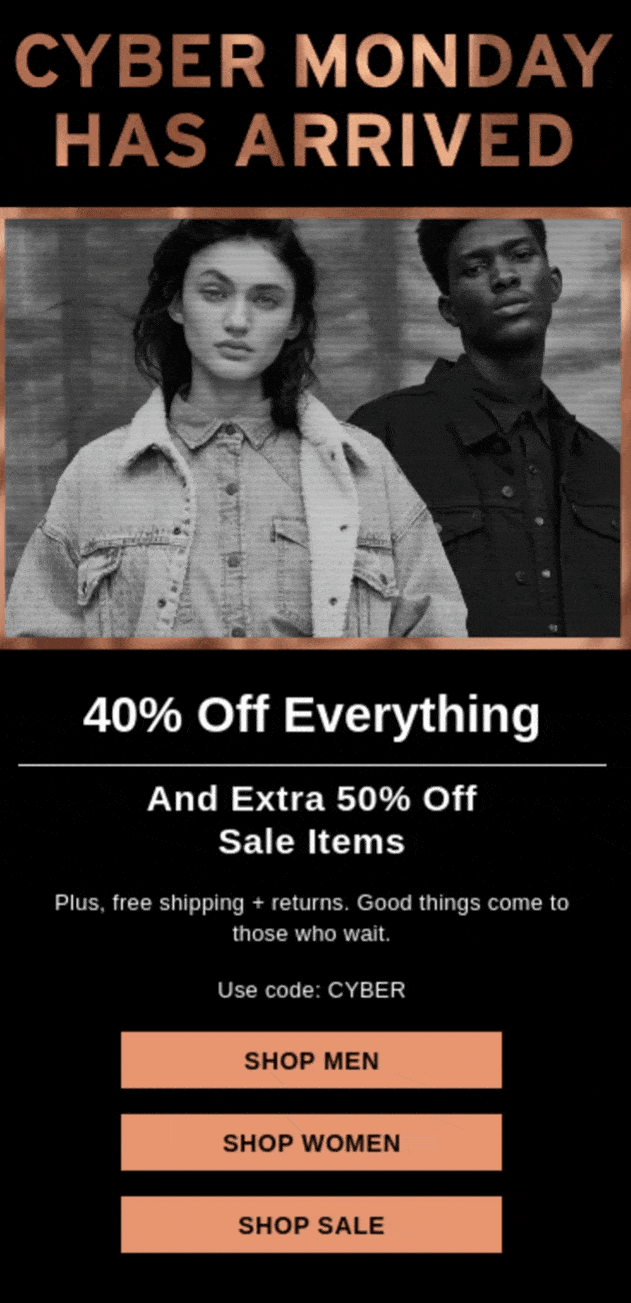 2. Give exclusive Cyber Monday discounts
During Cyber Monday, customers receive countless campaigns promoting big sales and major savings. Rise above the noise with tailored deals and exclusive discount codes.
Entice customers with VIP Cyber Monday sales, like in this example from DecalGirl: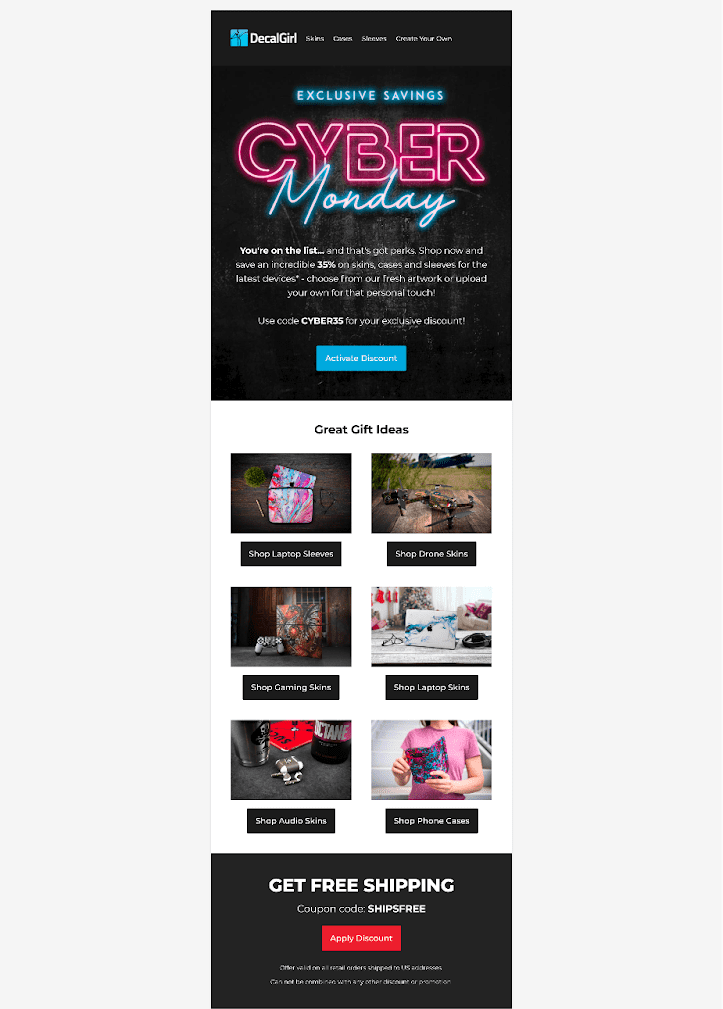 Created with Brevo
Another way to treat your VIPs like royalty is to run an early-access sale for loyal shoppers.
3. Stand out with a surprising Cyber Monday sale
Not every business needs to wow customers with limited-time Cyber Monday specials. Instead, try to find a unique angle to promote your brand.
Everlane surprises its customers by not running a Cyber Monday sale. Why? Everlane's prices are already lower than most retailers year-round.

4. Scale your sales with discount tiers
Maximize your online sales by rewarding shoppers for adding more to their carts. Give your customers bigger discounts for bigger spending.

See how it's done in this Cyber Monday email by Herschel:

You can also encourage your customers to fill up their carts by offering a free gift after they spend a certain amount. This is a great way to say thanks and make Cyber Monday shopping more fun.
5. Cross-sell products with special offers
Your customers love one of your products, but sometimes they need an opportunity to fall in love with something they haven't tried before. Cyber Monday is a great time to have your customers branch out by giving a bonus offer on new items.
In the example below by Tattly, customers can get an extra 10% off rainbow tattoo tins.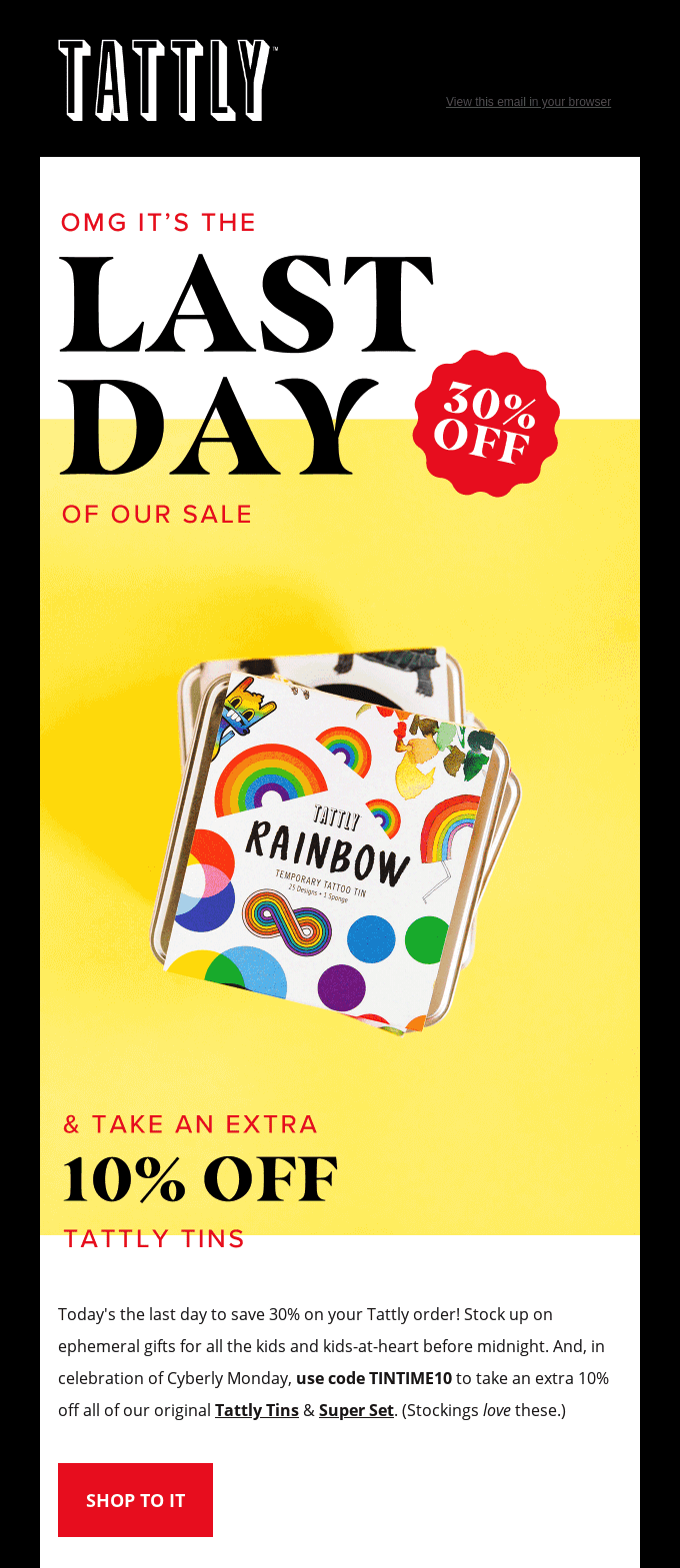 Pro marketing tips: Run this special offer on items that go well with your main product, or for something that will fit perfectly inside of a stocking.
6. Use a Cyber Monday email template
Stand out in a crowded inbox with an eye-popping Cyber Monday email template. Design your email to showcase your products and calls-to-action (CTAs). Play off the cyber theme with high-tech imagery.
This Cyber Monday email from Huckberry puts a nostalgic spin on the digital theme: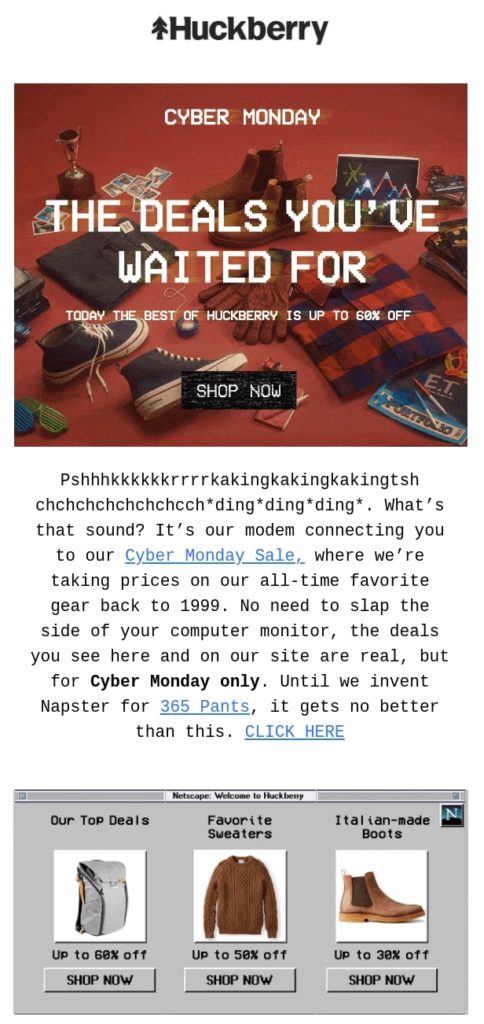 Don't be afraid to use bright colors and fun fonts. This adds personality to your Cyber Monday email design. It will also help catch your subscribers' attention.
This example from MeUndies uses a bright and colorful custom gif to make their content pop (actually):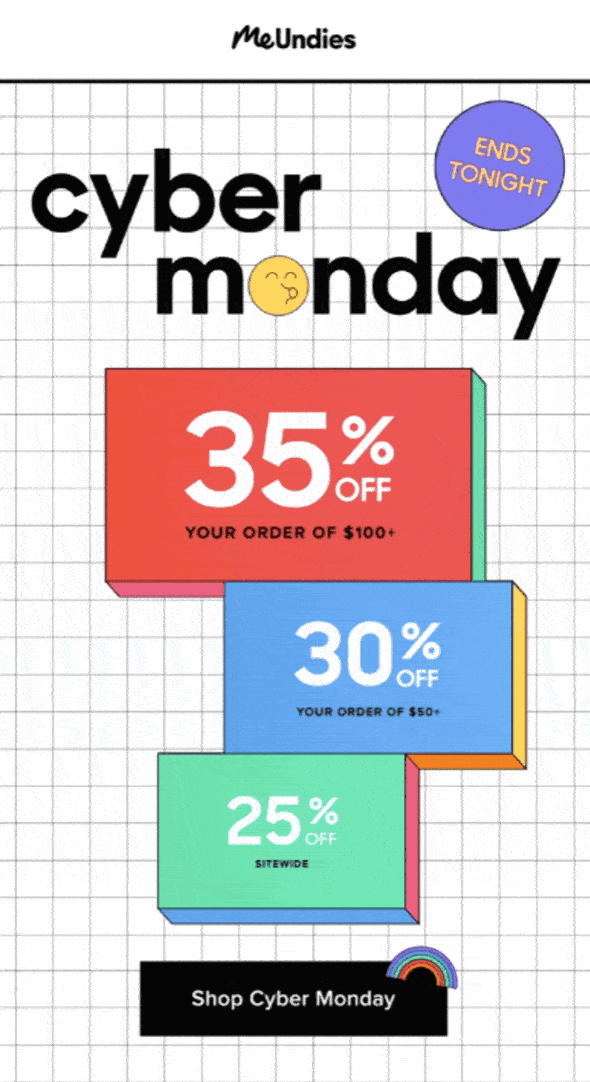 Good to know: Brevo's email templates allow you to easily use images, color schemes, and gifs. Learn how to use Cyber Monday gifs in emails to make your campaign stand out.
7. Write attention-grabbing Cyber Monday email subject lines
Boost open rates with impactful Cyber Monday subject lines. Build anticipation for your upcoming sales. Be sure to get customers excited about your online promotions.
Try Brevo's AI subject line Assistant
Brevo offers an AI assistant to help you come up with the best subject lines for the holiday season. learn more here.
In this Cyber Monday email example, Helix used the subject line "🚨 Cyber Monday starting now! $200 off + 2 FREE Pillows. 🚨" This way, customers know exactly what to expect from the sale. Emojis in the email subject line also help the campaign stand out.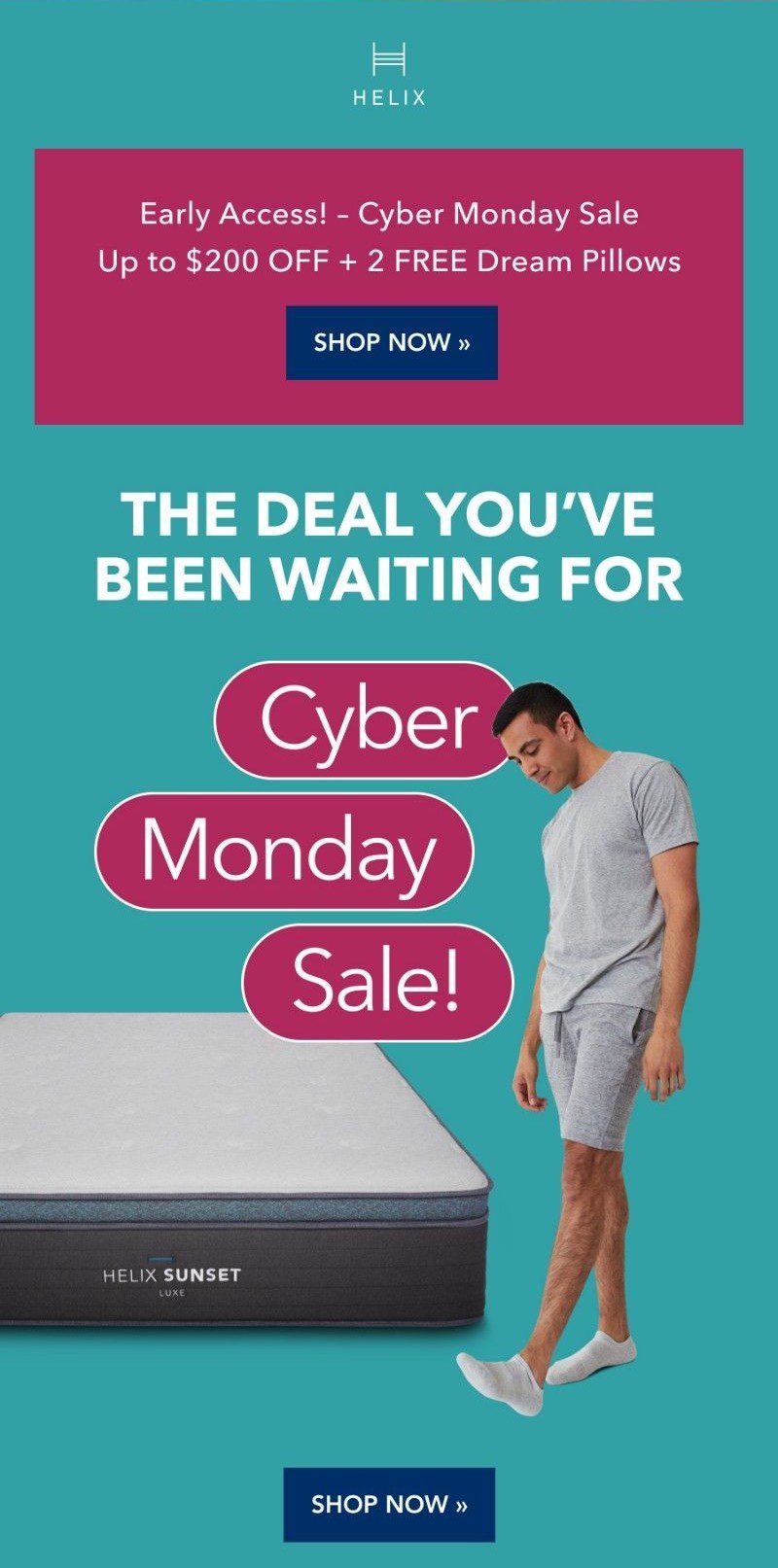 8. Showcase Cyber Monday promotions
The flood of holiday promotions can make Cyber Monday feel overwhelming. Make it easier for your customers by showcasing your Cyber Monday promos.
Optimize your Cyber Monday email design to call attention to your products and sales. In this campaign example, Old Navy puts its Cyber Monday offers and product images front and center:

9. Create a sense of urgency
Nothing motivates customers to buy more than the fear of missing out (FOMO). So why not create a sense of urgency with a countdown timer?
This Cyber Monday email campaign from Designmodo is a good example: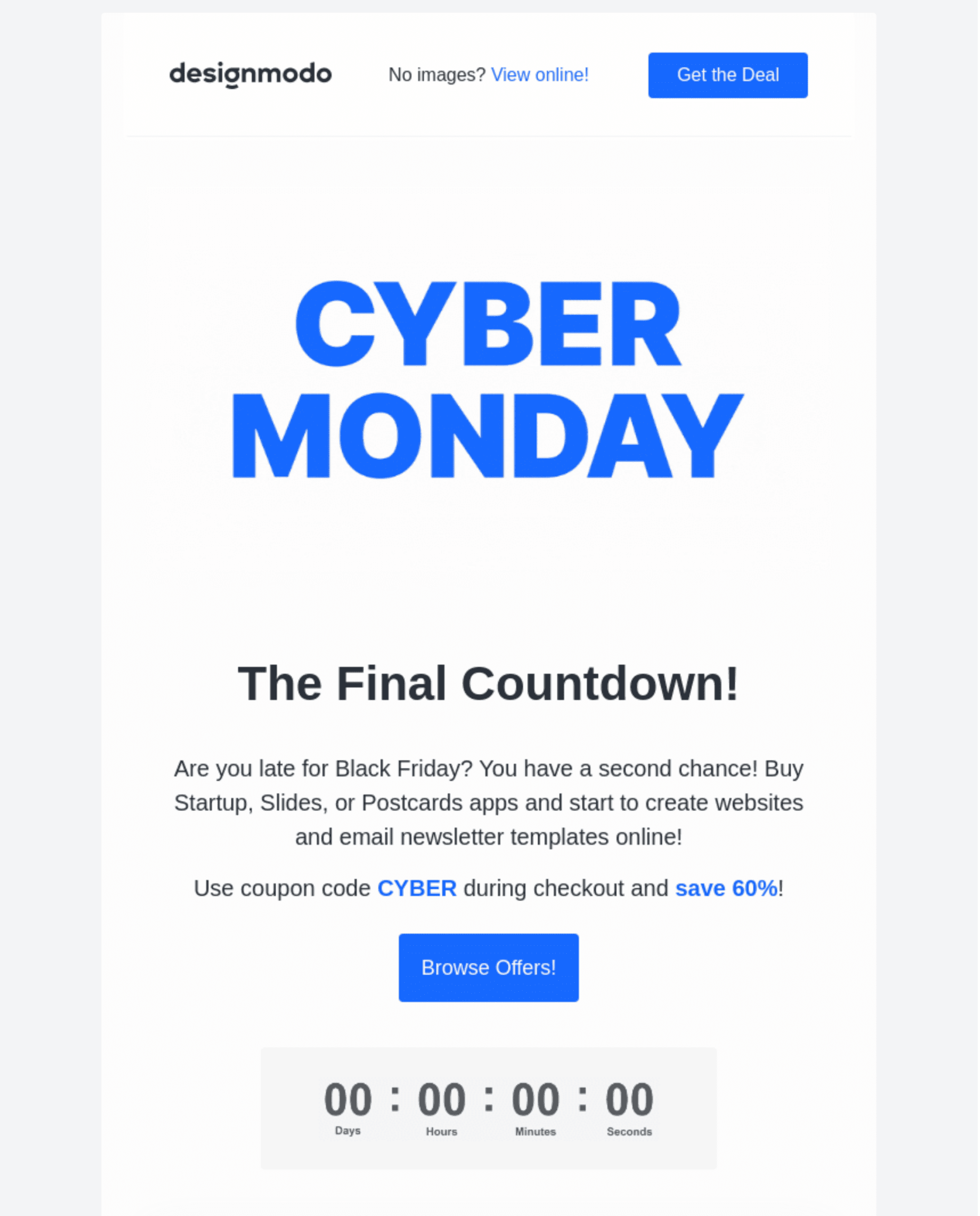 10. Run extended Cyber Monday sales
The sales don't have to end at midnight on Monday. Make Cyber Monday a multi-day affair and run a Cyber Weekend or Cyber Week sale!
Look at this Cyber Week email marketing example from Etsy: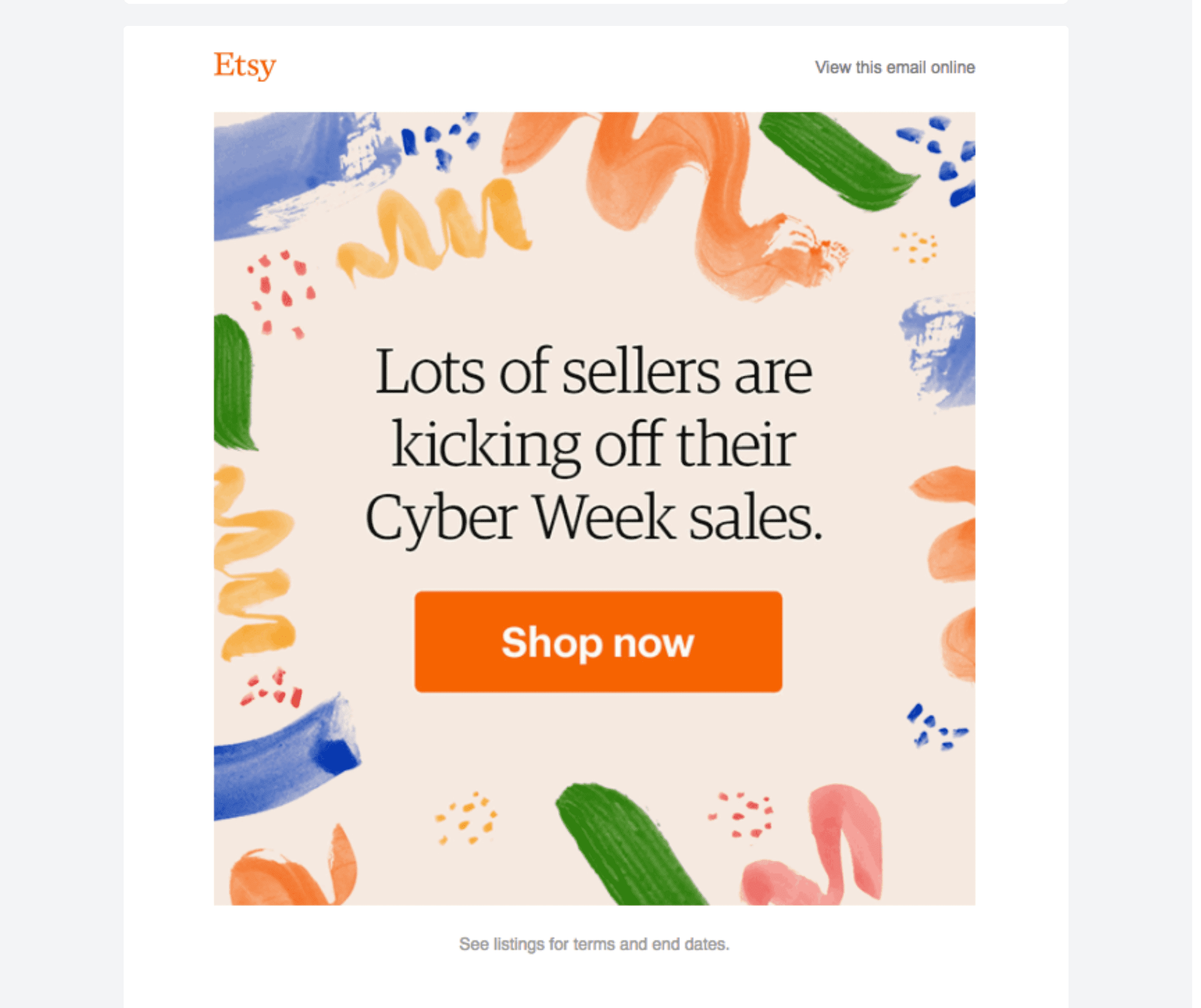 Cyber Monday email marketing best practices
Don't let your Cyber Monday emails go to waste. Follow these best practices to reach as many subscribers as possible.
Start early
You shouldn't wait until Cyber Monday to announce your sales. Send your first Cyber Monday email campaign early. This way, you're less likely to miss customers who might be interested in your Cyber Monday offers.
Be sure to let your email list know about your Cyber Monday offers well in advance. You can also entice customers with early bird specials.
Check out this Cyber Monday email from Shwood as an example: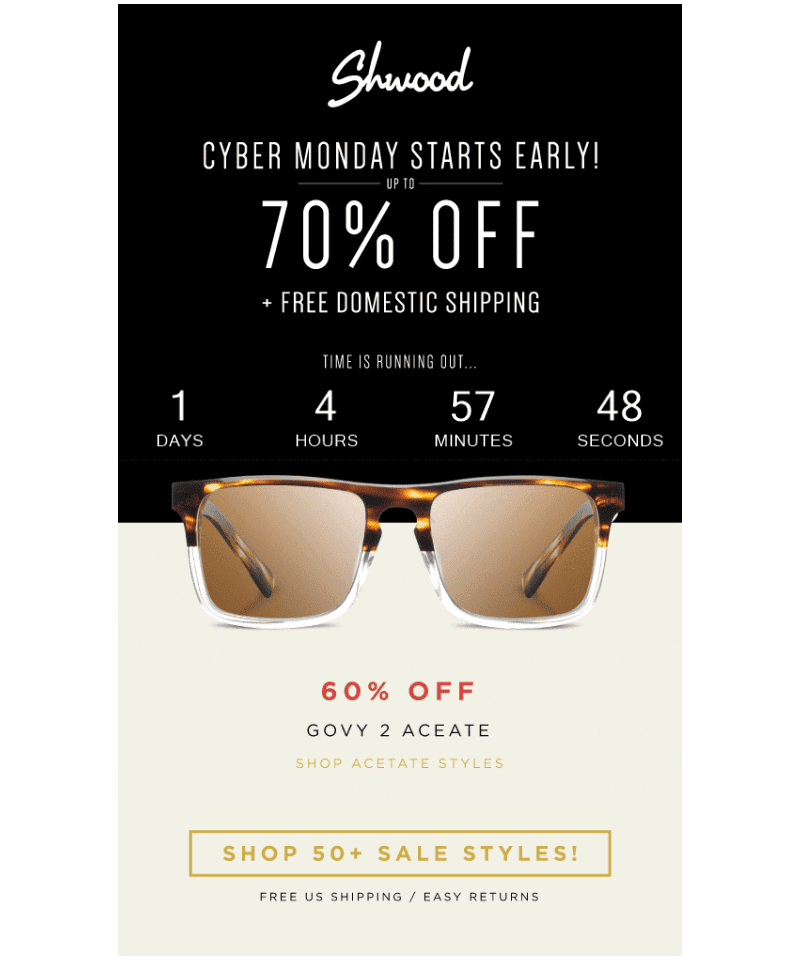 Send last-chance reminders
Don't forget about the latecomers in your Cyber Monday marketing efforts. Grab their attention with last-chance Cyber Monday deals.
This Cyber Monday email from Google Store is a perfect example: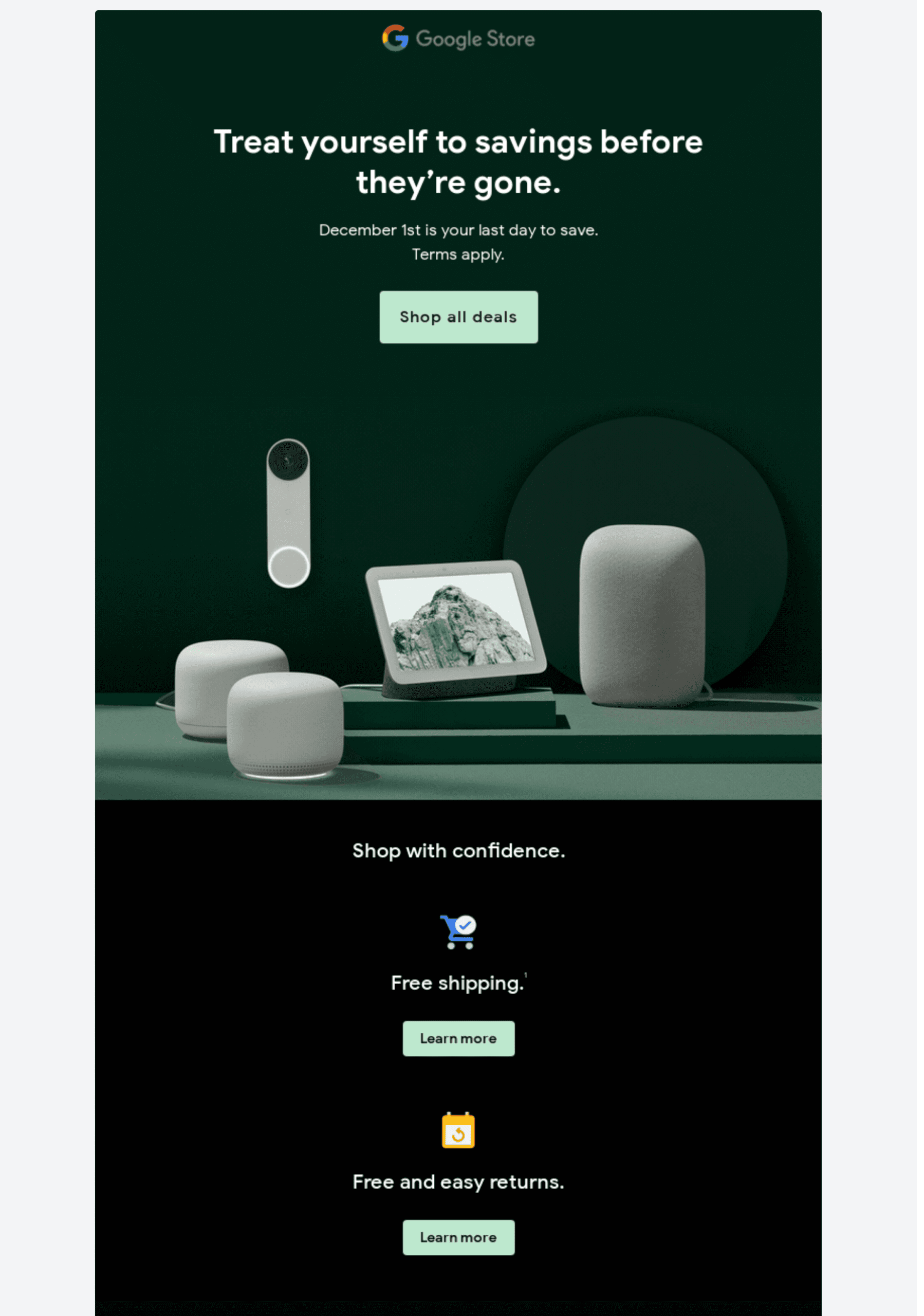 Run a Cyber Monday email series
Reach more people this Cyber Monday. Make your Cyber Monday emails part of an email marketing series.
Be sure to time each email in your Cyber Monday series right. This way, you're more likely to stand out in a crowded inbox and catch your subscribers' attention.
Here's a Cyber Monday email sequence you can follow to help you send your promotional emails at the best time:
Email 1: One week before — Cyber Monday teaser
Email 2: Sale launch — Cyber Monday sale announcement
Email 3: Final hours — Last chance reminder
Email automation allows you to plan your Cyber Monday emails ahead of time. With Brevo, automate your Cyber Monday email campaigns to save time and effort.
Further reading: Holiday Marketing Guide: How to Make Your Campaigns Shine
Plan your Cyber Monday email marketing campaign
This year, get more out of your Cyber Monday email strategy. Email marketing services make it easy to plan your Cyber Monday campaigns.
Use Brevo's intuitive drag-and-drop editor to design eye-catching Cyber Monday emails. Or use one of our free responsive email templates.
Save time with Brevo's marketing automation tools. Schedule your Cyber Monday email campaigns in advance.
With Brevo, Cyber Monday email marketing has never been simpler!
Launch your Cyber Monday email marketing campaign with Brevo
Get started sending email campaigns with Brevo. Free plan includes core email marketing features, unlimited contacts, 300 emails/day, and over 40 email templates.