Reading time about 12 min

Small Business Saturday (SBS) is a golden opportunity for small businesses to lay the groundwork for year-round success. You can boost sales, raise awareness of your brand, and strengthen ties with your local community. But with so many small businesses competing for attention, it's easy to get lost in the noise.
Check out our Small Business Saturday ideas and make your brand stand out from the crowd:
When is Small Business Saturday?
Small Business Saturday is a shopping holiday held on the Saturday after Thanksgiving. In 2023, it falls on November 25th.
It was created in 2010 by American Express to help small businesses promote themselves. It's since become a popular annual event. 79% of Americans surveyed are aware of the importance of shopping small and in 2021 they spent $23.3 billion on the day.
What happens on Small Business Saturday? It's about more than just profit. It's about building relationships with customers and strengthening ties with your community.
These bonds continue to be important even after the pandemic. Brevo's post-pandemic customer research shows that consumers are looking to support smaller and local businesses.
What's the purpose of Small Business Saturday?
Black Friday and Cyber Monday are owned by the big retailers. Small Business Saturday is your time to shine.
There's one important thing to remember about Small Business Saturday: it's all about showing the customer their purchase is making a difference. Whether it's helping the family behind the brand or going back into the neighborhood.
During last year's season, 79% of shoppers agreed small businesses are essential to the community and 36% of consumers planned on shopping during Small Business Saturday.
Read on to discover how you can encourage the community, near and far, to support your business and shop small this year.
Small Business Saturday marketing ideas
Your Small Business Saturday marketing strategy should radiate feel-good vibes and help your customer feel they're involved in something positive.
Here are our favorite marketing ideas to make your Small Business Saturday 2023 a roaring success.
1. Register your business
Gear up for the day by getting registered for the event. If you're in the US, you can register here. Businesses in the UK can register here (the UK event is on December 2nd).
Find out if your local area has its own list of participating businesses. Sign up to benefit from advertising in the run-up to the day or be part of a Shop Small map to guide foot traffic to your store on the big day.
You can also connect with other participating businesses ahead of the day to share ideas and plan joint events.
Pro tip: Don't just register on the Shop Small map. Create (or update) your Google My Business profile to maximize visibility.
2. Offer deals and discounts
Next, plan your deals. Small Business Saturday is a great opportunity to say thank you to customers by helping out with their holiday shopping. Plus, with an array of strong deals and discounts, you'll attract new faces to spread the word about your brand.
Not sure what kind of deals work? A recent poll revealed the most popular Small Business Saturday promotions were limited-time deals (24%), followed by free gifts (21%), coupons and discounts (20%), and finally buy-one-get-one free deals (19%). If you still can't decide, you could offer a mix, like Scout Books.

3. Link up with other businesses
On a day that's all about community spirit, why not link up with a fellow small business? Organize joint marketing campaigns with reciprocal discounts or giveaways and collaborate on social media posts to promote each other's business.
You're offering your customer a full experience, cross-pollinating your audiences, and getting to know a fellow business owner, as in this example from Tattly.

4. Get customers back in store
The pandemic sent businesses online, so use the day to entice people back into stores.
A great way to connect your online customer base with your real-life store is by creating an offer that links the two. Send a QR code to loyal customers to be redeemed in-store. Or vice versa, offer a discount for those who sign up for your newsletter through the QR code displayed on-site.
Or, offer store pickup to your online customers. "Most consumers love the ease and convenience of picking purchases up. It's a great opportunity to upsell and build a connection with your customers and secure their loyalty," says Jonathan Roque, digital marketing and content strategist at Zapiet.
Once in-store, customers typically make larger transactions, increasing your average order value.
5. Host an event
While you're inviting your customers back to stores, create a buzz in your space. Host an activity, an evening cocktail event, or hire local performers to entertain your guests.
Your efforts don't have to be too out there: customers love the little touches like a free coffee or a coupon for the next time they shop with you. Extend your opening hours, offer refreshments, give out free gifts, run a raffle — make the day feel like part of the holiday season.
The most important thing, as Roberta Perry of Scrubz Body Scrub, Inc says, is to put the customer first. "We revel in being a micro-mini business and we adore treating our customers like the gold they are. It gives us a chance to celebrate customer loyalty and renew our commitment to them."
Local news reporters will be keen to get the scoop on your event, so make sure you invite them along.
And when the party's over? Don't forget to follow up. A thank you note is a quick and effective way to show your appreciation.
Choose the best pictures from the event and share them on Facebook or Instagram. Or put them in a marketing email like this one from The Salty. Remind them of how much fun they had and make sure they come back soon.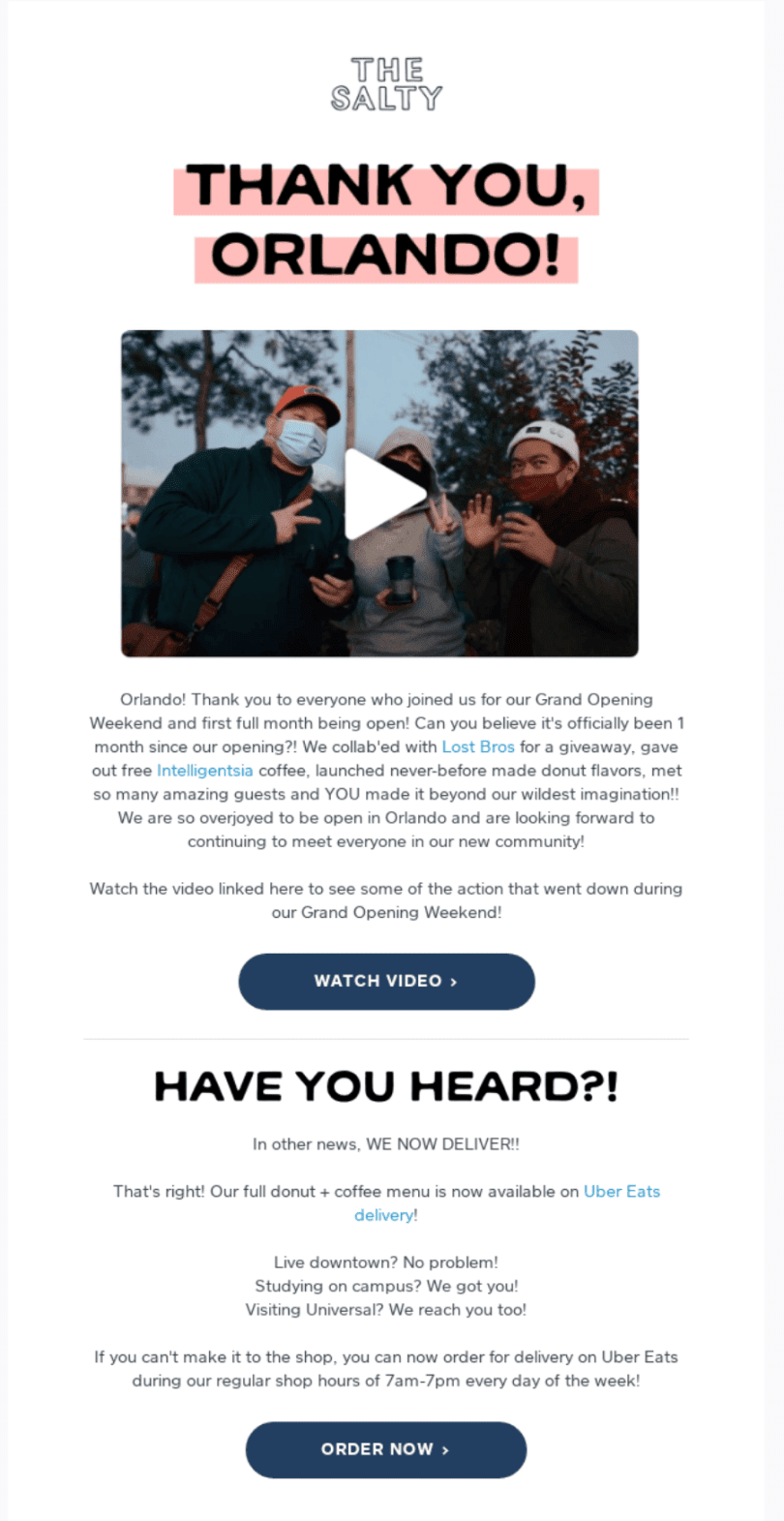 6. Send email campaigns
The best way to get the word out is over email. Social media is a great touchpoint, but it's important to connect with your invested audience. Make sure you're developing your customer relationships through email to deepen brand loyalty and engagement.
Build an email list by offering discounts. Then, keep in touch regularly with special offers and exclusive deals. This will help you build brand loyalty and encourage repeat purchases.
Andrew Woods of Duckpin says, "Your marketing efforts should start well before Small Business Saturday. In the month leading up to the sale, we engage customers and subscribers with high-value promotional teasers."
Send your contacts an email saying you will be participating in SBS and let them know you'll be having Small Business Saturday deals. Don't forget to follow up with a friendly reminder email a week or a few days before the event to keep it fresh in their minds.
To schedule and segment your Small Business Saturday emails ahead of time and take the stress out of your email campaign, try Brevo's email marketing software. Get started with 300 emails a day on the free plan.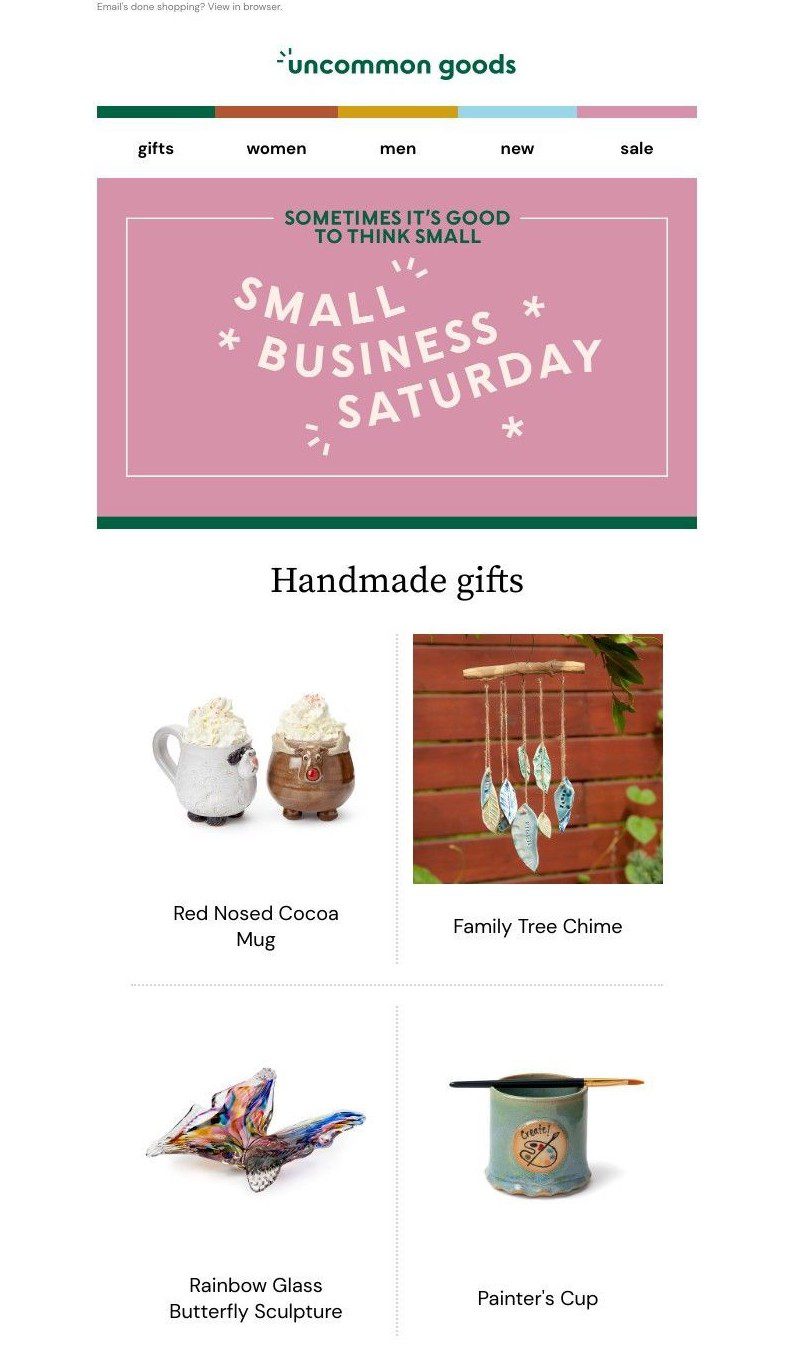 Send an email showcasing your products to get subscribers excited to shop Small Business Saturday like in this example by Uncommon Goods.
7. Use social media
Small Business Saturday is a social experience and a day to build community. So, it makes sense to promote it on social media. Plus, as of the end of 2022, 52.6% of businesses were leveraging social media for marketing purposes.
Increase engagement with your brand by creating Small Business Saturday posts. Use SBS hashtags and local hashtags to attract new customers. Be sure to include the official hashtags for the occasion, which are #ShopSmall, #SmallBizSat and #SmallBizSaturday.
"Invite users to like, share, and follow your profile for a unique discount code. This will boost your social media presence, exposing your business to even more people. This means more sales, more hype, and more attention," says Gregory Yong from Convincely.
People like to share their support, so make it easy for them to be interactive. Make an Instagram sticker, Snapchat filter, or gif with your business branding. Customers will jump at the chance to show off their support for small businesses.
8. Get great graphics
While you're feeling creative, design coordinated graphics and signage for your Small Business Saturday marketing materials. By splashing your online and real-life presence with logos, banners, and hashtags, you'll keep your business top of mind throughout the holiday sales.
Change your social media cover photos and banners to include the #ShopSmall hashtag. Pin a tweet, update your bios, or add a popup to your homepage. These minor changes help remind and encourage people to visit you on the day.
Every year, the original organizer of the event — American Express — offers free template graphics and imagery to help you coordinate your online presence and shop front.
9. Get user-generated content
Build a buzz around your brand with user-generated content. Organize a promotion or contest on social media and invite your customers to take part.
Ask for a photo with their favorite product of yours or a short video about why they love your brand. Share any content they generate, with their permission. People will warm to your brand, you'll build relationships with your most loyal customers and get yourself in front of some new faces as well.
10. Tell a story
Some prefer to leave the noise of deals and discounts behind to tell a story of their products and their business.
"For Small Business Saturday, we focus less on paid ads and more on showcasing video footage of the small business owners at work," says Ella Jesmajian, co-founder of Honey and Roses Coffee.
Sharing behind-the-scenes content is a great way to connect with your customers. People like to see the faces behind the brand. Small Business Saturday is a chance to make personal connections in a way the big corporations can't.
Content such as this sneak-peak from Jack Mason works brilliantly in email marketing to break up the promotions and build those all-important relationships with your subscriber list.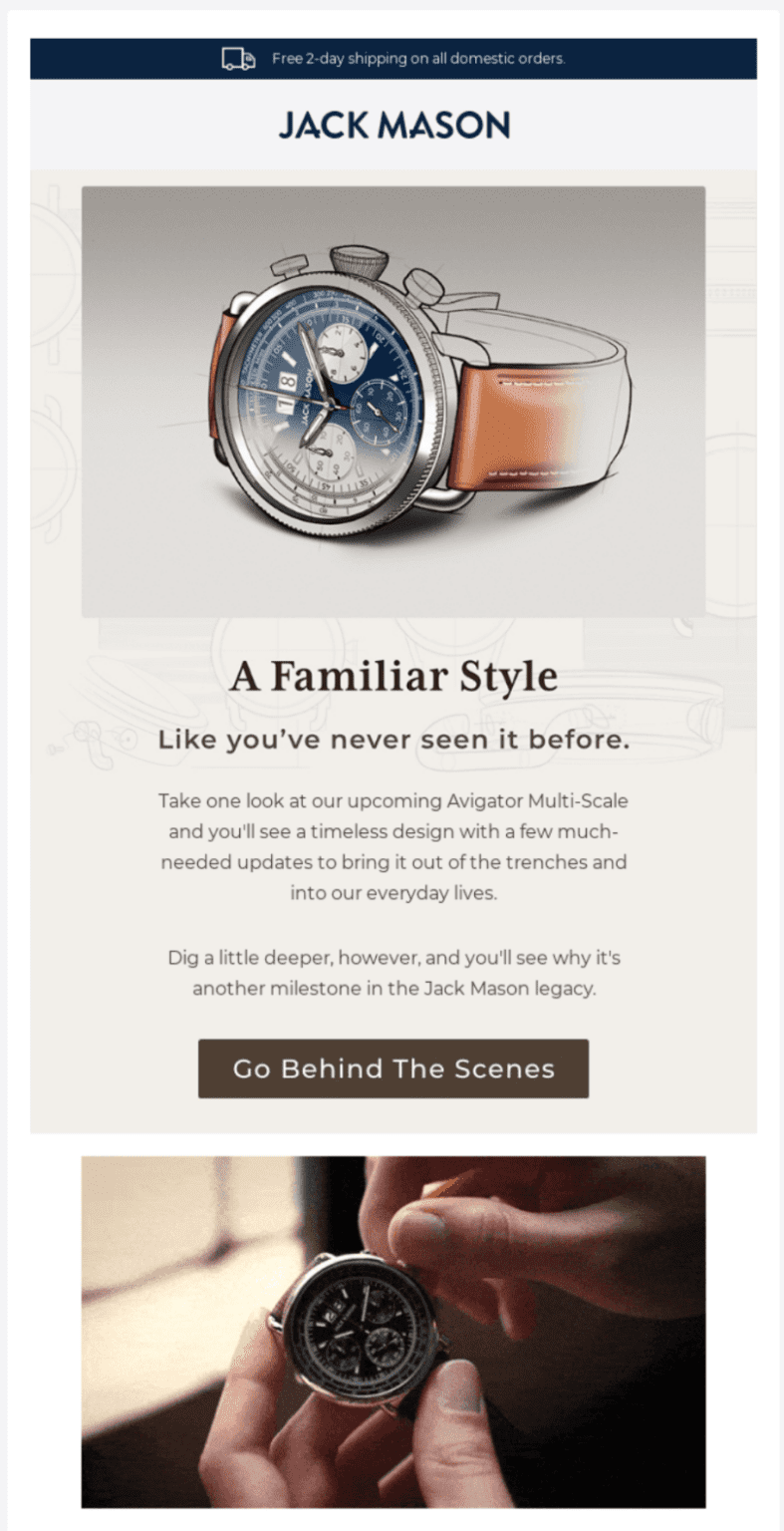 11. Give back
We know Small Business Saturday is all about community, think about how you can give back to yours. Customers love to see businesses contributing to the improvement of their local community.
Collect donations to fund new sports equipment, plant a flower bed in a local park, or contribute to a food bank. Pick something that feels appropriate to your brand.
Roberto Torres, owner of The Local Marketer says, "When a local small business partners with a local cause, it benefits the cause in two ways. The first is by providing the funds for them to continue operating, but also advertising that organization to the community."

Final tips for Small Business Saturday
Feeling inspired for your Small Business Saturday success? Just remember to:
Reward your customers with special events, deals, and discounts
Harness the power of community, be it your fellow business owners, local media, or members of the public
Be generous, with your behind-the-scenes story, your discounting, and your charitable giving
Achieve this, and your customers will walk away with the feel-good factor that will make them loyal to your brand all year round.
Stay up to date with the latest marketing tips and download our free holiday marketing calendar.

2023 Holiday Marketing Calendar
Downloading this calendar means you're signing up for our monthly newsletter, too. If you don't feel like getting regular marketing tips delivered to your inbox, you can always unsubscribe.