Trick or treat! It's that time of year again — time to open your door to spooky costumes, buckets of candy, and killer Halloween email marketing content.
Not only is Halloween the perfect holiday to run fun campaigns that your customers will love, but it can also lead to a monster sales boost.
Consumers spent a whopping $10.1 billion on Halloween in 2021, and sales will only continue to grow.
Get ready to light your jack-o'-lanterns! This article covers Halloween email marketing campaign examples, ideas, and tips to help you drive sales during this spooktacular holiday.
Halloween email marketing ideas and examples
Email content is one of the most important parts of your email marketing strategy, especially when it comes to Halloween. This fall, get the most out of your Halloween email campaigns to drive sales and build better customer relationships.
Here are a few Halloween email ideas, examples, and tips to make your Halloween newsletters extra spooky.
Spook up your Halloween email subject lines
Email content is arguably one of the most important elements of your email marketing strategy, especially when it comes to Halloween emails. Here are some tips and things to avoid when planning out your campaigns.
A well-crafted subject line boosts open rates and drives engagement. To write your Halloween email subject lines, here are a few tried-and-true tips:
Draw attention to the email with eye-catching emojis. The most important thing is to get your subscribers to open the email and read more.
Keep the copy short and to the point. You only have a few seconds to grab your subscriber's attention before they scroll on.
Create a sense of urgency. Highlight limited-time sales and tap into FOMO (fear of missing out). For spooky Halloween emails, there are so many ways to build suspense!
In the example below, Lush used the Halloween email subject line, "Something wicked this way comes," to spark the reader's curiosity.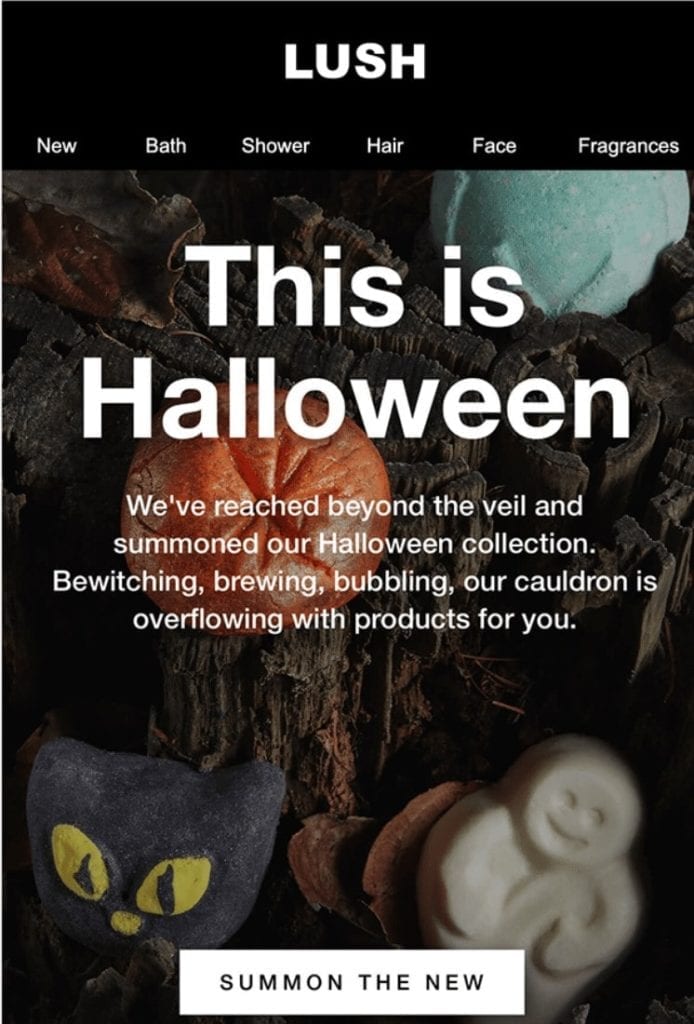 Have fun with Halloween puns and humor
Halloween is the perfect holiday for puns, jokes, and snappy email copy.
Don't hesitate to lean into Halloween-themed humor in your emails. This gets your subscribers in the Halloween spirit and adds a splash of fun to a crowded inbox.

To get inspired for your Halloween email copy, take a look at this campaign from Blue Apron: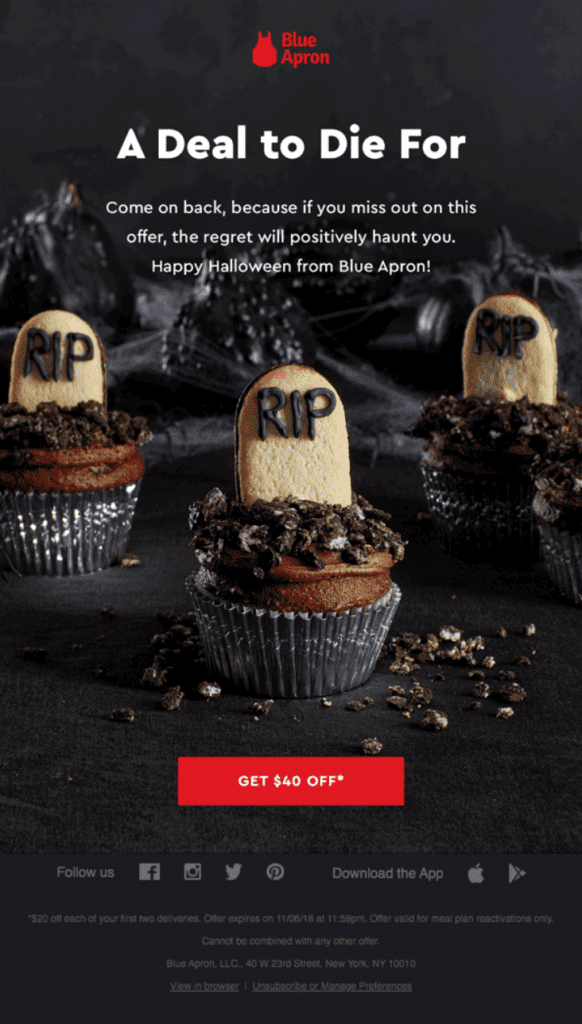 Use a "scary" Halloween marketing angle
Boo! One of the best marketing strategies to drive sales during Halloween is to find "frightful" ways of promoting your products or services.
With the right angle, any business or ecommerce site can send a fun and "scary" Halloween newsletter.
This email from Deep Steep promoting "scary good" deals on hand sanitizer is a great Halloween email example.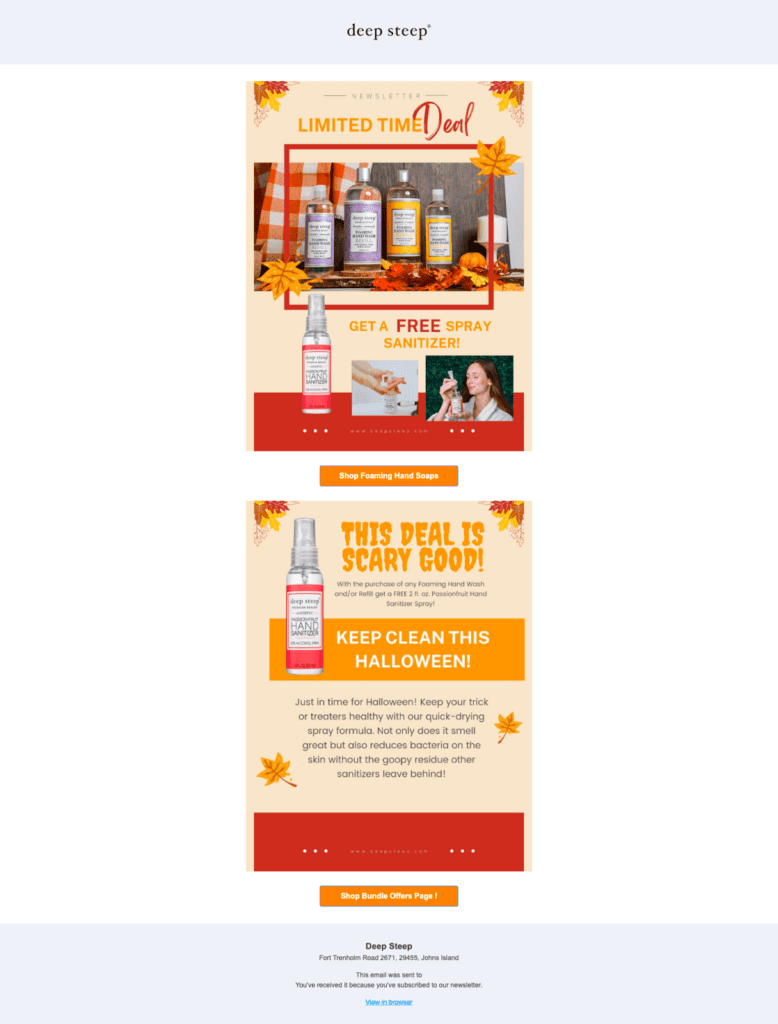 Created with Brevo
Don't be afraid to get creative. In the example below, Fortnum & Mason uses scary Halloween storytelling to promote their limited-edition Halloween treats.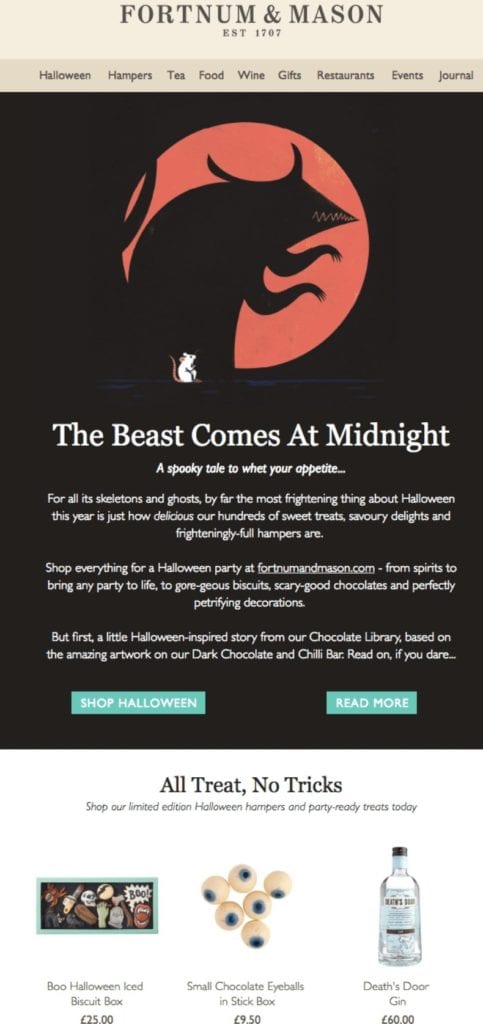 Build suspense with a Halloween email teaser
Don't wait until October 31st to send your Halloween email campaign. Send a teaser earlier in the month of October.
In the teaser, you don't have to give everything away. Just let your customers know if you're holding a special Halloween sale. Better yet, make your Halloween teaser part of an email series and use it to build excitement well before the holiday.
Save valuable time and effort by automating your Halloween email marketing series. To get started with email automation, try Brevo's Free plan, which includes access to automation workflows, 300 emails/day, and 40+ email templates.
Highlight Halloween sales and promotions
Halloween is the perfect time to entice customers with sales, promotions, and holiday deals. To grab customers' attention, make sure to put these offers at the front and center of your email campaign.
Always ensure your CTA is visible and eye-catching, like in this example from Designmodo: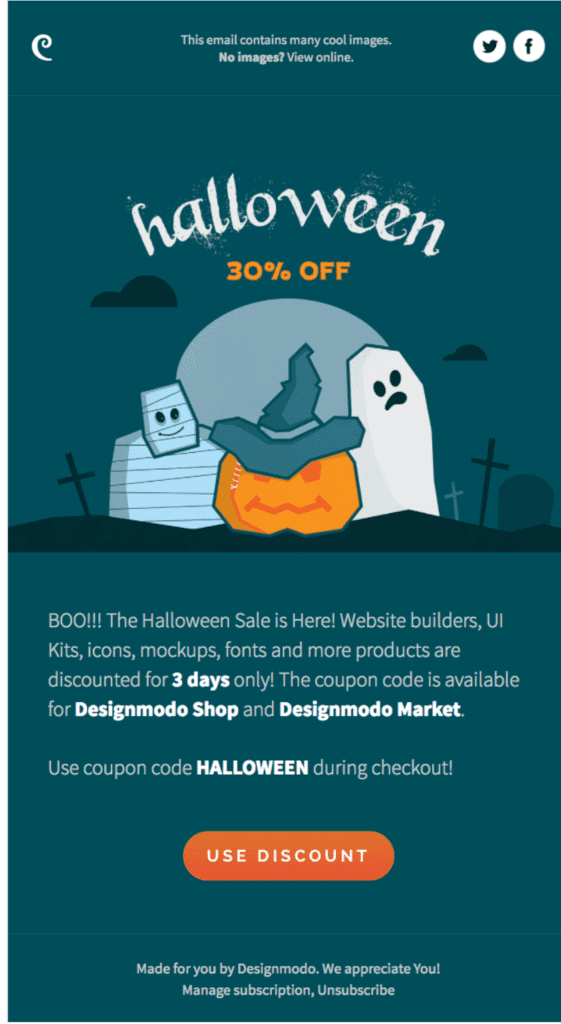 A newsletter is also a great way to promote new Halloween-themed collections, like in this Halloween email example from The Stamp Market: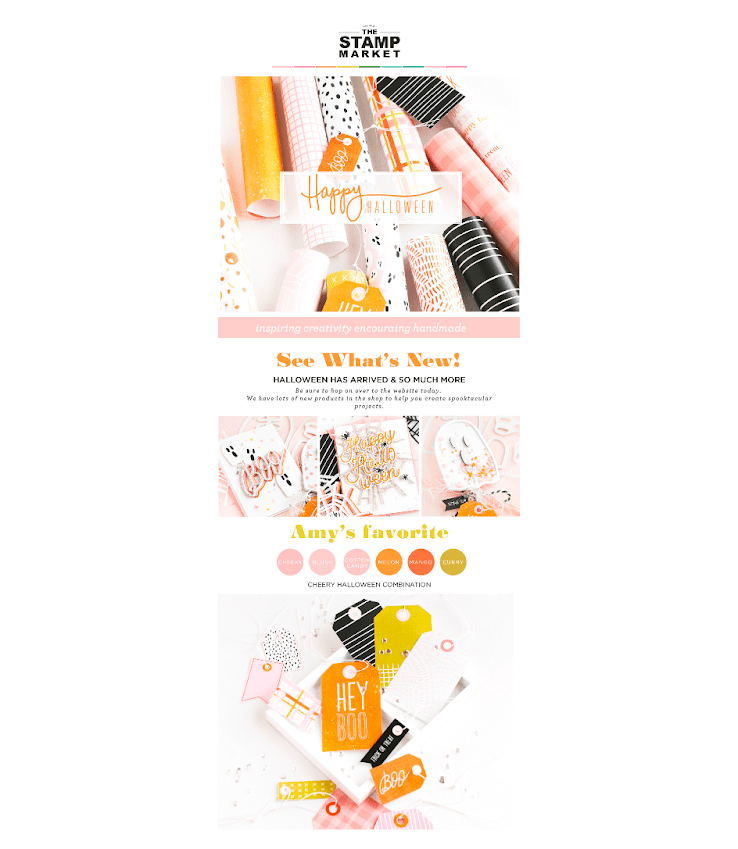 Created with Brevo
Further reading: Our Best Fall Newsletter Ideas to Inspire Your New Season Emails
Halloween email design tips
When it comes to holiday-themed campaigns especially, email design adds an extra spark to your email copy.

Don't know where to start? These tips will help take your Halloween visuals to the next level.
Use a Halloween email template
Nothing says Happy Halloween like a special Halloween email template.
Try using a color scheme of black and orange, spooky typography, or classic Halloween imagery — think: witches, zombies, and ghouls — oh my! With Brevo's intuitive drag-and-drop editor, you can easily design newsletters for your Halloween marketing campaigns.

Check out this example from Clear, which uses Halloween colors and imagery to shine a light on their spooktacular deal.

Use Halloween visuals that fit your brand
Find a way to use Halloween graphics so that your campaign feels natural and familiar to your subscribers. You can still design a Halloween-themed email while keeping with your brand image.
The email below blending Dunkin's branding with fun Halloween text is a perfect example: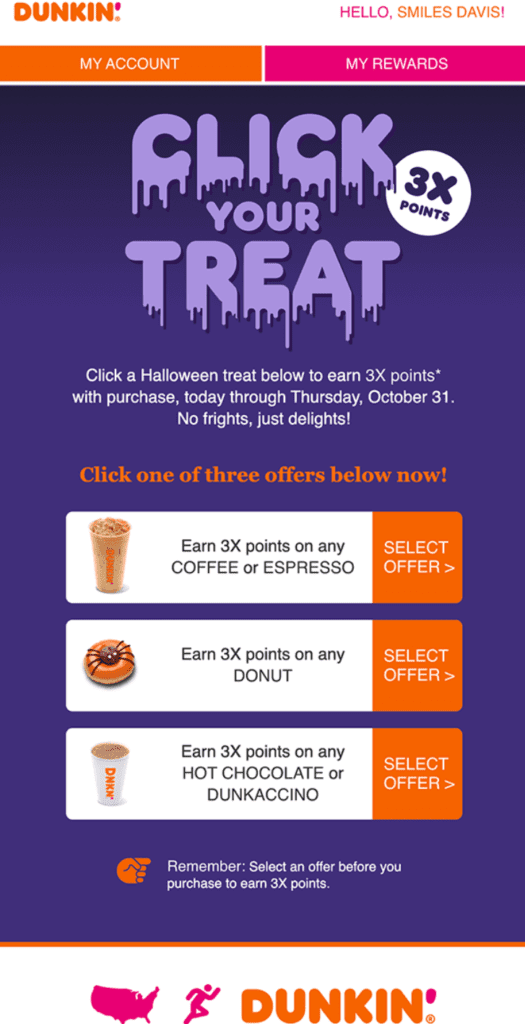 Use animated gifs
Gifs in email are a fun and eye-catching way to grab your subscriber's attention. They say a picture is worth a thousand words — and gifs often lead to higher engagement than text alone.
Use animated gifs to call attention to your Halloween sales campaigns or promo teasers. Find Halloween-themed gifs in a search engine or create your own.
For a holiday like Halloween, the possibilities are endless!
Planning your Halloween email marketing
Email marketing services make it easier than ever to plan your Halloween marketing campaigns.
This fall, launch your Halloween emails using Brevo. Design beautiful Halloween-themed newsletters with Brevo's drag-and-drop email editor. Send personalized content and start building better customer relationships.
With the right tools, Halloween marketing doesn't have to be scary.
Launch your Halloween email campaign with Brevo
Free plan includes access to all core email features, 300 emails/day, 40+ email templates, and customizable signup forms to grow your email list.