Reading time about 21 min

Email marketing is an incredibly effective way to connect with your customers, nurture potential buyers, and generate more sales.
Think about it: you get to show up in your audience's inboxes, share your products, and build a sense of trust around your brand. There's few marketing methods that allow you to do all that at once.
Getting started with email marketing means choosing a reliable email marketing tool that has the capabilities you need to connect with your subscribers.
There's a common myth that these tools are expensive, but this is far from the truth. In fact, there are plenty of free email marketing tools with all the features you need to run robust campaigns that convert.
We've compiled a list of the best free email marketing tools (or tools that have a free plan), complete with the key features and limitations of each.
Free Email Marketing Services at a Glance
*For free plans, as of 02/08/23
The Best Free Email Marketing Tools
1. Brevo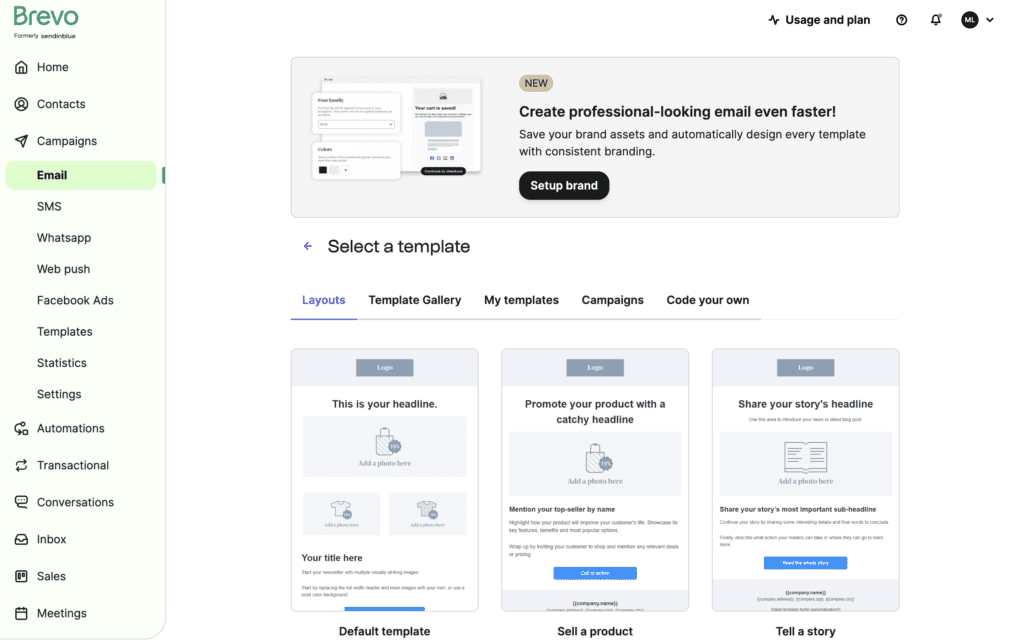 Brevo is so much more than just an email marketing tool. It's a full CRM suite that has all the features you need to create powerful email marketing campaigns that resonate with your audience.
Brevo's free plan lets you send up to 300 emails a day and have an unlimited number of subscribers. The intuitive drag-and-drop editor means you can bring your vision to life and send stunning emails to your subscribers in a matter of minutes using pre-made, professionally-designed email templates.
Grow your email list with customizable sign-up forms and maintain your customer relationships with transactional emails. Brevo lets you send time-sensitive transactional emails over its SMTP server as part of your monthly email allowance (even offers a free SMTP server for testing) – this is a great addition for ecommerce businesses.
Complete with an email template library, personalization software for emails and SMS, and an SMS marketing option, the free plan has everything you need to get started with email marketing.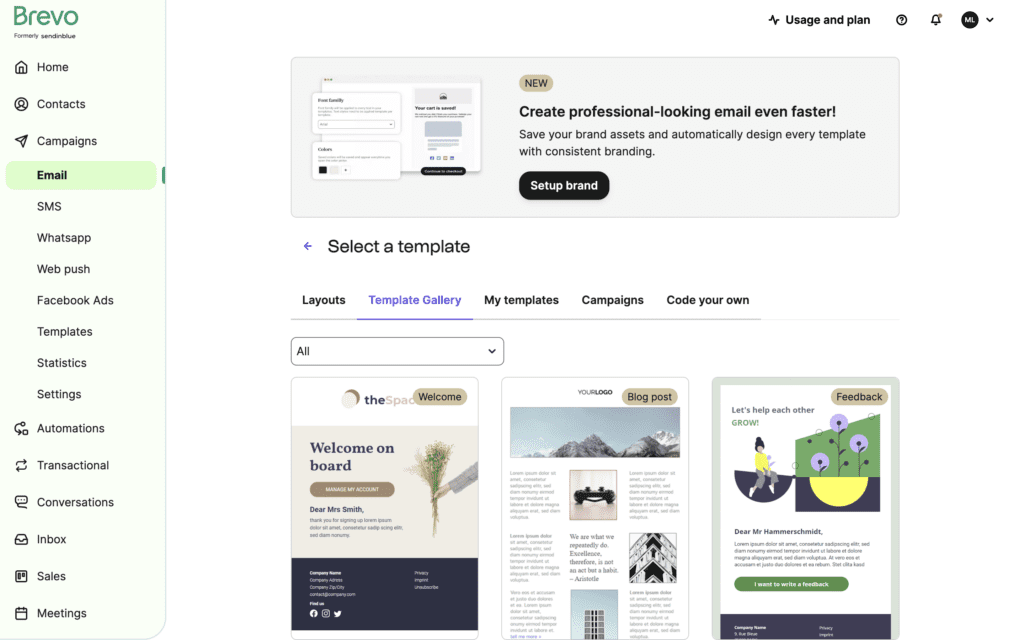 Here's everything you get with Brevo's free plan:
Mobile-friendly email designer
Email template library
Email and SMS personalization
SMS marketing 
Unlimited contacts and details
Advanced segmentation 
Customizable signup forms
Access to Sales Platform
Chat 
Transactional emails 
Core API features
Advanced templating language 
Workflow editor
Page tracking 
Real-time reporting 
API and plugins
Email support 
2. Moosend
Like Brevo, Moosend is an all-in-one marketing platform that provides services like a landing page builder and ecommerce AI. The email marketing service is one of its numerous offerings.
Because of this, you can access quite a lot of features on the free trial. For starters, they won't charge you for the number of subscribers and emails you send throughout the first month. Their other popular features include sign-up form templates and advanced reporting.
The features you don't have access to on the free plan are the services associated with Moosend's other marketing offerings, like landing pages and transactional emails. As well, support services on their free plans are fairly limited.
Here's what you get with Moosend's free plan:
Unlimited emails
Signup forms
Advanced reporting and analytics
Email campaigns
Basic email templates
Countdown timers
AI-Engine product recommendations
Automation workflow designer
Pre-built automation templates
Email heatmap analytics
A/B testing
3. Mailchimp
Mailchimp is all about helping small businesses create beautiful campaigns and branded emails that look professional and drive action.
The email builder comes complete with a set of basic templates that you can customize to fit your own branding needs. Basic automations are also included on the free plan. Though relatively limited, these features still allow you to connect with your audience on autopilot depending on their previous actions, likes, and dislikes.
Mailchimp's free plan allows up to 500 contacts and provides basic segmentation capabilities. The plan gives you access to all the basic features, like the audience dashboard and one-click automations, but it's limited when it comes to advanced analytics, demographics, and behavior-based automations. If that doesn't work for you, look at the 11 best Mailchimp alternatives.
Here are some of the most popular features on Mailchimp's free plan:
Up to 500 subscribers
500 emails/daily or up to 1,000 a month
Basic email templates
Marketing CRM
Surveys
Custom domains
One-click automations
Audience dashboard
Behavioral targeting
Basic segmentation
Landing pages (including shoppable landing pages)
Popup forms
Basic reports
Integration with more than 200 apps
Hesitating between Brevo and Mailchimp? Take a look at this detailed comparison Alternatively, take a look at these Mailchimp alternatives.
4. HubSpot Email Marketing
HubSpot is another wide-reaching growth platform that helps you scale your business in a number of directions. One of their offerings is an email marketing tool.
Their email software uses an intuitive drag and drop editor. You can choose from a selection of pre-made goal-based templates that you can edit as you like.
On the free plan, you can send up to 2,000 emails per month, regardless of the number of subscribers you have. You can even preview your emails as a specific contact before sending to make sure everything goes smoothly.
Once your emails are sent, you can measure the success of your campaign using the analytics dashboard that is designed to optimize your email marketing strategy with user-friendly charts and click maps.
Because HubSpot is an all-in-one platform, the free plan gives you access to all of HubSpot's free tools. This way, your emails are connected to the free CRM, which stores all of your subscribers' information and logs every one of their interactions with your business.
Here are some of the most popular features on HubSpot's free plan:
Send up to 2,000 emails a month
Create up to 5 active and 1,000 static lists
Customizable signup forms, pop ups, slide-in boxes, and dropdown banners
Goal-based email templates
CRM that automatically logs all of your contacts' information and interactions with your business
Basic email analytic reports
Live chat and chatbots
Ad management
Ticketing
Hesitating between Brevo and Hubspot? Take a look at this detailed comparison.
5. Benchmark
Benchmark offers a simple free email marketing tool for small businesses looking for a quick and easy solution. It's not quite as advanced as some of the other options here, but it does provide a range of key features on its free plan.
Not only can you have unlimited contacts, but you can send up to 250 emails a month to your list. There is also access to a basic but consistent level of support and some intuitive email marketing automations.
The free plan doesn't include any A/B testing capabilities or the opportunity to segment your list, but if you're looking for a very easy-to-use platform and have a relatively small list, Benchmark could be a good fit.
Here are some of the most popular features on Benchmark's free plan:
Unlimited contacts
250 emails per month
Basic support
Basic email marketing
Basic email automation
6. Omnisend
Omnisend is a platform dedicated to creating omni channel campaigns. That is, campaigns that span multiple different platforms. It specializes predominantly in email and SMS marketing and has a robust free plan that's easy-to-use and does just as it says for small businesses and email marketing newbies.
The plan lets you store as many contacts as you like, but only allows you to contact 250 of your stored contacts per month. With a sending limit of 500 emails per month, that comes out to being able to email 250 contacts twice per month.
In terms of features, Omnisend recently started providing pre-built automations and workflows as well as segmentation and customer analytics on their free plan.
However, there are a few more limitations to be aware of with this option. If you plan to upgrade your sending limits, you can expect to pay significantly more. Sending to just 10,000 contacts will cost you $115 per month.
Compared to other email marketing services on this list, this is a pretty steep price. The free plan has an impressive amount of features, but if you're looking to send in high quantities, it'll cost you. This is why we think Omnisend is so great for those just starting out.
Here are some of the most popular features on Omnisend's free plan:
Send 250 contacts two emails per month
Email campaigns & SMS
Signup forms, sign up boxes, and customized pop ups
Signup form reports
Campaign reports
Custom targeting and timing
Selection of premade email templates
Prebuilt workflows and automations
Segmentation and customer analytics
7. Sender
Sender is all about providing a cheap and easy way for small businesses to stay in touch with their audiences. The most notable thing about the platform is the relatively low cost of its email marketing packages.
However, despite its low prices, the platform still provides all the basics you need for a simple and effective email marketing campaign, including simple automation features.
The free plan allows up to 2,500 subscribers and lets you send up to 15,000 emails a month, which is a lot higher than most of the other platforms here. On top of this, you get all the features for free.
The only difference between the plans is that you are automatically upgraded to one of the paid plans when you reach a certain number of subscribers.
While it might not have the advanced features of some of the other platforms here, you can still create email workflows, build out simple drip campaigns, and segment your audience with the free plan.
Here are some of the most popular features on Sender's free plan:
Up to 2,500 subscribers
Up to 15,000 emails per month
Web push notifications
Subscription forms
Mobile responsive pre-made email templates
Advanced email analytics
Drag-and-drop email editor
8. MailerLite
MailerLite provides an easy way to connect with your customers through basic email campaigns and simple automations. The service prides itself on keeping things stripped back and only provides the key email marketing essentials.
The free account lets you store up to 1,000 contacts and send up to 12,000 emails a month.
It comes with the majority of features of the paid plans (which are determined by how many subscribers you have), but doesn't include personal branding options or the advanced capabilities that enterprise, professional companies might need, like live chat support, custom HTML editor, promotion popups, or A/B testing.
Here are some of the most popular features included on the MailerLite free plan:
Up to 1,000 subscribers
12,000 emails per month
Video tutorials and detailed knowledge base
24/7 email support
Drag and drop editor
Over 25 mobile-friendly, customizable templates
Mobile optimized landing pages and embedded signup forms
Email automations
Advanced segmentation
A/B testing
Surveys
9. SendPulse
SendPulse is more than an email marketing tool. Its multi-platform solution allows you to create high-tech omni-channel campaigns. Altogether, they offer email marketing, transactional emails, SMS, web push notification, chat, email verification, and website services.
The free email marketing plan is for up to 500 subscribers and allows you to send up to 15,000 emails each month. Compared to the paid plans, the free plan comes with most of the same features, just in limited quantity.
Basically, SendPulse's pricing model is determined by how many subscribers you have and how many emails you need to send each month rather than the features that you do and do not have access to. That said, two major exceptions are segmentation and A/B testing, which are not offered on the free plan.
Let's say you're sending 15,000 emails a month — one weekly newsletter to each of your 5,000 subscribers. You could still stay on the free plan with this number of emails. But having more than 500 subscribers means you'd have to upgrade. Your options would look like this:

Here's what you get with SendPulse's free plan:
Up to 500 subscribers
Send up to 15,000 emails each month
Easy-to-use email editor
Subscription forms
Over 130 mobile-friendly email templates
Email automation and personalization features
Advanced reporting
One landing page
10. Email Octopus
Email Octopus' email marketing tool offers the usual features like pre-made templates to make your emails look great and basic automations that let you engage subscribers without having to manually send out campaigns.
The free plan lets you have up to 2,500 subscribers and send up to 10,000 emails each month, but key statistics like open rates and click throughs are only stored for 30 days. You get basic support on the free plan which is usually enough for small businesses that aren't running overly complicated campaigns.
Limitations of the free version include limited templates and Email Octopus branding in emails.
Here's what you get with Email Octopus' free plan:
Up to 2,500 subscribers
Up to 10,000 emails per month
Statistics and analytics stored for 30 days
Basic support
Email builder (HTML & drag and drop)
30 responsive email templates
Advanced segmentation
10. Mailjet
Mailjet's goal is to help businesses send meaningful emails to their subscribers and create powerful campaigns. Like most of the other free email marketing tools listed here, it offers an intuitive email builder with a simple drag-and-drop editor that lets you create responsive emails quickly.
A particularly attractive aspect of their free plan is that you can have an unlimited number of subscribers. However, the number of emails you can send is limited to 200 per day. This plan also includes an advanced email editor and advanced statistics so you can track which emails perform best and who your most engaged subscribers are.
What this plan doesn't include is audience segmentation capabilities, A/B testing opportunities, or automation features. In fact, A/B testing and automation features are only available in the Premium and Enterprise plans.
Here's what you get with MailJet's free plan:
Unlimited contacts
APIs, STMP relay, and Webhooks
Advanced email editor
Integrations
Basic statistics
6,000 emails per month (or 200 emails per day)
Hesitating between Brevo and Mailjet? Take a look at this detailed comparison
12. Zoho
Next on our list of free email marketing services is Zoho. Alongside their broad suite of CRM, online workspace, finance, human resources, and IT management platforms, Zoho provides an email marketing tool.
Their forever free plan allows you to send up to 12,000 emails per month to 2,000 contacts. The main limitation is that the free plan includes no email automation or SMS features. As well, the free plan won't allow you to integrate Zapier or Litmus apps.
For those getting started with email marketing, however, the free plan does have a lot to offer. Free users have access to Zoho's drag and drop editor, newsletter templates, contact list management to ensure deliverability, A/B testing, and more.
When it comes to upgrading, things get a bit pricier. To get access to functionalities like automation with 20,000 contacts, it'll cost you around $123 per month.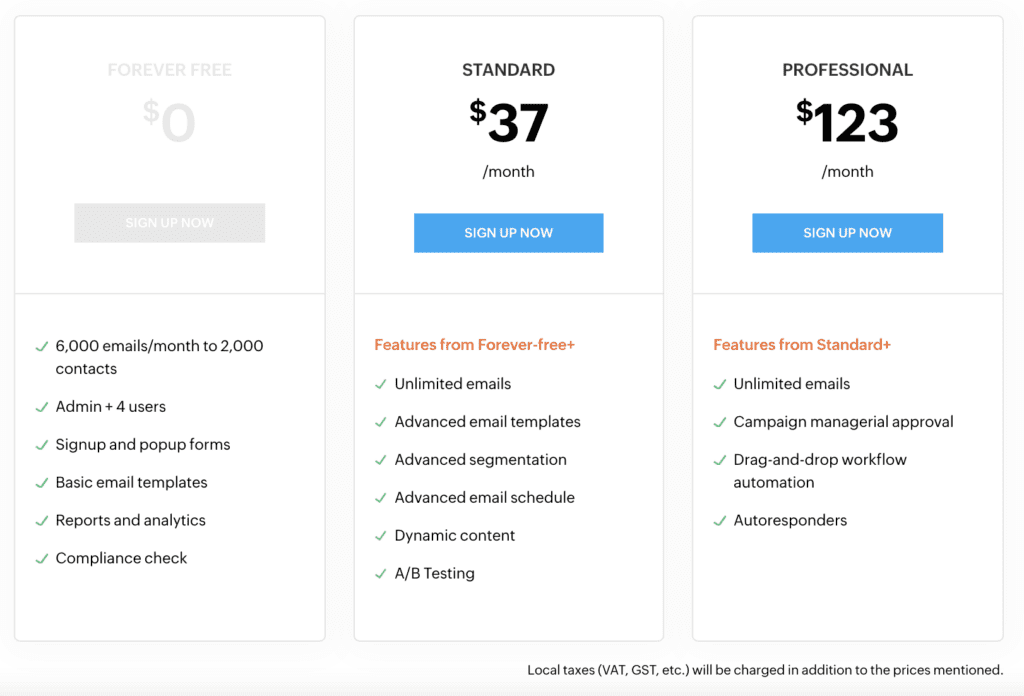 Here's what you can expect from Zoho's free plan:
Send 6,000 emails per month
2000 contacts
5 account users
Drag and drop editor & pre-built templates
Basic email list segmentation
Sign-up forms & basic contact list management
A/B testing
Send test emails
13. GetResponse
GetResponse offers an email marketing software that allows you to create and send high-quality professional newsletter campaigns. Their free plan includes key features like a visual email editor, basic contact management, pre-designed email templates, and sign-up forms.
Where their services become a bit limited is with transactional emails and segmentation. As well, their free plan won't allow you to use any integrations. In fact, these features are only fully available from the Plus plan and up.

Something that sets GetResponse apart from the rest, however, is that they offer pretty significant discounts on their paid plans for NGOs and charities. If your organization works in the third sector, GetResponse may be a good email marketing solution for you.
Here are some of the most popular features on GetResponse's free plan:
Send unlimited emails per month
Store up to 500 contacts
Drag and drop creator
Pre-designed email templates
Landing pages
Sign-up forms
Website builder
SEO optimization tools
Email Marketing Tools with Free Trials
Since this article focuses on email marketing services which offer zero-cost solutions, we've left out a few notable providers. Now, these options don't have free plans available, but their services may be worth looking into if your business has more complicated needs.
1. Constant Contact
Constant Contact offers a results-driven email marketing tool. They offer a sleek drag-and-drop editor, advanced automation functionality, email list segmentation, features tailored to ecommerce businesses, and many integrations, including WordPress, Shopify, QuickBooks, and Salesforce. All their plans allow you to send unlimited emails to your contact list. However, you'll have to pay extra the more contacts you store.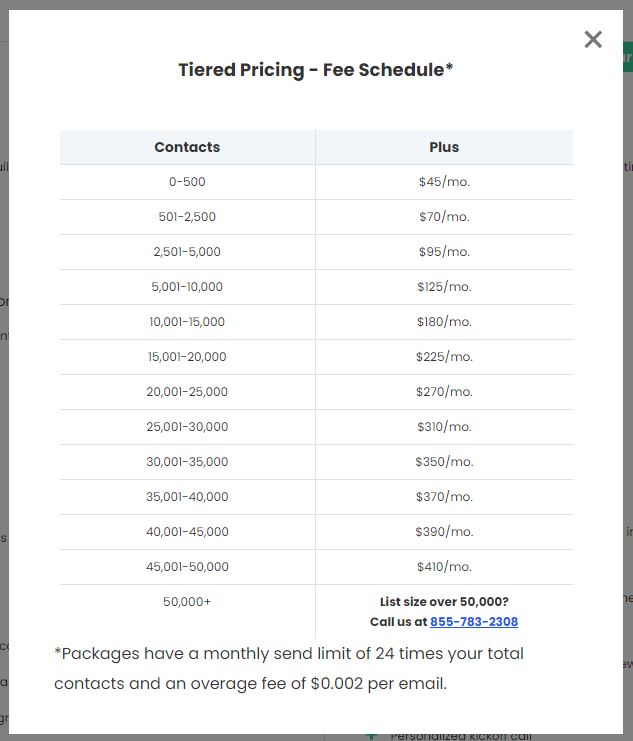 Their 30-day free trial includes access to all features as well as a high level of customer support and advice from marketing experts. This is a great option for someone looking to get started in the world of email marketing.
2. Active Campaign
ActiveCampaign is another top-notch email marketing tool. Their plans come chalk-full of features not just limited to email marketing but also sales and customer service suites. All plans include access to marketing automation, unlimited email sending, drag and drop editor, 125 email templates, segmentation, subscription forms, and site tracking.
While this is certainly an impressive range of features, the plans quickly become more expensive the more contacts you have. For 1,000 contacts, their Lite plan comes in at $30 per month.
As well, ActiveCampaign's free trial lasts only 14 days, which may not be long enough to fully try out all of their platform's features.
Choose Your Free Email Marketing Tool
Email marketing is the most effective way to communicate with your customers, whether it's to confirm an order they've made or to promote your latest product line.
Whatever your aims, choosing a good free email marketing tool is the first step to success. Find a platform that has everything you need and experiment with the features it has on offer. From there, you can build out campaigns to stay connected with your audience and to keep your brand fresh in their minds.
Jumpstart your email strategy with Brevo
Free plan includes access to all core email features, 300 emails/day, 40+ email templates, and customizable signup forms to grow your email list.