Reading time about 13 min

The more subscribers you get, the more you pay. This is how ConvertKit works. But did you know it's not always the case? If you check out these 9 ConvertKit alternatives, you'll see there are many more email marketing tools that work for your budget and needs.
Growing businesses should be extremely careful when choosing email marketing software. While a tool might seem affordable initially, there's a risk the costs will increase fast as your mailing list grows.
Therefore, you'd better choose the tool that not only serves your needs short-term but also allows your account to grow in the long run without extra expenses. Below we provide a comparison of ConvertKit and its main competitors to help you make the right choice.
ConvertKit: The Pros And Cons
ConvertKit is a marketing automation platform for bloggers, YouTubers, artists, and other creators. ConvertKit's toolkit isn't limited to email marketing features. The platform also offers solutions for lead generation and monetization.
ConvertKit Pros
There are quite a few reasons creators like ConvertKit:
Functionality for selling ebooks, newsletters, singles or albums, coaching sessions, and photo or video presets;
Integrated payment processing;
Dynamic audience segmentation and tagging;
Commerce tool powered by Stripe;
Simple email automation rules;
Low entry threshold;
Integrations with referral program tools, ecommerce platforms, giveaway software, educational platforms, etc.
ConvertKit Cons
Alongside useful features, ConvertKit has drawbacks that one can't ignore:
No drag and drop functionality;
Costs grow fast with the mailing list size;
The instant view doesn't show what the opt-in form will look like;
No automation features inside the free plan;
The editor for building email marketing sequences is too basic;
Only one mailing list per account;
No transactional email services;
The performance data is limited to opens, clicks, and unsubscribers.
How much does ConvertKit cost?
Users often complain about ConvertKit's pricing plans. The tool gets more expensive as your subscriber base grows. Paid plans start at $9/month (sounds like a good deal, doesn't it?) for a mailing list of up to 300 subscribers.
However, for mailing lists that include from 301 to 1,000 subscribers, the basic Creator plan will cost $25/month. This plan also includes email automation features, unlimited signup forms and landing pages, access to 70+ integrations and API, and basic reporting.
The Creator Pro plan starts at $50/month for up to 1,000 contacts and provides multi-user access, deliverability and user engagement reporting, an opportunity to fix links after emails have been sent, and a newsletter referral system atop features available in a cheaper plan.
If your mailing list doesn't exceed 1,000 contacts and you don't need automation functionality, you can use ConverKit's free plan.
9 Best ConvertKit Alternatives Compared
How does ConvertKit compare to its competitors? Let's see what ConvertKit alternatives offer in free and paid plans.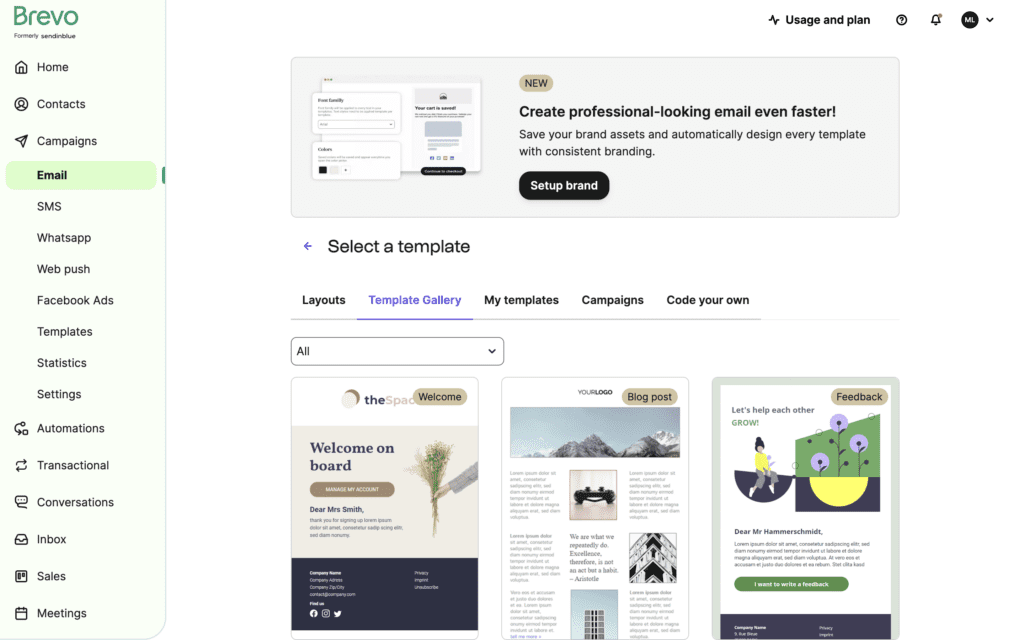 Brevo is the most affordable email marketing platform for businesses that plan to grow their mailing lists. It lets you create and manage email marketing campaigns, automated workflows, transactional messages (by email or SMS), Facebook Ads, WhatsApp marketing, push notifications, and live chat – all from one intuitive interface.
Why is Brevo the best ConvertKit alternative?
For $25/month, ConvertKit allows you to send emails to up to 1,000 contacts, set up autoresponders, and create segmented audience lists. And what can you do inside Brevo for this money?
Add an unlimited number of contacts (Have 100,000 subscribers? You'll still pay $25/month!)
Design your emails with the drag and drop email builder, HTML editor, or plain text editor
Integrate seamlessly with your ecommerce shop through custom-built integrations with Shopify, WooCommerce, WordPress, Magento, PrestaShop, and others
Set up GDPR compliant campaigns
Create mobile-responsive email newsletters
Use multi-list subscription forms and have separate audience lists
Enjoy dynamic list segmentation
Access real-time reporting
Send transactional emails using API or SMTP.
And if you upgrade to the $65 plan, you'll access features that you won't find even in the most expensive ConvertKit package:
Detailed reporting that includes geo and device data, heat maps, and more advanced stats
A/B testing
Send time optimization
Phone support
Facebook Ads.
Brevo vs ConvertKit pricing
Brevo offers a free plan where you can add as many contacts as you wish and send up to 300 emails/day, totaling 9,000 emails/month. Paid plans start at $25/month – on the lowest plan, you can send up to 20,000 emails per month (the limits don't apply to the contact list size). You can buy extra email credits without upgrading to the next tier.
2. SendPulse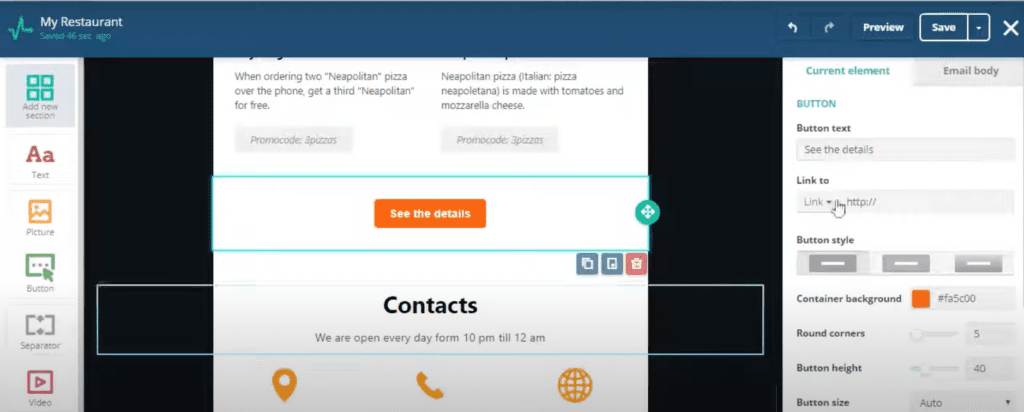 SendPulse is a great ConvertKit free alternative. Similar to Brevo, it offers tools for email marketing automation, CRM, transactional email sending, SMS marketing, and chatbot marketing.
Inside the free SendPulse plan, you access the same features you'd need to pay for as the ConvertKit user.
How SendPulse differs from ConvertKit
For a mailing list of up to 1,000 contacts, SendPulse will charge you $9.60/month – for almost the same price, you'd access only 300 contacts in ConvertKit.
Basic 1-step automation sequences are available in the free plan.
Full access to the email A/B testing feature in the Standard plan ($9.60/month).
With the "pay as you go" option, you can purchase email credits without the need to pay for the features you don't need.
12,000 transactional emails are available in the free plan.
Overall, you get a lot more functionality with SendPulse.
3. Moosend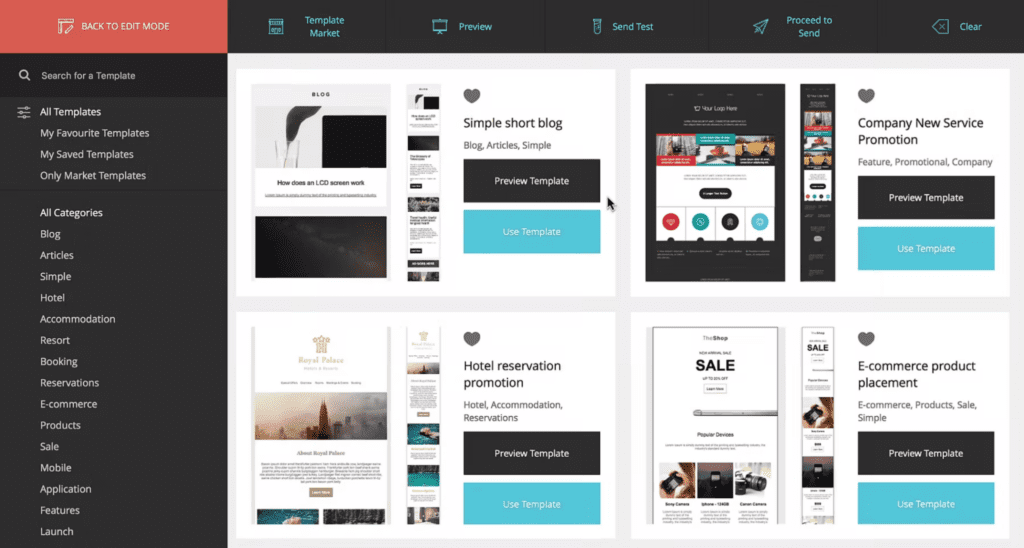 Moosend is another platform for creators that don't want to break the bank with email marketing.
How good an alternative is Moosend to ConvertKit?
Moosend starts at $9/month, an audience size of up to 1,000 contacts will cost you $16/month – it's more than SendPulse charges and less than ConvertKit does.
As a power email marketer, you can buy one of the Credits Bundles: 350,000 emails for $350, 500,000 emails for $500, 750,000 emails for $750, or 1,0000,000 emails for $1,000.
Inside the Moosend email marketing platform, you'll access the features that aren't covered by ConvertKit: email split testing, subject line generator, advanced insights into campaign performance, etc.
Contrary to ConvertKit, Moosend offers transactional email services as a part of its packages.
Ecommerce AI allows ecommerce marketers to reach customers with timely cart abandonment messages, cross-selling offers, and replenishment emails. Shoppable emails are available.
ConvertKit offers fewer and less sleek email templates than Moosend does.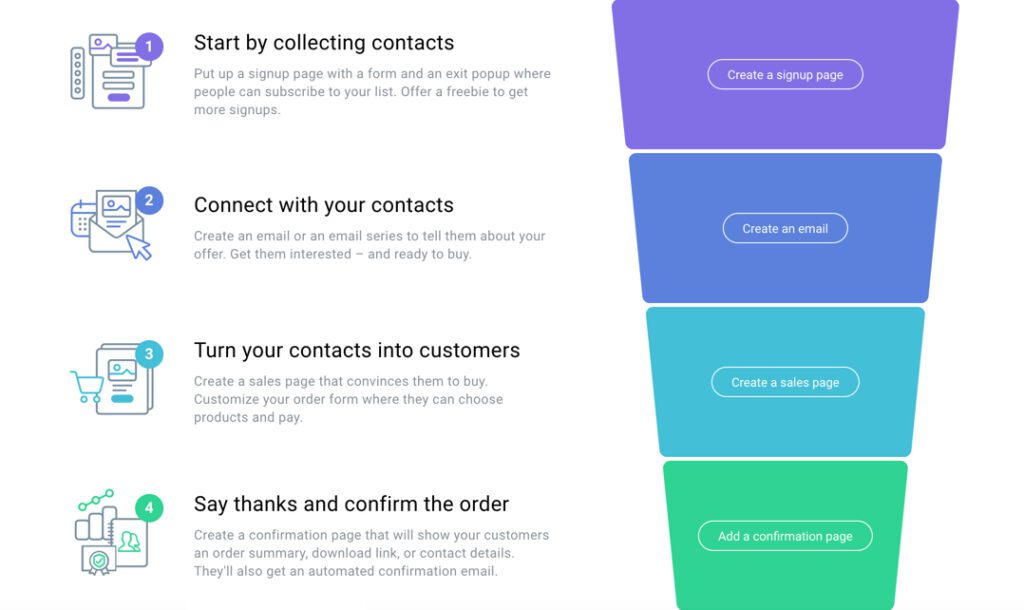 GetResponse is a great ConverKit alternative for ecommerce marketers and small businesses. It has a variety of tools that facilitate running promotional campaigns and selling ecommerce products. Brands can integrate their online shop to GetResponse, set up tracking for audience behavior, and sell products directly through emails.
What GetResponse offers compared to ConvertKit
With GetResponse, you can store up to 1,000 contacts for $15.58/month.
If you like the monetization tools of ConvertKit, GetResponse's ecommerce toolkit is right for you. Sales funnels, automated email sequences, payment processing options – these and many more features are available for ecommerce brands.
GetResponse offers a drag and drop email creator.
A website & landing page builder is available in the free plan.
For the first 30 days, you can use all the premium features of the platform.
A/B testing is included in all the paid plans.
Mind that GetResponse doesn't allow for contact tagging and advanced automation within low-tier plans. If you need these features, Brevo might be a more cost-effective alternative.

ActiveCampaign is a marketing automation tool known for its email marketing, CRM, and SMS marketing functionality. The company offers tools for B2C, B2B, and ecommerce brands.
Is ActiveCampaign a good ConvertKit alternative?
It's easier to say what ActiveCampaign doesn't offer than list all its features. But we'll try.
ActiveCampaign isn't cheap. Its pricing policy is close to the one of ConvertKit but for one detail: in the cheapest ActiveCampaign plan ($15/month), users access more performance insights, advanced tools (API, webhooks, and developer tools), 125+ email templates, and other benefits not available inside ConvertKit.
The tool provides a CRM toolkit for sales and digital marketing managers to collaborate on lead generation, scoring, and customer management.
ActiveCampaign has a mobile app where campaign performance data and customer contacts can be reviewed at any time.
870+ integrations let users connect their ActiveCampaign account to any app.
ActiveCampaign doesn't offer a free plan.
6. Drip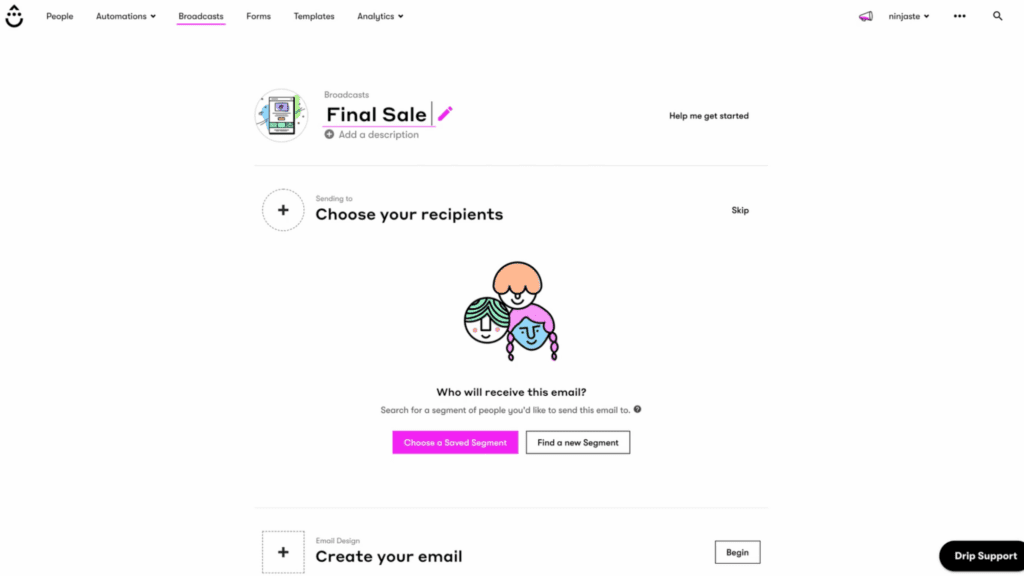 Drip is a marketing automation platform specializing in ecommerce. It's different from the rest providers on this list as it doesn't offer CRM functionality. Instead, it introduces a few unique features, like top-selling products, expiring links, and split tests for marketing automations.
Drip and ConvertKit compared
Similar to the tools listed above, Drip offers a range of integrations with ecommerce platforms, like WooCommerce, Shopify, and Magento (the latter isn't offered by ConvertKit).
Users can add top-selling products, abandoned products, and recommended products in email campaigns through the direct Shopify integration.
Expiring Links is a unique feature offered by Drip. It automatically replaces links that lead to offers that have expired.
Split testing for email campaigns and automated workflows distinguishes Drip from ConverKit.
SMS marketing is also available inside Drip.
Unlike ConvertKit, Drip doesn't provide a landing page builder.
Surprise-surprise, Drip is more expensive than ConvertKit. Paid plans start at $19/month for up to 500 contacts, and there's no free plan available.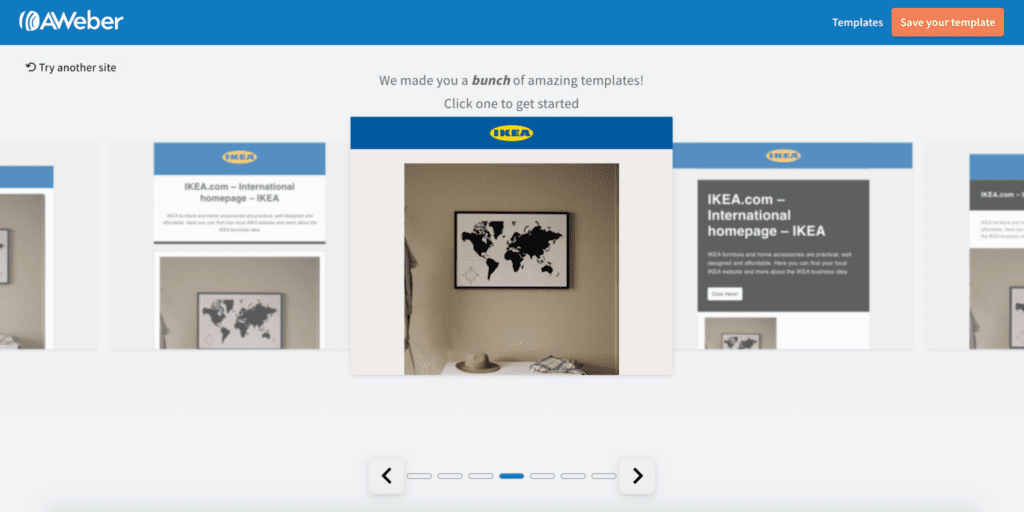 AWeber is a dedicated email marketing service. If all you need is to send occasional newsletters, Aweber is the right choice for you.
Can AWeber substitute ConvertKit?
AWeber gives fewer contact credits in the free plan – up to 500 subscribers per account.
AWeber has a higher entry threshold than ConvertKit. The only paid plan is called AWeber Pro, and it starts at $16.15/month for up to 500 contacts.
Still, as you grow, AWeber's paid plan is more affordable. To store up to 2,500 contacts on your email list, you'll pay $26.15/month.
You can run email split tests in the paid AWeber plan.
Multi-user account management in all plans (right, even in a free plan).
For sales campaigns, AWeber charges a 3.5%+$0.3 fee per transaction.
24/7 live chat, phone, and email support.
AWeber offers migration support even to free users.
AWeber provides a direct PayPal integration (and ConvertKit does not).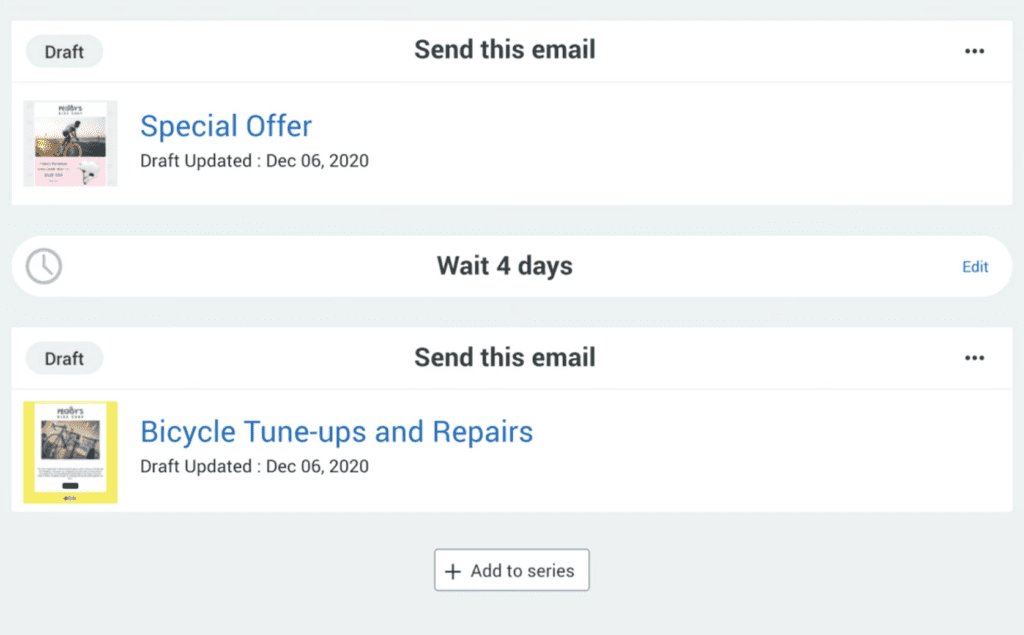 Constant Contact is a marketing automation platform for small businesses that want to collect customer feedback with the help of email campaigns.
How Constant Contact differs from ConvertKit
You won't find a free plan inside Constant Contact. But there's a 30-day free trial for eligible customers.
For only $9.99/month, you can add up to 500 contacts to your Constant Contact mailing list.
300+ email templates, as well as a built-in drag and drop editor, make Constant Contact a more viable option for email marketing.
However, while ConvertKit lets you set up automated funnels and sequences in the cheapest plan, Constant Contact includes the key automations (except for the welcome email) only in the top-tier plan ($45/month).
Constant Contact has developed a mobile app to enable users to manage contacts and edit email campaigns on the go.
Constant Contact's advanced reporting features include heat maps, campaign comparisons, and click segmentation.
Its unique features include the Eventbrite integration for event marketing and custom survey tools.
Find more Constant Contact alternatives.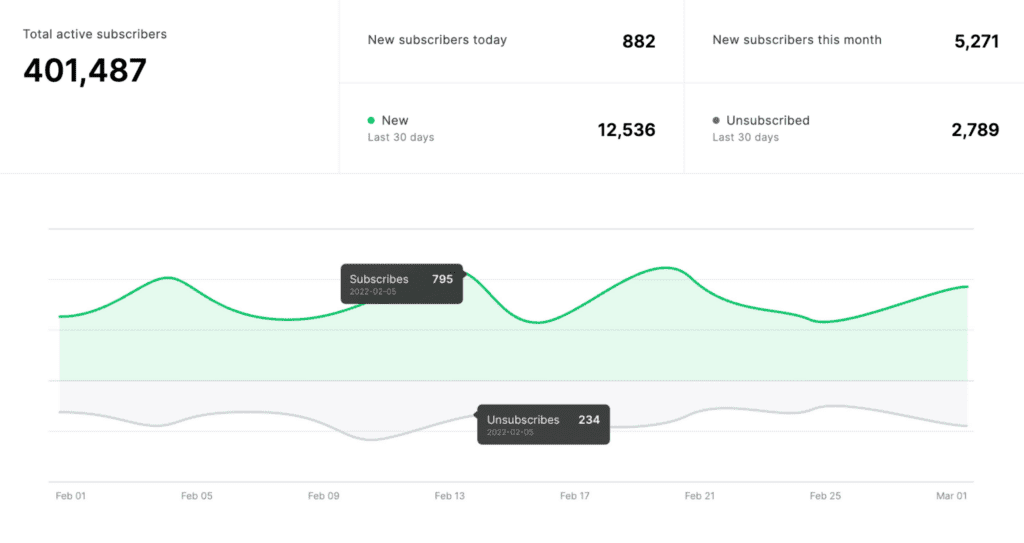 The last ConvertKit alternative on the list is MailerLite, a user-friendly email marketing and automation platform. The tool is a cheap and simple option for small businesses.
Similar to ConvertKit, MailerLite offers tools for selling digital products and sending paid newsletters.
MailerLite — a no-frills alternative to ConvertKit
First off, both MailerLite and ConvertKit start at $10/month. However, for this money, MailerLite allows you to store as many as 1,000 contacts. Also, MailerLite offers a free plan with the same number of contact credits.
In the cheapest plan, MailerLite users have access to 3 seats, drag and drop email editor, unlimited segmentation and tags, click maps, and many more features you won't find inside the lightest ConvertKit plan.
MailerLite unlocks automated email sequences for all users.
Advanced analytics, including individual subscriber profiles, ecommerce sales tracking, and click maps are available in all MailerLite's plans (free and paid).
Oddly enough, being the MailerLite user, you can only access the HTML newsletter editor in the Advanced plan.
How Do You Choose an Alternative to Convertkit?
ConvertKit is a good tool for early-stage creators willing to monetize their content. Brands with large mailing lists might want to find more cost-effective solutions though. Hopefully, this detailed review of ConvertKit competitors will help you choose an email marketing platform that saves you time and money.
Automate your email marketing strategy today
Free plan includes access to all core email features, 300 emails/day, 40+ email templates, and customizable signup forms to grow your email list.