Looking for an email subject line tester? Email subject line A/B testing can help you get higher open rates and optimize future email marketing campaigns.
We marketers like to make a lot of assumptions when creating marketing strategy. We think we know what our audience is looking for and what tactics get the most conversions and engagement.
While experienced marketers certainly know a lot about their target audience, the only way to be sure we're on the right track is by testing our assumptions.
This applies to email marketing success, of course, and it's particularly relevant for email subject lines. For their limited word count, they're the gateway into subscribers' inboxes. Let's explore how subject line testing works and impacts your email performance.
Why Is Email Subject Line Testing Important?
Subject lines are probably the most important factor for the success of any email campaign.
In order to convert email recipients, you need to get them to open the email first. And the subject line is the first element people look at before deciding whether to open an email or not. The threat is even bigger now that everyone checks their email on mobile devices, seeing only a sender name and a subject line.
You could have the world's most beautifully designed templates and the most creative email campaigns. But if your subject line isn't attractive enough, nobody would ever know.
On top of that, the less people open your emails, the worse your overall deliverability. Usually, spammy words get caught by spam filters. The best email subject lines use power words but not spammy words.
And even if the don't, people are cautious nowadays and if your subject sounds fishy, they're not clicking through. Email clients get the signal that no-one wants to read your email messages so they move them to the promotions or (gasp!) the spam folder.
Clearly, this isn't the place to be going out on a limb here about what works and what doesn't. It's better to put your email subject line ideas to the test and let the numbers do the talking!
Top reasons to craft carefully and run your email subject lines through a tester before sending:
Deciding factor for email open rates
Impacts overall deliverability
Influences the decision to mark as spam or not
A good first impression transfers to click-through rates and helps to a conversion
Try Brevo's AI subject line Assistant
Thinking of subject lines for your next campaign? Use Brevo's AI assistant to turn your ideas into fresh phrases that will stand out in the inbox. Available in our Email editor, learn more here.
What to Test About Your Email Subject Lines?
Choose two opposing themes, elements, or tactics and create two unique subject lines. Then pit them against each other in an A/B test to find out which performs better (measured in higher open rates).
If you want clear and dependable A/B test results, compare contrasting approaches. If your subject lines are too similar, the difference in engagement won't be statistically significant and you won't find a clear winner.
You can do that for any email campaign you're running and for any subsegment of your audience to gain detailed insights. Keep in mind that results will vary widely and there's not just one correct formula for every subject line.
The basic rules for a great subject line are to keep the character count, and work for readability and scannability. From then on, it all depends on the campaign purpose, your brand voice, and audience.
To give you a few examples, here are some opposites for A/B testing your email campaigns:
Personalized vs. standardized
Shorter vs. longer
Emojis 🙂 vs. no emojis
Question vs. exclamation marks
Mystery vs. clarity
Discount vs. urgency
Capitalization vs no capitalization
Fun vs. serious
Free Subject Line Tester
If you're looking for a free A/B subject line tester tool, you'll be glad to hear that the A/B testing feature is available on Brevo. Sign up to access it immediately.
How email A/B testing works in Brevo
Set up two separate subject lines when creating your campaign
Brevo has automation in place to select a sample of your targeted audience and splits it into two groups
Half of the sample will receive your first subject line (variant A) and the other half of the sample will receive your second subject line (variant B)
The subject line that performs better between the two sample groups will be sent to the remainder of your intended recipients for the campaign
Note: Brevo recommends having at least 5,000 email recipients for the campaign for truly statistically significant results.
To access email subject line A/B testing in Brevo, start creating a new email campaign as you normally would. You have two options at this point: a regular campaign or an A/B test.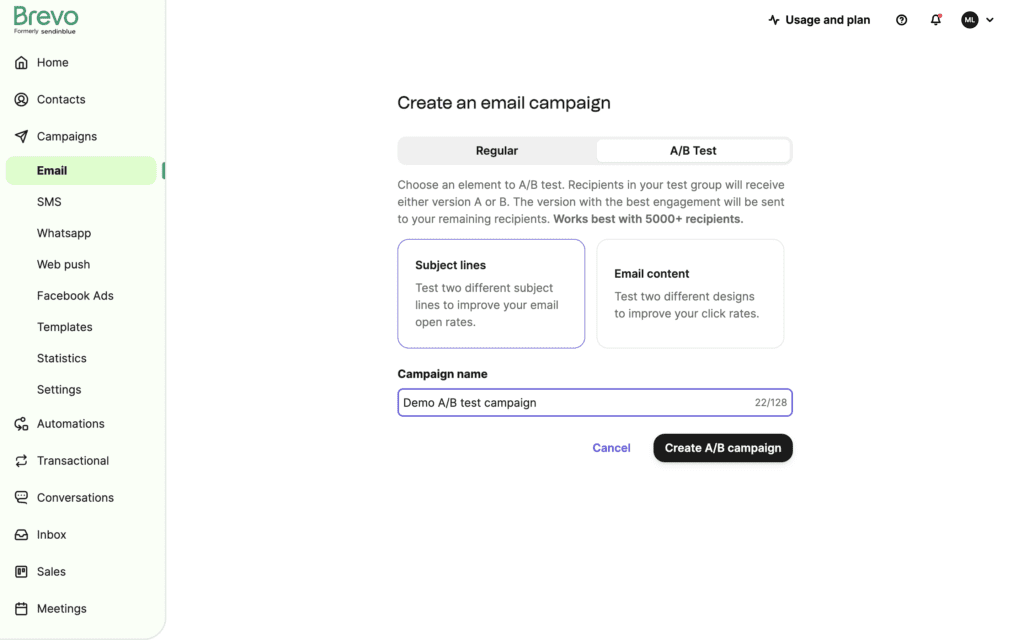 Under the A/B test, you have the options to test subject lines or email content. In the next step, enter your two subject lines.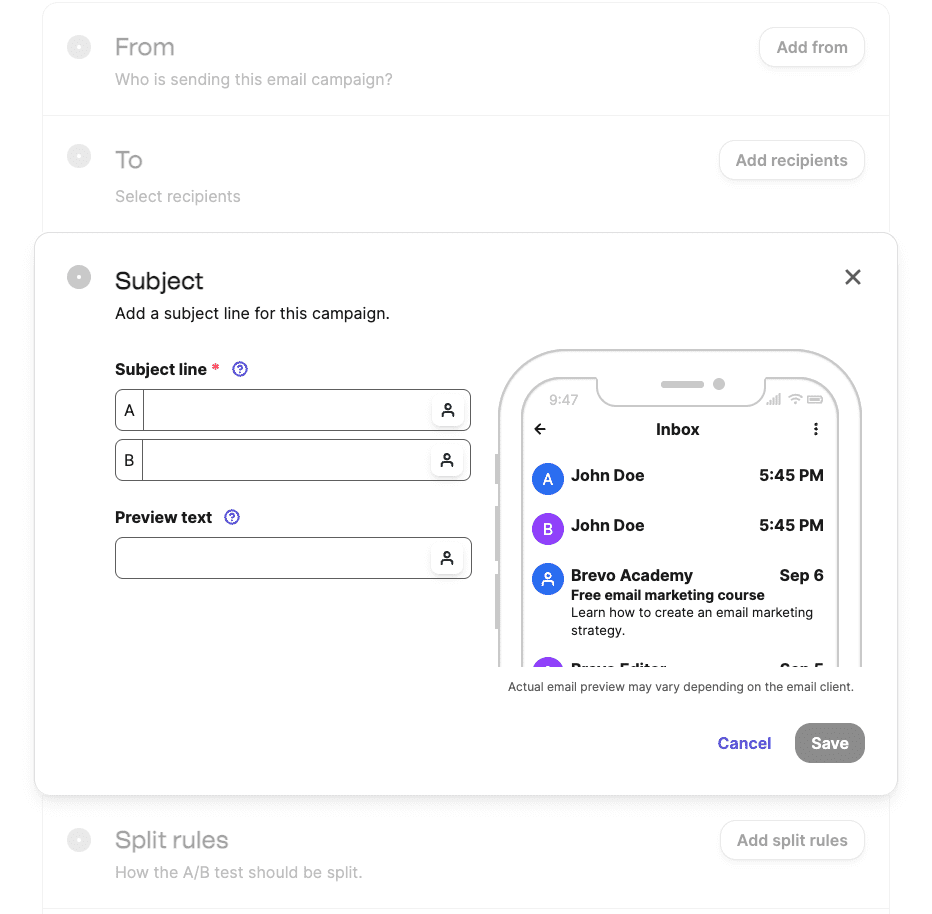 Then, you set up the split test rules:
Sample size: Drag the blue sliding button to adjust the size of your sample group and final recipient group
Success metric: Choose whether the winning version is to be determined by click-through rate or open rate
Test duration: Set the amount of time (between 1 hour and 1 week) for gathering sample results before sending the winning subject line to the remaining recipients on your list.
Read more: Top 17 Email Marketing Metrics & How to Improve Them
After that, complete setting up the campaign. The dedicated reporting tab will give you results in real time and you'll see the winning version being sent to the specified target.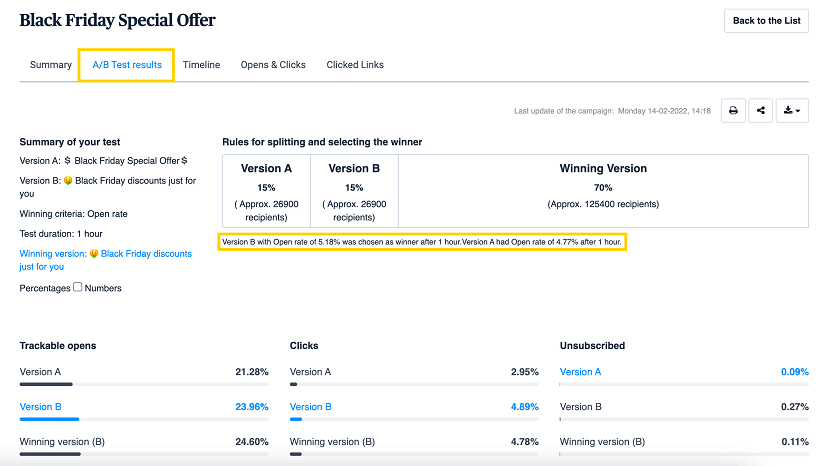 Try Brevo's free subject line tester
Free plan includes access to all core email features, 300 emails/day, 40+ email templates, and customizable signup forms to grow your email list.