Reading time about 13 min

Dynamic email content allows you to create personalized email campaigns that adjust to your subscribers' individual details on autopilot. No need to craft a ton of templates for each specific case.
So is it difficult to set up dynamic emails? It's easier than you think.
In this article, you'll find brilliant examples of dynamic email content, plus a guide to setting up your first personalized emails.
What is dynamic email?
A dynamic email is a message that includes dynamic content in its subject line or body. It's a way to automatically personalize mass email campaigns based on each recipient's unique attributes.
It's an alternative to creating a few variants of the same campaign and customizing it with segmentation for better targeting.
You input a placeholder when creating the email template and it pulls the relevant customer data for each recipient as it gets sent out. Thus, each person gets a customized email although you created just one.
It's particularly useful for triggered campaigns where everyone gets a relevant message. No need to send one-on-one emails to be able to include the person's name!
What can be dynamic content in an email?
Dynamic content pulls subscribers' demographic data, online behavior, or past purchases depending on the placeholder you input. For example, ecommerce brands often send emails that include recommendations based on the recipient's purchase history.
What exactly is possible depends on the capabilities of your email marketing software. Typically, you should be able to dynamically personalize the following elements:
Subject line — most often, the name attribute is added in email subject lines to boost open rates
Email body copy — tailor your email messages to your recipients' unique identifiers
Visuals — alongside email body text, visuals can also change dynamically to better match your subscribers' interests
Products — inserting personalized product recommendations and the exact products abandoned in the cart helps create unique buying experiences and boost conversion rates
Why use dynamic content in your emails?
Sending dynamic emails is beneficial in many ways:
It creates personalization. Tailored to subscribers' preferences, your messages resonate more.
It increases email engagement. Personalized content catches user attention more.
It improves customer experience. 71% of consumers expect companies to deliver personalized interactions.
It creates a consistent customer journey. Dynamic personalization aligns your email marketing efforts with customer journeys.
It drives conversions. 76% of buyers are more likely to buy from a brand that delivers personalized experiences.
Using dynamic content in your emails will help you improve your email marketing performance and boost revenue.
5 Examples of dynamic emails
To illustrate what dynamic emails look like and to inspire you, we hand-picked the following personalized campaign examples.
Customize recipient name: Bolt
Adding the recipient's name is the simplest way to personalize your messages and drive higher engagement. Using the subscriber's name in an email subject line boosts open rates by up to 23% and clicks by up to 32%.
One of the many companies using dynamic variables to add personalized greetings in their emails is Bolt, a mobility company. In their emails, they often call recipients by name to attract attention and increase click-through rates.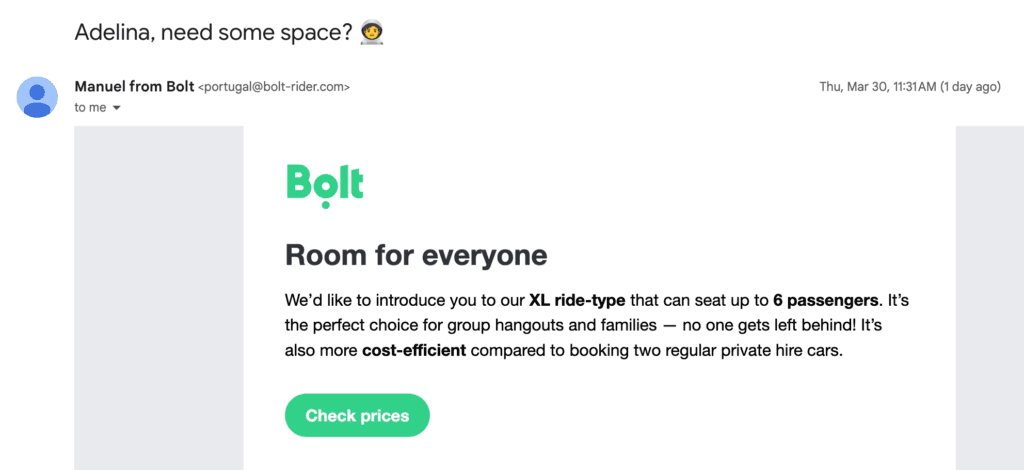 Dynamic email from Bolt
Celebrate milestones: BECYCLE
Milestone emails are a type of triggered emails that recognize significant events in the recipient's life such as birthdays or milestones in their customer journey with your brand.
They can be static, meaning the content will be the same for all recipients. Or they can use dynamic content to customize the reward or the message. This way, you don't need to create dynamic email templates for all cases, just one and it'll do the rest!
BECYCLE, a fitness studio, sends milestone emails to mark the anniversary since the customer's first purchase. The discount is tailored based on the customer's loyalty and order values over their customer lifetime. It's dynamically inserted in the email body text with if/then rules.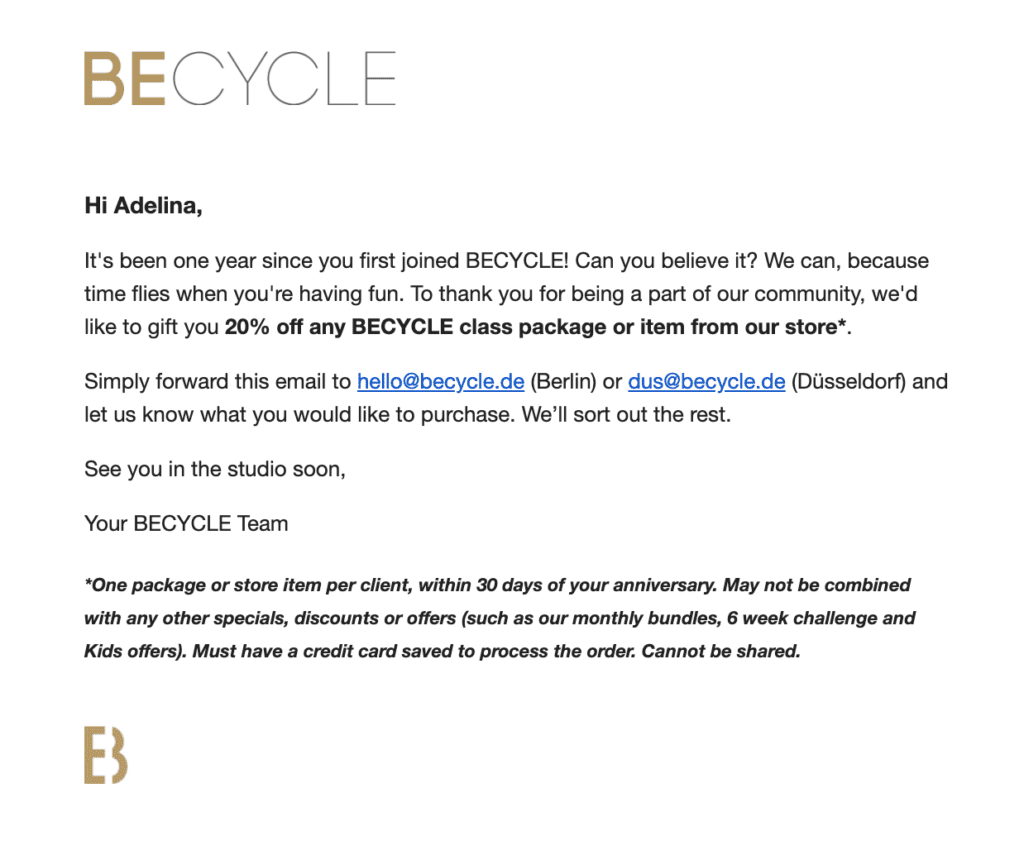 Dynamic email from BECYCLE
Tailor content to the recipient's location: Ryanair
Another example of dynamic email personalization is location-based content. This technique uses subscribers' location data (such as delivery address) to create more relevant offers.
It's a smart addition to the email marketing strategy of companies with a global audience.
There are different ways to use recipient's location as dynamic content:
Location-specific offers — using dynamic content to offer location-specific discounts or promotions tailored to the recipient's area.
Local events and news — including information about local events or news in emails, such as upcoming conferences or festivals.
Localized product recommendations — recommending products or services that are relevant to the recipient's area or climate, such as recommending winter coats to customers in colder regions.
Localized content — dynamically inserting localized content in your email campaigns, such as images or language that reflects the recipient's location or culture.
Ryanair tailors its product recommendations for flights, car hire, or hotels by location. In the example below, the company uses a location-specific email to promote a Berlin car hire offer to a customer who's flying in Berlin soon.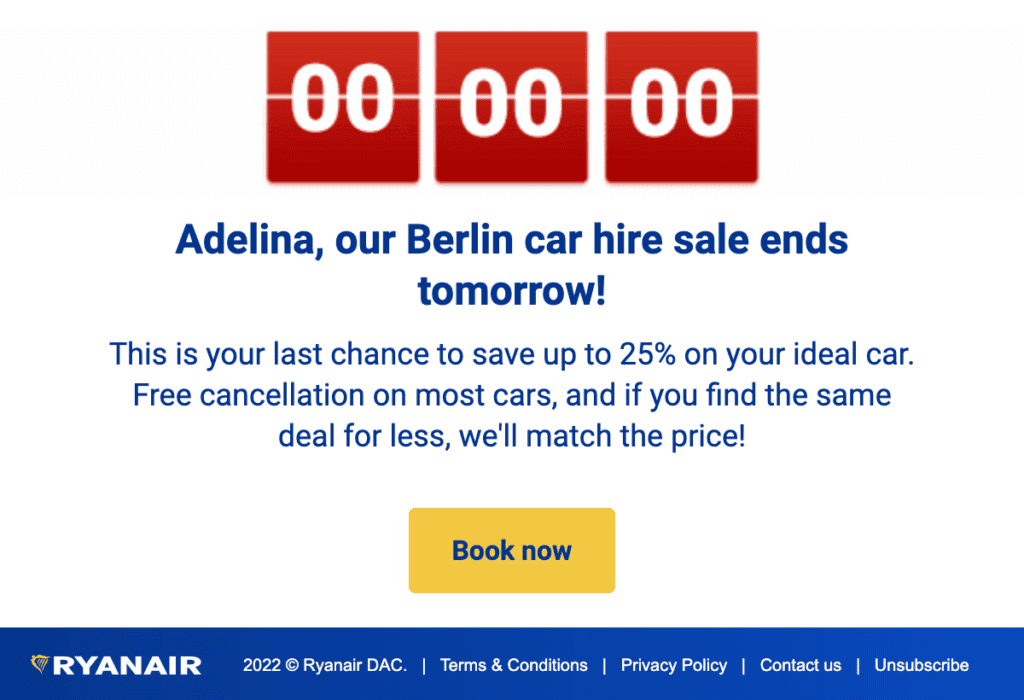 Dynamic email from Ryanair
Include the exact product they left in cart: Chatters
Of course, you can't monitor your site visitors' activity in real time and respond promptly. But you can use a dynamic email template that's automatically sent to users who have left some items in their cart. This template will dynamically include relevant information about the products the user person intended to buy, such as product description, image, and pricing.
You've probably seen a ton of examples of abandoned cart emails in your inbox. Here's another one from Chatters, a hair care product distributor. It features the abandoned product, not just a link back to the website, in an attempt to rekindle the user's interest and close the sale.
This dynamic email is great for several reasons:
It creates scarcity with the "Get it before it's gone" headline
It includes all relevant product information
It has a clear and strong CTA
It reminds customers of free shipping on orders starting at $75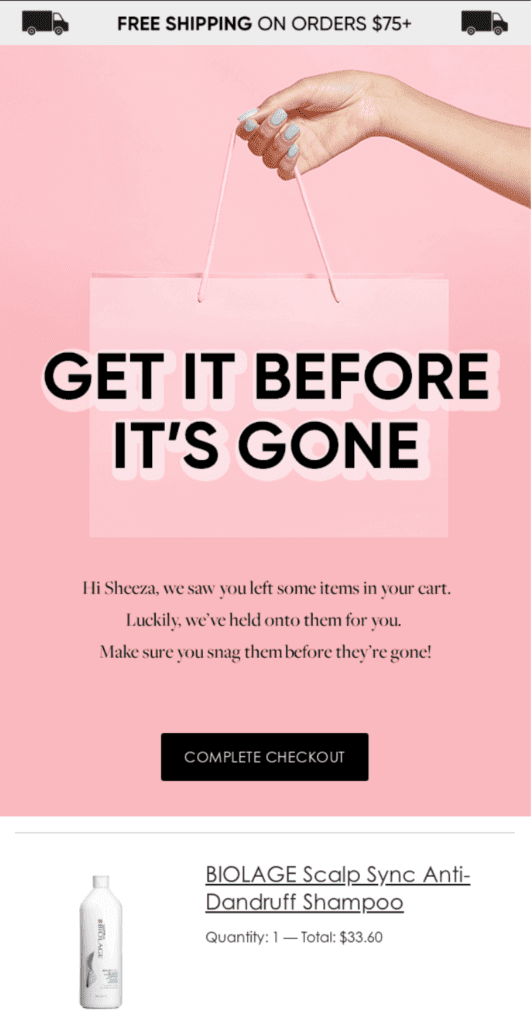 Dynamic email from Chatters
Include personalized recommendations: OpenTable
Recommending relevant content or products based on users' previous activity is a powerful way to boost email metrics.
Personalized product recommendations — offer products or services based on purchase history
Content recommendations — recommend blog posts, videos, or other content similar to the one the subscriber has interacted with.
For instance, OpenTable analyzes their users' positive restaurant reviews to identify other places they'll like. One dynamic email template and it reaches all users with varied and relevant suggestions. Talk about efficiency!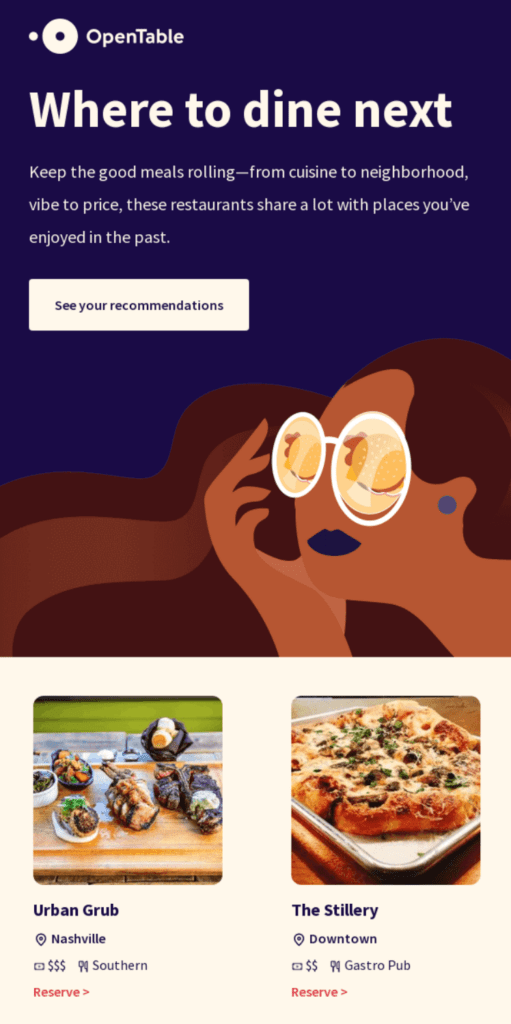 Dynamic email from OpenTable
Collect feedback based on recent activity: Uber
One more form of using dynamic email content is collecting customer feedback based on recent activity. Ask for feedback in response to users' interactions with your website, email campaigns, customer support, or even a physical store — you're only limited by your tracking setup.
Uber naturally has data on where and when their customers use their services, which helps create very targeted customer questionnaires.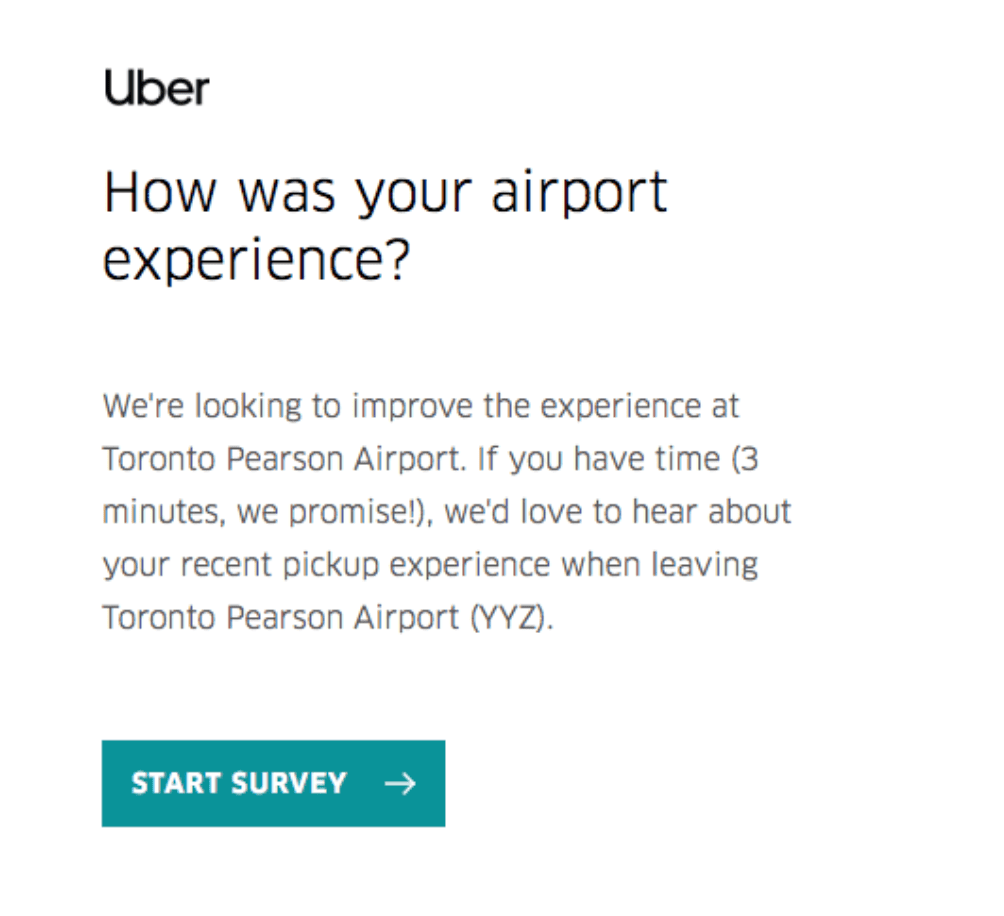 Dynamic email from Uber
How to set up dynamic emails
Got some inspiration to use dynamic emails in your next campaign? Let's dive into how to set them up.
1. Collect data to use for personalization
Signup forms are not just for growing your email list. They can gather more customer data to be later used as contact attributes in your campaigns. A contact attribute can be any static piece of data, including a name, location, content preferences, needs, etc.
Later, you'll be able to use these contact attributes to customize your emails by inserting placeholders in your templates.
Here's how to add such a signup form to your site.
2. Configure your contact attributes
In an advanced CRM suites with email capabilities like Brevo (ex Sendinblue), you can add custom contact attributes. These can be normal attributes, transactional attributes, and calculated values (e.g. customer lifetime value).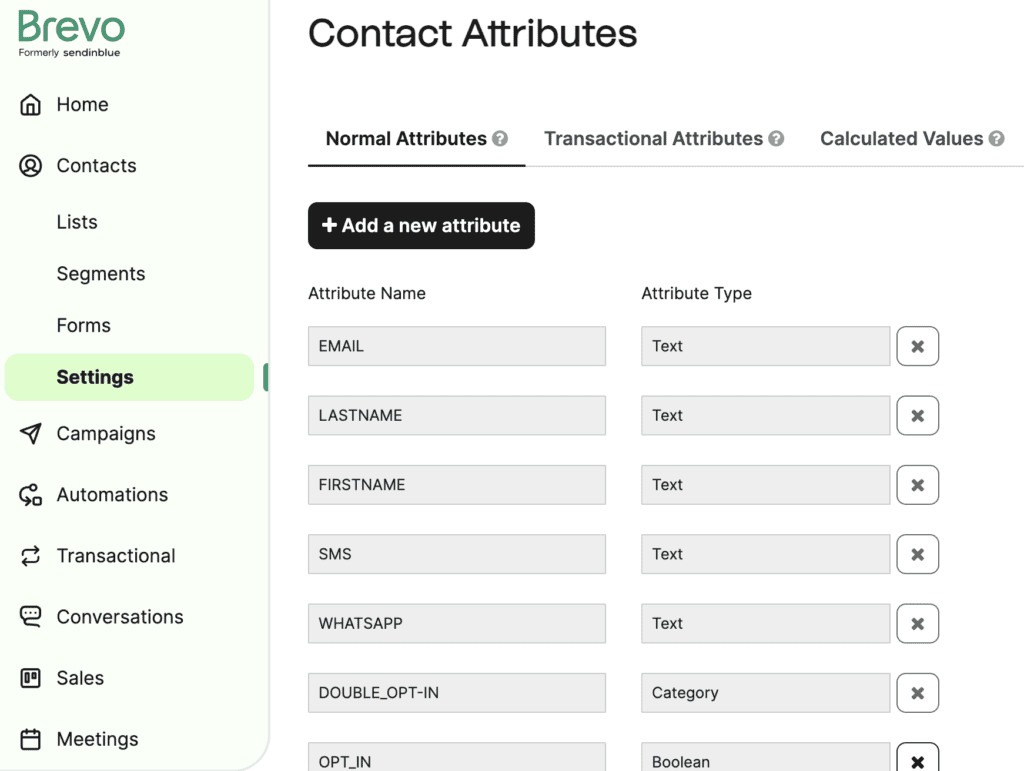 Contact attribute field for dynamic email
3. Access transactional parameters
If you want to personalize your emails based on subscribers' behavior on your website, set up tracking for transactional parameters such as products left in the shopping cart, item availability, pricing, etc.
You either need to install one of Brevo's ecommerce plugins or access its API.
4. Design your dynamic email
Create a new email campaign in Brevo and proceed to "Design email". In the "Design" tab, choose a free responsive email template from the library.
Add dynamic attributes
To personalize basic elements, like name, email address, or another normal contact attribute, place your mouse cursor where you want to insert a dynamic element and click "Add personalization" in the toolbar. Here you can choose between:
Simple personalization where the placeholder is always replaced with the relevant attribute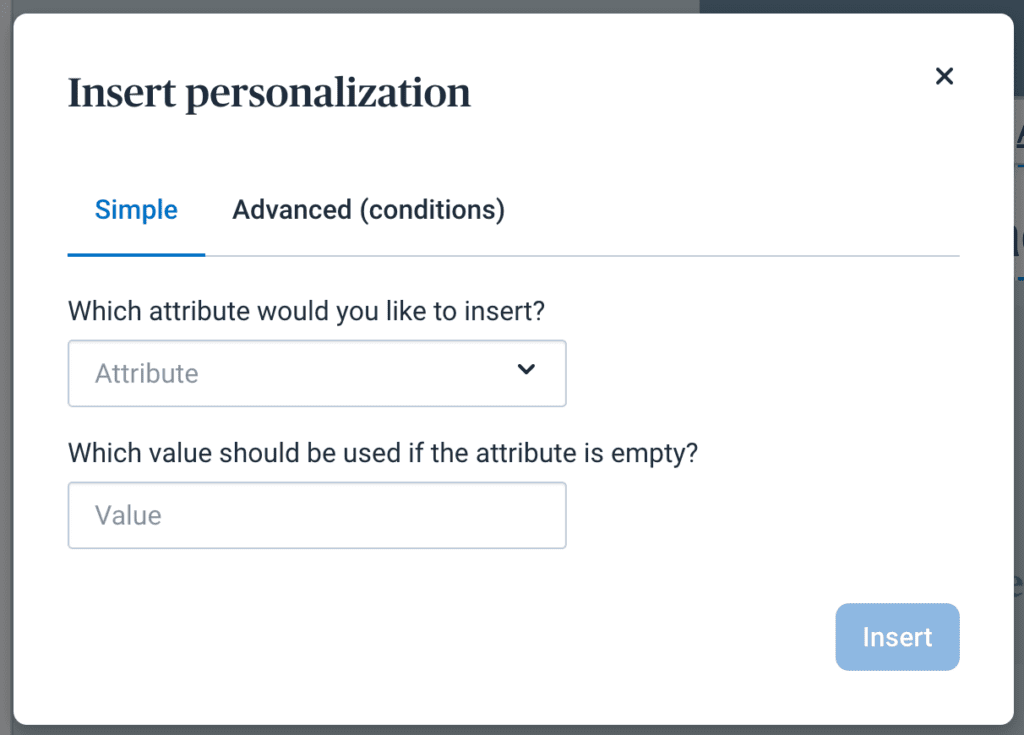 Simple personalization field for dynamic email
Advanced personalization to add multiple conditions to define the relevant attribute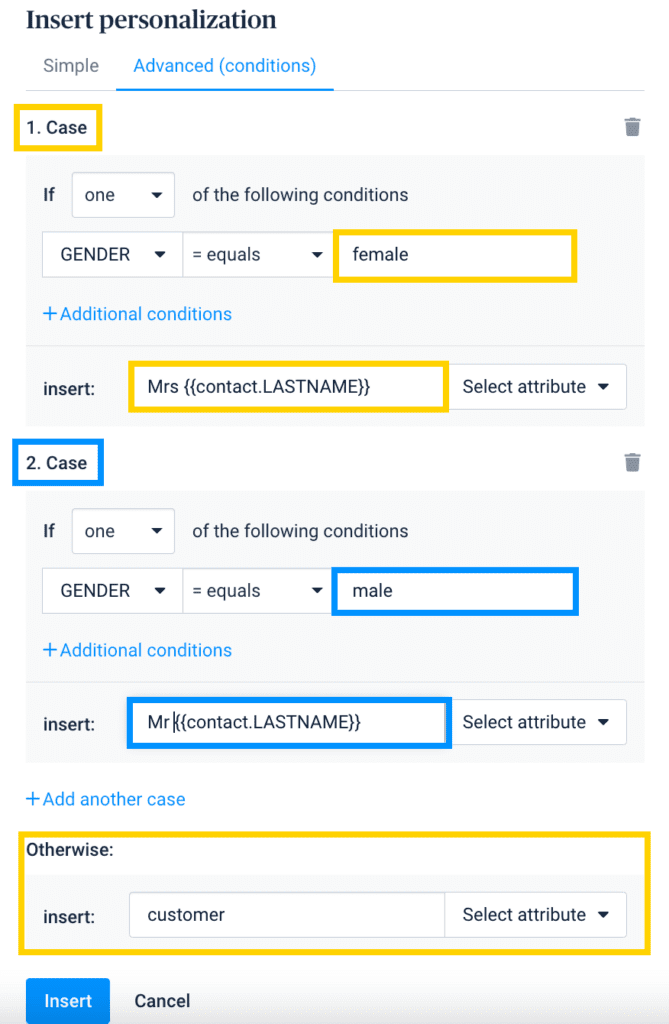 Advanced personalization fields for dynamic email
Add dynamic blocks
You can also create dynamic content blocks in the email body — show or hide blocks depending on conditions you set up. Just place the cursor over the block and press "Show or hide block." Then define the conditions in connection to contact attributes.
For example, show a new store opening announcement only if the contact is located in a certain state.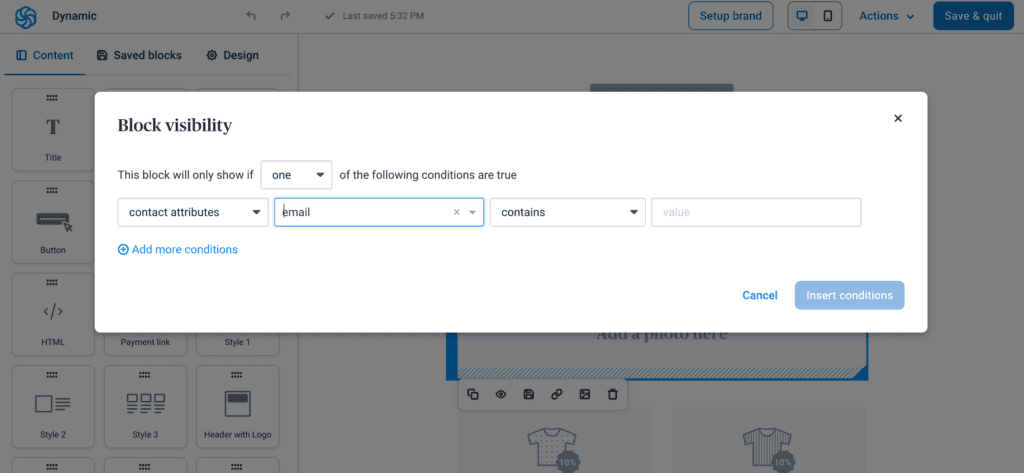 Dynamic attribute block for dynamic email by Brevo
Use transactional parameters
When you have website activity tracking, you can personalize your campaigns by events tracked (also known as transactional parameters). Simply insert the corresponding placeholders (or merge tags) in your email templates.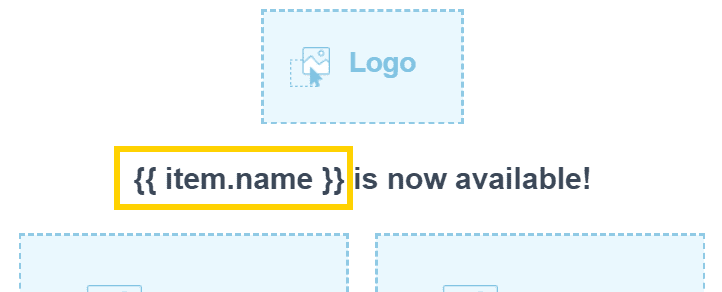 Transactional parameter field for dynamic email by Brevo
Create a dynamic email subject line
You can insert personalization both in your subject line and preview text. Simply press the icon on the right side of the field and choose an attribute to insert.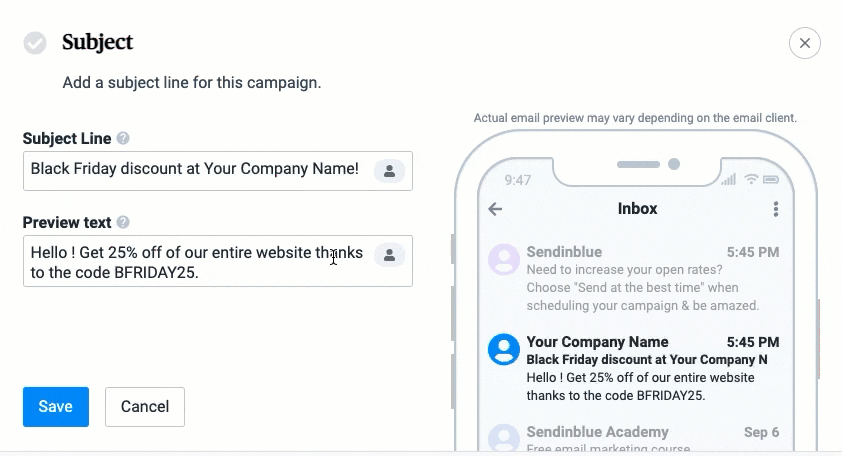 Creating a personalized email subject line for dynamic email by Brevo
5. Test the email
Test your dynamic email to make sure all the contact attributes or transactional parameters are correctly replaced by the relevant information.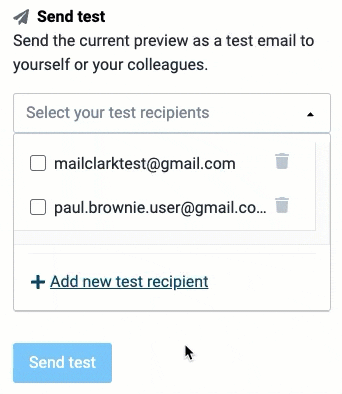 Sending a test email by Brevo
6. Add the email to your automation workflow
Add this dynamic email template to an automated workflow for extra time saving.

Create dynamic emails quick and easy
Dynamic emails will help you create unique, personalized experiences for your prospects and customers effortlessly. With a simple but powerful automation platform like Brevo, you can create personalized emails in a few clicks.
Jumpstart your email strategy with Brevo
Free plan includes access to all core email features, 300 emails/day, 40+ email templates, and customizable signup forms to grow your email list.