Reading time about 20 min

Email marketing doesn't have to be expensive. In fact, it's one of the most affordable ways to connect with your audience and generate more sales. There are plenty of cheap email marketing services out there, each with their own pricing plans and feature offering. It's just a matter of finding the right fit for you and your business.
To help you out, we've compiled a list of the best and the cheapest options available.
Comparison: best value email marketing tools
Something to be aware of is that while many of the above email marketing services offer unlimited monthly email sends on their cheapest plans, you're only able to send unlimited emails to your contact list, which is typically the limiting factor on entry-level plans.
With Brevo, your contact storage will always be unlimited. Instead, you pay for the volume of emails you send, starting at $25 for 20,000 emails per month.
The best cheap email marketing services to save you money
Brevo is an excellent value-for-money email marketing platform. It offers a range of digital marketing tools, perfect for small businesses, ecommerce giants, and everything in between. You can mix and match the various features to suit your own needs and budget.
Brevo is more value-oriented compared to other email marketing services because we don't charge you for storing your contacts, only for the number of emails you send. (We don't think it's very fair to charge more for growing your business and gaining customers… That's the whole point!)
Even better, Brevo offers all email features a business needs under one roof. Let's take a look:
Drag-and-drop email editor
Creating beautiful emails is easy with Brevo. The drag-and-drop editor is intuitive and makes professional email design quick and straightforward. Personalize your emails with dynamic content, upload your brand kit, and keep track of performance — no technical expertise required.
As well, all Brevo plans have access to our gallery of fully-responsive email templates. (Even the free plan!)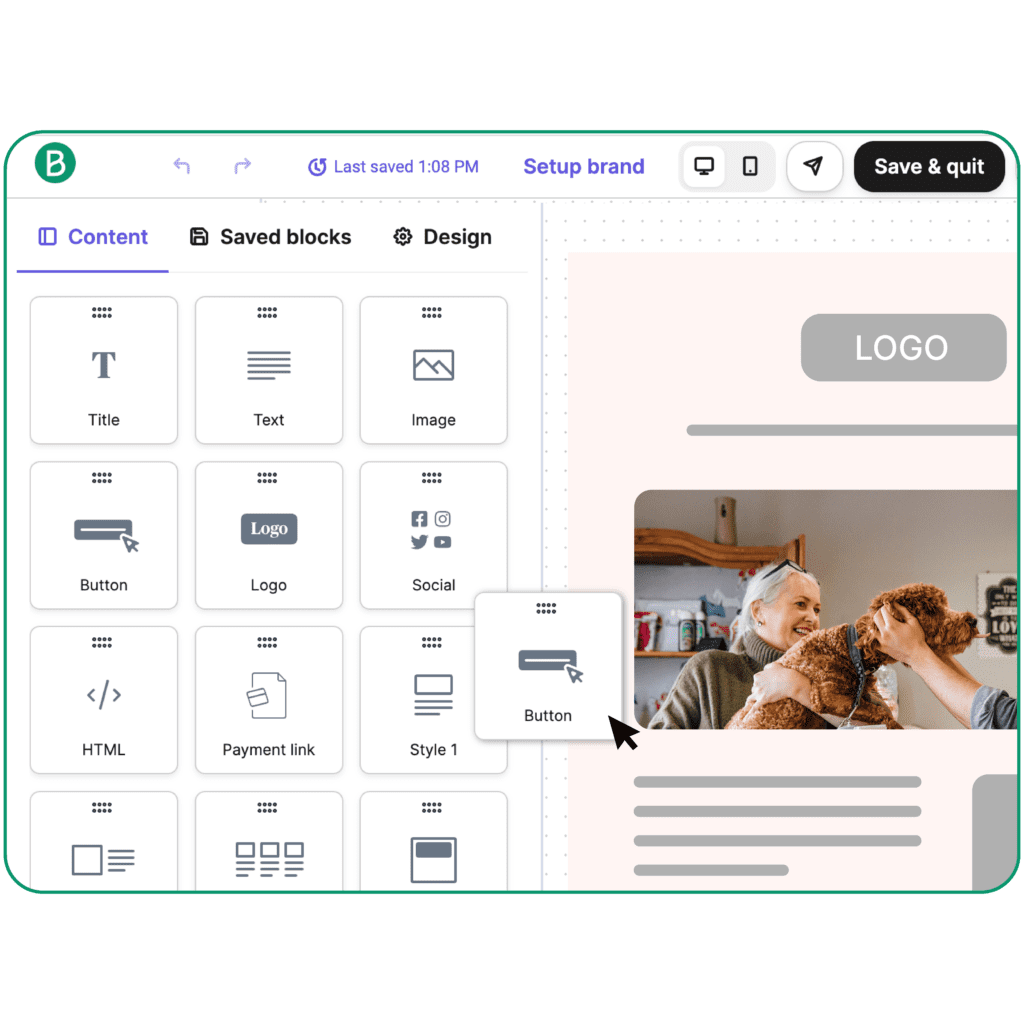 Audience segmentation
Brevo lets you easily segment your contacts list into customized audiences for email marketing campaigns based on previous subscriber behavior, declared interests through opt-in forms, and other attributes. This way, you can target various subgroups of your audience with precision, driving both open rates and click-through rates.
Email personalization
Brevo gives you limitless options for personalizing your email content. From personal attributes like name and city to behavior attributes like last purchased item and discount applied, nearly any type of customer data can be used to create personalized content with Brevo. The result? Better customer experiences and better campaign performance.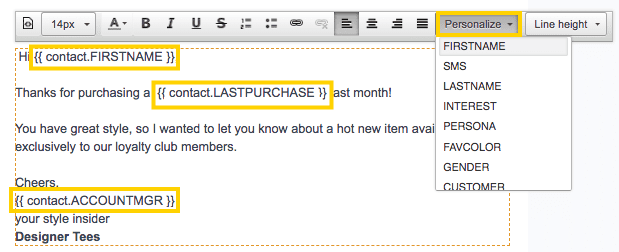 Transactional email
Transactional Emails are an essential part of businesses' customer communications, especially in ecommerce and SaaS. They allow you to send your most important emails based on a triggering activity like registrations, order confirmations, and password resets. Even better, you can brand transactional emails and enjoy top-notch deliverability rates with Brevo.
Marketing automation
Marketing automation lets you anticipate critical moments in your customer journeys and trigger predefined actions without lifting a finger. Send emails or SMS, update contacts based on their behavior, and create lists for different types of engagement. Let Brevo handle the little things so you can focus on the bigger picture.
A/B testing
To see what works best for your audience, you can test subject lines and email content with Brevo. Should your email be plain text or image-rich? A fun, punny subject line or a serious one? You'll know what your audience prefers after an easy A/B test and seeing the opening and conversion rates.
Subscription forms
Signup forms support your email marketing efforts by collecting email addresses of prospects. With Brevo, you can create your own branded signup forms in minutes and start building your email list on the platform. No extra tools needed. What's more, you can collect all kinds of customer data with Signup Forms to use for targeted segmentation later on.
Check out these newsletter signup form examples for inspiration!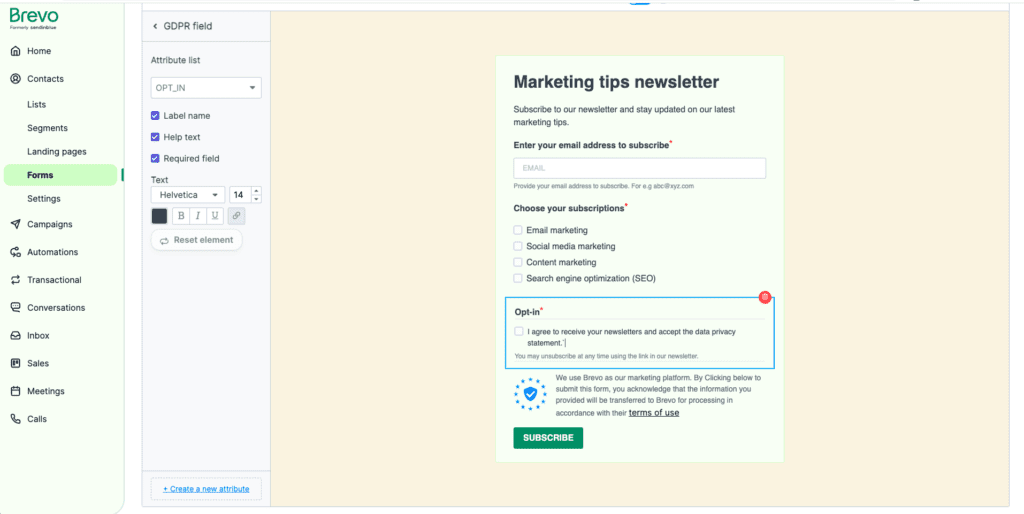 Compliance
Brevo makes being CCPA, CPA, and GDPR compliant easy! You can quickly add double opt-ins or email preference checkboxes to Signup Forms. Then, you can manage subscribers according to the permission they gave. This not only keeps you within the law, but helps ensure good email deliverability.
As a more general note, whatever bulk mail software you choose, be sure it takes steps to ensure your contacts' privacy and your own sender reputation.
Other Brevo features
In addition to a complete email marketing service, Brevo also gives you:
Integrations with ecommerce platforms, social media, and more
Customer support in six languages
Brevo offers countless digital marketing tools, all the while being one of the cheapest email marketing platforms on the market. Create your free account today and enjoy unlimited contact storage, 40+ responsive email templates, and 300 email sends per day.
2. HubSpot
HubSpot is an email marketing solution popular with pros and startups. It combines marketing automation tools with some free email allowances that fit most marketing strategies.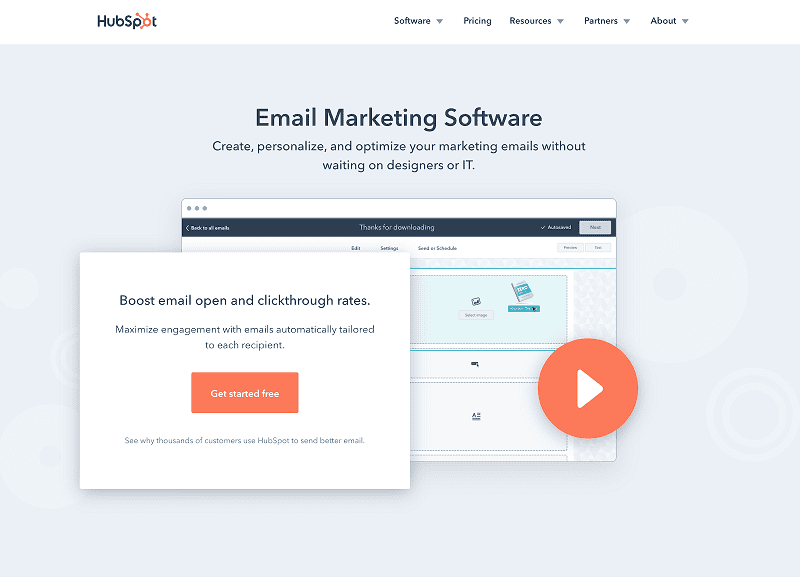 For email, subscription forms, and live chat, you need the Marketing Hub product starting at $45/month for 1,000 contacts. For more CRM features, the CRM Suite comes at separate pricing.
Go into detail: HubSpot vs. Brevo
3. Mailchimp
Mailchimp is often seen as the go-to email marketing service provider for those new to the scene but it's not cheap. The intuitive interface lets you set up campaigns, tag subscribers, and create automated workflows.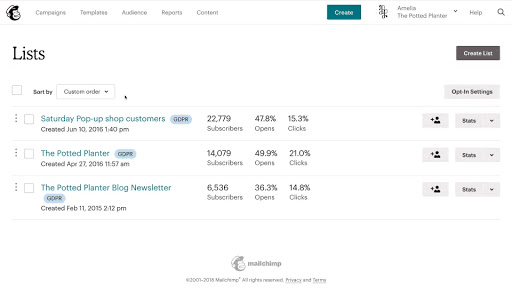 Mailchimp offers a free plan for up to 500 contacts and 500 emails/day (but 1,000 emails a month total). The full suite of email marketing capabilities and advanced audience insights, custom branding, and a host of templates come at the higher price tier.
If you're looking for other options, however, check out the 11 best Mailchimp alternatives.
Constant Contact's drag-and-drop email builder makes it easy to create and customize professional-looking emails, while the automations feature lets you build out trigger-based email series to better connect with your subscribers. The ability to import subscribers from external lists and the transactional email element make it a good option for ecommerce brands.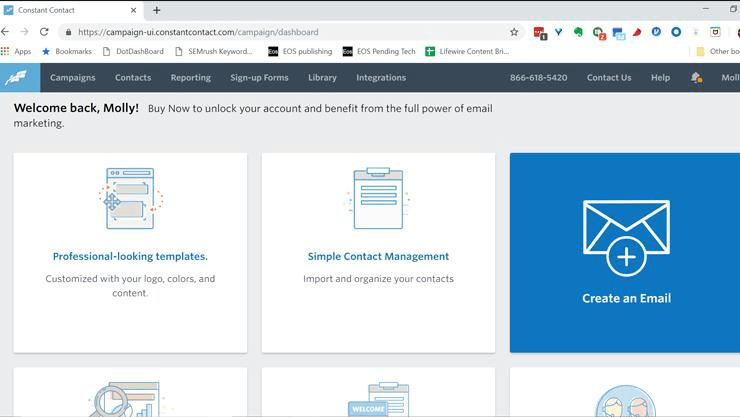 Constant Contact's cheapest paid plan starts at $9.99 per month for 500 contacts and basic email features.
Not sure? Find more Constant Contact alternatives.
ConvertKit specializes in helping creatives and bloggers reach and build relationships with their audiences. The platform has an ever-expanding range of email templates to use as well as landing page designs specifically created to optimize conversions.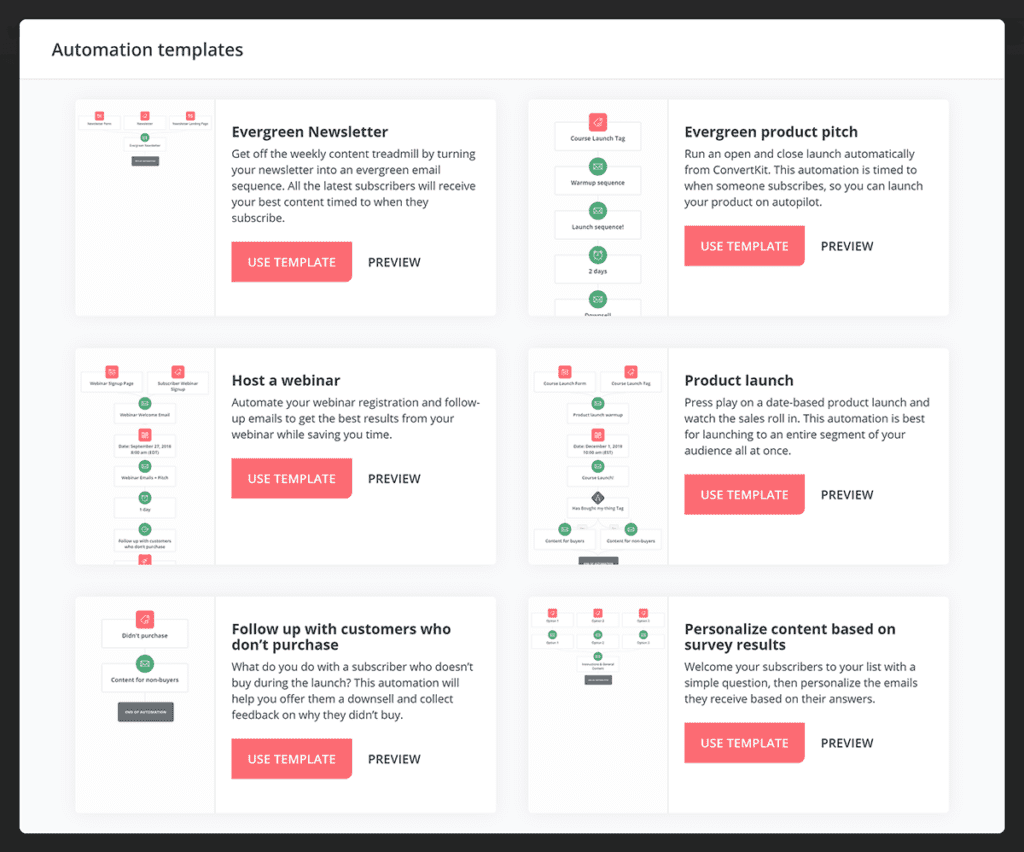 The dashboard is easy to use thanks to visual workflows that help you map out trigger-based campaigns. There's a free plan for up to 300 subscribers, but this doesn't include the automated sequences and funnels. To set that up, you'll need to sign up for the next plan up, which starts at $15 per month for 300 subscribers.
Check out more ConvertKit alternatives here.
6. MailerLite
MailerLite is a simple platform with powerful functionality. The design features let you create branded email templates and landing pages, while automation, personalization, and segmentation allow you to build deeper relationships with your subscribers.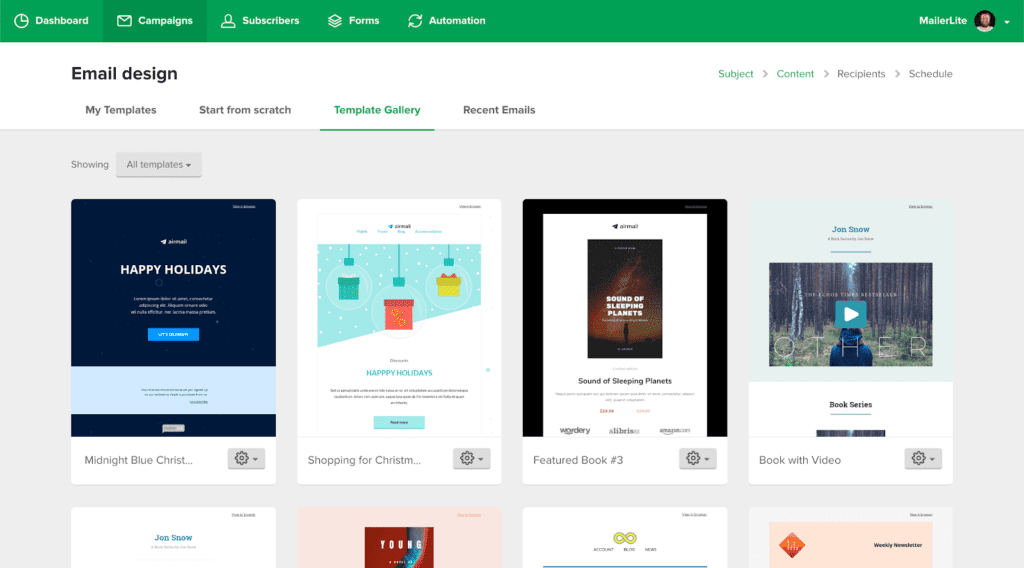 There's also the option to A/B test campaigns and use advanced audience insights to better understand the people you're talking to. There's a free plan for up to 1,000 subscribers and 12,000 email sends per month. Once you reach that level, you'll be bumped up to the $10/month plan, with prices increasing the more subscribers you get.
Hesitating between MailerLite and Brevo? Take a look at this side-by-side comparison!
7. GetResponse
GetResponse has all the tools you need to send out one-time broadcasts and create ongoing email campaigns. It comes complete with ready-to-use autoresponders, templates for trigger-based emails, powerful segmentation features, and professionally designed templates to ensure your emails are eye-catching and engaging.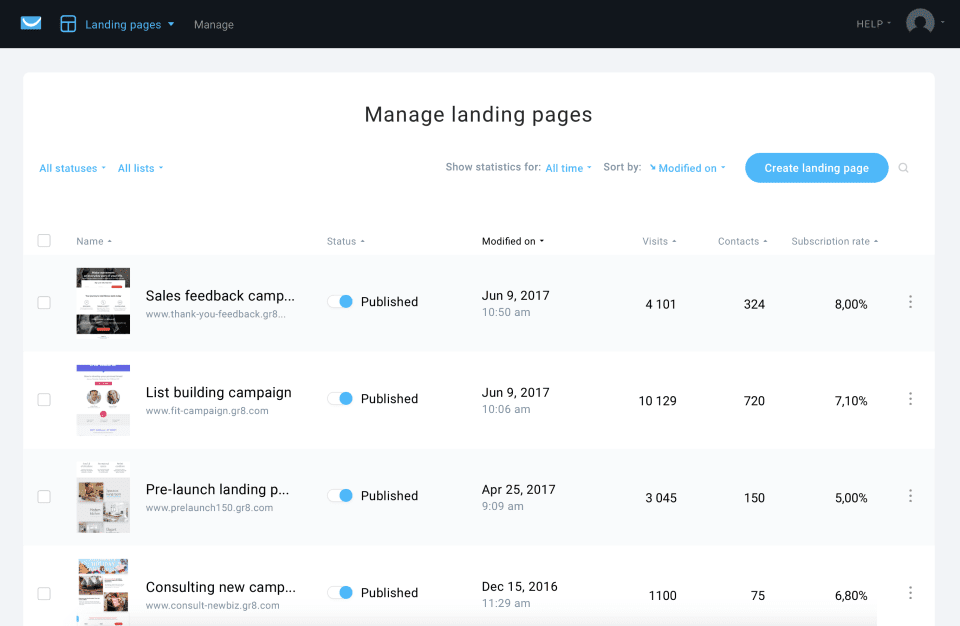 You can try a 30-day free trial to begin with. The forever-free plan includes basic email features and up to 500 contacts. After that, the cheapest plan starts at $19 per month.
Want to learn more about the differences between Get Response and Brevo? Check out our comparative guide.
8. SendGrid
SendGrid is another cheap email marketing service to consider. It's designed with developers and marketers in mind to help them build and send engaging email campaigns. It comes with all the usual features, like email automation options, signup forms, pre-made landing page designs, A/B testing, and advanced insights.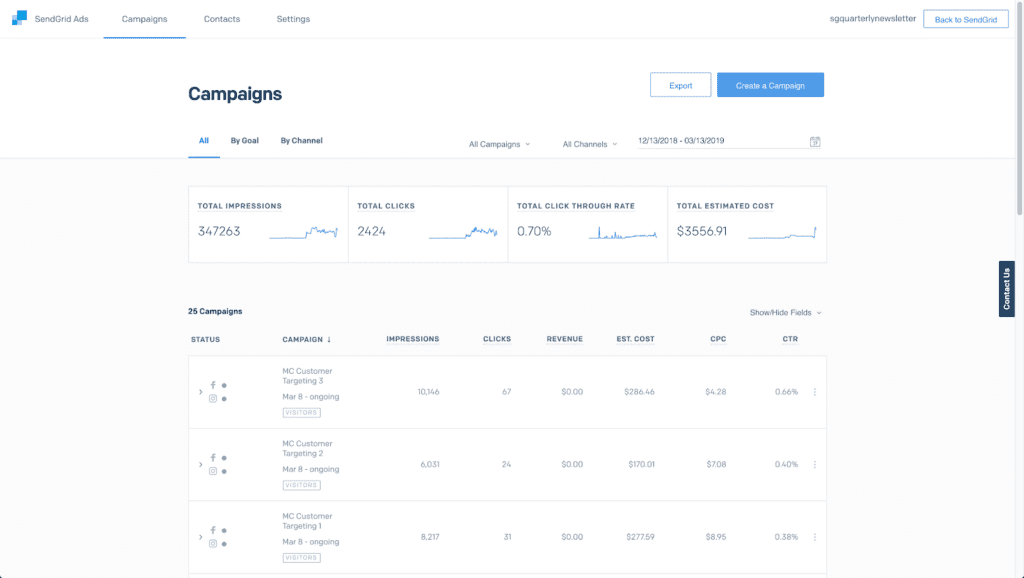 The free plan lets you send 6,000 emails a month to 2,000 contacts. Otherwise, pricing start at $15 per month for more advanced features. The good thing is SendGrid charges by emails sent, not contacts stored. (Just like Brevo!)
Read more: The Best SendGrid Alternatives for Transactional Email
9. Aweber
Aweber's AI-powered design assistant helps you create beautiful and branded emails in a matter of minutes. The platform also features a drag-and-drop template builder and landing page editor so all your content stays on-brand. There's also a powerful automations feature and a campaign marketplace where you can import high-performing campaigns into your account to use as a guide.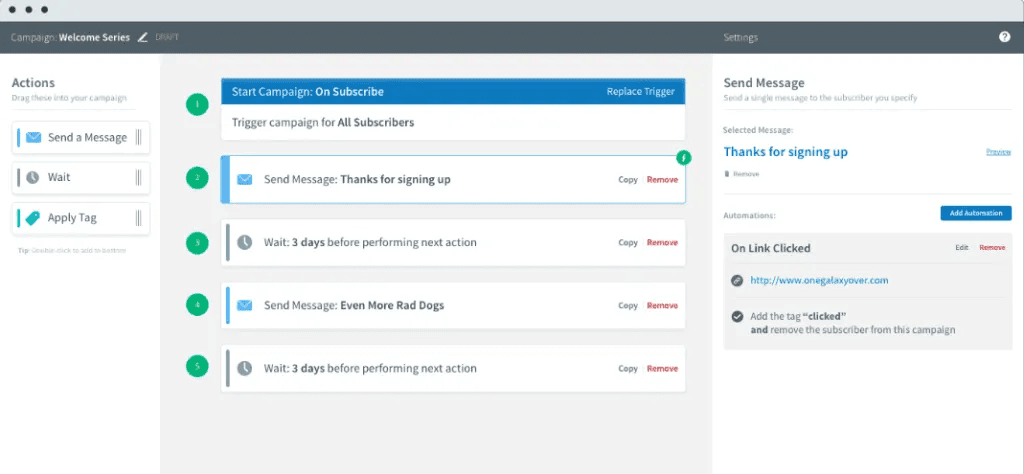 There is a free plan for up to 500 subscribers. After that, prices start at $19.99 per month.
Read more: AWeber vs Brevo
10. Moosend
Moosend is another cheap email marketing service with all the features you need to create beautiful campaigns that convert. You can create branded landing pages using pre-made templates for inspiration, send automated emails based on subscriber behavior, and tap into the ecommerce AI feature to generate more sales.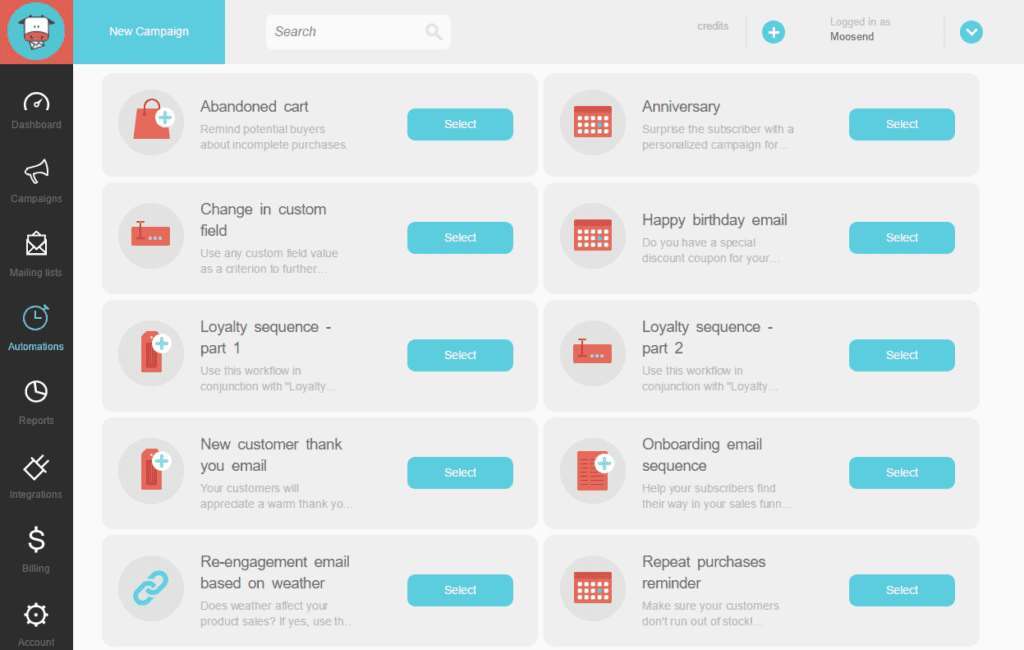 Moosend no longer offers a free plan, but a 30-day free trial instead. While it includes a most of the platform's features and functionalities, the free trial doesn't allow you to send transactional emails. Paid plans start at $9 per month for 500 contacts.
11. Omnisend
Omnisend's automated workflow templates, pre-made dynamic forms, and professionally-designed email templates let you build out eye-catching email campaigns quickly and easily. Other features include an intuitive drag-and-drop editor, SMS campaigns, and powerful ecommerce segmentation tools.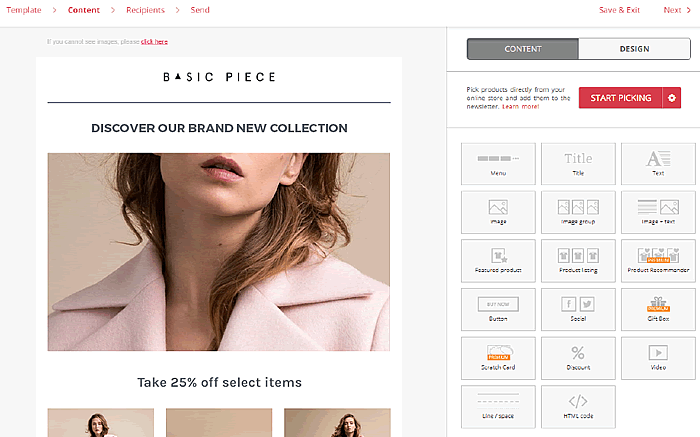 The free plan lets you send up to 500 emails a month, with paid plans starting at $16 per month and increasing as you grow your subscriber list.
12. SendPulse
SendPulse is actually a multi-channel marketing platform that includes a cheap email marketing service. There's a drag-and-drop email editor that lets you create branded newsletters as well as automation and personalization features that allow you to continue connecting with your subscribers easily and efficiently.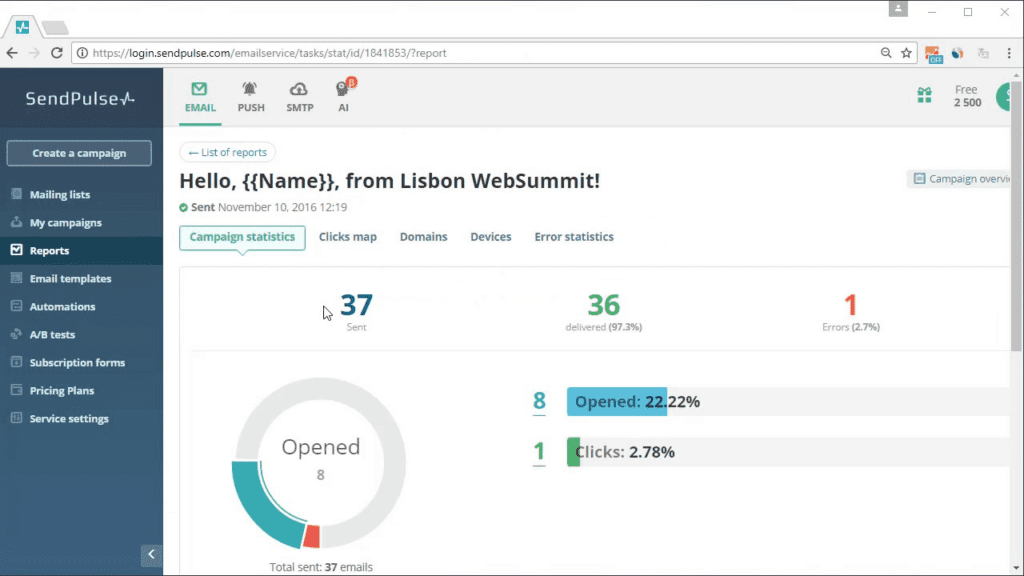 The free plan lets you save up to 500 subscribers but is limited in terms of features. Otherwise, paid plans start at a very reasonable $8 per month.
13. Mailjet
Create meaningful emails that engage your subscribers with Mailjet's range of easy-to-use features. Design responsive emails using pre-made templates in just a few clicks, manage and segment your audience so you can send the right message to the right people, and monitor your campaign results with advanced insights.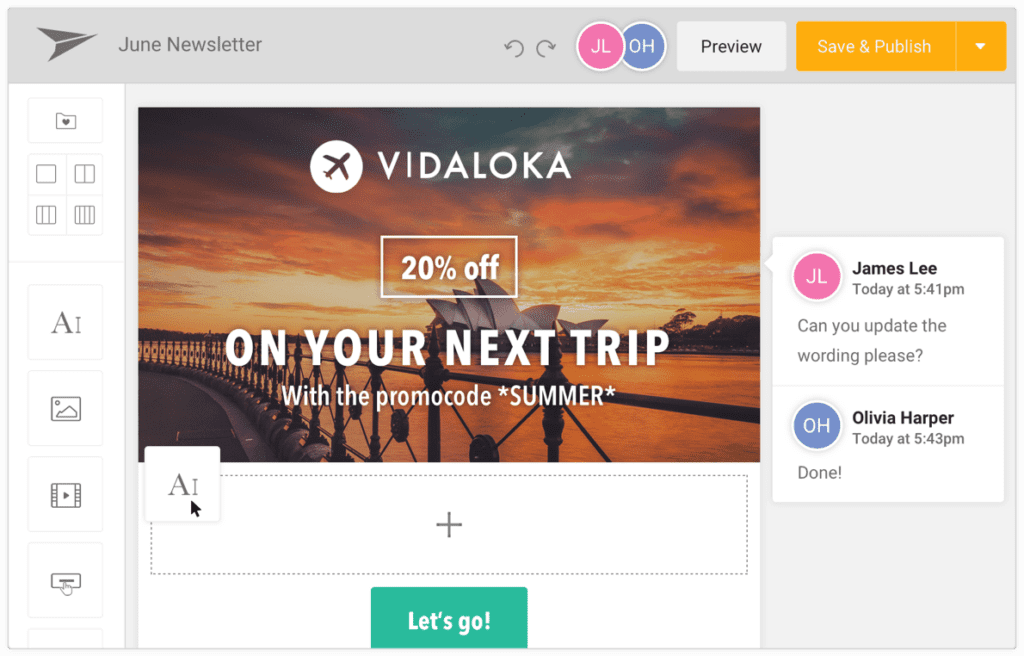 The free plan lets you send up to 6,000 emails a month or 200 emails per day. Want to send more? The basic paid plan starts at $15 per month for 15,000 emails and no daily sending limit. Like Brevo, Mailjet bases its pricing on the number of subscribers you have. All around, it's a high-quality option for a cheap email marketing software.
Further reading: Comparing Mailjet and Brevo
14. EmailOctopus
EmailOctopus is all about simplicity and helping businesses engage with their subscribers in a consistent and meaningful way. A range of simple template designs for various industries ensures your emails look professional, while easy-to-use automation features let you communicate beyond newsletters. There are also smart analytics you can track and measure your email campaign results in real time.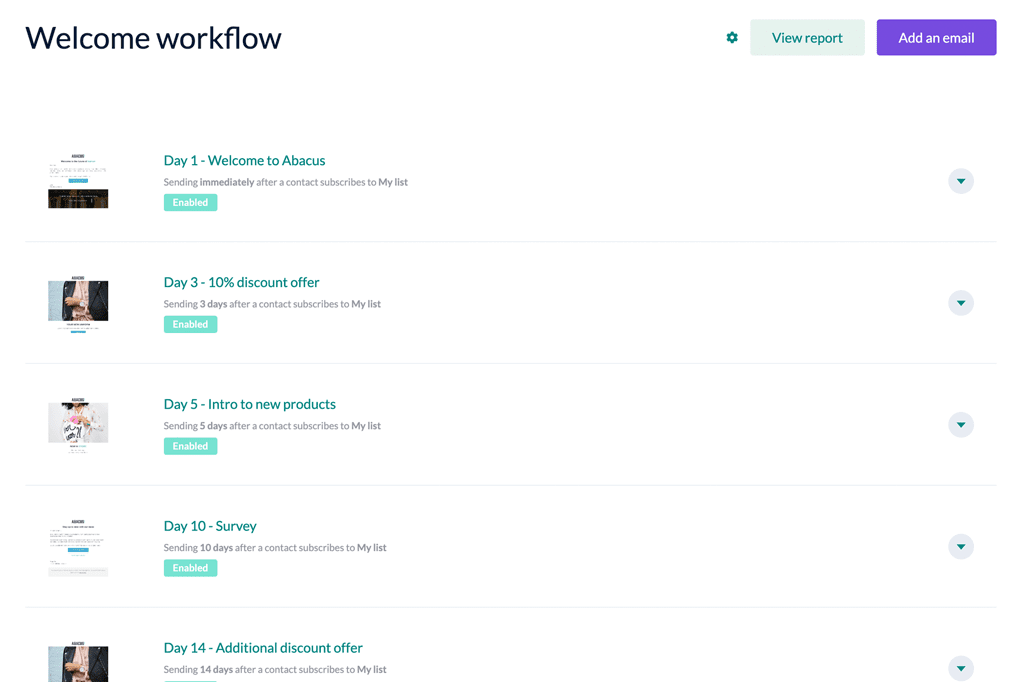 If you have less than 2,500 subscribers and send less than 10,000 emails per month, you can sign up for the free plan. Otherwise, higher-volume paid plans start at $24 per month.
15. Benchmark
Next up on our list of the best cheap email marketing services is Benchmark. Benchmark's features have been specifically designed to help you grow your subscriber list and business. Everything is customizable, from the email templates to the pre-made landing pages and automated workflows. Reporting features and lead generation tools help you make the most of your emails and get the best results possible.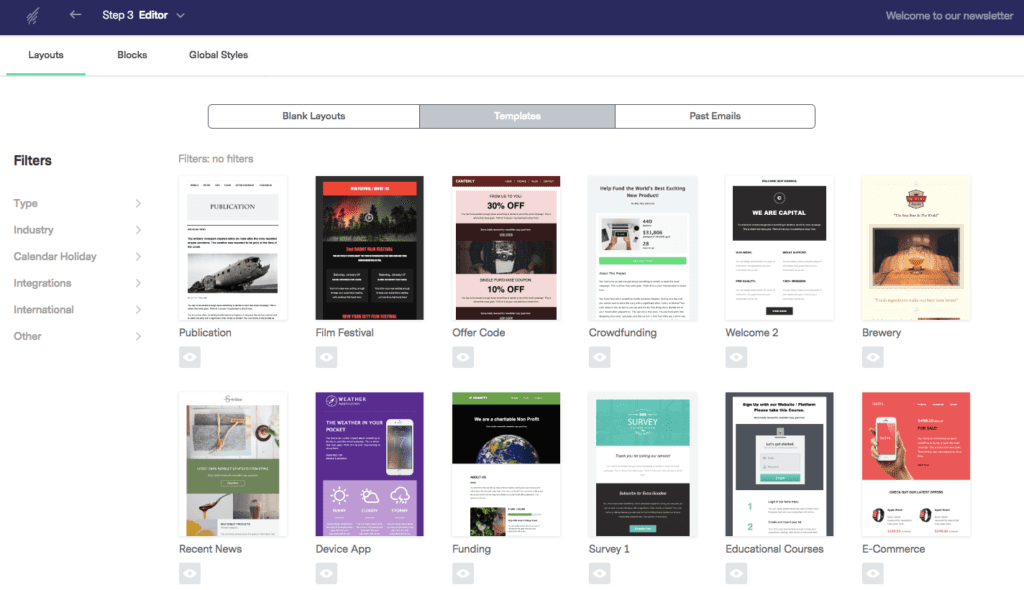 Benchmark has a free plan that lets you send up to 3,500 emails per month. After that, prices start at $15 per month for unlimited emails and up to 500 subscribers.
16. Sender
Sender helps you create automated email campaigns from scratch with a range of powerful features. Ecommerce brands can import all of their product information with the built-in Product Wizard, which means no more copying and pasting. On top of this, Sender integrates with the majority of popular ecommerce platforms, including WooCommerce.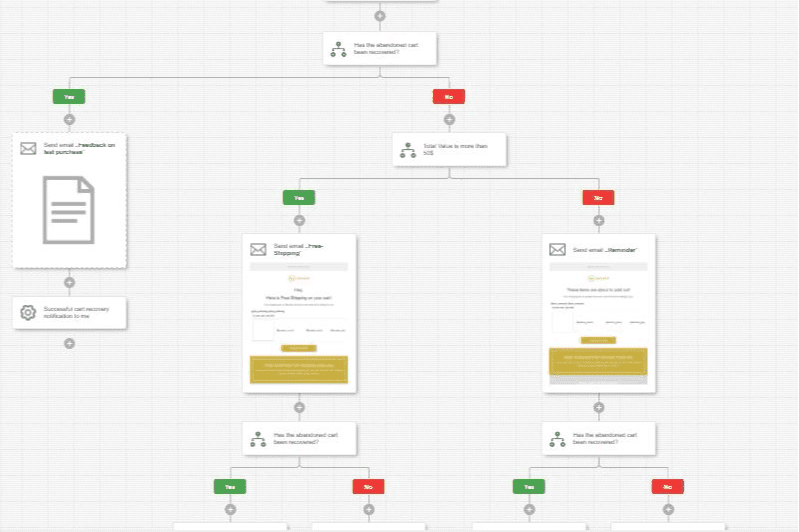 The free plan lets you have up to 2,500 subscribers and send 15,000 emails per month. Paid plans start at $10 per month.
17. RedCappi
Simplicity is the name of the game for RedCappi. The platform has a really simple interface with drag-and-drop elements to help you build your emails quickly. You can also use the built-in automated email schedules to send out your emails when your audience is most engaged. On top of this, you can personalize your emails and A/B test campaigns to see what performs best.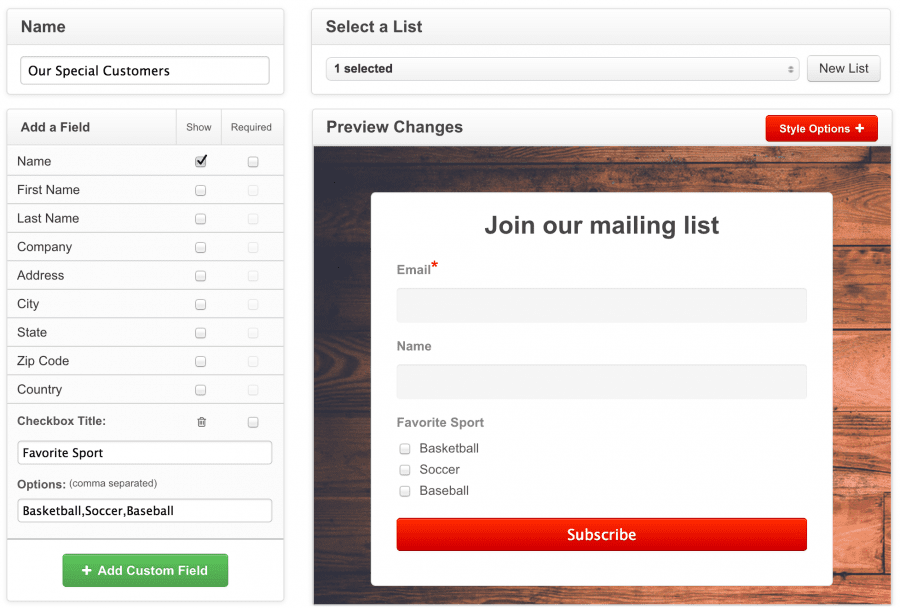 It's free to have up to 100 subscribers. After that, prices start at $10 per month for 500 contacts.
18. ActiveCampaign
ActiveCampaign is another great option for cheap email marketing services. With plenty of advanced automation features, the platform can save you and your team time and energy. ActiveCampaign has all the features you need to get started with email marketing, including a drag-and-drop editor, autoresponders, and broadcast and transactional email capabilities.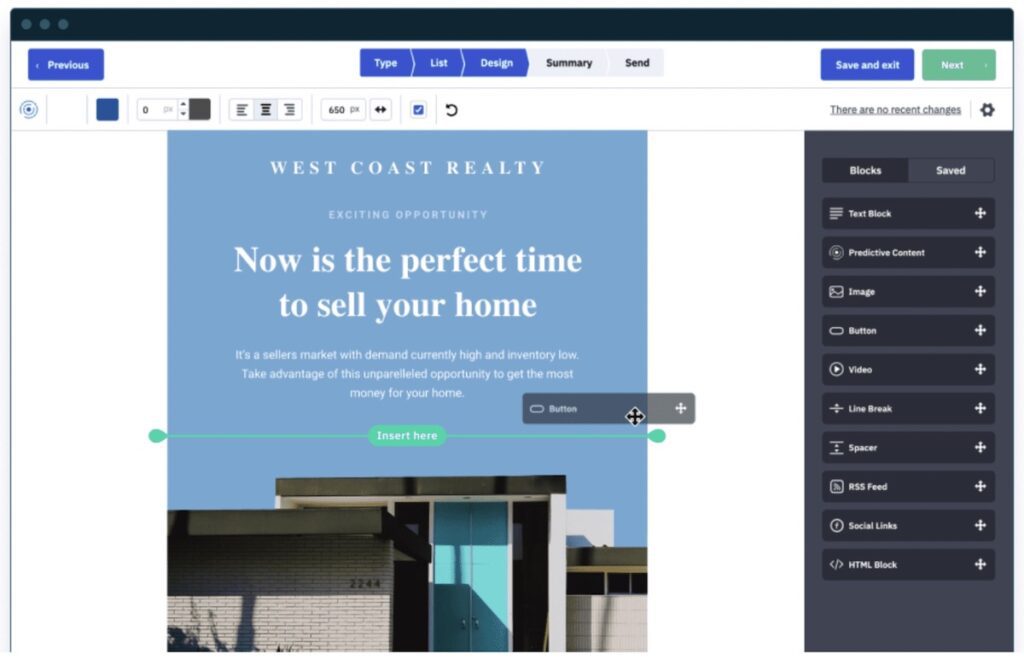 There is a free plan that you can sign up for while you explore the features, but to start sending emails you'll need to sign up for one of the paid plans. Prices start at $15 per month for 500 contacts.
19. Pabbly
Pabbly (formerly MailGet) lets you create automated email campaigns geared for conversions. The drag-and-drop editor lets you build emails in minutes, while drip campaigns, list management, and email list cleaning keep your campaigns high-performing and your subscribers engaged. While its features aren't the most advanced, Pabbly works great as an email marketing tool for beginners and small business owners.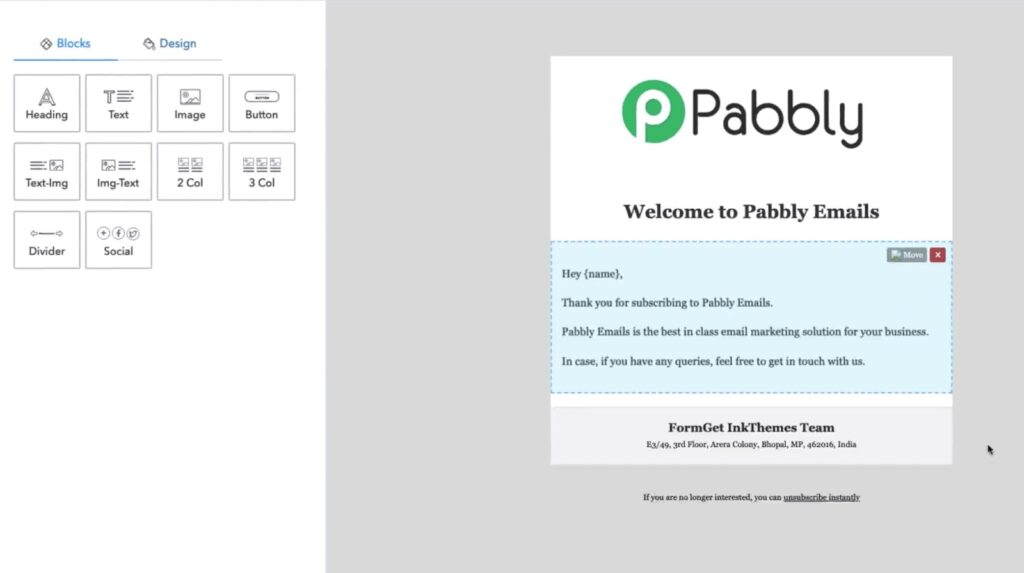 Pabbly's free plan includes unlimited monthly email sends to 100 contacts. The cheapest paid plan starts at $29 per month for 5,000.
Choosing the right cheap email marketing software
Email marketing success starts with choosing the right email marketing software. To find the right match for your business, be sure to consider which features you'll need, what your budget is, and how much you expect to grow.
And remember, even though this article is about cheap email marketing services, the cheapest option may not be the best. All the options on this list offer affordable pricing, but the best way to find the ideal email marketing platform for your business is by testing out your options!
Try Brevo's Free plan
Free plan includes core email marketing features, unlimited contacts list, 300 emails/day, and ready email templates.