Reading time about 19 min

Tired of seeing your Constant Contact bill increase when you get an influx of new subscribers? Take a look at these 10 Constant Contact alternatives to see how much you could save on your email marketing platform.
Constant Contact is one of the biggest and best known email marketing services. Small businesses love it for its simplicity and ease-of-use.
But, when compared to other ESPs offering the same service, it has one major downfall: cost.
Get this: Constant Contact doesn't just charge for email services. It takes a 1.5% cut of your total online sales!
As a small business, why overpay for your email marketing tool when so many cheaper alternatives to Constant Contact exist?
Keep reading to discover the best Constant Contact competitors. We'll highlight the key differences in features and compare the prices of monthly base plans.
Comparing prices of Constant Contact alternatives
Here are the email marketing solutions we'll compare to Constant Contact:
1. Sending a monthly newsletter to an email list (5,000 – 300,000 subscribers)
2. Sending a weekly newsletter to an email list (5,000 – 300,000 subscribers)
What Constant Contact has to offer
If you're hesitating about making the switch to another service, pricing isn't the only factor to take into account. Constant Contact has pros and cons when it comes to features.
Pros:
High deliverability rates
Intuitive interface with drag-and-drop email builder and large email template library
Unique features (manage events on Eventbrite, set up surveys, polls, and accept donations)
A website builder to create a simple but attractive site
Post directly to social media channels
Embed products directly into emails with the 'Action Blocks' feature, great for ecommerce businesses
Discounted pricing for nonprofits.
Cons:
High prices based on the number of contacts stored
No free plan, 14 free days with conditions
Automations are basic trigger/autoresponder campaigns. Impossible to set up complex workflows using 'if/then/else' logic. Simple automation sequences like welcome emails are only available on the more expensive Email Plus tier
No image display option for email signup forms, only contact fields
No in-app mobile preview feature, only desktop
Personalization limited to the subject line and email greeting
Only available in two languages (English & Spanish)
Transaction fee. You pay 1.5% of each sale your online store makes.
Now let's see what the cheaper services have to offer.
10 Best Constant Contact alternatives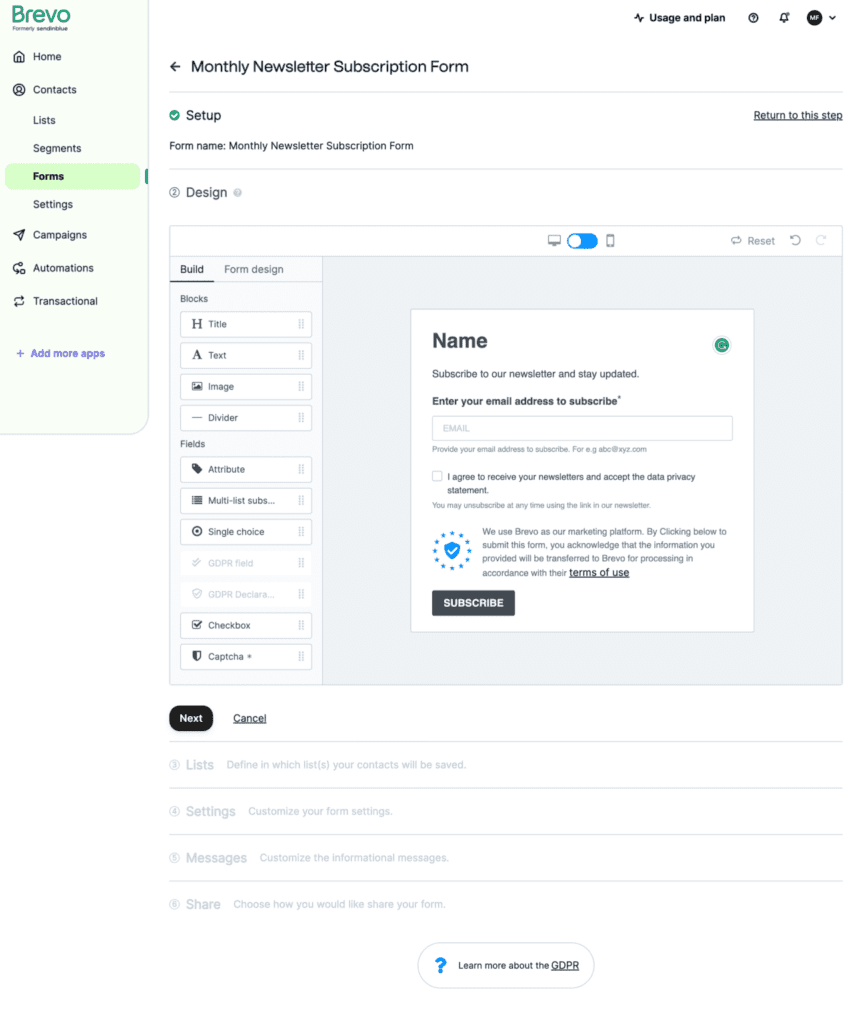 Brevo, formerly known worldwide as Sendinblue, offers a robust email marketing service as part of its all-in-one sales and digital marketing CRM suite. Alongside the necessary email marketing tools (drag-and-drop editor, transactional emails, GDPR compliance), you get marketing automation, Sales Platform, SMS, chat, push notifications, signup forms, and a landing page builder.
Main differences between Brevo and Constant Contact
Here's what makes Brevo one of the best Constant Contact alternatives:
Pricing based on the number of emails sent, not contacts stored. Brevo lets you store an unlimited number of contacts across all its plans. No matter how big your email list grows, this will not impact the pricing. Constant Contact, as we know, charges per contact stored. This can be frustrating for any small business with a rapidly growing list that instead chooses a platform with unlimited emails.
Advanced automation features: Create complex automation workflows with Brevo using if/then/else logic. Personalize customer journeys, automate lead scoring and nurturing, and react to any customer behavior. Brevo is a complete email marketing automation platform.
Simplify list management with dynamic segmentation and automation.
Send abandoned cart emails with the Brevo Tracker – a tracking feature that monitors your subscribers' on-page behavior and triggers email workflows.
Dynamic personalization: Engage your subscribers with personalized emails using Brevo's custom contact and dynamic content fields.
AI subject line generator: Get people to open your emails with attractive subject lines without wasting any time.
Brevo vs Constant Contact pricing
Brevo is one of the cheapest Constant Contact competitors you'll find. Brevo's email marketing software helps you grow instead of charging you for gaining more contacts and customers.
The free plan includes access to advanced email marketing features, 300 emails/day, unlimited contact storage, as well as other functionalities like transactional emails, Sales Platform, SMS marketing, and live chat. Brevo is hands down a powerful free Constant Contact alternative for small businesses and solo entrepreneurs.
Paid plans start at $25 for 20,000 emails/month. All plans include unlimited contact storage.
Here's what to expect when comparing base plans. Keep in mind that these Constant Contact 'Lite' plan prices don't include automation functionality. For most marketing campaigns, you'll need to upgrade to their 'Standard' plan, which starts at $35 per month for 500 contacts if you want access to premade automations.
What's more, Constant Contact will charge you an additional 1.5% of your total revenue if you sell through your website.
Read our Brevo vs Constant Contact guide for a detailed comparison of pricing and features.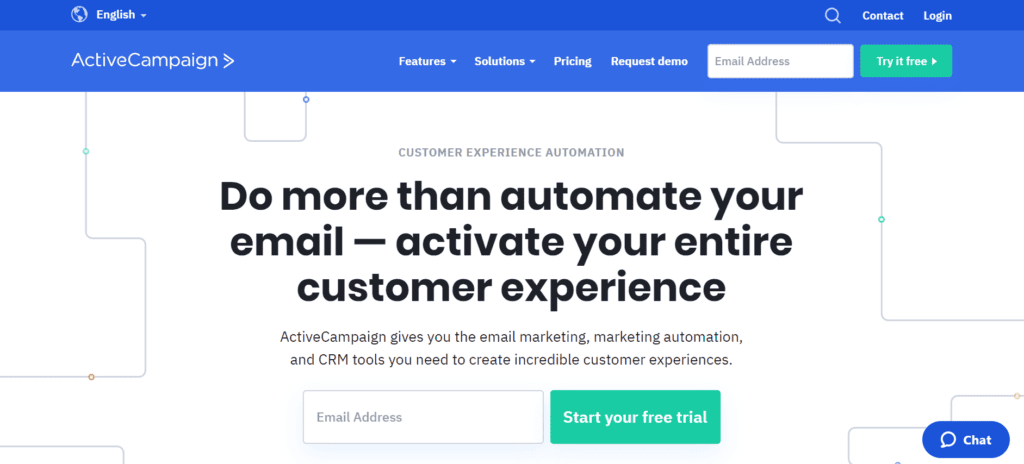 ActiveCampaign boasts intuitive features when it comes to email marketing, marketing automation, SMS marketing, and CRM.
Main differences between ActiveCampaign and Constant Contact
Automation tools: If you find Constant Contact's automation a bit too basic for your needs, you'll be pleased with ActiveCampaign's more advanced features. You'll have tons of options to create complex workflows and sales funnels.
ActiveCampaign is a great Constant Contact alternative for the advanced marketer or anyone looking for granular-level segmentation. To get the most out of this tool, you need to be comfortable with setting up complex automations.
Neither solution has a free version. ActiveCampaign offers a 14-day free trial as well.
ActiveCampaign has a built-in sales CRM feature, something you won't find with Constant Contact.
Constant Contact offers more integrations than ActiveCampaign (about 400 vs. 270).
ActiveCampaign vs. Constant Contact pricing
While the pricing gap is not as wide as with Brevo, you'll make savings with ActiveCampaign if you're a high-volume sender.
3. HubSpot Email Marketing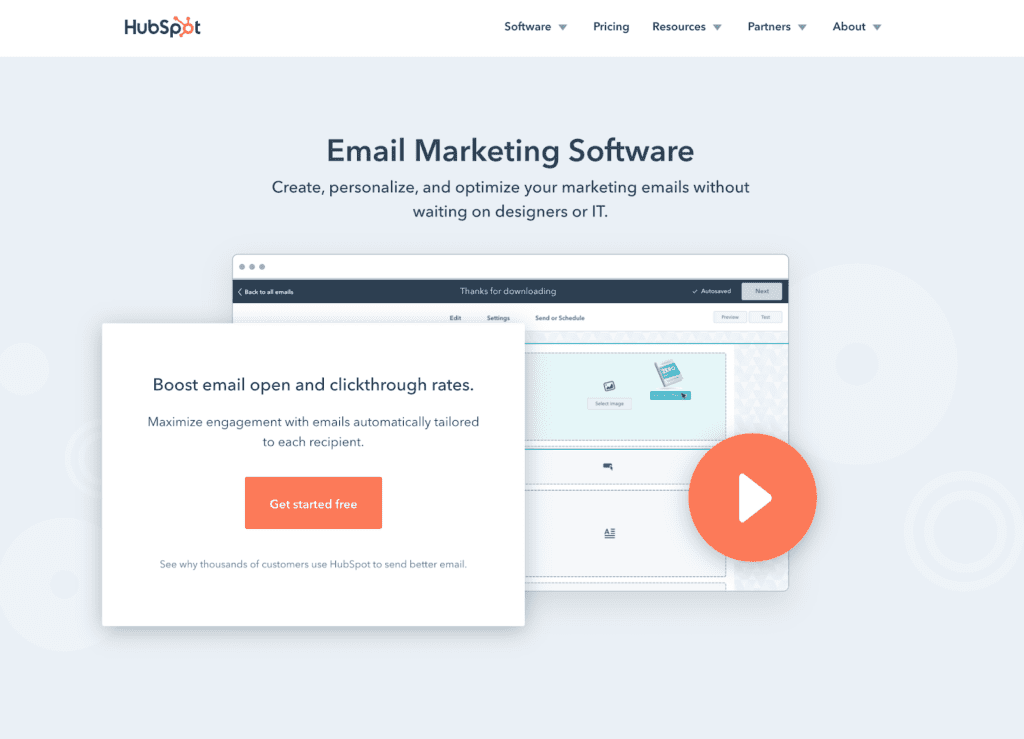 HubSpot is more than an email tool, it's a growth platform with advanced features, designed to empower your marketing, sales, and customer service teams to grow better.
Main differences between HubSpot and Constant Contact
Marketing Automation: Constant Contact's automation features can be quite limiting. HubSpot lets you create customizable autoresponders and automation workflows. Emails can be triggered whenever someone interacts with your website or with one of your social media ads. You can use one of the premade automation workflow templates, or you can build your own from scratch.
HubSpot Email Marketing uses the power of its CRM to personalize your emails at scale. HubSpot's products work seamlessly together to augment the power of email. All of your subscribers' info and activity is automatically logged into the CRM, which can then be used for email personalization.
HubSpot's signup form and popups builder is more customizable than Constant Contact. You can choose from a variety of formats and add as many custom fields as you want.
HubSpot has a Free plan that gives you access to all of HubSpot's free tools. In addition to email marketing, you get a free CRM, forms and popups, live chat and chatbots, ad management software, ticketing, and more.
HubSpot vs. Constant Contact pricing
HubSpot is a much cheaper alternative to Constant Contact if you have a small subscriber list. The price does go up quite a bit as your subscribers list grows, but keep in mind that when you get to the paid version of HubSpot, the account will also upgrade the full suite of marketing tools, so you ultimately get more value than you would with Constant Contact.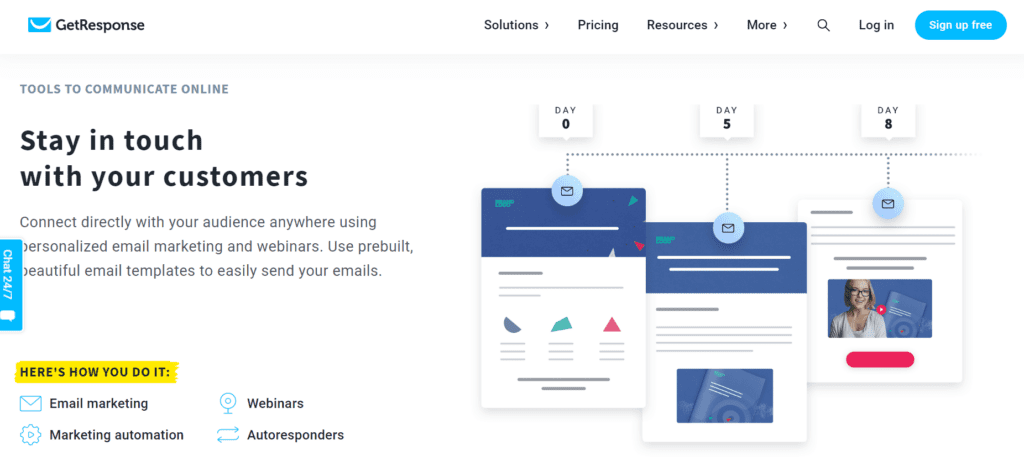 If you're a small business or blogger looking for a cheaper Constant Contact alternative, GetResponse is another option. It offers email marketing, automation, autoresponders, a landing page builder, and more.
Main differences between GetResponse and Constant Contact
GetResponse has some unique features that give it an edge over Constant Contact, namely:
Webinars for up to 500 attendees (the number of seats varies according to different pricing tiers)
A conversion funnel builder
Ecommerce integrations (for example, Shopify) to populate your product inventory on landing pages and in emails
The GetResponse base plan includes autoresponders and the option to code your own templates. Automated segmentation starts with the 'Marketing Automation' plan at $59.
GetResponse offers a free plan for up to 500 contacts and 2,500 email sends/month.
GetResponse vs. Constant Contact pricing
GetResponse is a bit more expensive, but one of the popular Constant Contact alternatives for managing webinars and events.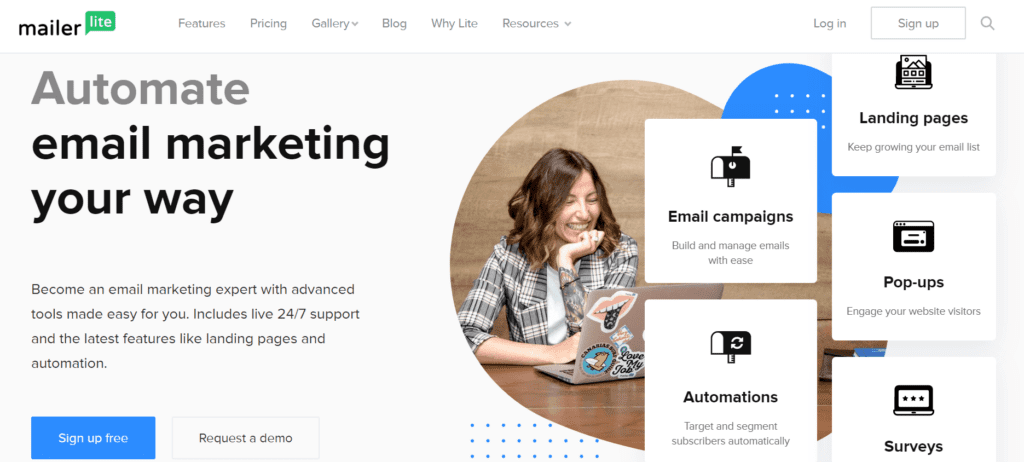 MailerLite is a fast growing email marketing provider based out of Vilnius, Lithuania.
Main differences between MailerLite and Constant Contact
MailerLite offers 24/7 email & live chat support on premium plans. Constant Contact's support hours are 8am – 10pm ET Monday – Saturday.
MailerLite's file manager feature has an integration with Google Drive and helps keep email campaign images organized.
MailerLite's paid plan has detailed campaign reports in real-time including click maps and opens by location.
MailerLite has a free plan but with some limitations (e.g. no access to email templates).
With MailerLite you can connect your domain to create custom URLs for landing pages.
MailerLite vs. Constant Contact pricing
MailerLite works out considerably cheaper, making it one of the more competitive Constant Contact alternatives.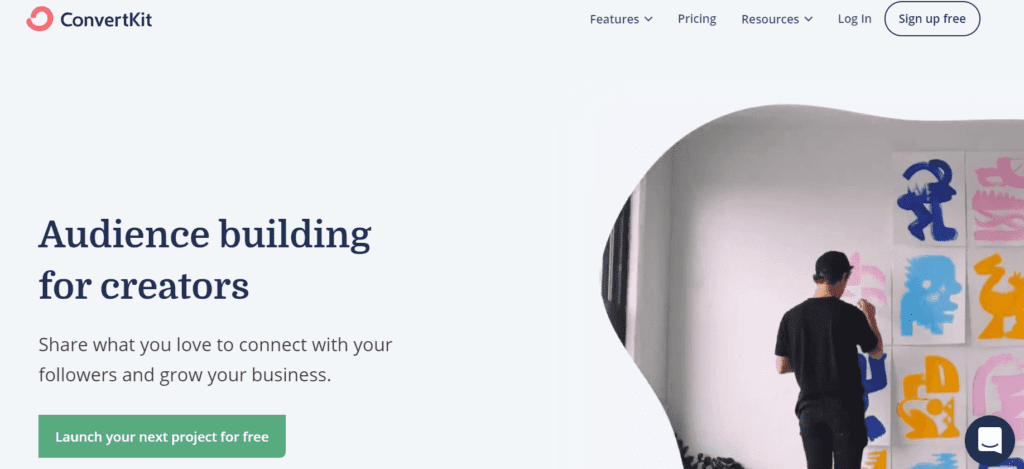 ConvertKit brands itself as the email platform for content creators: bloggers, artists, musicians, Youtubers, etc. Basically anyone running a creative business.
Main differences between ConvertKit and Constant Contact
ConvertKit offers more advanced automation possibilities.
ConvertKit doesn't have an email template gallery. Instead, users are encouraged to send plain-text emails. This, they say, improves deliverability and lets the reader focus on the email content/messaging.
Images in newsletters: To add them or avoid them? Read more in our guide to newsletter images. Or, check out this article on how to create a newsletter from start to finish.
ConvertKit lets you create multiple forms for different opt-in incentives. It's super easy to create a new form and add your content upgrade (e.g. cheat sheet, ebook, etc.) to the confirmation email.
ConvertKit vs. Constant Contact pricing
ConvertKit has a free version for up to 1,000 subscribers. Pricing after that starts at $15 per month for 300 subscribers.
Out of all the Constant Contact alternatives on this list, ConvertKit is definitely one of the more expensive options. That said, its position toward content creators makes it unique. If you're not one, you can take a look at the top ConvertKit alternatives for better prices.
7. Moosend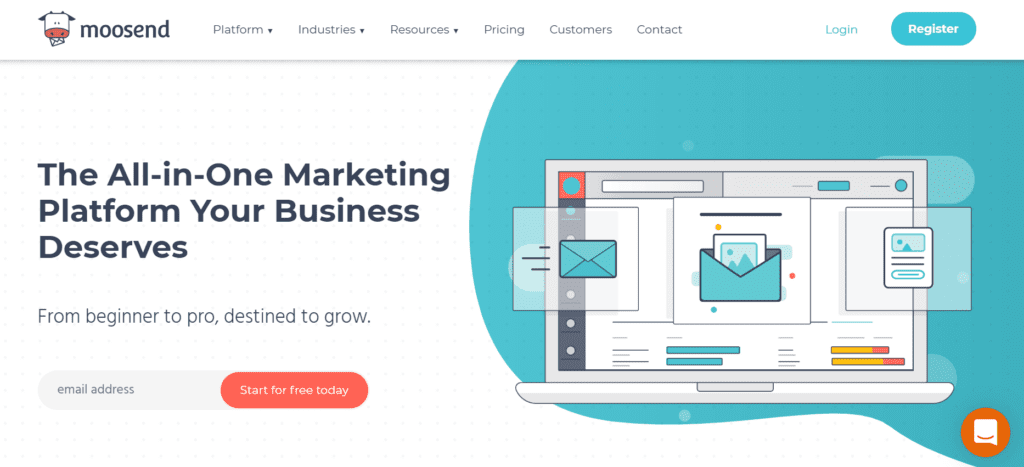 Moosend is a European-based email service provider offering an affordable solution to manage marketing and transactional emails.
Main differences between Moosend and Constant Contact
Both Moosend and Constant Constant offer the possibility to create landing pages.
Moosend comes with a handy email subject line tester called Refine.
You can send transactional emails with Moosend over its SMTP server.
If you don't want to sign up to a monthly plan with Moosend, you have the option to purchase email credits instead.
Moosend vs Constant Contact pricing
At nearly half the price, Moosend is a clear winner over Constant Contact in terms of pricing. Moosend does not offer a free plan, only a 30-day free trial.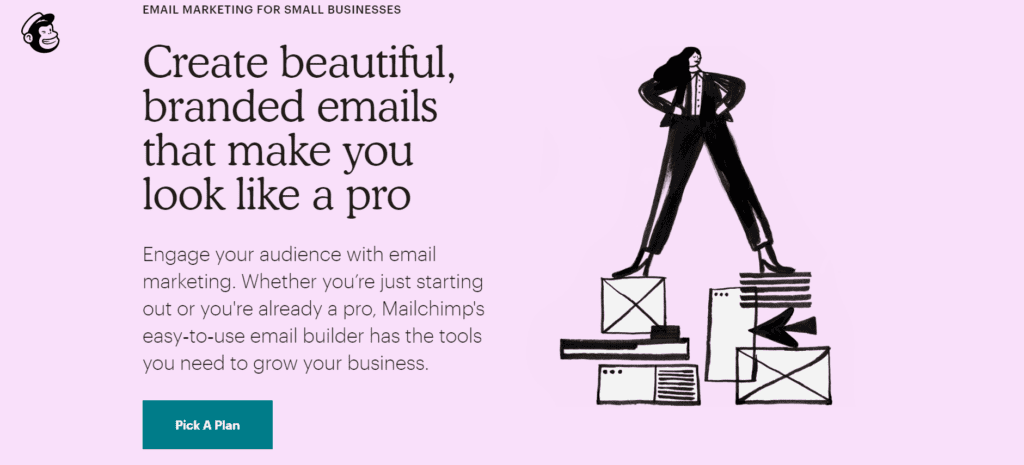 Mailchimp is one of the biggest names in the email marketing space. They're no longer focused on just email though, Mailchimp now offers an all-in-one marketing platform.
Main differences between Mailchimp and Constant Contact
Mailchimp has a free plan of up to 500 emails/day and 1,000 emails/month for 500 contacts. This is quite limiting and unfortunately the prices rise sharply the more subscribers you get.
Mailchimp counts one subscriber in several lists as multiple subscribers.
Both are known for being user-friendly and suited to email marketing beginners.
While Mailchimp offers email client testing, Constant Contact has an email error testing feature.
Mailchimp has more options when it comes to A/B testing (subject lines, names, content, and send time). Constant Contact only offers A/B tests for subject lines and on its 'Standard' plan.
Mailchimp vs Constant Contact pricing
Mailchimp is far from the cheapest Constant Contact alternative on this list. Advanced automation and segmentation aren't available on Mailchimp's Free or Essential Plans so be prepared to pay extra for these features.
Like Constant Contact, Mailchimp charges transaction fees on all ecommerce purchases they handle (ranging from 0.5% to 2% depending on the plan). In addition, Mailchimp users have to foot the bill for their card processing fees. These vary based on location, but European cards incur a 1.4% + $0.25 fee on every transaction. For non-European cards, it's even higher— 2.9% + $0.25.
Though, like Constant Contact, Mailchimp also offers a discount to non-profit organizations.
Hesitating about switching to Mailchimp? Check out these Mailchimp alternatives.
9. EmailOctopus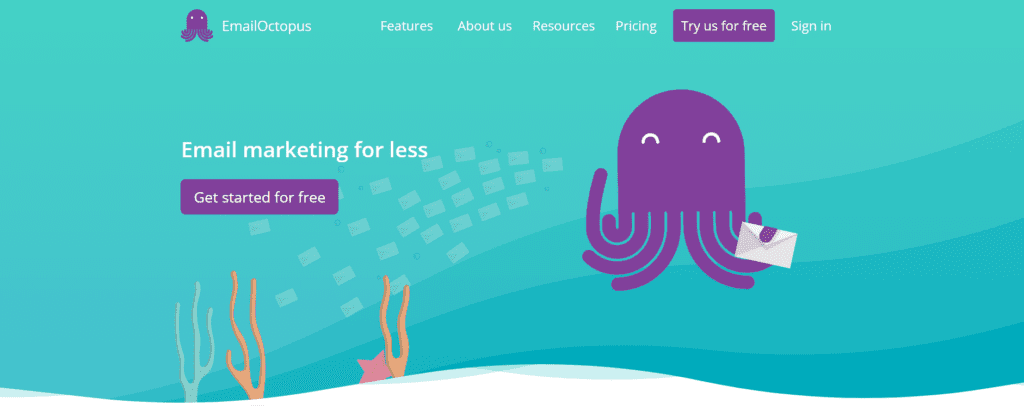 EmailOctopus started off as a plugin application for Amazon SES (Amazon's transactional email service) and has since grown into a fully fledged email marketing platform. It comes equipped with everything you need to get started with basic email marketing campaigns include a drag and drop email editor,
Comparing EmailOctopus & Constant Contact features
EmailOctopus offers much the same features as Constant Contact (simple automation sequences, a template library, segmentation, form builder, etc.).
If you use Amazon SES, EmailOctopus integrates directly with customers' AWS accounts and gives an intuitive front end on top of the SES platform.
Being EU-based, EmailOctopus puts strong emphasis on GDPR compliance.
EmailOctopus lets you personalize emails with custom contact fields.
EmailOctopus vs Constant Contact pricing
EmailOctopus doesn't come with any bells or whistles but it's a solid choice if you're looking for an affordable Constant Contact alternative.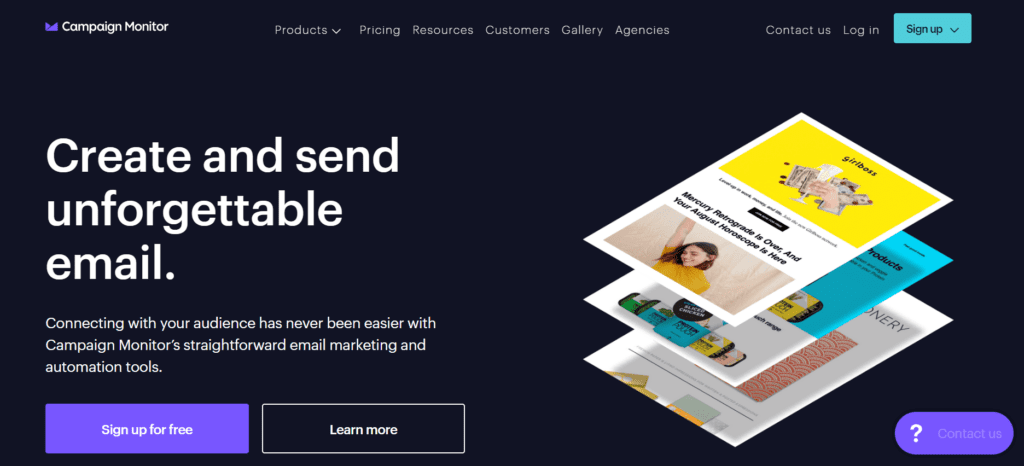 Last but not least, Campaign Monitor is another Constant Contact alternative that lets you create, send, manage and track email campaigns.
Main differences between Campaign Monitor and Constant Contact
Get simple automation sequences on the Campaign Monitor 'Basic' plan. For more advanced automation you need to scale up to a higher tier.
Campaign Monitor has transactional email capability.
You can set up dynamic email content using if/else conditions.
Campaign Monitor has 24/7 live customer support.
Campaign Monitor vs Constant Contact pricing
It's not the cheapest on this list but you'll still earn some small savings by switching from Constant Contact to Campaign Monitor.
Try a cost-effective alternative to Constant Contact
Having gone through 10 of the most popular and cost-effective Constant Contact alternatives, you hopefully have a better idea of what options are out there.
As with any digital marketing tool, the best option for you may not be the best option for your neighbor. For this reason, we suggest trying out a few different email marketing platforms to compare features and pricing, to see which is the most intuitive and user-friendly for your team, and to find one with customer support that matches your needs.
In the end, an email marketing solution is meant to work for you as a business owner to let your business thrive. At Brevo, this is exactly our goal.
Grow your business with 99% email deliverability. Set up automations using powerful if/else/then workflows and connect with your customers at every step of their journey. Meaningful connections begin with Brevo, so get started for free today.
Grow affordably with Brevo: the best Constant Contact alternative
Brevo's free plan includes access to all core email features, 300 emails/day, 40+ email templates, and customizable signup forms to grow your email list.
Can I use Constant Contact for free?
You can use Constant Contact for free for a 14-day trial. After that you must pay.