Reading time about 19 min

Finding the best live chat software for your business is no easy task. Options range from simple live chat apps to full-fledged customer support platforms for complex sales processes.
And what does best live chat software mean anyway? What's perfect for one business is overly complicated for another. Or not enough. The live chat service landscape is competitive and the functionalities available are exciting for marketers. It's definitely a big plus to add a live chat to your website, whatever the industry.
This comparison of the leading providers of live chat software will help you find the one service that best fits your business needs and budget.
Best live chat software table comparison
A quick glance at our best live chat software roundup. Keep reading for an in-depth discussion on features for each platform.
The benefits of live chat software for business
Among all digital marketing tools, you might be wondering why live chat is important. Above all, it's a customer support and direct communication tool. Directly connecting with website visitors increases customer engagement, improves the customer experience, and directly or indirectly, increases sales.
Find out more about conversational marketing here.
A live chat tool:
streamlines customer support;
can answer inquiries outside office hours thanks to automation;
can offer self-help resources to decrease team members' workload;
lets you contact leads without an email signup form;
enables you to initiate direct contact proactively;
keeps a customer on the site for longer and even converts them;
delivers better user experience thanks to real-time support, a targeted approach, and personalization;
gathers customer insights for continuous improvement.
Who should use live chat?
Live chat can be used to help grow businesses of all shapes and sizes. Having a webchat software is an effective way for ecommerce shops, B2Bs, SaaS companies, and start-ups alike to connect with their customers and drive conversions.
What makes live chat so helpful is the ability to communicate with website visitors in real time. It's like having a dedicated customer support agent for each of your visitors.
And thanks to automated chatbots, even the smallest of teams can deliver great webchat experiences for customers.
The 12 best live chat software compared
Let's take a look at the top live chat tools on the market and what businesses we think they're most suitable for.
1. Brevo live chat software
Intuitive, reliable, and robust, Brevo Conversations is an all-around great choice for live chat software. Businesses of all sizes can use Conversations thanks to its easy-to-use interface. Setup is no more complicated than a simple copy/paste. From there, the drag-and-drop editor makes designing chatbot flows quick and easy.
In addition to supporting live chat on your website, Brevo Conversations allows you to handle messages from your business's Instagram and Facebook accounts as well, bringing all your real-time customer communications under one roof!
Take a look at everything you can do with Brevo Conversations:
Chatbots scenarios (including lead capture form)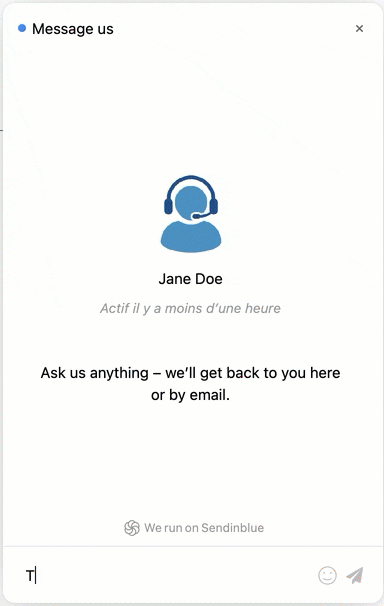 Targeted messages and chat triggers to proactively engage visitors
Saved replies to answer FAQs faster and more efficiently
Business hours: Set up automated away messages when you're offline
Typing insights: See what people are typing before they hit send so you're ready with an answer
Shopping cart content insights: Drive sales with a triggered message at the right time
Chat ratings & statistics (message read, chat transcripts)
Agent grouping (by language or expertise)
Popup notifications for new messages
Brevo Conversations mobile app (available on iOS and Android)
Integrations with all popular ecommerce platforms and CMS
If you're looking for a webchat software, try Brevo. Its forever-free plan includes everything you need to launch a chat window on your website and manage your support team.
Brevo Conversations pricing
Brevo's live chat software is free for 1 user seat and the essential tools. For advanced features like chatbots, group chats, agent notes, visitor banning, Facebook Messenger and Instagram Direct integrations, lead capture forms, and more, paid plans start at $15/month per seat.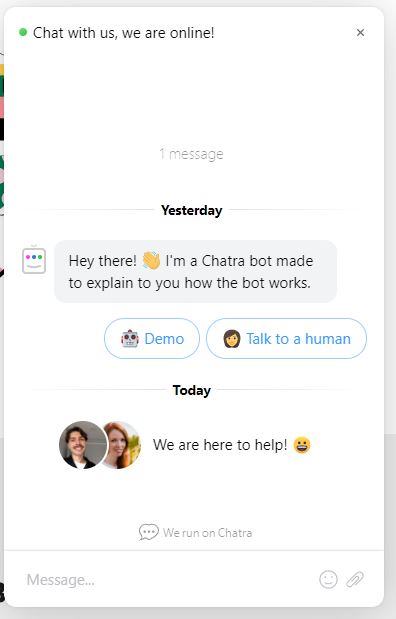 Chatra is a complete live chat software for websites and ecommerce stores. It streamlines conversations from the most used channels — email, messenger, and website, for better organized and faster customer service.
Chatra lets you talk to website visitors in real time or automate engagement with triggered messages and answer at your own pace. This takes the pressure off you and your support team while still enhancing the customer experience.
Another great feature is the ability to target visitors on specific pages — like a product page, where you can help them choose in real time and boost your conversion rates.
And on top of that, Chatra integrates with most major ecommerce platforms and lets you see what the visitor has added to their cart. This way, you can help them pick the right size, the best shipping option, and answer other checkout-related questions. This makes for happy customers and also opens opportunities for upsells!
Some of Chatra's notable live chat features include:
Over 1000+ integrations with web services like Facebook Messenger, Instagram, and Salesforce so you can manage all your leads and chats from one place
Visitor details — location, what pages they're on at the moment when you're talking to them
Shopping cart contents — if your ecommerce store is on Shopify, BigCommerce, Ecwid, or WooCommerce, you'll be able to see what they've added to their cart on this visit
Targeted messages and triggers — proactively contact visitors on certain pages or after they've been stuck on a page for some time
Typing insights — you'll see what the visitor is typing before they hit send so you have more time to prepare your answer while keeping response times to a minimum
Price: Free plan available; starts from $21/ month per agent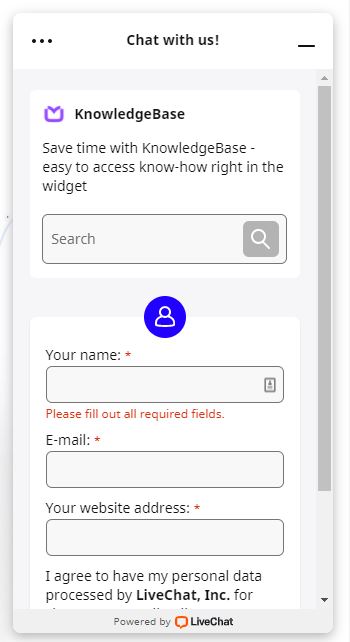 LiveChat is positioned as a multichannel customer support service. It covers Facebook, SMS, email, WhatsApp, and Apple Business Chat on top of its website chat window. It also integrates with many tools and most ecommerce platforms.
LiveChat offers a ticketing system, notifications, chat routing (assigning chats to support agents), team management tools, and sales goal tracker among many other features. This makes it suitable for bigger teams of reps, looking for a webchat software to service a large number of website visitors and customers.
What makes LiveChat stand out as a live chat solution is the ability to add clickable buttons, quick replies, and cards and carousels in the chat window. This is great for customer satisfaction, as it makes chat conversations even more engaging and helpful to visitors.
However, LiveChat's automation features leave something to be desired. If you want to use chatbots, you need to add another app. ChatBot is made by the same company and works seamlessly with LiveChat, but it's a separate thing to buy and set up.
LiveChat features worth mentioning:
Product cards let you feature and recommend products directly in the chat
Extensive reporting available
The chat widget for websites is customizable by page — for example, the pricing page can benefit from more eye-catching colors, while a welcome message on the home page doesn't need to be that intrusive
You can add a "Chat now" button to pages instead of having the chat widget pop up.
Being able to save answers to FAQ and reuse them is quite a useful feature.
Price: 14-day free trial; plans start from $19/month per agent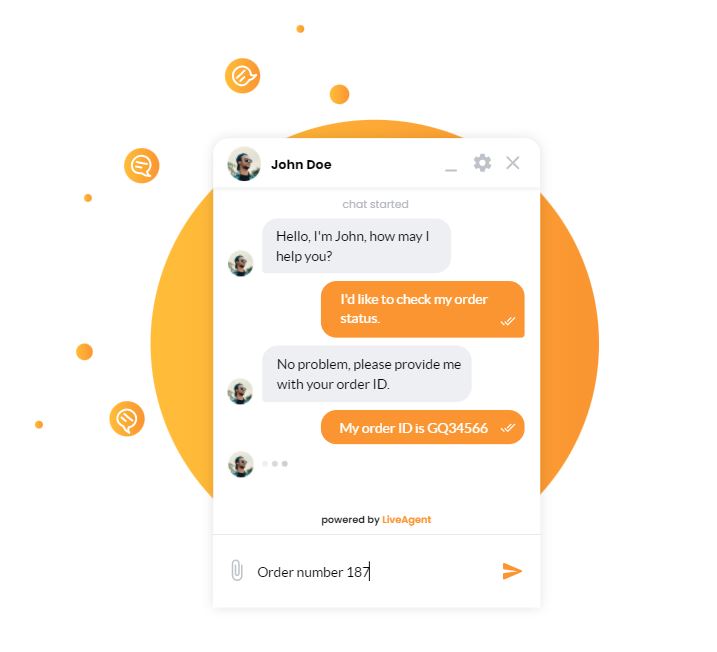 LiveAgent is another 360-degree live chat software. In addition to live chat, it boasts a ticketing system, built-in call center, knowledge base builder, and a customer access portal. These additional features provide self-service help options so visitors and customers can find the answers to FAQs and check the status of their support tickets without having to reach out to a team member.
LiveAgent's website chat software offers customization options, video chat, and multilingual chat boxes. It also lets you set chat assignment rules so customer questions get answered by the most suitable agent.
Proactive chat invitations are another interesting feature. They're set up to reach out to visitors on a specific page with a follow-up from one of your chat agents in real time. LiveAgent uses AI to trigger those proactive invites once your agents are free to engage with another customer.
LiveAgent integrates with multiple communication channels such as Slack, Twitter, Viber, forums, and Facebook to bring all help desk queries under one roof for $39/month per platform.
Price: 14-day free trial; ticketing + live chat app starts at $9/month for basic features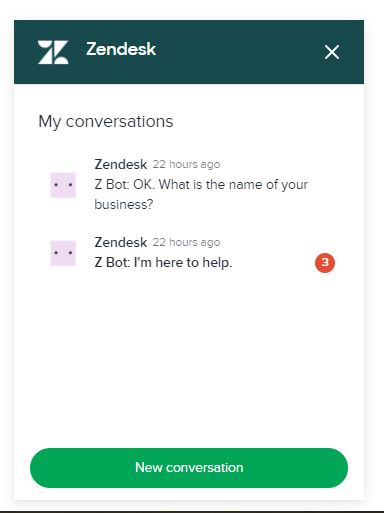 Zendesk is a live chat for customer service made by the same company as Zendesk Sell, a Sales CRM platform. With AI and automation focus, a ticketing system and reporting, Zendesk's chat software is suitable for companies looking to scale up.
It's geared towards bigger teams, offering routing, collaboration tools, and knowledge management to allow for the shortest response times possible.
Zendesk brings conversations from messaging platforms, social media, website, email, and voice over into one agent workspace. And chatbots, known as Answer Bot, are available on all of those channels too. You can also create various workflows for the bot to follow in different situations with customers.
It also has tools to reduce customer service load coming through the business chat software. You can create a help center, a knowledge base, or a community forum to allow customers to help themselves.
Price: free trial available; plans start from $19 per agent per month, billed annually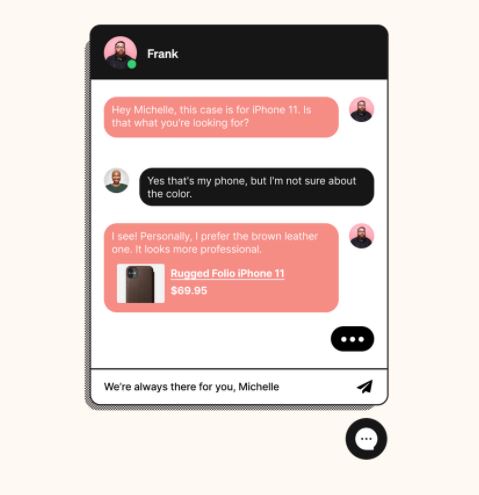 Gorgias is positioned as webchat software for ecommerce. It offers detailed customer reporting and sales tracking. Gorgias combines a ticket help desk software with live chat to provide support and increase sales. Through integrations with Shopify, Magento, and BigCommerce, you can update customer orders and refunds in real time as you chat with them.
Gorgias pulls conversations from Facebook, Instagram, email, and SMS into one unified live chat app. It also lets you respond to comments on Instagram ads and social media posts to speed up the conversion process.
Gorgias stands out because of its pricing. It's not based on agent number — the plans include unlimited chat users.
While automations like instant answers and self-service scenarios are available, they're an add-on to the monthly plans, starting at $75 per month when coupled with the Basic plan.
Price: 7-day free trial; plans start from $10/month
Read more: What is Ecommerce Marketing? 10 Strategies to Get Started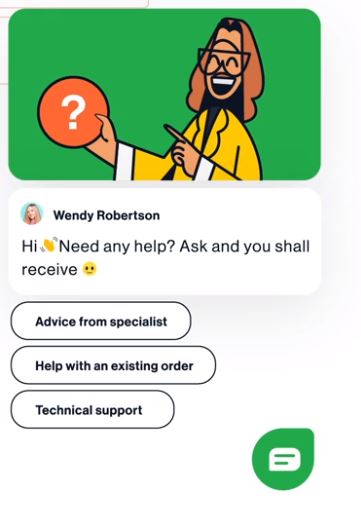 Freshchat is a customer service solution, not just a live chat tool for websites. That's why it's geared more towards bigger teams and complex organizations working both offline and online. It includes a few separate products: Support Desk, Messaging, Contact Center, and Customer Success. You can get them separately or all combined in the Omnichannel Suite.
A few features to mention are:
a comprehensive big-team ticketing system,
a support platform unifying email, phone, chat, social media, website, and WhatsApp
field workforce management tools,
call center system,
detailed reports.
As a live chat app, Freshchat offers automation through a chatbot, powered by AI. It can understand the intent of a question and deliver ready answers, engaging website visitors for as long as possible before handing over to a live agent.
There's a help widget that can be triggered on pages of your choice to offer proactive assistance or deliver resources. Standard customization options and contextual support based on where the visitor is on your website are also available.
Price: 21-day free trial; free plan available, Messaging plans start at $18/month per agent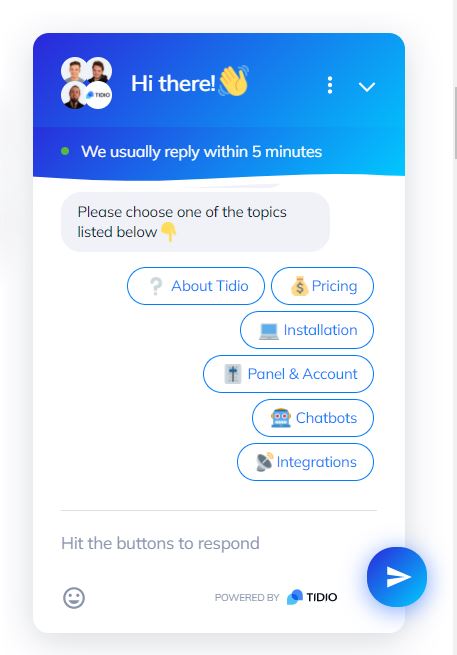 Tidio combines chatbots with live chat for customer service. It's focused on sales and customer satisfaction, which makes it a suitable live chat software for small businesses. Plugins are available with popular platforms like Shopify, Wix, and WordPress.
Tidio connects email, Messenger, Instagram, and website chat. It also lets you collect emails for further communication. The quick reply feature lets support agents reuse answers to frequently asked questions and save time. There are also automation templates and a drag-and-drop editor for building chatbot workflows.
Here are a few reasons why Tidio could work for your support team. The tool allows you to:
send a welcome message and give a discount;
reach out proactively to hesitant shoppers and prevent cart abandonment;
catch people about to leave and keep them on page,
welcome returning visitors,
suggest products in the chat window.
Price: Free plan available for up to 3 chat operators; Chatbots plans start at $39/month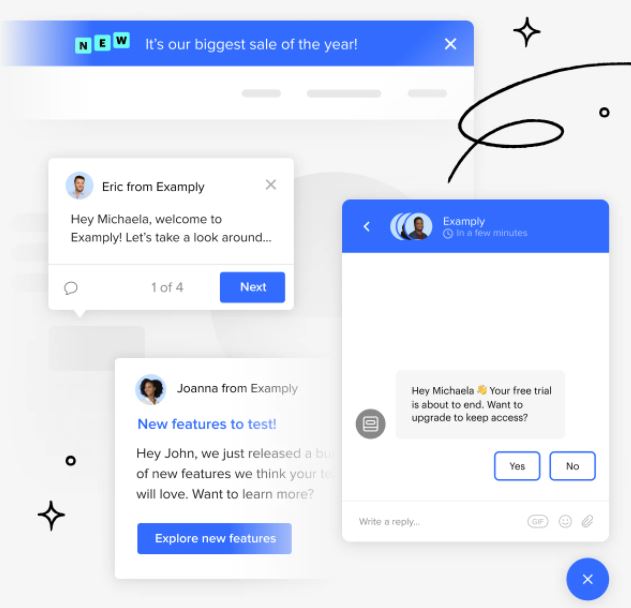 Intercom is probably the most popular live chat software, especially among SaaS businesses. In addition to live chat, it offers chatbots, product tours, app integration (like scheduling a Google Meet meeting), and help desk tools. It keeps customer history handy, too, to be referenced when needed for future chats.
Intercom's live chat makes automating customer engagement in real time easier than ever. You can set up promotional banners, proactively reach out on particular pages, and broadcast outbound messages. Announcing a new feature or drawing attention to a product is made easy with in-app messages.
The self-support functionality makes it possible to send help articles or automatic templated answers in response to certain questions. In addition, the resolution chatbot gives visitors a few options to choose from and guides them through an automated help service. Yet another great customer support feature to help you improve user experience.
Price: 14-day free trial; starts at $67/ month, billed annually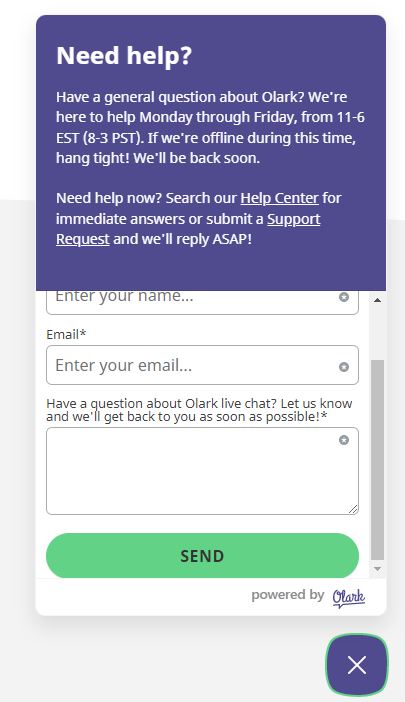 Olark is a live chat software with a friendly appeal. It provides team management tools like shared canned responses and chat distribution to help small teams manage the customer support load.
For example, the automations by location and browsing behavior are handy for quickly answering inquiries and resolving issues. Custom chatbox forms are another good feature. They ask the visitor predefined questions so you have more information about their needs before you start chatting with them.
Customization options for the Olark chat widget for websites include design and language. The reporting is also quite advanced, showing insights about activity to help you make staff schedules and sort conversations by topic. There are also transcripts where you can search through chat history for insights.
A notable feature of Olark is the accessibility of their live chat widget. It's usable with a keyboard only and readable by screen readers. It also supports large text. This can be a competitive advantage if your website is frequented by people with disabilities.
Price: 14-day free trial; free plan with limited features and 20 conversations a month is available after a free trial. Paid plans start at $29/month per agent
PowerUps available for added price: visitor cobrowsing $99/month, non-branded chat box $59/month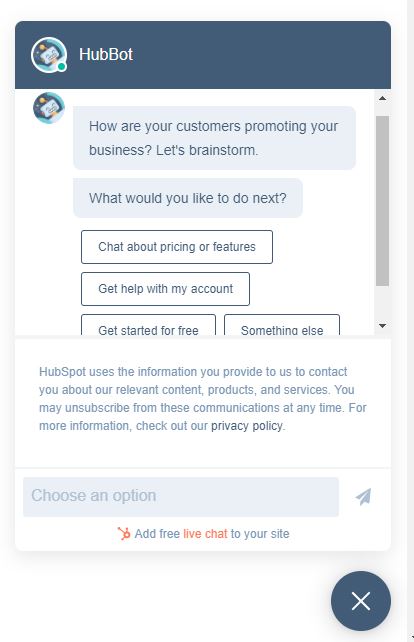 Service Hub is the live chat support software, part of Hubspot. It includes a chat widget, help desk automation, ticketing, knowledge base, feedback surveys, and reporting.
The live chat features include chat window customization options and the ability to reach certain audience segments. You can also build your chatbots inside Hubspot to answer questions, book meetings, or qualify leads.
Thanks to the CRM integration, services teams have all customer data in front of them when chatting, dealing with support tickets, making calls, and so on. It's not just a live chat tool, it's a sales management and customer satisfaction platform. Features like VoIP calling, self-service customer portal, video messaging, and team management add to it too.
Price: free plan available; Starter plan from $45/month
Related: Guide to Using Instagram Direct Messaging API for Business
12. Smartsupp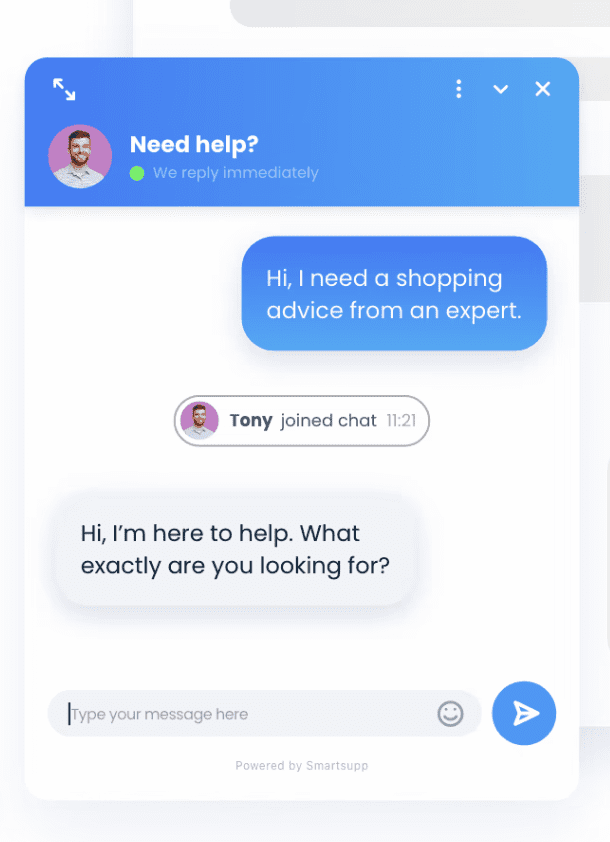 Smartsupp is another option for free live chat software for websites. With the Smartsupp free plan, you can get insight into basic customer data such as name, email, and location. All chat boxes are optimized for mobile devices, and you can even customize chat box colors for a unique chat experience.
In order to put chat boxes on multiple domains and use other languages, you will need to upgrade to the Standard plan. On the Standard plan, users have access to three agent seats and can connect their live chats to email and Facebook Messenger.
Smartsupp feature worth mentioning: Customer analytics help you see how often visitors view your website, and which pages so you can gain valuable insight into customer interest.
Price: Free plan available, Standard plan $19.50/month for three seats
How about a free live chat app for your website?
For many small businesses, adding yet another digital tool to their website can be overwhelming. That's why Brevo offers live chat together with all other digital marketing tools (email, email automation, landing pages, signup forms, CRM, SMS marketing).
Brevo's live chat app takes just minutes to set up on your site and can be customized to match your branding. You can start talking to your site visitors right away and keep track of customer interactions in a single inbox. With the page tracking feature, you'll know where exactly people are so you can answer their questions and needs as quickly as possible.
The best part? It's free. Brevo's free plan includes free webchat software for one user. It's perfect for small businesses or ecommerce stores looking to grow on a budget.
Add Live Chat to your website with Brevo
Free plan includes unlimited chats from one seat, fully customizable chat widget, plugins, mobile app, and complete chat history.