It's that time of the year again — the holiday season! Use the holidays to connect with customers and drive sales. Here are a few holiday marketing campaign examples to help your business stand out.
'Tis the season of gift giving and holiday cheer! This year, connect with customers and stand out from the competition. Run top-notch holiday marketing campaigns, from holiday email marketing to festive holiday advertising.
2022 holiday sales grew 5.5% from 2021. Catch the upward trend this season with a stand-out holiday marketing strategy.
Need inspiration? Here are a few tips and holiday marketing campaign examples to get you started.
How do you do holiday marketing?
From Black Friday to Christmas, the holidays are an important opportunity for businesses. This year, engage holiday shoppers and turn them into loyal customers. Make your brand stand out with memorable holiday marketing campaigns from posters and videos to email marketing.
Here are a few examples and strategies to inspire your holiday marketing efforts.
Start your holiday campaigns early
Don't miss out on the chance to connect with customers. Launch your holiday marketing campaigns early. Be sure to let customers know about your holiday promotions well in advance.
Share holiday sale teasers. Offer exclusive access to holiday deals. Or build anticipation for the discounts to come.
Check out this early Christmas email campaign example from Boohoo: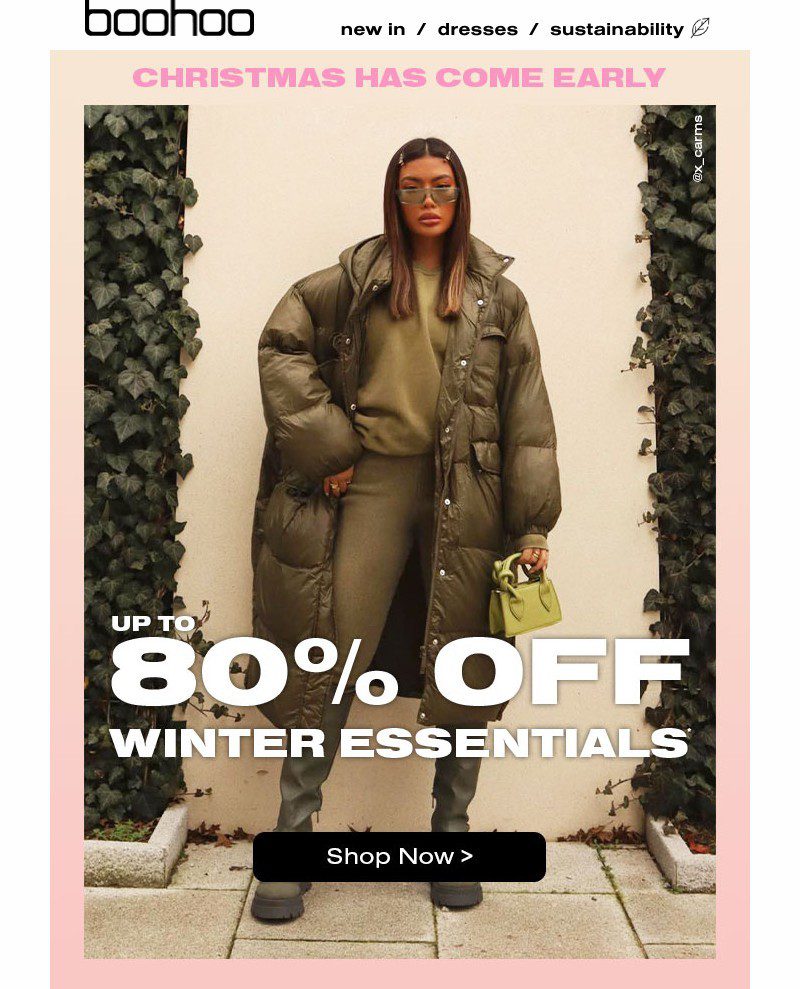 Run multichannel holiday campaigns
Get the most out of the holiday shopping season with multichannel campaigns. Send holiday marketing emails to boost sales. Raise awareness with holiday-themed social media posts. Or create buzz with paid holiday ad campaigns.
Post on multiple marketing channels to engage customers where they are. Don't forget to use holiday hashtags to broaden your reach.
This holiday social media post from Lego is a good example: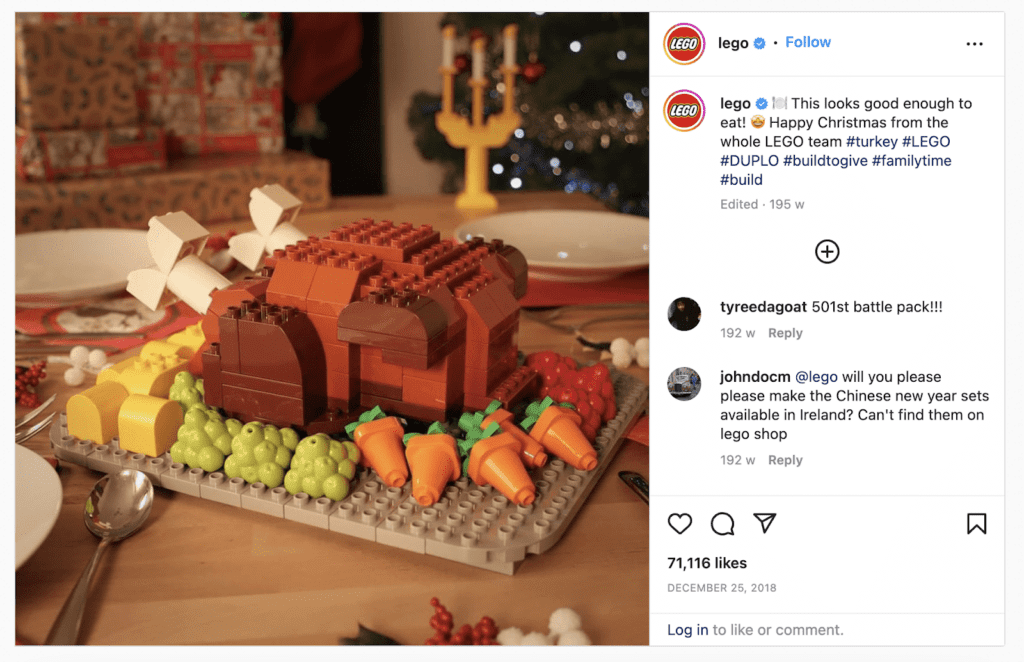 Provide value
Go beyond seasonal promotions and holiday ad campaigns. Make your holiday marketing campaigns meaningful.
Get creative with content marketing and share little-known holiday tips. Or create holiday gift guides to inspire your audience.
Your campaigns should provide value. This will help your brand stand out above the holiday competition. Customers will also thank you for helping them find the perfect gift!
This gift guide from Sloane Tea is the perfect holiday marketing campaign example: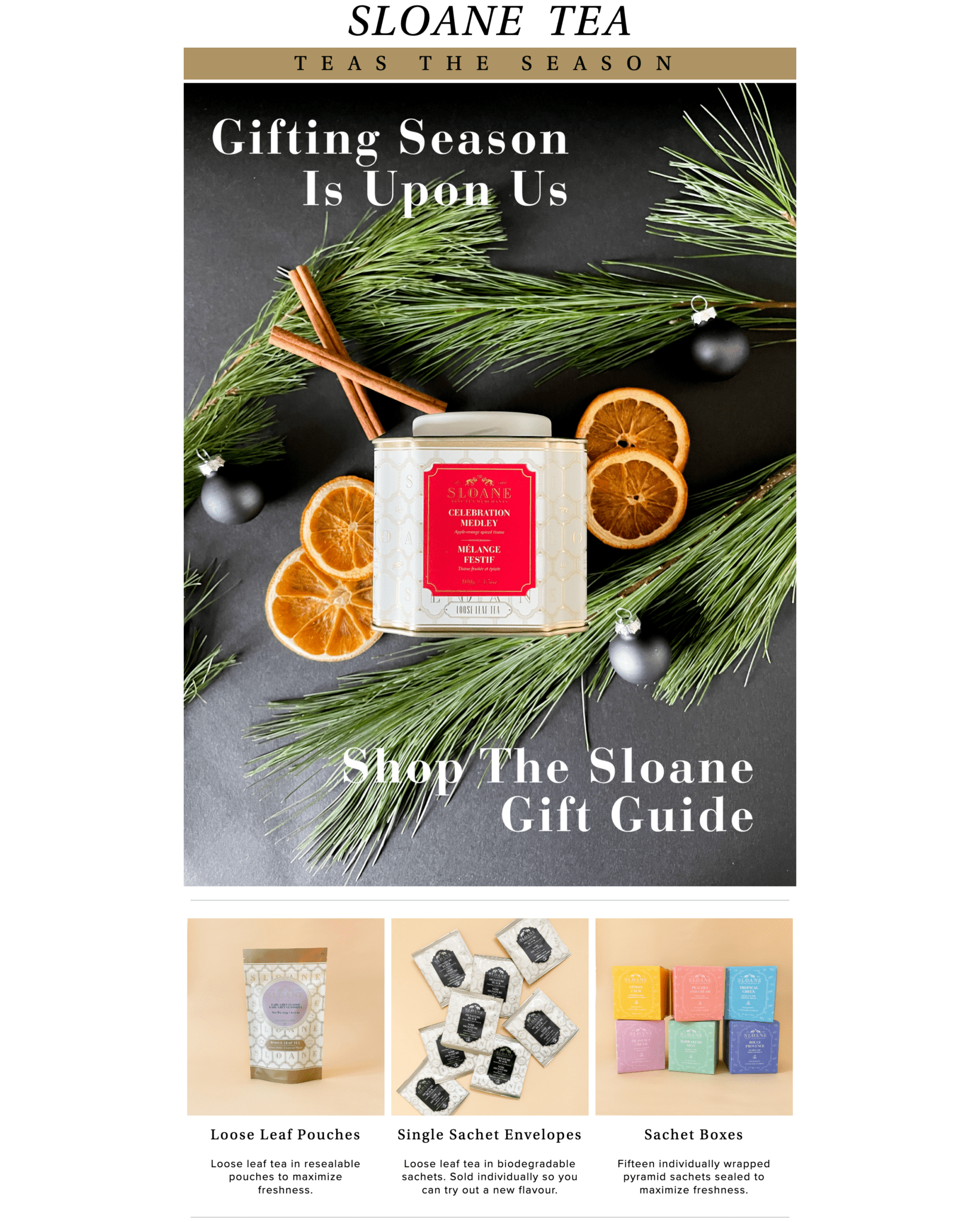 Created with Brevo
Create a sense of urgency
The holidays only come once a year. Create a sense of urgency in your holiday marketing campaigns. Use countdown timers to build anticipation for your holiday sales.
Check out this holiday marketing campaign example from Linjer for inspiration: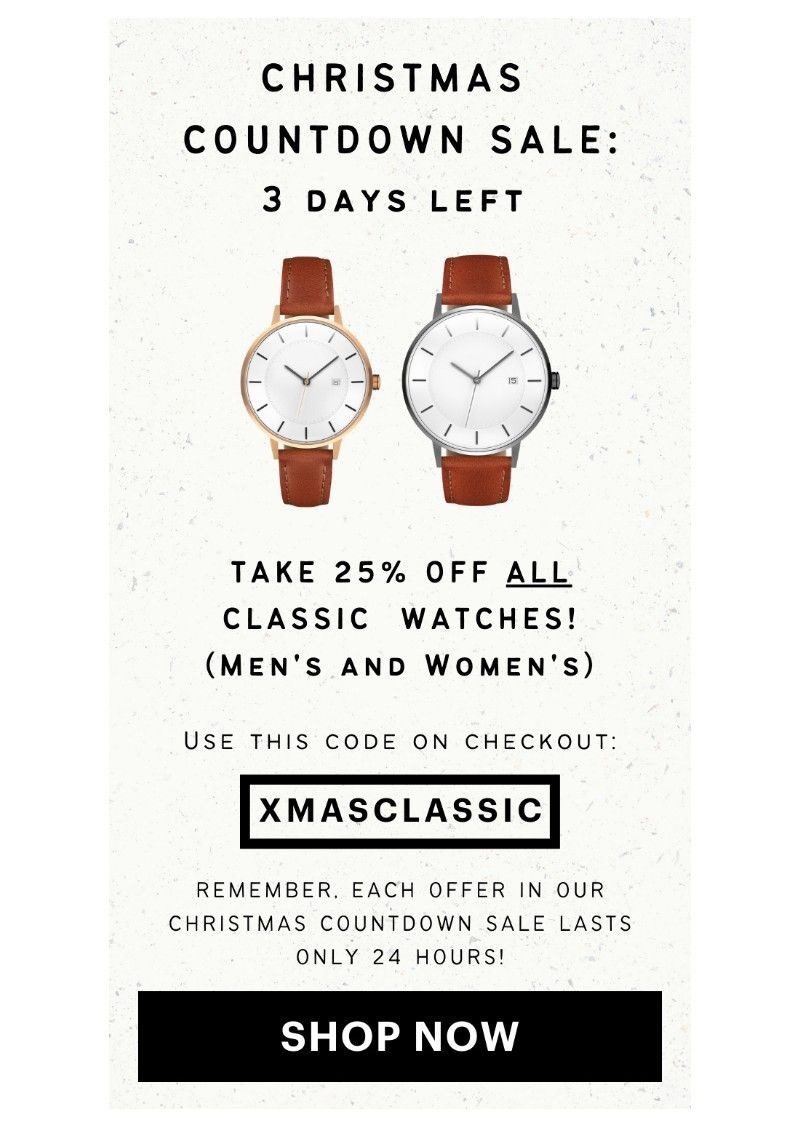 Spread holiday cheer
The holidays are meant to be shared with loved ones. It's a time to make memories and spread holiday cheer. It's also a chance to get closer to your customers.
Use this festive period to form a deeper connection with your target audience. Start by getting into the holiday spirit.
Thank your customers for their support and wish them happy holidays. Run emotional holiday campaigns that tug on their heartstrings. And remind them that Santa Claus isn't the only one spreading the Christmas cheer!
Take a look at this holiday marketing campaign example from Dick's Sporting Goods: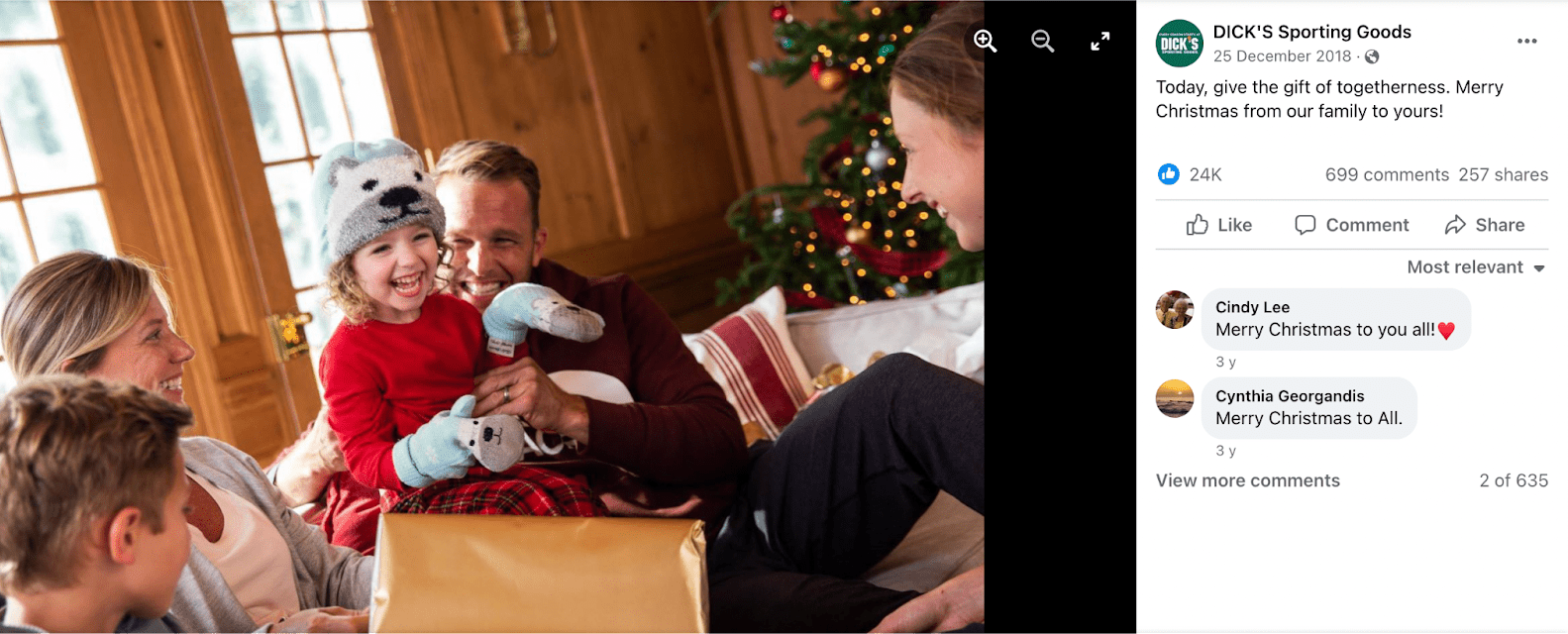 More of the best holiday marketing campaign examples
Some of the best holiday campaigns use emotion to engage their audience. Follow their lead to get inspired this holiday season.
Still need holiday marketing ideas? Here are eight successful holiday advertisement examples.
Edeka – #Heimkommen
Holidays are for homecoming. They're a time to reconnect with loved ones and reboot. But sometimes, we get so caught up in our lives we forget to do so.
Edeka, a German supermarket, tackled this in an emotion-packed holiday ad campaign. They even tie in their products with the theme of feasting with family.
Try to strike the balance between emotion and promotion, like in this holiday advertisement example.
H&M – Come Together
This holiday ad campaign, directed by Wes Anderson, teaches us one thing: how to make people forget it's an ad.
The campaign is about a train journey that's delayed due to a snowstorm. It ends when the conductor asks his passengers to join him in the cafeteria car for a Christmas surprise.
The whimsical storytelling and heartfelt ending evokes childlike nostalgia. It reminds the audience of the Christmas movies they grew up watching.
The secret to a stellar holiday marketing campaign? Tell a captivating story — and be sure to capture that nostalgic feeling.
Spotify – #2018Goals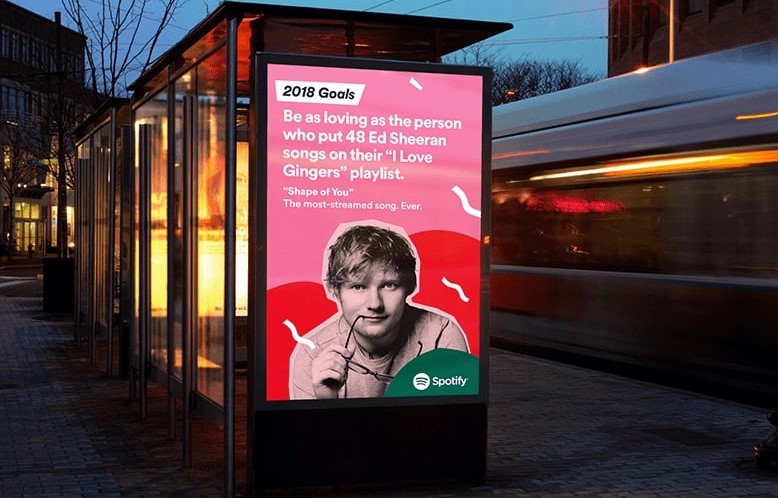 Holiday humor can help your campaigns stand out. Check out Spotify's hilarious #2018Goals holiday ad campaign for inspiration.
This holiday advertisement example also has an optimistic message. Strike a similar tone in your campaigns and focus on the new year ahead.
Heineken – Holiday Troubles
Heineken APAC conducted customer interviews to get their creative juices flowing. They learned that, no matter where we come from, we all want the holidays to be trouble-free.
But throughout the commercial, Heineken showed us that holiday troubles are normal. Instead of worrying, we should sit back and embrace them.
This heartfelt spin on the hectic holiday season might inspire your own campaigns.
Google – Home Alone, Again
Nostalgia is a powerful emotion. Brands appeal to this emotion to make memorable holiday ads.
This Google campaign features the star of the beloved Home Alone movies. It had instant success with its target audience, many of whom grew up watching Home Alone every Christmas.
The takeaway? Not all companies can hire a celebrity. But anyone can put nostalgia at the heart of their holiday marketing campaigns.
Macy's – Believe
One of the best holiday campaign examples is Macy's Believe. For decades, Macy's Believe campaign has been helping customers do good. It also aligns with the gift-giving holiday spirit.
In this campaign, believers of all ages write a letter to Santa either in stores or online. For every letter received, Macy's donates $1 to the Make-A-Wish Foundation. This foundation then pays to grant the wishes of children with critical illnesses.
This year, follow Macy's lead. Make your holiday campaigns meaningful by contributing to a worthy cause.
Plan your holiday marketing campaigns
Use these holiday marketing campaign examples to launch your own.
Marketing tools like Brevo make it easy to plan and automate holiday campaigns across channels. This includes emails, SMS, paid advertising, and WhatsApp marketing.
Ready to get started? Try Brevo for free and get the most out of your holiday marketing campaigns.
Launch your with holiday marketing campaign today
Free plan includes all core email features, unlimited contacts, live chat, and CRM.