Reading time about 10 min

Christmas is both a great time for business and a chance to connect with customers. Add some cheer to your Christmas email marketing campaigns to warm your customers' hearts and drive sales this holiday season.
There's no question that Christmas is a huge time for sales. In fact, consumers plan to spend an average of $998 on gifts and other holiday-related items.
Christmas is also a time for giving and togetherness. For many who celebrate the holiday, Christmas is full of nostalgia and happy memories. Some of the best Christmas email marketing campaigns tap into these emotions to engage subscribers.
This strategy is great for generating customer loyalty — 82% of consumers with a strong emotional bond with a company are likely to buy the same products again and again.
To drive sales, boost open rates, and build stronger customer relationships, try getting into the holiday spirit! Here are a few Christmas email examples and ideas to get you started.
Christmas email examples and ideas
Christmas email marketing campaigns are a great way to connect with customers and drive sales during the busy holiday season.
To inspire your campaigns, here are a few Christmas newsletter ideas and examples of emails that play up the Christmas spirit to engage subscribers.
Make it about the giftee
The Christmas season is a time of giving. Nothing beats the look of joy on your giftee's face when they open your present.
Christmas shoppers are always looking for the perfect holiday gift to make their loved ones smile. Target them in your Christmas email marketing campaigns by centering your messaging around the giftee.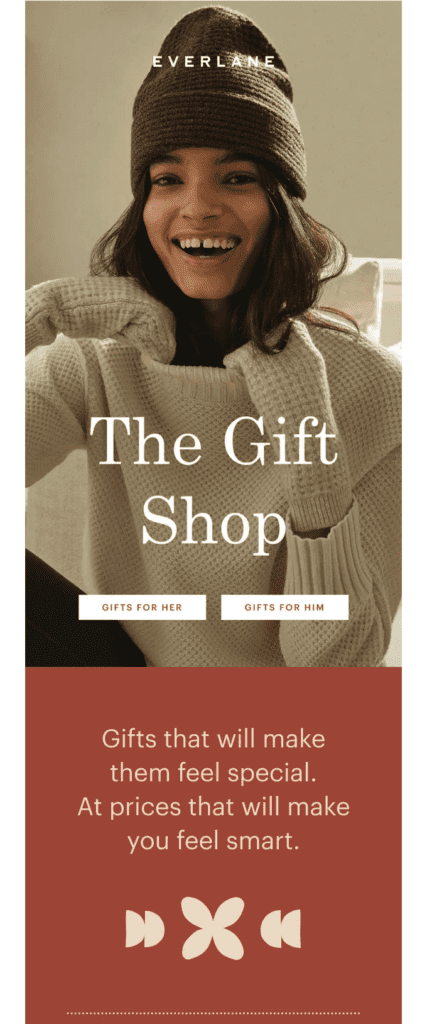 Offer a Christmas gift
Christmas and gifts go together, right? Why not offer your customers a Christmas gift too during this festive season?
Like any Christmas gift, a special discount or freebie is a small gesture that goes a long way. It's a token of appreciation that your customers will thank you for.
It also brings a delightful surprise to your subscriber's inbox. This will make them more likely to support your business even after the Christmas season ends.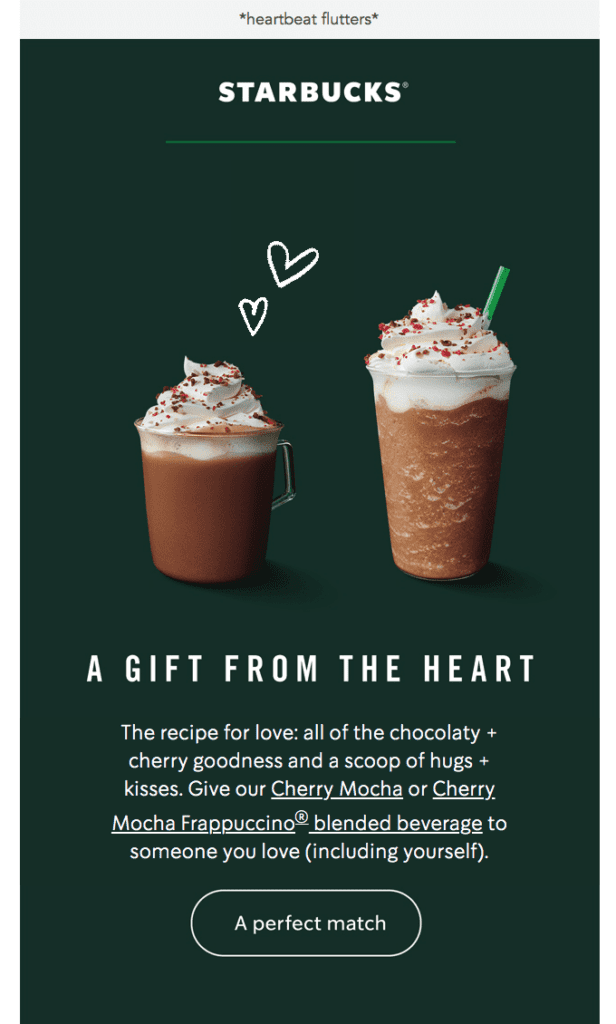 Send season's greetings
Sending season's greetings is one of the easiest and most effective ways to spread Christmas cheer during this festive time of the year.
Think of this Christmas email campaign as a Christmas card. It's one way to wish your customers Merry Christmas and Happy Holidays. You can also thank them for their support over the past year.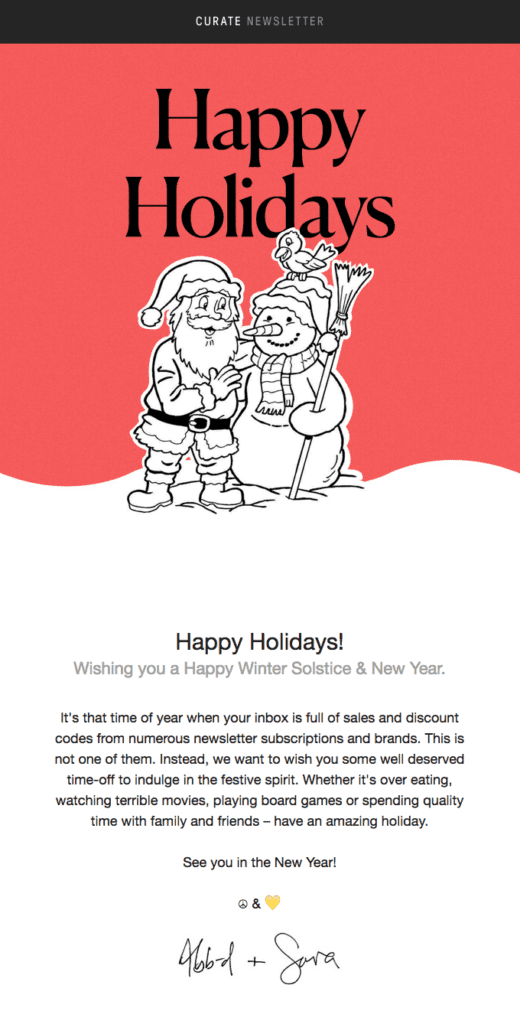 Grant your customer's wishes
Nothing brings out your inner child like writing up your Christmas wishlist. Play the part of Santa this year and use your Christmas email campaign to grant your customers' holiday wishes.
Start by asking your customers what's on their wishlist, like in the example below.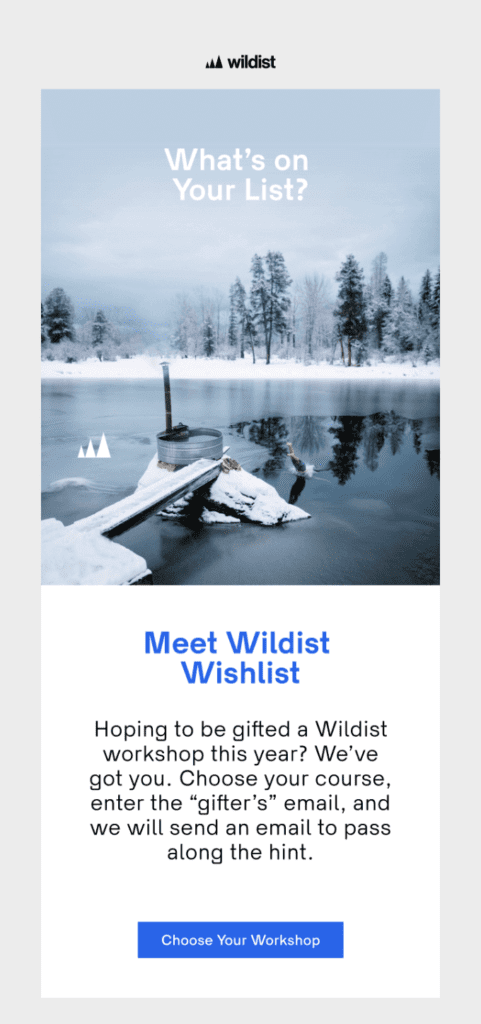 Share a yearly roundup
Christmas takes place at the end of the year. It's a time for looking back at the months before, as well as looking forward to the new year ahead.
In your Christmas email newsletter, try sending a yearly roundup. Share any milestones you or your customers might have reached. Christmas is full of holiday nostalgia, so don't be afraid to thank your customers for joining you on your journey.

Focus on Christmas memories
Christmas isn't just about the gifts. Often, it's about the memories you make with your loved ones while gathered around a Christmas tree.
For many families, Christmas is one of the few holidays in the year when everyone can be together. Christmas memories are precious to all — try putting them front and center of your Christmas email marketing campaigns.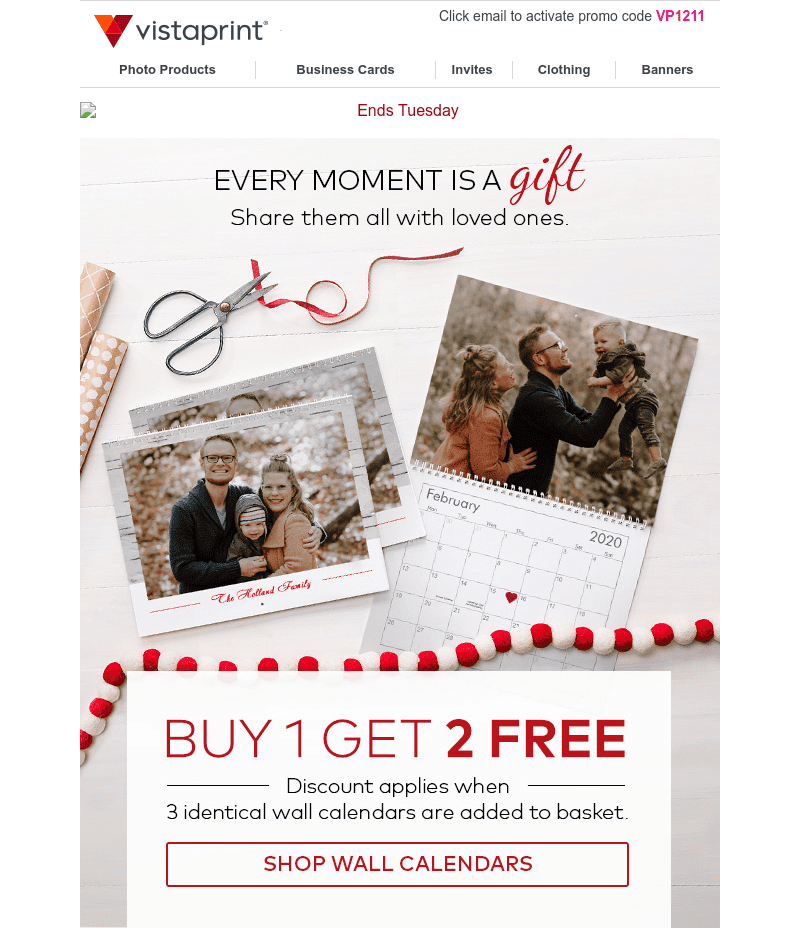 Bring customers together around a cause
Christmas is a time of giving. It's also a time to give back. This holiday season, try partnering with an organization or cause that's important to you and your business.
Your Christmas email campaign is a great way to share the cause with your customers as well as encourage their support.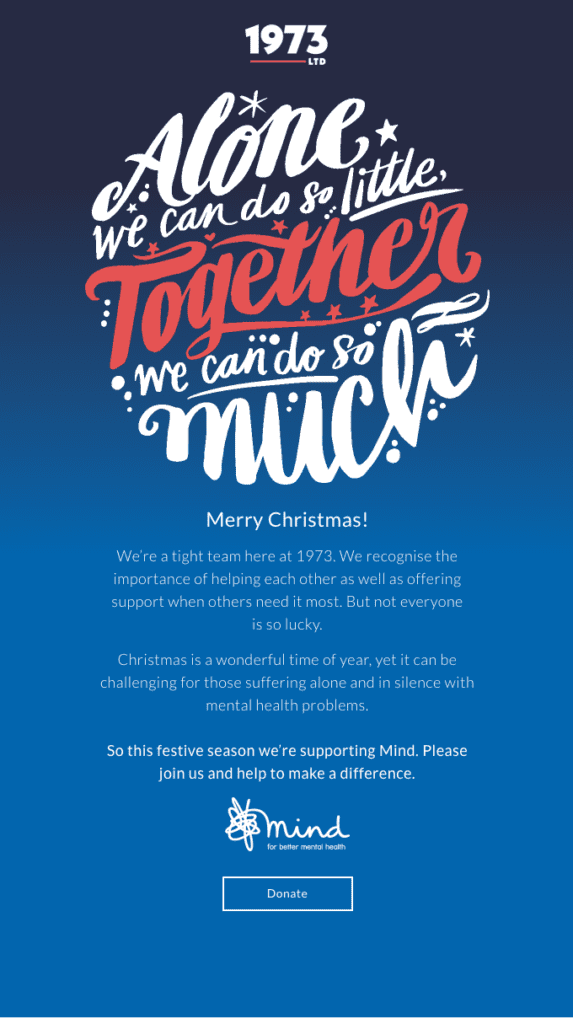 Related: 50 Holiday and Christmas Email Subject Lines for Higher Open Rates
Christmas email marketing strategies
This time of year, Christmas deals, greetings, and promotions flood our inboxes. The last thing you want is to miss out on a chance to connect with customers.
Make your Christmas email stand out with these tried-and-true holiday email marketing strategies.
Offer Christmas gift cards
Gift cards are one of the most popular Christmas presents for a reason. They're great as last-minute gifts and are sure to please even the pickiest giftees.
Use your holiday email campaign to promote your gift cards to Christmas shoppers. This Christmas email from Friends or Friends is a great example.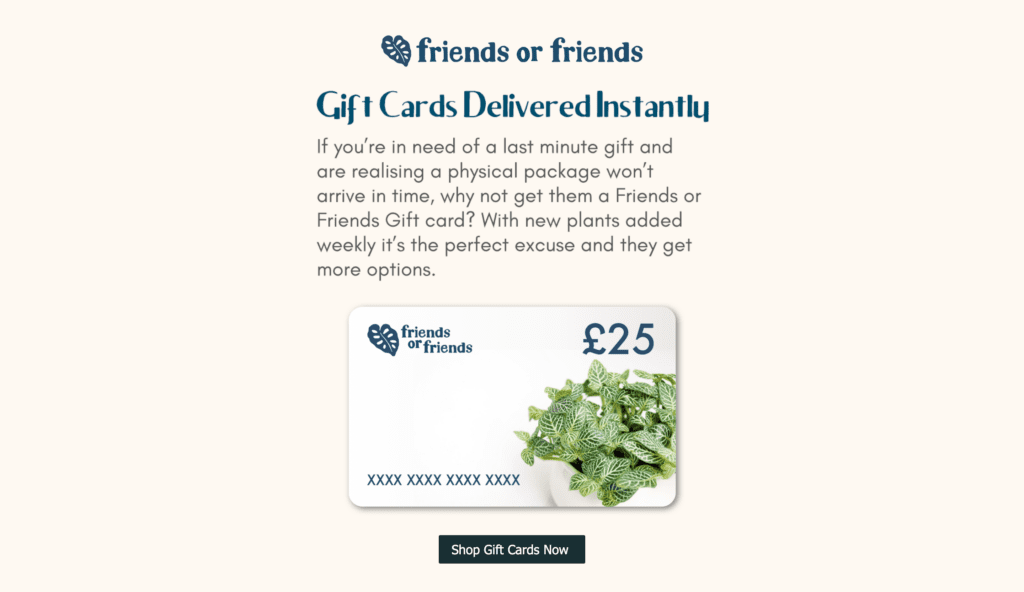 Created with Brevo (ex Sendinblue)
Target last-minute shoppers
Between Christmas travel and never-ending shopping lists, the winter holidays are hectic for everyone. If you offer last-minute deals on Christmas gifts, you're sure to win your customers' hearts.
This campaign from JK Adams gives last-minute gift ideas to inspire subscribers and take the stress out of the holiday shopping experience.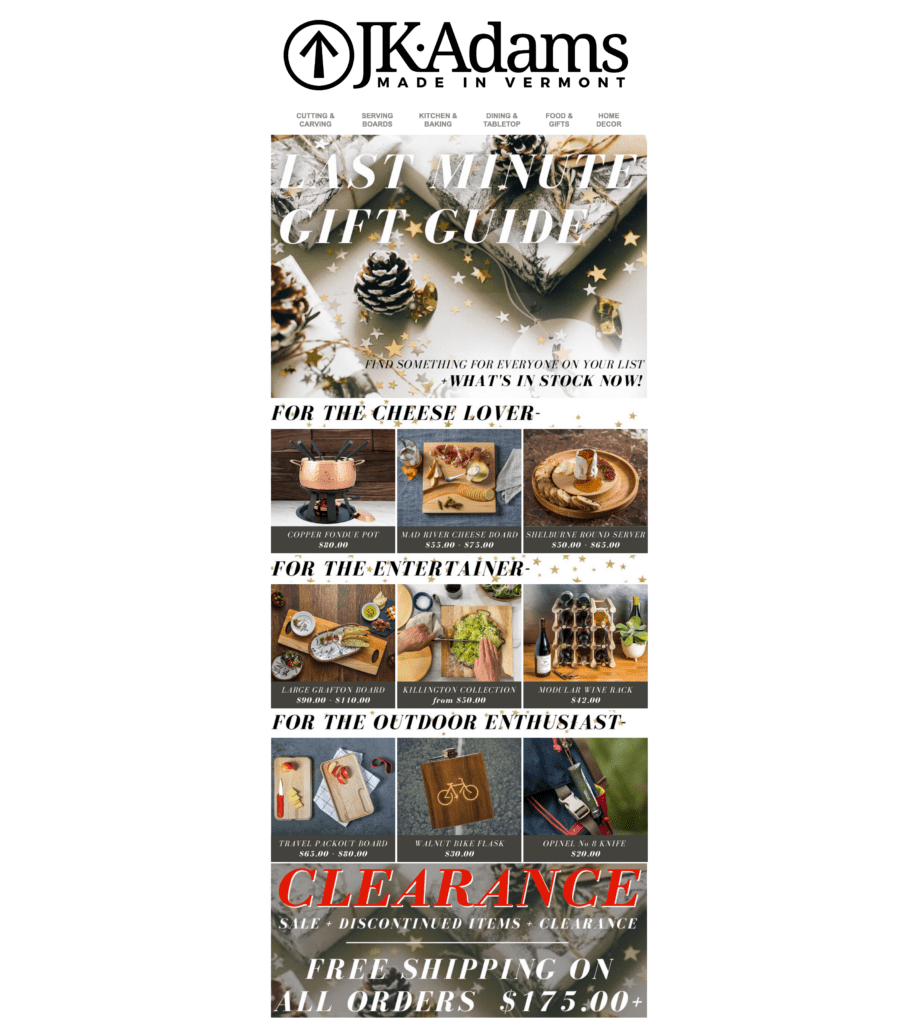 Created with Brevo
Count down the 12 days of Christmas
Unlike some other holidays, Christmas has a special countdown. Build excitement by counting down the 12 days of Christmas and sharing a holiday discount or limited-time deal one day at a time.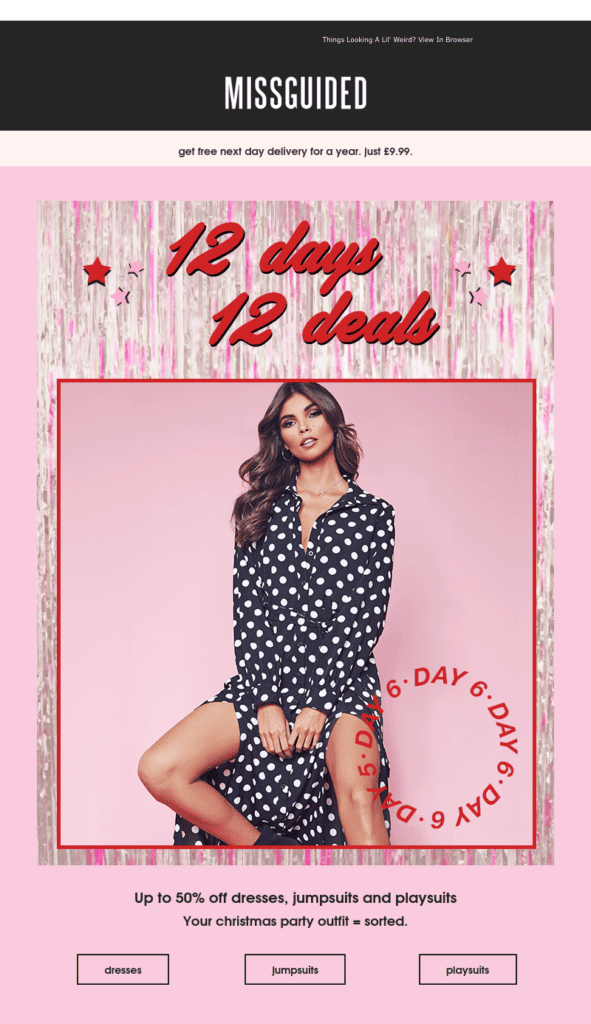 Share gift guides
One of the hardest parts of Christmas is coming up with ideas for gifts to offer your loved ones. Why not save your subscribers the hassle?
In your Christmas email marketing campaign, try sharing a gift guide like in this email from Lily & Roo. It's the perfect way to showcase your products — and your customers will thank you for it!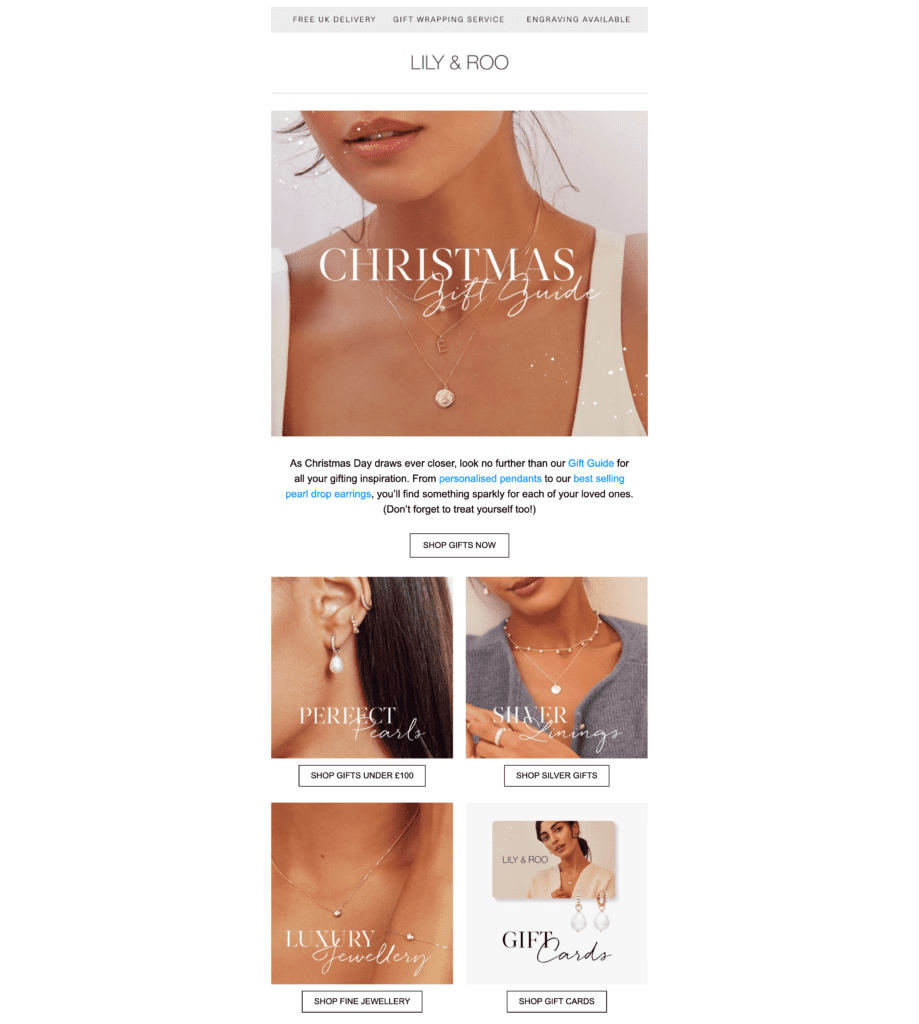 Created with Brevo
Offer free shipping
One of the most enticing Christmas gifts you can offer your customers is free shipping. It's one way to stand out against the competition — and win a place in your customers' hearts.
In fact, 94% of customers consider free shipping to be the most important incentive for online shopping during the holiday season.
To avoid missing out on these sales, promote free shipping in your Christmas email campaigns.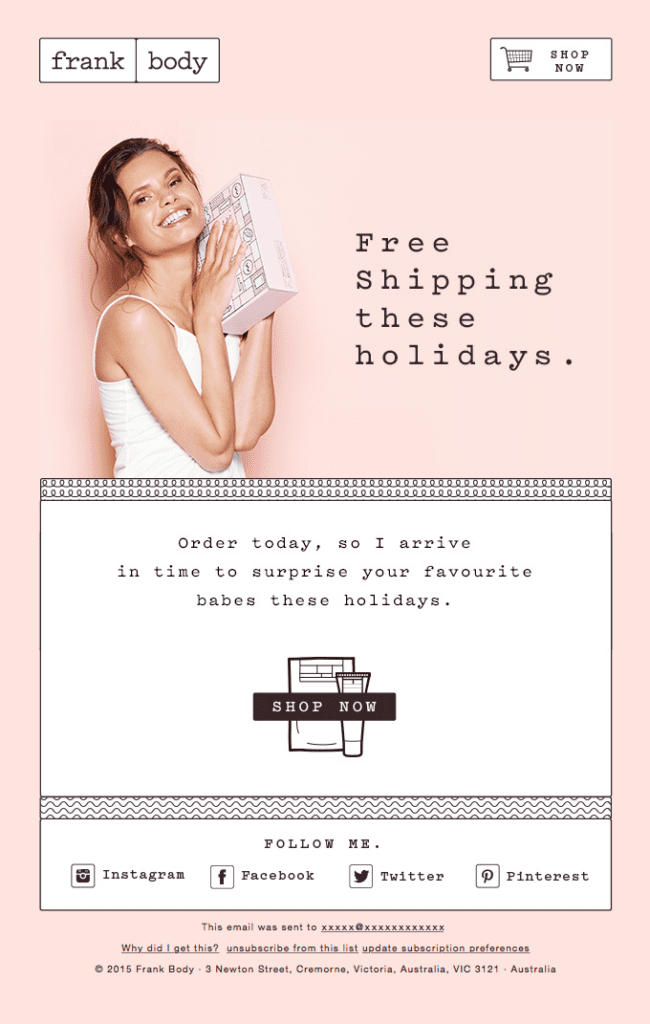 Promote gifts according to different budgets
Most customers want to give thoughtful Christmas gifts without breaking the bank. Make it easier for them this holiday season. Share gift ideas according to different budgets. (For example, gifts under $25.)
A Christmas newsletter is a great way to share your budget-friendly gift lists, like in this example from Be Everthine.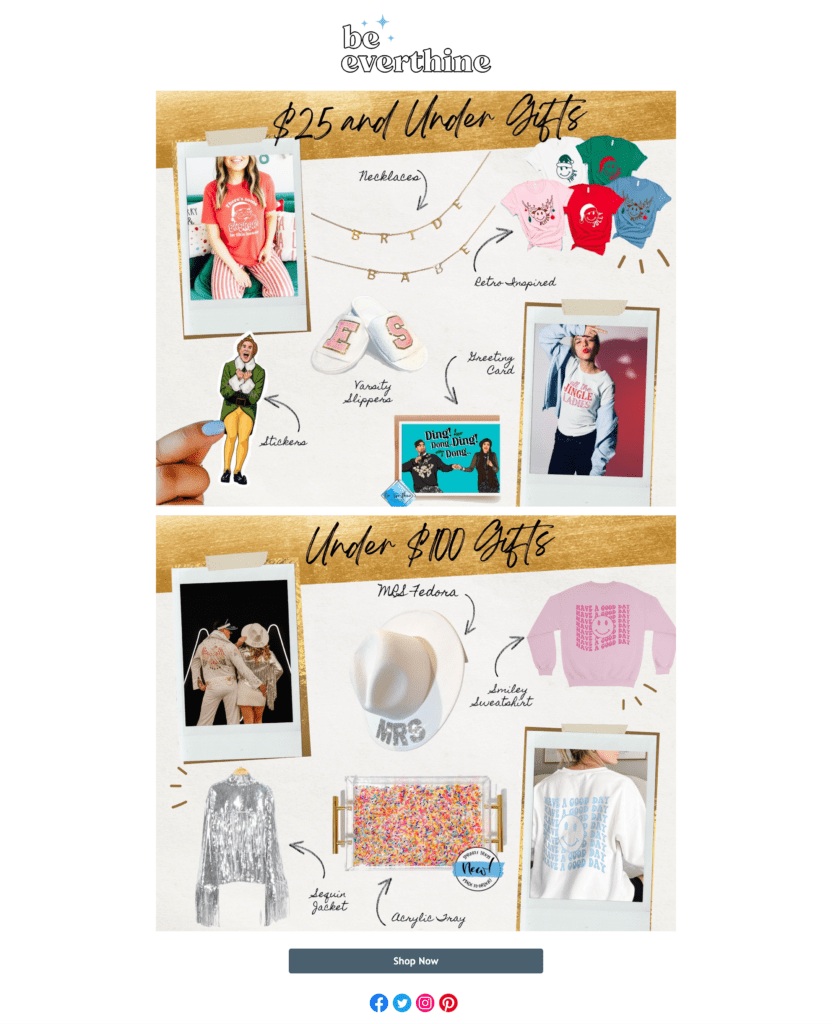 Created with Brevo (ex Sendinblue)
Run a post-Christmas sale
The festivities don't have to end on December 25th! Make the holidays last a little longer with a post-Christmas sale.
Offer additional discounts and last chance deals — don't forget to send a post-Christmas email campaign to warn customers not to miss out.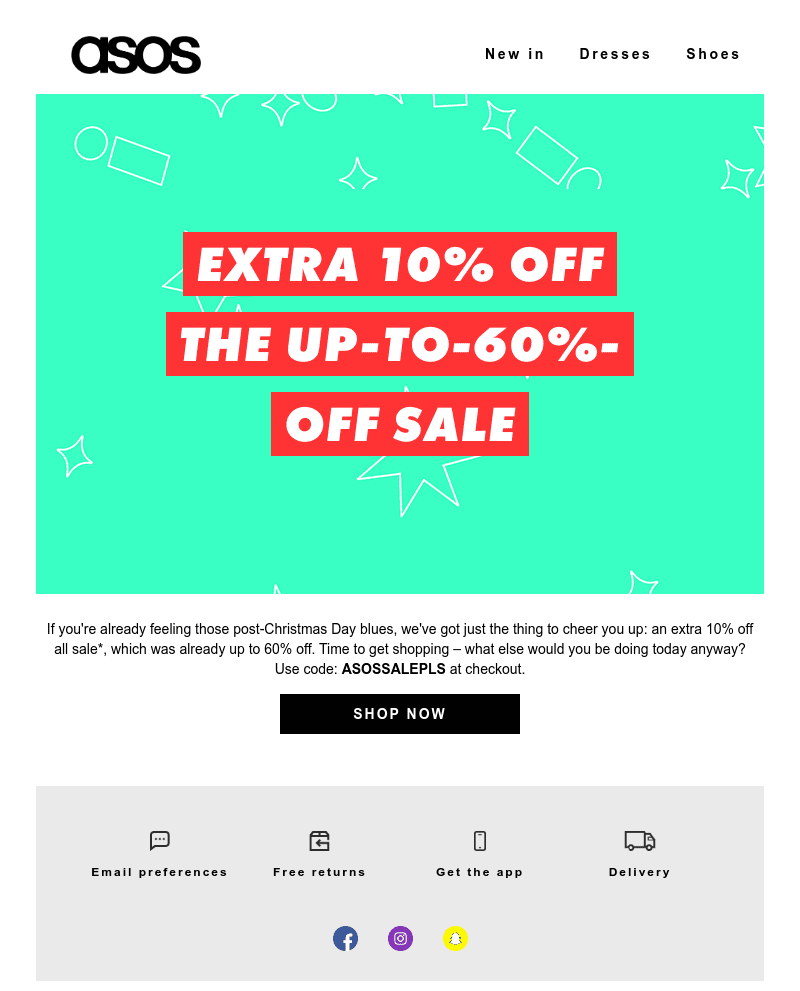 Make Christmas puns
When it comes to holiday email marketing campaigns, clever email copy goes a long way in driving sales and boosting open rates.
The Christmas season offers countless opportunities for puns and wordplay. When it doubt, look to typical holiday greetings and Christmas music lyrics for inspiration.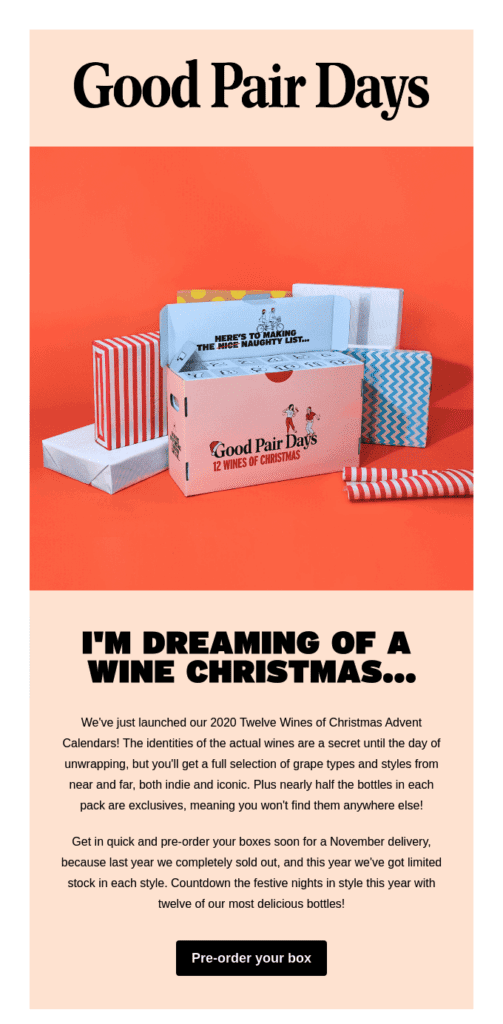 Further reading: A How-to Guide for The Perfect Holiday Marketing Strategy
Get Your Free Christmas Email Template
No holiday marketing campaign is complete without festive Christmas email design.
With Brevo, build the perfect Christmas email marketing campaign with the easy-to-use Drag & Drop editor. You can also choose from our library of free holiday email marketing templates.
Launch your Christmas email marketing campaign with Brevo
Get started sending email campaigns with Brevo. Free plan includes core email marketing features, unlimited contacts, 300 emails/day, and over 40 email templates.