Reading time about 11 min

If you're new to email marketing, you've probably noticed one thing: There are lots of different terms to get your head around. Email autoresponder is one of them.
Chances are you've already used autoresponse emails personally. Think setting your 'Out of office' email before heading on vacation.
In email marketing, an autoresponder works much the same way. But, with different use cases and end goals.
Stay tuned as we break down:
How an email autoresponder works
Ways autoresponders drive email marketing goals
How to set up a simple autoresponder with Brevo
What Is an Email Autoresponder?
An email autoresponder is a tool that sends an automatic email in response to a pre-defined trigger event.
Today, most email marketing services offer some form of autoresponder feature. What differs between services is the level of complexity of this function — but more on that later.
For now, just keep in mind: An email autoresponder is marketing automation in its simplest form.
A marketing automation workflow will have a lot of variables coming into play. If/then/else conditions determine the outcome.
Autoresponder sequences tend to be more rigid. They're usually sent one after the other, at set intervals.
What Are Email Autoresponders Used For?
Digital marketers use autoresponder messages to:
Passively send important messages to subscribers
Move leads along the marketing funnel
Send tailored messages to specific segments of their email list
Generate conversions by driving engagement and upsells
Common Email Autoresponder Use Cases
Double opt-in
Automated double opt-in emails are a vital part of permission-based email marketing. They help maintain a healthy email list and ensure your email campaigns are delivered to the inbox.
It's pretty simple: Someone subscribes to your email list. You send them an automated email with a link to confirm their subscription.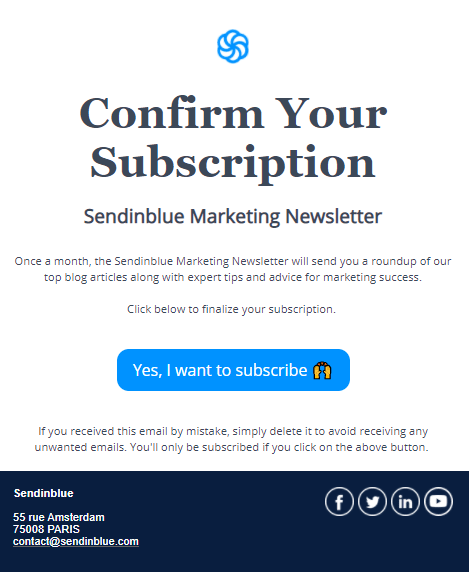 Double opt-in does a couple of things. It:
Eliminates misspelled email addresses that would otherwise create hard bounces
Avoids accidental signups and acts as proof of consent (necessary for data protection laws like the GDPR)
Double opt-in is an autoresponder that all email marketers should have.
Welcome emails
Welcome emails are probably the most common type of autoresponse in email marketing.
Easy to set up, the 'Thank you for signing up' email is crucial to getting subscriber relationships off to a good start.
There are plenty of ways to maximize the value of this email.
For example, use it to drive sales by offering a special welcome discount. Or, promote your past content. Here's how we do it in our autoresponder welcome email for the Brevo newsletter.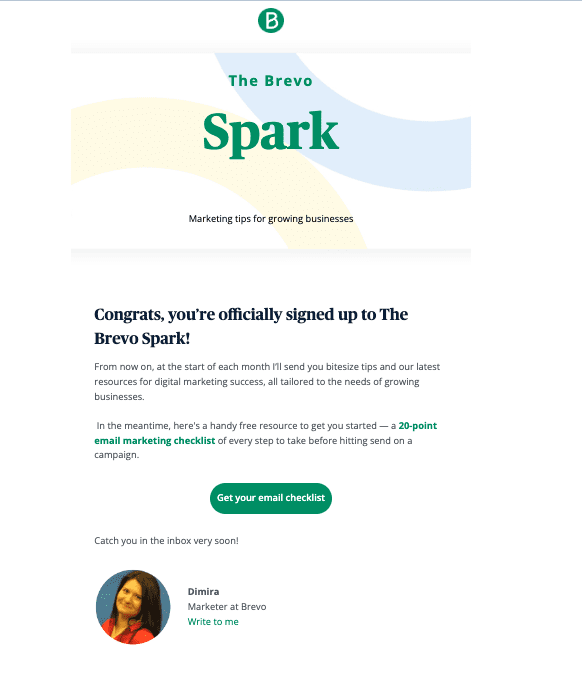 Onboarding emails
Here's an example of an email autoresponder series (i.e. a number of emails). Onboarding emails are usually sent at specific intervals.
They're a great way to follow up with new customers and drive product adoption.
Here's one I got recently from Angie at OptinMonster.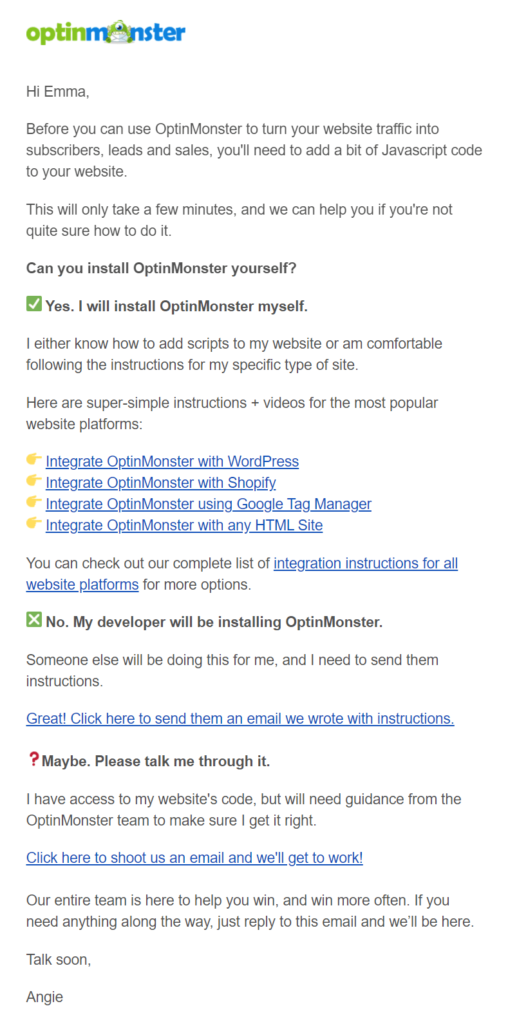 Other ways to use email autoresponders in email marketing
Marketers also use autoresponders for:
Get a closer look at these in our article on the best autoresponder examples.
Warning: Not suitable for transactional emails
To note: Email autoresponders are not used to send transactional emails such as order confirmations, shipping notifications, or any other time-sensitive email sent following a transaction.
Transactional emails are sent over an SMTP server and serve a different purpose to marketing emails.
Some email marketing platforms, like Brevo, will let you manage marketing and transactional emails all under the one roof.
Others, like Constant Contact and Aweber, only handle marketing emails. So you'll need an additional transactional email service with separate pricing.
If you have an ecommerce business, keep this in mind when choosing an email service.
Further reading: 9 Best Email Autoresponders [Free and Paid]
Advantages of Email Autoresponders in Email Marketing
"But autoresponders are only for big companies!" you say.
Wrong. Even small businesses will benefit from autoresponder workflows. See it as an addition to your manual marketing campaigns. really advanced automation such as if this/then that logic and A/B testing can come later when you feel comfortable enough.
By using autoresponse emails in your email marketing strategy, you'll:
Save time. No need to manually send each email to new subscribers.
Nurture your customer relationships with timely, relevant messages that use CRM data already available. Move leads along the marketing funnel.
Maximize opportunities to grow revenue, passively. Follow up on those moments when interest in your brand is at its peak (e.g. offering a discount code in your welcome email).
How to Choose an Email Autoresponder Tool
Have we convinced you to start using autoresponse emails yet? 🙂
If so, the next step is finding the right email autoresponder software. It's best to find an email marketing software, with automation features.
If you see mention of 'simple automation sequences', it's referring to the email autoresponder. This should cover the simple use cases we already talked about.

However, autoresponders are only the tip of the marketing automation iceberg. Once you see results, chances are you'll want to dive further into email automation. So be sure to take a look at the advanced marketing automation options available. Check out our rundown of the best email automation tools for growing businesses.
Great news? Brevo's free email autoresponder lets you send up to 300 emails a day!
Even better news: Advanced marketing automation workflows are available for up to 2000 email subscribers on the free plan as well.
So why not take Brevo for a free test-drive? No credit card required.
Try Brevo's free autoresponder >>
How to Set up an Email Autoresponder
Next, let's get you up and running with your own email autoresponder.
For this tutorial we'll be using Brevo to send a simple welcome email sequence.
Step 1. Write and design your welcome email template
The first thing you'll do is create your welcome email template.
Go to Campaigns on the main dashboard and hit New Template. You can either create a new template with the intuitive drag-and-drop editor or use one from the Template Gallery. It's easy enough even for beginners! Save it.
Step 2. Set up a marketing automation workflow
Once the template's ready, set up an email automation workflow. Select the 'Automation' tab on the Brevo dashboard and then click Create a new workflow.
Brevo gives you two options for creating email autoresponder sequences. You can either:
Create a custom workflow from scratch OR
Use one of the ready-made workflows from the Brevo Workflow Library (also has default email templates to save you even more time)

Step 3. Choose 'Welcome Message' from the available workflow types.
Select Welcome Message and click 'Create'.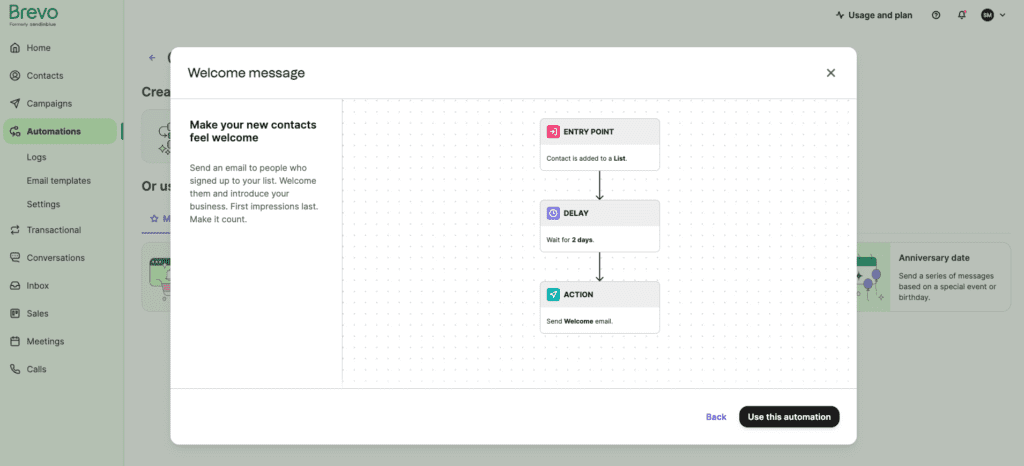 The system will walk you through creating a welcome email for new subscribers.
Step 4. Choose the email list to create a welcome email for
Separately, you'd have already created an email signup form to place on your website and social media profiles.
Remember, each signup form is associated with a list where new subscribers are saved.
Choose the list that matches your signup form.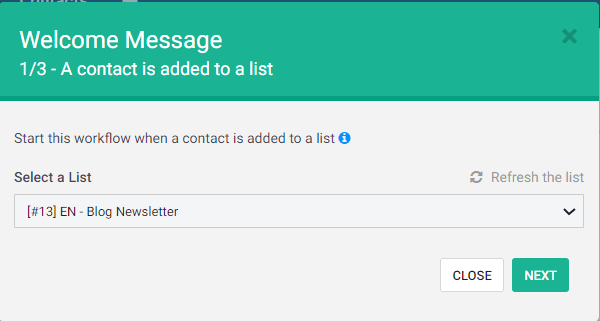 5. Decide on the time frame for sending
Decide how much time should go by before subscribers receive a welcome email from you.
It's best to follow up quickly. We recommend 1-3 minutes. This way the new subscriber receives the welcome email as quickly as possible after signing up. Don't let them forget about you.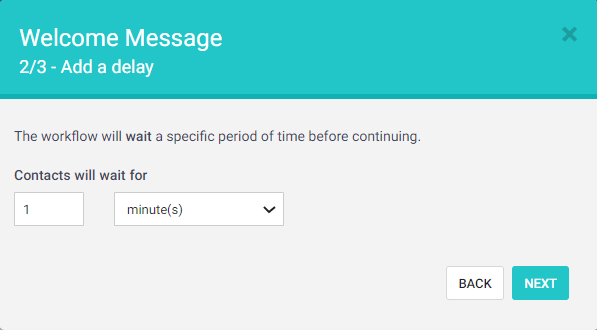 6. Select the welcome email template you've just created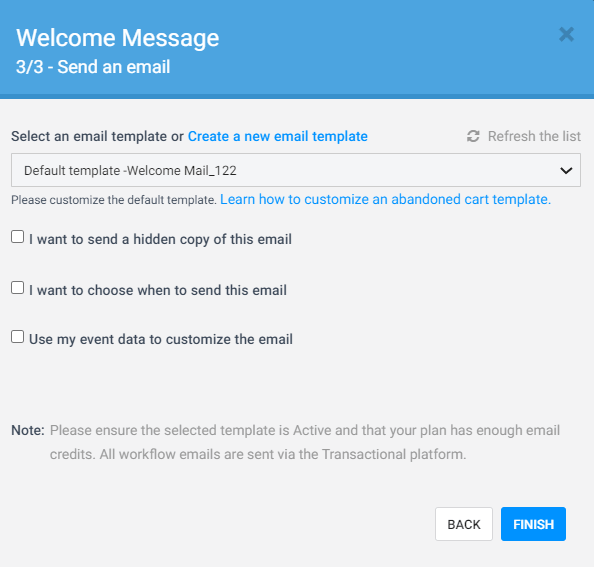 Step 7. Activate the workflow
Now you can see the entire workflow you've just created.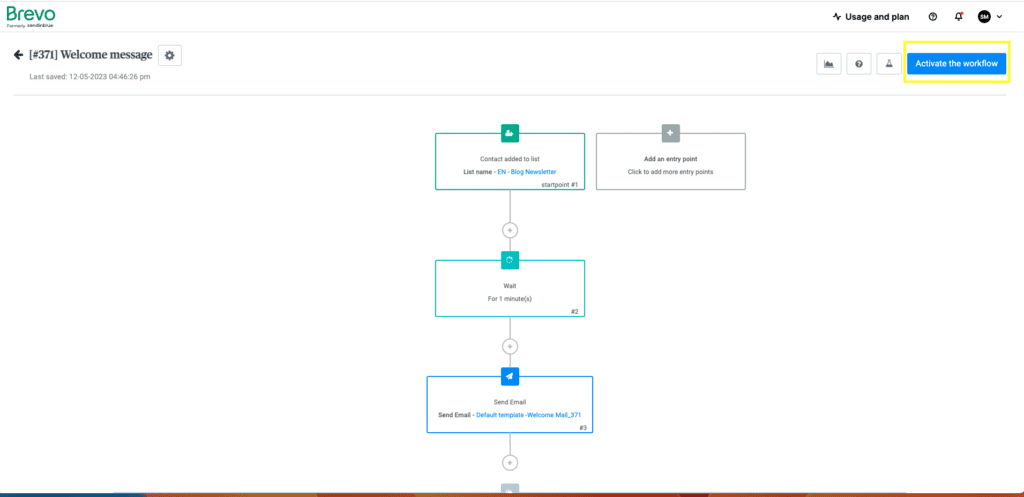 Set it live by clicking Activate the workflow in the top right hand corner.
And that's it. All you need to set up an email autoresponder to welcome your new email subscribers.
Why You Need to Start Using Autoresponder Emails
If your small business isn't using autoresponder emails yet, here's why it should be:
Lead-nurturing: Move your leads from landing pages and popups down the sales funnel by feeding them interesting, relevant content.
Increased engagement: Subscribers are more likely to engage with a relevant message sent at exactly the right moment.
Better communication: Autoresponder emails are an easy way to keep customers up to date with your news and offers.
Stronger customer relationships: Personalized messages make for a better customer experience. This helps build brand trust.
Time-savings: Just imagine how long it would take to send all those emails manually.
It's easy to get started: As you've seen in the tutorial, setting up autoresponder emails with Brevo is a quick and easy process.
Pro Tip With Brevo, you can also include other channels in your automated responses, for example WhatsApp messages!
Drive Results With an Email Autoresponder
Now you know how an email autoresponder works. And you've seen how easy it is to set up a simple autoresponder sequence.
So, why don't you try and create one for your business?
Take a look at your customer journey and highlight all the places where auto response emails can bring value.
This is your opportunity to communicate better with customers, increase engagement with your brand, and upsell.
Add email autoresponders to your email strategy with Brevo
Free plan includes access to all core email features, 300 emails/day, automated emails to up to 2,000 contacts, and 40+ email templates.