Reading time about 11 min

Using a double opt-in subscription system can improve your email deliverability as well as the quality of your contact list for better overall email marketing.
There's a never-ending debate in email marketing: single or double opt-in. While both sides have their pros and cons, it'll always be up to you, the marketer, to decide which is best for your business.
At Brevo, we recommend a double opt-in process for growing your email list. To show you why we think this approach is better, this article will go through the definition, benefits, and a few examples of double opt-ins. Afterward, you can decide whether or not you think this type of subscription is right for your business!
Let's start by defining double opt-in.
What is double opt-in?
Double opt-in is a system for adding new contacts to your email list. It involves collecting an email address through a signup form and sending a confirmation email to that address in order to validate the contact information before adding it to the list.
With a single opt-in system, subscribers provide their email address through a signup form and are immediately added to an email list. Unlike that, double opt-in systems create an additional layer of protection to prevent fake email addresses or contacts who aren't really that interested in your emails from signing up.
Some marketers think this is bad because you're creating too much friction in the signup process, but the result can be a much higher quality list in the end. And less effort on your part managing your email list!
The advantages of a double opt-in
1. Acquire more qualified contacts
Using a double opt-in guarantees that your list has only valid email addresses. This is because in order to be added to the contact list, new subscribers have to click "confirm" in an confirmation email. This prevents issues related to typos in the signup form or users submitting email addresses that don't belong to them.
Additionally, if you have contacts that sign up but are only vaguely interested in your content, they might not be willing to confirm their subscription. In the long run, contacts like this won't do you any favors. Instead, you'll spend time and energy trying to re-engage someone who was never really interested in your business nor your email campaigns.
So even if you miss out on a subscriber or two, just remind yourself: they probably weren't qualified in the first place.
2. Avoid any potential issues with the GDPR
Having a GDPR-compliant opt-in process means being able to show proof of consent for every contact in your database.
While this doesn't mean that a double opt-in is required by the GDPR, it can be helpful for showing easy proof that the contact opted-in by clicking to verify their email address. It's also helpful to have the extra level of protection from someone submitting the email address of someone else without their knowledge.
3. Create stronger relationships with new contacts from the very start
With a single opt-in process, your first interaction with new subscribers is when you send your first regular email campaign or newsletter.
Double opt-ins, on the other hand, require you to send an initial transactional email to allow subscribers to verify their contact information. Why not turn this into a welcome email too?
Leverage the opportunity to showcase your brand in the email design, introduce your business, and include a nice message welcoming new subscribers. This provides a more personalized experience for the subscriber because they get to know a little bit more about you before receiving one of your regular email campaigns.
4. Improve your email deliverability
In addition to the benefits mentioned above, a double opt-in process will inherently help improve your email deliverability.
How so? Double opt-ins make sure you don't add any fake email addresses to your contact list. This way, you're unlikely to get any hard bounces in your email campaigns. (Hard bounces due to sending to spam traps and fake email addresses are what hurt your sender reputation.)
Double opt-in also ensures that your subscribers really want to receive your emails by adding the extra step to the signup process. That means that they'll be more likely to engage with your emails and less likely to unsubscribe or react with spam complaints. Both of those things also help to ensure reliable deliverability.
Psst! A bonus tip for boosting your deliverability is asking your new subscribers to add your email address to their contact list. That way, their email provider's (e.g. Google Mail) anti-spam filters won't flag your content.
How to set up double opt-in verification
You can set up a double opt-in email subscription system with Brevo in just a few clicks!
Now that you know the benefits, you may be looking to set up your own double opt-in signup process for email contacts. We've got you covered!
1. To set up a double opt-in in Brevo, start by navigating to the "Contacts" tab on the left menu, then click on "Forms."
From there, you'll need to select which subscription form you want to use for your double opt-in. You can either select a form that you've already created or start a new one from scratch. Check out our selection of good signup form examples.
2. Then, go down to Settings and select the Double confirmation email option.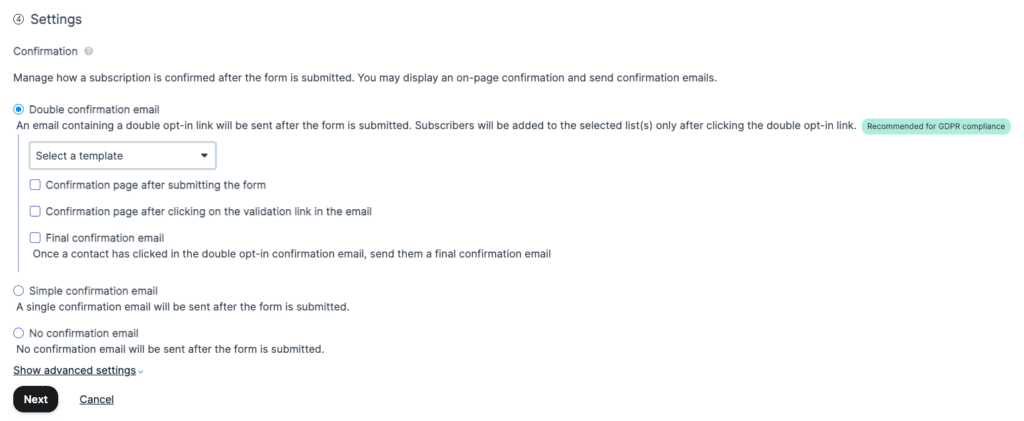 3. Once you've selected this, you have a few other options that you need to set up:
Choose a template for the confirmation email
Set the URL of a confirmation page to which users will be redirected after clicking on the confirmation link
Send a final confirmation email (using a template of your choice)
If you don't want to spend time designing an email for your confirmation message, you can use the default template available on the platform.
That said, we typically recommend creating unique brand-conscious content so that your contacts get a better feel for who you are.
To do so, click on the "Transactional" tab. Then, click "Templates" in the left-hand side menu before clicking on the green button in the top right that says "New Template."
From there, create your email like you normally would. Just make sure to add a confirmation button with the double opt-in confirmation link! It should look like this: https://[DOUBLEOPTIN]
Since the double opt-in confirmation is probably the first email you'll be sending to most contacts, be sure to pay special attention to the subject line. Try to strike a balance between enticing and on-brand without being over the top. Anything that's too flashy will likely come across as purely promotional and may make new subscribers reconsider. (This will show in your open rate metric).
After setting up your template, you can go back into your form and assign it to the double opt-in system for that form in the signup settings section.
Where to place your sign-up forms
One last note on setting up your opt-in forms: placement is key! Even with the best-designed signup form, you'll need to think carefully about where you feature it.
Including it on landing pages, your website header/footer, blog homepage, and in your social media bio is a great place to start.
Some use pop-up sign-up forms, which can be effective for grabbing users' attention. Just be sure not to make the pop-up overly disruptive!
Other opportunities for featuring your sign-up form may depend on your business. If you're an ecommerce retailer, include it at checkout. If you send a lot of individual email communications with clients, consider adding a link to your signup form in your email signature. For SaaS companies, try including an opt-in form at the end of your blog articles.
Take a look at the one we use for the Brevo blog here: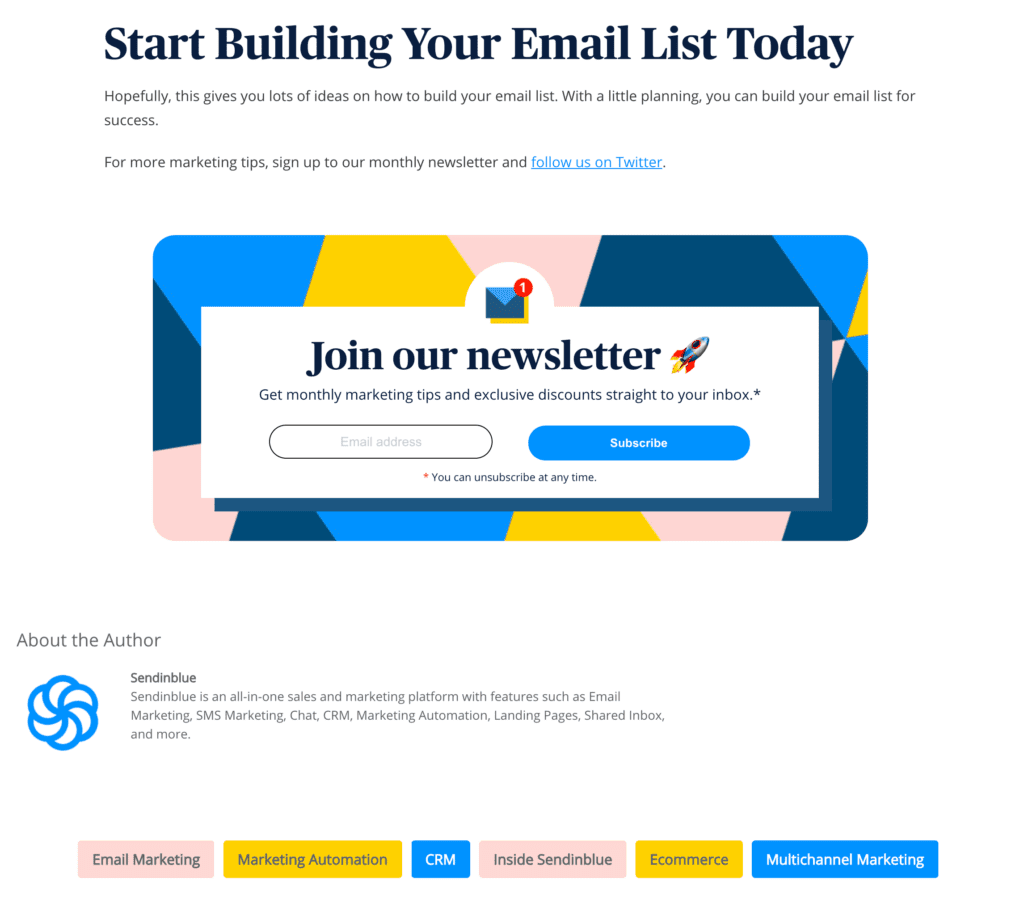 Double opt-in email examples
In this section, we'll take a look at some examples of double opt-in emails to give you an idea of some ways to optimize your list growth strategy.
Remind subscribers why they signed up
It's always a good idea to restate your value proposition when you send a confirmation email to new subscribers. It reminds them of why they signed up and gives them that extra push if there is any hesitation to confirm their contact information.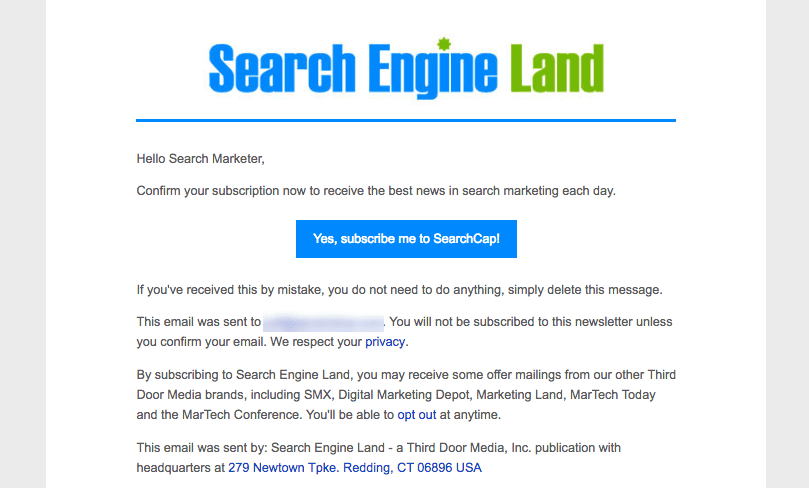 You can see this opt-in email example from Search Engine Land is pretty basic, but the one line above the CTA button is a great example of a simple restatement of the value proposition that reminds users what the value of the subscription really is.
Increase connections with your business
As we mentioned earlier, your confirmation email doesn't have to be a plain and generic email with nothing but a confirmation button. It's also a great opportunity to bring your subscribers further into your brand's ecosystem and grow your audience by encouraging engagement on other channels like social media.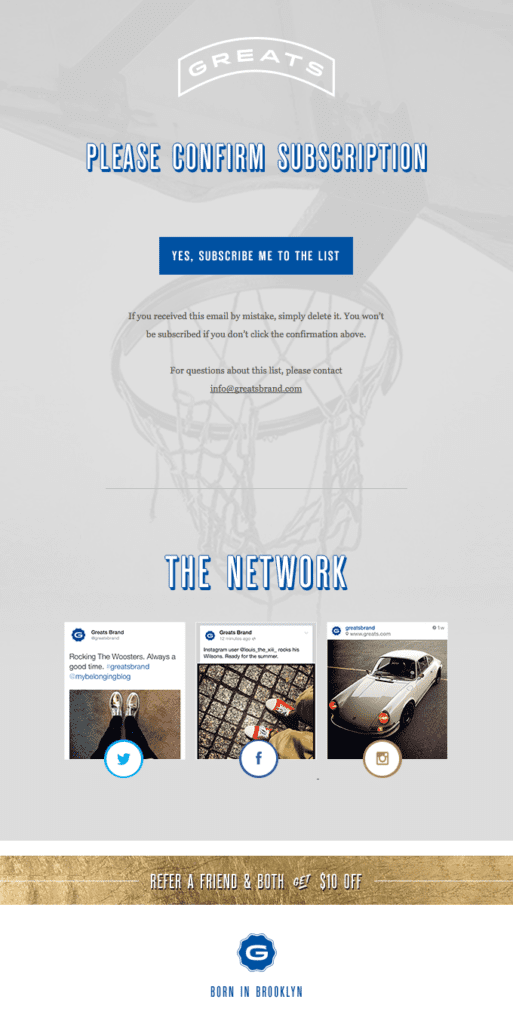 This email opt-in does a lot to further connect the business with new subscribers and grow their base. In particular, we like how they link to their social media pages and add a CTA to their referral program. These are two great techniques for growing your audience base.
Even if the conversion rate is small, including these types of CTAs is unlikely to hurt. The risks are low, and the payoff could be high!
It's also a nice touch to include customer service contact information for anyone who might have questions. This is important for people who may have been signed up by someone else, or somehow did so by mistake.
Stick to your brand
Let's say for whatever reason you decide not to do much with your confirmation email in terms of CTAs or featured content. That's totally fine, but it's still important to get across your brand image.
Take a look at this example from a Brevo customer, Workona, an online collaborative workspace. Their verification below is a good example of a simple, attractive confirmation email that obeys their brand guidelines.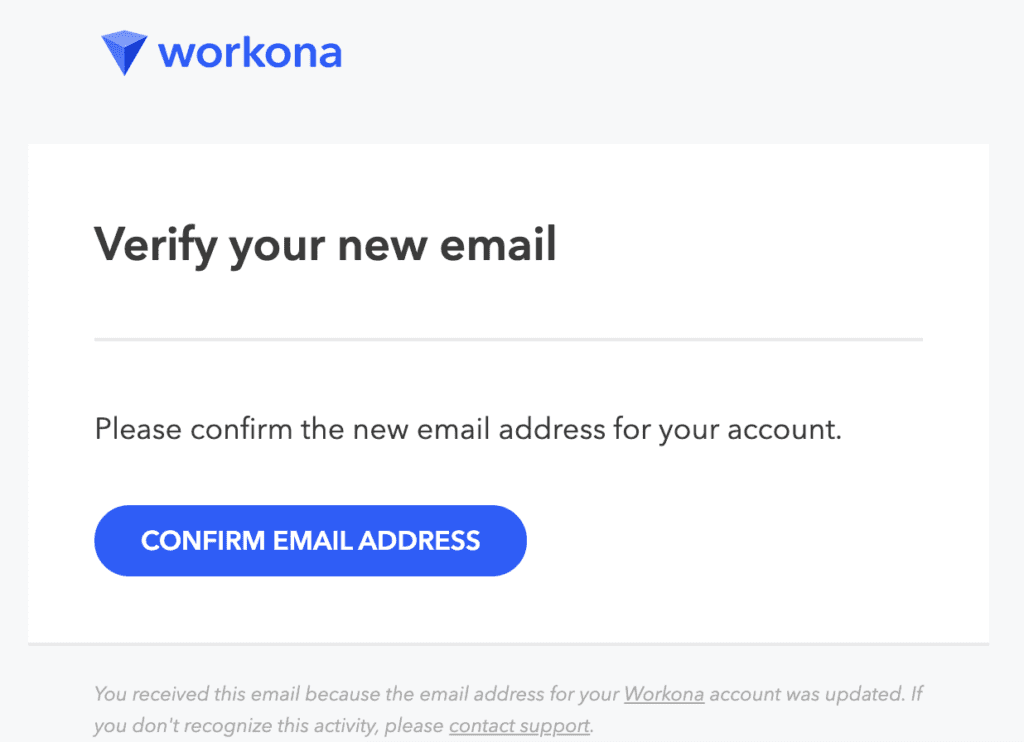 This is a sleek, high-quality example of a confirmation email. No bells or whistles – just an effective small amount of text and design that demonstrates their brand image and gets the point across.
Set up double opt-in quick and easy
Looking for ways to refine your email marketing strategy? Double opt-ins should be one of the first places you start. It allows you to build a more targeted and engaged following for your business.
If you haven't already created a double opt-in system for growing your email list, add it to your to-do list! (Don't worry, though — it's not hard and doesn't take long.)
Need a tool to start growing your list, creating opt-in forms, and sending email campaigns?
Jumpstart your email strategy with Brevo
Free plan includes access to all core email features, 300 emails/day, 40+ email templates, and customizable signup forms incl. double-opt-in to grow your email list.