Reading time about 10 min

An email autoresponder is one way to take your customer experience (CX) to the next level. To help you decide what kind of automated emails you should set up, we've put together a list of the 10 email autoresponder examples that have the biggest impact on customer experience.
Companies have become increasingly aware of the massive impact that CX has on growth, customer satisfaction, and retention.
Here a few statistics that put the importance of CX into perspective:
76% of consumers are ready to go elsewhere if a brand doesn't meet their expectations in terms of CX (Salesforce).
75% of consumers are more likely to purchase from a company who makes them personalized offers based on their preferences (Forbes).
81% of companies are set to compete mostly or completely on the basis of CX in 2019 (Gartner).
CX refers to the feelings, perceptions, and impressions a customer gets every time they come into contact with your business. The concept essentially covers every touchpoint of the customer journey, from beginning to end.
And you guessed it, that includes all communication by email.
Given that 80% of Americans check their personal email at least once per day, email represents a crucial touchpoint in the customer journey.
Ask yourself this: How is your email marketing contributing to your overall customer experience? Is there room for improvement?
If you've answered yes to the latter, then autoresponder (or "automated emails") is an area worth looking into.
Keep reading to learn:
How an email autoresponder will help you provide better customer experience
Email autoresponder examples that work best for various purposes
How email autoresponders improve customer experience
A great customer experience is one that is useful, seamless, and exceeds expectations. It makes the customer feel valued and understood.
An email autoresponder (also known as email automation software) automatically sends an email (that you've already written) to contacts on your mailing list that have fulfilled specific conditions. These conditions can be either characteristics (date of birth or location) or behavioral (a new contact subscribes to your site).
There are several ways in which an email autoresponder improves customer experience.
Personalization: It's a great way to send tailored messages that correspond with a contact's preferences. According to the Smarterhq Privacy report, 72% of consumers claim that they will only engage with marketing messages that are tailored to their interests. Hence the importance of personalizing your emails.
Relevancy: It helps you send emails that correspond to existing customer data. For instance, you're not going to want to send dog food promotions to someone who doesn't own a dog. This would go some way toward explaining why 66% of consumers unsubscribe from emails because they aren't relevant.
Timeliness: You can ensure that a message reaches a contact within a specific timeframe, without you being there to hit send. And customers receive immediate assistance, which enhances brand perception.
Trust building: When your emails are personalized, relevant, and timely, this represents quality for the contact. This quality translates into trust in the brand and strengthens your customer relationships.
Here are 10 types of autoresponder emails that are highly effective at driving engagement and improving customer experience. Create your free Brevo account now and get inspired by the examples below.
Set up your own email autoresponder with Brevo >>
More resources
To learn more about autoresponders, check out these resources:
The best email autoresponder examples
Here are some of the most common automatic replies and messages used by both B2C and B2B businesses.
The birthday email
Who doesn't like feeling special on their birthday? That's exactly the point of a birthday email!
Not only does it show a customer that you're thinking of them, it's also a great way to drive sales. People are generally more in the mood to treat themselves on their birthday, so it's much more likely they will splash out on your product/service with that birthday discount code you just sent them.
It's a simple gesture that goes a long way in the minds of customers.


The welcome email
The welcome email is essential when it comes to laying the foundations for relationships with new subscribers.
It's an opportunity to introduce a new subscriber to your brand and let them know what to expect from your emails.
This is also the ideal moment to get your new subscriber's email preferences, like in the example below. This will allow you to segment subscribers accordingly and ensure future emails are tailored to their needs and interests, paving the way for a more engaging customer experience.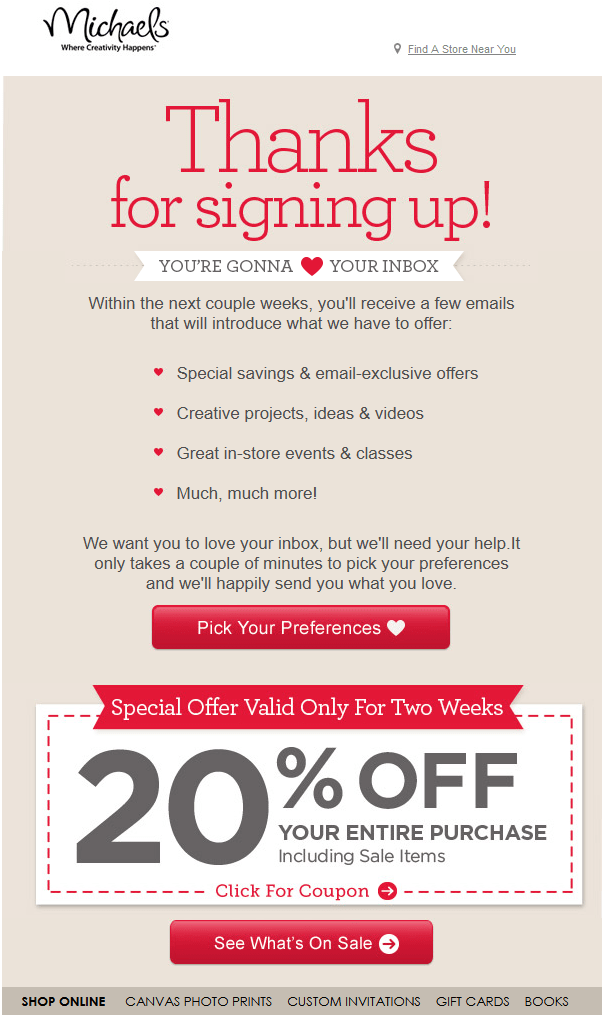 The onboarding email
It's important to help your customer get started when using your product or service for the first time. Set up autoresponder onboarding emails so new customers learn to use the product and minimize churn.
Include answers to FAQs and demo videos if needed. This might take some questions off customer support's plate later on.
Also, share user-generated content for inspiration and alternative uses of the product to encourage adoption and usage.
Providing a set of instructions, like in this onboarding example from Tinder, is a great way to drive engagement. This early engagement is crucial, as you're trying to get new customers hooked on your product.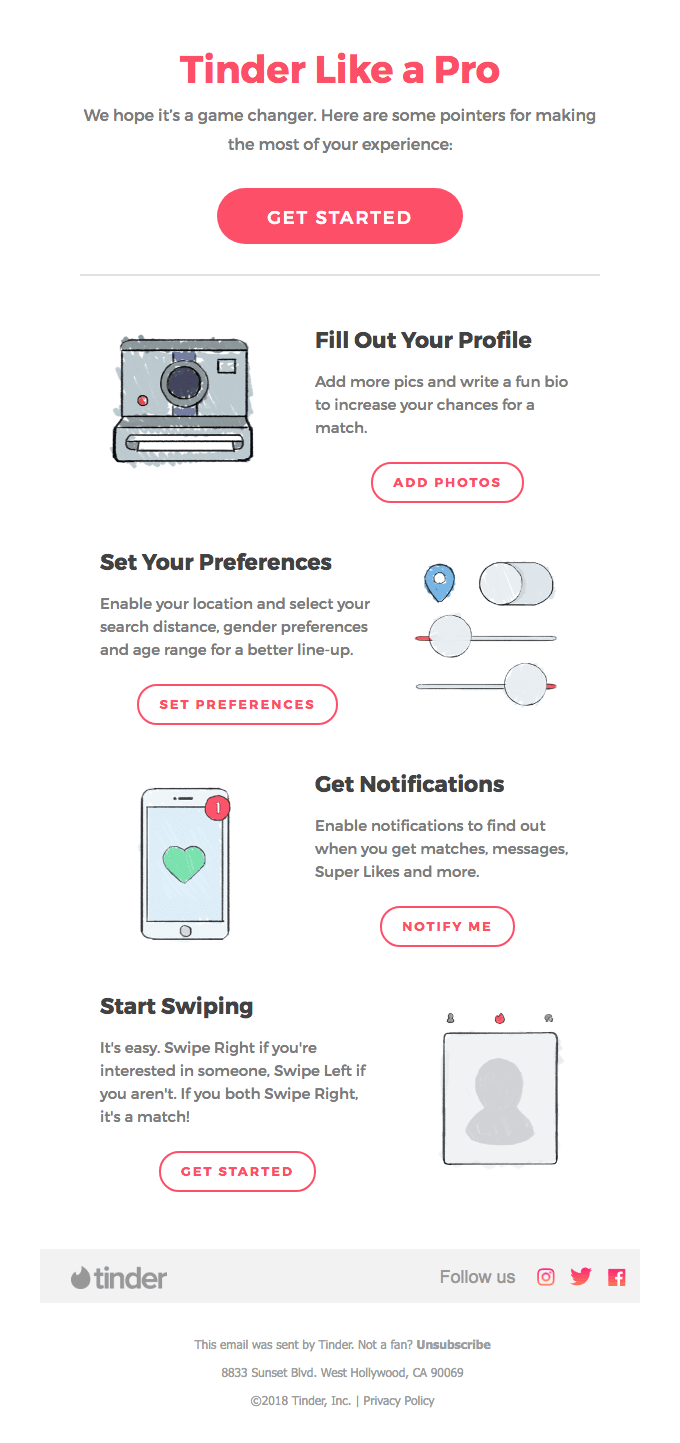 The reactivation email
This autoresponder email is sent with the purpose of re-engaging a contact who hasn't made a purchase in a long time.
You don't want your contacts to forget about you so let this email serve as a reminder of your existence. You could even go a step further and lure them back in with an exclusive offer or discount code.
Tip: If your reactivation email gets no interaction then follow up with an re-opt-in email. If again, you get no response, then remove the contact from your list. To maintain high levels of deliverability, you need a clean email list.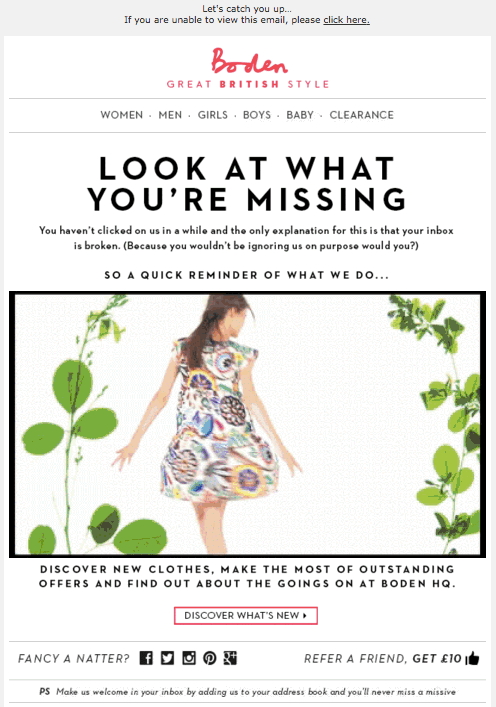 The feedback request email
If you're looking for ways to improve your customer experience, a good place to start is gauging satisfaction levels of your current customers.
Use an autoresponder email to periodically reach out for feedback which you can then analyze to highlight any areas for improvement.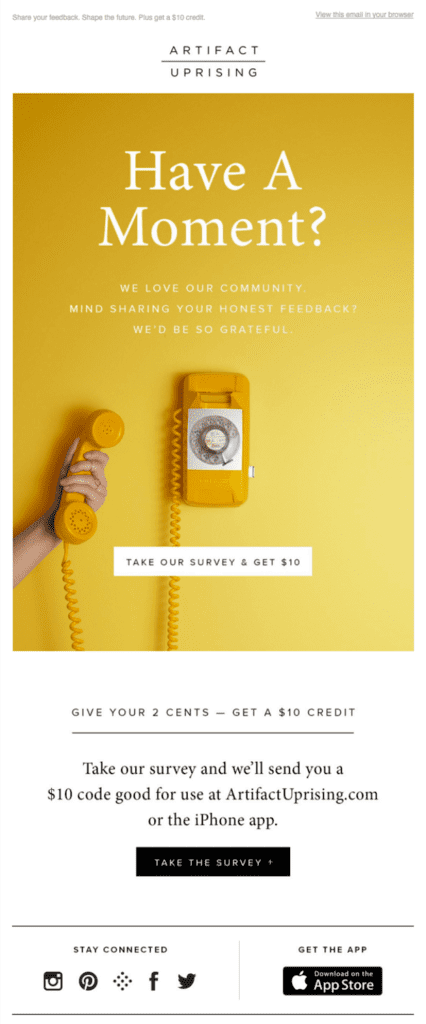 The abandoned cart email
Abandoned cart emails are the most used automatic emails. They're reminders sent to customers who filled their shopping cart with items on your site but failed to check out.
Abandoned cart emails are not only highly effective at catching the ones who got away, they're also great from a customer experience perspective.
If the customer had no choice but to leave your site at that moment to go do something else, this lets them pick up exactly where they left off. No time wasted searching for the products again.
You can make the abandoned cart even more inviting by including a coupon or discount code in your email.

The out-of-office message
One auto-reply we've all received is the out-of-office email. It's necessary to keep the work going while someone's on leave or in service-based businesses and outside business hours. It's simply set up to reply to every incoming email. Even Gmail offers a basic way to do it.
More sophisticated email marketing services give you advanced options such as different OoO flows for subscribers and new contacts.
Standard out-of-office email templates include a few key pieces of information:
When you'll be back or your regular business hours
Who's to be contacted in your absence and their contact information
A phone number in case of an emergency
Other than that, OoO emails don't need much detail. "Limited access to the internet" and "contact by phone for urgent matters only" are popular phrases no one will be upset to receive back.
For B2C businesses, it's a good practice to use the same branded templates for auto-reply messages as your other emails for consistent brand image.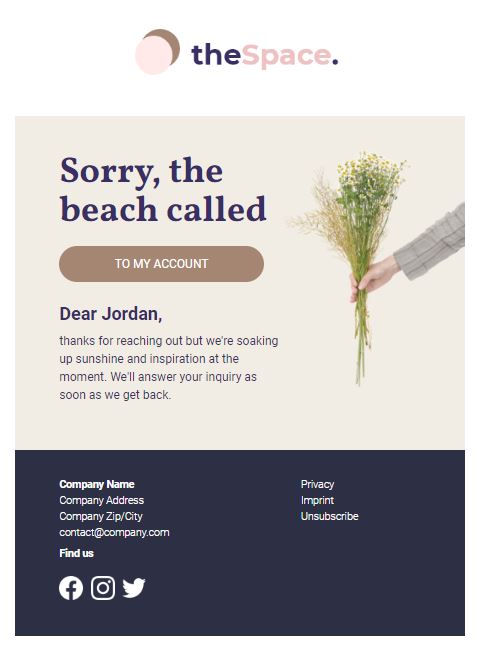 The customer appreciation email
Did you know that it costs up to five times more to attract new customers?
All the more reason to look after your existing ones and show them how much you appreciate their business!
This is one autoresponder email example definitely worth incorporating into your email marketing strategy.
Recognizing and rewarding your most loyal customers is going to make your customer experience more enjoyable and further cement customer loyalty. The easiest way to go about it is to set up an email response when they hit a certain milestone, such as total lifetime value or number of orders.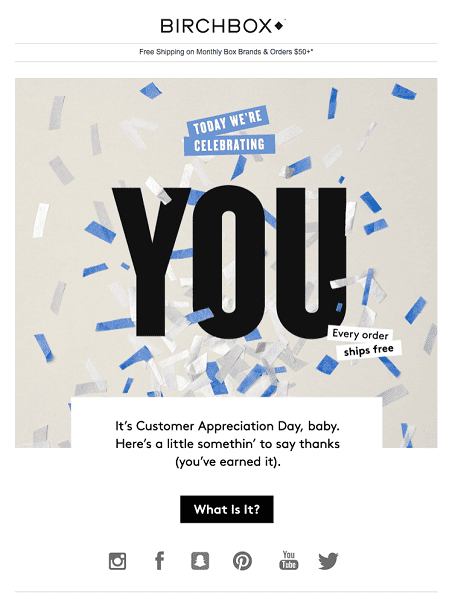 The 'follow us on social media' email
You probably already include your social links in your emails, but are your subscribers clicking enough on those tiny icons down at the bottom of the page?
To drive traffic toward and encourage engagement with your social channels, why not send a dedicated 'follow us on social media' email?
This email is ideal for new subscribers as a part of their onboarding process.

The 'best of' email
Add your best performing and most popular content to an auto-response email and send it to your subscribers at recurring intervals.
This is useful for busy subscribers who only have the time to skim your highlights.
It's also an effective means of reviving the interest of an inactive subscriber, enticing them back with your most interesting content.

Set up your own autoresponder email messages
Want to try these email autoresponder examples? Setting up auto-replies is easy with marketing automation software like Brevo.
It gives you the flexibility to create a custom autoresponder workflow or choose from a range of ready workflow templates. All of the sample auto responses above and more can be up and running for you in just a few minutes thanks to the user-friendly workflow builder.
Create your autoresponders today with Brevo
Free plan includes access to all core email features, 300 emails/day, 40+ email templates, and customizable automations.