Reading time about 16 min

There are so many email marketing platforms on the market. But which ones offer user-friendly autoresponder features?
Marketing platforms usually offer built-in CRM systems, lead generation functionality, social media marketing capabilities, and many other features. But once you get to automated emails, also known as autoresponders, you'll find that most platforms either offer very limited functionality or only include them in the most expensive plans.
To save you time, we've put together a list of the nine best email autoresponders and how to choose the one that fits your needs.
What are autoresponders in email marketing?
Autoresponder software lets businesses send automated emails triggered by specific, predefined actions. While email marketing campaigns are planned and scheduled to go out on a certain date to drive traffic and sales, auto email responders are reactive messages to what people do on your site.
The most popular email autoresponder is the out-of-office message. But it doesn't stop there! With autoresponder tools, you can automatically send welcome messages, birthday emails, double opt-in verification emails, and much more.
Discover more email autoresponder examples.
Why do we need autoresponders?
The best email autoresponders not only save your team time but also strengthen your customer relationships and boost revenue. How?
Timely onboarding emails and reminders improve customer loyalty and boost retention rates.
Autoresponders enable you to:
Reach customers with a relevant message at the right moment
Capitalize on upsell and cross-sell opportunities
Follow up on orders
Recover abandoned carts
Onboard new users
Re-engage inactive customers
In short, autoresponders are a tool to react to customer actions and guide the customer journey. They take care of your customer at critical moments and can therefore build trust and encourage conversion. That's why they're essential for ecommerce businesses, SaaS, consultants, and even physical businesses with an online presence (think table reservations and appointment scheduling).
The best email autoresponders at a glance
How do I choose an autoresponder?
First and foremost, look for marketing automation software. That's the starting point.
Wide range of triggers available
A trigger in email marketing is an event or action that causes an automated email to be sent. Here are some of the most popular triggers growing businesses typically use:
Page visit
Cart abandonment
Newsletter signup
Account creation
Webinar registration
Inactivity past a certain amount of time
Milestones such as a certain number of orders or amount of money spent
Make sure you have access to as many of these triggers as possible. Even if you don't need them all now, they may come in handy down the road as your business keeps growing.
If/then logic
The if/then logic, or conditional logic, is a way of setting rules for sending automated messages. Here's a common example:
A customer abandons their cart, so an automated message is triggered to recover it. If the customer completes the order, then the flow ends. If they don't buy, then they receive a follow-up email with a discount to persuade them.
The best email autoresponders have a visual automation builder, with "branches" representing different outcomes. This is the easiest way to set up automated emails with no technical skills.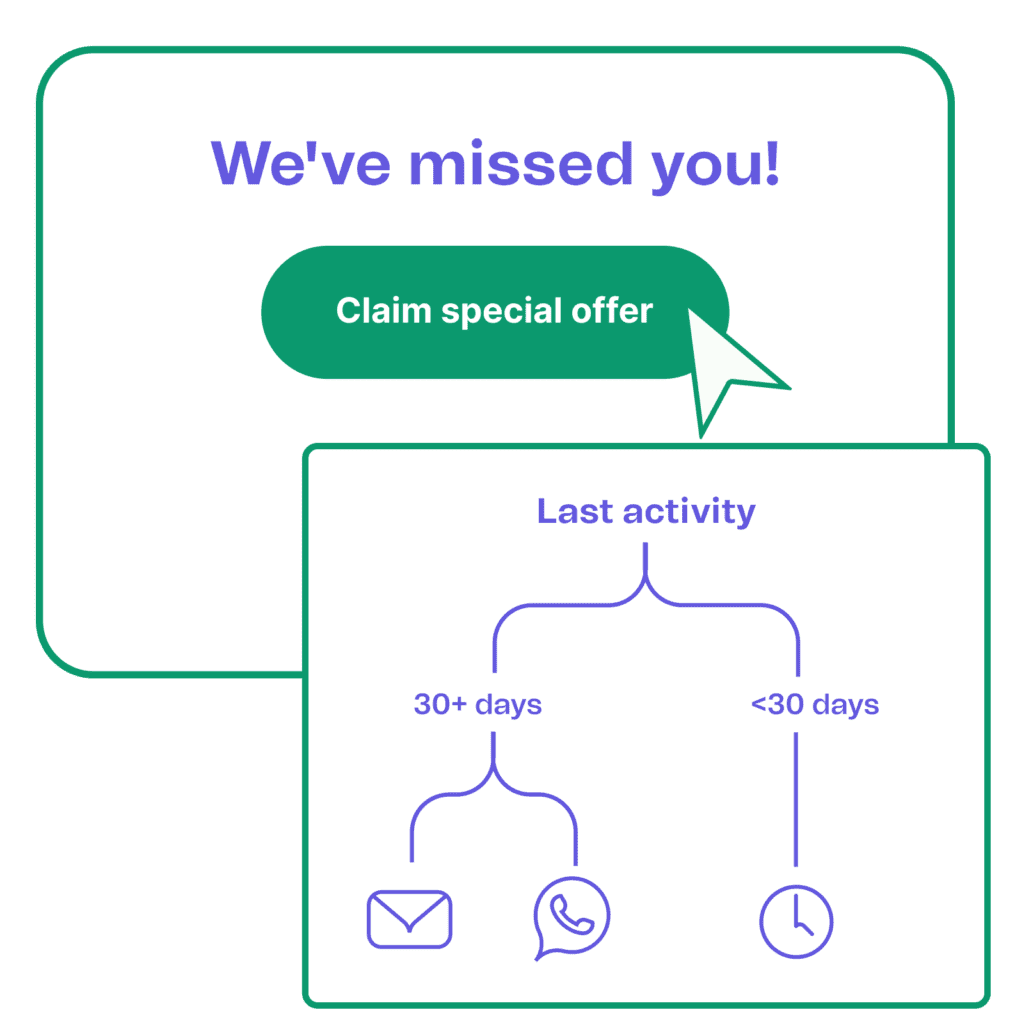 User-friendly automation builder
A quick and easy way of setting up your autoresponders can make all the difference between providers.
Ideally, it'd offer a drag-and-drop editor to create automation workflows. You see how the sequence looks and can easily adjust the steps and outcomes as needed.
Another important factor is templates. Does your automation software offer workflow templates? Most of the workflows you'll be using can be easily templated. Then just tweak for the specific campaign and hit Start.
Deliverability
What good are complex automation workflows when the emails don't reach recipients?
Email deliverability is the rate at which emails make it to inboxes. Although your own sender reputation heavily affects deliverability rates, the authority of your automation platform also plays an important role here.
Before you choose an autoresponder, make sure the platform complies with all the data privacy regulations relevant to your business and has high credibility in the industry.
Integration with the rest of your toolbox
The best email autoresponders are part of a larger marketing toolkit that lets you run multichannel campaigns seamlessly.
You need to grow your email list with consenting contacts, store them, and track activities on your website. You also need an automated workflow editor to plan the triggers, conditions, and email (or email series) to send.
That's why alongside autoresponders, your automation software should include a proper tracking and reporting system, CRM integration, A/B testing capabilities, subscription forms, and a template editor for building a strong email marketing strategy.
The tools listed here cover all feature needs to save you additional costs.
9 Best email autoresponders

Autoresponder templates available in Brevo
Brevo is the best email autoresponder on this list. It's a full CRM suite including an email marketing platform with multichannel features and fair pricing.
Contrary to many other marketing platforms, Brevo includes automated emails on its Free plan. With Brevo's autoresponder, you can:
Create personalized welcome messages
Onboard new customers
Trigger automated messages based on how contacts interact with your website or app
Send double opt-in auto-responses
Craft personalized birthday emails
Show personalized product recommendations to subscribers
Set up abandoned cart emails
Re-engage inactive users
Reward loyal customers with discounts and special offers
And thanks to Brevo's integrated toolkit, it's possible to:
Update customers on their purchases with transactional emails by using email API or SMTP
Choose from 40+ email templates or build custom emails with a drag-and-drop editor
Create automated workflows in minutes with customizable workflow templates
Include SMS messages in workflows
Use advanced segmentation and autoresponders together for contact management
Do split testing of subject lines, copy, CTA buttons, etc.
Track visitor activity on you website (plugins available for WordPress and all ecommerce platforms)
Workflow editor
Brevo offers ready-made templates for the most common autoresponders. Add steps and conditional rules, or just activate them as is — they're ready to go!
Behavioral emails
Trigger personalized email automation workflows based on subscribers' behavior on your website or ecommerce platform. The Brevo Tracker lets you auto-respond to link clicks, page visits, and more without much technical expertise.
Exceptional deliverability
Brevo makes it easy to create GDPR-compliant campaigns and maintain a high sender reputation.
All-in-one solution
Alongside automated workflows, Brevo offers lead generation forms, a landing page editor, a Sales Platform, a live chat widget, SMS marketing capabilities, and Facebook paid campaign management.
Transactional email service
Autoresponders are not meant to send transactional emails. But with Brevo, you will access both automated emails and transactional messages under one roof.
Brevo pricing
Brevo is the best free autoresponder with up to 300 emails per day and up to 2,000 contacts. Paid plans start at $25 for 20,000 emails per month. All plans are based on the volume of emails you want to sent monthly so you'll never pay for the number of subscribers you have.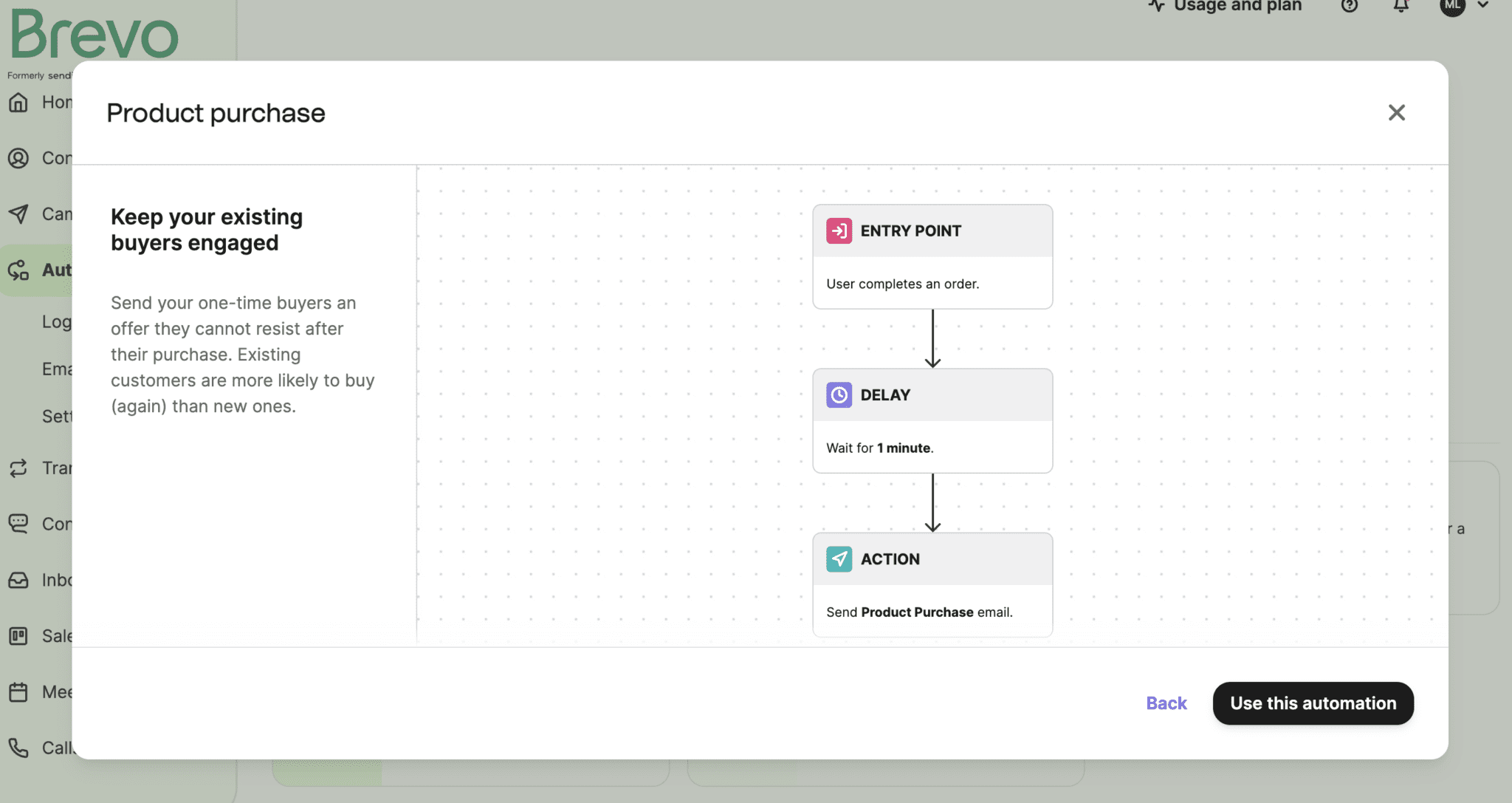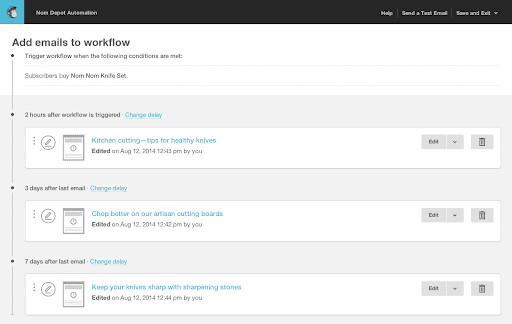 Mailchimp is an all-in-one marketing platform with automation and email marketing features. Small businesses and mid-sized businesses often praise the software for email list-building tools, deep analytics, and user segmentation capabilities.
Here are the automations you can set up with Mailchimp:
Welcome messages
Onboarding series
Reactivation
Product recommendations
Milestones
Cart abandonment
Loyalty reward
Transactional emails (using Mandrill)
Compared to some of the other best email autoresponders, Mailchimp's user interface (UI) is very complicated. If you have little experience with email marketing software, it may be best for you to pick a platform with a more intuitive interface.
Mailchimp pricing
Mailchimp's basic features are available for free. You can access single-step automation in the Free plan and the Essentials plan which starts at $13/month. Keep in mind that the free plan is heavily limited to 500 contacts and 1,000 emails a month. Multi-step automation can be set up in the plan beginning at $20/month.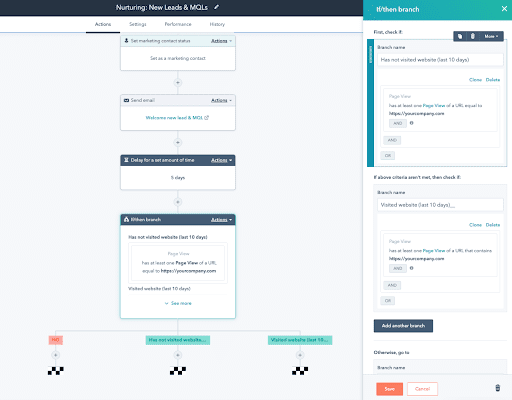 HubSpot is another sophisticated solution with autoresponder capabilities on this list. A part of HubSpot's Marketing Hub, the autoresponder enables HubSpot users to send automated emails triggered by subscribers' behavior or any predefined events.
Through HubSpot's workflows, you can not only set up auto-replies and automated follow-ups, but also dynamically segment contacts, assign tasks to team members, score leads, and more.
HubSpot is the right choice for you if you're looking to implement a full-fledged CRM system in the first place. But if you only need an autoresponder and some email automation features, you'll find more affordable options on this list.
HubSpot pricing
HubSpot allows for one automated action in its free plan, so you'll need to become a paid user to access full automation capabilities. HubSpot's paid plans start at $50 per month for up to 1,000 marketing contacts.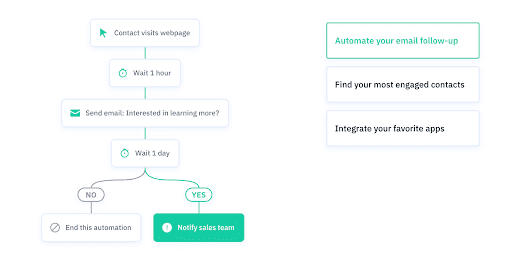 ActiveCampaign is a customer experience automation platform offering an email autoresponder as a part of its marketing automation functionality.
ActiveCampaign's auto-responding capabilities include:
Sending automated emails based on user behavior
Scheduling follow-up emails
Building automated workflows with the if/then logic
Following up with subscribers right after they fill in the form
Similar to other software solutions on the list, ActiveCampaign is rich in useful features for marketers, sales reps, and customer success specialists. It also offers sales automation tools, a CRM solution, chatbot automation capabilities, and team collaboration features.
It's a good option for small businesses that don't need high-level customization or out-of-the-box solutions.
ActiveCampaign pricing
ActiveCampaign doesn't have a free plan. Pricing starts at $29/month for up to 1,000 contacts and unlimited emails. You can purchase more email credits within the same plan or access additional features by upgrading to the Plus plan starting at $49/month.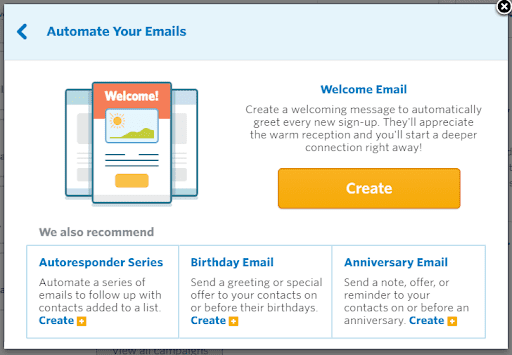 Constant Contact is an email marketing tool for small businesses and nonprofits. The platform focuses on lead generation and automated lead nurturing.
These are the types of emails you can send out with Constant Contact's autoresponder:
Welcome emails
Opt-in emails
Birthday and anniversary autoresponder campaigns
Abandoned cart reminders
Re-engagement emails
Automated email series
The platform allows you to create automated email series, or drip campaigns, to engage new subscribers or follow up with customers based on their website behavior or purchase activity. It also integrates with major ecommerce platforms like Shopify and WooCommerce, enabling you to set up an abandoned cart reminder series.
Constant Contact has a very intuitive interface and a simple onboarding process for beginners. If you're new to email automation, it might be the right choice for you. But if you're looking for advanced features, take a look at the other options on this list.
Constant Contact pricing
Constant Contact doesn't offer a free plan. The autoresponder and automation workflows are available in the Standard plan which starts at $35/month for up to 500 contacts. As your mailing list grows, you can buy extra contact credits. This plan also includes audience segmentation, email list-building, contact storage, social media posting, and sales reporting features. Not what you're looking for? Find out more Constant Contact alternatives.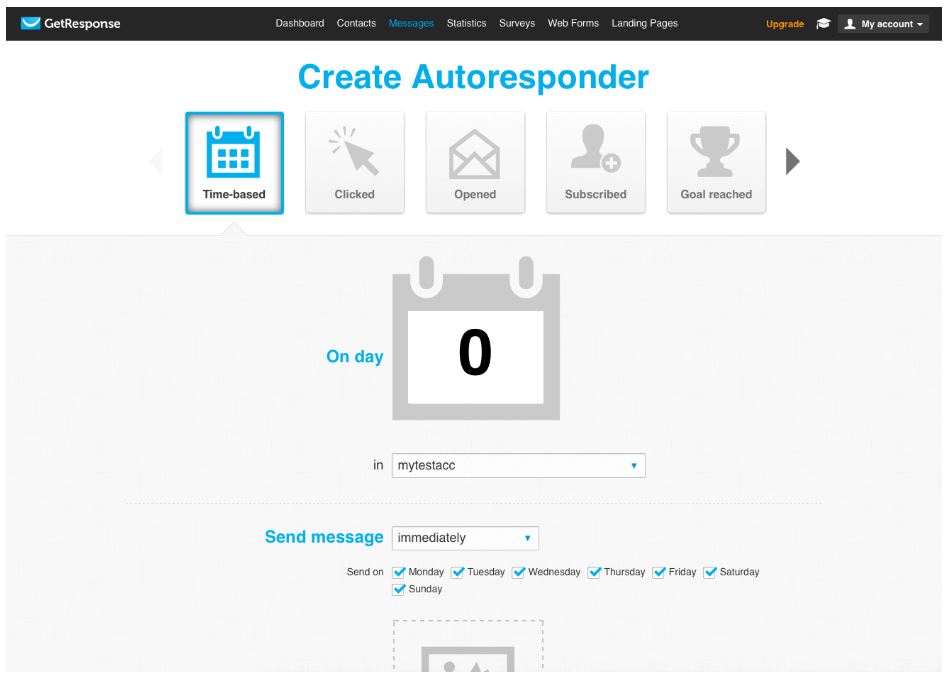 GetResponse is digital marketing software with email marketing, lead generation, list management, web push notifications, analytics, and autoresponder capabilities.
With GetResponse, you can craft emails with a user-friendly drag-and-drop builder, set up automated deliveries, and analyze autoresponder campaign performance to optimize your future automations for better results. You can also choose from 100+ email templates to greet, follow up, re-engage, and upsell your subscribers.
While users are happy with GetResponse's autoresponder sequences, they sometimes experience problems with its landing page builder. If you consider using it for list-building campaigns, check if the customization and collaboration capabilities fit your needs first.
GetResponse pricing
GetResponse offers a free plan for lead generation and newsletter campaigns. To access basic autoresponders, you need a paid Email Marketing plan, beginning at $19/month for 1,000 contacts. To trigger behavior-based emails with marketing automation, you should choose the Marketing Automation plan which starts at $59/month.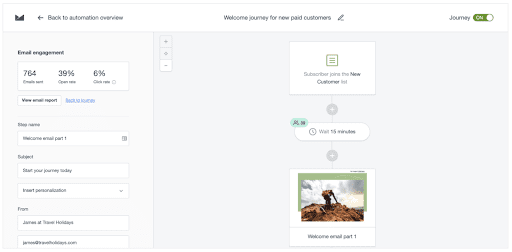 Campaign Monitor is an email marketing service focused on email list-building, segmentation, transactional email, and marketing automation. Small businesses and mid-sized companies choose it for its simplicity and accessibility.
The platform allows marketers to create welcome journeys (automated welcome email sequences), behavior-based sequences, and dynamically personalized campaigns.
Unlike the solutions listed above, Campaign Monitor doesn't offer a CRM system. To manage customer relationships, you can integrate it with a stand-alone solution or consider choosing a different marketing automation platform.
Campaign Monitor pricing
Campaign Monitor pricing starts at $9/month for 500 contacts and up to 2,500 monthly emails. Autoresponder emails are available in the lowest plan and are limited only by the plan's email send volume.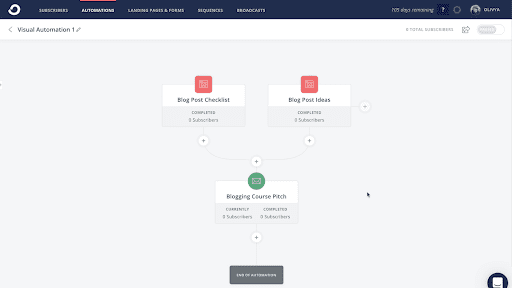 ConvertKit is a marketing platform for creators, bloggers, and small business owners.
Inside the platform, users can set up simple autoresponders and email sequences without any coding skills. Newsletter automations, welcome emails, and drip campaigns — all of these can be sent through ConvertKit's intuitive interface.
Other than the autoresponder functionality, ConvertKit offers landing pages, signup forms, a drag-and-drop email builder, audience segmentation, and a commerce tool for monetizing content.
If you sell digital products and need a way to send timely, targeted content to your audience, ConvertKit's autoresponder is the right choice for you.
ConvertKit pricing
ConvertKit is free for up to 300 subscribers and unlimited contacts. But on the Free plan, you won't have access to automation capabilities. You'll need to upgrade to the Creator plan for $15/month to create automated email sequences.
Read more: 9 Top ConvertKit Alternatives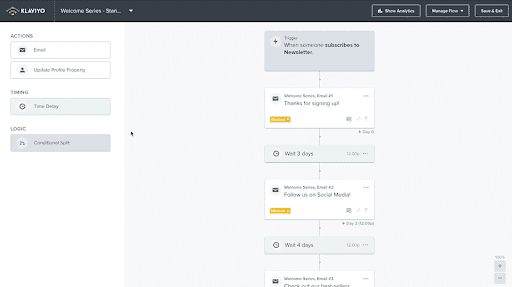 Klaviyo is a growth marketing platform helping small businesses interact with their audiences across owned marketing channels, including email, SMS, and in-app notifications. Email
autoresponders are a part of Klaviyo's toolkit.
You can set up automated emails and personalize campaign content based on comprehensive event data like products viewed, items ordered, bestsellers, etc. To help you build strong relationships with your customers, Klaviyo enables you to create the following flows:
Welcome series flow
Abandoned cart flow
Browse abandoned flow
Post-purchase flow
Winback flow
Klaviyo's pre-built behavior-based automation templates allow marketers and small business owners to build advanced automation sequences in a few clicks.
Klaviyo pricing
Klaviyo is free for up to 250 contacts and 500 email sends. Pricing starts at $20/month for 500 contacts and 5,000 emails. Beyond that, there are no pricing tiers — what you pay depends only on the size of your contact list and the number of emails sent. Regardless of how much you pay, you access all the features in Klaviyo's toolkit (except for SMS notifications, which are sold separately).
What's the best email autoresponder?
When choosing an email autoresponder, you should consider factors like your business's size, budget, mailing list growth rate, and long-term goals. It's the best way to select a platform that will help you reach your objectives without driving unnecessary costs.
Sign up for Brevo's free email autoresponder today and effortlessly automate your customer communications.