Reading time about 20 min

Email marketing is a chance for nonprofits to grow a loyal supporter base while maximizing time and resources. Learn how with this guide, which includes tips on choosing an email marketing service for your nonprofit, plus best practices and inspiration for effective campaigns.
Traditional marketing methods favored by nonprofits like face-to-face fundraising and events came to an abrupt halt in 2020. With the pandemic context organizations had to find new ways to stay connected with followers and attract new supporters.
Email marketing proved an effective solution.
From donation drives to updates on your activities, email offers nonprofits an efficient way to reach supporters while still creating a personal experience.
Below you'll find all the essentials on building an email strategy for your nonprofit that uses the channel to its full potential.
Why Email Marketing is a Must for Nonprofits
For nonprofit organizations looking to build a base of loyal supporters, email marketing offers distinct advantages over other digital channels and offline strategies.
Here are just some of the benefits your nonprofit could gain from adding email to its marketing mix.
It's cost-effective
In a sector where budgets are often tight, efficiency is key. Email offers nonprofits a communication channel that is both affordable and brings results.
There's none of the hassle and cost that comes with posting out appeals and updates to supporters. Your email campaigns don't even have to cost you a penny. There are various free options available for nonprofits, including Brevo's email marketing software.
What's more, email works. The channel is known for its high return on investment. In a nonprofit context, for every 1,000 fundraising emails organizations raise an average of $78.
It's personal yet efficient
While nothing beats a one-to-one conversation with a supporter, email marketing can offer the next best thing.
As a nonprofit, you're likely juggling limited resources. So, as your supporter base grows you can't communicate with every contact individually.
Email enables you to reach more people without sacrificing the personal touch. Unlike channels such as social media, messages arrive direct to the contact's inbox and you decide who receives what, so you can make sure content is relevant.
Plus, your email marketing platform will collect data on how contacts engage, so you can personalize your approach even more.
It boosts engagement
Email offers a direct line of communication with those interested in your cause, allowing you to keep the conversation going and nurture the relationship. You can show your appreciation with a timely thank you and inspire further support by sharing updates on your work and ways to get involved.
While there will always be debate over the effectiveness of email vs. direct mail for nonprofits, the trend towards digital engagement is undeniable. Online giving grew by almost 21% in 2020 compared to the previous year and by more than 32% over the past three years.

Email lets you create a seamless donor experience that can boost response rates. Rather than having to fill out and return a paper donation form, the supporter clicks a button to donate straight from their device.
Choosing the Best Email Marketing Service for Your Nonprofit
Before diving into your nonprofit's email strategy you need to make sure you have the tools to make it happen.
With so many services to choose from, deciding which is best for your nonprofit's email marketing can be a daunting task. To help with your research, here are some factors to bear in mind.
Pricing
As a nonprofit, you won't want to splash out unnecessarily on your emailing software. Luckily, as mentioned before, there are plenty of low-cost or even free email marketing tools for nonprofits. Get details on some of the best in our list of cheap email services.
A word of warning though. Lower-level plans may have limitations on features and audience size.
In particular, many email marketing platforms charge more based on the number of contacts you have — even if you're not actually sending them anything. So, as well as comparing base prices, be sure to check services will stay within budget if you find you need to upgrade.
Features
Aside from affordability, here's some tools nonprofits should look out for in an email marketing software:
Email templates. These will make your life much easier. Rather than starting from scratch, you'll have professional, mobile responsive designs to customize for your organization.
Signup form builder. This will allow you to collect subscribers for your nonprofit's email list.
Segmentation and personalization. You'll want the ability to divide up your lists based on your own criteria to target contacts with the right campaigns and messaging. You should also be able to personalize content within emails using contact data, like their name or donation details.
Automation. Instead of impersonal bulk campaigns, this will enable you to trigger emails to contacts for defined scenarios.
Landing page builder. This will make it easy to create dedicated pages to link to from your emails, with more detailed information to convert those who click through.
Built-in CRM. This will let you store contact data within the platform, including details for personalizing communications and a history of your interactions.
Ease of Use
If you're in charge of your nonprofit's email marketing, you may well be wearing multiple hats. So the last thing you want is to spend your time fiddling around with overly complicated tools.
Creating email campaigns will likely take up much of your focus. So an intuitive, drag and drop editor for adapting the format and layout of your content is a must.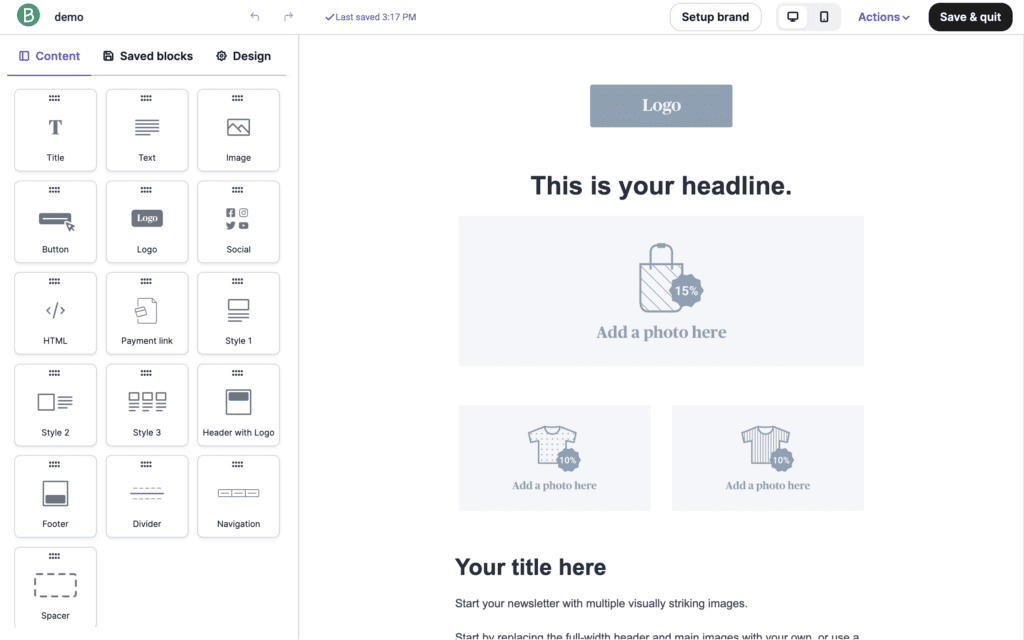 Trials and free plans are great for testing out different software and getting a feel for how user-friendly they are.
It's also worth checking the level of support available for if you do ever get stuck. Particularly on cheaper plans, not all services will offer human support, meaning you'll have to trawl through help articles for answers.
If you're looking for a nonprofit email marketing platform that ticks all the above, check out Brevo.
The forever free plan comes with more than enough to get you started, with features for designing personalized campaigns, collecting signups, segmenting your lists, and sending automated messages. There's no limit to the number of contacts you can store and you'll be able to send up to 300 emails a day.
Brevo stays affordable as you grow too. Paid plans also include unlimited contact storage and start at just $25 a month for 20,000 email sends. Whatever package you go for — paid or free — you can count on our customer support team to make sure you're getting the most from the software.
4 Nonprofit Email Marketing Best Practices to Guide Your Strategy
The steps below walk you through building an effective email marketing strategy for your nonprofit, from managing your audience to executing campaigns.
1. Build a solid contact list
Your nonprofit's email list is the foundation of a successful campaign. It's not just about sheer quantity, but also the quality of the data you have.
Don't be tempted to buy a nonprofit mailing list as a shortcut to building up your contacts. You'll see better results with a smaller audience truly interested in your work than if you send unwanted emails to people with no affinity to your organization.
Here's some tips for how to grow your nonprofit email list the right way:
Get subscriptions from your online followers
Email marketing services like Brevo let you create signup forms to promote via digital channels. For example, you can add your form to strategic places on your website like your homepage or blog. You could also create a dedicated landing page for your form to share on social media or link to in your email signature. 
Simple is normally best when it comes to email signup forms. Take a look at this landing page promoting charity: water's newsletter. In a few lines, they tell you why you should subscribe, while the image gives an idea of the kinds of real-life impact stories to expect.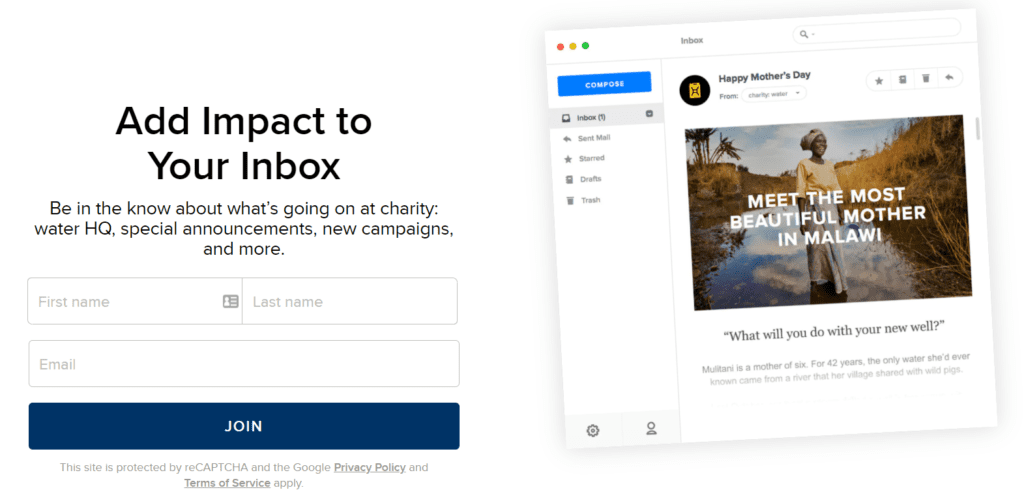 Ask for signups in person
Old-school methods can be just as effective for getting people on your nonprofit email list. For example, a physical signup sheet at networking or fundraising events is a great chance to keep in touch with attendees. Another option is to show your signup form on a tablet so people can type in their details directly.
Capitalize on those who've already engaged
The key to an effective nonprofit email list is attracting the right people — meaning they've supported you in the past or are likely to in the future.
So, when someone makes a commitment to your cause, make sure you give the option to opt in to your email updates too. This could be when they:
Register interest as a volunteer or fundraiser
RSVP for an event
Sign a petition
Donate via an online or paper form
Get proper consent
As already mentioned, you're unlikely to get good engagement from people who never wanted to hear from you in the first place. They might even mark your emails as spam, which risks harming the deliverability of your email campaigns (whether they land in the inbox or junk mail).
Not only this, but depending on where your nonprofit's audience is based, sending marketing emails to people without their consent could be in breach of data protection laws like GDPR.
Therefore it's essential all your contacts have actively opted in to receiving your emails. Make sure you're clear from the outset about what they're signing up for and always include an unsubscribe option in emails.
For more tips on GDPR-compliant email marketing, check out this video checklist:
2. Create engaging campaigns
Once your contact list is set up and ready to go, it's time for the fun part — designing and writing your emails! To get the best possible results, you need to make sure that they look good and that your content is compelling.
Nonprofit email design best practices
Stay on brand. Create an email template that fits your organization's style guidelines. Then use it as a basis for your different campaigns to maintain consistency.
Use images wisely. Real photos of your work in action will bring it to life for your audience. But don't rely on images alone to get your message across. It's possible not all your contacts will be able to see them (if images are blocked in their email client or they're using a screen reader, for example).
Keep it brief. Rather than overwhelming the reader with too much text, use buttons to link to more information.
Make it easy to read. Use short paragraphs and break up content with subheadings and dividers so readers can scan your message.
Ensure it's mobile-friendly. Check your design works for mobile devices by sending a test email or using your email tool's preview feature if it offers one.
Tips for high-converting nonprofit email content
Build trust with a recognizable sender name. Contacts are more likely to open an email when they know who it's coming from. So, it's important to include your organization name in the sender details. For a more personal touch you can add a first name too, i.e Alex @ Brevo.
Use your subject line to maximize open rates. It should tell recipients exactly what's inside and why they should care. Email subject line tactics like emphasizing urgency and using powerful, emotion-packed verbs ("fight", "save", "transform", etc.) work especially well for nonprofits.
Tell a story. You won't connect with your audience through facts alone. They'll respond best to real-life stories that are relatable and make them feel something.
Have a clear ask. Every email you send should focus on one main call to action. Make sure you highlight this with a prominent button that clearly states what you want the reader to do, e.g. "donate now" or "sign up to volunteer today".
3. Send to the right people, at the right time
A common question that crops up is "how often should my nonprofit send emails?".
Global data from 2019 shows that email sending frequency among nonprofits varies. Of those sending email updates to supporters, it found that 35% send monthly, 30% quarterly, and 13% weekly.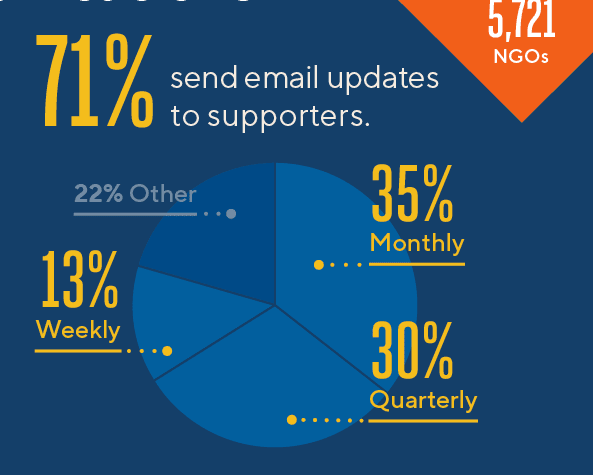 Getting your email frequency right is a balancing act. On the one hand you don't want to bombard your subscribers' inboxes. But equally you've got something important you want to share with them.
The answer? Only send to those your message is relevant to.
By segmenting your email list you can avoid mass campaigns and instead target those most likely to engage. As a nonprofit, you might separate your contacts based on factors such as:
What kind of supporter they are, for example are they an event attendee, volunteer, donor, or fundraiser?
How recently they've donated or if they're a repeat donor
Whether they are a high-value or VIP supporter
Which projects or aspect of your work they've supported or expressed interest in
Where they're located
Another way to ensure your messages are relevant through email automation — triggering campaigns when a contact takes a certain action or meets set criteria.
Possible scenarios include:
Welcoming new supporters, such as first-time donors, volunteer signups, or email subscribers
Trying to turn one-off donors into recurring ones
Reaching out to those who haven't engaged in a while, such as lapsed donors
4. Analyze your results
Once your campaigns are up and running it's important to keep an eye on performance. This will help you find what works for your audience and refine your strategy accordingly.
Some key metrics to follow are:
Open rate — the percentage of recipients who opened your email. In terms of a good open rate for nonprofits, Brevo's customer benchmark found the average for the sector was 24%.
Click-through rate — the percentage of those who opened your email that also engaged with its content by clicking a link. According to our data, nonprofits achieve an average click-through rate of 5.8%.
Unsubscribe rate — the percentage of recipients who clicked to unsubscribe within your email. Aim to keep this as low as possible by ensuring content is relevant and only sending people what they signed up for.
For more detail on how to interpret your email results, check out our guide to email marketing KPIs.
If after comparing the performance of different campaigns you're still not sure of the right strategy to go for, A/B testing can give further insights. This allows you to try different versions of the same email to see which works best.
The 4 Best Nonprofit Email Campaigns You Should Be Sending
Now you know the theory, here's some examples of must-have campaigns to include in your nonprofit's email marketing strategy.
1. Newsletters
These are the bread and butter of your nonprofit email marketing. They're a way of keeping supporters in the loop and engaged with your work.
The emphasis should be on informative rather than promotional content. While you'll want to share what's new at your organization, keep the focus on your supporters and how they've helped rather than making it all about you.
Here are some ideas for what to include in your nonprofit's email newsletter:
Stories from your work on the ground
Educational content related to your cause — you could link to your blog if you have one
Spotlights on a staff member, volunteer, or supporter
Updates on campaigns you're running
Upcoming events
Volunteer opportunities
Themed content around relevant awareness and holiday events
To see what this might look like in practice, check out this newsletter created by Brevo user Keep Australia Beautiful:

Some elements that make this nonprofit email example stand out include:
The branded header, which ensures the newsletter is immediately recognizable for readers
The good mix of informative content, offering actionable ways to support the cause
The human touch, with the introduction by the CEO, a volunteer interview, and a real photo from their schools program
2. Fundraising campaigns
For appeals like disaster response, holiday, or Giving Tuesday campaigns, send out shorter, dedicated emails. This will keep all the focus on the action you want recipients to take: donating.
Remember, it's easy to miss an email in your inbox so it's worth sending follow-ups to those who didn't initially engage.
Nonprofit Big Brothers of Greater Vancouver sent a series of asks for their holiday campaign using Brevo's email marketing tool. By sharing the amount raised so far in the campaign update below, they rally even more support.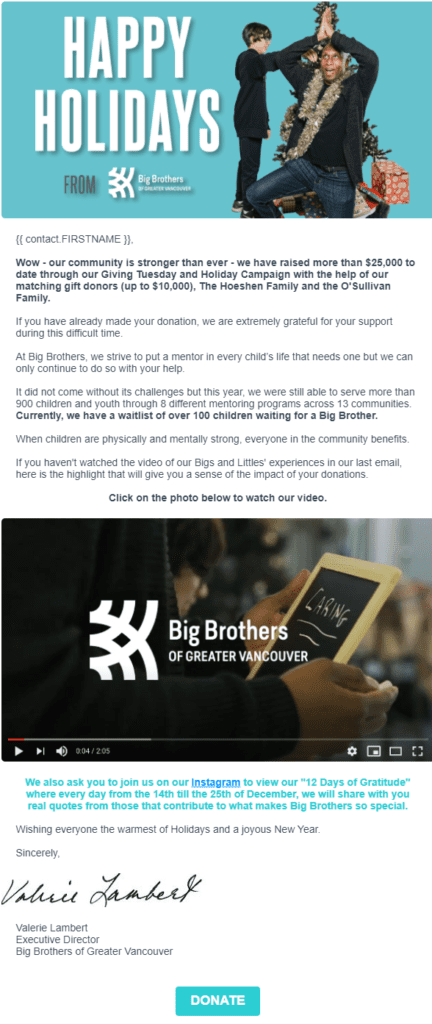 The campaign also showcases other effective tactics for nonprofit fundraising emails, for example:
The fun, holiday-themed photo plays on the spirit of the season to create an emotional connection with the audience.
The copy focuses on the impact thanks to their supporters, including figures for how many children they've helped.
The reference to the waitlist emphasizes the need, creating a sense of urgency that persuades potential donors.
The video lets supporters hear the importance of their contribution from those involved in the project.
3. Thank you messages
Getting supporters on board is one thing, but the real value comes in making sure they stick with you. And a personal thank you will go a long way in achieving this.
You should tailor your emails based on how contacts are contributing to your cause and the particular project they've chosen to support.
This thank you email from nonprofit charity: water, for example, targets donors to their monthly giving program:

The campaign is full of best practices for how nonprofits can use email marketing to demonstrate impact and make supporters feel valued:
The focus is on a real person's story, which helps the reader empathize with their situation. This is reinforced by the imagery and even the subject line "A new way of life for Srey".
The supporter learns exactly where their donations are going — towards BioSand filters — and how this addresses the problem.
The social share buttons help supporters spread the word to have even more of an impact.
Timing is also key for your nonprofit's thank you emails. The last thing you want is for someone to make a donation only to be left wondering if your organization received it.
Brevo's transactional email service offers a reliable solution. Nonprofits can use the software to trigger post-donation messages for a seamless supporter experience. Plus, our robust infrastructure means you can be confident your messages will make it straight to the inbox — not the spam folder.
4. Welcome series
When someone first discovers your cause, chances are they won't be ready to jump straight into long-term commitments like setting up a regular gift or registering as a volunteer.
That's where a nonprofit welcome email series comes in.
These messages introduce new contacts to your work, building on their initial interest so they become loyal supporters.
For example, Seal Rescue Ireland triggers this welcome email to subscribers for their newsletter using Brevo's autoresponder software:

The template includes key elements for a nonprofit welcome email like:
A thank you to the individual for their commitment and even a reward coupon for signing up
Background on the organization's mission and current projects
Proof of their impact
Different options for getting involved
Get Started on Your Nonprofit's Next Email Campaign Today
Whether it's a call for donations, a promotion for your upcoming event, or an update on your latest project, email helps you get the word out and engage supporters.
For a powerful yet easy-to-use tool for managing your nonprofit's email marketing, check out Brevo.
Create signup forms to grow your email list, design campaigns in minutes with the drag and drop editor, and use segmentation to send the right content to the right people. You'll get access to all this and more on our free plan, which includes unlimited contacts and up to 300 email sends per day.