Reading time about 16 min

As a fundraiser, you've got your nonprofit's donation pitch down to a tee. When put in front of a potential donor, you know how to convince them of the need for your cause. But how does this translate into a fundraising email?
The pandemic has given a boost to an already growing trend toward digital fundraising. With face-to-face methods off the cards, other channels proved their worth.
And when it came to asking for donations, email marketing came out on top.
In 2020, fundraising emails saw record results with better open, click-through, and response rates. And donors themselves said email is the channel that inspires them most to give.
But with this increased success, nonprofits are sending more donation requests via email than ever. So, your campaign needs to be spot-on for supporters to take notice and act.
Whether it's tips on how to write your first fundraising email or ideas for boosting campaign donations, this guide has all you need. You'll find a fundraising email template, best practices for content, design, and sending, plus examples to inspire you.
How to Ask for Donations via Email: A Foolproof Template
Making donation requests is a fundraiser's day-to-day, be it in person or by direct mail. But how should you adapt your approach to write a fundraising email?
While there are some universal best practices for nonprofit email marketing, fundraising campaigns need a distinct strategy. And transferring the content of your direct mail appeals into an email won't cut it!
Direct mail vs. email fundraising
Direct mail used to be the go-to tactic for donation asks. But in recent years email has proved its potential as a fundraising channel. Just take a look at these 2020 statistics from M+R's benchmark report:
The average open rate for a fundraising email was 18%, up 7% compared to 2019
Email fundraising response rates rose by 41%
Nonprofits raised an average of $78 per 1,000 fundraising emails
Direct mail and email fundraising often share the same goal, such as a seasonal or emergency appeal. But email boasts an immediacy that makes it particularly effective for time-limited campaigns.
The challenge of email fundraising is to condense what might be a page for direct mail, into something digestible for an online audience.
Email recipients are easily distracted by other notifications or messages popping up. So you need to get to the point — fast.
If you don't, your message risks getting lost in the depths of the inbox or deleted in a click.
You're likely asking yourself then, how long should a fundraising email be?
Your fundraising email needs to be as short as possible. This isn't the time to go into your organization's history and wider projects. Instead, keep the focus on your ask.
There's no one-size-fits-all when it comes to the best length for a fundraising email. But you can be sure that donation requests by email should be shorter than direct mail. One study for example found that, based on click-throughs, the ideal length for a nonprofit email was 25 lines.
5 steps to write an effective fundraising email
So, how do you squeeze everything you want to say into your donation email — and get the reader to act on your request?
Here's a template for how to write a fundraising email:
1. Start with a personalized greeting
A first name address is a must. If a contact doesn't trust you enough to share their name, you likely need to build the relationship more before going in with a donation ask.
Using the recipient's name will catch their attention and make your message stand out from generic marketing emails.
You could even personalize the introduction further by referencing the contact's connection to your nonprofit. For example, if they are a regular or previous donor, say so. This gives the sense that the message is written for them, not a mass of faceless supporters.
Most email marketing tools let you insert contact details like first name into your email text. For example, Brevo's personalization feature pulls data you've gathered on contacts to show content unique to them.
You can even use this in your email subject line, like the example below:

2. Introduce the problem
Start your fundraising email with the issue you're addressing. Tell the recipient why you're writing to them in the first place.
Is there an urgent crisis? A current problem going unaddressed? Hook the reader from the first line by showing the need for their support.
Don't skirt around the topic — get your ask in early. Your email is a donation request, so make that clear from the start.
3. Add some context
Once the reader knows the most important information — what you need and why — bring in details to support your ask. Often this comes in the form of a beneficiary story that shows both the issue and the difference support can make.
4. Give the solution
You've got your reader's attention with the issue. Next, tell them what they can do about it.
Give examples of what support looks like and the impact it has. Then follow with another donation ask.
5. End with a human thank you and sign-off
Finish your fundraising email by thanking supporters. Then sign it off from a real person (rather than your organization).
A P.S. is a good way to slot in a final donation request. Readers often skip to the end of an email so this will make sure you still get across your key message.
5 Fundraising Email Examples and Tips for Success
So, what does the above fundraising email template look like in practice?
To give you some ideas, here are five fundraising email examples with best practices for how to ask for donations in email.
1. Tell a story
To inspire your audience to donate, they need to empathize with those in need of their support.
And the best way to do that? Storytelling.
Here are some strategies for using beneficiary stories to win supporters' hearts — and donations:
Focus on an individual in hardship — research shows we empathize more with a "single identifiable victim" than a large, faceless group with the same challenge.
Make this individual as relatable as possible to your audience, for example choose someone from a similar demographic (age, gender, geographic location, etc.).
Play on the senses and use specific details to bring the story to life.
This fundraising email example from Help for Heroes showcases these storytelling best practices:

The headshot image and words "Meet Carl" introduce our protagonist. The story then gets straight to the point with specific details about Carl and his hardship.
The quotes that follow let him explain in his own words the emotional impact. The images reinforce that this is a real person with a life and family.
In the final section you learn what changed thanks to the support he received. The image placement follows the story thread to highlight the difference in Carl at the beginning and the end.
Notice too, the email copy. Sentences are short and easy to read. Meanwhile, the pronouns draw the reader in. The story uses the first person "I", before shifting to "you" (the supporter). Mentions of the organization, in contrast, are sparse. Cutting out this "middle man" shows donors the personal difference they can make.
2. Focus on impact
Donors want to know you'll put their money to good use. One survey found that the top two factors encouraging people to give were: "The charity is clear on what donations are spent on" and "Learning about the impact which the charity has".
A fundraising email isn't just about pulling the readers' heartstrings. You must also include proof of your project or service's impact.
This example from CLIC Sargent does both: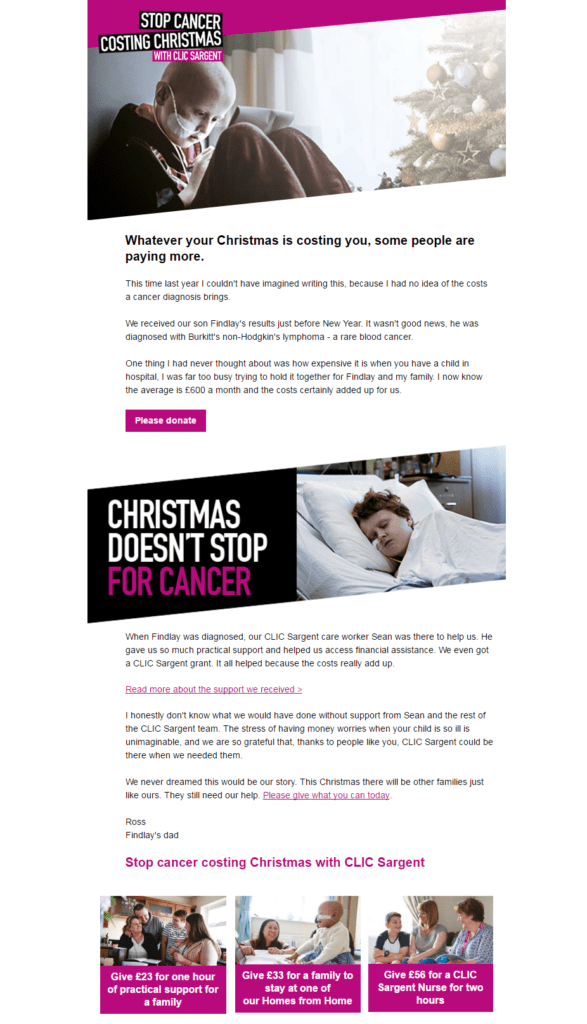 What gives this impact story extra clout is that it's written from the view of the beneficiary.
Plus, it's relatable. Despite the family's extreme situation, readers can empathize with the pressures of holiday season.
Specifics like the £600 a month cost of having a child in hospital show the need for support. The email goes on to detail how donations help, including the boxes highlighting suggested amounts and what they'd pay for.
3. Have a clear call to action: Donate
Remember the age-old fundraising mantra? If you don't ask, you don't get.
And once isn't enough.
Your email should weave in multiple donation requests. See how Amnesty International does it in their email fundraising appeal: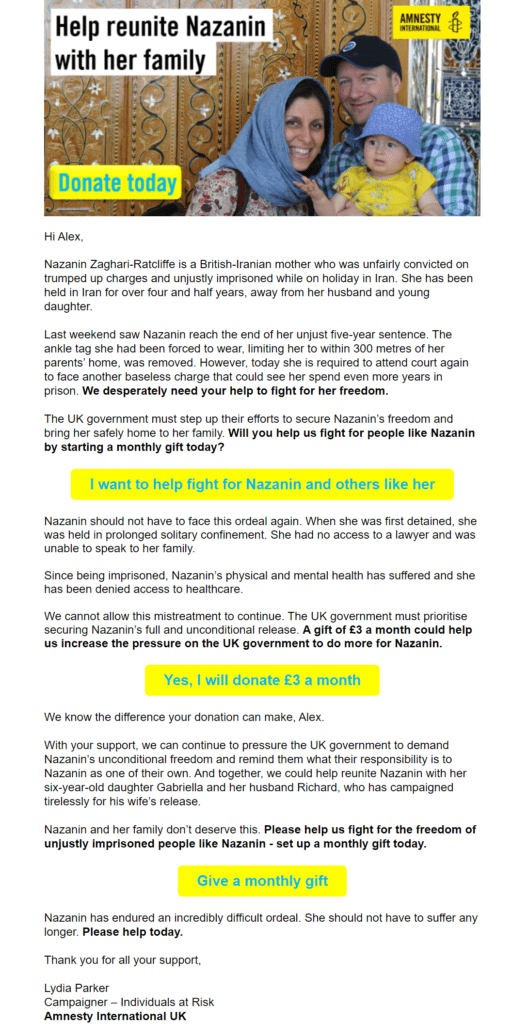 The first thing you see — the email banner — is a call to action (CTA) linking to the campaign donation page. The following donation buttons and hyperlinked bold text lead to the same page.
Fundraising emails should have one goal: getting people to donate. So, like Amnesty's example, avoid distracting the reader with conflicting links and asks.
This doesn't mean you can't mix up the wording of your donation ask though.
The example above has the sole aim of getting supporters to set up a monthly gift. But, the copy varies each time, using call to action best practices such as:
Powerful verbs like "fight"
Words suggesting urgency, including "today" and "now"
Personal pronouns ("I" and "you")
Remember, impact is more important than the donation. So adapt your messaging accordingly. In Amnesty's fundraising campaign, supporters are not giving money, but Nazanin's "freedom".
Donors also respond better to asks that are more limited in scope. In this case, helping Nazanin sounds achievable and is thus more appealing than, say, freeing all those unfairly imprisoned.
4. Keep your design simple
Don't put style over substance. An overcomplicated design will distract supporters from the ultimate goal: donating.
Take charity : water's minimalist end-of-year fundraising email. It has all the key elements — logo, headline, authentic image, supporting details, CTA, and donate button. But the email remains as short as possible and has a clear layout with three main colors.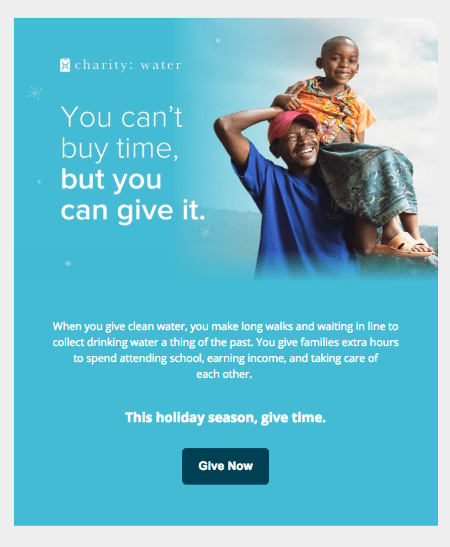 The email is a mere 50 words or so. But within this it draws the reader in with an intriguing headline, states the problem, solution, and impact, then ends with a catchy CTA.
Note too how the text layout leads your eyes to the most important part, "Give Now", while the darker color makes the button stand out even more.
Keeping your design simple, for example with single-column text and a clear font, also makes it easier for those viewing on mobile devices.
Tip: If you're a Brevo user, you can check how your email looks on mobile before sending and adapt your design just for these devices.
5. Follow up your fundraising email
Even if you use all the best practices above, some donors will need an extra nudge.
That's where the fundraising follow-up email comes in.
A contact might have every intention to respond to your donation request, then life gets in the way. Your message is their reminder.
You may worry about "spamming" your subscribers with follow-ups. Here, email segmentation is your answer. Use it to create a smaller list of relevant contacts to target. For example, you could exclude those who've already donated or only send to those who didn't open.
For time-limited campaigns like Giving Tuesday emails, don't shy away from sending multiple or same-day follow-ups. This is a chance to play on the sense of urgency.
Take this year-end appeal, which Big Brothers Vancouver created and sent with Brevo's email campaign software. It was part of a series of scheduled reminders that also updated supporters on the fundraiser's progress.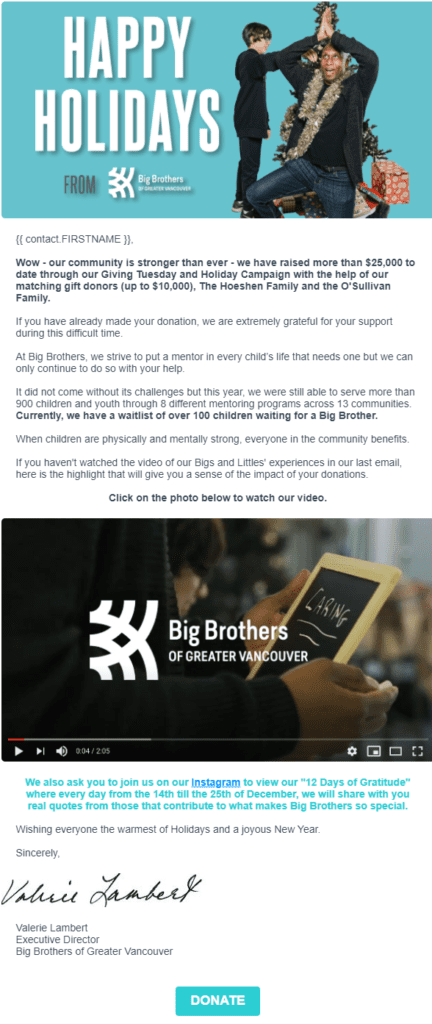 The messaging uses social proof by referencing those who've already given and the amount raised. Meanwhile, the waitlist gives a sense of urgency for those who are yet to donate. Another strategy is to highlight how close you are to your fundraising goal.
4 More Fundraising Email Best Practices to Drive Donations
Aside from your email content and design, there are other best practices to bear in mind before hitting send on your fundraising campaign.
Here are some final tips for a top-performing fundraising email:
1. Before you start: sort your list
Before sending your fundraising campaign you need a clean email list. This means subscribers are:
Valid — the email address is correct
Engaged — they regularly open and click your emails
Contacts that don't fit the above criteria may unsubscribe on receiving your message or mark it as spam. Your emails are also more likely to end up in junk mail and never reach your audience in the first place.
In nonprofit email fundraising, you must also consider if you have the right consent from contacts, i.e. they've explicitly agreed to receive your donation requests via email. If not, depending on the local data protection regulation, you can face hefty fines.
How-to: Easily clean your email list using Brevo
2. Personalize your message
Personalization goes beyond using the donor's first name.
You should use contact information to tailor your fundraising email throughout. One way is to insert unique details, like suggested gift amounts based on previous donations.
Alternatively, you can send a different version of your email to groups within your contact list using a segmentation tool. For example, you could adapt your messaging for:
New donors or supporters
Major donors who've made significant gifts to your organization
Regular givers
Different demographics, like age groups
3. Write a killer fundraising email subject line
Your email subject line is the first thing a contact will read from your campaign. So it can be a dealbreaker for your open rate.
The best fundraising email subject lines are:
Short — After around 60 characters (or even less on mobile) it will be cut off.
Intriguing — Give contacts a reason to open, for example use a question so they'll open your email for the answer.
Urgent — Use words like "now" to get recipients to act.
Here's an example subject line in desktop and view from Amnesty International's fundraising email:

In a nonprofit context, authenticity is also key. While tactics like curiosity and urgency are effective, don't overstuff your donation request email subject line with these tricks. It can come across as "salesy" and turn off donors.
4. Send at the right time
So your campaign is ready to go. Now for the golden question: What's the best time to send a fundraising email?
You're right to ask — the send time can impact opens, clicks, and most importantly donations.
Brevo's study on the best time to send an email found that, for clicks and opens, nonprofit campaigns achieved the highest rates on Tuesdays and Wednesdays between 3 and 4pm.
However, the best advice is to test for your audience. Take the same fundraising email and try two different send times or days to see which brings in the most donations. Then use any insights to inform future campaigns.
Boost Your Email Fundraising With Brevo
Now you have the knowledge, you need an email marketing software that's up to the task. And Brevo has the tools you need.
The free plan gives you:
Unlimited contact storage
Easy list management to help you target your campaigns
Personalization features to tailor content to each contact
A drag-and-drop email builder to quickly design professional, mobile-friendly campaigns
A helpful support team available via email
Brevo lets you send 300 emails a day free. And when you're ready to upgrade, pricing stays accessible, starting at $25 a month for 20,000 email sends.
Why not try it out for your next fundraising campaign?