Reading time about 13 min

There's nothing worse than spending hours on an email campaign only for it to land in junk mail. This guide will help you understand what affects email deliverability and teach you some simple steps that'll instantly improve it.
Email deliverability. Even the term itself sounds quite technical. And it certainly has its complex aspects. But don't worry. You can implement email deliverability best practices without any technical knowledge.
We've broken this guide into two parts:
Part 1 will bring you up to speed on what is email deliverability and how it works
Part 2 lists 8 non-technical ways to increase your chances of inbox placement
Looking for more advanced insights into email deliverability? Download our free eBook.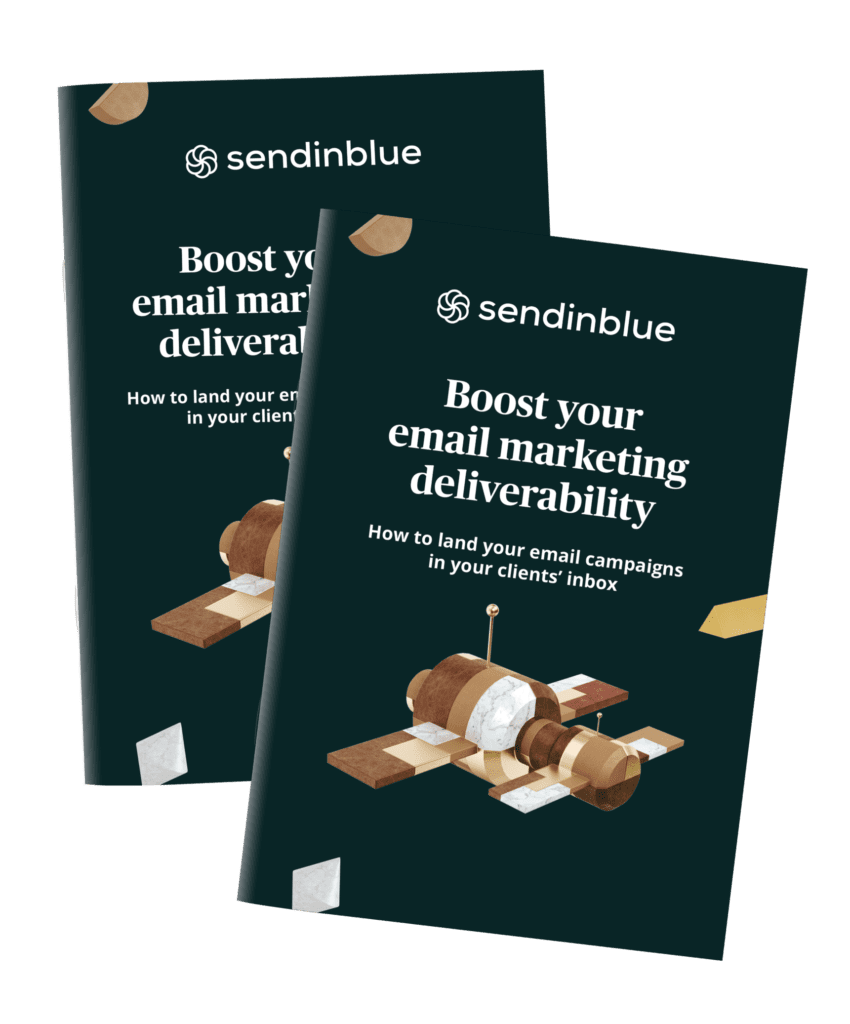 Otherwise, let's get down to basics.
Email Deliverability: What you need to know
What is email deliverability?
Email deliverability is the ability successfully deliver emails to your contact's inbox without being filtered out as spam by the email provider.
The Brevo (ex Sendinblue) Academy has an entire video explaining the concept of email deliverability. Check it out ?
What's the difference between email deliverability and email delivery?
They might sound similar but these terms actually refer to two different things.
Email delivery refers to whether or not an email is received by the server of a recipient's email provider.
Email deliverability refers to where the email lands once it's been received by the server (i.e. in the inbox or junk mail).
Why is email deliverability so important?
Because it's a crucial factor for email marketing success. Poor deliverability equals even poorer results. You could even inflict long-term damage to your brand and email sender reputation.
What's more, if your subscribers aren't getting your emails, you can say goodbye to any return on investment from your email marketing software.
But my emails always land in the inbox, does deliverability still concern me?
Yes! It's still good to know how email deliverability works and best practices. This avoids any mistakes that could damage your deliverability down the line. Prevention is better than cure, and all that. 🙂
What affects email deliverability?
Email deliverability is affected by a number of factors, including:
Sender reputation: How have your previous emails performed? Has your domain or IP behaved dubiously in the past?
Email content: Does your email campaign look like spam? Are there spam trigger words in your email subject line or content?
Technical aspects: Are your emails properly signed with the right domain and IP? Has the content been altered in any way?
How to test email deliverability
The easiest and most straightforward way to test email deliverability is to simply send campaigns and monitor the results.
More advanced email marketers may consider using a seed list to test deliverability.
What's a seed list?
A seed list is a list of test email addresses at different email providers (e.g. Gmail, Outlook, Yahoo, etc.). The goal of such a list is to measure inbox placement and rendering for different email clients.
Email on Acid offers a neat spam testing feature that lets you generate a unique seed list for each campaign.
How to fix email deliverability issues
We hate to break it to you but there's no quick fix for email deliverability issues. You'll need to repair your sender reputation to get back in the email providers' good books. This takes time.
First stop: right your wrongs and dispel any bad practices. Example: if you were previously sending campaigns to unengaged or inactive contacts, this needs to stop. Only send to engaged, opt-in lists.
As your engagement improves, so too will your sender reputation.
Now , if you want to know exactly how to improve email deliverability and avoid the spam folder, here's a list of concrete actions that you can take today.
8 Easy Email Deliverability Best Practices
These best practices apply to everyone sending marketing emails. No technical knowledge needed.
1. Remove non-existent email addresses
Cleaning your email list is one of the most important things you can do as an email marketer.
While keeping old or unengaged contacts may seem like a good idea (or at least a good self-esteem booster), it can hurt your email engagement rates and your overall deliverability.
There are two types of non-existent email addresses:
Email addresses incorrectly entered by the subscriber
Inactive email addresses no longer being used
To avoid misspelled addresses, set up a double opt-in process. Before being added to the list, the subscriber will be sent an email with a link to confirm the email address. Double opt-in is highly recommended.
Inactive email addresses will produce a hard bounce. Hard bounces damage email deliverability. These need to go.
Brevo makes the job easy, though. We automatically blacklist any addresses that produce a hard bounce. This means they won't be able to receive any more emails from your account. 
You can see all of your hard bounces by filtering them in the contacts page in your account.

Another good reason to remove inactive emails is the threat of spam traps.
What's a spam trap?
A spam trap is an email address used by email providers to identify spammers using old, abandoned email addresses. How it works: The email provider knows the address is out of use. So when an email comes through, it's obvious the address was obtained unlawfully (either scraped or purchased). The sender is then marked as spam for all recipients on that platform.
2. Remove unengaged subscribers
Got subscribers who haven't opened emails in six months? Or even a year? Get rid.
Unengaged contacts hurt deliverability. They lower your campaign engagement rates, which ties back to your sender reputation with email providers.
What's a sender reputation?
Sender reputation is one of the criteria email providers use to determine if you are a bad sender. It's based on past email engagement, spam complaint rates, and other previous emailing behavior.
There are a number of reasons a subscriber might become unengaged:
Your emails don't reach their inbox (they're filtered into spam)
The person is no longer interested in your business
They receive too many emails and yours are lost in the mix
So, what can you do? Start by sending a reactivation email asking if they still want to hear from you. If they're no longer interested or don't respond, remove them.
How to easily remove unengaged contacts in Brevo (ex Sendinblue)
Brevo users can easily improve engagement rates by simply excluding unengaged contacts when sending an email. These are identified by a pre-defined segment. You'll find the option in the campaign editor when selecting your contact list.

The pre-defined unengaged segment is perfect for beginners but you can always customize it according to your preferences.
To edit the segment, click Contacts on the dashboard, then Settings. Hit Configure in the box 'unengaged contacts'.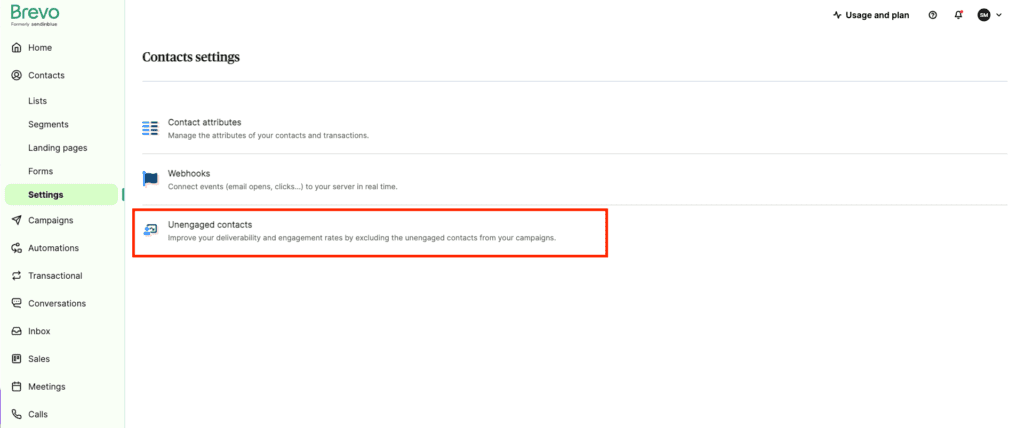 From there, you can define your own conditions for the segment.

This is a super easy way to protect your sender reputation and deliverability. Don't have a Brevo (ex Sendinblue) account yet? Test-drive our free plan in just a couple of clicks.
3. Only send to opt-in contacts
This one's a no-brainer.
For many people, the inbox is a curated space. Unsolicited emails are seen as an invasion of privacy, and don't go down well.
Send a marketing email to someone who hasn't opted in and it'll probably get marked as spam.
Not only that, but you risk breaking data protection laws like the GDPR.
The bottom line: Only send to contacts that are 100% opt-in and never buy email lists.
4. Stick to your sign-up promise
Another easy one. Only send the kind of content your subscribers have opted in to receive.
Be clear on your email signup form about the type of emails you'll be sending and the frequency.
Use clear language on your opt-in forms so you don't upset your contacts with unwanted emails.
5. Avoid spam words in email content
When the email provider receives an email, it checks the subject line and content for spam words and phrases.
Did you know there are specific types of content that trigger the spam filter? When writing email copy, avoid the following:
Writing in all caps
Using too much punctuation (i.e. overuse of exclamation points)
Using red font
Overuse of spam words (free, cheap, bargain, $$$, bonus, urgent, don't wait!, etc.)
HTML errors
Take special care with subject lines
Your email subject line also affects deliverability.
When crafting subject lines, be sure to:
Avoid click-bait and false promises. Sure, it might get someone to open the email, but it'll also lead to frustration and loss of trust. This drives people to unsubscribe and report you as spam. All in all, a great way to kill your sender reputation.
Make the subject line interesting, intriguing, and relevant. As mentioned above, you shouldn't oversell your content. But, you should still make your subject line enticing. Check out our list of best email subject lines for inspiration.
5. Make sure the sender is easily recognized as you
When your email shows up in your customer's inbox, you want to make sure they know it's from you. You wouldn't ring someone's doorbell with a mask on, right? (unless it's Halloween of course ? )
Jokes aside, you want your marketing emails to look professional.
Use your business website domain in the sender email address. This avoids any sketchy vibes and your contacts will take you more seriously.
When setting the sender name (the name that appears as the sender in the inbox), choose a name that includes your business name in it as well.
For example, I send our newsletter as "Jeff @ Brevo." That way, recipients know that it's coming from Brevo, but with the personal touch that comes with adding my name. You can also go with the classic "[Company] Team," though this isn't as personable.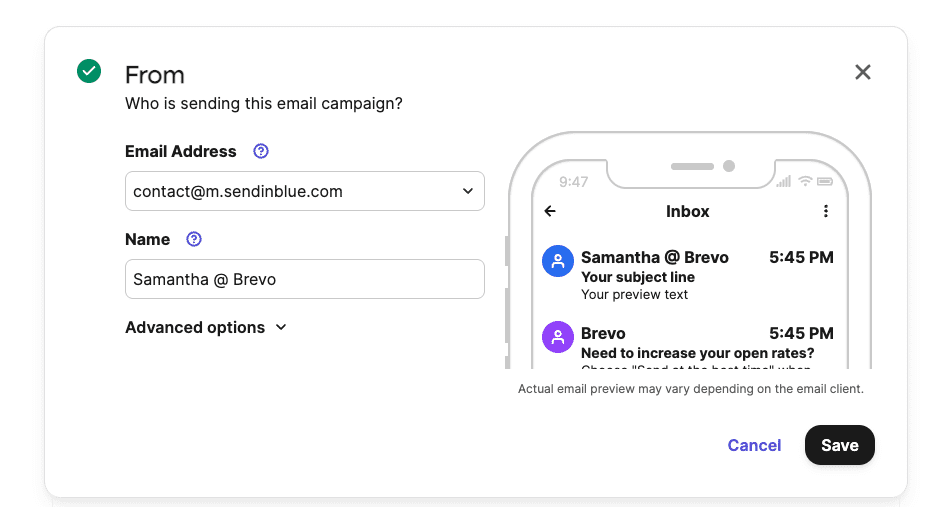 If you use your normal first and last name, recipients won't know it's from you and they might just delete it straight away.
7. Send consistently
Consistency is another important factor for improving reader engagement with your email campaigns. Find the right timing and frequency helps by:
Placing your email in readers' inboxes at the time when they're most active
Creating expectations for your readers so they know when to look out for your new campaigns
Finding the right time of day or day of the week to send emails may take some testing — every audience is different. But it will pay off in the end.
Both of those increase the likelihood that contacts will open and click on your emails. And remember, anything that improves engagement, improves deliverability as well.
Brevo's Send Time Optimization feature eliminates any guesswork by choosing the right time based on previous engagement data. It's available on our higher plans. 
8. Make it easy to unsubscribe
We've said it before, and we'll say it again: you do NOT want to keep contacts in your list if they aren't interested in your content. This will only hurt your engagement.
Make it easy for them to unsubscribe if they've lost interest. Otherwise, they might get frustrated and just send you to spam.
And by making it easy, we mean having a clearly visible unsubscribe link in your email footer.

Don't hide the link. Also, one simple click is all it should take. Don't ask people to sign in or jump through hoops. That's just annoying.
All the better if your email is configured to include a list-unsubscribe header. This'll show the unsubscribe link at the top of your email as well. It's automatically set up on all Brevo campaigns.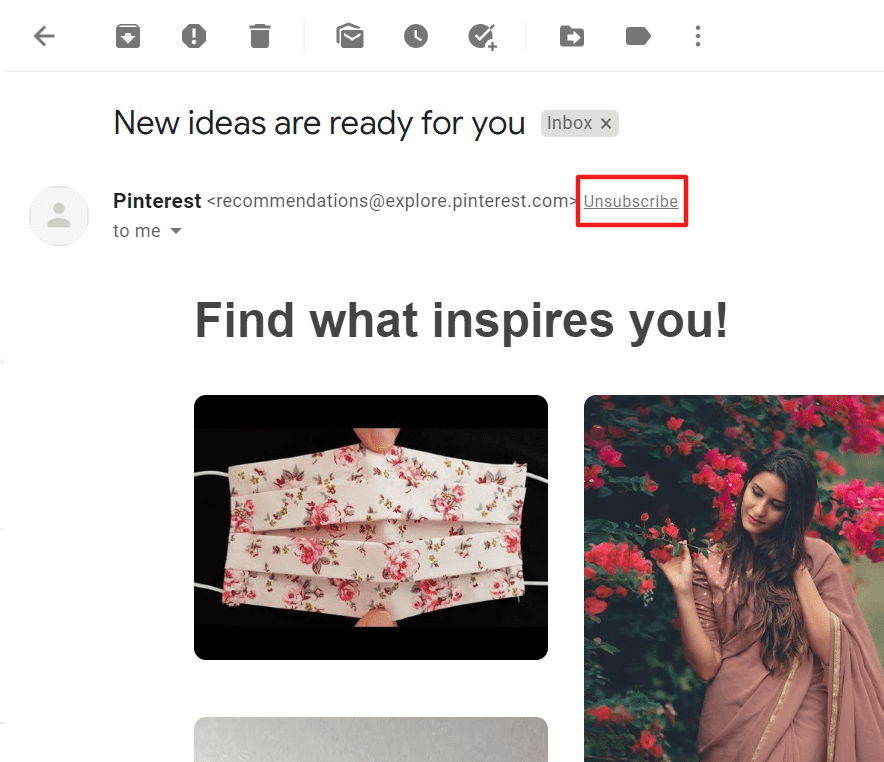 Email using a list-unsubscribe header
You mightn't think it, but the unsubscribe link is your friend. It'll help you maintain an engaged email list which leads to better email deliverability.
Improve your email deliverability today
By now you should have a clearer picture of what affects email deliverability and how to make sure your emails reach the inbox.
Remember the key takeaways:
Remove unengaged or inactive contacts
Maximize meaningful engagement with your emails
Only send messages to contacts who want to receive them