Monitoring the email marketing metrics of each campaign you send helps you optimize and improve. But how do your emails stack up against the competition?
What's a good open rate? Do you get too many unsubscribes? How are others in your area doing?
As the marketing platform of choice of over 500,000 businesses around the world, we compiled a comprehensive report on email marketing benchmarks for 2023.
You'll find benchmark data of email marketing campaigns across geographies and industries as well as best practices to improve your email marketing performance.
Our Methodology:
The Brevo Email Marketing Benchmark is based on campaign data of Brevo customers over 12 months (January 2022 – December 2022).
The key metrics included are email open rate, email click-through rate (CTR), unsubscription rate, and email bounce rate.
The results displayed are the median value of the KPI examined. It's more meaningful than the average because it excludes outlier values.
2023 Email Marketing Statistics: Overview
Here are the global median values of all essential email KPIs according to our analysis.
Open rate: 21.89%
Click rate: 3.96%
Unsubscribe rate: 0.15%
Bounce rate: 0.51%
2023 Email Marketing Statistics by Region
After analyzing the data, here are the top takeaways to benchmark your email marketing against other businesses in your region. How do you compare?
North America
The North America region has a little below average open rate and average click-through rate. Unsubscribe rate is high. This shows that email recipients in North America are more likely to hit the unsubscribe button if the email content doesn't interest them.
Open rate: 20.74%
Click rate: 3.06%
Unsubscribe rate: 0.17%
Bounce rate: 0.57%
APAC (Asian-Pacific region)
Email campaigns in the APAC region get the lowest open and click rates which means subscribers in this region are least engaged. For best results, we recommend A/B testing different call-to-action buttons to find what spurs this tough crowd to action. The good news is that the average unsubscribe rate in the region is low.
Open rate: 20.32%
Click rate: 2.83%
Unsubscribe rate: 0.11%
Bounce rate: 0.58%
EMEA (Europe, the Middle East, and Africa)
The EMEA region has an average open rate and the highest click rate. However, the unsubscribe rate is also the highest. This shows high engagement rates but also high subscriber expectations of email communication with brands.
Open rate: 21.34%
Click rate: 4.88%
Unsubscribe rate: 0.19%
Bounce rate: 0.39%
LATAM
Brands in LATAM enjoy the highest open rate and a high click rate. Coupled with a very low unsubscribe rate, email is a strong marketing channel in Latin America.
Open rate: 23.61%
Click rate: 3.29%
Unsubscribe rate: 0.06%
Bounce rate: 0.63%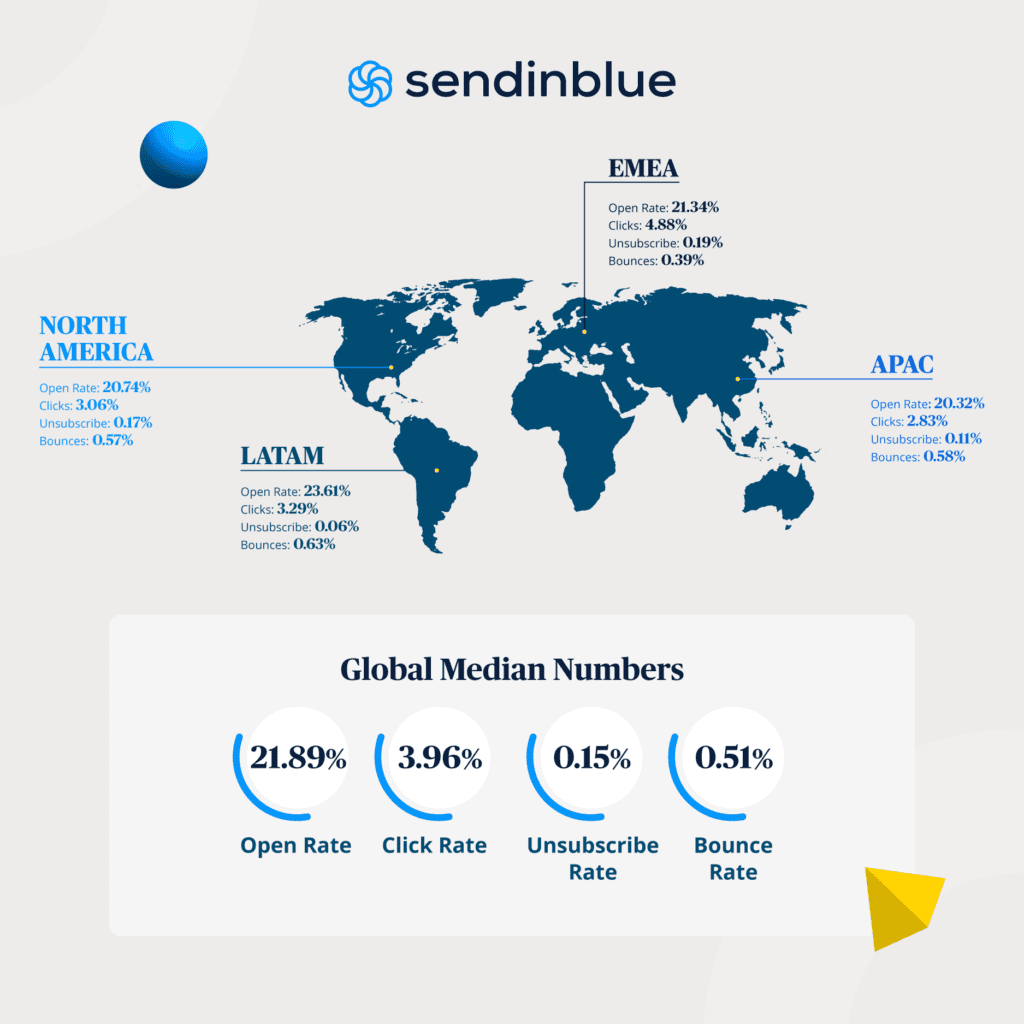 Email Marketing Benchmarks by Industry
For a clearer picture, we also took a look at email marketing results by industry as these can vary widely. Here's what we learned:
Emails sent by nonprofit organizations have the highest open rate and the lowest unsubscription rate.
Discover more: Email marketing for nonprofits
Emails from science-related organizations get the highest click rate and some of the lowest unsubscription rates.
Ecommerce businesses have the highest unsubscription rates but are among the industries with the lowest email bounce rates.
Find out more: Ecommerce email marketing
Emails from News & Politics entities have the highest bounce rate and some of the highest unsubscription rates.
The Religion and Spirituality industry comes in second with very high open rate and click rate.
The Sports & Hobbies industry has the lowest bounce rate of all.
Top performers in email marketing: industry x region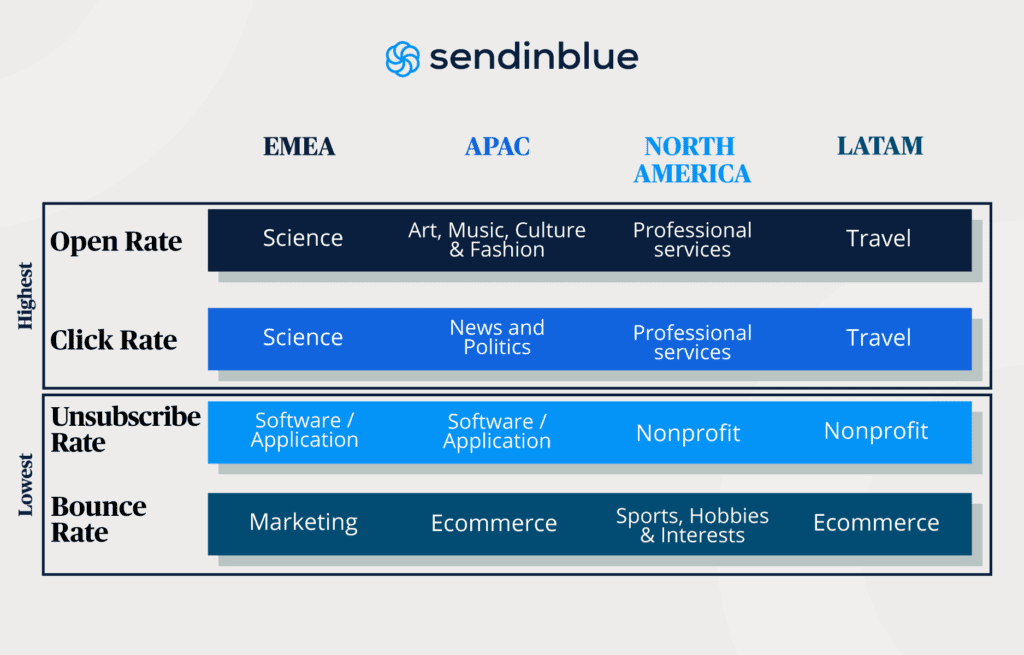 Best Practices to Improve Your Email Campaign Statistics
Now you've got the data, it's time to see how your campaigns compare. Are your open and click rates in line with those of your industry and region?
If not, you can improve performance by making these simple adjustments to your email marketing strategy.
1. Segment and personalize
The most successful email strategies we've seen all include personalization.
A personalized email speaks directly to a subscriber's needs and interests. Unlike a one-size-fits-all campaign, it creates a better sense of connection and builds trust in your brand.
Start by giving your subscribers a choice of content preferences at signup. Adding extra checkboxes to your form, like those offered by Brevo's multi-list subscription, will help tailor email content to different segments of your audience.
Discover more tips like this in our guide to email personalization.
2. Clean your email list regularly
Email list hygiene is essential for maintaining deliverability. When it comes to email list management, follow these simple rules.
Never buy email lists as this can impact your sender reputation.
Use double opt-in to make sure you don't send unsolicited emails and get marked as spam.
Take action with unengaged contacts — either win them back or prune them as their inactivity impacts your overall campaigns statistics.
Choose an email marketing service that automatically blacklists bounce contacts so you don't have to do it manually.
3. Automate engagement
The easiest way to engage your audience at scale is to automate messages at different points of the customer journey.
Welcome emails, birthday offers, abandoned cart reminders — all these can be automated. By delivering the right message at the right time, you keep engagement levels high.
Email automation saves time and resources, enables greater personalization of the customer experience, and allows your marketing efforts to scale. All in all, it improves your ROI as it drives conversions with minimal effort.
Remember, automation goes beyond email. You can also trigger automated messages via SMS, WhatsApp and push notifications. Think about a 360-degree multi-channel strategy covering every touchpoint of the customer journey.
Brevo gives you all the tools to connect to your customers, nurture relationships, and grow your business. Email, transactional emails, SMS, WhatsApp, CRM, push notifications, live chat, appointment scheduling, online meetings, and more available within a single platform.
Email: One of the more eco-friendly marketing channels
According to a study we recently conducted, email marketing can reduce a business's carbon footprint by up to 90% compared to traditional marketing methods. Print ads, billboards, and direct mail campaigns require the use of paper, ink, and other resources that contribute to environmental pollution. On the other hand, email marketing is a paperless and eco-friendly alternative that significantly reduces the carbon footprint of a business.