WooCommerce email is among the first things to set up if you're using their software to run your online store. WooCommerce is an ecommerce platform by WordPress, built for selling products rather than just displaying content like a regular site.
Email marketing is the most direct way to communicate with potential and existing customers. It's powerful for promoting your ecommerce business and building a relationship with your audience. You can also contact individual customers with essential information like order confirmation emails.
If you're just starting out, here are the basics of WooCommerce email. Discover the different kinds of emails you can send, what WooCommerce itself offers, and how to develop it into a full-fledged email marketing strategy.
What Types of Emails Can You Send with WooCommerce?
WooCommerce does collect emails of customers at checkout. This makes sending the following basic WooCommerce emails possible:
New order
Cancelled order
Failed order
Order on hold
Processing order
Completed order
Refunded order
Customer invoice
Customer note
Reset password
New account created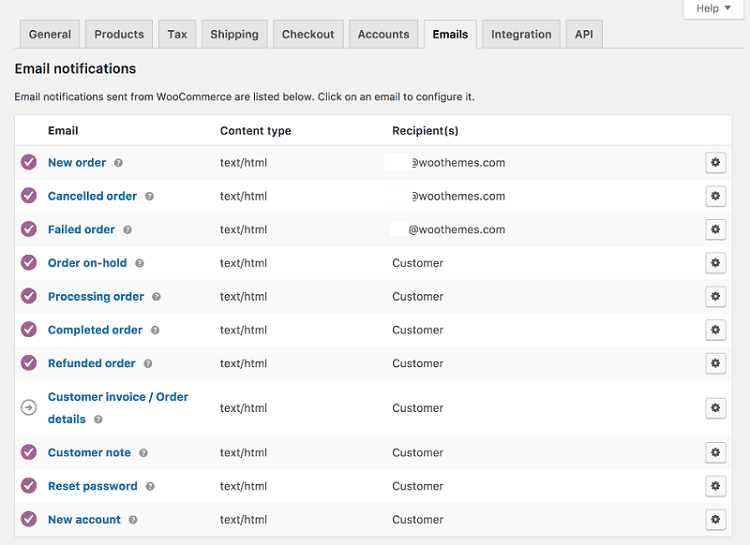 You can choose which ones to turn on from the email settings in your WooCommerce admin. Then, different customer actions will trigger an automated email.
However, these emails use the WooCommerce default templates, which means no customization or branding. They are simply an email notification for the customer.
To customize your WooCommerce emails, you need a third-party tool. As you would if you want to send any promotional WooCommerce emails since there isn't built-in email marketing functionality. All in all, you can send basic emails with WooCommerce but not post-purchase emails.
The Best Marketing Emails for WooCommerce Sites
An ecommerce marketing strategy isn't complete without email. To promote and grow your WooCommerce store, make sure you have the tools to send the following customer emails:
Transactional emails
Transactional emails are administrative and operational emails, essential for running a WooCommerce store. If you don't send these WooCommerce emails, customers may wonder whether their order was successful.
Transactional emails for WooCommerce include:
New account creation
Password resets
Welcome emails
Order confirmations
Order status changes
Shipping updates
To learn more, check our guides to transactional email examples and transactional email design.
Promotional WooCommerce emails
Promotional or marketing emails are one of the best ways to drive traffic and sales for your WooCommerce store. They usually feature special offers, sales, and new product announcements.
On big shopping days like Black Friday, Back to School, Valentine's Day, Mother's and Father's Day, and so on, people would also expect some kind of deal. Most ecommerce stores compete for attention on these occasions since they know shoppers will buy more than usual.
Here are a few more resources on holiday email campaigns:
Mother's Day Email Marketing Ideas
Newsletters
Newsletters in ecommerce are a special email type. They do contain offers and deals, but are more regular than other promotional emails (e.g. weekly or monthly). The aim is to keep people engaged with your brand.
A WooCommerce newsletter plugin will let you collect subscribers, segment them by interests and preferences, and send beautiful emails. Here are our best tips on how to increase the effectiveness of your WooCommerce newsletter.
Automated emails
Some WooCommerce emails can be automated to give a perfectly-timed response to a customer's action. Triggered emails can:
Onboard a newly registered contact
Upsell or cross-sell after an order
Recover abandoned carts
Ask for a review
Reactivate an idle customer,
Send tailored content after a contact shares their interests in a form
Engage individual customers when they reach VIP status by order value
…And much more!
Such automated emails can drive engagement and revenue while you take care of manual tasks.
Best Practices for WooCommerce Email Marketing
How can you make sure that your WooCommerce emails get the best possible results? Here are the best practices to follow:
This means asking new subscribers to confirm they want to sign up before adding them to your mailing list. This way, you get truly interested people who'll open and read your emails, which helps your email reputation, and thus deliverability.
Clean up your list
Similarly, it's best to remove disengaged contacts from your list who'll hurt your reputation. Either go through it regularly, or automate list cleaning to avoid emails going to spam.
Segment lists
Instead of sending the same promotion or newsletter to everyone on your list, segment your email contacts by interests or shopping behavior. Then send tailored information and deals. You can ask for preferences in your signup forms to segment your lists from the get-go.
Personalize
WooCommerce allows you to use different customer attributes like name, location, order history for personalizing emails. This will make them more accurate, useful, and relevant for recipients.
Pay attention to subject lines
This is the first thing people see from your WooCommerce email in their inbox. So, it's a big factor in whether or not they'll open. Here's how to write attention-grabbing email subject lines.
Automate more channels
WooCommerce email is not the only way to communicate with customers. SMS marketing, push notifications, and live chat are also staples of WooCommerce marketing.
Measure performance
Compare how you're doing to our email marketing benchmark to make sure everything's going smoothly. The average email open rate is 25.85% and the average click rate is 1.27%.
What to Look For in a WooCommerce Email Tool
If you're feeling overwhelmed, no need to panic. You can send all these WooCommerce email types following the best practices with an all-in-one platform like Brevo.
What are the benefits?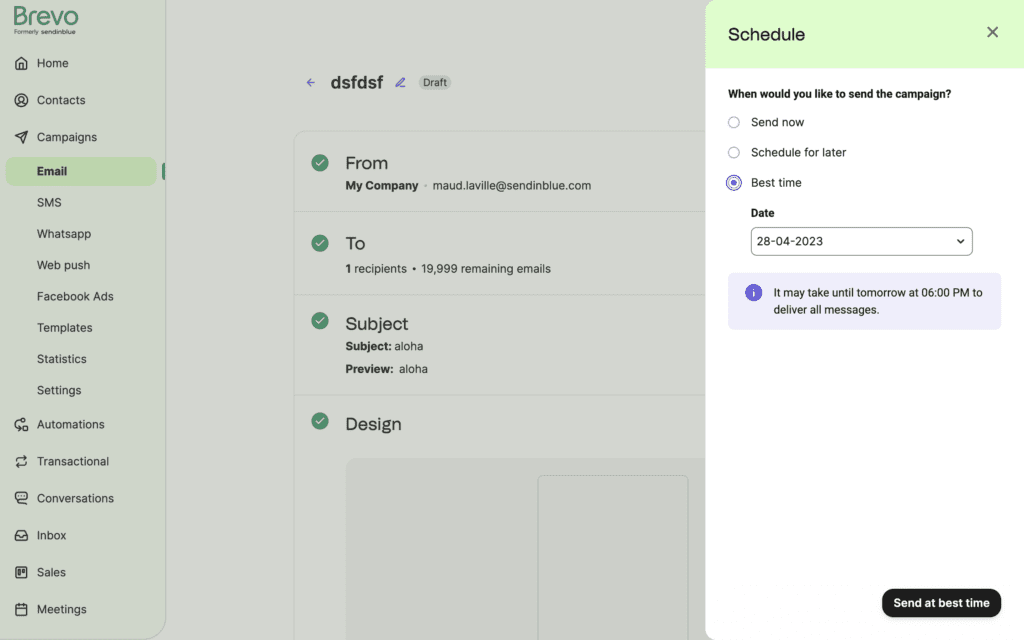 Automatically sync new subscribers and update subscription status for GDPR-compliant and segmented campaigns.
Create your own email templates for WooCommerce orders with an easy-to-use drag and drop editor.
Personalize emails with dynamic customer data like names, order details, products in cart, etc.
Send newsletters and promotional campaigns.
Automate abandoned cart reminders, upselling, reactivation, loyalty rewards, and more.
Monitor email performance in detail. See how each contact interacted with a campaign.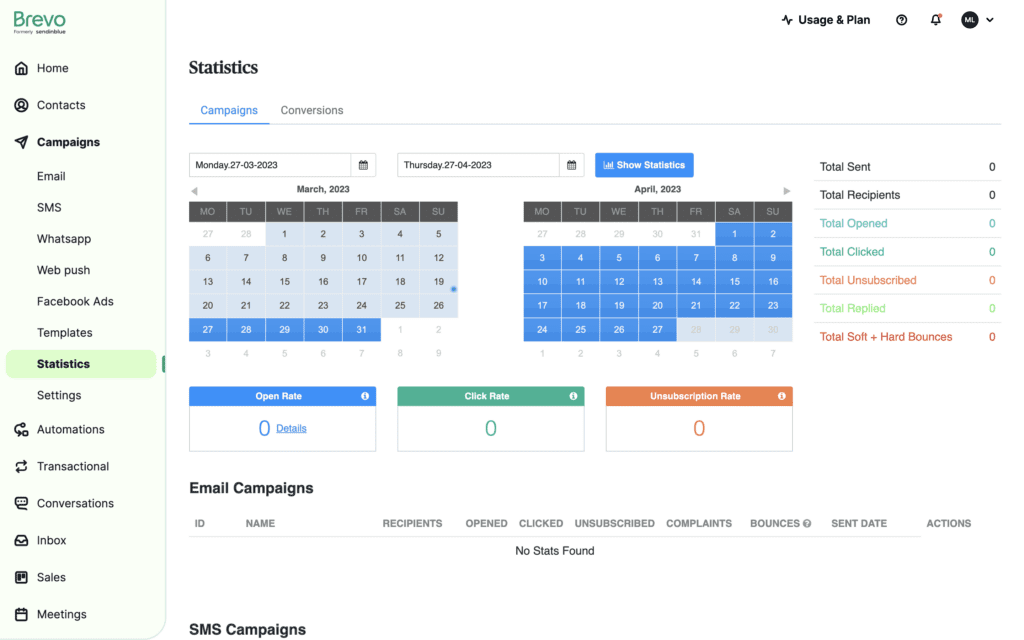 Sending Your First WooCommerce Emails with Brevo
Sending your first ever email or taking your marketing to the next level is fast and easy with Brevo's WooCommerce email plugin.
Create a free account or log in if you already have one.
Go to your WooCommerce admin.
From Extensions > Add select the Brevo plugin for WooCommerce
Follow the steps of installing the plugin.
Your account will go through validation. If you only want to send email campaigns, just sit back and relax.
The plugin will automatically sync your contact list and attributes (names, phone number, address, orders, etc.). You can start sending campaigns from Brevo right away. Every time you get a new contact in WooCommerce (when they sign up for your newsletter or subscribe to marketing emails at checkout), they'll be synced in real time as well.
From the Email options tab in your WooCommerce admin, choose to send your New order, Processing order, Refunded order, and so on via Brevo's transactional email service. This will improve deliverability of these crucial emails and let you customize them. For example, you'll be able to send an order confirmation email on WooCommerce that's not generic and includes all details of a customer's order.
SMS campaigns are also available right after integration and account validation. Set up automated order confirmations or shipping updates from the SMS Options tab in your WooCommerce dashboard. Promotional SMS can be set up from the SMS Campaign tab.
To send automated emails, make sure to turn on the "Marketing Automation" tab in your admin. This will allow Seninblue to track activity on your site and send automated campaigns like recovering WooCommerce abandoned carts.
Brevo offers a wide range of ready-to-use WooCommerce email templates for all your campaigns. Welcome, confirmation, blog, offer, anniversary, and more — you can find them free in the "Template Gallery" tab when building a new email.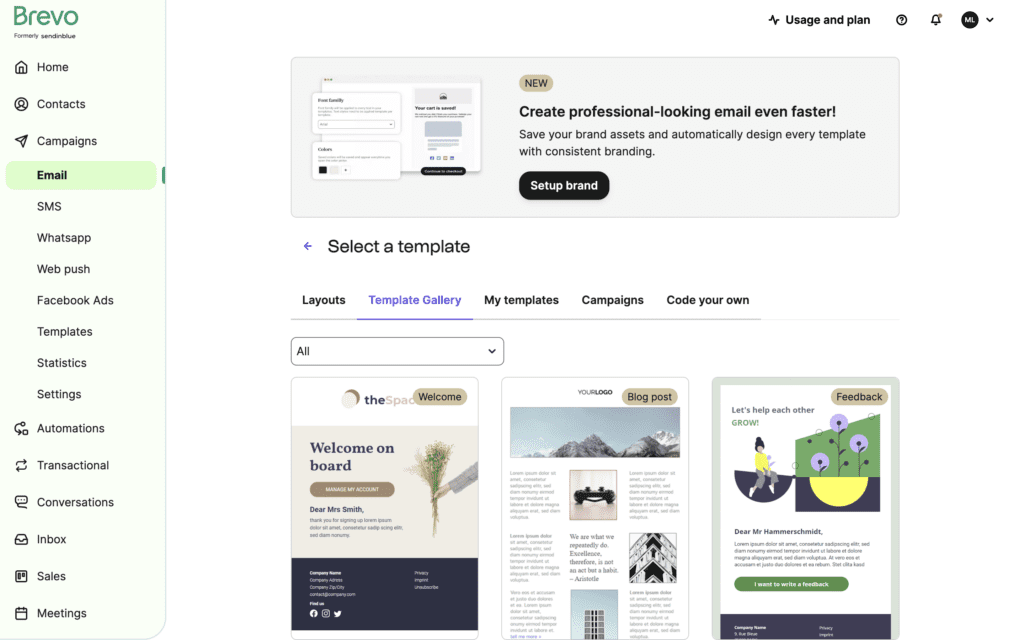 Jumpstart your WooCommerce email strategy with Brevo
Free plan includes access to all core email features, 300 emails/day, 40+ email templates, and customizable signup forms to grow your email list.