Are WhatsApp broadcasts legal, you ask. Before, WhatsApp allowed only transactional messages and guarded against any bulk messaging. Now, they've released the WhatsApp Business API to expand WhatsApp's marketing capabilities and added a new, non-transactional message format perfect for mass messages.
With the API, promotional WhatsApp newsletters or broadcasts are legitimate and easy to send via WhatsApp campaigns. Let's look into how your business can use them to reach and engage customers.
What is a WhatsApp newsletter?
A WhatsApp newsletter or broadcast is a one-to-many message a business sends to its WhatsApp opt-in contact list. By nature, it's a mass message just like a promotional email. But WhatsApp end users see it as an individual chat with your business and if they respond, it'll be one-to-one communication.
Basically, it's similar to bcc emails where recipients don't see who else got the same email.
WhatsApp newsletters have nothing to do with WhatsApp group messages that people exchange with friends and family. In a group, all members see each other and can communicate among themselves. A broadcast is a mass message that recipients get and can interact with individually.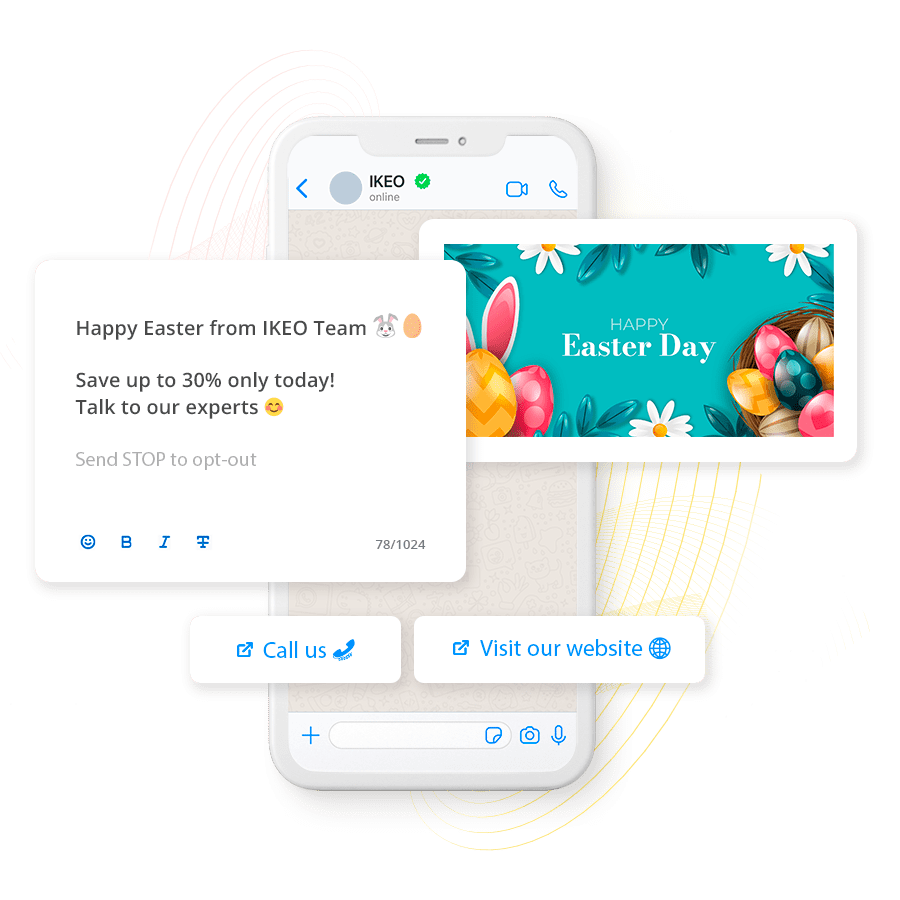 Example of a WhatsApp newsletter sent by a brand
They can only be sent via the API. Here's how to create a WhatsApp business account and start using WhatsApp campaigns.
WhatsApp newsletters work great for sending time-sensitive updates or promotions to your customers and are an alternative to email marketing and SMS.
Why is a WhatsApp newsletter such a great marketing tool?
Just a few of the advantages of sending a WhatsApp broadcast:
WhatsApp messages get 100% delivery rates, around 98% open rates and are read almost instantly
It's the most popular messaging app so very likely that your target customers are on it
Never go to spam because there's no such thing in WhatsApp
Various media formats supported so a WhatsApp broadcast message can be content-rich and very attractive
All WhatsApp campaigns are tracked and performance is measured
WhatsApp marketing promises high engagement rates with minimal effort, which is something to get small business owners excited.
WhatsApp newsletter rules for user protection
WhatsApp is focused on keeping the end user experience pleasant and so they have very strict rules against spam in place. This means you can't just start sending WhatsApp broadcasts, they need to be approved first. The API handles that process painlessly, though, so with the right provider you can create, submit, and schedule broadcasts as easy as emails.
Here are WhatsApp's basic requirements for sending mass messages:
Message templates need to be pre-approved (they check the content for spam). You can't send free-form messages as WhatsApp broadcasts.
There's a metric called quality score which impacts your sending quota, a lot like email sender reputation. You need to maintain it high or your WhatsApp account can get blocked.
Only opt-in contacts can receive WhatsApp newsletters. Otherwise, they can easily report and block your number, which in turn affects your quality score.
Best practices for WhatsApp broadcasts
Don't be put off by WhatsApp's rules. They're meant to catch spammers. If you follow the guidelines and are considerate of your contacts, you shouldn't run into any problems.
1. Ask for opt-in consent
WhatsApp newsletters are like email newsletters, you need consent from recipients. It can be collected with signup forms, email CTAs, QR codes on print materials, Facebook ads and CTA buttons, etc.
What's really important here is to keep the checkbox separate from the one for marketing emails as it's a different channel and it's against GDPR to put them together. If you have two separate checkboxes for WhatsApp marketing and transactional updates, even better.
2. Send high-quality campaigns
Relevant and timely WhatsApp broadcasts will always be received well as they enhance the customer experience. If people find them useful and not intrusive, they won't complain. And your sending quota can only go up if you consistently get good engagement. Use common sense just like you would when using bulk mail software for mass campaigns.
3. Personalize your WhatsApp newsletters
Even though they're mass messages, you can still segment contacts by products bought or interests, and add the person's name dynamically to make it more engaging for each individual and less likely to be perceived as spam.
The WhatsApp API integrates with CRM tools so you can use the customer data available to create sublists and send a few tailored WhatsApp newsletters.
4. Reuse approved templates
Once you have a template approved, you can reuse it for a new broadcast without asking every time (provided you don't change it, of course). That's one shortcut to save you time when you need to send a technical issue alert, for example.
5. Create a multichannel experience
WhatsApp broadcasts add to the customer experience when used in conjunction with other channels (email, SMS, chat, web push notifications, and so on).
Different communication needs call for different channels. Assisting a potential customer with their first order is best done via live chat on your website.
An abandoned cart alert might work via a push notification when the customer tries to click away or via email after a day. But time sensitive alerts and offers are better sent directly off-site, to a mobile device everyone checks regularly on the go.
This brings us to our next point, when to use WhatsApp broadcasts.
Use cases for a WhatsApp newsletter
Generally, WhatsApp broadcasts work for more action-oriented messages when it's important that the recipient sees it fast wherever they are and possibly click through.
Here are a few WhatsApp broadcast ideas for you:
Back in stock alert to contacts on a waiting list
An early-bird offer for loyal customers
A holiday-themed newsletter to a specific geographic segment
Monthly company news updates
A daily menu update if you're a local cafe
Security announcements for event goers
Technical issue update to customers with outstanding orders
Invitation to a new location opening
Announcements to which users might reply with questions
Related: 5 Best Examples of WhatsApp Advertising Messages
How to broadcast WhatsApp newsletters
WhatsApp broadcasts sound useful, don't they? If you're ready to start sending some, here are the steps you need to follow.
1. Find a WhatsApp Business API provider
There's no direct way you can use the WhatsApp broadcast feature without a business solution provider (BSP). The API uses their interface to give you message creation, list management, and so on without coding. Brevo offers no coding access to the WhatsApp API.
Here are the 10 Best WhatsApp Marketing Software in 2022 to Send Bulk Messages.
2. Collect opt-in consent
As already mentioned, your contacts need to agree to receiving WhatsApp newsletters. Set up signup forms or CTA buttons to grow your broadcast list before sending your first one.
3. Create templates and submit for approval
Your mass message cannot be in free form. Create your template and submit it to the Meta team for review. It usually takes up to 48 hours and is done easily through the API provider.
4. Choose your WhatsApp broadcast list
You can bulk message everyone on your opt-in list or you can create sublists and tailor your WhatsApp newsletter. It's the same process as for email marketing.
5. Send or schedule
Once your message template is approved, you're ready to send it immediately or schedule it. Keep in mind that a large list will take some time to send completely and the order goes by country codes.
6. Monitor performance and improve
After the campaign goes out, you can see how it's doing in terms of delivery rate, opens and clicks. Any findings can help you adjust in the future for better results.
Want to know more? Discover everything you need to know about WhatsApp marketing in one ebook!
How Much Do WhatsApp Newsletters Cost?
You might've heard that sending WhatsApp broadcasts is free. Well, it can be done through the WhatsApp Business app that's free and doesn't require API access. However, it comes with many limitations for your campaigns:
You can message only in batches of 256 contacts at a time. So if you want your WhatsApp newsletter to reach more people, you need to create multiple lists, manually adding WhatsApp contacts each time.
Users must have to have your business phone number saved to contacts in order to receive your WhatsApp newsletter.
The free app can only be used on one mobile (android or iOS) and one desktop device, making it impossible for more people to work on it and handle customer replies.
Limiting, isn't it?
With the API, on the other hand, there's no limit and you send mass messages just like you would send an email newsletter.
Contacts lists are managed through the CRM connected to the API and you can have a shared inbox for marketing and customer service teams to handle campaigns and queries. Check out our guide for more information on the difference between the WhatsApp business app and the API.
So the API is Meta's best offer for business use. Although it's paid, every business account gets 1,000 messages free. Billing only starts after that and is based on 24-hour conversation sessions, not the number of messages sent.
Here's the official WhatsApp pricing — broadcasts are business-initiated messages. The better API providers only charge a small markup on top for the service, without any extra setup or license fees. And remember, template submission is always free, you shouldn't be charged for that. Here's a more detailed explanation how the WhatsApp API pricing works.
Try WhatsApp campaigns on Brevo
Seamless integration, no coding required, signup forms to grow your WhatsApp list and unlimited contact storage! Pay only for messages, no setup or license fees.