Reading time about 11 min

If you want to use WhatsApp for marketing, understanding the difference between the basic WhatsApp, WhatsApp Business and WhatsApp business API is crucial. They are three different tools, aimed at different users.
With 2 billion monthly active users, WhatsApp is the most popular messenger app in the world, according to 2021 data from Statista. So can businesses use WhatsApp? Yes — and not only can they use it, they should use it.
Why? Because WhatsApp is a great channel for customer service, transactional messages, and marketing campaigns. It lets you reach your audience directly on their mobile devices. People are much more likely to open a chat message as soon as it chimes in than an email.
Plus, WhatsApp offers a wide range of messaging options to add to your marketing strategy: interactive messages with quick buttons, multimedia messages, product catalog, and QR codes for your multi-channel reach.
However, it's important to choose the right type of WhatsApp account for your business size and needs. Let's go over the three options so you see for yourself which one is best for you.
At a Glance: The Main Differences
WhatsApp Messenger
WhatsApp Business
WhatsApp Business API
For personal use
For SMBs
For mid/large businesses
1:1 messages
Ad hoc customer service
Small-scale marketing
Mass messaging campaigns
Strategic customer service
App, browser
App, browser
Solution Provider interface
1 user, 2 devices max (1 phone, 1 desktop)
1 user, 2 devices max (1 phone, 1 desktop)
Unlimited users & devices
No business tools
Business profile
Product catalog
Broadcast messages (limited)
Automated messages (limited)
Create and participate in group chats
No green tick for official account
Business profile
Product catalog
Broadcast messages
Automated messages (chatbots, transactional)
Session messages
Create but not participate in group chats
Green tick for official account possible
Contacts from phone that have WA account
Contacts from phone that have WA account
Contacts are imported from opt-in list
Free
Free
Paid
1. WhatsApp Messenger
The regular WhatsApp app is made for personal communication. It's freely available for both Android and iOS, and like other messaging apps, offers one-to-one chats and groups.
Give it access to your phone contacts and you can chat with the ones that also have a WhatsApp account. You can make voice and video calls via the app (not via the browser though).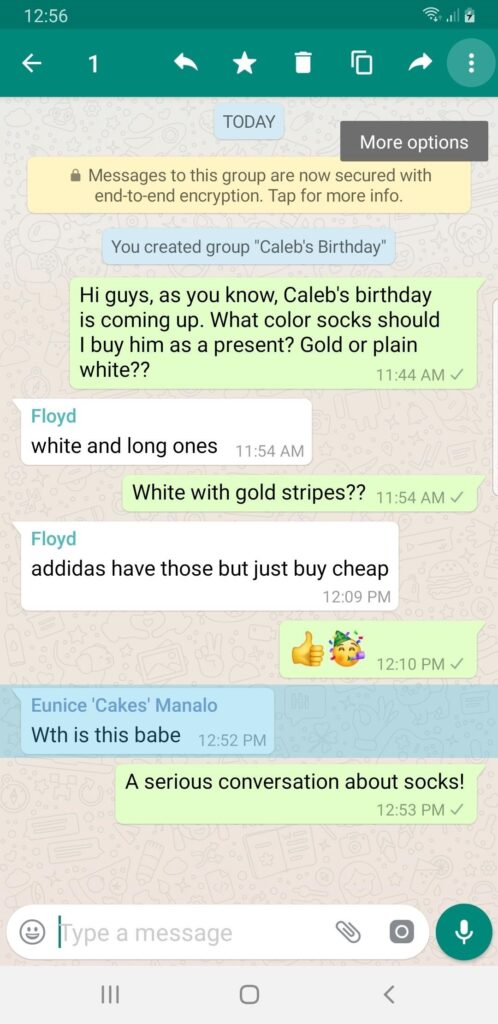 There's not much business owners can do with regular WhatsApp messenger, however. There are no automation options and you can only contact the people whose phone numbers you have in your phone.
Only very small businesses can get away with using personal WhatsApp to contact customers. But as the business starts to grow, they'll need a more scalable option.
2. WhatsApp Business
WhatsApp Business is a separate app aimed specifically at businesses. Even the logo is different:
WhatsApp Business provides basic tools for communication for micro and small businesses.
It's still free to use and there's a browser version. It offers the same basic features as the one for personal use — both sides can start chats, and you can participate in group chats.
What's the difference between WhatsApp and WhatsApp Business?
A WhatsApp Business account is not the same as a standard one. While they can be on the same phone, they have to be tied to separate phone numbers.
For the business account, you can use a landline number as well as a mobile one. It's a good idea to use a dual SIM phone to manage both from one device while keeping contacts lists separate for compliance purposes.
Learn more: How to make a WhatsApp business account
Then, you can add an image, working hours, website, and physical address to your profile to present your business. Another great feature is the ability to create a product catalog within the WhatsApp Business app to showcase your products. It can include images, prices, and even links back to your site. The catalog can also be shared as one dedicated link.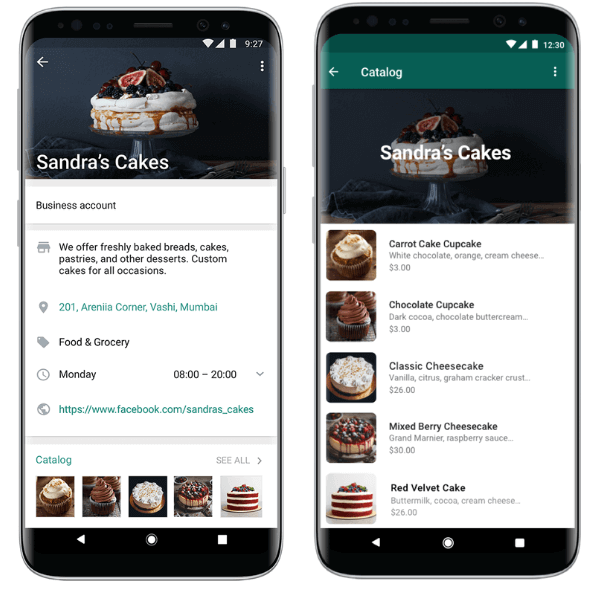 Source: newsfeed.org
Chats originating from a business account are indicated as such.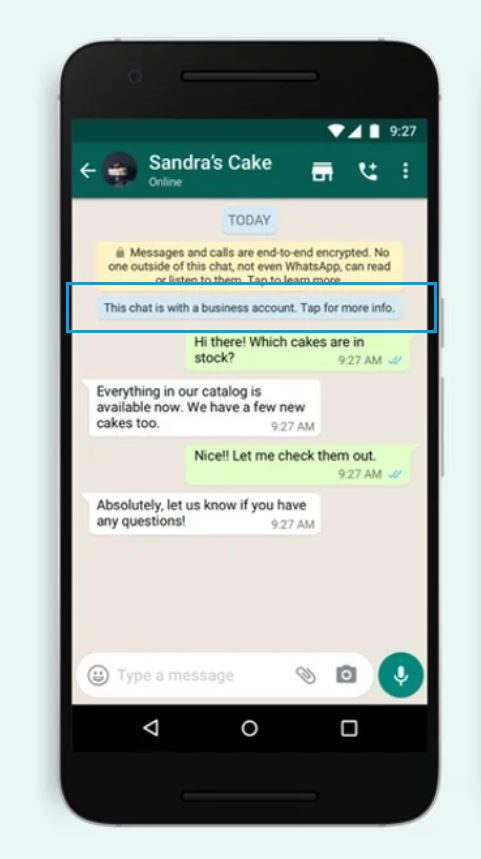 Business tools offered by WhatsApp for Business
Label conversations. WhatsApp Business lets you manage contacts with labels (e.g. new customer, complaint, loyal customer, urgent). This is useful when trying to keep track of conversations and when creating lists for WhatsApp broadcasts (see below).
Short links and QR codes. These open a direct chat with your business account. They can be shared across your channels as a quick way of contacting you.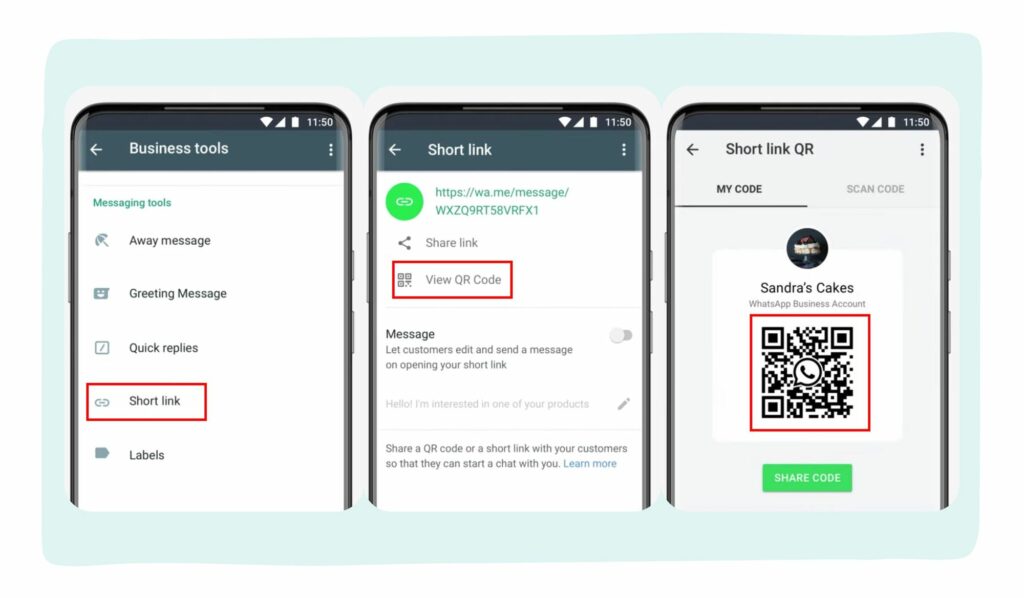 Source: ShopPop
Broadcasts. These are mass text message campaigns sent to a large number of contacts. It's the WhatsApp equivalent of a newsletter or a promotional SMS notification. But with the Business app, you can only send a broadcast to 256 contacts at a time.
Choosing the contacts is not easy either. You can select them manually from your phone contacts list or use labels within the app. The last catch is that recipients must have your phone number saved to receive the broadcast. Otherwise, you can send as many such messages as you want in chunks of 256 contacts.
Automated messages. There are three kinds of automated WhatsApp messages available to speed up your communication on WhatsApp Business.
Greeting messages can be set up to automatically respond to new chats. So when a user reaches out to you, they're invited to keep chatting even if you personally cannot answer at the moment.
Away messages serve as automated responses to inquiries outside of working hours or when your business is closed for vacation.
Quick replies are saved answers like "Orders take 2 business days to prepare" or "Thank you for shopping with us!" so you can quickly input them from a menu in individual chats when you get a frequently asked question.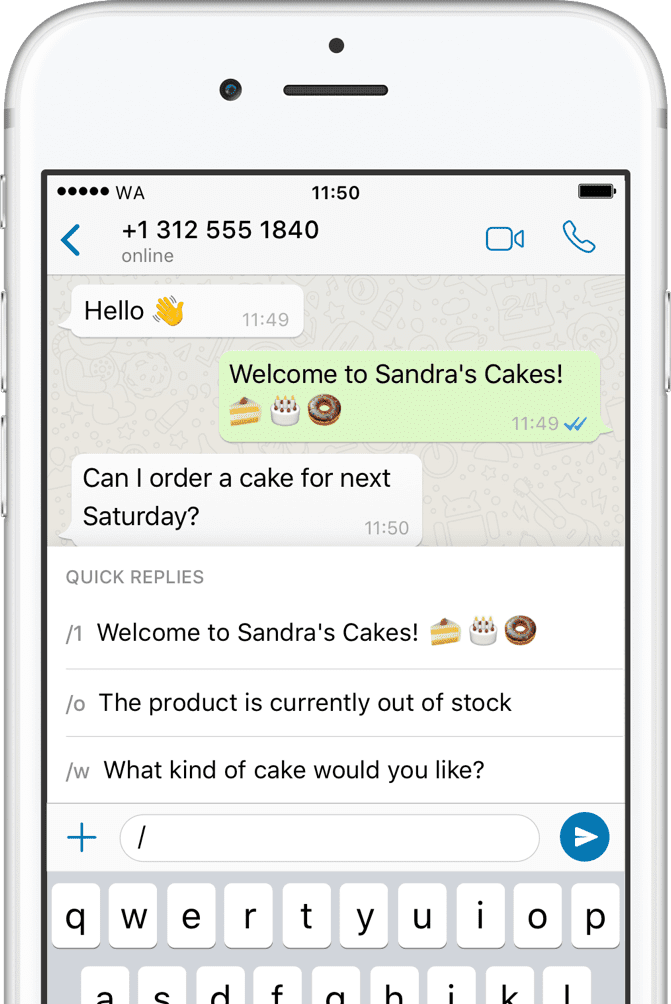 Source: WhatsApp
Key things to know about WhatsApp Business
It's free to use
You need a phone number, separate from your personal one
One device (max two if you use the web app too), one user only, chats are tied to this account
It's a business solution but the offered automation tools are limited
It's not scalable, you can only reach a limited number of contacts
Best for micro and small business owners
In short, the main difference between WhatsApp and WhatsApp Business is that the former is strictly for personal communication while the latter gives you some marketing tools. WhatsApp Business is a free option for small local businesses looking just for a way to answer questions and take orders via chat.

Source: Meta
3. WhatsApp Business API
WhatsApp Business API is a different service to the WhatsApp Business app. If you're wondering, an API connects two different software programs so they can work together.
The WhatsApp Business API gives access to the full range of WhatsApp marketing tools and is aimed at mid-sized and large businesses. Brevo offers WhatsApp campaigns.
The WhatsApp Business API doesn't have its own interface, it uses the front-end of the platform it's connected to. This can be your CRM or email marketing platform. Essentially, it makes WhatsApp usable in conjunction with other marketing tools. For example, using a live chat platform to manage communication from Facebook Messenger and WhatsApp in one place.
Read more: Top WhatsApp Marketing Software
You also get many additional features on top of WhatsApp Business that open up huge opportunities for marketing communication. For example, you can add WhatsApp messages as a step in your automations.
WhatsApp Business API features
User access
Unlike WhatsApp Business, the API offers unlimited users and devices under one account. This makes customer support and messenger marketing a lot more effective.
Account creation
You can't just sign up for WhatsApp and start using its API features. You need to apply for an account through a WhatsApp partner and provide information about your business to get verified.
On top of that, you can submit another application for a green tick mark to appear next to your business name in chats. It adds legitimacy in the eyes of your recipients.
Contact management
A major difference between WhatsApp Business and WhatsApp Business API is the way contacts are handled. With the API, they're imported from the CRM or another marketing platform where your opt-in lists are stored.
Consent to WhatsApp marketing is gathered in two ways: WhatsApp users message the business account first, or they tick an opt-in box for WhatsApp specifically in a signup form. Contacts that didn't consent to be contacted via WhatsApp cannot be messaged through the API. This protects the customer experience on the app.
Types of messages you can send via WhatsApp API
First, it's important to note that no voice or video calls are possible through the API. Also, you can present your brand in a business profile just like with the WhatsApp Business app. Overall, the API is a messaging alternative (or additional channel) to email marketing.
So what are the differences between WhatsApp Business and WhatsApp Business API?
Someone (customer, lead, contact) starts a chat with your business account. You have 24 hours to answer or the chat expires. If the person messages you back, the 24 hours reset and so on. These are session messages in WhatsApp. The idea is to give the customer control over the communication — if they don't want to chat with you any more, that's that.
Broadcast messages must follow the template guidelines and need to be approved by WhatsApp before sending to protect recipients from spam. The good news is, unlike WhatsApp Business, via the API you can broadcast to as many contacts as you want and they don't have to have your number saved to receive the message.
A real game-changer are the interactive messages, though. You can send messages with quick reply buttons attached. Recipients just tap on the answer they choose and it gets sent back to the conversation for you to continue engagement.
Via the WhatsApp Business API, you can create and manage group chats, but can't participate in them. Also, contacts must be invited via a special message to join, you can't just add them to a group. It's all to protect people from spam and unsolicited messages.
For more details, check out the benefits of using WhatsApp Business.
WhatsApp Business API pricing
First 1,000 WhatsApp chats monthly are free. Then, each 24-hour-long session is charged as one unit. The rate depends on the recipient's country code. Charges go through the WhatsApp Business Solution Provider, similar to SMS marketing plans. So expect a little markup on top of these rates for providing the service.
All these differences position WhatsApp Business API as a tool for larger companies with bigger teams and more complex marketing needs. Find out more about how the WhatsApp API pricing works.
To use WhatsApp for customer support, order updates, and marketing campaigns, consider working with a WhatsApp Business Solution Provider that will provide you with WhatsApp Business API.
Try WhatsApp campaigns on Brevo
Seamless integration, no coding required, signup forms to grow your WhatsApp list and unlimited contact storage! Pay only for messages, no setup or license fees.