Reading time about 20 min

What makes WhatsApp marketing so powerful? It's arguably the most direct form of customer communication, has an audience of over 2 billion active users, and boasts open rates of up to 98%.
With stats like that, your business should without a doubt consider using WhatsApp for marketing purposes. Using the messaging app can help you reach a larger audience, improve customer experiences, and ultimately drive sales.
But how does it work?
Using WhatsApp as a marketing tool may be unfamiliar to many. After all, it's fairly new to the digital marketing scene and is primarily known as a messaging platform for individuals.
Lucky for you, this article breaks down all the moving parts of WhatsApp marketing for businesses, gives you some handy tips and tricks, and even showcases some example WhatsApp campaigns.
What is WhatsApp?
For starters, WhatsApp is a free mobile messaging service connecting people around the world. The application is available on both Android and iOS and allows users to message and call friends and family, no matter the type of device they have.
WhatsApp has become extremely popular, with over 2 billion active users worldwide. Part of what makes it so attractive for individuals is that it sidesteps hefty SMS fees when communicating internationally, making it ideal for those with contacts overseas. As well, it keeps all your messages, group chats, voice calls, and video calls in one place.
To set up a personal account on WhatsApp, all you need to do is download the app from the App Store or from Google Play.
In-app prompts will ask you to enter a phone number (not already associated with an existing WhatsApp account) and choose a name.
From there, you're pretty much good to go! WhatsApp Messenger is extremely intuitive and can be set up in a matter of seconds.
To use WhatsApp on your computer, simply download the desktop application then use your mobile phone to scan the QR code it displays to link your account.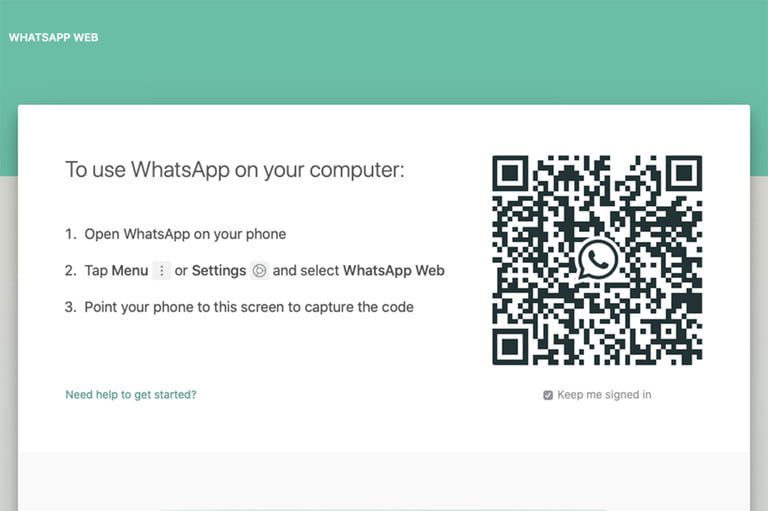 Now that we've covered the original WhatsApp, let's see how it can be used in a marketing context!
What is WhatsApp marketing?
Broadly speaking, the term "WhatsApp marketing" refers to any marketing or promotional activities that take place on WhatsApp. Typically, marketers use WhatsApp Business and WhatsApp Business API — two interfaces separate from Whatsapp that allow you to manage conversations with your audience.
While you could technically send marketing campaigns using your personal WhatsApp number, it's not recommended. You'll likely run into issues with sending to large numbers of contacts and won't have features essential to WhatsApp advertising like welcome messages and metrics.
Let's take a look at what makes WhatsApp Business and WhatsApp Business API better suited to marketing professionals:
WhatsApp Business
WhatsApp Business is a separate mobile app from WhatsApp. It's designed for small businesses to be able to connect with their customers in real-time. Even better, it's free!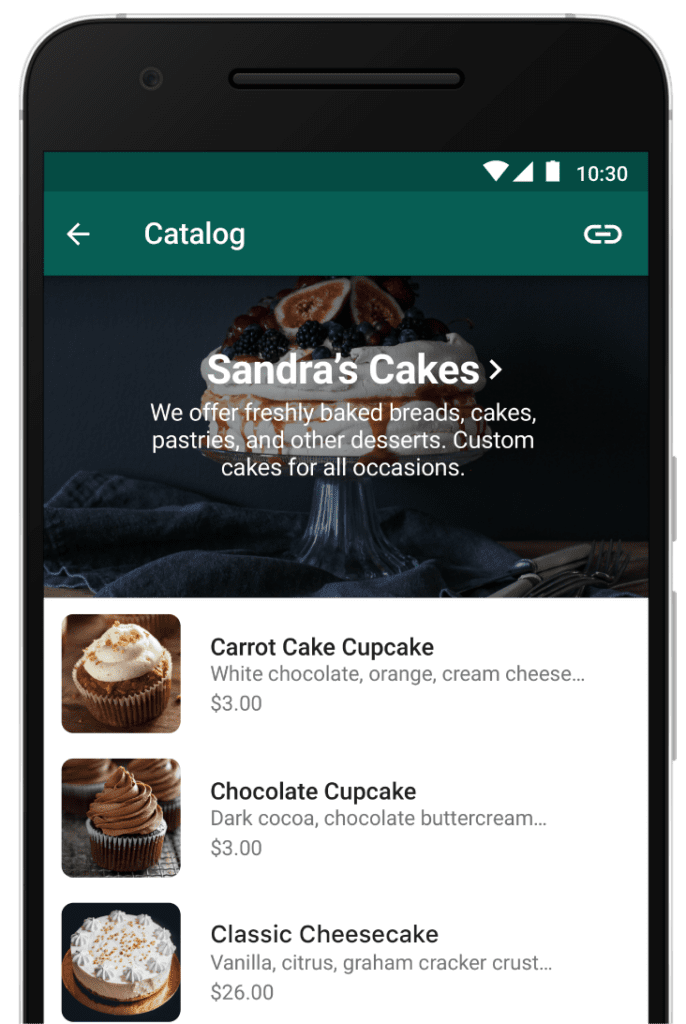 Small business owners can create an in-app store, complete with product catalogs, pricing, and practical information like opening hours, physical location, and links to your website and social media.
In addition to your business profile and product catalog, you can set up quick replies and broadcast messages (up to 256 at a time). These features make communicating with potential customers a breeze, as your most useful responses are just one click away.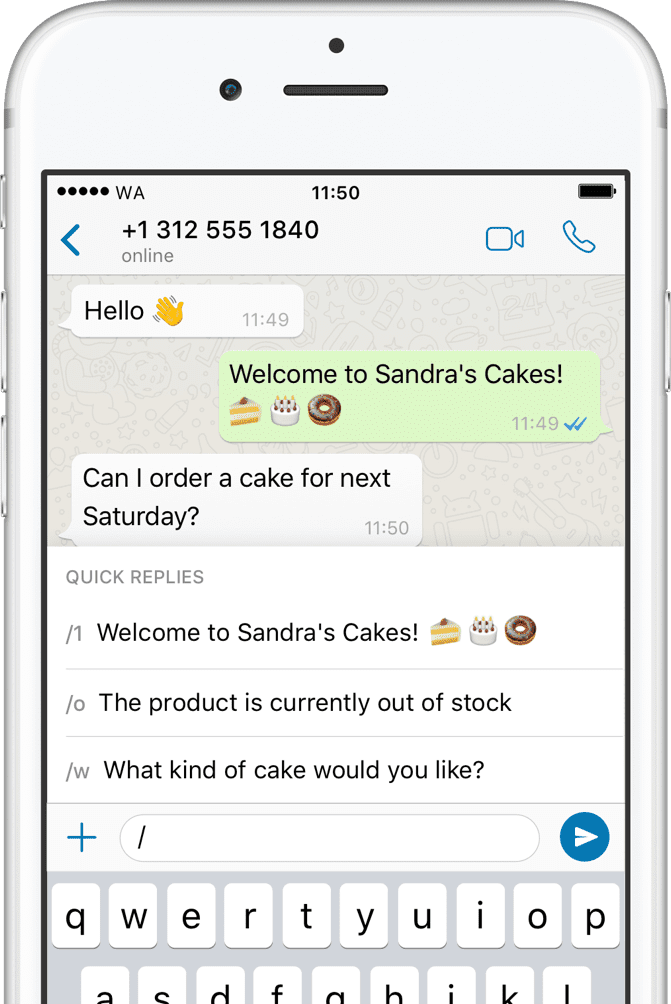 For your audience, there's very little difference between WhatsApp and WhatsApp Business. They'll receive your WhatsApp marketing messages in their regular WhatsApp just like any other message.
WhatsApp Business Platform
The second WhatsApp marketing tool we'll be discussing offers many more features and is targeted toward larger businesses.
The WhatsApp Business Platform (formerly API) gives businesses access to the product's full suite of marketing tools. It connects your WhatsApp Business account to your CRM or email service provider so you can manage large numbers of conversations at the same time from the same place.
Here's how to create a WhatsApp Business account.
Something to be aware of is that WhatsApp Business Platform doesn't have a front-end interface of its own. It's an API, which connects two software programs so they can talk to each other and share data.
In this way, the WhatsApp Business Platform brings your WhatsApp Business account from your mobile device to a WhatsApp marketing software or also called a WhatsApp partner, a software that connects you to the WhatsApp Business Platform.
The WhatsApp Business Platform has more advanced features than the mobile app alone. It gives you an unlimited number of users, allows you to send mass marketing campaigns, and supports strategic customer service.
In terms of messenger capabilities, the API allows you to send as many automated and session messages as you like. This means you can send WhatsApp broadcasts (newsletters), accept orders, answer customer questions, and more!
One thing to be aware of is that, unlike the WhatsApp Business App, the WhatsApp Business Platform is not free and charges per message sent.
Another important difference between WhatsApp Business app and WhatsApp Business Platform is that you can't just download or sign up to use the API. Instead, you need to go through a WhatsApp Business Solution Provider to verify your business.
In summary, the best way to explain the difference the WhatsApp Business app and the WhatsApp Business Platform is this:
The mobile app WhatsApp Business is like messaging your target audience on WhatsApp.
The WhatsApp Business Platform is very similar to email marketing, but your target audience will get your content in their WhatsApp inboxes instead of by email.
Check out this article for a full breakdown of the difference between WhatsApp, WhatsApp Business, and WhatsApp Business Platform.
Why your business should use WhatsApp
Now that we know what WhatsApp marketing is, let's take a look at why your business should use it! The benefits of WhatsApp Business are very tempting.
As we said, there are over 2 billion active WhatsApp users worldwide. This alone means the channel gives you access to an enormous audience. Compared to other messaging apps, WhatsApp wins the popularity contest, surpassing Facebook Messenger, Wechat, Snapchat, and Telegram.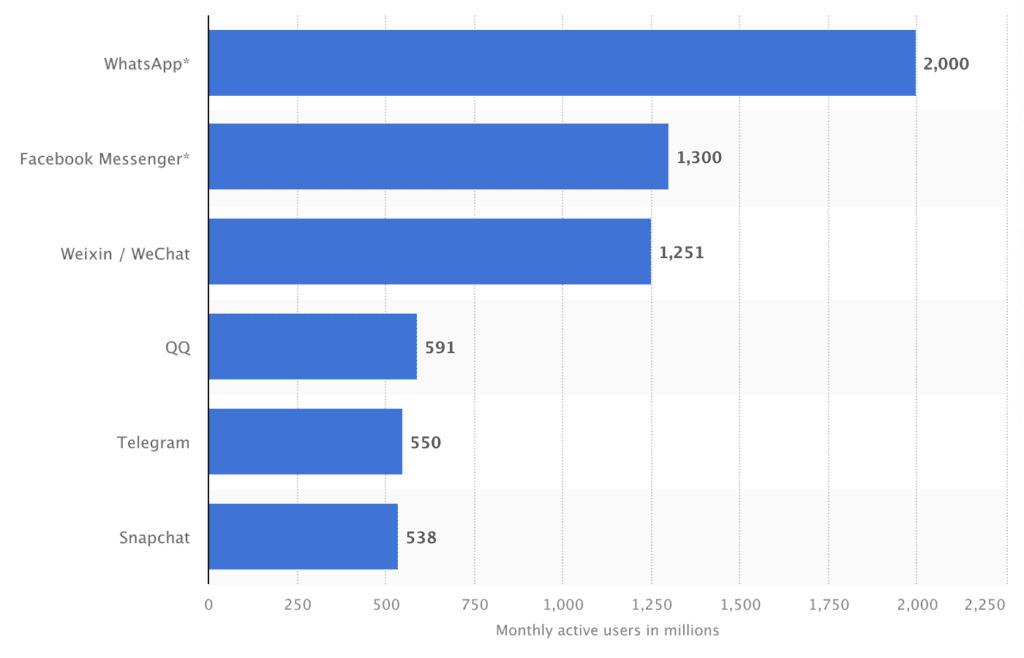 In particular, if you have large portions of your target audience in Brazil or India, WhatsApp can really pay off, as these two countries have the highest number of active users in the world.
Aside from the sheer number of people using WhatsApp, the platform has other benefits as a marketing channel too.
More and more, consumers are looking for one-to-one interactions and personalized marketing content. WhatsApp marketing does just this. Talking on a platform like WhatsApp makes the customer experience feel like chatting with a friend.
While other marketing channels/tools like email and website chat also provide a one-on-one experience, they lack the intimacy and convenience of a WhatsApp interaction.
How does the intimacy and convenience of a marketing channel translate into hard numbers?
The open rate: It's not uncommon for WhatsApp marketing campaigns to have open rates surpassing 97%.
More than any other digital marketing channel, WhatsApp campaigns bring you as close as you can get to a guarantee that your target audience will at least see your content.
From there, click-through rates aren't bad either, with an average of 60% of WhatsApp campaigns being clicked through.
Starting to see how WhatsApp marketing could be huge for your business? Let's take a look at how to create your profile.
How to create a WhatsApp Business profile
Creating a WhatsApp Business Profile is easy and can be done in three steps:
Step 1:
Download the WhatsApp Business App from Google Play or the App Store.
Step 2:
Enter your professional phone number to set up your account. Note: this cannot be the same as your personal number. For this reason, many small business owners like to use a phone that can support two SIM cards at once.
At the same time, you'll be prompted to enter your business name.
Step 3:
Now you can start setting up your WhatsApp business account! Tap on the "More options" button (the three vertical dots), then "Settings." Then enter your business name.
Next, you'll find six elements of your business profile to complete:
Profile: This is the information your audience will see about your business. Include things like a brief description, address, working hours, website, social media, etc.
Short link: This feature generates a QR code to include on your website, social media, or emails, allowing people to immediately launch a conversion with you on Whatsapp.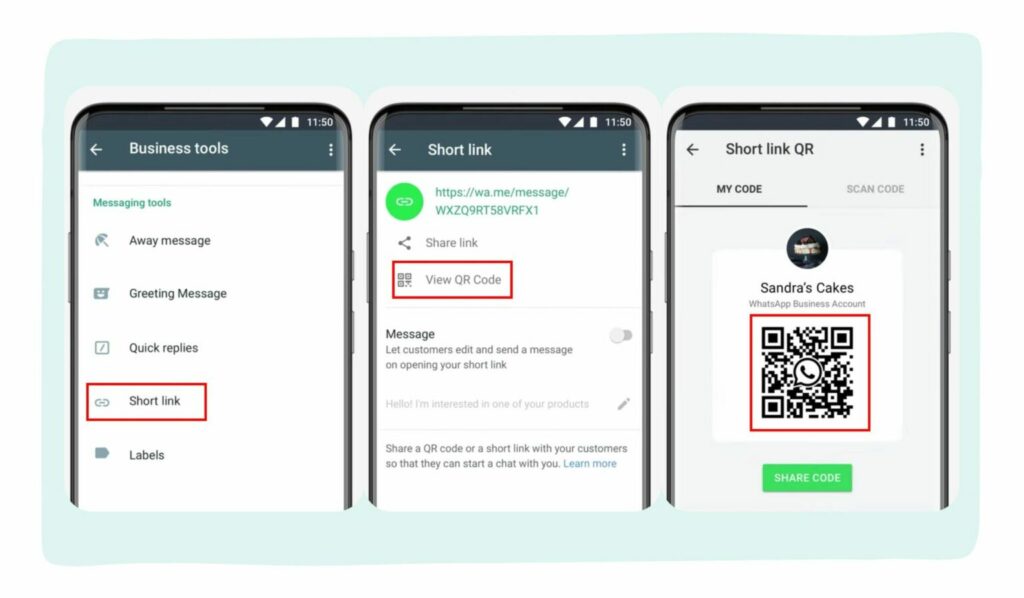 Greeting message: This is a welcome message automatically sent to people who contact your business.
Away message: This is a message automatically sent to people who contact you outside of business hours.
Quick replies: This feature allows you to create and save responses to send in just one click, helping to improve your response time and making conversations more efficient.
Statistics: This section houses data on sent, delivered, read, and received messages.
Here's how to create a WhatsApp Business account in detail.
As a reminder, with the WhatsApp Business App, your broadcast list is limited to 256 contacts. To send campaigns to a larger number of people, you'll need to sign up with a WhatsApp API provider. It also allows you to include WhatsApp messages in your automation sequences. Here's how it is with Brevo.
WhatsApp marketing campaign best practices
To set you up for success, we've put together some WhatsApp marketing campaign best practices. Let's take a look:
1. Respect the user experience
You know what they say: "With great power comes great responsibility."
The same goes for WhatsApp marketing. While it may be tempting to go full-speed ahead with promotional content given the enormous potential of WhatsApp, we'd advise you to tread with caution.
As we said before, WhatsApp offers a hyper-personalized and direct marketing channel, but at its core, it's a personal messaging app.
This means your marketing content shouldn't be overly promotional or too frequent. This won't do any favors for building quality customer relations.
2. Obey the WhatsApp template guidelines
To guarantee that your WhatsApp campaigns are properly sent and delivered, you need to obey the template guidelines set out by Meta. They include specific parameters on formatting, how to link to websites, displaying featured products, and language. Here are WhatsApp templates you can copy.
Again, these guidelines are intended to preserve the user experience. WhatsApp is primarily a messaging service for individuals. The opportunity to use it as a marketing channel means marketers need to respect this.
3. Offer value and convenience
Instead of sending your contact list campaign after campaign, your goal should be to offer them value and convenience in your WhatsApp marketing.
As great as it may be, WhatsApp marketing isn't meant to replace other marketing channels. It should be a compliment to your existing email marketing strategy and any other channels you use, and as such, your contacts need to opt-in to receive marketing messages on WhatsApp.
The advantages of marketing on WhatsApp include its accessibility and its convenience for users. This means it's particularly well–suited for things like delivery updates, sending order confirmations, tickets, event reminders, and billing notifications.
Have you ever been at a front desk, ticket counter, or the entrance to an event frantically digging through your inbox looking for a confirmation number or e-ticket?
Wouldn't it be nice to find what you're looking for in a WhatsApp message sent to you just ahead of time? Instead of rummaging through a cluttered email inbox, find what you're looking for in a timely WhatsApp message!
4. Create content specifically for WhatsApp marketing
WhatsApp marketing is by no means overly challenging or difficult to learn. In fact, many email marketing best practices can be applied to WhatsApp marketing.
That said, you should treat WhatsApp as an independent marketing channel, working in conjunction with but not duplicating content from your other channels.
In practice, this means taking the time to format images, write copy, and adjust CTAs specifically for WhatsApp campaigns. Copy and pasting content directly from an email newsletter won't lead to good results. It might even get rejected by WhatsApp!
In the end, creating content specifically for WhatsApp helps ensure you bring together the first three best practices we discussed above. That's why repurposed content is likely to fall short.
WhatsApp marketing examples
Now we'll share some top-notch WhatsApp marketing examples to inspire your marketing efforts:
KLM
KLM – Royal Dutch Airlines is the Netherlands' national airline. They use WhatsApp marketing in a few different ways: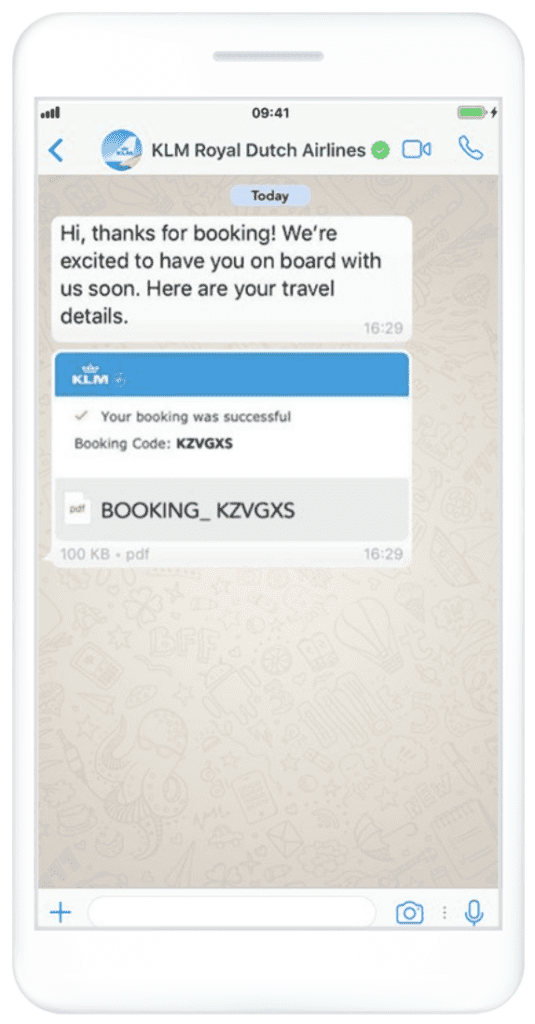 In this example, the airline sends travelers a shortened version of their booking confirmation. Keeping in mind that most travelers no longer print their confirmation information, KLM makes it easy for them to access their booking details at the airport thanks to this WhatsApp message.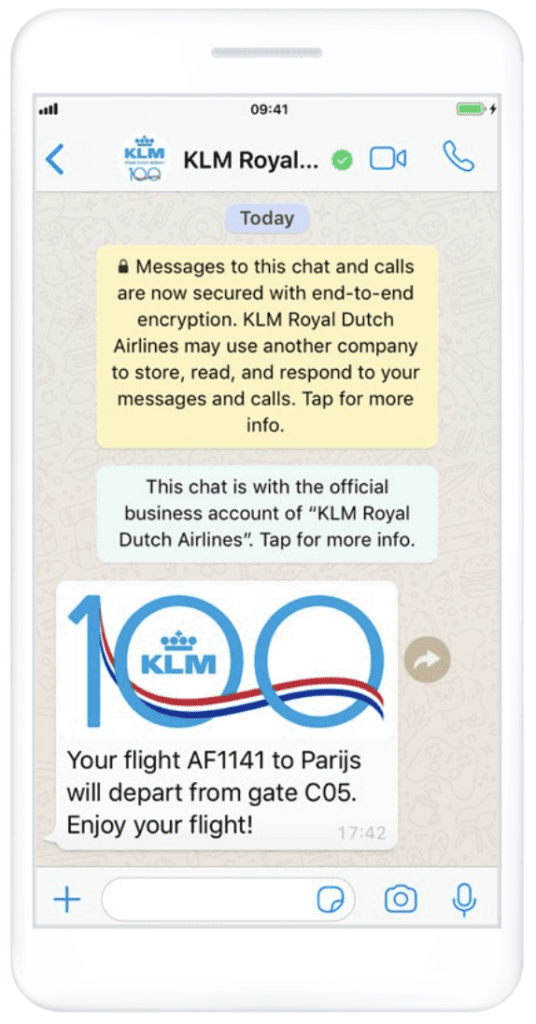 KLM again hits the mark with convenient and helpful content. Sending travelers their gate number around the time they arrive at the airport saves them the hassle of waiting for it to be displayed on the monitors. Though it may seem like just a small gesture, this type of content can go a long way in the minds of stressed travelers.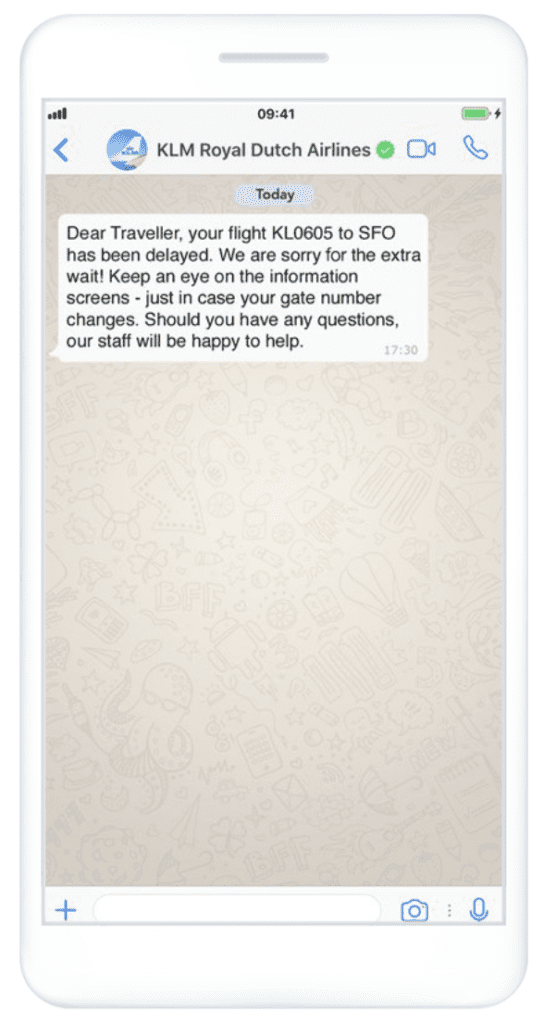 Here, KLM is letting a traveler know their flight has been delayed — something no airline likes to do. But unlike your conventional public announcement at the airport, this notification gives customers the chance to speak with a customer support representative.
Instead of waiting in line at the airport, travelers can manage changes to their itinerary with the help of customer support all from their fingertips.
Overall, these examples show how WhatsApp marketing can be convenient and practical for your audience. Nicely done, KLM!
Adidas
Our next example comes from Adidas and does a good job demonstrating the endless creative possibilities of WhatsApp marketing! The brand posted this to Twitter to kick off the campaign:
Basically, Adidas offered to send out substitute players for local soccer teams in London whose teammates canceled last minute. All you had to do was ask them on WhatsApp.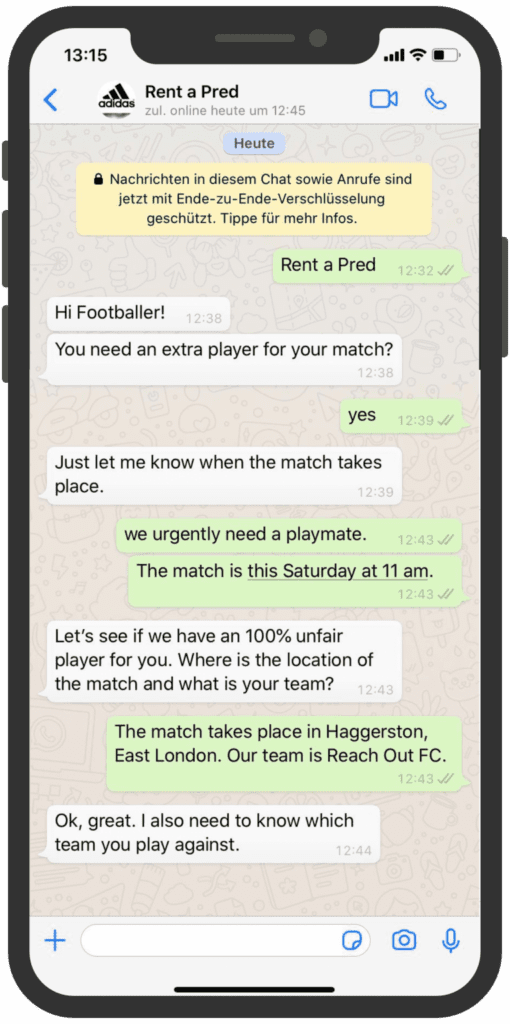 This was part of their "Predator" campaign, which claimed Adidas soccer cleats were so well-designed they were "100% unfair" to the other team. That's why the substitutes they sent were "100% unfair" too, including pros like retired pro, Ricardo Kaká. Talk about brand persona!
Now, your average small business or ecommerce shop may not be able to hire professional soccer players to embody your brand. That's not our point. Instead, take this as an example of how thinking outside the box can lead to high-impact WhatsApp marketing.
Obviously, Adidas has a high level of brand awareness. But for businesses that don't, running interactive local campaigns like this one can do wonders for your own brand awareness and customer retention in the long run.
This type of campaign can also help when launching a new product or service, partnering with influencers or industry to send personalized messages featuring the new item.
Nivea
Our final WhatsApp marketing example comes from personal care brand Nivea's Mother's Day campaign.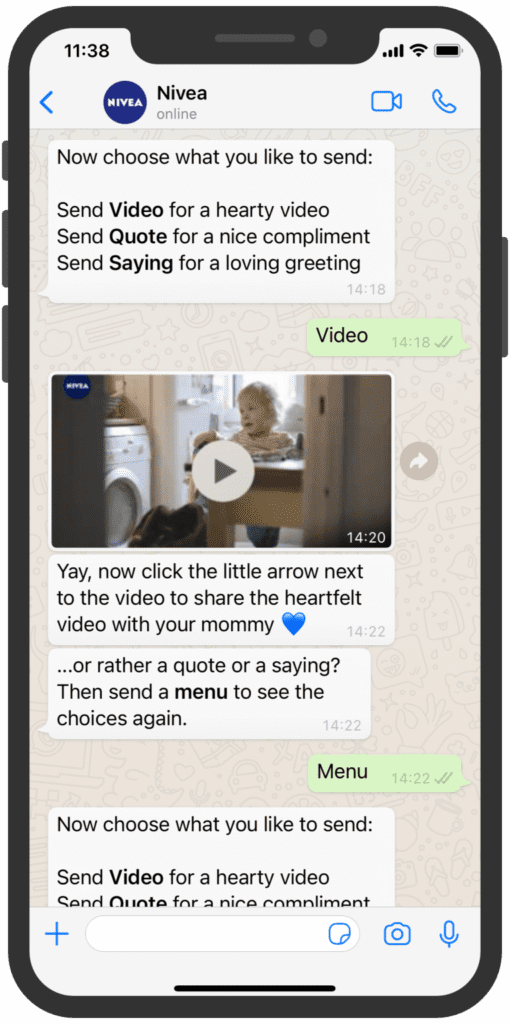 Nivea Switzerland created a WhatsApp chatbot to dish out Mother's Day content to their audience. The brand created a heartfelt video, a loving quote, and a Mother's Day saying for customers to send to their mothers.
All users had to do was write to Nivea on WhatsApp, then follow the prompts. This type of campaign is an interesting take on gated content.
Rather than requesting an email address to get access to professional content like ebooks, whitepages, or seminars, they're offering a very personal form of gated content.
This type of WhatsApp content is particularly well-suited for holiday marketing campaigns or event-based marketing. Your business could do the same for things like New Year, Valentine's Day, or even March Madness and the Super Bowl.
WhatsApp marketing tips to use alongside your campaigns
So you've seen how campaigns can be used to engage your customers, but WhatsApp marketing doesn't stop there. Create an outstanding customer experience on WhatsApp with these tips.
1. Set up a product catalog
Let your customers browse, dream, and shop right from your WhatsApp business profile.
2. Use statuses
Statuses on WhatsApp can include images, links, videos, and more and last 24 hours. This is a great way to announce seasonal sales, brand news, and events. Use statuses to share information without spamming your contacts with too many notifications.
3. Let your customers and the world know you are on WhatsApp
People can't browse WhatsApp to find your brand, so share your account on other social media, in your email signature, and on your website. A signup form asking for permission to contact them on WhatsApp is also a good way to promote the channel.
4. Connect to a CRM
Integrate your WhatsApp Business account to your CRM to be able to run multichannel campaigns. Set up triggered WhatsApp messages from actions taken on your website, send appointment reminders and other automated messages, and more using your CRM's WhatsApp Business API.
5. Grow your WhatsApp list with signup forms
Creating signup forms that ask what new customers want to be contacted about is the first step in customer segmentation and starts you off on the right foot.
6. Use customer segmentation
Have a group of customers that haven't been opening your WhatsApp messages? With a CRM like Brevo, you can put those contacts in a group, or segment, and reach out to them with a new message. Segments help you retarget your customers with content that is relevant and valuable to them so that they keep engaging with your brand.
Build your own WhatsApp marketing strategy
Now that you've got an idea of the possibilities of WhatsApp marketing, it's time to get creative with your own strategy!
Businesses of all sizes can benefit from using WhatsApp for marketing purposes. The channel can help build lasting customer relationships, improve retention, and ultimately drive sales.
With Brevo's WhatsApp Business API, you can create interactive messages to engage customers using message templates. Use automation to update your customers on shipping status and sales, and make it easy for your customers to communicate with your brand anytime they need. Don't just send messages, start conversations.
Interested in trying out WhatsApp for business?
Scale your WhatsApp marketing with Brevo
Seamless integration, no coding required, signup forms to grow your WhatsApp list and unlimited contact storage! Pay only for messages, no setup or license fees.