Reading time about 11 min

If you've asked yourself, "how do I advertise on WhatsApp Business?", WhatsApp now allows businesses to send marketing messages to their audience through WhatsApp Business API. Now we've compiled some of the best WhatsApp advertising message samples to inspire you to add the channel to your mix.
A new channel may feel intimidating or overly complex. Where to start? Let us show you a few WhatsApp advertising messages samples to better understand what's possible on the platform.
The kinds of advertising messages you can send on WhatsApp
Until September 2021, businesses weren't allowed to send marketing messages to their contacts using WhatsApp broadcasts. Only transactional messages and customer service conversations were allowed.
Now, you can finally use WhatsApp for marketing in addition to email and SMS marketing in your strategy. There are many benefits of using WhatsApp as a marketing tool, but the main one is that it's a wildly popular messaging app.
WhatsApp advertising messages are a brand-new concept, and you have a chance to be an early adopter. WhatsApp advertising messages are mass messages containing promotional content from a company. They're also known as WhatsApp newsletters or broadcasts.
Use cases of WhatsApp advertising messages
You're no longer limited by the type of messages you can send via WhatsApp. Here are some popular use cases for WhatsApp promotion messages:
Event announcements — It's easy to promote webinars, online conferences, and offline events with WhatsApp messages.
New product alerts — When a new feature or product is released, you can send out a mass marketing campaign to announce it to all your WhatsApp contacts.
Restock alerts — WhatsApp messages can also be automated. By setting up an easy automation flow, you can send back-in-stock alerts to WhatsApp users who have signed up to receive notifications about restocks of specific products.
Exclusive company updates — Share news about your company to keep your customers in the loop.
Feedback requests — With a 98% open rate, WhatsApp promotion messages will help you increase customer survey submissions and receive in-the-moment feedback.
Loyalty program invitations — Once a customer completes a purchase or reaches a milestone, you can send out a WhatsApp message encouraging them to refer a friend and receive a discount code for future purchases.
Sale launch announcements — WhatsApp broadcasts are great places to announce Black Friday deals and Christmas sales.
Limited-time offers — Time-sensitive campaigns usually have high response rates on WhatsApp.
Technical issue updates — Announce scheduled maintenance and unexpected technical issues in real time with WhatsApp broadcasts.
Newsletters with top-funnel marketing content — Sales campaigns are good, but you can do better by engaging your prospects with top-funnel content before hard selling. (Recipes, tips and tricks, digests, etc.) There are plenty of content types you can use to boost brand awareness with your WhatsApp contacts.
Let's see some WhatsApp advertising messages samples in action…
Samples of WhatsApp Advertising Messages
Any type of business can use WhatsApp campaigns — from ecommerce and SaaS to brick-and-mortar. Here are WhatsApp promotion message samples by organizations varying in size, target audience, and business model.
1. WhatsApp advertising message sample: sale launch
Tata CLiQ, an online marketplace, achieved a 57% click-through rate and increased ROI by 10x by running personalized marketing campaigns on WhatsApp.
The company was looking for an alternative solution to SMS marketing that was less limited in terms of word count. Tata CLiQ soon discovered that their customers had a clear preference for WhatsApp. They started on WhatsApp Business API with shipment notifications but soon expanded to marketing messages too.
Tata CLiQ sends personalized product recommendations, seasonal sale announcements, and price-drop alerts to increase customer engagement and boost sales. In the example below, the brand uses WhatsApp campaigns to announce its Black Friday sale. The message is short but catchy, including all necessary information to make users click the CTA.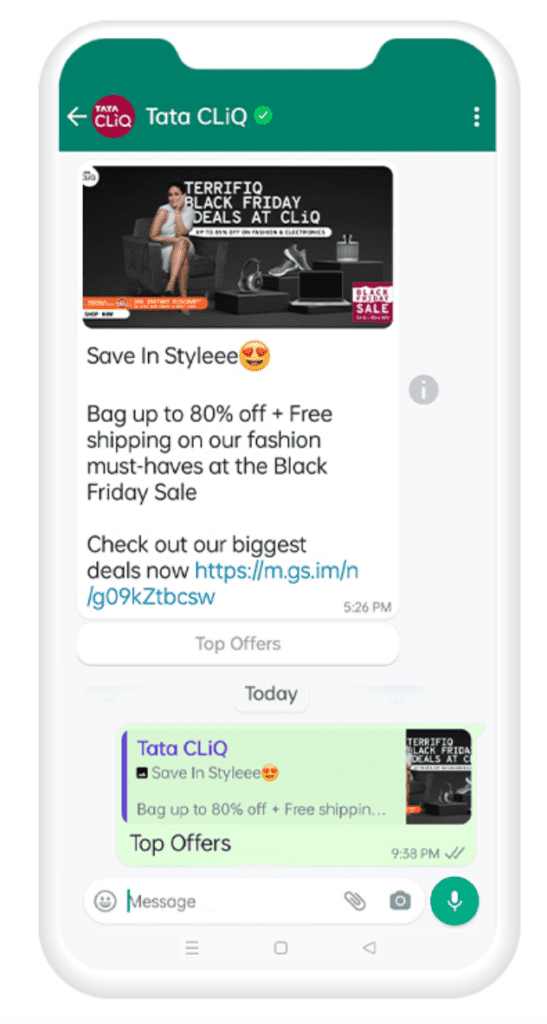 2. WhatsApp advertising message sample: feedback request
The benefits of WhatsApp advertising aren't just reserved for ecommerce retailers. SaaS company Qualtrics also uses WhatsApp campaigns successfully.
Sending out customer surveys with automated WhatsApp messages is an effective way to gather feedback. Use it for post-purchase questionnaires, product-specific polls, exit surveys, etc.
Qualtrics' messages ask about user experience on the platform in a straightforward, direct way. Note that there's also an unsubscribe link, allowing customers to choose whether they want to receive communications from the brand or not. Such a simple step dramatically improves customer loyalty and brand perception.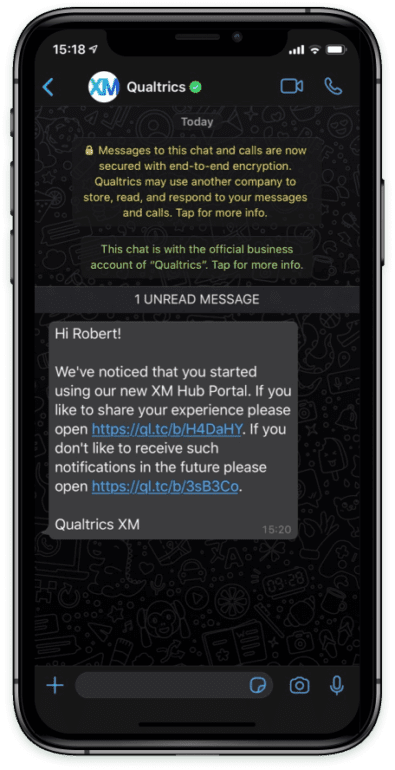 3. WhatsApp advertising message example: promotion
The primary goal of any WhatsApp advertising message is to attract the user's attention and drive action. That's why message samples are often rich in emojis, exclamations, and colorful images.
KiKUU, an online retailer, includes rich media, like images and call-to-action buttons, in their bright WhatsApp advertising messages announcing sales. The embedded click-to-store button makes it easy to click through the website and buy on the go.
To compare the performance of WhatsApp campaigns against Facebook Messenger ads, KiKUU split their audience into two groups and ran a test. In one week, they saw a 70% higher open rate of WhatsApp messages and a 60% increase in sales from the channel.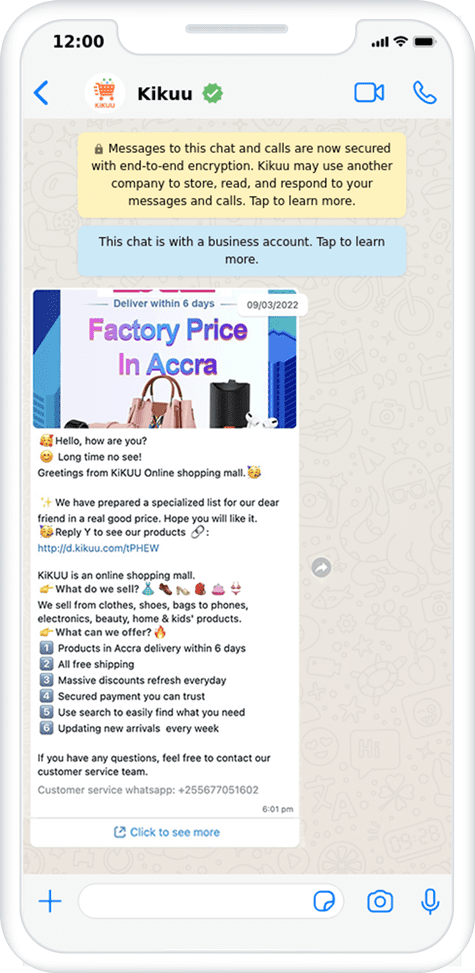 4. WhatsApp advertising message sample: newsletter
WhatsApp is a popular communication channel for food brands and restaurants too. Foodspring is a fitness food supplier using WhatsApp newsletters to share nutrition advice. They also communicate challenges, advent calendars, exclusive discount coupons, promotions, and recipes.
The WhatsApp marketing campaign below promotes a recipe for a healthy apple shake using Foodspring's ingredients. This is a sample of how WhatsApp advertising can complement your content marketing strategy. This campaign not only drives audience engagement but also increases sales.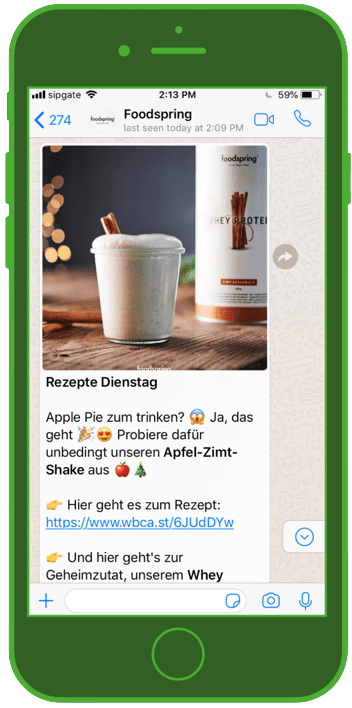 5. WhatsApp advertising message sample: limited-time offers
With WhatsApp advertising messages, you get great traction for limited-time offers because of the channel's quick open and response rates.
Lenskart, an online glasses and contacts retailer, runs limited-time deals on WhatsApp. With low campaign costs and high open rates, it quickly became the brand's preferred marketing channel.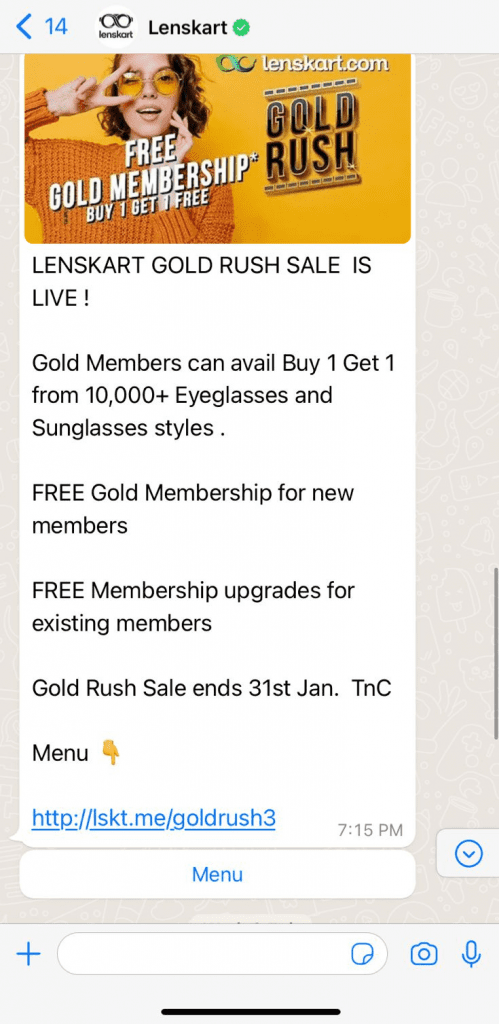 Best Practices When Sending WhatsApp Advertising Messages
There's no one-size-fits-all formula when it comes to WhatsApp advertising messages. It all depends on your business, audience, and overall marketing strategy.
Still, there are a few components to include in your WhatsApp advertising message to boost your chance of success.
Include a link to click through
What's the goal of your campaign? Define it and drive recipients to complete your desired action with a clear CTA.
Even if you're simply pushing content, it's not a good idea to squeeze all of it into the WhatsApp message body. Better make it short and sweet, and get users to click on a link to see the full thing.
This way, you can also keep track of your campaign performance. Open rates alone won't tell you whether the campaign was relevant to your audience or not. Tracking link clicks will give you a better idea of how your message was perceived.
Add an image
For promotions, it's best to include an image in your message content. A colorful visual element catches attention and keeps people scrolling past your WhatsApp message.
Avoid using bland stock imagery in your campaigns though. Even if you start with stock images, rework it to add your own branding and message. For instance, if it's a limited-time offer, include the dates when it's valid and the price ranges directly on the image.
Personalize your message
You can segment your WhatsApp contacts using the data available in your CRM just like you would your email list. Select criteria that make sense for the campaign you want to run — e.g., location, purchase history, or stage in the buyer's journey.
Once you have your segment of recipients ready, include variables in your WhatsApp templates to dynamically personalize the content they see in the message.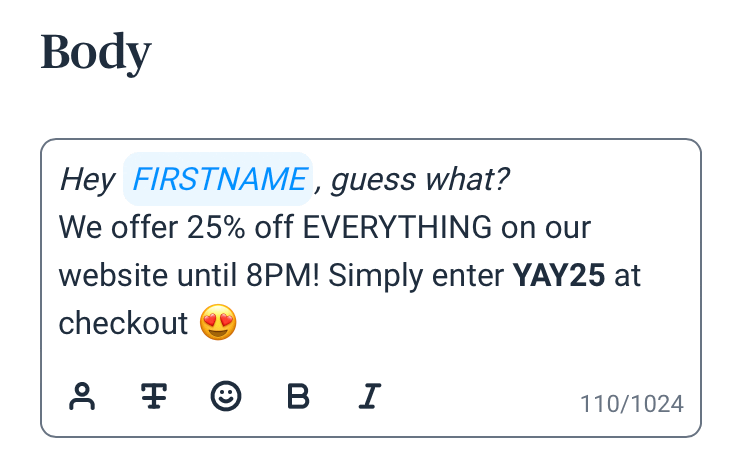 A variable in the template
Reuse WhatsApp message templates
WhatsApp allows you to save message templates and reuse them in different campaigns. If you have your templates pre-approved, you can send them immediately (unless you edit them).
It'll take some testing to find WhatsApp message templates for the specific types of promotions you want to run. But once you do, it's best to stick to them to save time and ensure consistent results.
Further reading: 13 Examples of WhatsApp Business Greeting Messages for New Subscribers
Analyze and adapt
Once you send your campaigns, don't forget to keep an eye on the metrics to see what works for your audience and what doesn't. Try different send times, A/B test content, vary text length, and see how changes affect campaign performance.
After running WhatsApp advertising campaigns for some time, you'll be able to identify the patterns that perform best. Document and reuse them.
Want to know more? Discover everything you need to know about WhatsApp marketing in one ebook!
How to send WhatsApp advertising messages?
The best way to send WhatsApp advertising messages is through a reliable WhatsApp Business Solution Provider (BSP).
Can't you set up marketing campaigns inside your WhatsApp Business Account?
Yes, you can, but with serious limitations. The WhatsApp Business app lets you add only up to 256 contacts to a broadcast list. And they have to have your business phone number saved to receive your advertising messages.
To remove those limitations, the only option is to work with a third-party WhatsApp marketing software provider that gives you access to the WhatsApp API so you can create and send WhatsApp campaigns without extra tech skills or help.
To advertise on WhatsApp Business, follow these simple steps:
Sign up for a WhatsApp Business Solution Provider. Get started with WhatsApp Campaigns from Brevo, an official Meta Business Partner, for free today.
Enable the WhatsApp feature inside the BSP platform.
Create your WhatsApp Business Account via the embedded signup offered by Brevo. Then, your account and Brevo are automatically connected.
Import contacts who have consented to WhatsApp marketing from you or create a signup form to start gathering some. They'll be stored in your Brevo CRM, where you can manage and segment them.
Create your advertising message in an easy-to-use editor within Brevo.
Submit your WhatsApp advertising message for approval directly from within the builder and schedule it once it's approved (between a few minutes and 24 hours).
Buy send credits. Brevo gives you your first 1,000 WhatsApp messages for free if you're on a monthly or yearly plan.
Monitor your WhatsApp marketing campaign go live.
Sending WhatsApp advertising messages doesn't require any technical skills from you or your marketing team. All you need is a quality WhatsApp Business Solution Provider that can provide you with a user-friendly interface for setting up campaigns in minutes.
Try WhatsApp campaigns on Brevo
Seamless integration, no coding required, signup forms to grow your WhatsApp list and unlimited contact storage! Pay only for messages, no setup or license fees.