Reading time about 13 min

Brevo is a Meta Business Solution Provider and offers WhatsApp campaigns via the WhatsApp Business Platform. Boost your marketing strategy with WhatsApp!
How can you start using WhatsApp campaigns for your business, what are the benefits and the marketing opportunities it presents — find out all about it in this article.
What are WhatsApp campaigns?
A while back, the WhatsApp Business API for large companies was launched. It scales the direct message communication offered by the WhatsApp Business app for bigger teams and customer lists, adding a lot of marketing tools. Although it's technically possible on the app to send mass messages as marketing campaigns, this use wasn't endorsed by WhatsApp.
Now, this is changing. Marketing on the platform just got a lot more versatile and practical for businesses. Meta has approved Business Solution Providers to enable their WhatsApp marketing feature.
Why use whatsapp for business?
WhatsApp is the most popular messaging app worldwide and so is actually a marketing channel of great potential. Ecommerce or not, some of the reasons to add it to your marketing mix are:
Active user base of 2+ billion people
Penetration of up to 98% in countries like India, Brazil, Argentina, South Africa, Malaysia, Nigeria, and Indonesia
80% of messages are read almost instantly
It's secure with end-to-end encryption
You get a business profile as an additional space to showcase your brand
WhatsApp campaigns can be personalized based on customer attributes
You pay only for the messages sent, no setup fees or monthly plans.
If you need more convincing, here's a detailed list of 15 benefits of using WhatsApp for business.
Whatsapp marketing campaign options
What exactly can you do with WhatsApp campaigns?
In short, you can reach out to your potential and current customers with mass messages, send one-to-one updates, and answer customer support requests when people contact you. The messaging platform will help you with nurturing, conversion, and retention of customers.
Here are the marketing message formats you'll have at your disposal:
Individual messages
You can contact WhatsApp users individually with personal updates based on their behavior. That's especially easy since the API can connect to your CRM for insights.
Ask for feedback or trigger a reorder reminder, provide assistance and support as needed. Direct messages are a familiar way of communication that boasts personalization, intimacy, and security even between a business and a customer.
Broadcasts
WhatsApp broadcasts are also called notifications, WhatsApp newsletters, and mass advertising messages. They work a lot like an email promotion — you reach people at scale. Announce new products or events, share an initiative, inform about shipping delays around Black Friday, etc.
WhatsApp campaigns don't have the limitations of the free WhatsApp Business App, which doesn't let you message more than 256 people at a time. Via the API, you can target as many opt-in contacts on your broadcast lists as you want in one go. Read on if you want to understand the difference between WhatsApp and WhatsApp Business.
WhatsApp groups
The WhatsApp Business API lets you create and manage group chats. Invitations to contacts to join are sent using a special templated message. It's an additional spam-free space for your customers and target audience to discuss your products or related topics undisturbed. It's great for market research, feedback, and brand awareness.
Want to know more? Discover everything you need to know about WhatsApp marketing in one ebook!
How to get started with WhatsApp on Brevo
To use WhatsApp campaigns, you need a Business Solution Provider, a third-party marketing software that integrates with the API and gives it interface. Brevo is one and lets you integrate WhatsApp with everything else on its platform: CRM, segmentation, contact management, signup forms, automation, etc.
Here's everything you need to create your first WhatsApp campaign with Brevo.
1. Sign up for Brevo if you don't have an account yet
2. Activate WhatsApp campaigns in your account app center
In your Brevo account, click on the "+" sign in the main menu, next to "Campaigns", "Automation", "Transactional", and "Contacts".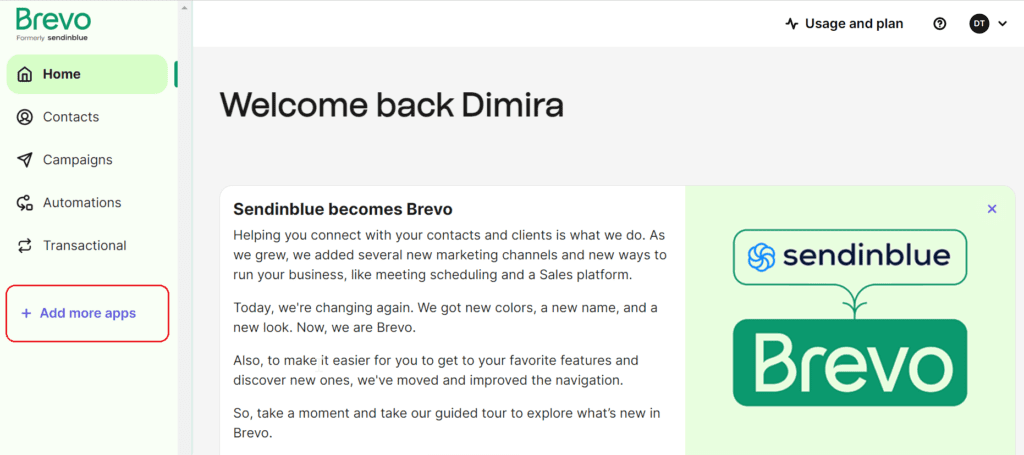 You'll be taken to the Apps and Integrations space. Use the search box or simply scroll down to WhatsApp campaigns.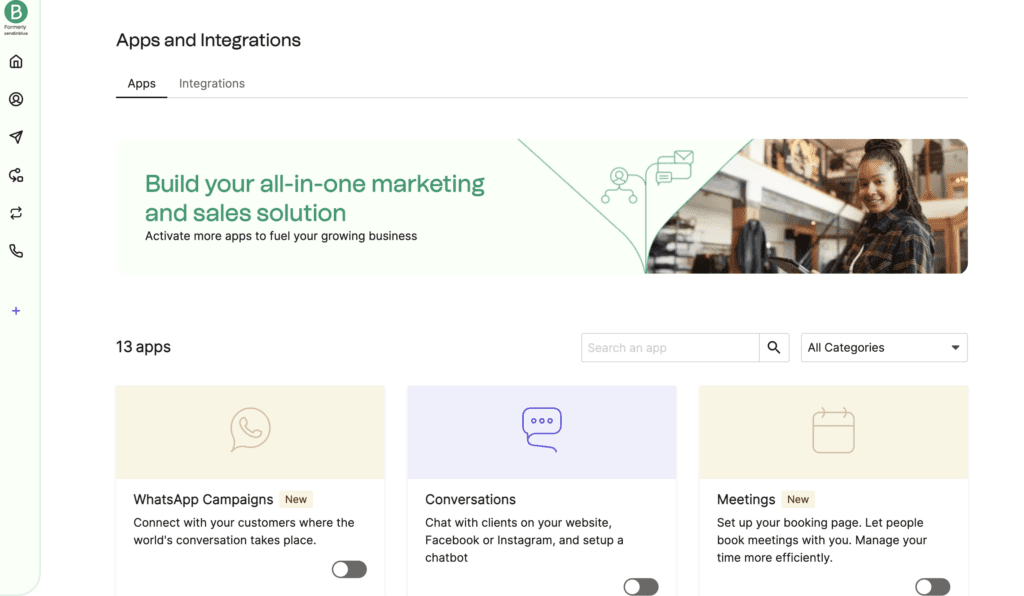 Turn the toggle button on and click on "Go to WhatsApp campaigns" to go to the main view where your future WhatsApp campaigns will be listed.
3. Link your WhatsApp Business account to Brevo
A WhatsApp Business account is your company's presence on the messaging platform and is at the heart of the connection between API and Facebook Business Manager. So you have to create a WhatsApp Business Account and get it verified when setting up your WhatsApp campaigns.
In your Brevo account, go to Campaigns > WhatsApp. Click on Login to Facebook. If you don't have a business account yet, you can create it on this step. Either way, follow the process of the embedded signup to connect your WhatsApp Business account to Brevo. It's where you'll add the phone number you want to use for WhatsApp and submit verification details.
Here's the process of linking WhatsApp and Brevo in detail.
Once your WhatsApp Business account is connected, you will be ready to create and schedule your first WhatsApp campaign.
4. Import or build your WhatsApp contact list
In your Brevo account, go to Contacts. You'll be taken to the contact database. On the right, you'll see the button "Import contacts". You'll see all possible ways to import your contacts list if you have it.
Alternatively, you can update your subscription forms with a WhatsApp marketing option. Brevo supports multi list forms, that is forms where subscribers can choose to be added to more than one list (e.g. both email and WhatsApp marketing). Here's how to start collecting opt-ins for WhatsApp.
A few ideas where to place your signup forms:
On your website
As a CTA button on your brand's Facebook page
As a CTA button in Facebook ads
In emails
On print materials for offline events or displayed at your physical location
On the inside of shipping boxes
Don't forget to tag the imported or created list for WhatsApp campaigns to distinguish it from your SMS lists.
6. Name your campaign and choose the language
Recipients won't see the name so it's good to put in details to find it easily among the rest later.
As for language, choose the same language as the body of the message or it won't be approved (this setting can also be set in the next step). If you're running the same campaign in different languages, you need to repeat this process and create separate campaigns for each language. Then, click Begin.
7. Select your recipients
The WhatsApp Business account you linked to Brevo will automatically be added to the From section and used as the sender of your WhatsApp campaign.
Add all lists you want to reach in the top field. You'll get a dropdown menu with all your lists of WhatsApp recipients (subscribed and imported). Choose the list(s) you want to reach with this campaign. You can also exclude lists from this field:
Then, click Save account. As part of the API integration, Brevo will automatically check if all selected recipients have a valid WhatsApp account (no need to do anything on your side!). This way, the campaign will only be sent to existing accounts and your performance metrics won't be affected by inactive users.
8. Design your message template
We offer two options to design your WhatsApp message template: you can either reuse a message from an existing campaign by using it as-is or editing it, or you can create your message from scratch. In the Design section, click on Edit and select one of the two options.
If you choose to reuse an existing design, select it from the dropdown menu and click Open editor. To start from scratch, simply choose that option and click Open editor.
Now, input the body of your message. The text can be up to 1,024 characters long. Formatting options like emojis, italics, and strikethrough are available. You can also add:
Personalization by inserting variables (dynamic attributes)
CTA buttons
Links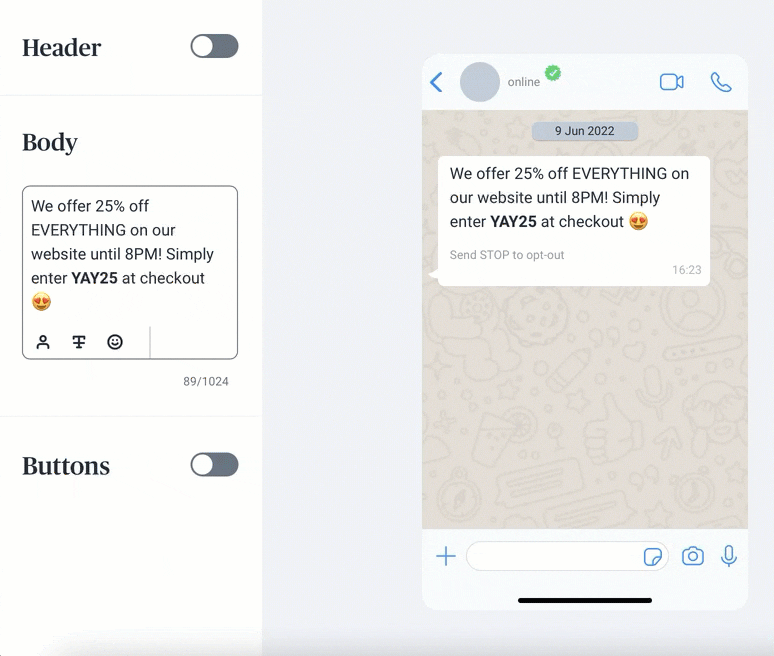 You can also add a header on top — text or media, to make the message even more attention-grabbing.
For even more engaging messages, quick reply buttons are available. You preset the answer options and readers just have to tap them to answer.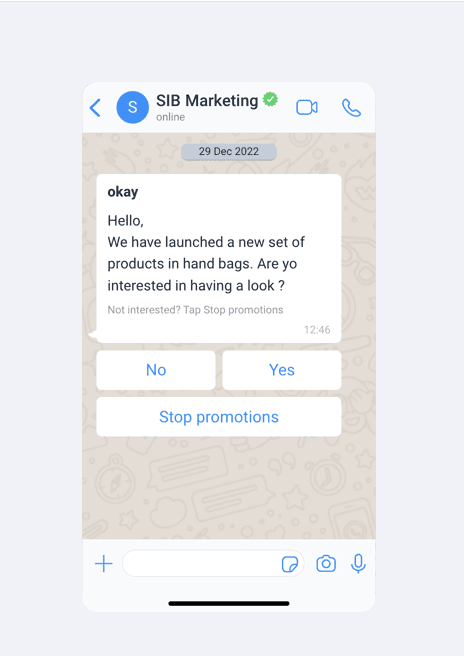 9. Submit your message template for approval
When your message is ready, save it and you'll get this screen.
Click on Submit for approval. WhatsApp reviews all new messages to make sure they comply with Message Template Guidelines, WhatsApp's Commerce Policy, and Business Policy. The process is automated through the API and once submitted, a template cannot be edited.
A review can take up to 24 hours, but most of the time, it will only take a few minutes for WhatsApp AI to approve your message.
10. Purchase sending credits
Go to My plan in the admin panel in Brevo. This is where payments are made. Scroll down to the Add-ons section. Buy SMS credits, they work for WhatsApp as well. Now, you're ready to send messages.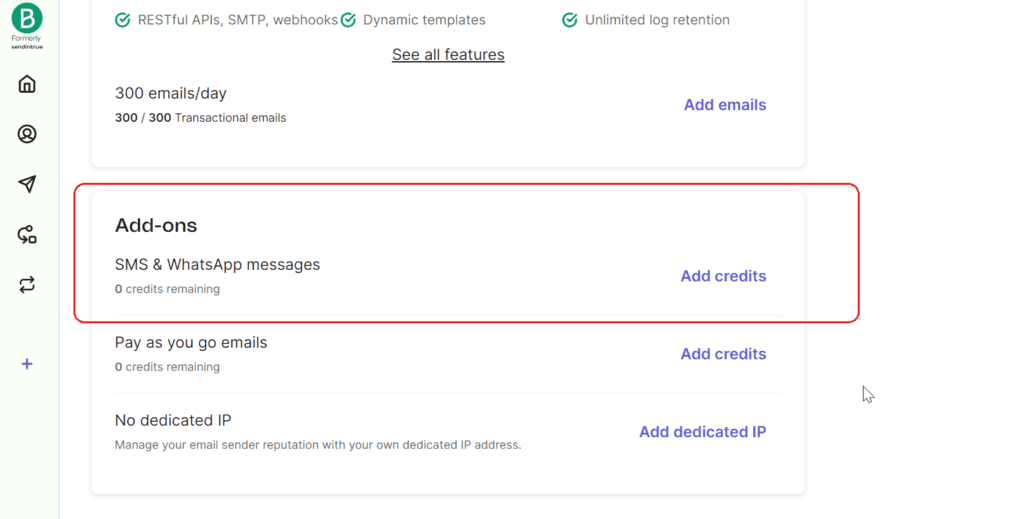 11. Schedule and send your WhatsApp campaign
Once you receive a notification that the template is approved, you can schedule your campaign or send it right away. If it gets rejected, you'll also receive a notification with the reason so you can fix it and re-submit it.
The "Schedule" button is located next to the status of the template. You'll be able to choose date and time (the time zone is shown under the menu).
12. Analyze the results
You can monitor the campaign performance from the main WhatsApp dashboard within Brevo (Campaigns > WhatsApp). Filter by message status to get the messages sent and you'll see:
When each one was scheduled
To how many people it was sent
The read rate (similar to open rate in emails)
Thus, you get real-time feedback on how people are reacting to the campaign and improve future performance.
For example, if the read rate is not 100% (as expected for direct messages), it's worth asking WhatsApp subscribers to re-confirm their consent to weed out inactive accounts.
Or if the click rate is low, try another CTA to stimulate engagement. High unsubscribe rate will drop your quality score and sending quota so if a message performed badly, suspend it and rephrase it.
Here's the whole process of getting started with WhatsApp campaigns on Brevo the video is just 3 mins!).
WhatsApp Campaign best practices
Although WhatsApp Campaigns are quite similar in terms of creation to SMS and even email marketing, the specifics of the platform call for following a few rules.
When creating your WhatsApp marketing strategy, work on those basic best practices to avoid messages being rejected or your company getting kicked out of WhatsApp for good (yes, they can suspend or cancel your account if you systematically break the rules).
Message only opt-in contacts. It's very easy for end users to report and block you on WhatsApp, which brings down your rating and will decrease your sending limits.
Use CRM to manage your contact lists and consent. A CRM suite like Brevo will enable you to collect consent to WhatsApp campaigns in a GDPR-compliant way. Then, you can create further sub-lists and send targeted offers instead of blanket promotions.
Write your message with proper spelling and grammar. Otherwise, chances are high WhatsApp will reject them.
Add only URLs to a domain that your company owns. And don't shorten them.
Try WhatsApp on Brevo
Seamless integration, no coding required, signup forms to grow your WhatsApp list and unlimited contact storage! Pay only for messages, no setup or license fees.