Reading time about 11 min

If you're asking "What is a CRM database?" then you're likely at the point where your spreadsheets are overflowing with customer information. A CRM database will help you not only manage customer data but leverage it to deliver a 5-star customer experience and ultimately grow your business. It's an essential part of any CRM strategy.
What is a CRM database?
A customer relationship management (CRM) database is how businesses store and manage customer data, usually on a centralized CRM platform, or software. By automating data collection, a CRM database makes contact management easy. This way, your team can create an exceptional customer experience, build stronger relationships, and make sales.
Read on to see why, according to Gartner, over 80% of global industry leaders use CRM tools and how a CRM database can help your business thrive.
What can CRM databases do for businesses?
In other words, what is a CRM database good for? By automatically collecting contact data from various sources, a CRM database gives your business a clear picture of the customer journey.
Organize customer data in one place
A CRM database gives you an overview of all of your contact profiles on one dashboard. It keeps track of:
Customer interactions such as social media messages, purchase history, and how often they open your emails.
Contact information such as age, gender, company size, occupation, and other demographic details.
Automate customer data entry
Your customers are interacting with your business on social media, from their phones, and on your website (to name a few channels). Tracking these behaviors manually would take a lot of time.
Connect these different channels to your CRM database and your contact's history will update automatically whenever they buy items, click links, or send messages.
Streamline contact management
Having up-to-date customer profiles readily available means your marketing and sales teams can get straight to work without wasting time on data entry.
They'll see where a contact is in a pipeline, assign tasks to colleagues, and provide customer support exactly when it's needed.
A CRM database can also do customer segmentation and group your contacts by preferences or behavior — ready for tailored marketing campaigns.
Build sales pipelines
A pipeline is a visualization of each step a prospect takes on the customer journey to get from new lead to loyal customer. With a CRM database, you can build a pipeline and see how many customers are won or lost at each step, helping your team improve your sales strategy.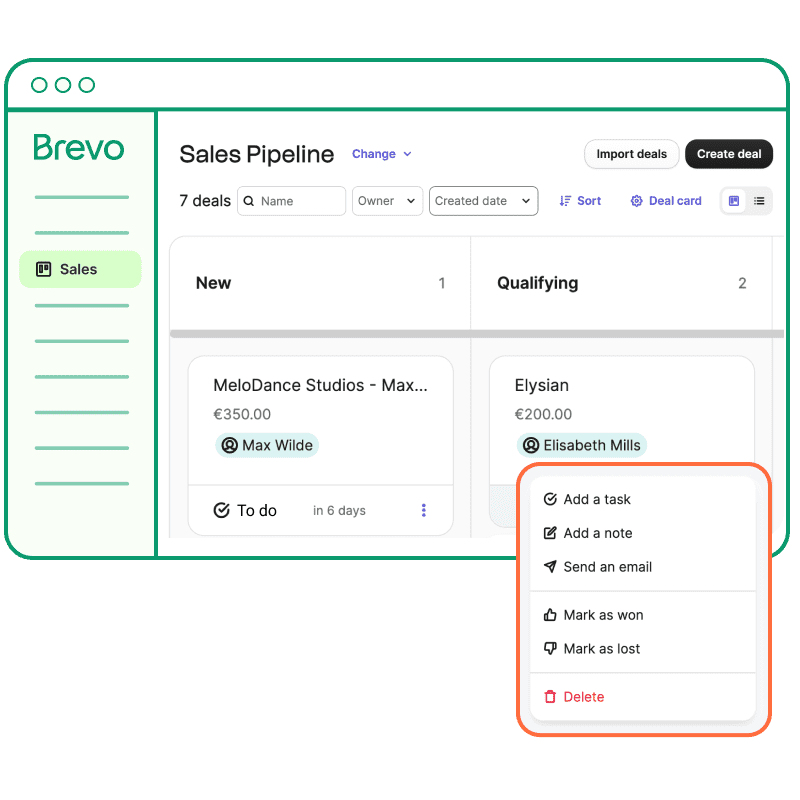 Sales pipeline deal overview in a CRM
Further reading: What is CRM? A Complete Guide to CRM
Provide reports
Reporting about your sales pipeline will show you critical insight such as revenue, conversion rate, win rate, and how long it took to make a sale.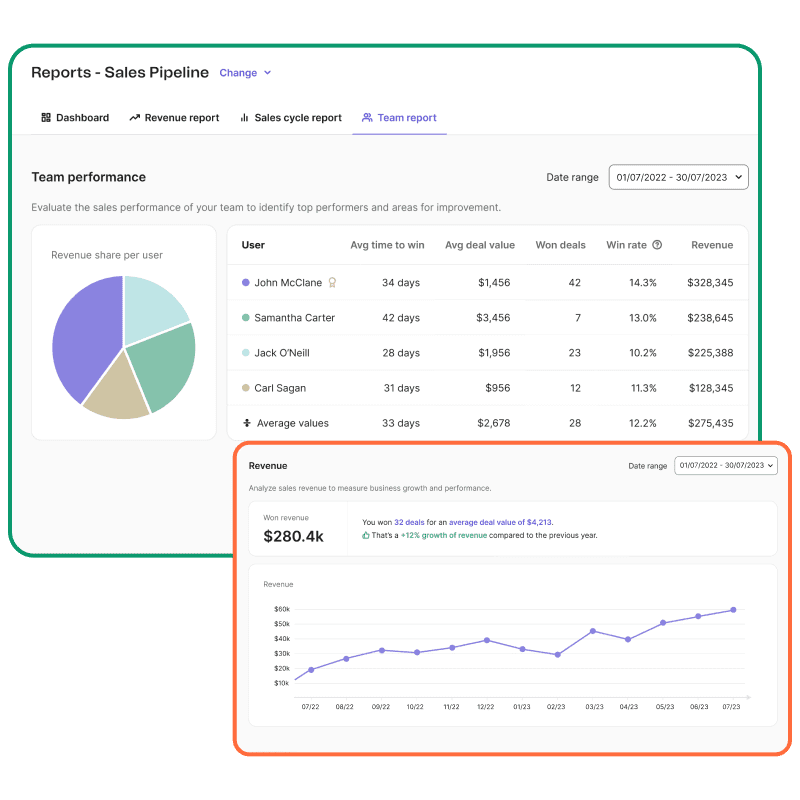 CRM sales pipeline revenue report
Protect your and your clients' data
While not the first thing people think about when looking for a CRM solution, data protection is extremely important. You're saving tons of sensitive information about your business and your clients and you need to protect it.
A good CRM database should be equipped with the ISO 27001:2013 security certification and use GDPR-compliant practices to protect your customers' data privacy rights.
What are the benefits of a CRM database?
Having your customer information at your fingertips is half the battle of running a business. Detailed customer profiles enable your team members to work more effectively, and more efficiently.
1. Speed up sales processes
A CRM database automatically updates customer information from various input streams that you connect to your database. Salespeople can then use the data to make better predictions about the best time to reach out to a customer.
If a lead is behaving in a way that signals they are ready to buy, the sales team can step in without having to do much guesswork.
2. Inform marketing teams
A CRM helps organize contacts based on their shopping behaviors and demographic traits. Marketing teams use this insight to make campaigns that are more relevant and valuable to customers.
A coupon for a sweater that someone puts in their shopping cart will be much more persuasive than a coupon for a sale on random items.
Knowing your customers means you know how to target their interests. 71% of consumers want more personalized communication from brands. Relevant and personalized offers improve customer engagement and loyalty.
3. Improve the customer experience
Customers need support and attention unique to their situation. The great thing is, with a CRM database chock-full of customer information, you know exactly where a contact is in the customer journey. Use this insight to send relevant communications every step of the way.
Example use cases
A prospect signs up for your webinar. Your CRM database can automate sending them a reminder before and a follow-up summarizing the event after.
Direct customer messages to your database dashboard so your team can easily find and respond to their questions.
CRM Database examples from real businesses
So what do real companies achieve with a CRM database by their side?

Finding the next best talent is no easy task. The Recording Studio London had an issue to solve: it was getting flooded with meeting requests from artists, both legitimate and uncommitted. The team needed a way to sort through contact data to find the best potential customers for their brand.
Brevo's deal pipeline and lead-scoring features help them focus marketing attention on high-quality leads.
"As soon as we get an inquiry — be it over the phone, WhatsApp, email, or through web contact forms — it goes straight into our sales pipeline status. From there, it just moves through depending on what actions are required, whether it's collecting more info from the client, following up after a quote, invoicing, or even post-sales where we send a 'Thanks for booking with us!' email."

– Dave Ferguson, Director
Read the full success story.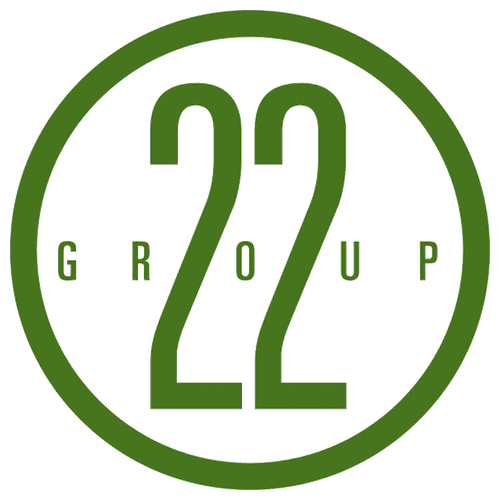 El Segundo-based digital agency, Group 22, uses Brevo's CRM for contact management and email automation to nurture potential customers down the sales funnel.
How? Group 22 created a deal pipeline to help them see what stage of the customer journey their leads were at. Once prospects reached an important step in the pipeline, email automation triggered relevant email messages to help close deals.
Read the full success story.
How to choose a CRM database software
There are many CRMs, but what is a CRM database that is good for me?
Find a CRM system that fits your budget, company size, and use case needs, but that also allows you to continue growing your business.
Look for these characteristics and features to make sure you get the most out of your CRM database:
Accessibility
A CRM database should make your work easier, not bog you down with complex data. Your platform should be:
Cloud-based. Cloud-based software can be accessed by your team no matter where they are. It's maintained by the CRM service provider so you can start using it immediately to connect to your already existing communication channels (website, social media, etc).
Easy-to-use. An intuitive platform means your teams can find important information or create automation without a steep learning curve. Not every marketer or sales rep is a tech expert. User-friendly tools are key to improving productivity.
Features
You're feeding your database with a lot of information, so you want to make sure your CRM can give you the insight you want from it.
Essential features for your marketing and sales teams include:
Reporting dashboards. Your database should provide you with real-time reports for your sales cycle. Look for a CRM that can show you conversion rates, win rates, and time spent to make a sale. This will help you improve your future campaigns.
Lead scoring to see how close each contact is to becoming a customer on a scale from 0-100. Lead scoring will signal to your teams when a lead is ready for sales outreach, and when they need more marketing messages.
Customizable pipelines so you can target your largest audience groups effectively.
Automation of busy work such as task assignments and team notifications.
Contact migration from .csv files or other CRM providers so you don't have to manually re-enter your entire contact database.
Scalability
Some CRM databases can also combine your sales, marketing, and customer service in one place. If growth is your goal, you'll need a CRM database that can integrate other business functions.
Key business functions for scaling include:
A marketing platform with multichannel marketing (SMS, email marketing, etc) will help you find new leads and stay in touch with existing customers.
Marketing automation will help your teams save time by streamlining your campaign schedules and launches. Automation workflows also trigger multi-step campaigns that are important for getting a prospect through the sales funnel.
A business phone number gives your clients a direct way to contact you. Call routing and other team productivity tools.
A meetings booking page that sends reminders and accepts payments is an excellent addition for businesses that offer consultations, or any service via video call.
An ecommerce integration connecting your online shop to your CRM database. Track your customers' favorite items and purchase history and send them irresistible offers in future marketing campaigns.
A live chat widget is an effective way to provide support and foster trust for new and returning prospects.
Best CRM database software recommendations
The best solutions have three main types of CRM software functions:
Analytical CRM. Creates reports and analyzes customer data to help your business create sales, support, and marketing strategies to foster customer engagement.
Collaborative CRM. Shares data between teams and assigns tasks to team members to improve productivity.
Operational CRM. Enables your team to provide customer support and visualize deal pipelines to deliver a 5-star customer experience.
So which CRM software provides all of this?
The best CRM databases for growing small business
Brevo. Serving customers like Michelin and eBay, Brevo is a CRM suite with a large feature set. What sets it apart is the intuitive UX and affordable pricing. Brevo offers the best of analytics, collaborative, and operational CRM at a price that allows you to grow.
Good to know: Brevo does not charge per contact, so you can accelerate growth without having to keep upgrading to more expensive plans.
The best CRM database for Fortune 1,000 enterprises
Salesforce. With a feature for every use case, Salesforce is often chosen by massive corporations to manage external and internal contacts.
Good to know: With so many features come complex setups. Salesforce offers expert assistance to set your team up with each of your tools, but it's not free.
Read more to get a full rundown of the best CRM software on the market.
What is a CRM database I can use today?
The Brevo CRM suite provides the latest sales tools to manage your customer database and boost productivity. Collect data, inform your marketing and sales approach, and create an outstanding customer experience — all at a price that won't break the bank.
Try Brevo's Sales Platform
Unlimited contacts, deal pipeline management, tasks, inbox, automation, meeting scheduling — all in one place.