Reading time about 25 min

Salesforce is a major player in the CRM field, but with an expensive price tag and enterprise scope, small and medium businesses will find more success with a Salesforce alternative.
We've shortlisted nine Salesforce alternatives that will empower your team, boost productivity, and foster meaningful customer connections — all without overwhelming complexity.
Whether you're a startup navigating your initial customer relationships, a growing business looking to automate your sales processes, or a team seeking seamless collaboration and communication, you can find a Salesforce alternative on this list to fit your needs.
What does Salesforce offer?
Salesforce is a cloud-based CRM platform that helps businesses manage their interactions and relationships with customers and make sales. It's a unified platform for storing and accessing customer data, interactions, and communication history.
Salesforce's key features are:
Opportunity management: Salesforce CRM allows businesses to track and manage sales opportunities through each stage of the sales pipeline. This includes lead management, contact tracking, and deal forecasting.
Sales process automation: Automation features streamline repetitive tasks such as data entry, lead assignment, follow-up emails, and task scheduling.
Lead nurturing: It helps businesses nurture leads by automating personalized communication based on lead behavior and interests.
Service Cloud: Salesforce's Service Cloud offers tools (case management, process automation, routing) for consistent customer service across various communication channels.
Reports and dashboards: Salesforce provides customized reports and visual dashboards on business performance, sales trends, and customer behavior.
AI-powered analytics: With Einstein Analytics, businesses can leverage artificial intelligence to uncover deeper insights and predictive analytics.
Salesforce Chatter: An internal social networking tool allows teams to collaborate, share updates, and discuss projects within the Salesforce platform.
Mobile app: Salesforce's mobile app lets users access CRM data, manage tasks, collaborate with team members, and respond to customer inquiries while on the go.
Salesforce pricing
When signing up for Salesforce, users select the functionality, or Cloud, that forms the base of their Salesforce experience (e.g. Sales Cloud, Marketing Cloud, or Service Cloud). The choice will determine the pricing and the add-ons you can layer on to build your CRM system.
Salesforce offers a range of pricing plans. With countless add-ons and customization options, the sky is the limit (not only feature-wise but also cost-wise).
Let's look into the major Salesforce packages to give you a better picture of how much you can spend with the platform:
Sales Cloud: from essential sales features like contact management (from $25/user/month) to workflow automation (from $165/user/month), Sales Cloud offers complete sales solutions.
Service Cloud: Similar to Sales Cloud, Service Cloud pricing starts at $25/user/month for the Essentials plan. It can reach up to $330/user/month for the enterprise-level plan that includes advanced automation and AI capabilities.
Marketing Cloud: A comprehensive marketing automation suite and comes with a price to match. The first pricing tier starts at $1,250/month for 10,000 contacts.
Commerce Cloud: Salesforce for ecommerce offers catalog management, shopping cart functionality, order management, and customer analytics. The price is provided upon request.
CRM Analytics: powered by Einstein Analytics, this business insights (BI) suite offers AI-driven forecasts (from $75/user/month), unlimited analytics apps and dashboards (from $140/user/month), trends and takeaways (from $165/user/month), and revenue insights (from $220/user/month).
Factors affecting Salesforce pricing
Before choosing a Salesforce plan, it's important to understand how costs can add up based on:
Edition chosen: different editions come with different features and price points
User count: the number of users who need access to Salesforce will impact the total cost
Number of contacts: storing more contacts means paying more
Customization: bringing in a developer to set up and maintain your custom Salesforce infrastructure is an expensive project
Add-ons: you'll need to pay for additional modules or third-party integrations to extend the Salesforce functionality
Support level: Salesforce offers expert coaching, guided onboarding, and other premium support options at additional cost
Cons: Why look for an alternative to Salesforce?
Salesforce is a highly customizable platform, which is a double-edged sword. While it offers flexibility, it also means that the setup process becomes complex once you set foot in it.
Deciding which features to use, how to configure them, and how to integrate them requires a deep understanding of both the platform and your organization's needs.
Setup
The initial configuration takes a lot of time and expertise to tailor the platform to the specific needs of the business. Often, businesses need to hire consultants or experts to ensure proper setup.
Coding skills
The biggest advantage of Salesforce is rich customization opportunities. However, if you don't have the coding or visual development skills, you'd better go for a robust out-of-the-box solution.
Complexity
With all the types of pricing plans, add-ons, and customization options, Salesforce can be overwhelming for both beginners and even experienced users.
From choosing the right package that will accommodate your future growth plans, to navigating and setting up the platform — managing Salesforce isn't an easy thing to do.
Learning curve
Navigating through Salesforce's features and workflows takes a lot of time. A steep learning curve impacts productivity, as employees spend more time learning the platform and less time performing their tasks efficiently.
Moreover, Salesforce often updates its terminology, making it even more challenging to navigate its help content.
Price
Salesforce's pricing structure and many options can be expensive, particularly for smaller businesses with limited budgets. Costs can escalate as a business adds more features, users, and customizations.
Starting with Sales Cloud at $25/month and wanting to expand to Marketing Cloud for $1,250/month is quite a leap. Consider carefully which plans you will need down the road to grow your business before committing, and compare against competitor platforms.
The 9 best Salesforce alternatives compared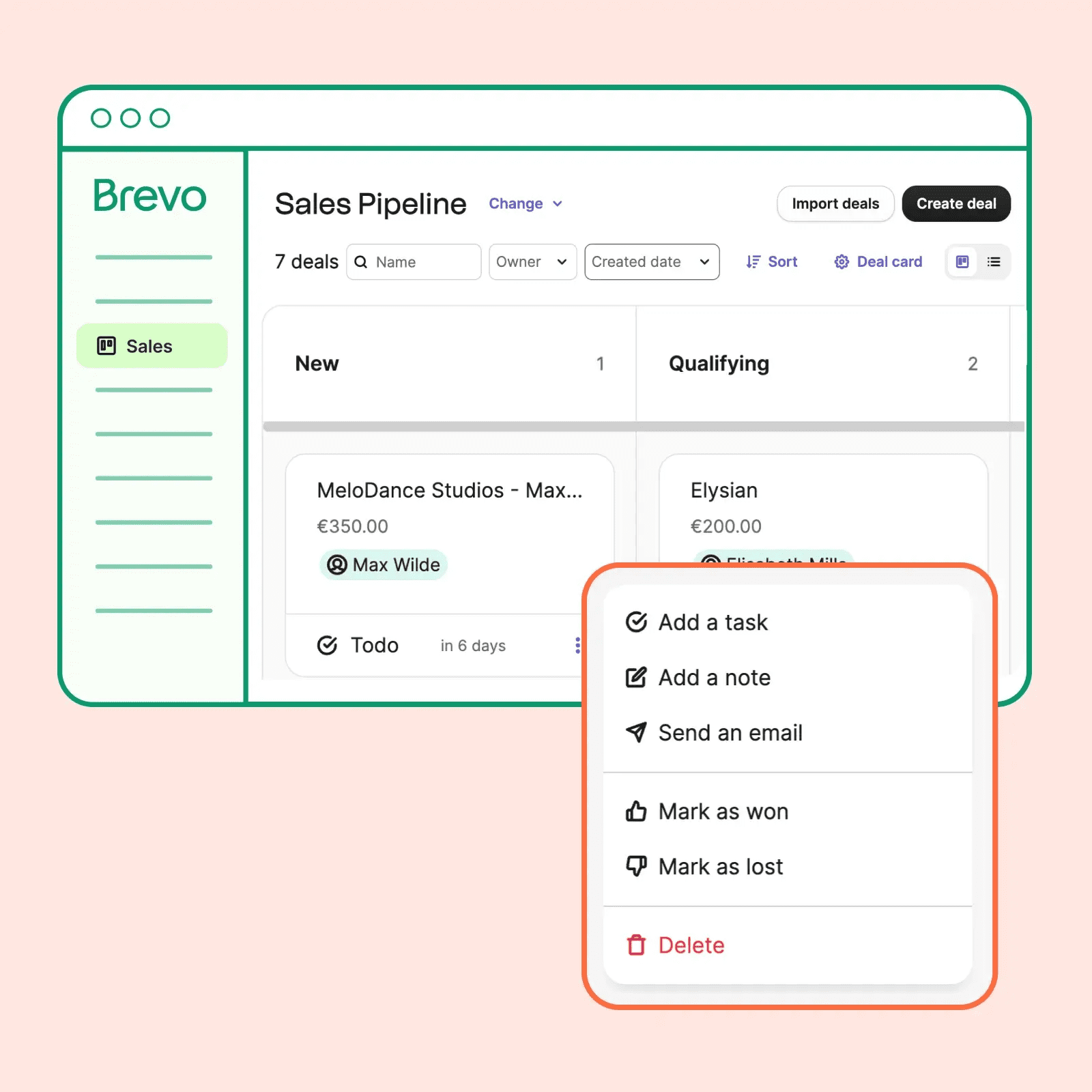 Brevo is a customer relationship management platform that centralizes customer data, marketing campaigns, sales, and omnichannel communications for 360-degree control over the client journey. What makes it a good alternative to Salesforce? Brevo helps you increase reach, develop long-term customer relationships, and drive revenue. Plus, Brevo is one of the most accessible Salesforce alternatives for growing businesses that don't want to pay thousands of dollars.
Like Salesforce, Brevo lets you choose the tools you need to customize your CRM:
Sales Platform
Marketing Platform
Conversations
Transactional Email
Unlike Salesforce, all of those can be accessed for free and offer a free version so you can keep growing your business. Upgrading is simple, and will give you access to advanced features. All platforms and features are managed and viewed on one dashboard for a seamless experience.
CRM suite

"It is very convenient and is so easy to use. I have all my information for potential deals, my contact information, my planner in one place which saves me so much time and effort and makes the entire sales process so much better." – G2, Brevo review by verified user in the trucking and railroad industry
The main features of Brevo's CRM suite include:
Contact management. Have all your contact information in a central database. See every touchpoint and interaction at a glance.
Customer segmentation. Use any website event or contact attribute for precise targeting. A huge range of trigger events for automation also available.
Deal management. Customize stages in the sales process and associate deals with relevant contacts to track your sales opportunities and move down the sales pipeline.
Sales dashboard. Monitor your sales activities and revenue forecastings directly in the platform.
Automation. Create workflows to segment contacts, send reminders, and follow up on leads automatically to create a 5-star customer experience.
Task management. Create tasks and associate them with contacts, deals, or companies to never miss a sales activity.
Meetings. Book calls, host them right through Brevo's own video-calling solution (or other platforms via integrations), and monetize your services.
Brevo Phone. Call your prospects, get call transcripts and recordings, and even answer calls, welcome message included. A business phone VoIP service integrated with the rest of the Brevo CRM suite. Mobile app available too.
As a Salesforce alternative, Brevo makes it easier to bring together CRM and marketing. The Sales and Marketing Platforms work seamlessly together right out of the box. Manage your sales processes and marketing activities from one place while keeping an eye on the contacts, prospects, and customers in the pipe.
Email marketing. Easily design and send personalized email campaigns to specific contact lists. Email templates, AI, and automation streamline campaign creation and boost productivity.
Campaign management. SMS campaigns, Facebook ads, WhatsApp marketing campaigns, web push notifications — these are just a few channels through which you can reach your prospects and customers with Brevo.
Landing pages and signup forms. Create customizable lead generation forms and put them on your website, live chat, or social media pages.
Marketing automation. Automatically segment contacts, personalize messages, and trigger email campaigns to reach the right people at the right time.
Brevo pricing
"The amount of functionality available for the price is great for small to medium size businesses." – Andy F. Small business owner
Sales Platform is free for up to 10 users. For advanced features such as sales automation, unlimited open deals and deal pipelines, and advanced reporting, price is $12 per month per user. No onboarding fees, no extra costs.
The Marketing Platform also offers a generous free plan with unlimited contact storage. Access email marketing, live chat, marketing automation, WhatsApp for business and more channels with one click. Paid plans start at $25/month for 20,000 monthly emails.
What makes Brevo the best CRM alternative to Salesforce
If you're looking for an alternative solution to Salesforce, you'll probably appreciate the following features:
User-friendly interface. Brevo stands out with its intuitive and user-friendly interface. Experts and beginners alike can navigate the platform effortlessly.
Hassle-free implementation. Complete setup quickly and start using the CRM sooner. No external help or pricey onboarding needed.
All-in-one. Alongside sales and marketing automation, you can also access live chat and chatbots, transactional emails, and other marketing tools at an affordable price.
Growth-oriented platform. Brevo aligns well with startups and small businesses seeking an efficient solution. Manage customer relationships and scale operations without having to pay for unnecessary features.
Pricing. All of Brevo's platforms have a generous free tier so that your business can actually grow. Upgrading to paid plans gives access to powerful advanced features as your needs and reach grow. Paid tiers start at $12 – $25 /month depending on the platform.
Case study: The startup growth program, SYSTM, uses Brevo's sales platform to improve its lead scoring and nurturing in order to find the highest quality leads. In doing so, SYSTM achieved 8x the growth without needing to increase headcount. Read the full case study here.
Get started with Brevo's sales solutions
Sales Platform, Meetings, Phone — Brevo has solutions for all your sales needs. Sign up to get unlimited contacts, customizable deal pipelines, meeting scheduling, a free business phone number, and so much more.
2. HubSpot CRM
HubSpot CRM is an all-in-one platform that streamlines acquisition and customer relationship-building efforts.
The CRM suite is a combination of HubSpot's Marketing, Sales, Service, and CMS Hubs (each of which can be purchased separately). They offer sales management, email marketing, automation, pipeline management, customer support, and other capabilities in one place.
Again HubSpot CRM combined with the other Hubs offers a huge variety of features. The question is, which of these functionalities do you actually need?
Key features of HubSpot CRM:
Contact management
Lead generation forms and pop-ups
Marketing automation
Sales pipeline management
Task management
Email tracking
Ticketing
Meeting scheduling
Document management
Reporting and analytics
Customization
CRM mobile app
HubSpot CRM pricing
HubSpot's pricing plans are way less confusing than Salesforce's packages. But similar to Salesforce, HubSpot also gets pricey pretty fast.
The free HubSpot CRM offers access to basic lead generation and contact management features. It doesn't include sales automation or other essential tools. Paid HubSpot CRM starts at $30/month for small teams (2 users and 1,000 marketing contacts). The next pricing tier is $1,781/month.
What makes HubSpot CRM a good Salesforce alternative
Ease of use. HubSpot offers a modern interface and intuitive navigation, making setup and implementation easier.
Customization. HubSpot CRM's customization options enable businesses to tailor the platform to their unique needs without overwhelming complexity.
Learning resources. The platform can get complicated, but a wealth of educational resources, a strong user community, and customer support make it easier to adopt and effectively use the platform.
When HubSpot CRM is not the right fit for you
"It feels like some essential features are locked behind a paywall." – G2, HubSpot review by Stuart R. Founder and principal consultant
While very close to Salesforce functionality and flexibility, HubSpot has some interesting, niche features, but it's definitely not the most affordable alternative to Salesforce.
Need more options? Discover the best HubSpot alternatives.
3. Zoho CRM
Zoho is another CRM suite that can compete with Salesforce. Designed to streamline customer relationship management, Zoho offers a wide array of tools spanning sales, marketing, and customer support.
Zoho's products and their interrelations are no less complex than Salesforce's, and therefore, we'll focus on one aspect of Zoho's comprehensive suite, its flagship CRM tool.
The CRM suite includes:
Sales automation
Pipeline management
Lead segmentation
Lead scoring
Sales analytics and forecasting
Email marketing
Task management
Zoho pricing
Zoho CRM offers two major editions: (1) the CRM Flex suite with four pricing tiers from $20/user/month to $65/user/month, (2) CRM Plus for $69/user/month. In CRM Flex, only basic CRM functionality is included while CRM Plus supports seven more apps alongside the core CRM features:
Sales IQ
Desk (customer service)
Projects
Campaigns
Social
Survey
Analytics
What makes Zoho a good Salesforce alternative
Affordability. Zoho's pricing structure is more budget-friendly than Salesforce's.
User-friendly interface. Zoho's intuitive interface is designed to be user-friendly, reducing the learning curve for teams adopting the CRM.
Comprehensive features. Zoho offers an equally diverse and sophisticated toolkit as Salesforce, making it a decent enterprise option.
Customization. If you need a customizable CRM solution with a more affordable price tag, Zoho makes a decent alternative to Salesforce.
When Zoho is not the right fit for you
"It lacks many of the integrations and functions you can get with Salesforce." – G2, Zoho review by Sharon W, Small business
Zoho is a great choice if you want to build your entire ecosystem on Zoho's products. However, integrating Zoho with third-party systems isn't as seamless as in Salesforce.
4. Insightly
Insightly is a CRM and project management platform for small and medium-sized businesses. It's a simple alternative to Salesforce, but without diverse omnichannel capabilities.
Similar to many other platforms on this list, Insightly is split into three different products:
Insightly CRM
Insightly Marketing
Insightly Service
Again, we'll be primarily focusing on the CRM capabilities. Insightly offers a robust suite for lead tracking, opportunity management, revenue analytics, workflow automation, and productivity management. And while you can find most of these features in any CRM solution, productivity and task management is Insightly's distinguishing feature.
You can create projects, add milestones, assign tasks, and track the progress of your team members without leaving your CRM platform.
Insightly also emphasizes security features with its validation rules and advanced permissions.
Insightly pricing
Insightly CRM is considered an affordable alternative to Salesforce. It's free for up to 2 users, and its paid plans start at $29/user/month.
On the downside, Insightly's marketing plan starts at $99/month for 2,000 contacts. So if you want a full-funnel CRM, it can get more costly than other small business solutions on this list.
What makes Insightly a good Salesforce alternative
"It is a lot more user friendly than Salesforce" – G2, Insightly CRM review by Taylor B, Mid-Market.
Out-of-the-box. If you don't need Salesforce's customization options and advanced features, you'll enjoy Insightly's simplicity.
Quick onboarding. The platform's emphasis on simplicity and ease of use minimizes the learning curve, allowing users to familiarize themselves with the CRM's functionalities in a shorter span of time.
Process optimization. Insightly prioritizes project management, making it a perfect choice for sales teams looking to improve their collaboration.
When Insightly is not the right fit for you
"When we signed up, the cost was the most important thing. Now we pay as much as Salesforce Small Business and have half the features." – G2, Insightly CRM review by verified user in Veterinary
Insightly is way more user-friendly than Salesforce. But if you're looking for an affordable alternative to Salesforce, you'd better pay attention to other providers on the list.
5. Freshsales
Freshsales is simple sales CRM software built by Freshworks. Its offerings include:
Contact management
Sales activity management
Custom sales activities
Workflow automation
AI forecasting
Data management
Chat widget
Built-in phone
Team performance analytics
Sales reports
Alongside typical CRM features, the platform offers AI-powered deal insights for sales reps to power their decision-making with predictive insights. Freshsales' Freddy AI tool enables revenue forecasting and opportunity evaluation to help sales teams make informed decisions.
Another outstanding feature of Freshsales is a built-in cloud telephony. Salespeople and service teams can make and accept calls directly from laptops, make notes, and easily track and analyze the metrics indicating the effectiveness of their conversations.
Freshsales pricing
Freshsales offers a free version for up to 3 users. In this plan, you can access contact management, live chat, telephony, and a basic sales dashboard.
Paid plans start at $18/user/month and can reach $83/user/month.
What makes Freshsales a good Salesforce alternative
"Freshsales is the perfect option if you don't want all the specifications and names of Salesforce, but want something inexpensive." – G2, Freshsales review by Vivek D. Senior Associate
Great fit for small businesses. Freshsales' affordable pricing makes it a starting point for small businesses.
Omnichannel sales. Freshsales' built-in cloud telephony, as well as features like a chat widget help make it a multi-channel platform.
When Freshsales is not the right fit for you
"There is a lack of significant integrations that you would get out of something like Salesforce." – G2, Freshsales review by Hunter N. Director of Solutions Engineering
If you're a large enterprise with highly intricate sales processes, Freshsales might not provide the depth of complexity and customization that Salesforce does. However, it is enough for small businesses looking to maintain their productivity.
6. Pipedrive
Pipedrive is sales CRM and pipeline management software in the first place. You can create custom pipelines to match your sales cycle or use pre-built templates and start tracking your sales process right away.
Pipedrive offers:
Lead and deal management
Customizable pipelines
Document management
Revenue forecasting
Project management
Sales automation
Meeting scheduling
Similar to Insightly, Pipedrive offers project management capabilities. The platform integrates project management software into the CRM platform to enable sales teams to share information, customize project boards, manage tasks, and more.
Pipedrive pricing
Pipedrive starts at $21.90/user/month for basic features like pipeline management and communications. The most popular Pipedrive starts at $59.90/user/month and includes automation, meeting scheduling, document management, sales forecasting, and other advanced features.
What makes Pipedrive a good Salesforce alternative
"Evaluated Pipedrive against Salesforce. Pipedrive won." – G2, Pipedrive review by Dariush Z. Small business
Pipeline management. Pipedrive is designed to simplify and optimize the sales process, making it an ideal choice for businesses that prioritize efficient deal tracking and management.
Sales reporting. From individual rep dashboards to revenue forecasts, Pipedrive offers a range of sales reporting capabilities and makes data easily accessible to everyone involved.
Pricing plans. Pipedrive offers five different packages for every taste and budget. It's very easy to choose one that fits your needs.
When Pipedrive is not the right fit for you
"Doesn't come close to Salesforce or a very robust CRM…" – G2, Pipedrive review by verified user, Chemicals
Pipedrive doesn't offer as many tools and add-ons as Salesforce. It's also not so flexible and robust. So if you need something more than a CRM suite for a small business, it's not the right fit for you.
7. Bitrix24
Bitrix24 is more of a team management platform with CRM capabilities. It offers a diverse set of tools designed to enhance team collaboration, communication, and productivity, while also providing CRM functionalities to manage customer interactions effectively.
The platform combines the following features in one interface:
Online workspace (employee polling, chats, etc.)
CRM
Contact center
HR management (time tracking, work reports, etc.)
Website and online store builder
Bitrix24 strives to centralize all the key processes startups and small teams are dealing with on a daily basis.
Bitrix24 pricing
The platform offers a free plan with limited access to the key features. Paid plans start at $61/month for up to 5 users. All paid plans include unlimited contacts and deals, segmentation, omnichannel contact center capabilities, and CRM sales automation.
Additional perks like telephony and WhatsApp messaging are available in more expensive plans (from $124/month).
Business process automation, HR management, and sales intelligence are a part of the Professional plan, at $249/month.
What makes Bitrix24 a good alternative to Salesforce
"Bitrix24 is a comprehensive business management platform" – G2, Bitrix24 review by Vineet T, Small business
Cross-functional collaboration. Unlike traditional CRM platforms, Bitrix24's task management extends beyond sales processes.
No per-user pricing. Bitrix24 offers fixed pricing models, allowing businesses to add more users without worrying about escalating costs.
All productivity tools in one place. Users don't need to switch between apps to log their time, write a report, or schedule a call — all of these can be done through Bitrix24.
When Bitrix24 is not the right fit for you
"…if you already using other products, you may find it hard to switch to Bitrix from a current system." – G2, Bitrix24 review by Verified User in Outsourcing/Offshoring, Mid-market
Bitrix24 is a great choice if you're only at the beginning of your startup journey and haven't implemented any productivity systems yet. Users report it's hard to migrate to Bitrix24 from different technology.
8. Monday.com
Monday sales CRM is a dedicated sales platform by monday.com. Its key features are:
Lead capture
Pipeline management
Contact management
Task management and communication
Workflow automation
Sales performance analytics
Process automation and performance reports are the strongest features in monday sales CRM. You can organize your workflows and maximize your team productivity by creating custom automations in a few clicks.
Overall, Monday sales CRM is a particularly good choice if you've already been using monday.com for task management and want to foster cross-functional collaboration.
Monday.com pricing
From $12.5/seat/month or $10/seat/month if billed yearly (3 seats minimum). Every plan includes unlimited contacts and pipelines.
What makes monday.com a good alternative to Salesforce
"The interface is easier to navigate and more modern than Salesforce." – G2, monday CRM review by verified user, Education management
Simple automations. If you need a tool to create custom automated workflows without the complexity of an advanced automation tool, monday sales CRM is the right choice.
Real-time communication. Monday.com is a collaboration platform, so you can expect a range of helpful communication tools that make sales collaboration a breeze.
Affordability. Monday sales CRM is an affordable tool for customizable workflow automations.
When monday.com is not the right fit for you
"The ease of use can be a double-edged sword. This is definitely not as sophisticated software as, say, Salesforce." – G2, monday CRM review by verified user, Commercial real estate
If your business requires complex customization, advanced forecasting, or specialized integrations, monday.com's capabilities might be limited compared to dedicated CRM platforms like Salesforce.
9. Zendesk
Zendesk Sell is an out-of-the-box CRM platform with a simple user interface and predictable logic. Its suite offers the following features:
Lead generation
Contact and deal management
Sales automation (though not as advanced as in other sophisticated tools)
Forecasting
Activity tracking
Analytics and reporting
Built-in telephony
Zendesk Sell enables sales representatives to easily log and track their activities, including calls, emails, and meetings.
Zendesk pricing
Prices start at $25/user/month or $19/user/month billed annually. Features like automated sequences and forecasting are available starting at $69/user/month and higher.
What makes Zendesk a good alternative to Salesforce
"The first thing that struck me about Zendesk Sell was how easy it was to create an account and start using the platform." – G2, Zendesk review by Mike T. VP, Senior Creative Director
Easy to get up to speed. Zendesk's interface is known for its user-friendly design, making it easy for both new and experienced users to navigate and utilize the platform without a steep learning curve.
Activity tracking. Users often choose Zendesk for its phone call recording and conversation tracking capabilities.
Native integration with support tool. When complemented with Zendesk Service (purchased separately), the platform creates complete customer service software and sales CRM, allowing sales and service teams to manage customer communications in one place.
When Zendesk is not the right fit for you
"The pricing is a bit high for companies who are just starting as a business." – G2, Zendesk review by verified user in computer software
The absence of a free plan and the limited functionality available in the cheapest plan make Zendesk a rather costly option for new businesses.
Ready to switch to a Salesforce alternative?
As you evaluate these Salesforce competitors, your decision should be based on your business's current setup, your data migration and integration requirements, and whether marketing tools are a priority for you.
These CRM alternatives will empower you, whether you're a startup, a growing business, or an established organization seeking a fresh approach.

Take advantage of the free plans offered by these platforms. It's a risk-free opportunity to explore and experience CRMs firsthand. If you're hesitating between platforms, Brevo's advanced sales and omnichannel marketing features and use-based pricing model make it the overall winner for companies who are looking for sustainable growth.
Get started with Brevo's sales solutions
Sales Platform, Meetings, Phone — Brevo has solutions for all your sales needs. Sign up to get unlimited contacts, customizable deal pipelines, meeting scheduling, a free business phone number, and so much more.