Reading time about 12 min

A business phone system makes communicating with your customers a breeze.
A high-quality business phone system will have features like unlimited calling, multiple lines, call transferring, and automated menus.
For small businesses, a business phone system should provide a reliable and affordable way to stay in touch with your customers. You can increase sales, drive growth, and improve customer experience with the right small business phone solution.
Here's what you should look for when choosing a phone solution for your small business.
At a glance: Best business phone systems for small business
What is a small business phone system?
As a small business owner, it might be tempting to use your team's personal cell phones as a business phone system. However, this can lead to a whole host of issues, including:
Mixing up incoming personal and business calls
Inconsistent contact and call log information
Lacking features to maximize efficiency
That's where a small business phone system comes in handy. It gives you the tools to effectively handle phone communication.
2 Types of business phone systems
Small business phone systems can be broken down into two main categories of solutions, landlines and VoIP phone systems
1. The traditional landline phone systems
When people think of business phone solutions, they often start with landlines. Since landlines have been around for decades, most people have grown up seeing them in their homes, businesses, and as office phone systems.
To transmit voice signals, a landline phone uses analog lines. They're typically in the form of copper wires, hardwired into your device. This is different from the wireless communication via mobile phone.
Landline phones can be corded or cordless. The corded option connects to cabling through a wall jack. The phone base itself, and the receiver or headset will be attached by a cord.
A cordless landline has a phone base that is wired to the cabling, but the receiver and headset are wireless. It offers a bit more mobility, but its range is usually limited within the premises of your phone solution
2. VoIP phone systems
VoIP (Voice over Internet Protocol) is a phone technology that allows users to make phone calls over the internet.
It's also called IP telephony, internet telephony, IP phones, and other alternative names.
VoIP systems pick up voice through the device's microphone. Your voice generates analog voice signals, which are compressed into packets of data. The VoIP data packets are then transmitted over the internet, before being decompressed back to analog voice signals for the person on the other side of your phone call.
Making and receiving calls over VoIP is done the same way as with a traditional landline telephone system. So your team can start using this technology quickly and easily.
There are two types of VoIP solutions: on-premise and hosted, cloud-based phone systems. An on-premise solution needs large physical servers installed and maintained in your office.
Hosted cloud-based phone systems are much more popular for small businesses, as a provider will maintain, store, and update the servers. And they don't need any physical space.
Landlines vs. cloud-based VoIP solutions for small businesses
Compared to traditional landline phones, VoIP phones offer flexibility and scalability.
You won't be physically tied down to one location with copper phone lines. Because VoIP solutions can be accessed from your mobile device, tablet, laptop, or desktop, you and your team can work with them from anywhere.
Rather than investing in more devices, you can use the hardware you already own.
Plus, VoIP is a new tech that's constantly being updated unlike the old copper landlines.
Cloud-based phone systems are always adding something new for your team to take advantage of. The more features and integrations you use, the bigger competitive advantage you have.
VoIP solutions also offer better pricing.
VoIP providers typically charge per user and per month. That gives a clear pricing structure to keep costs under control. You'll be billed for what you use, and you can adjust as needed.
Essential features for a small business cloud-based phone system
1. Keep your existing number
Your business phone number is likely on all your marketing materials. If you are forced to get a new phone number, you'll have to update everything.
So make sure that your new VoIP provider allows you to keep your old business number.
2. Welcome message for customers
Start every call the right way! You can greet all your incoming callers with a custom-recorded welcome message. It can also include relevant information like business hours and availability.
3. Voicemail transcription
Sometimes audio messages just aren't convenient. Automated voicemail transcriptions will make it easier for you to access important information.
4. Mobile apps
VoIP mobile apps transform your existing mobile phone into a business phone system. An iOS or Android app will keep business and personal calls separate, while you take calls from your business number.
5. Contact synchronization
Keep everyone on the same page, across business platforms. A shared address book will ensure consistent and up-to-date contact information. Bonus points if it connects to your other business tools such as your CRM or email platform. 
An overview of the best business phone systems
Easily compare the best small business phone system service providers.
Business phone system
Pros
Cons
Best for
Pricing Comparison
Brevo Phone
All essential features
Integrated in a all-in-one marketing platform
None! 
Sign up to enjoy the pros
Small businesses
Soloprenuers
Ecommerce

Free 60 day trial
Free plan
$19/user/mo
Yodel.io
All essential features
Friendly UX
International and local phone numbers available
Noother marketing tools
Remote or hybrid working teams

Free 14-day trial
$25/user/ mo
$35/user/mo
Google Voice
Simple to use
Connects with Google Workspace
Does not have all essential features

Soloprenuers
Teams receiving few calls
$10/user/ mo, capped at 10 users
$20/user/ mo, restricted locations
$35/user/ mo, no restrictions
Aircall
All essential features
High cost
Large salesforces
Call centers
Free 7-day trial
$40/user/mo
$70/user/ mo
Dialpad
All essential features
AI customer engagement and business communication
Makes the most sense if you're already using other Dialpad solutions
Experienced customer support professionals
Medium to large businesses
Free 14-day trial
$23/user/ mo
$35/user/ mo
RingCentral
Advanced features and business communication options
Potentially overwhelming for users
Large salesforces
Call centers
Enterprises
Contact centers
Free 14-day trial
$33/user/ mo
$41/user/ mo
$48/user/ mo
CallHippo
A-la-carte feature selection
Overly complicated pricing
Soloprenuers
Free 10-day trial
$20/user/ mo
$30/user/ mo
$50/user/ mo
Add-ons available
Best small business phone services compared
Pricing: free plan, $19/user per month
Free 60 day trial
Brevo Phone is a cloud-based business phone system designed for small businesses.
Its purpose? To give you a reliable and affordable phone solution for effective business communication.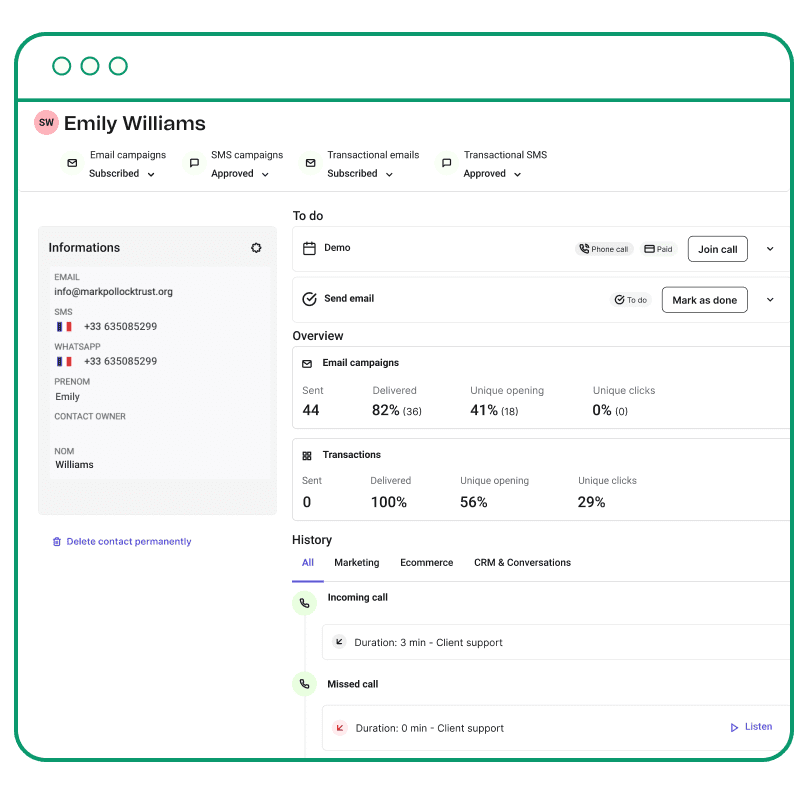 Check out a few of Brevo Phone's key capabilities:
Pick the perfect business number
Get started with a new number or keep your existing one.
Take your phone from local to global
Enable world-wide access with international phone numbers.
Keep your contacts all in one place
Sync your contacts with other Brevo products and share across your team.
Start calls off the right way
Create a custom welcome message to greet your callers.
Never wonder why customers are calling
Get voicemail transcriptions.
Stay connected with mobile apps
Use your mobile or web device to access your business phone system, wherever you are.
A new way to talk with customers
Take advantage of time-saving functionalities such as office hours, which automatically informs callers if they're calling outside of your designated availability.
Deliver superb customer service with crystal-clear phone connectivity, from anywhere you have an internet connection.
Supercharge your communications
The business phone system is integrated with all Brevo's other marketing tools so they can work together.
Brevo offers all the sales tools you need to drive revenue and deliver seamless customer experiences. Track deals, book meetings, make phone calls, and collect payments — manage the entire sales cycle and all your contact data in one place with Brevo.
30% off Phone Plans until October 31st
Use the code BREVOLAUNCH23 to get 30% off Sales & Phone plans for your first 6 months. Don't miss your chance to save on Brevo's easy-to-use sales tools — Sales Platform, Meetings, Phone, and more.
2. Yodel.io
Pricing: $25/user per month; $35/user per month
Free 14-day trial
Yodel.io is a business phone system provider that is perfect for small businesses and remote teams.
Its robust business phone system comes complete with advanced features that can't be found in any regular old business phone. The coolest part? You don't need to be a technology expert to take advantage of them.
With Yodel.io, you have access to a wide variety of virtual phone numbers that include toll-free numbers and international options.
The Yodel business phone system features voice-based intelligent IVR, SMS texting, an auto attendant, and a variety of integrations.
You can use these integrations to help your team keep track of everything within Slack, connect to your favorite CRM tool, synchronize with Microsoft office and much more.
3. Google Voice
Pricing: $10/user per month; $20/user per month; $35/user per month
Google Voice is a business communication solution that works hand-in-hand with Google Workspace. It gives you a phone number that can be used for calls, texts, and voicemails.
While Google Voice connects to other Google Workspace products, the business phone solution itself might be too limited for small businesses.
Google Voice doesn't currently offer all of the essential call management features of a small business phone system. However, if you're a solopreneur or don't receive a high volume of calls, this may be a good solution for you.
4. Aircall
Pricing: $40/user per month; $70/user per month
Free 7-day trial
Aircall is an internet-based phone solution designed for large sales groups and call centers.
Although Aircall does not offer a CRM or other marketing functionalities, it can integrate with many popular business tools.
If you are a small business, it is critical to note that Aircall requires a minimum of three users. This may pose a problem if you are on a solo or partner-based team. Additionally, Aircall is always one of the most expensive VoIP services, so many businesses can't afford it.
However, Aircall is able to offer all of the essential features making it an effective small business phone solution.
5. Dialpad
Pricing: $23/user per month; $35/user per month
Free 14-day trial
Dialpad's business phone system offers all the essential business phone features.
Additionally, Dialpad provides customer support functionalities powered by AI technology. To unlock them, however, you have to upgrade beyond the Dialpad phone plan. It's also notable that the base plan supports only one office location and no desk phones.
With Dialpad you can access virtual phone numbers, including a limited range of international phone numbers.
6. RingCentral
Pricing: $33/user per month, $41/user per month; $48/user per month
Free 14-day trial
RingCentral is a business phone system that provides essential and advanced features for larger businesses.
However, their pricing can be an issue. RingCentral's pricing depends on the range of employees using the system (1, 2-20, 21-50, 51-99, 100-999+), and the features included.
That means the Essentials plan will cost a different amount for businesses of different sizes. This can be tricky if your business is growing, downsizing, or still finding its sales processes.
Not sure? Discover RingCentral alternatives.
7. CallHippo
Pricing: $20/user per month*; $30/user per month*; $50/user per month
*additional features available as add-ons
Free 10-day trial
CallHippo offers all of the essential small business phone capabilities, through a combination of their paid plans and their a-la-carte options.
With CallHippo, you can customize what you're paying for by adding features that make sense for your team. This could get expensive quickly, but you will end up with a fully customized small business phone solution.
Ready to test out a business phone system?
We hope this guide helps you find the perfect business phone system for your small business. Why not test Brevo Phone — it gives you all phone features free for 60 days!
30% off Sales and Phone Plans until October 31st
Use the code BREVOLAUNCH23 to get 30% off Sales & Phone plans for your first 6 months. Don't miss your chance to save on Brevo's easy-to-use sales tools — Sales Platform, Meetings, Phone, and more.