Reading time about 17 min

Looking for customer segmentation examples to spice up your marketing strategy?
Customer segmentation is the key to tailored and relevant marketing campaigns. We've collected some of the best customer segmentation examples to help your marketing efforts succeed.
What is customer segmentation in digital marketing?
Customer segmentation is putting your current customers into subgroups. These subgroups all share common characteristics like interests or shopping behavior. What products do they like, are they opening your emails, are they finding you on a phone or laptop?
By understanding customer groups, you can create personalized call-to-actions, emails, and messages just for them. The result is more effective marketing that guides customers through the marketing funnel, from interested customers to brand loyalists.
The benefits of customer segmentation
Sending the right message at the right point in a potential customers journey helps you:
Achieve better deliverability (getting your email into the inbox)
Improve customer relationships
Build customer loyalty
Strengthen customer retention (how long they stay with your brand)
Create an overall positive customer experience
Increase lifetime value (total revenue from a customer)
Real-life customer segmentation examples
Here are some examples of email marketing campaigns that actual companies have used to target different groups within their audience.
Birthday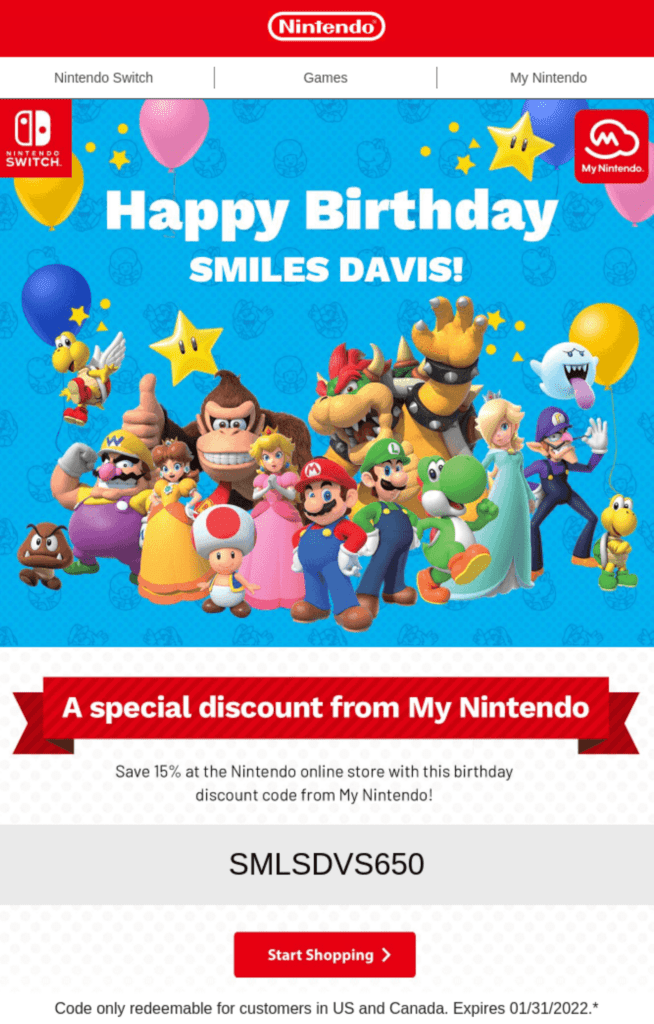 Sending a birthday email is bound to create a special experience in someone's inbox and is an easy first category to segment for.
Birthday emails are also a good example of email personalization and overlaps with segmentation. For more ideas, check out our email personalization tips.
How can you do it too? Add a birth date as a field on your signup forms and then set up an automation to trigger an individual message on the day of.
Newly subscribed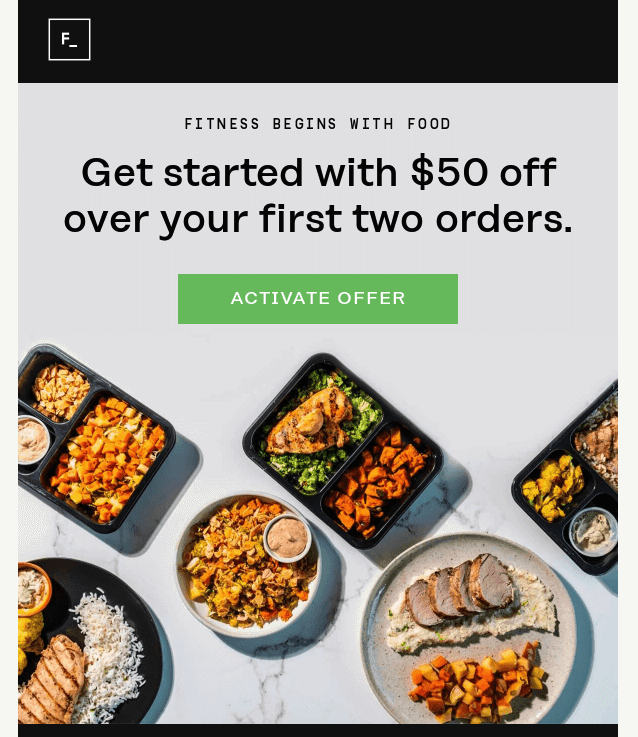 Turning new subscribers into first-time customers is an important step. Customers are 14 times more likely to buy a product they've already tried.
If you get a new subscriber, give them a reason to try your product not once, but twice!
Want to try it? Just automate an email to go out when people subscribe to your site or newsletter.
New customers

The hard part is over, your customer made a first purchase. Now you just need to keep up their customer engagement.
Native's strategy is to offer bonus point incentives for actions such as trying new products and following their social media accounts.
How to do it? Trigger an email when a contact reaches a certain threshold (e.g. amount spent in your store or the number of orders placed).
Frequent shoppers (or users)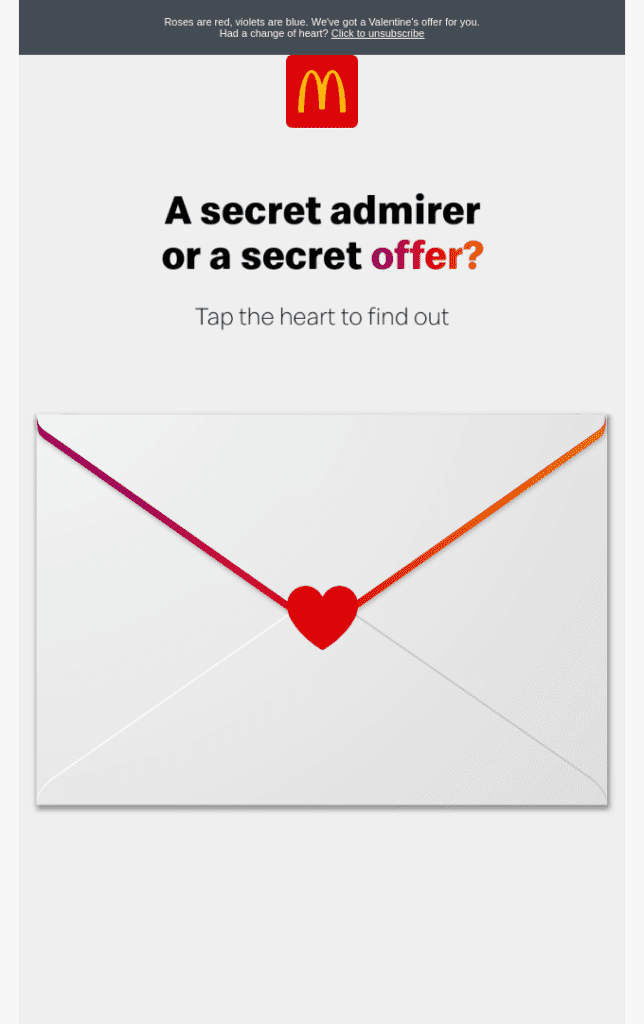 McDonald's sent some Valentine's Day love to their regulars and added a very clickable call-to-action (CTA).
Frequent shoppers can benefit from limited-time loyalty points and other perks like in this McDonald's example. They are also a group that responds well to loyalty program invites.
How to implement the same tactic? Send out a simple automated email when a customer reaches loyalty status.
Idle or inactive customers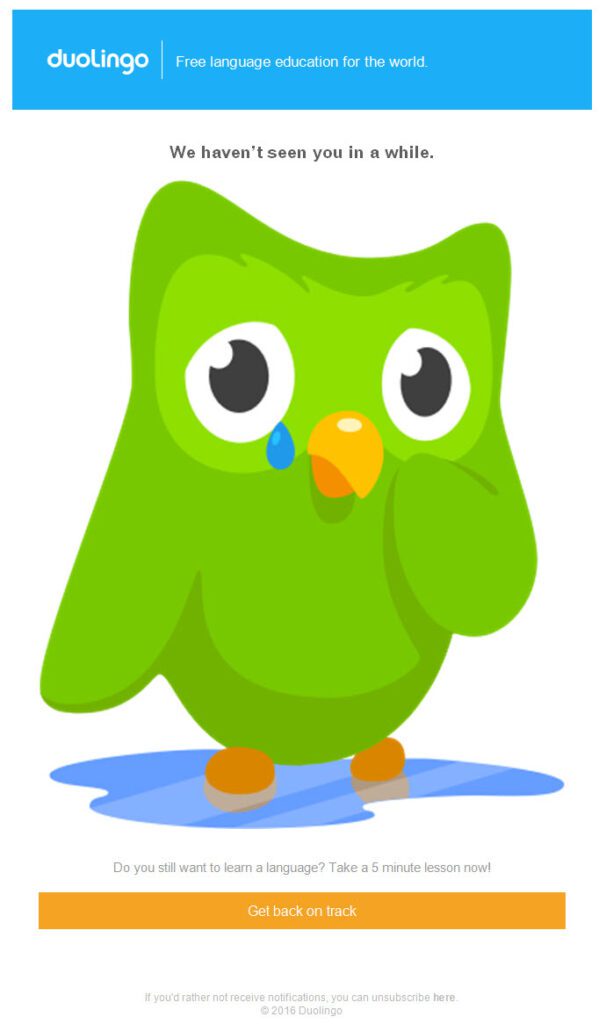 Duolingo's approach is cute and to the point. They re-engage users by reminding them that learning a language only takes five little minutes. Top that off with a motivating call to action and that's a wrap.
Want to send one too? Filter your contact database by "last activity on site" and reach out.
Check out this reactivation email guide if you'd like to learn more about reactivation emails.
Mobile users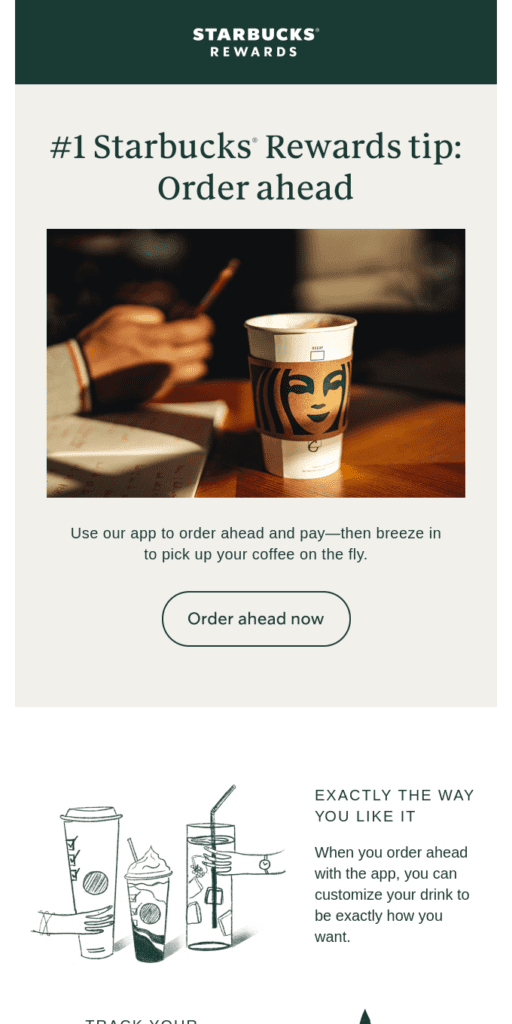 Starbucks knows many of its customers read emails on their phones. That's why it sent them a link to its app! The next time customers need their morning boost, they'll order straight from their phones (or their beds).
Use this approach by simply filtering your contacts by device type. Then you can send different messages to desktop and mobile users.
Profession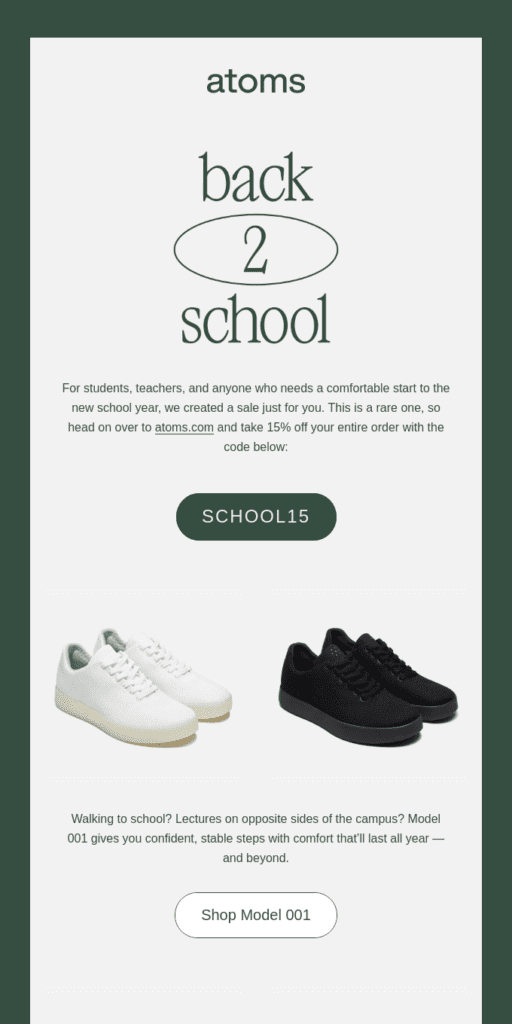 If you have this kind of data, make a back-to-school campaign for students and teachers. Segment your contact emails that end in .edu and let them know about a special educators' promotion.
Referral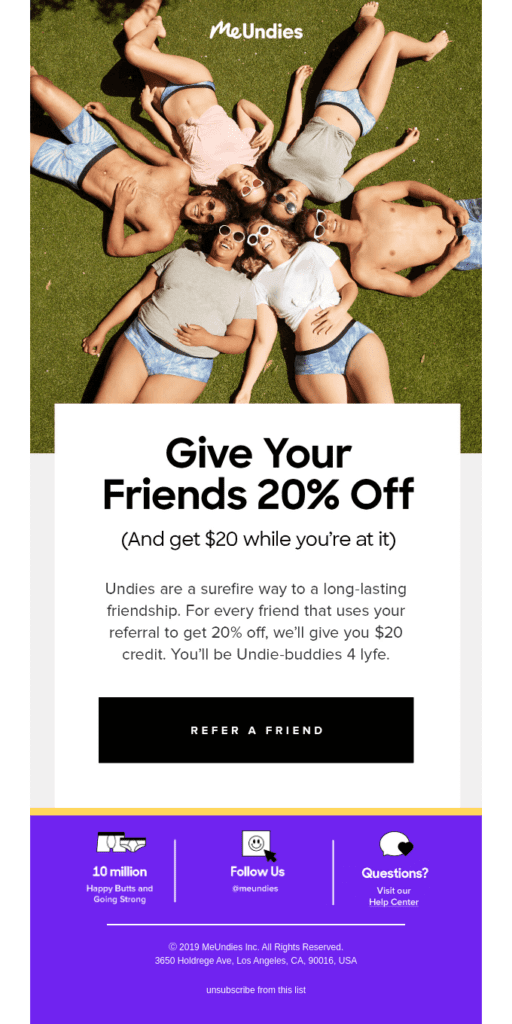 Reward your engaged users and loyal customers by incentivizing them to refer your service or product to a friend.
This type of email also works as a way to engage new customers. It's a win-win for everyone!
To do it, filter by the target number of orders and email away.
Location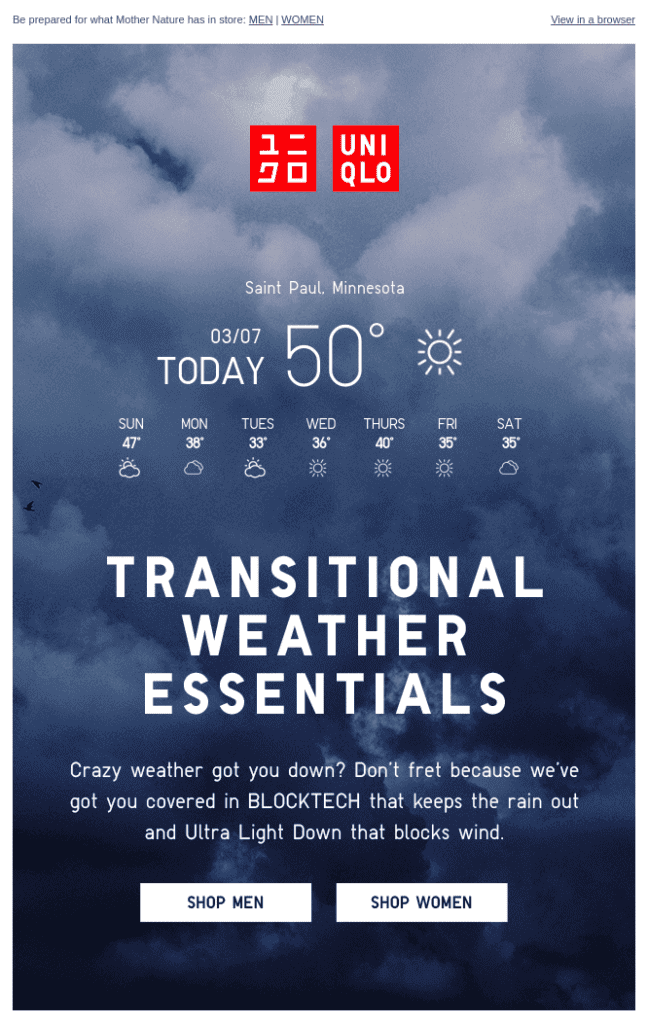 Yes, you can send a promotional email about rain — or any kind of weather specific to your customer's location.
Using basic geographic data, such as someone's zip code, will help you create relevant and meaningful messages.
Try it out the next time you notice the clouds rolling in or the sun coming out.
Churners

Sometimes customers are done doing business with you — sometimes.
The number of people who stop using a product over a certain amount of time makes up a brand's churn rate.
Consider sending a special offer to invite an old customer back. Re-engaging customers is a great way to increase customer retention and is an effective target segment.
Loyal customers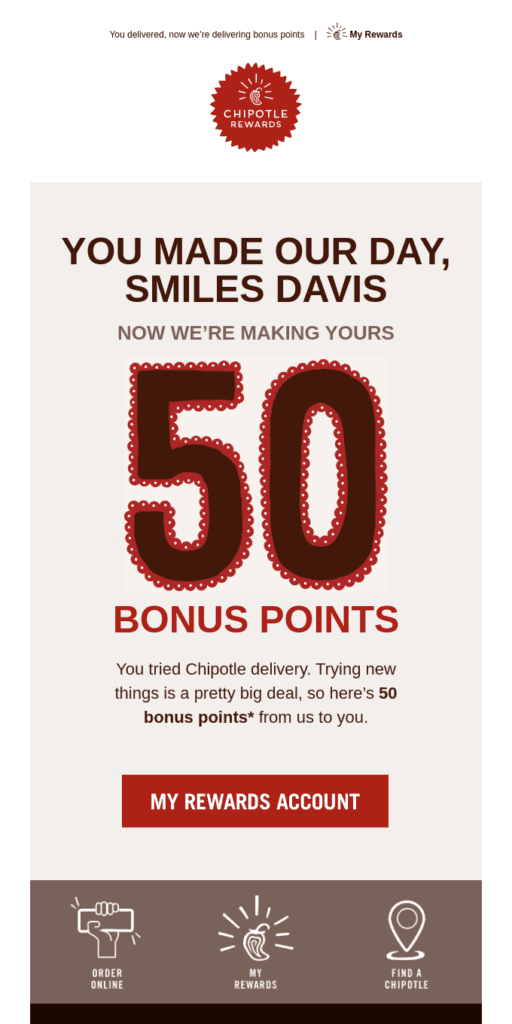 Your loyal customers are one of the most important categories to maintain. Invite them to a loyalty program and send mini congrats emails when they earn points.
The love here is mutual, so go ahead and pamper them. Send them exclusive offers, or ask for feedback on new products.
Milestones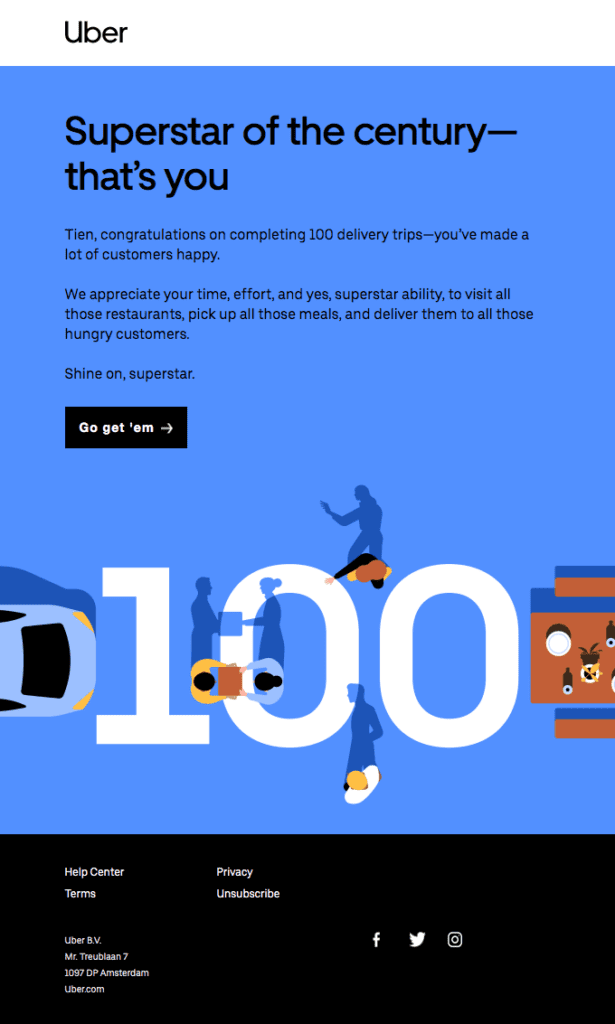 Maybe you don't have a rewards program, or your customers aren't part of it. No problem. Send them congratulatory emails once they order a certain amount of times.
Common segmentation models
How do you start segmenting your audience? Here's a primer on the traditional marketing methods used for customer segmentation.
Demographic segmentation
Demographic data is basic qualifying information about someone. Some segments in this category are:
Age
Gender identity
Occupation
Marital status (this is a bit of a dated segment)
This information is pretty general, and while it's an okay starting point for getting ideas, there are better methods. And quite frankly, you can make the wrong assumption.
Targeting someone on their preferences and behavior is more meaningful. This brings us to the next point.
Behavioral segmentation
A more effective way of segmenting customers is by customer behavior. Their behavior is valuable insight because you can see:
What emails they open (or don't open)
What products they view
How much they spend
How long they left their cart unattended
How often they make a purchase
Knowing what pages someone visits frequently, for example, is helpful information. Send them a tailored email with products from these pages. If you have shoppers who come back repeatedly, create a rewards program or send them an invitation to a pre-sale.
Value-based segmentation
Another way to differentiate your approach is by the revenue earned. Some groups by revenue can be:
High spenders
One-time shoppers
Loyal customers
Loyal customers like your brand. Ask them to rate a product or send them exclusive offers.
Consider offering free shipping and free gifts or granting early access to new products to shoppers who spend a lot.
Entice one-time shoppers by letting them know when you have a new collection.
Psychographic segmentation
Your audience's lifestyles, personalities, and values are all part of psychographic segmentation. Consider if your customers:
Have luxurious lifestyles
Are environmentalists
Like a certain sport
Care about small businesses
Are into gardening, etc.
If you know what your customers value, you already have a great lead for your next newsletter.
Further reading: Newsletter ideas
Geographic segmentation
Just as it sounds, geographic segmentation uses a customer's location (or delivery address) as a grouping factor. Some categories include:
Someone living in California needs different outdoor gear than someone living in the Midwest. Your American clients celebrate Mother's Day on a different day than clients in Europe.
Knowing where someone is located can help you send informed marketing messages that are relevant to a specific region and climate.
Technographic segmentation
The focus here is on what technology customers use or prefer, and whether they are the kind of person who adopts new technology and changes or not.
Are customers tech-savvy?
Are they using phones or computers?
If you notice your customers visit your website from their phones, consider sending SMS messages to them. Learn more about SMS marketing here.
The Takeaway: You don't have to stick to one group, or only use one method. If you notice specific groups in your own data, create your own subset!
Customer segmentation examples to grow your business
Do you have an online shop? Consider some of these effective types of customer segmentation in your ecommerce strategy.
New customers
High spenders
Frequent users
Loyal customers
"Window" shoppers
Idle users
Churned customers
Engaged customers
Cart abandoners
Coupon lovers
Location
Favorite products and brands
Preference updates
Birthdays
Webpages most visited
Customer language
Number of purchases
The list is large and the possibilities are endless. You will have to conduct a thorough customer segmentation analysis to know what kind of groups you have in your customer base.
How to create a customer segmentation strategy
In order to identify and target different segments of your customer base you need to learn all you can about them. Below are the essential steps to the segmentation process.
1. Collect contacts with signup forms
Signup forms are a direct way to build your subscriber base.
Typically these forms just ask for an email (and permission to contact this email). But you can also ask subscribers what types of messages they're interested in receiving.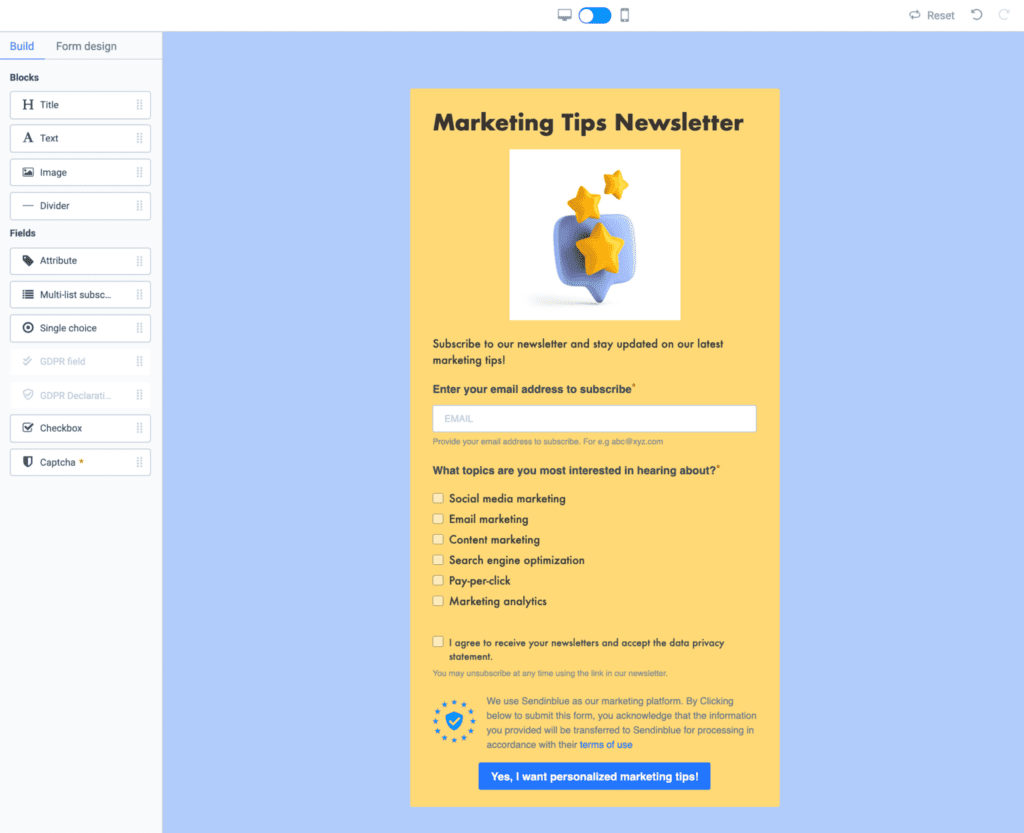 Signup form for a newsletter made with Brevo
A useful tip for creating sign-up forms is to offer something in return. Let someone know what they get if they sign up for your mailing list: discounts, tips, or a free template.
If you haven't done it before, learn how to create a signup form here.
2. Do customer segmentation analysis
Use a plugin to track customer behavior on your website
A tracking plugin monitors what pages customers are looking at on your website and how often.
If you notice a lot of activity on a specific product page, consider adding these products as suggested items at checkout.
Brevo offers plugins for all major ecommerce website builders such as Shopify, PrestaShop, WooCommerce, and Magento 2.
Use metrics to discover customer interest and behavioral patterns
Metrics track how users interact with your marketing messages. This is valuable information because it shows you exactly what content, emails, or products people are interested in.
With digital marketing software, you get email marketing metrics such as:
Open rate
Open time
Click-through rate
Conversion rate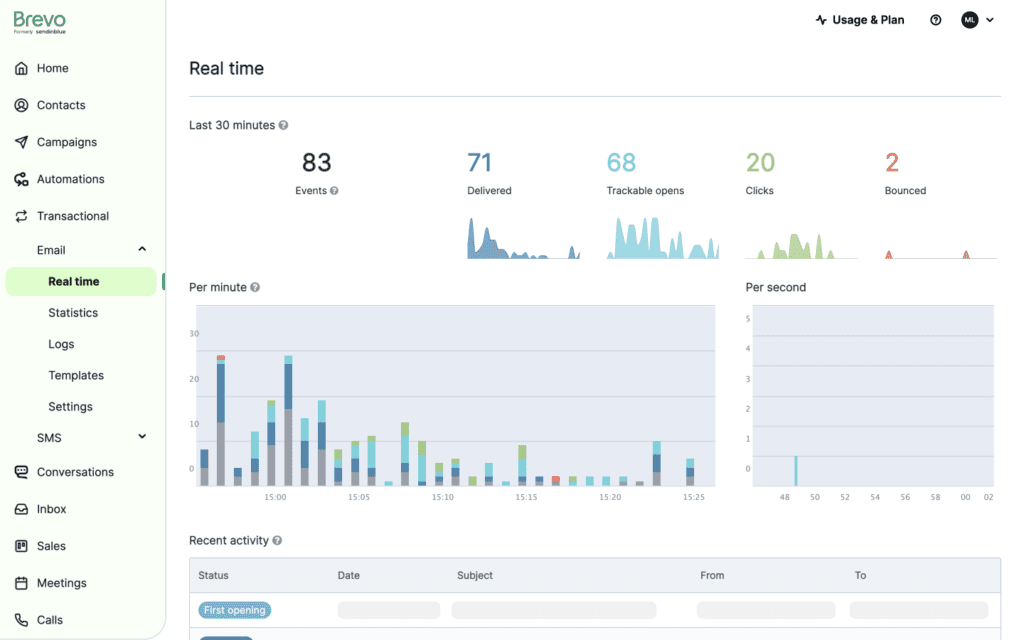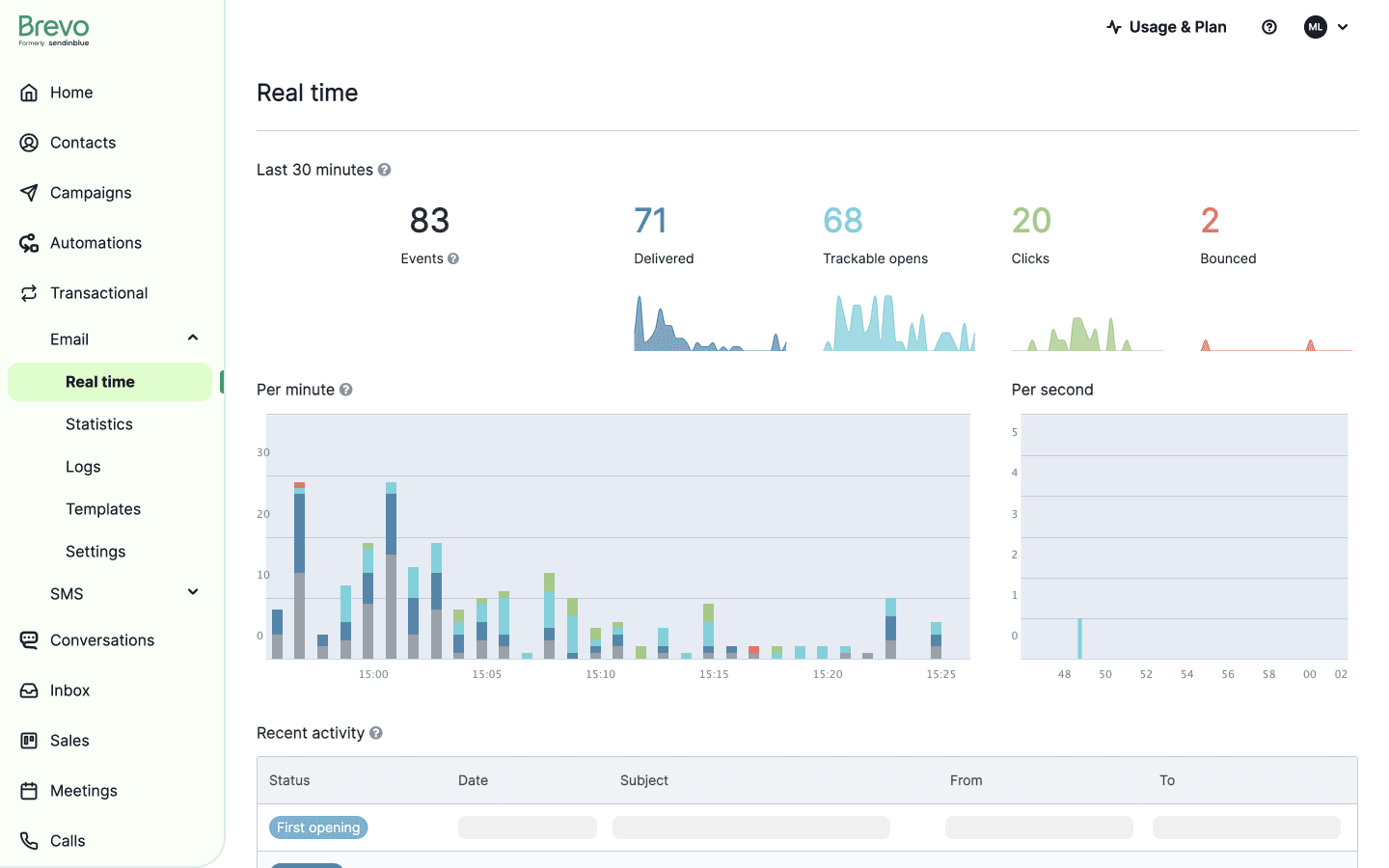 Email campaign metrics by Brevo
They give you insights into customer behavior and communication preferences. If you notice that certain emails are opened at higher rates, test further. Maybe the audience loves the content. Send them more like it! Do other subgroups react similarly?
3. Create segment groups from your contact base
Once you have your data it's time to create different groups of customers or target audiences.
Filter by contact attributes like their ZIPcode, device type, or country.
You could also create a group based on their actions and preferences such as frequent shoppers, people who didn't open a last email campaign, or high spenders.
Pro Hack
Brevo offers pre-defined customer segments to use readily in your campaigns. No need to filter, reach your customers immediately!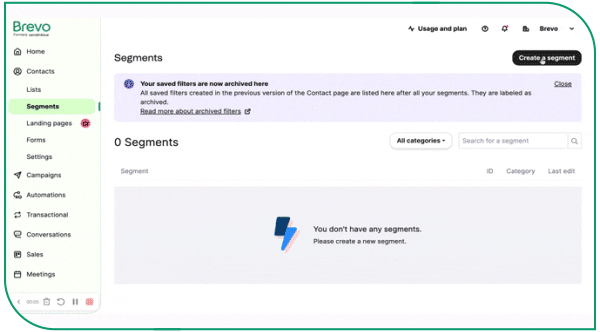 4. Plan an approach for each segment group
You know your business goals, and now you have more insight into who your contacts are. Start with the segment groups that make the most sense for your goals and get strategizing.
Let's say you discovered a group of customers who only shop with coupons and want to make them more frequent shoppers. Create a coupon-lover segment and send them a coupon every quarter.
Perhaps you get a lot of thrifty shoppers who only buy a little at a time. Let them create a wishlist and send them web push notifications when the price drops for a saved item.
The more you do customer segmentation analysis, the more you will learn about your customers and the better targeted your campaign will be.
5. Use marketing software to design and send your campaign
Email marketing software automates campaign workflows and will save you a lot of time.
In the example below, you see how easy it is to send an email to someone if they visited a certain product page in the last three months.

Customer segmentation example by Brevo (formerly Sendinblue)
This automation will send a follow-up message to window shoppers, basically potential customers who looked at a product but didn't make a purchase.
Design your email using free responsive email templates such as the one below from Brevo.

Free Easter email template by Brevo
Put these customer segmentation examples to practice today
Customer segmentation is the cornerstone of building lasting customer relationships.
It's an ongoing process, but you don't have to do it alone. A strong marketing software program by your side will help you master segmentation one step at a time.
Start with one category or customer segment and keep going until you find the best strategies for your business.
Create free targeted campaigns with Brevo
Free plan gives you access to unlimited contact storage, highly customizable segmentation features, workflow automation, and 300 emails/day so you can build powerful campaigns.