Reading time about 14 min

Customers interact with your business in various places. On social media, in your ecommerce shop, via email, and even in-store. So how do you keep track of what customers have already asked you, and how do you know what kind of message they need from your brand next? That's what a CRM is for.
CRM definition
CRM (customer relationship management) software is a digital tool that helps businesses manage contact interactions, sales cycles, and marketing campaigns. CRMs are used by businesses of all sizes, in all industries to achieve three main things: improve customer relationships, increase sales, and grow their businesses.
The main function of a CRM is to centralize all sorts of data from current and potential customers from your website, apps, and other data streams. From phone calls to purchase history, all of your interactions with your customers are right there in your CRM database.
Many CRM systems also help you manage sales, marketing, ecommerce, and customer service aspects of your business. These tools paired with customer insights give your team everything they need to guide your contacts through the customer journey.
Forrester's Q3, 2022 CRM Waves report found that CRMs can improve conversion rates by up to 300%. If you're looking for a tool to decrease costs while increasing your bottom line — a CRM is it.
Keep reading for a deep dive into "What is CRM?"
What is CRM software used for?
What tools does a good CRM software have?
Challenges of getting started with CRM software
What is CRM software used for?
Good CRM software gives you insight into the customer journey. They also provide management tools to help your teams collaborate. The best CRMs can even help you carry out business processes like sales and marketing.
CRM features help businesses:
1. Streamline contact management
All contacts stored in a CRM have a profile. These profiles are automatically updated with information from customer interactions. You can see if they open your emails, their purchase history, and how much revenue they've earned your business so far.
Your teams can also manage communications with a customer or potential customer. With CRM software like Brevo, you can schedule meetings, send an email, or assign tasks to colleagues based on a contact's specific needs.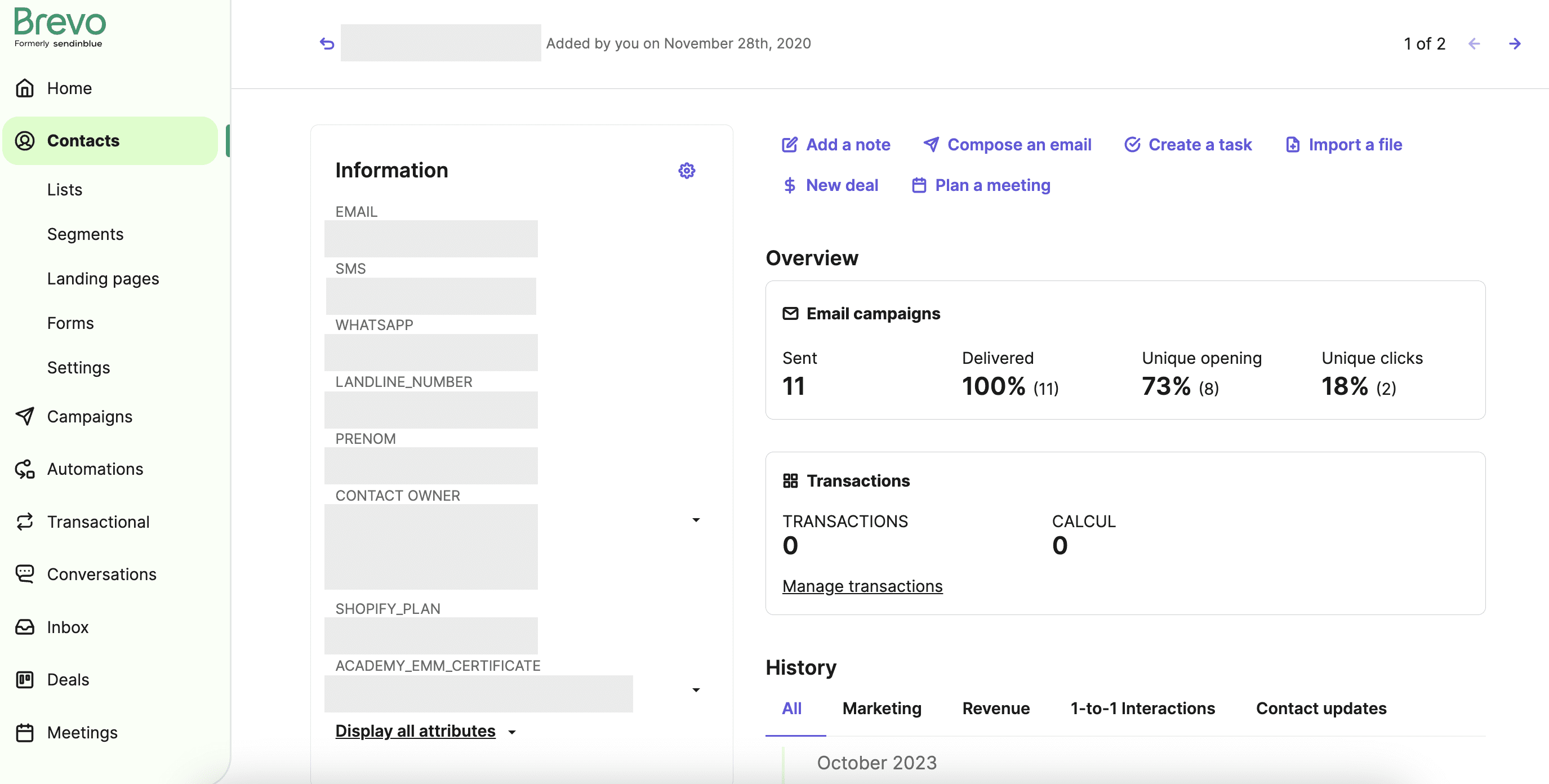 Contact profile overview in the Brevo CRM platform
In-depth interaction tracking helps your teams better understand where a prospect is in the customer journey. Did they sign up for your webinar, or do they need a follow-up call after an inquiry?
In short, contact management is the key to understanding customer needs, monitoring customer engagement, and creating a personalized customer experience.
2. Connect marketing teams and sales teams
Before CRMs, data entry was manually put into programs. Team members then had to share this information with colleagues in a constant administrative cycle.
With CRMs, teams share a dashboard that is automatically updated with business interactions and customer information from sources connected to the CRM. This dashboard helps teams easily find all contact, sales, and marketing campaign details in real time.
3. Find qualified leads
As you start connecting with more leads, you'll need a way to know which ones are worth your time, money, and resources.
Lead scoring models are a key feature of a CRM. They assign points to contacts when they do things that show interest in your business and detract points if they stop engaging. You just need to tell your CRM what actions earn points and it will automatically keep score of your contacts for you.

Example of a lead scoring action
For example, if a lead signs up for a webinar, they'll gain points. Visiting your ecommerce shop from a link in your email campaign also earns them points.
Once a lead has enough points, they'll qualify for certain outreach actions from your business.
If you run an ecommerce business, you might send a warm lead a personal discount code to encourage them to buy your product.
If you're a real estate agent, this could mean scheduling a call with a hot lead to see if they want to plan a visit to a property.
4. Improve the sales process
CRM platforms provide useful tools for helping your team speed up the sales process.
With a sales pipeline, you can easily manage customers as they move through the sales cycle. You'll see when a lead is still getting marketing messages and when they're ready for sales outreach.
Since your CRM tracks all of your customer interactions, your sales reps will know if your leads have watched your webinar or asked for a demo of your product. This prepares your sales rep for their call with a customer and will help them personalize their approach.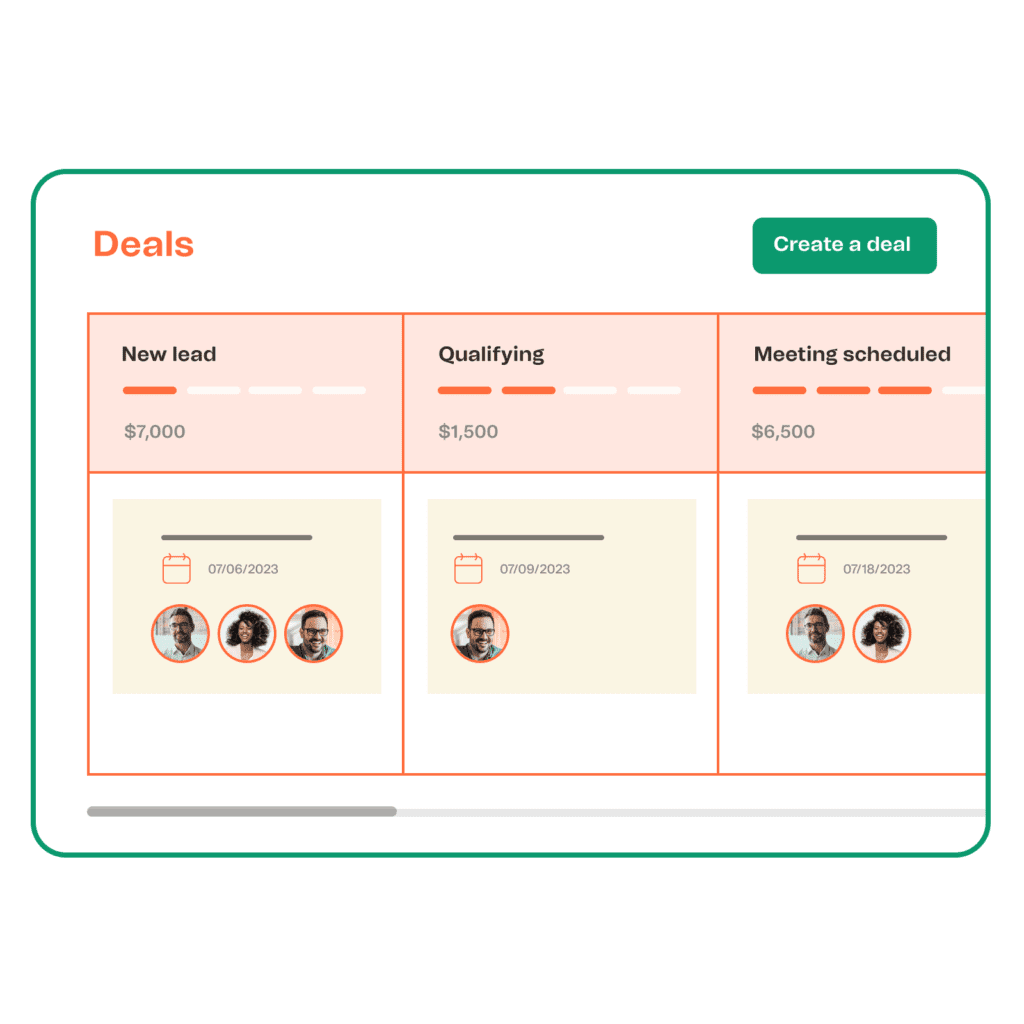 An example sales pipeline for a deal
Good to know: Brevo's automation workflows can take care of important steps along the sales pipeline. They can launch marketing messages for new leads or send notifications to your sales rep to reach out when a lead is hot.
5. Track your success
A CRM solution wouldn't be complete if it didn't help you measure your success.
Sales reports show you how many customers you win or lose at each step of the sales pipeline, and how long it took them to get through each step.
You can see how effective your strategy is at each step in the pipeline and the profitability of your pipeline as a whole.
Did you win or lose customers during an early touchpoint with marketing emails? Are your salespeople succeeding at selling your product or service during their calls?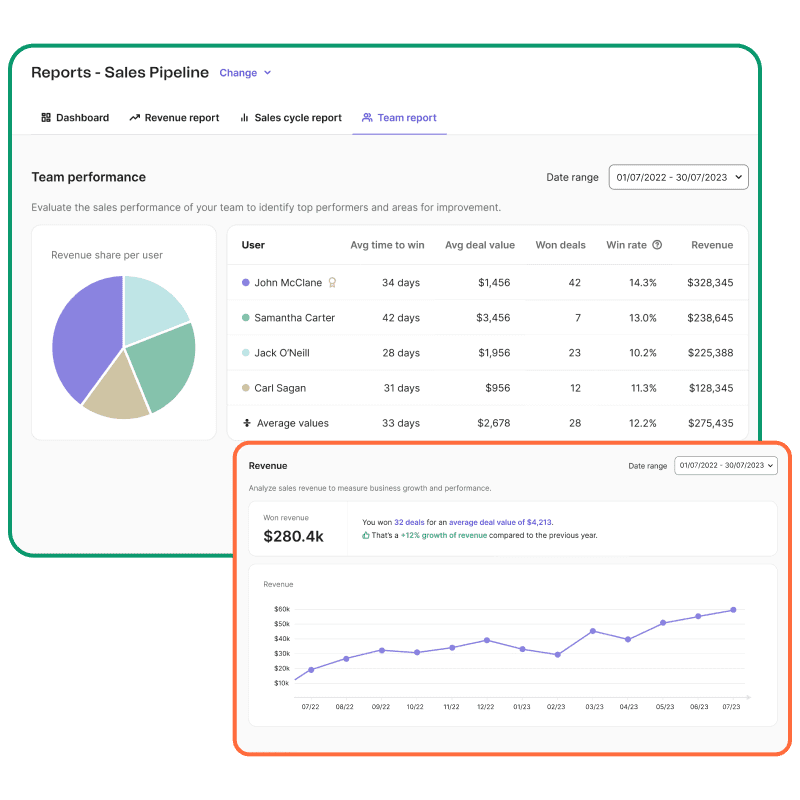 Sales pipeline report
Good to know: CRMs with marketing features can also provide reports for your marketing campaigns. Get information like how many recipients opened your email, and who clicked on a link or unsubscribed.
What types of CRM software are there?
The three types of CRM software are cloud-based CRMs, on-premise CRMs, and open-source CRMs.
Cloud-based CRMs are software-as-a-service (SaaS) that are hosted on the provider's server. Users can access their customer data anytime, anywhere, on Mac or Windows. Cloud CRMs must always comply with security standards, making them an excellent option for data security.
They also have premade plugins to connect to all of your apps like Shopify, WordPress, and more. This makes them highly customizable, without needing technical knowledge.
On-premise CRMs are software licenses that you can buy and install on your own server. From there, it's up to you to maintain the CRM software. This kind of CRM solution is typically for larger companies with an established tech team.
Open-source CRMs are code that your business can use and customize however you want. The code can be used for free, but your business will need advanced technical expertise to use, customize, and maintain it.
So how do you know which kind to choose?
Overall, cloud-based CRMs are the most accessible and easiest to use. They are used by small businesses and large enterprises alike.
According to Gartner, 70-80% of businesses choose SaaS CRM. Brevo, HubSpot, Salesforce — these are all examples of cloud-based CRM software.
While they do require monthly subscriptions, most of them have flexible pricing plans based on different features (marketing, sales, conversational tools). This gives you the freedom to customize your CRM with the tools you need, without having to pay for everything.
Read more: The Best 8 CRM Software for Small Business
What tools does a good CRM software have?
A full CRM suite provides tools for your teams to carry out business processes. From automation tools to email marketing, CRM tools support all of your teams.
Multichannel marketing campaigns help you grow your reach, and improve customer retention. The best CRMs will have the ability to create, send, and manage campaigns. By sending SMS, WhatsApp broadcasts, emails, or push notifications, you can reach your audience where they are.
Marketing automation lets you set up workflows that trigger campaigns when customers complete certain steps. Automation workflows just need to be set up once and are a great support for marketing efforts.
Customer segmentation can be used to effectively sort your contacts into precise audience groups based on traits or behaviors. Create a personalized campaign just for this group and watch your open rates soar.
Reporting and analytics give your team insight into things like how well a campaign performed, or how long a sales cycle took.
Sales pipelines to help companies visually track where they are winning or losing customers.
Lead scoring to visualize when a new lead becomes a sales lead. The result is efficient and accurate lead management.
Conversation tools like live chat widgets, chatbots, and social media messaging can be used by sales and customer service teams alike to answer questions and provide support.
E-commerce dashboard so you can follow data and revenue from your shop and use it to help your marketing strategy.
Pro tip: Bonus points if your CRM offers Artificial intelligence (AI) tools. AI (such as Brevo's AI Assistant) takes data from your CRM to help you personalize and optimize marketing campaigns for opens and clicks.
Benefits of CRM for business
So what do all these features and tools mean for your business? In short, happier customers and increased revenue.
Stronger customer relationships
When you have high-quality data, you can deliver a personalized customer experience. A McKinsey & Company's report found that personalized interactions were key to improving customer engagement.
A personalized customer experience also nurtures customer loyalty. When your sales and marketing teams know more about customers' needs, pain points, and interests, they can send more relevant communications and offers.
Improved customer support
With a complete history of each customer, your customer service team can quickly identify problems and provide solutions.
By efficiently taking care of your customers, your team will reduce the churn rate (when a customer leaves your business) and increase customer retention.
More effective marketing
With detailed insights readily available to your marketing team, they don't need to waste time guessing what your customers want. Instead, they can use their time creating offers for products and services your customers are showing interest in.
You can also see trends for who is buying what products. Are students interested in your business? Or people from a certain area?
CRM data makes it easy to personalize your offers to your audience resulting in more effective marketing efforts.
Higher productivity
Shared dashboards streamline collaboration between teams and help you understand your customers on a deeper level.
Teams can automate repetitive tasks with a CRM, like sending welcome emails and order confirmations.
With organized workflows and automated actions, your teams can scale their efforts and achieve more results with fewer people.
More sales
Finding quality leads means your sales team can focus directly on high-potential customers.
Knowing which leads are more likely to buy, or who are most ready to buy, helps you prioritize your sales process. You'll never miss a deal opportunity.
Fewer costs
With accurate, up-to-date customer information at your fingertips, your business doesn't need to spend as much money on marketing research. You also don't have to pay your teams to update customer profiles by hand.
Challenges of getting started with CRM software
Your CRM is the life pulse of your business. It is the most accurate source of truth for knowing how your campaigns are doing and understanding customer behavior. Needless to say, it's pretty important to find CRM software that fits your business needs and that's not too hard to start using.
Setting up your CRM
Setting up the CRM and getting your teams familiar with the software is the biggest step. The good news is, cloud-based CRMs like Brevo make this entire process easy.
To get started with CRM software all you have to do is:
Import your contact lists (making sure to only choose those who have opted-in to get marketing messages from you)
Match their data to information categories, or attributes, in your CRM
Start managing! Set up contact lists, assign tasks to your teams, and connect your apps to your CRM
Create SMS and email marketing campaigns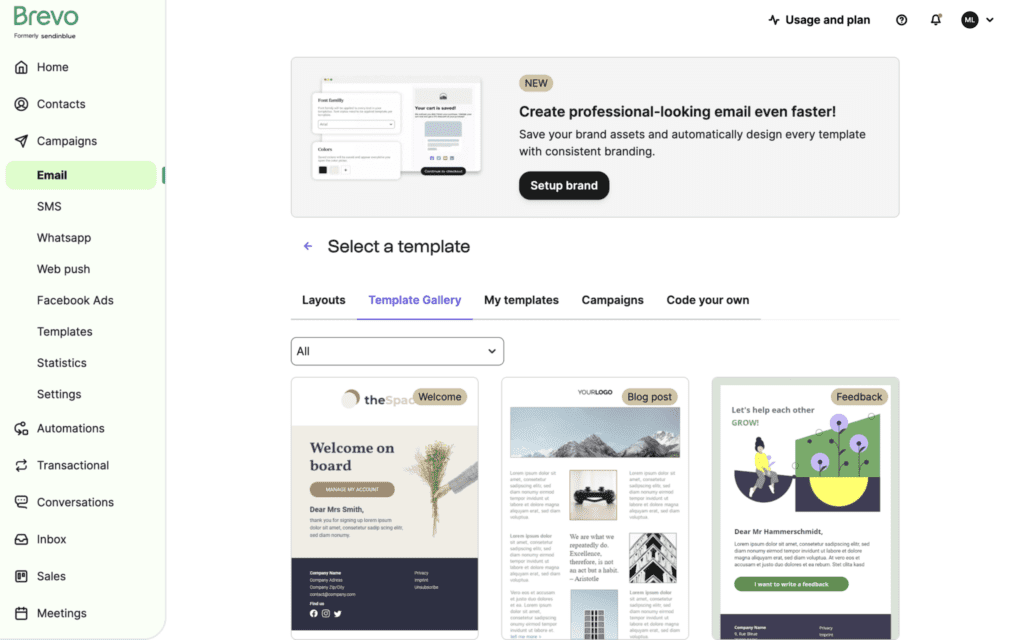 Get started with Brevo's CRM and use free email marketing templates
If this sounds overwhelming, don't worry. Brevo will walk you through the onboarding steps so you can have your dashboard up and running in no time.
Controlling costs
Data storage doesn't come free. Most CRMs charge you per contact stored. The only thing is, that some contacts are more active than others, and some generate much less revenue than others.
Instead, look for a CRM that charges per usage, such as the number of emails you send, or workflows you have active. This way you can keep contacts for the long run, which is the whole point of buying relationship-management software.
The Brevo CRM offers sales and marketing platforms with free, unlimited contact storage. Learn how to grow your business in the platform and see if it's a good fit for you with the Free Sales Platform plan.
What is a CRM that can get me started right away?
If you're ready to take control of your contact information and deliver an exceptional customer experience, Brevo's the CRM solution for you.
With 4.4/5 customer satisfaction from G2 reviews, the Brevo CRM offers in-depth dynamic customer profiles, sales management, multichannel marketing, and more.
As a company built for its users, Brevo is always developing new features to help businesses grow smarter and nurture meaningful relationships. Get started with Brevo's free Sales Platform plan today and see for yourself!
Get started with Brevo's sales solutions
Sales Platform, Meetings, Phone — Brevo has solutions for all your sales needs. Sign up to get unlimited contacts, customizable deal pipelines, meeting scheduling, a free business phone number, and so much more.