Wishing you had an updated booking landing page to help your clients book meetings with your team? Or are you looking for inspiration to build a new landing page from scratch?
Booking landing pages are a great way to make your team available to your clients and customers. This is especially true when your landing page is customized to your team's needs and represents your brand well.
Let's look at some good examples of booking pages and the best practices for creating one for your business.
What is a booking landing page?
A booking landing page is simply a web page where clients can book meetings with your team. It displays your availability for meetings so clients can reserve appointment slots.
Booking pages are usually created with appointment scheduling tools. They sync your calendar to make sure there are no double bookings or appointment conflicts. And meeting invitation emails are sent when the meeting's booked. Good customer experience through and through!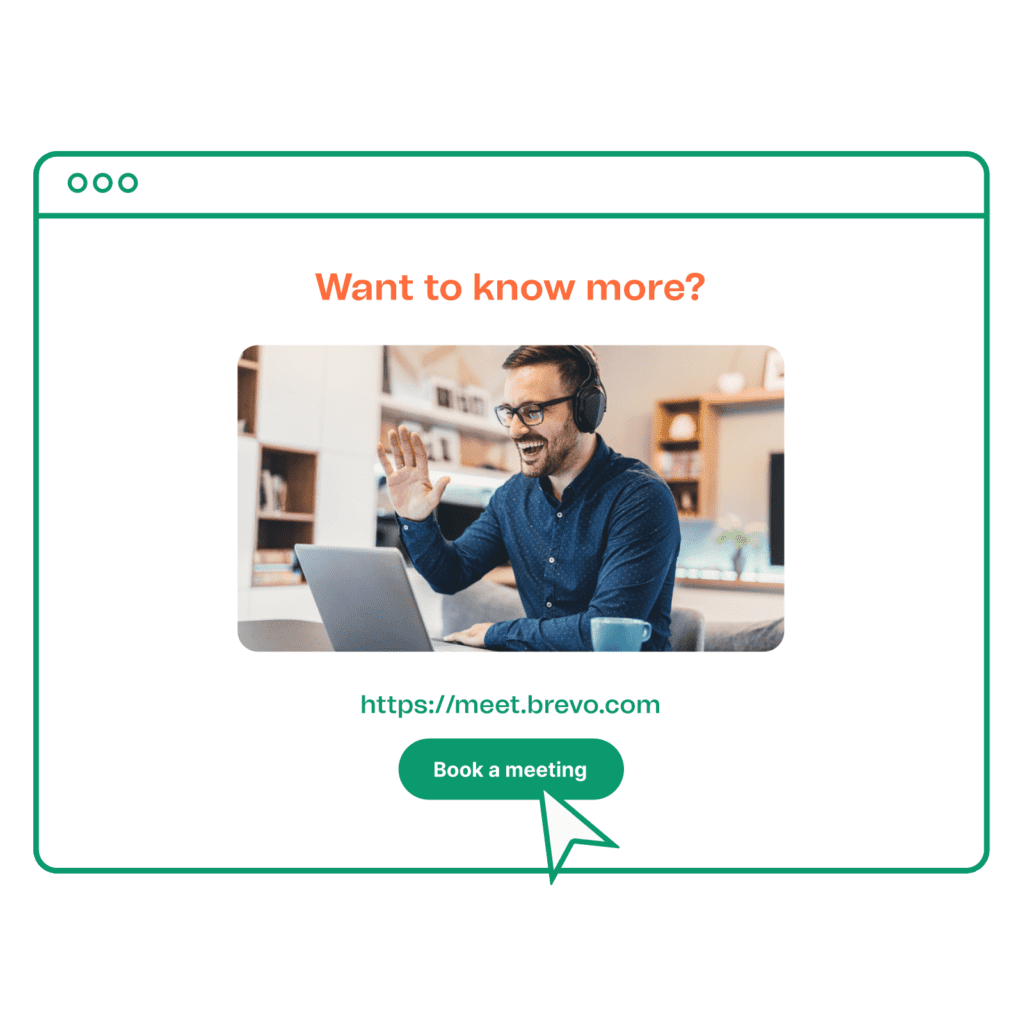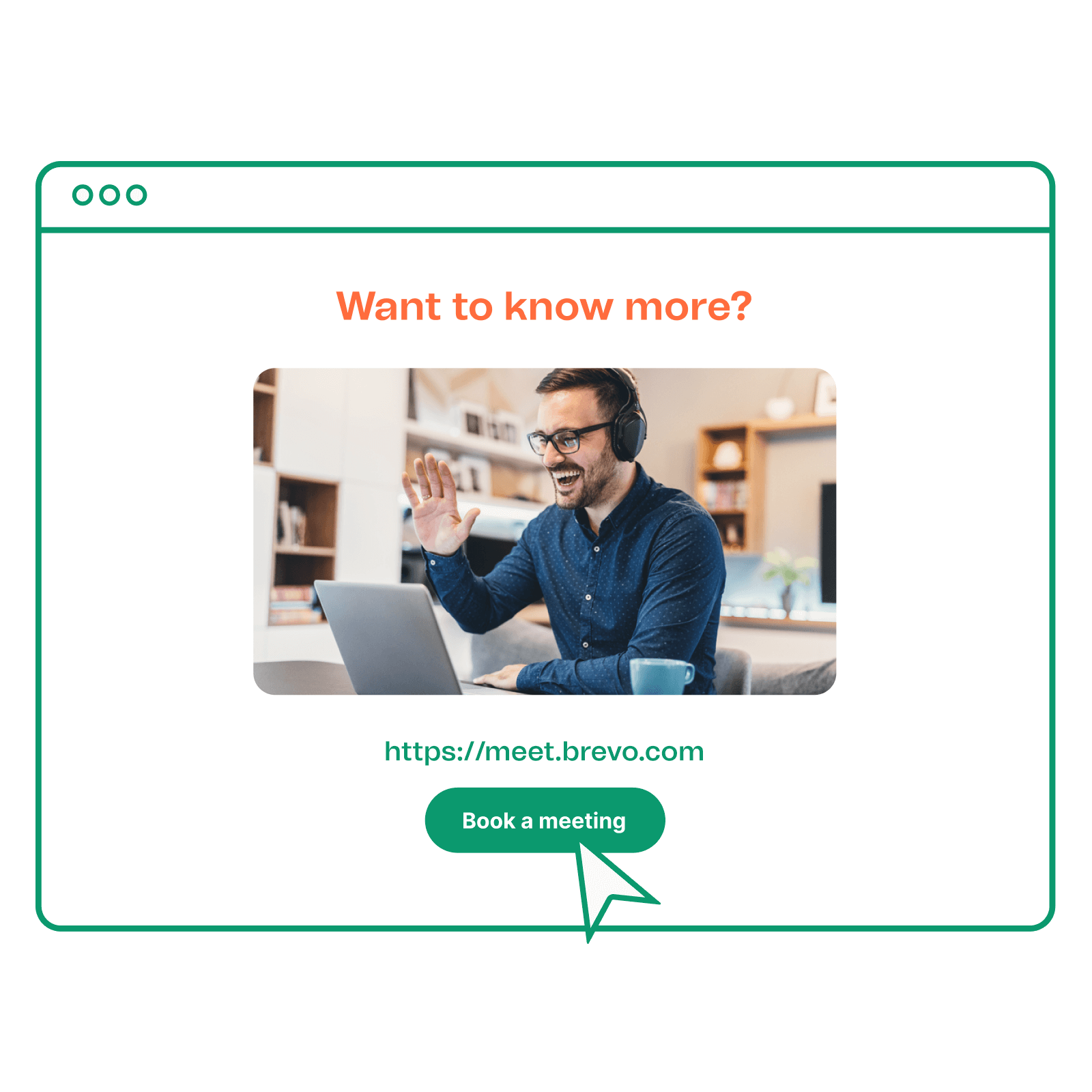 Real-life landing page examples
Appointment booking landing pages can work for teams of all sizes and businesses. If you interact with clients directly rather than sell as an ecommerce, chances are you could benefit from adopting booking landing pages.
Some of the most popular use cases for booking landing pages are shown below.
Here are a few sample landing pages to inspire you as you build your own. They're all created with Brevo Meetings.
1. Online coaching business
When meeting with clients is your main business activity, managing your schedule and arranging new appointments easily is essential.
A booking landing page lets your clients find the perfect time to meet you based on their needs. Set up "intro session", "60-minute coaching session", and all the other meeting options you offer.
The best part is you can easily manage your schedule with all booked meetings.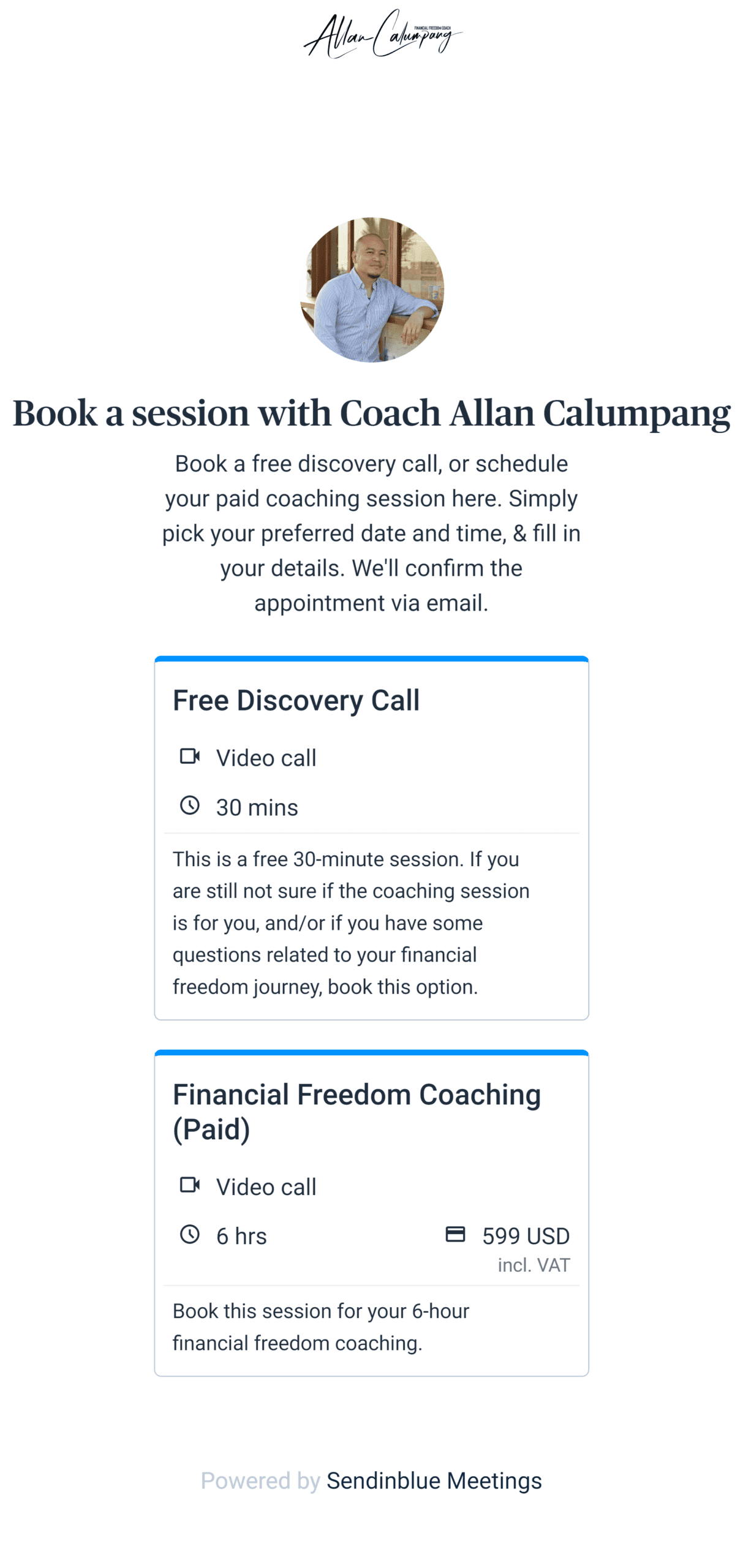 2. Travel agency
A travel landing page can capture potential travelers at the peak of their interest with a "Book a call" button.
Travel booking pages can speed up your customer service. Offer online consultations to warm up leads and reach new demographics who wouldn't drop by in person.
Read more: How to Schedule a Zoom Meeting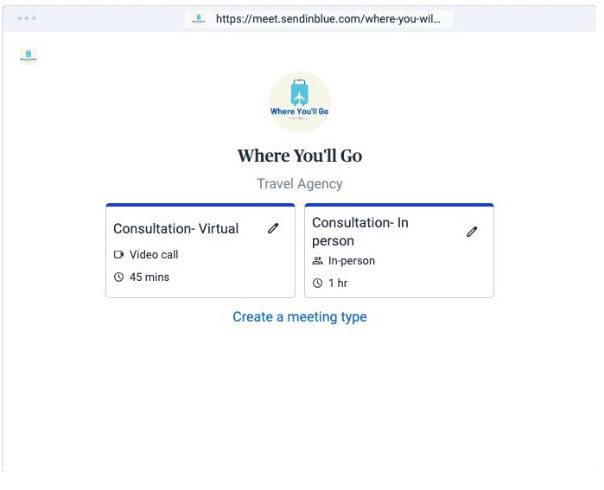 3. Event planners
Booking landing pages make total sense for event planners. Vet potential customers and quickly explain your services without wasting time traveling to meet them.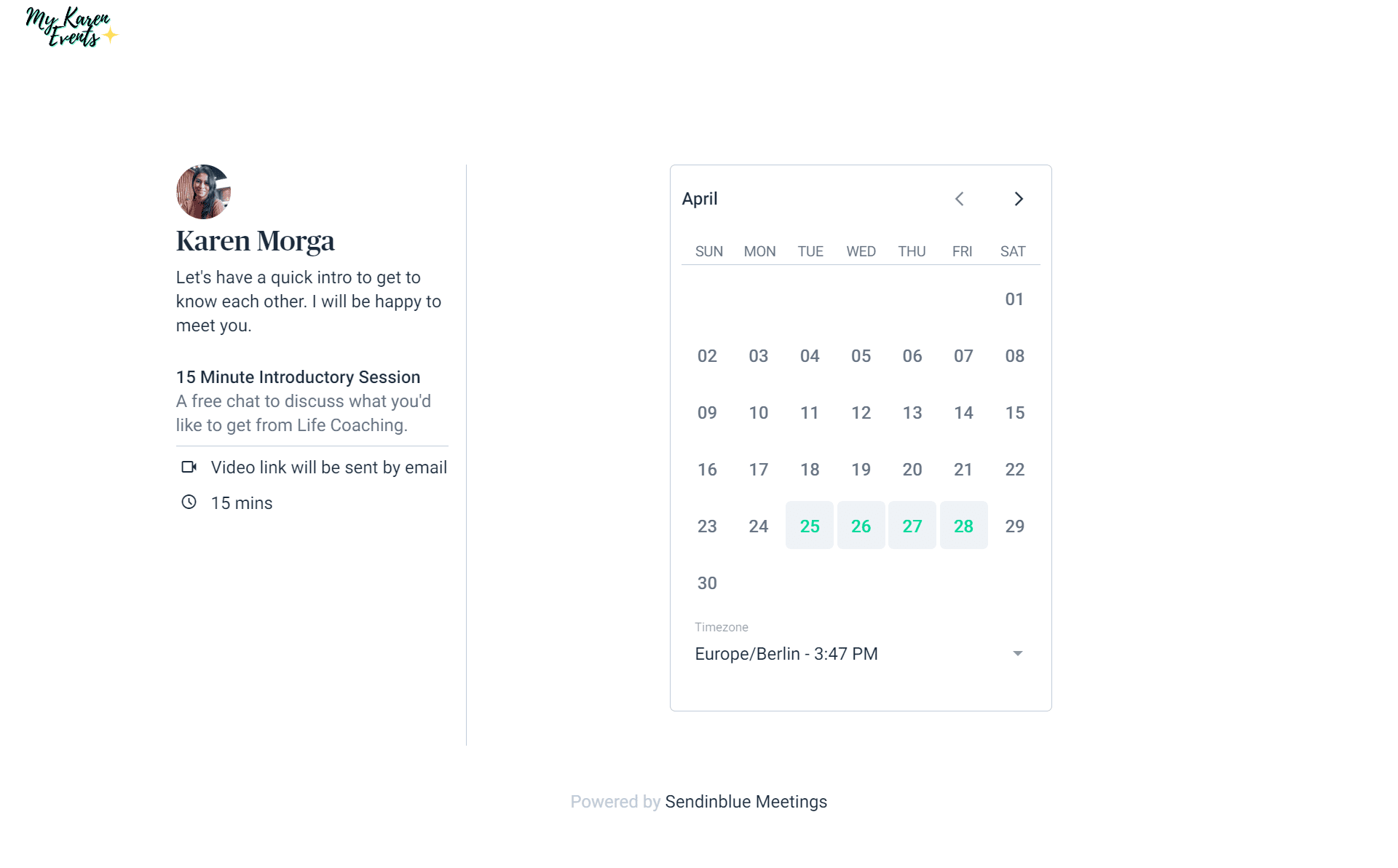 4. Freelancers
Freelancers' meeting requests often come in from a variety of sources. A booking landing page can simplify this process and consolidate all your scheduled appointments in one place. Plus, it's easy to share the booking link — paste in a popup box, on social media, or simply embed it on your site.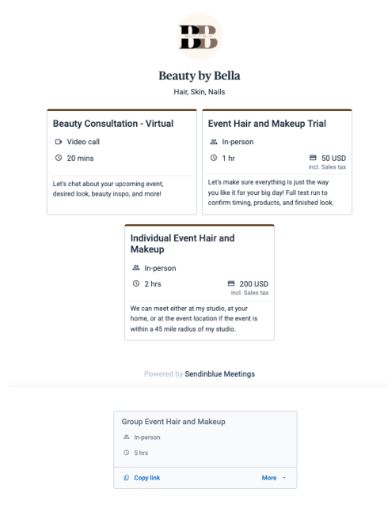 5. Personal trainers and fitness instructors
If you offer both in-person and online services, it can get messy managing all bookings. One calendar to keep track of all your engagements can actually open up more time for new clients!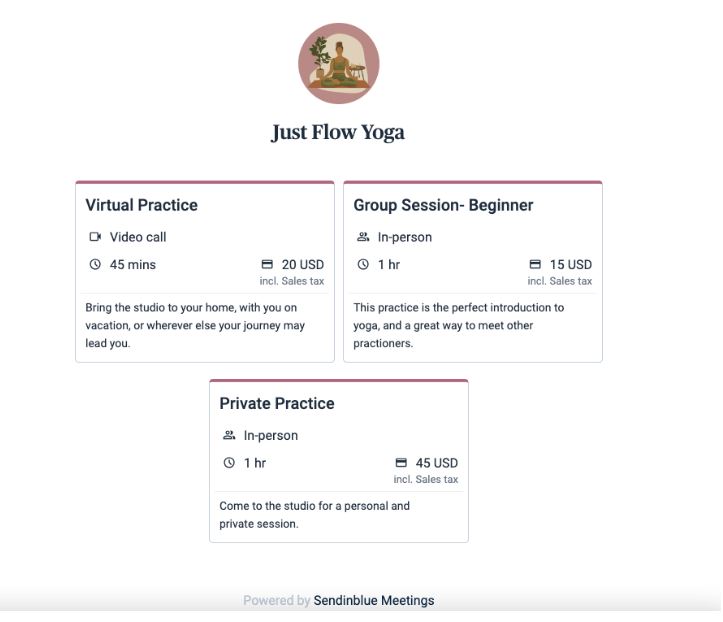 6. Commission-based business
When not just the business, but your livelihood depends on talking to prospects, it's important to be easily accessible. Why not include a booking option right on your sales pages?
In the sample landing page below, you see the booking link actually reveals the booking options right there. Smooth experience that doesn't waste the visitor's time!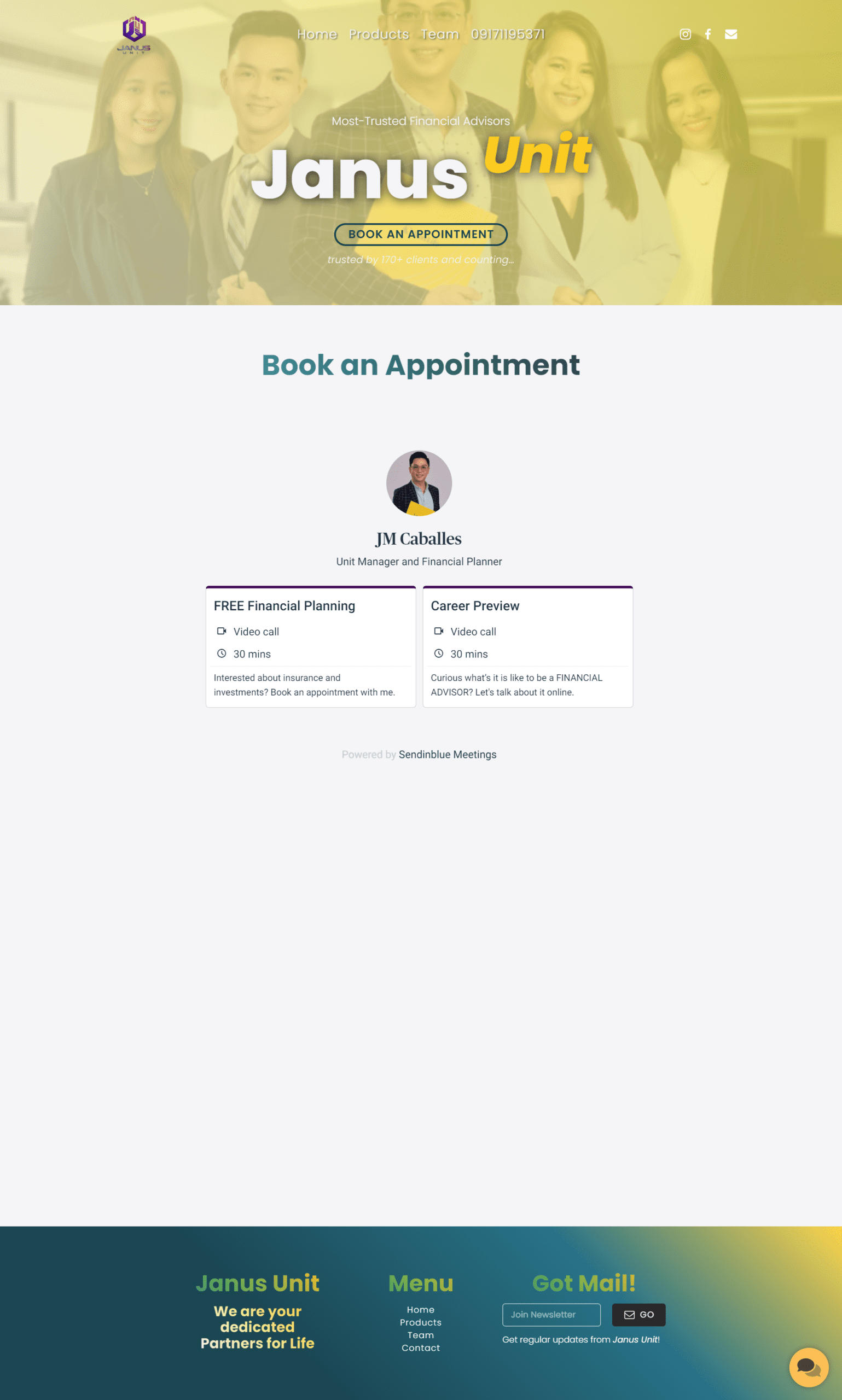 7. Real estate
The schedule of any real estate professional can get hectic. Between being on the go and working deep in focus, you probably don't want to answer the phone to arrange meetings with new clients.
That's where a booking landing page comes in to grow your business with online appointment scheduling.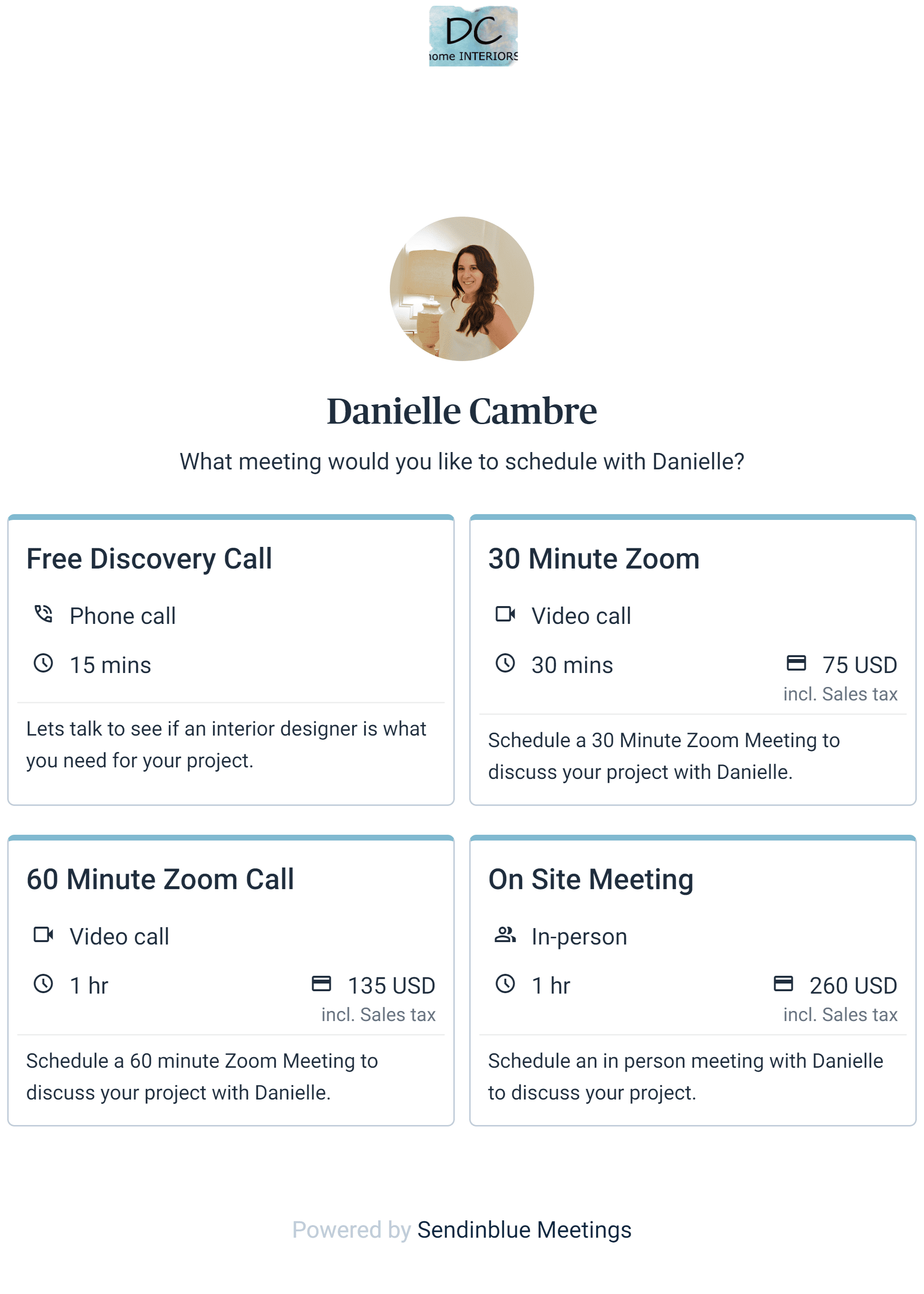 Related: A Comprehensive Guide to Real Estate Email Marketing
Booking landing pages: best practices
Customize your booking landing page
While a standard booking page will get the job done, a custom landing page design gives you consistent branding and will make a positive impression on your website visitors.
You don't need any website design or graphic design skills to do this. Simply arrange the elements on the booking page as you want them and add your branding (logo and fonts) for seamless customer experience.
Link the so-created booking landing page from a CTA button and you're done. Or embed it in a landing page template from your page builder for a more complex design.
Clearly list all meeting types offered
Make it easy for your clients to book the best meeting format for their needs. Phone, video call, or in person — let people choose listing all details in one simple view.
Read more: 12 Virtual Meeting Best Practices to Boost Productivity
Automate billing and payments
A booking page is the perfect place for listing your pricing. People need this information when they book.
Pro tip: Brevo Meetings lets you collect payment after the consultation too!
Easily manage your services
Show all the details you need to get people to book you. And hide meeting types when you want to pause certain appointment types (see beauty professional example above).
Create individual booking pages
Each team member can have their own booking landing page with the various services and meetings they offer. This way, clients can quickly reach their main point of contact. Just make sure to have each one's name and title in the header of the page and they can start sharing it with their prospects.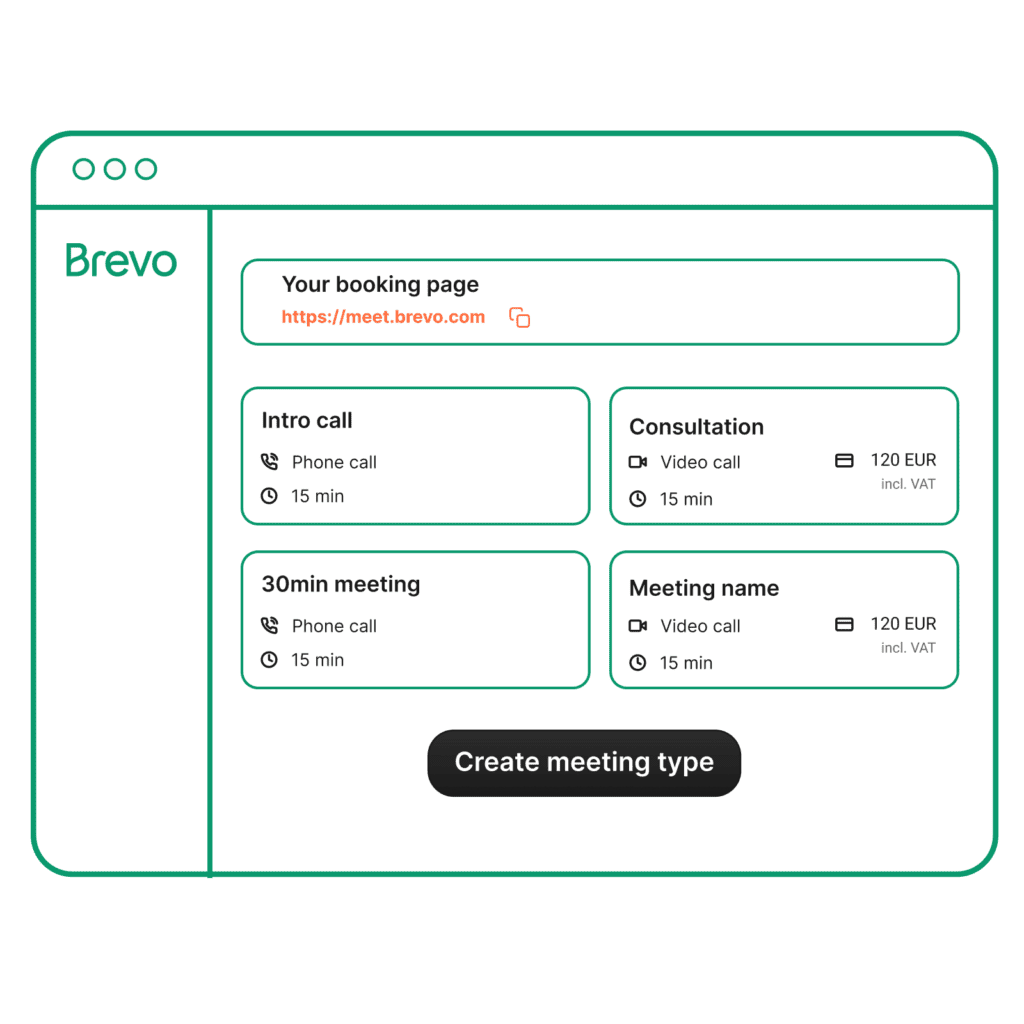 Use the calendar to put order in your workload
Once people book meetings with you, they all will appear in your schedule. Don't miss a thing and follow up, reschedule, and remind as needed.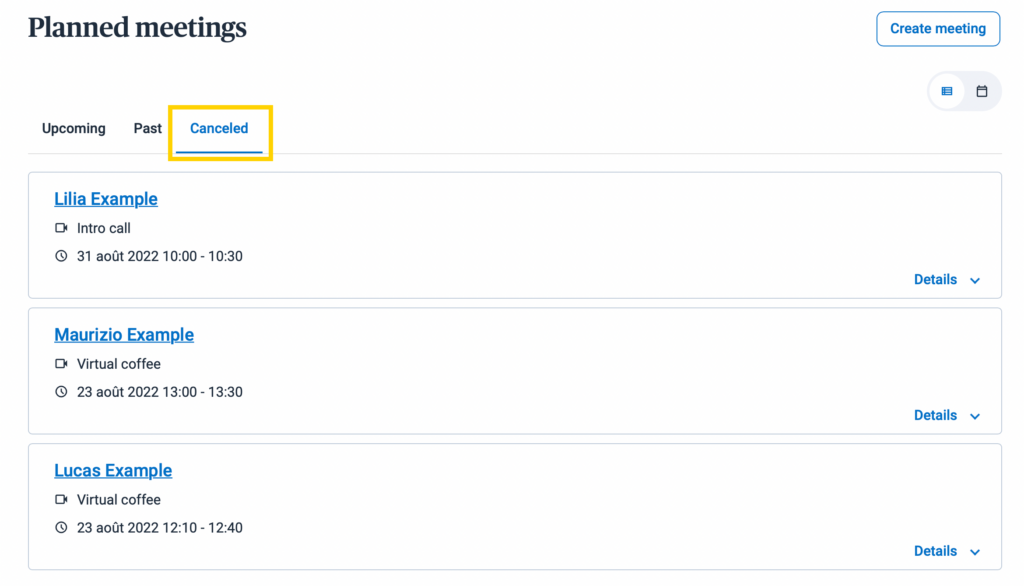 Related: How to Get Started With Booking Online Apps (2023)
Booking Landing Pages FAQs
Do I need coding experience to make a landing page?
No! With Brevo Meetings, absolutely no HTML or coding experience is required to build a beautiful booking page. Simply use the Meeting page editor to modify the color, fonts, and images on your landing page.
Where to place your booking pages?
Your custom booking page should be displayed where it's easy for your clients to find:
Social media: Display the booking link in your social media bio or share in a post
Home page: Add a call-to-action button to your home page
Email signature: Include your booking link in each email you send so it is always accessible to clients
Are the booking landing pages optimized for mobile?
Yes, booking landing pages created with Brevo Meetings can be accessed across devices, including iOS and Android mobiles.
Create your own booking landing pages
Appointment scheduling apps make it easier for you to schedule and meet with clients. Brevo Meetings can make scheduling a breeze with its user-friendly platform and expansive functionalities.
Brevo offers all the sales tools you need to drive revenue and deliver seamless customer experiences. Track deals, book meetings, make phone calls, and collect payments — manage the entire sales cycle and all your contact data in one place with Brevo.
Run virtual meetings with Brevo
Sign up to get unlimited appointments, customizable booking pages, video conferencing, online payment processing, and all core email marketing features.