Reading time about 11 min

Looking for CRM software? Whether you are experienced with CRM tools or are a first-timer, we have the best CRMs for small businesses.
Customer relationship management software (CRM software) refers to the tools, strategies, or processes that help businesses manage customer data. These tools are vital for small businesses as they allow you to increase sales, drive growth, and improve the customer experience.
The goal of a CRM software system is to build stronger relationships with your customers. This improves customer retention and loyalty, which can have a significant impact on your business's bottom line.
Ready to move past managing your clients on a spreadsheet and get started with a CRM? Here's what you should look for when choosing CRM software for small business.
Small business CRM solutions use cases
CRM software for small business use cases span the entire customer life cycle. CRM tools can help you every step of the way, from your first contact with a potential customer, through customer support and follow-up sales.
Here are just a few of the ways that you can use CRM solutions throughout your sales cycle.
1. Prioritize your most important leads
When you have a lot of leads it's hard to know where to use your resources, especially if you are part of a smaller team. CRM software provides lead management tools to help you identify your important leads, and where they are in the customer journey. That way, important leads don't fall through the cracks.
A CRM solution lets you define custom "rules" based on what types of leads are most relevant to your business. Prioritize leads based on geography, job titles, or previous open rates. Your CRM system should rank leads for you. This helps you identify easy wins and effectively manage your time.
2. Identify the age of your deals
If your small business handles multiple deals at a time, it can be hard to keep track of the logistics. It's crucial to monitor how long each deal spends in every stage of your sales process. In fact, this metric is a top sales metric to identify at risk deals. CRM platforms make tracking this information easy.
3. Access important information during sales calls
CRM tools are useful when speaking with existing or prospective customers. When you don't have important customer information at your disposal, you risk frustrating customers and wasting time. Keep your customer information at your fingertips by storing it all in one place: your CRM software for small business.
4. Keep track of your customers' history
Improve your customer satisfaction by tracking their history and interactions with your team. Your small business has to keep track of lead management, act as sales reps, customer support, and more.
While it may be hard to remember all of your interactions with one customer, they will expect you to pick up right where they left off. The best way to do this is to access the entire customer journey in real time. A small business CRM system will house this information.
5. Automate mundane tasks
Your small business CRM system should optimize workflows and streamline processes. This can help take mundane tasks off of your plate, without having to expand the size of your small business. Let your CRM platform do the work for you, which can include tasks such as:
Creating email templates for marketing campaigns
Data entry automations
Instant logging of customer interactions
Lead scoring
Repeatable sales processes
Workflow automation
What to look for when choosing a CRM software
With so many different platforms out there, it's good to have a list of core CRM features in mind. To help you out, we've put together a list of CRM features to look for in a worthwhile business tool.
Contact management: This is a basic functionality that every CRM software should have. Your CRM should be able to store important contact information. This includes names, addresses, accounts for various social media apps, phone numbers, and more.
Interaction tracking: Make sure that your CRM tool can track the entire customer history and record interactions. That way, all team members will have the tools to effectively help your client.
Lead management: Your CRM software should help you convert new leads into potential customers. Use the tool to identify, score, and move leads through your sales pipeline. With this type of sales management, you'll make the most out of your sales opportunities.
Email integration: Make sure that the CRM platform can integrate with your existing email marketing platforms. That helps you avoid having to switch tools and creates a centralized communication hub.
Pipeline management: Your CRM tool should give you an overview of your entire sales pipeline. That way, you can check the status of each individual stage in your sales funnel and even do sales forecasts. Every small business has a different process, so make sure you can configure the tools for your needs.
Types of CRM Software
There are three main types of CRM systems: collaborative, analytical, and operational. The best fit will depend on your specific business needs.
A collaborative CRM system will help your team work together. They make sure that all team members have access to the same up-to-date customer information. This can be helpful for a small business as you may have a few people wearing multiple hats.
An operational CRM system streamlines processes revolving around the full customer journey. Generally, an operational CRM will be full of helpful automations. This can help your small business save time without overburdening your existing team.
An analytical CRM system helps you gain important insights by analyzing customer data. These systems can spot customer trends for you. That way, your team doesn't have to manually compute this type of information.
The 8 best CRM software for small business
Brevo is a cloud-based, all-in-one CRM suite that helps you manage your sales pipeline, automate marketing campaigns, and stay in touch with your customers across channels. This CRM software is intuitive for small businesses, with a user-friendly interface.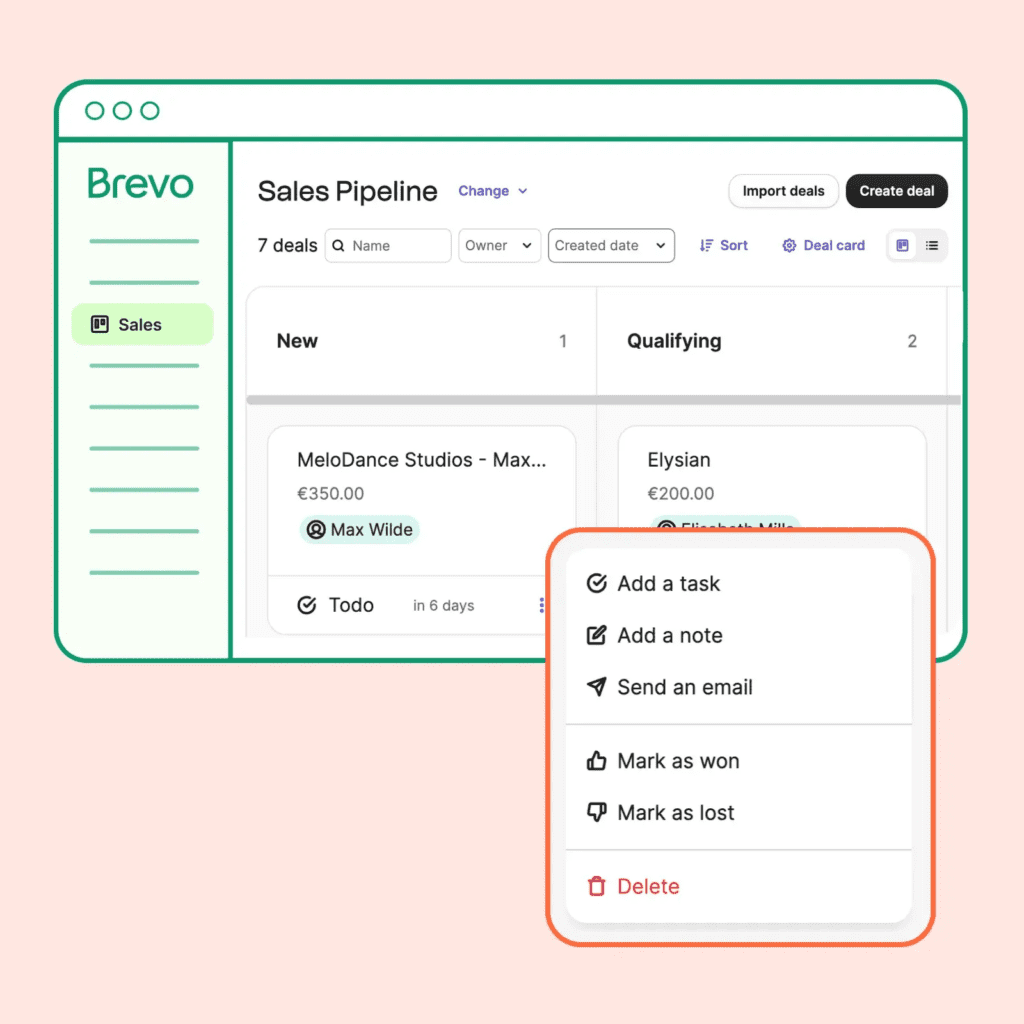 Here's a round-up of Brevo's top CRM features:
Store unlimited contacts
Manage pipeline at each stage
Identify easy wins through customer interaction tracking
Easily track deal age
Manage your inbox through a centralized communication platform
Schedule meetings with in-app video calls
Send notifications for task and contact management
Brevo offers all the sales tools you need to drive revenue and deliver seamless customer experiences. Track deals, book meetings, make phone calls, and collect payments — manage the entire sales cycle and all your contact data in one place with Brevo.
Brevo offers a free CRM software plan for new users to discover Brevo. This plan includes the features mentioned above and lets users create up to 50 simultaneous existing deals, making it a great option for micro and very small business owners who don't need to pay for unlimited use cases.
The Pro paid plan starts at $12/user/month and gives users access to unlimited open deals, unlimited sales pipelines, sales automation, and advanced reporting. This plan is the best small business CRM offer for brands looking to accelerate growth without paying for a lofty enterprise price tag.
Brevo is our essential toolkit. Our business depends on referrals and through lead scoring and pipeline management, Brevo ensures we get the right people into our programs. Without it, we wouldn't have been able to grow revenue 8x in the last three years.

– Nopadon WongpakdeeCo-Founder, SYSTM
Pipedrive focuses on monitoring your active deals at all stages of the process. Pipedrive is a system that is designed by salespeople, for salespeople. They offer a wide range of benefits. However, their sales-driven features may not be suitable for all small businesses.
Some of Pipedrive's top CRM features include:
Customizable pipeline stages
Communication tracking
Custom business metrics
Mobile apps and integrations
Pipedrive pricing
You can get started today with a Pipedrive free trial. To upgrade, choose from a wide range of plans that cost between $14.90-99.00 per user, per month.
Freshsales CRM positions itself as a sales force automation solution. Freshsales CRM's goal is to shorten your sales cycle. This can be a great goal for many types of businesses. But some customers appreciate a degree of personalization that can't exist in a faster sales cycle. If your customer base prefers a quicker sales cycle then Freshsales may be a good fit.
Freshsales CRM offers the following features:
AI-powered chatbots
Predictive contact scoring
Activity timeline representing your pipeline
Multi-channel communication across phone, email, chat, and SMS
Freshsales pricing
Freshsales CRM's pricing ranges from a free plan to $83 per user, per month. Some features (add-ons package with onboarding documents and invoices, additional bot sessions) will cost extra.
Keap CRM focuses on sales and marketing automations that can enhance productivity. Keap CRM offers a service tailored to entrepreneurs in a variety of industries. This is most apparent through their one-on-one coaching and guidance features. However, these coaching features could cost your business at least $500.
Keap CRM can give your business access to:
Multiple sales pipelines
Lead-capturing tools such as social media and lead forms
SMS marketing
Invoice and billing features for ecommerce
Keap pricing
Keap CRM isn't available as a standalone solution and instead is bundled with Keap's other products. Prices range from $129/month to $199/month.
Hubspot CRM helps with business growth and keeping all of your departments connected. With Hubspot Sales CRM, you're able to access a wide range of tools designed for your entire team. However, if you are a small business, Hubspot's advanced tools may not be necessary.
Some of Hubspot Sales CRM's features include:
Real-time dashboard to track sales activity
Automation workflows within CRM
Meeting scheduling tool
Mobile app for your CRM
Chatbots for opening support tickets
HubSpot pricing
With HubSpot Sales Software, you are able to choose from a range of pricing options, from $0/month for basic, free tools, up to $1,200/month.
Affinity CRM was designed with relationship intelligence at the center of its platform. This sets them apart from other tools that prioritize business processes like reducing the sales cycle.
Affinity CRM gives your sales team access to:
Custom dashboards for pipeline analysis and reporting
Deal age tracking
Automated contact profiles and profile enrichment
Streamlined data entry & insights
Affinity pricing
Affinity CRM does not have its pricing information readily available. Other sources report the price starting at $150/user per year.
Folk CRM's main focus is its easy-to-customize, no-frills interface. They offer a simplified contact management solution you can tailor to your needs without a super steep learning curve.
Folk CRM features include the following:
Deduplication of contacts
Bulk outreach to contacts
Integrations into a wide range of business tools
Contact syncing across tools
Folk's ease of use depends on whether you like a Notion-like overview of your project management, rather than offering visual pipelines and graphs.
Folk pricing
Folk CRM is priced between a free plan for up to 100 contacts to $39/user per month.
Zoho CRM focuses on sales force automation. They provide a wide range of features, from predictive analytics to data automation.
Some of Zoho CRM's top features include:
Multi-channel communication integrations
Email integrations
Sales automation workflows in your CRM
Real-time reporting and analysis
Zoho CRM pricing
Zoho CRM is priced from $14/user per month to $52/user per month. Their complementary product for micro-businesses, startups, and solopreneurs offers reduced pricing.
Choose the best CRM software for small business
Depending on your goals and resources, different CRM systems may be better suited for SMBs.
If you are looking for a small business CRM software that is part of a larger business tool, Brevo is the best all-in-one CRM. Brevo's approachable pricing and full range of core features can support all your marketing and sales efforts.
Try Brevo's Sales Platform
Unlimited contacts, deal pipeline management, tasks, inbox, automation, meeting scheduling — all in one place.