Reading time about 15 min

What happens when a site visitor can't find an answer to their question on a webpage? They can leave… or ask their question through a live chat widget.
Live chat is an essential communication tool for companies of any size. If you're here, you understand the importance of live chat for business. Let's jump to the key features to look for in a live chat widget.
How a chat widget works on your website
A live chat widget is a popup chat box embedded on your site where visitors can get assistance from customer support agents or bots (or both!). The chat window replaces email for customer support queries and can also serve as a sales channel.
You don't have to be tech-savvy to implement one on your site. All you need is good live chat software. It'll give you a customizable widget that you can install in a few clicks. Below are the must-have features of quality chat widget software.
Further reading: How to Add Live Chat to Your Website
Features to look for in a good live chat widget
The right live chat tool needs to be user-friendly for your website visitors and feature-rich for you. It may look like a messenger app on the surface, but there's a lot more to it.
Customization. You should have at least the basic customization options such as the ability to pick your widget's colors, adjust the place for the chat button, control agent statuses and widget modes, etc.
Automation. Your live chat software should enable you to automate flows, set up canned answers, and implement chatbots to save your team members' time and improve the user experience.
Hybrid chatbot. A hybrid model is where you can switch between live agents and chatbots. This way, you can enjoy the benefits of 24/7 chat support provided by bots and a positive customer experience only human agents can deliver.
Live chat analytics. It should be easy to get insights into your live chat statistics such as the number of chats, the number of queries resolved, response times, etc.
Integrations. It's important that your live chat solution integrates with your helpdesk system, CRM solution, automation platform, knowledge base tool, and other systems your sales and customer support teams use.
Easy installation. Most modern live chat tools are no-code solutions that allow users to set up and embed chat widgets in a few clicks.
Mobile optimization. Mobile traffic already surpasses desktop. So user experience on mobile shouldn't be disrupted by a huge, buggy chat widget. Make sure your software lets you optimize your chat widget for any device and operating system (Android, iOS, etc).
Simple interface. The live chat tool is the place where you manage your customer support and service processes. It should be easy to create tickets, assign conversations to operators, tag and filter chats, etc. inside your system.
Best live chat widget comparison table
Now, we'll list and compare the best live chat widget tools that have all the above-mentioned features.
| | | | |
| --- | --- | --- | --- |
| Solution | Best for | Free Plan | Pricing starts at |
| Brevo | Small business, startups, SaaS | Yes | $15/month |
| Chatra | Startups, ecommerce | Yes | $17/month |
| Tidio | Small and medium business | Yes | $19/month |
| LiveChat | Mid-sized companies, enterprise | No | $20/month |
| HubSpot Live Chat | Sales teams | Yes | $50/month |
| Zoho desk | Enterprise | No | $40/month |
| Freshdesk | Small and medium business, enterprise | Yes | $15/month |
| Olark | Mid-sized business, startups | No | $29/month |
| LiveAgent | Small business, ecommerce | Yes | $29/month |
| Tawk.to | Small business and startups | Yes | $19/month |
10 best live chat widget services
Let's take a look at the top live chat service providers.
1. Brevo Conversations
G2 rating: 4.5/5
Brevo Conversations offers a full-suite chat solution. It includes a live chat widget, chatbots, automation, and saved replies. The comprehensive toolkit covers the needs of any-size business, from a one-man show to a big enterprise with a customer support team.
Multichannel chat management: Facebook Messenger, Instagram DMs, WhatsApp
Integrations available: WooCommerce, WordPress, Shopify, Google Tag Manager
Here are the main live chat features, offered by Brevo:
Chatbots scenarios (including a contact form) for easy self-service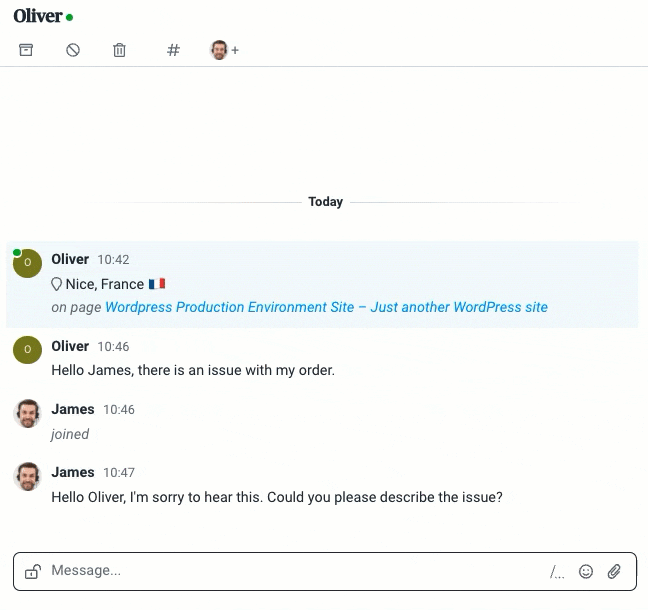 Typing insights — you see what people are typing as it happens so you're ready with an answer faster
Chat ratings & in-depth statistics
Lead capture forms
Agent grouping (e.g. by language or expertise)
Popup notifications for new messages
Mobile app also available
Live chat for mobile devices
Unlimited chat conversations
And the specific live chat widget features available:
Fast and easy installation of the chat widget on your website
Completely customizable appearance of the chat widget template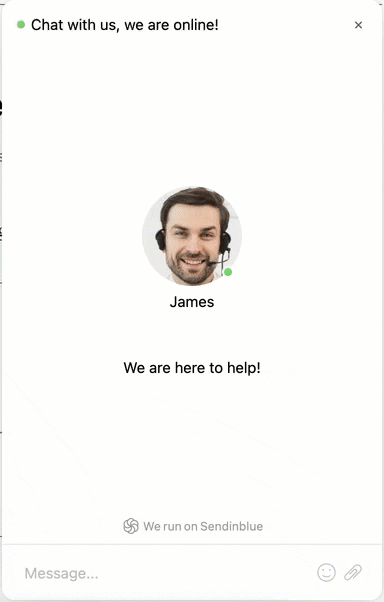 Many options for widget placement
Localize chat widget language — pick your support languages and the widget translates the automated messages
Messenger mode — asynchronous chat when your team's offline
File upload
Sound notification
Brevo's live chat widget gives you the full set of functionality to serve your customers. Plus, the chat is integrated with the rest of the marketing tools on the platform (Sales Platform, email marketing, SMS, WhatsApp, push notifications). Engage contacts with your brand on their favorite channels and turn a one-time live chat into a long-term relationship. 
Brevo pricing
Free plan includes one agent seat, unlimited conversations, typing indicators, and online and offline support.
Paid plan starts at $15/month/user and includes detailed visitor information (location, device, page), form and lead capture bots to grow your contact list, detailed reporting, and all advanced features.
G2 rating: 4.2/5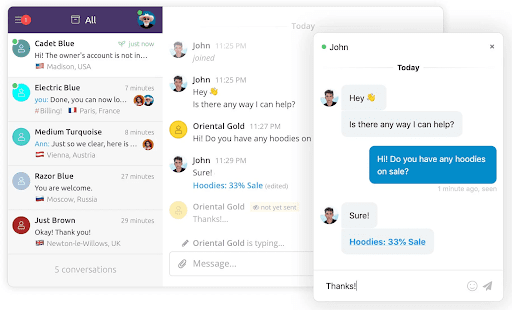 Chatra is a live chat, chatbot, email, and social media messaging platform. It's an easy-to-use tool for startups and small ecommerce companies.
Chatra offers a set of standard features along with some exclusive capabilities:
Live chat
Chatbots
Multichannel dashboard
Real-time user monitoring
Behavior-based triggers for proactive chats
Lead capture
If-then automation
Intelligent chat queue
Desktop and mobile apps
Chatra also lets you manage conversations from Facebook Messenger and Instagram in the same place. Small teams find Chatra to be a simple, cost-effective solution.
Chatra pricing
Chatra's online and offline chat widget is available for one chat agent for free forever. To access analytics, group chats, typing insights, and other powerful features, you need to upgrade to a paid Essential plan starting at $17/month per agent. Features like chat routing, chat reports, and chat rating are accessible only on the Pro plan, costing $23/month per agent.
G2 rating: 4.7/5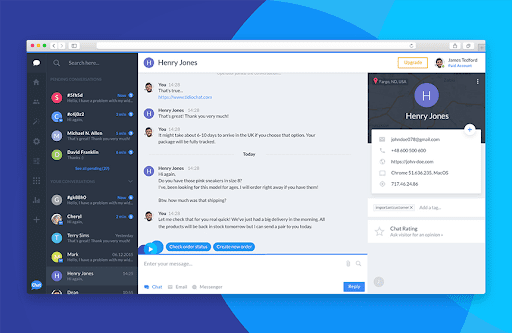 Tidio is an all-in-one customer service platform providing easily accessible live chat and chatbot widgets. The platform works best for small and mid-sized businesses.
Tidio's features include:
Customizable live chat and AI chatbot
Integrations with WordPress, Shopify, and more
Searchable chat history
Pre-built automations
Mobile and desktop apps
Shortcuts for quick responses
Real-time user tracking
Customer support analytics
Chatbot analytics
Users usually choose Tidio for simple integrations with industry-leading platforms – and its WordPress plugin in particular.
Tidio pricing
In Tidio's free plan, users can access two operator seats and have up to 100 chatbot conversations with unique users per month. Paid plans start at $19/month (3 seats + $3/month per additional agent, 100 chatbot conversations per month) and can reach $329/month (unlimited seats and conversations).
G2 rating: 4.5/5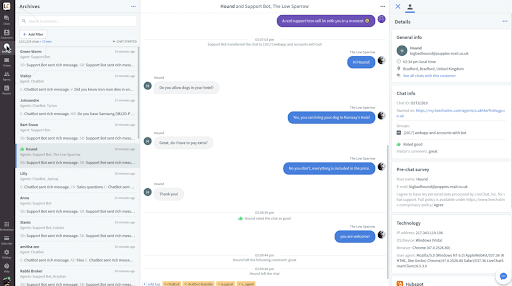 LiveChat is online customer service software offering live chat capabilities among other features. It's mostly used by medium and enterprise-size businesses.
The platform has a range of amazing tools for customer service teams, like a sophisticated ticketing system, detailed performance reports, manual and automated chat routing, proactive chats, and many more.
Alongside basic functionality, LiveChat offers some advanced features:
Canned responses
Pre-chat and post-chat surveys
Asynchronous communication mode
Customer segmentation
Chat takeover and transfer
Routing rules
Chat tagging
Right-to-left language support
Integration with Salesforce
Chat widget API (based on JavaScript)
White label, etc.
On the downside, LiveChat (you might have guessed it from the name though!) doesn't include the chatbot feature in any of its plans. The company has built a separate product called ChatBot that you need to purchase to integrate your LiveChat account with. Small businesses will surely find this setup too pricey.
Related: Live Chat vs Chatbot: What Is The Difference?
LiveChat pricing
Unlike other tools on this list, LiveChat doesn't offer a free plan. Plans start at $20/month per agent. The cheapest plan includes most of the ticketing system features for live chat support, integrations, helpful chat features like surveys and canned responses, etc.
To access chat and agent statistics, ecommerce tools, and advanced customization features, you need to upgrade to the Team plan ($41/month per agent) or the Business plan ($59/month per agent). ChatBot plans start at $52/month.
G2 rating: 4.4/5 (overall HubSpot platform rating)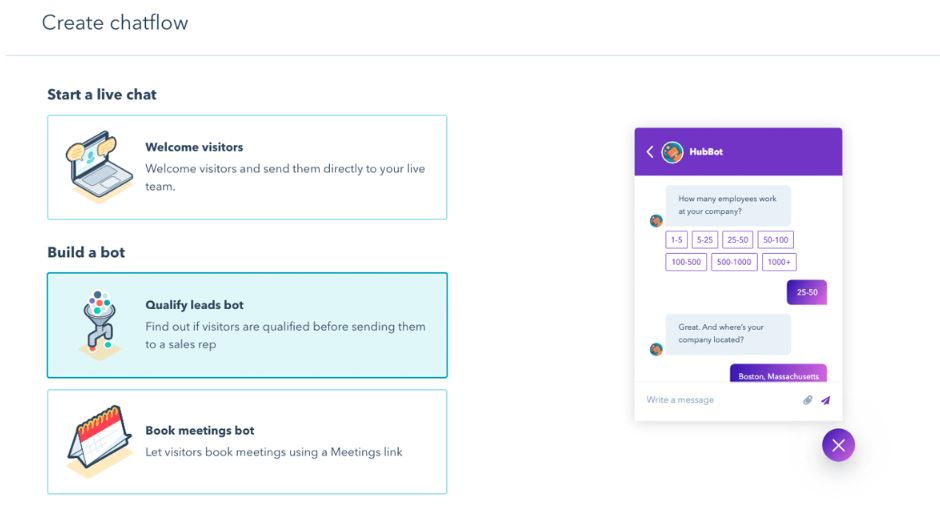 HubSpot Live Chat is just one of the features included in HubSpot's toolkit. It's an addition to the company's marketing, sales, and customer service tools enabling real-time communication between brands and their audiences.
You gain access to some or all of the following features, depending on the pricing plan:
Ticket creation
Lead qualification
Appointment booking bots
Custom branching logic
Advanced targeting
You can also scale your customer communications using basic (on the free plan) or advanced (starting from the Professional plan) bots.
Users tend to complain about chat notification delays and ticketing issues. Otherwise, the free option is good for small businesses looking to implement a simple live chat widget.
HubSpot Live Chat pricing
HubSpot Live Chat is a free tool offered as a part of HubSpot's free toolkit. Users can access more advanced automation features and remove HubSpot's brand logo by upgrading to any of its paid plans, typically starting at $50/month.
G2 rating: 4.4/5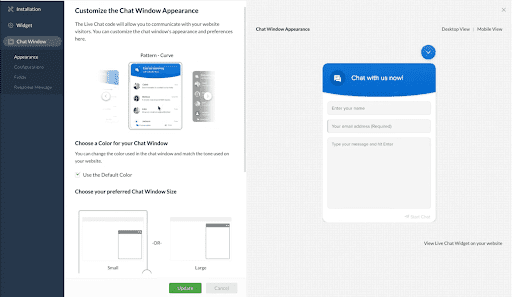 Zoho Desk is a multichannel customer service software with live chat capabilities. It provides embeddable chat widgets for instant customer communications and easy ticketing.
With Zoho Desk's Live Chat, you'll access:
Assignment rules
One-click chat-to-ticket converting
Automated welcome flows
Canned responses
Customer happiness surveys
Zoho Desk is mostly known for its help desk ticketing system. It's a good choice for a comprehensive toolkit to support the entire customer service cycle. However, if you need only a live chat widget within a modest budget, it hardly makes sense to commit to the platform.
Zoho Desk pricing
Live chat is included only in Zoho Desk's most expensive plan – the Enterprise plan which begins at $40/month per agent.
G2 ratings: 4.4/5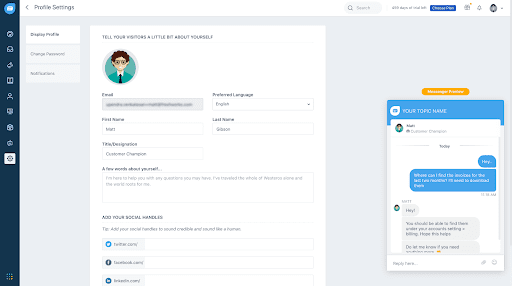 Freshdesk Messaging is one of the tools built by Freshworks. The product focuses on streamlining customer conversations across a wide range of channels, including website chat.
Its functionality includes:
Live chat
AI-powered chatbots
Proactive messaging
Real-time chat and user insights
Advanced analytics
Bulk chat assignment and resolution
Automated chat workflows
Pre-defined assignment rules
Integration with Google Analytics
Shopify and WordPress integrations
Building a custom bot appears to be the most challenging task for Freshdesk's users. So Freshdesk Messaging is a solution for tech-savvy customer support teams looking to develop a highly customizable chat widget.
Freshdesk Messaging pricing
Freshdesk Messaging has a forever-free plan where users get access to a chatbot, bulk actions, integrations, etc. However, keep in mind that bot sessions come at an extra cost – $75 for 1,000 sessions. Starting at $18/month, users can auto-assign chats, create canned responses, segment visitors, view performance dashboards, and more.
G2 rating: 4.3/5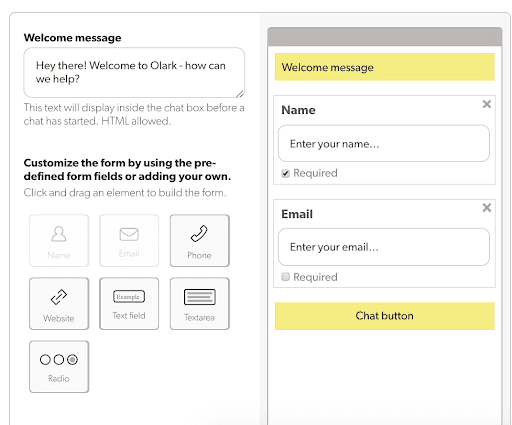 Olark is live chat software for sales and customer support. Here are some of its most valuable features:
Real-time live chat
AI chatbot (CoPilot by Olark)
Team management dashboard
Customizable chat widgets
Live chat analytics and reporting
Chat routing
Automated messages
Custom chatbox forms
Searchable transcripts
Integration with Salesforce
Olark users generally enjoy its simplicity and user friendliness. Also, autoresponders enable businesses to resolve delayed chats without hurting customer experience.
While Olark's basic plans are good for small and medium businesses, its custom plans (Olark Pro) will fit enterprise needs.
Olark pricing
Olark has a free plan available after a free trial and paid plans begin at $29/month per seat. In addition, users can purchase PowerUps – on-demand features for sales, marketing, and customer service. These features are available for $29-$99/month.
G2 rating: 4.5/5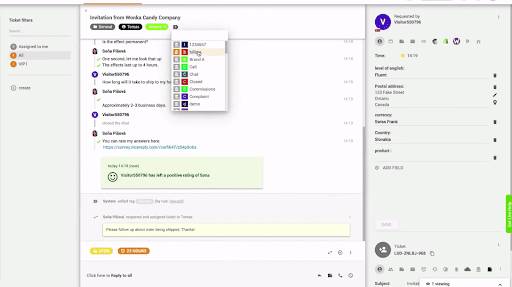 LiveAgent is customer service software offering help desk and live chat capabilities. With direct integrations with WordPress, Shopify, Bigcommerce, and other systems, its customizable live chat widgets are easy to connect to almost any content management system or ecommerce platform.
You can expect the following features in LiveAgent's paid plans:
Proactive chat invitations
Automated welcome messages
Advanced ticketing system
Customer satisfaction surveys
Chat widget customization
Chat transcripts
Automation rules
Agent reports
Chat statistics
Integrations (WordPress, Shopify, Bigcommerce, etc.)
Unfortunately, LiveAgent doesn't have its own chatbot – to use one, you need to integrate your account with a third-party chatbot provider.
LiveAgent pricing
LiveAgent offers a forever-free account with basic live chat features. Paid plans that include live chat start at $29/agent/month and unlock access to advanced reporting, proactive chat invitations, real-time monitoring, and more.
G2 rating: 4.6/5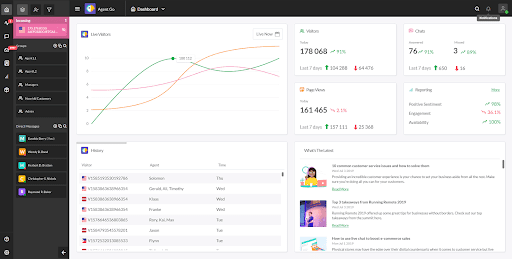 Tawk.to claims they're the most used live chat software in the world, and for good reason. The company made all the premium live chat features available for free:
Proactive chat initiation
Real-time website visitor monitoring
Widget customization
Message localization
Canned messages
Unlimited agents
Group messages
Mobile app
Over 100 integrations
Tawk.to is a free robust live chat app. What about the drawbacks? If you want to set your chat widget to a forever online mode, it's technically impossible to do it. The only way to keep your chat widget online when you're away from your desktop is installing the mobile app and keeping it open in the background.
Also, while the app lets you set up automated welcome messages and use shortcuts, there's no AI chatbot functionality.
Tawk.to pricing
Tawk.to live chat is completely free of charge. The company generates revenue by offering paid live agent services to its customers. But if you want to remove Tawk.to's branding from your chat widget, you should be ready to pay a fixed price of $19/month.
Read more: Best Chatbot Software Compared
Improve your customer interactions with the best live chat widget
Make a great impression on new and returning customers with Brevo's live chat widget. Set up saved responses for frequently asked questions and route chats to your email after work hours so you never miss an inquiry. With the right live chat tools, customers will know that with your brand, they are always taken care of.
Get your live chat widget from Brevo
Full-suite live chat solution with automations, customizable widget, multichannel integrations and easy installation. 1 seat free. Unlimited conversations.