Reading time about 17 min

Create top-notch marketing campaigns by adding animated GIFs to your emails. Find out where to get the best GIFs, how to design your own GIFs, and how to insert GIFs into an email newsletter.
GIFs (short for Graphics Interchange Format) are a type of animated image that you can embed in emails. Email GIFs are a fun and engaging way to grab attention. Imagine replacing dozens of lines of text with a simple GIF to illustrate an idea or showcase a new product.
You've probably heard that a picture is worth a thousand words — but according to Alex Chung, the CEO and Co-founder of Giphy, a well-placed GIF is worth 60,000 words!
It's no wonder that Email GIFs are often found in the most successful email marketing strategies.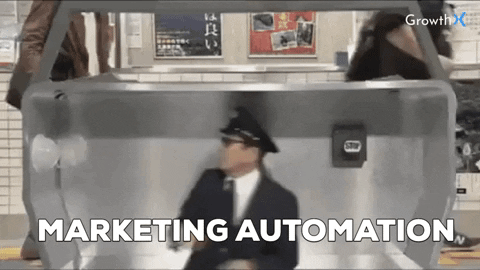 In this guide to animated GIFs in marketing emails we'll show you where to find the best GIFs and walk you through how to insert gifs into popular webmail providers like Gmail and Outlook.
Then we'll explore how gifs for emails can multiply the effectiveness of your email marketing campaigns before delving into the best practices for marketing GIFs.
Where to find the best GIFs
Don't have a ready-made GIF yet?
You can find the perfect GIF using a GIF search tool or create your own GIF with a GIF Maker.
GIF search engines
The best place to look for GIFs is GIPHY.
Simply type in a word or phrase that describes what you're looking for into the search bar. Then press enter or click on the search icon.
GIPHY will then show you the most relevant (and popular) results from over 10 billion GIFs.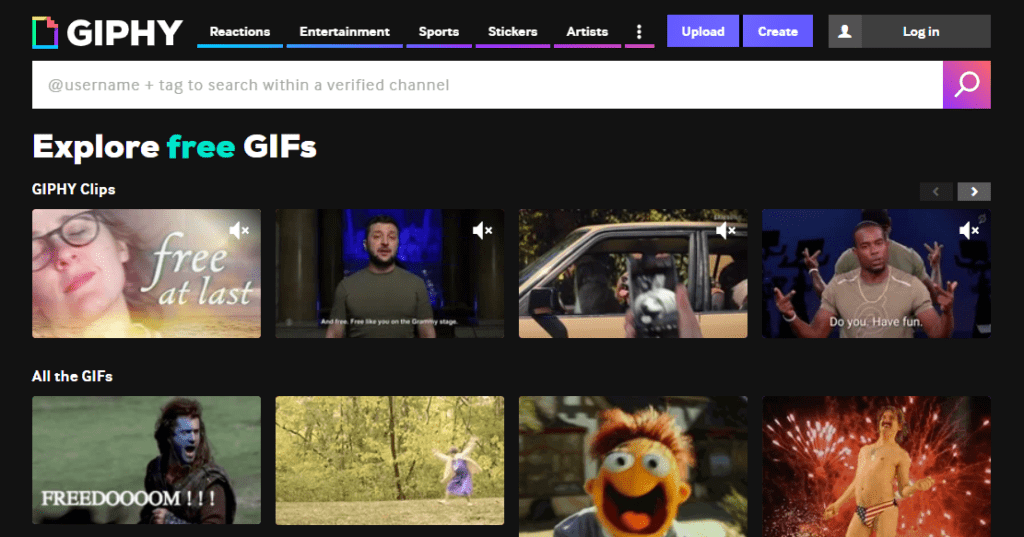 Click on any GIF to open up the embed options page. You can modify the HTML code directly or just right-click on the GIF and download it for later.
Popular GIPHY alternatives include Gyfcat, Tenor and Imgur (which features static images too).
Most of what you'll find is royalty free. That means you can use them as part of a GIF marketing strategy without having to pay any fees.
Social media sites like Tumblr and Pinterest are good places to find business-friendly GIFs. You can also search the web for GIFs with Google Images.
GIF templates
Finding a GIF that doesn't have any captions (so you can add your own) and is just the right size for your marketing needs can be tricky.
Customizable GIF templates save you the hassle of looking for and editing GIFs that were made for a different purpose (like meme GIFs).
Visme is our top pick for free GIF templates.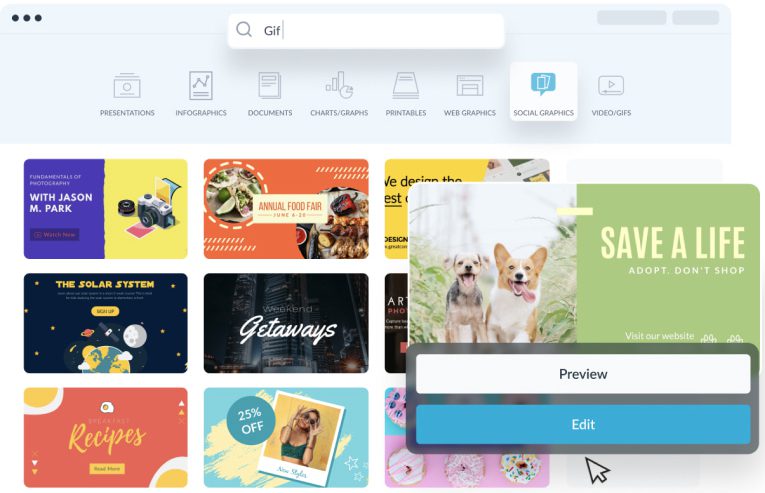 GIF makers
Visme (mentioned above) is also our favorite GIF maker because of its awesome selection of editable GIF templates and simple GIF creation guide.
However, it's a freemium service that you need to pay for to take advantage of its more useful features. Upgrading to a paid plan is required if you want to remove the Visme watermark.
So, here are the best free GIF makers that make creating custom GIFs (nearly) effortless:
Convert videos into GIFs
All email service providers have an email size limit. Inserting more than one or two videos could easily push you over that limit.
Embedding a video into the body of an email or adding a GIF attachment also carries the risk of being labeled as spam by popular ESPs.
Having some of your emails labeled as spam will damage your sender reputation and might lead to your IP address being blocklisted.
Converting a video into a GIF will lead to smaller emails that are mobile-friendly and responsive. GIFs were originally invented to fix the problem of videos being too big to send in an email.
Ezgif and Cloudconvert are among the most popular ad-supported options.
How to insert a GIF in Gmail
Make sure you have your GIF picked out before following these steps to embed a GIF in a Gmail email.
1. Download the GIF
Right-click on the GIF you've chosen and select Save image as to save it to your desktop.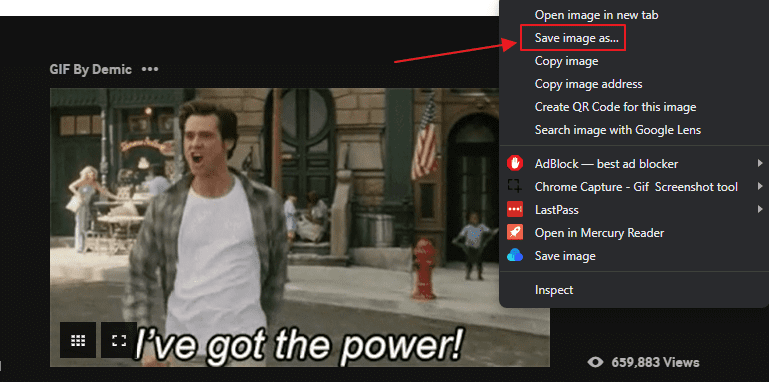 2. Insert a Picture
Compose a new email draft and select Insert photo from the options menu.

Make sure the Inline option is selected. Then click Choose photos to upload or drag and drop your GIF from the folder on your desktop into the outlined area in Gmail to upload it.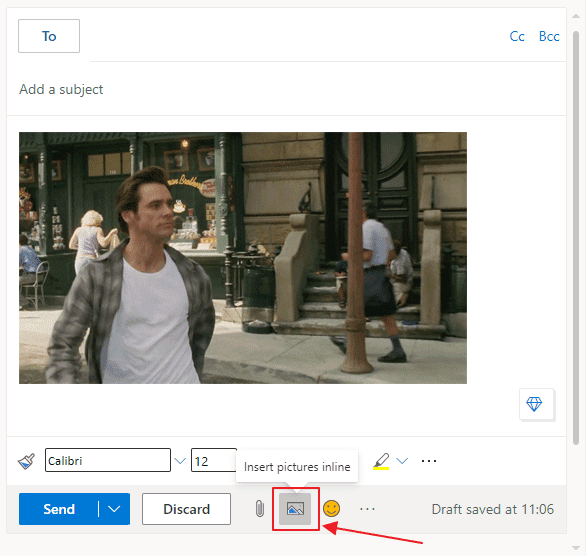 3. Send your GIF Email
Compose a new email draft and select Insert photo from the options menu.
How to insert a GIF in Outlook
Make sure you've got the GIF you want to use on hand before starting on this guide on how to embed a GIF in an Outlook email.
1. Download the GIF
If you've already found the GIF you want online, right-click on the GIF and select Save image as to save it to your desktop.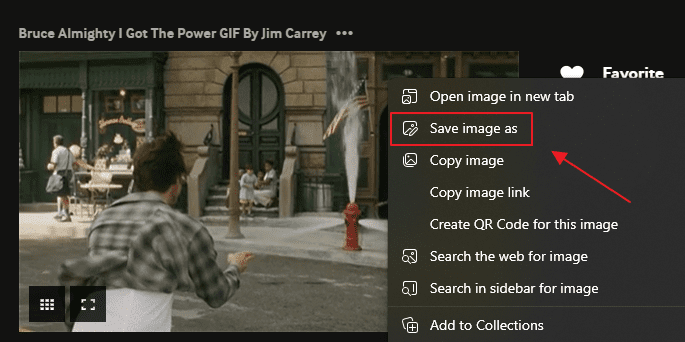 2. Insert a Picture
If you're using the desktop version of Microsoft Outlook — create a new email, click Insert and choose Insert Picture.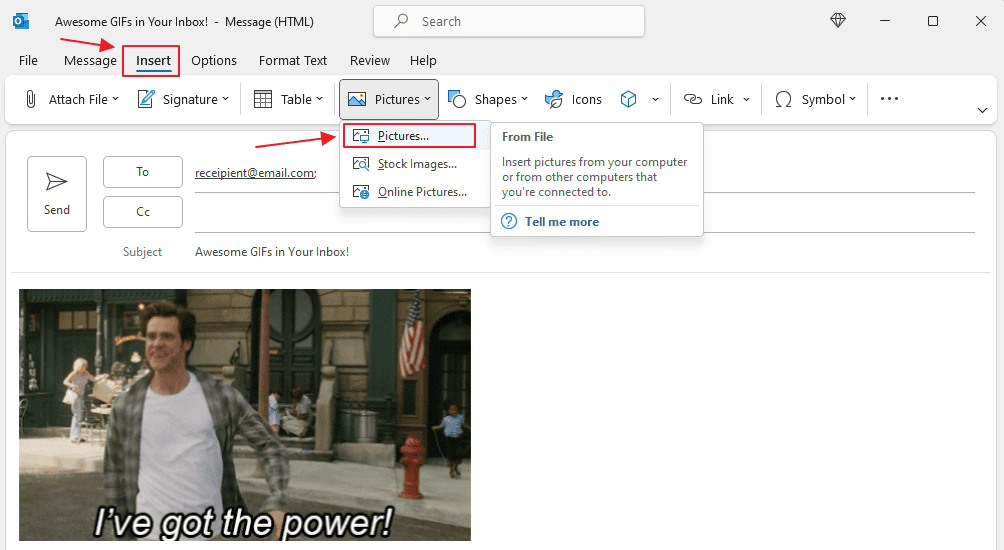 If you're using the web version of Microsoft Outlook — create a new message, and select Insert Picture Inline.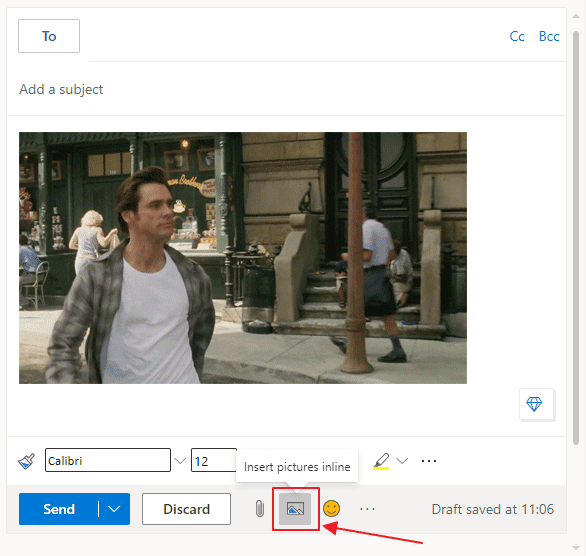 3. Send your GIF Email
Upload your GIF. Resize it as needed. Finish writing your message and click send.
How to embed a GIF in an email campaign
Regular email service providers don't have an easy way to build and design custom emails.
For example, creating and sending a newsletter in Gmail or Outlook is a tedious and time-consuming process.
A professional marketing tool like Brevo will shorten the time it takes to launch your campaign from hours to minutes. 
1. Select an Email Template
Use a ready-made template as your starting point.
Open your email campaign in Brevo and start working from any of the 40+ template email designs.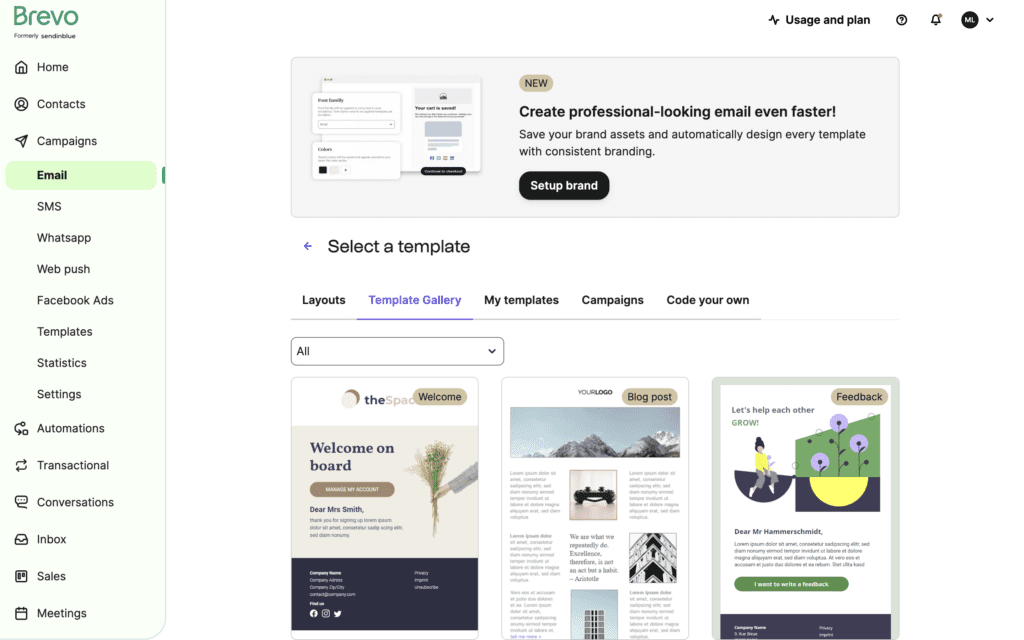 2. Place an Image Block
Use an image block as a placeholder to highlight the space where you want to add your animated GIF.
Select and drag the edges of the image block to resize your image.
3. Upload your GIF
Now, click on the image box you had dropped into your template earlier and select Replace Image from your dashboard's side.
Select the GIF from your computer and drag the uploaded GIF into the image box. The GIF you uploaded will play on a loop.
And that's it! You can now further customize your email before launching your campaign.
Brevo has a lot more tools for you to explore. You can design every aspect of your email campaign, preview your emails before sending, and take advantage of detailed tracking analytics.
Kickstart your next email campaign with Brevo
Free plan includes access to all core email features, 300 emails/day, 40+ email templates, and customizable signup forms to grow your subscriber list.
7 Ways to use GIFs in marketing emails
GIFs are the best way to convey a long message or visual guide. Expect to see higher engagement as GIFs are more often shared across social media.
1. Promote a sales campaign
The average inbox is bombarded with sales offers all year round.
Despite the intense competition, marketing emails are still incredibly lucrative with an astounding $36 return for every $1 invested.
Entice customers to click-through to your offers page with a promotional GIF banner that sparks their interest.
Take a look at how KIDLY announced its Black Friday weekend special. It's fun, silly, and makes you want to click to see what's on offer.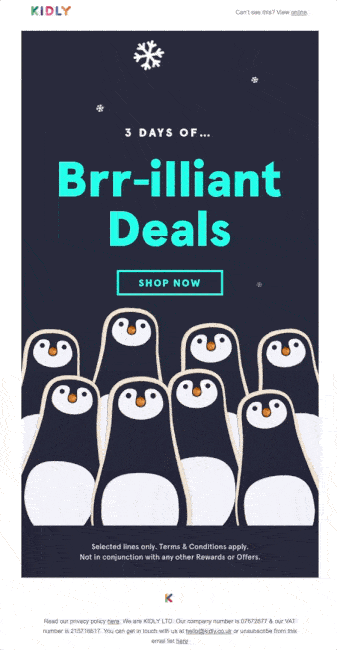 Remember that images come before words. Your audience will "read" the picture before they've absorbed the text.
2. Create your own meme (and go viral!)
Look at what's trending on social media and use those visual cues as inspiration for your own GIF banners.
Hawthorne did this brilliantly when they launched an email campaign on the eve of a new season of Stranger Things — an immensely popular Netflix series.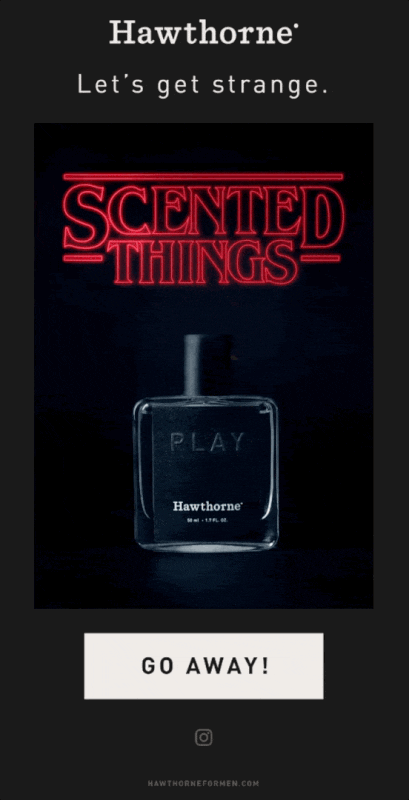 Consider making your own spin on a popular meme or trending topic.
The fastest way to design your own GIF email banner is to search for a meme you like, add a product photo or pricing label, and then toss in a fun caption to tie it all together. You can use an image manipulation service for this.
3. Create a quick how-to guide
No one likes reading instruction manuals. But almost everyone will love a step-by-step guide that can be read at a glance.
Winsor & Newton turned a customer testimonial into a visual example of how to use its new lineup of drawing stencils.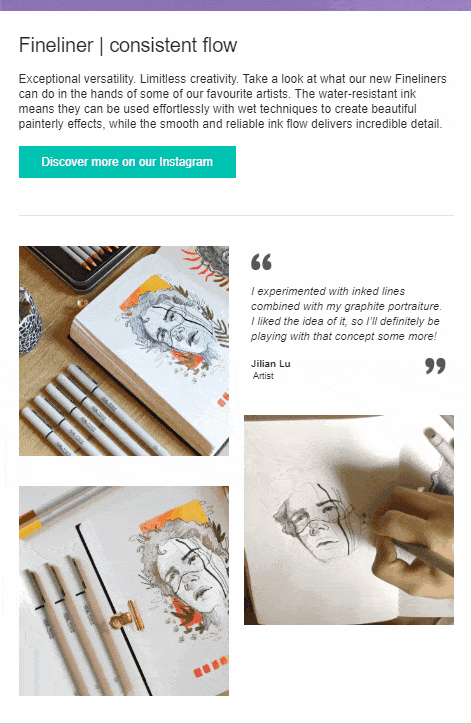 If an email takes longer than two minutes to read most of your customers will find themselves too busy to go through it.
A brief GIF that communicates everything the customer ought to know in a few seconds will be well received.
4. Introduce a new feature
Converting a few screenshots or a product video into a GIF will save your customers a lot of time and show how your product works in a more intuitive way.
Dropbox for example, introduced the Dropbox Rewind feature with a short GIF.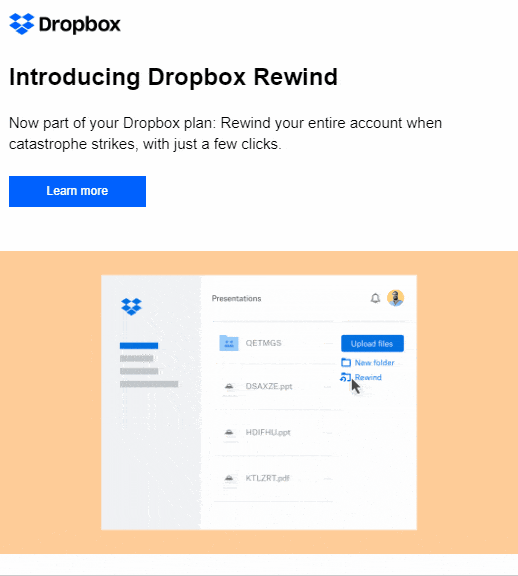 While product update GIFs are particularly useful for businesses in the SaaS industry, they're just as effective in any business context where something new is introduced.
5. Tease a new release or offer
Teasing your customers about an upcoming product launch or soon-to-be-released content is a good way to draw attention to your brand.
Havenly knew exactly how to keep their customers guessing with a tongue-in-cheek email that said absolutely nothing about what's coming.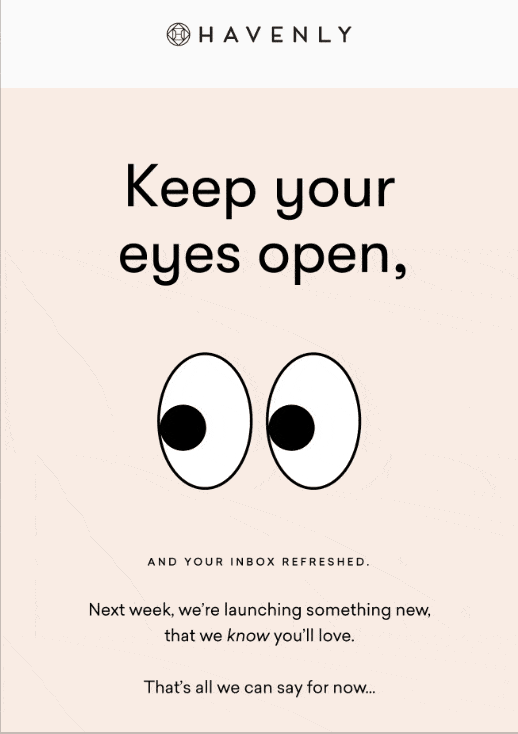 Promotional teasers are also a great way to get free press coverage. Media outlets and influencers will have more time to review prior releases and put out their take on what to expect next.
A smartly designed GIF (even if it's just a mockup) will inspire a lot of fanfare for your upcoming release.
6. Warm up customer emails
Customer emails don't have to be formal and boring. In most cases, an uplifting email is much more likely to be remembered and acted upon.
Let's take Hulu as an example. Combining a free trial promo with a hilarious happy birthday GIF is sheer genius. This goes well beyond your average 'happy birthday email'.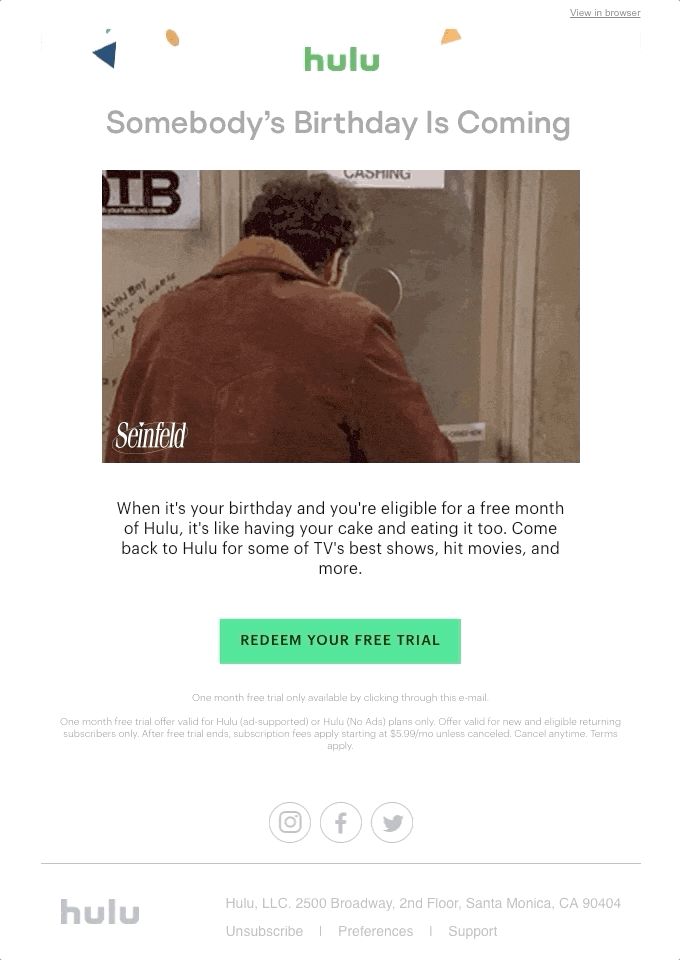 Try adding GIFs to your email automation. Some light humor will help you win back new and old customers.
7. Animate charts and infographics
GIFs are the ultimate shortcut when you need to animate elements of a presentation.
You can even export a Powerpoint presentation as a GIF. Each slide will be converted into individual frames.
Showing how useful your product is or how beneficial it could be to your audience's business is a sure-fire way to convert more prospects.
Grammarly for instance shows its customers how many grammatical corrections they've made in their Grammarly Insights chart.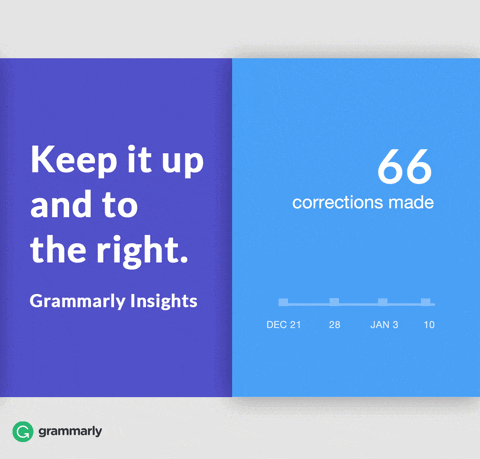 If you prefer to ditch PowerPoint, tools like Canva make creating your own animated charts and exporting them into a GIF fast and easy.
Animated GIF in email best practices
Let's go through some GIFs in email best practices so your GIF marketing strategy is well-prepped.
Pair your GIFs with a CTA
Guide your customers towards the action you want to take with GIFs that clearly indicate buttons or show the user where to click.
In this example, Postable won over its customers with the perfect trifecta: a sales discount, promo code, and the cutest GIF!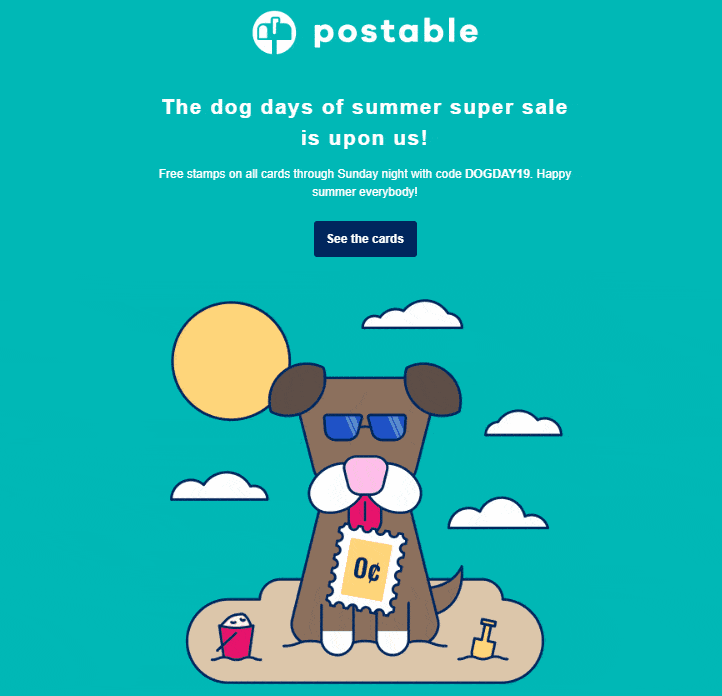 Only animate a part of your GIF
There are two main reasons to only animate certain parts of your GIF.
It reduces the overall GIF file size, keeping it at a size that can be easily shared. And, it keeps things exciting without overdoing it.
This GIF from Fossil is only partly animated. The subtle design is truly eye-catching.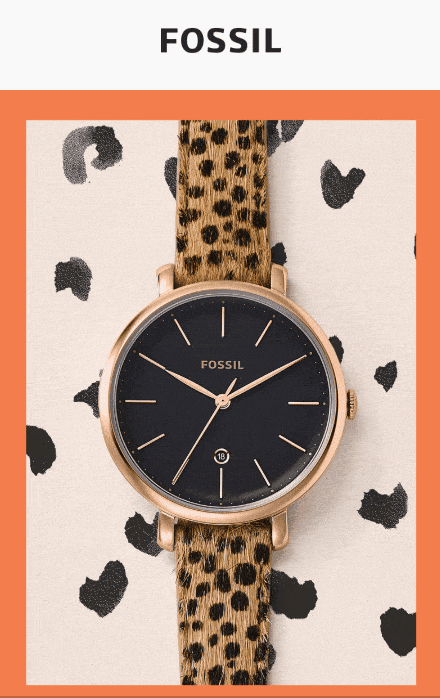 When played with correctly, GIFs bring an air of delight to your emails. They help you tell your story visually — grabbing your recipient's attention.
Appealing visuals can even increase the desire to read content by a whopping 80%.
Give your brand personality
It takes a ton of work to get recipients to open an email, let alone read it to the end. A standout brand is more than just a fancy logo. It's the story of how your brand came to be and the purpose it serves.
The fluttering heart in this Starbucks email speaks volumes on its own.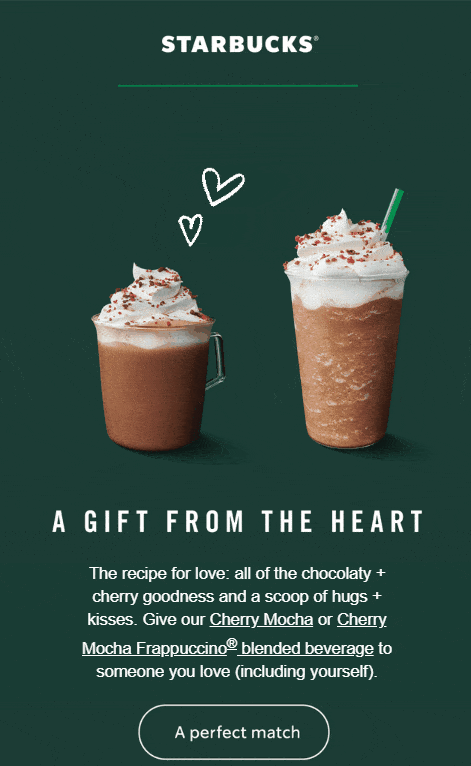 Make your GIFs interactive
Static images can't tell a story as efficiently as a moving picture can. Remember how we loved the talking newspapers in Harry Potter better than the boring, real-life ones?
GIFs tell your brand's story and help you explain big concepts in a space-efficient manner.
Headspace brings to mind (pun intended) all the benefits of sleep and restful meditation at the end of a busy day.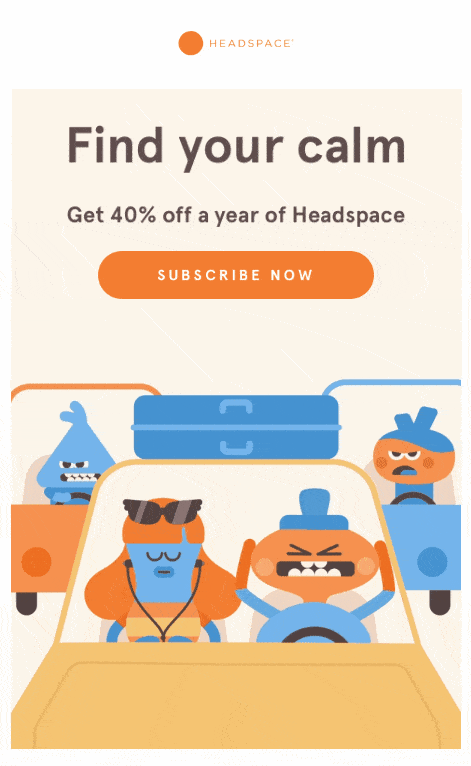 The email GIF above depicts a clear and compelling narrative around why its product is so well-liked, with so few words.
Each email GIF should serve a particular purpose and not simply blend into the background.
Replace videos that aren't supported by email clients
GIFs are great alternatives to videos in emails as they convey your story without eating too much of your recipient's data (if they're viewing email on their phone).
While most webmail providers don't allow video embeds in email, they all support GIFs and even recommend their use.
In this example, Formula 1 converted an exciting race video into a GIF and used it as the backdrop of a race report email.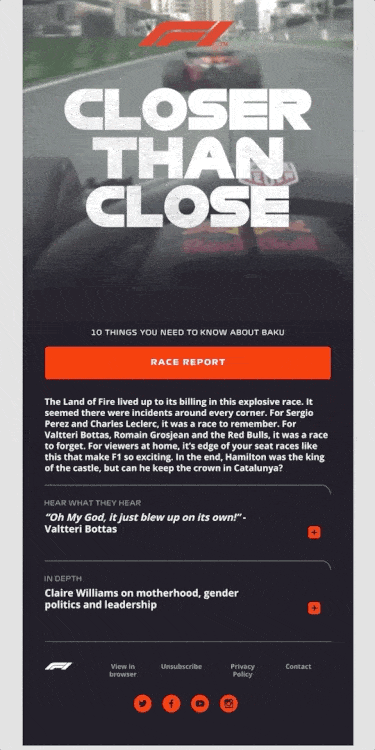 Send GIFs in email with Brevo
The use of GIFs in emails is becoming an increasingly popular marketing tool. 56.6% of the marketers already use animated GIFs in their emails "at least sometimes."
Brevo lets you try out different versions of your email campaigns with A/B testing and streamlined metrics to help you analyze the effectiveness of email GIFs.
Sign up now and start sending GIF-inspired email campaigns in minutes.