Reading time about 13 min

Black Friday is coming up and competition will be hotter than ever! Make your business stand out with a top-notch Black Friday marketing strategy.
Black Friday is the start of the holiday shopping season. For both ecommerce and small businesses, Black Friday is a major sales opportunity. In 2022, online Black Friday shopping increased 2.3% from 2021, totaling $9.12 billion in sales.
Stand out from your competitors with a winning Black Friday marketing strategy. Reach customers with Black Friday emails and social media campaigns. Entice holiday shoppers with irresistible offers.We've put together a list of Black Friday marketing ideas to get you started for in-store and online retailers alike.
What is Black Friday marketing?
Black Friday marketing is how businesses promote Black Friday deals. This usually involves social media promotion, limited-time sales, and digital marketing campaigns.
Black Friday falls on the day after Thanksgiving. Don't forget to mark your calendars — Black Friday is November 24, 2023.
Competition for holiday shoppers is stronger than ever before. Plan a Black Friday marketing strategy your audience will love and increase those conversion rates. Here are a few Black Friday promotion ideas to inspire your campaigns.
15 Black Friday marketing strategies that boost sales
Here are the best Black Friday marketing examples and ideas to help your campaigns stand out from the competition.
1. Launch Black Friday marketing campaigns early
Don't let your campaigns get lost in the Black Friday rush. Be sure to start your Black Friday marketing early.
Share Black Friday teasers on social media or in your email marketing campaigns. Offer early access to deals. Or, run early-bird Black Friday offers for everyone!
Build anticipation for your Black Friday deals well before the big day. This creates a sense of urgency early on. Customers are also less likely to miss out on your Black Friday sales.
For instance, this Black Friday marketing email from Kay Jewelers promotes their early access sale: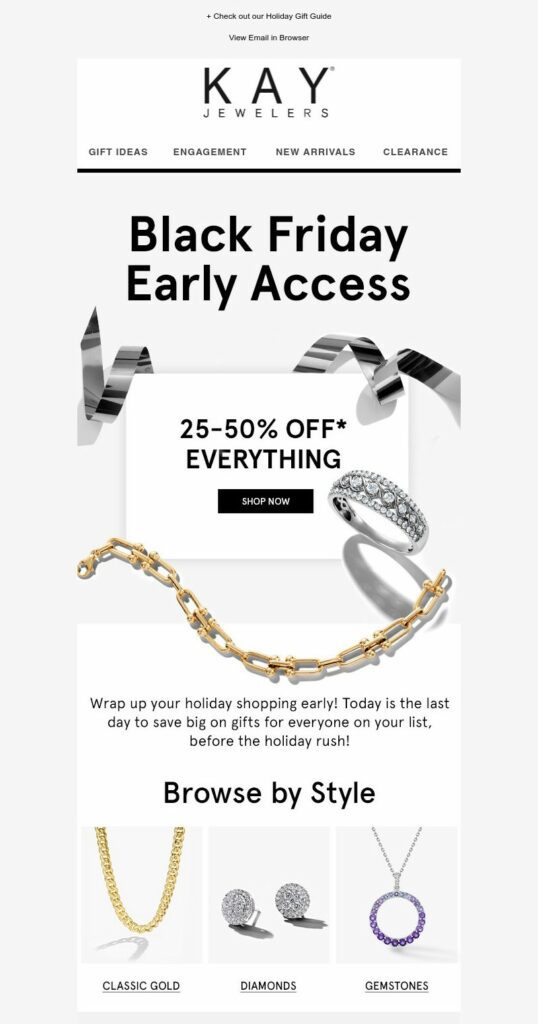 2. Share Black Friday sneak peeks
Black Friday marketing is competitive, so don't hesitate to give sneak peeks of your upcoming deals. Tell customers exactly what they can expect from your Black Friday offers.
Send teasers for discounts on your most popular items. Get your customers excited about major markdowns.
This Black Friday marketing email from Google Store is a great example.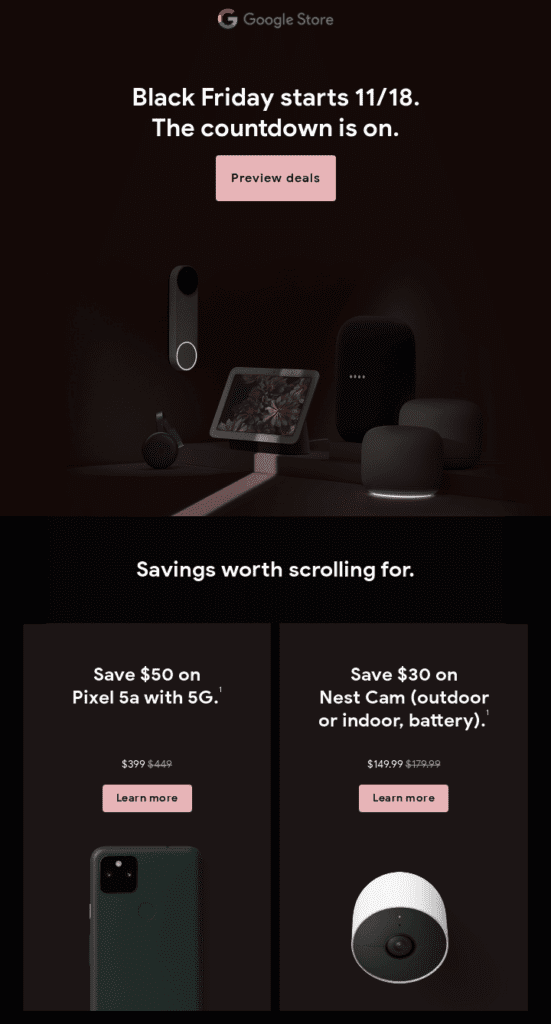 3. Grow your Black Friday email marketing list
When it comes to Black Friday marketing, your email list is one of the most important tools in your arsenal. Use it to target the customers who are most interested in your Black Friday promotions. Marketing tools like Brevo make email list building easy.
Start by making a special Black Friday email marketing list and create an email signup form weeks ahead of your Black Friday sale.
Place the form strategically on your website, such as a popup on your homepage. You can even create a landing page dedicated to your Black Friday offer. Adding a compelling call to action like the one below can convert signups into new customers.
For inspiration, this Black Friday popup from Wodbottom is a perfect example: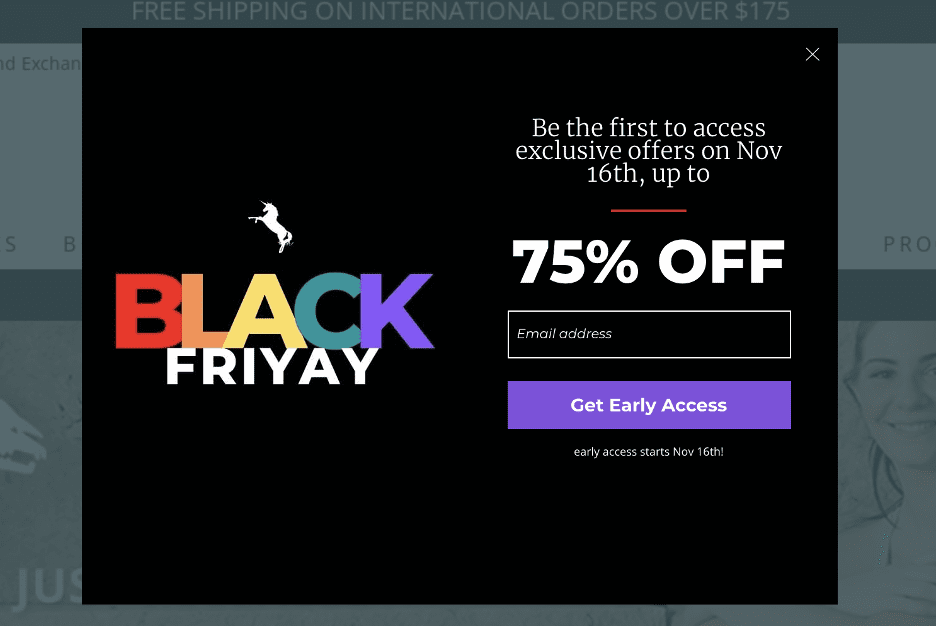 4. Promote Black Friday deals on social media
Social media marketing is a great way to spread the word about your Black Friday deals. Run Facebook ads. Promote sale items on Instagram and Tiktok. Don't forget to add Black Friday hashtags to broaden your reach.
Consider partnering with social media influencers. Influencers have a deep bond with their followers. They can help you promote your Black Friday deals to a wider audience.
Social media is also a great way to drive online sales. Customers can now shop directly on social media platforms (Instagram Shopping, Facebook Shops). For ecommerce stores, shoppable posts could be a game changer.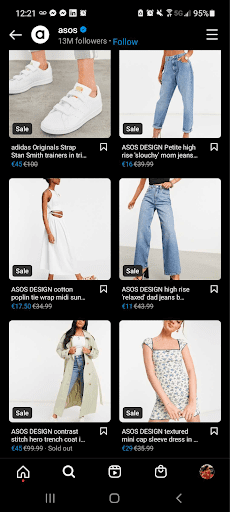 5. Use SMS marketing
Reach potential customers directly on their phones. SMS marketing can make a huge difference for your Black Friday marketing campaigns.
This is because SMS campaigns have high open rates and near-instant opening times. In fact, most texts are read within three minutes after delivery.
Use SMS to remind customers about Black Friday promos and share discount codes. Send targeted Black Friday texts in addition to social media marketing and email campaigns.
SMS is a fast and direct way to engage customers during the busy holiday season. Consider using this channel in your Black Friday marketing strategy.
Related: WhatsApp Marketing: Definition, Tips, and Examples
6. Personalize your Black Friday marketing campaigns
Add a touch of personalization to your Black Friday marketing campaigns. This is one of the best ways to engage customers. Personalization also boosts open rates and helps your campaigns stand out!
Grab your subscribers' attention by putting first names in your Black Friday email subject lines. Target different customer groups using segmentation.
Marketing tools like Brevo let you group your contact lists and send tailored content. This way, you're sure to send the right message to the right people at the right time.
Looking for more holiday tips and dates? Check out our 2024 holiday calendar download to keep your marketing strategy on track.
7. Engage Black Friday shoppers with QR codes
QR codes are a great way to enrich the Black Friday shopping experience. Consider adding them to your Black Friday marketing strategy.
Use QR codes to connect online and offline spaces. Place QR codes around your physical store to direct customers to your online shop.
QR codes can also help you engage customers with added benefits. Ask customers to scan a QR code to sign up for your Black Friday giveaways. Send digital QR codes to make it easy to redeem Black Friday gift cards.
For lead generation, QR codes can be handy. Link QR codes to a signup form for your Black Friday email list. With Brevo, it's easy to create and share QR codes with your customers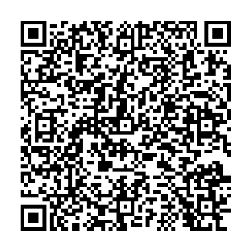 8. Offer free shipping and spending rewards
This Black Friday, go beyond the usual, run-of-the-mill discounts. Attract customers with irresistible benefits like free shipping.
Free shipping is one of the best ways to promote your business during Black Friday. Offer it for a limited time. Or, give your customers free shipping as a spending reward (such as free shipping for purchases over $100).
Use free shipping to boost Black Friday sales — your customers will thank you for the extra savings!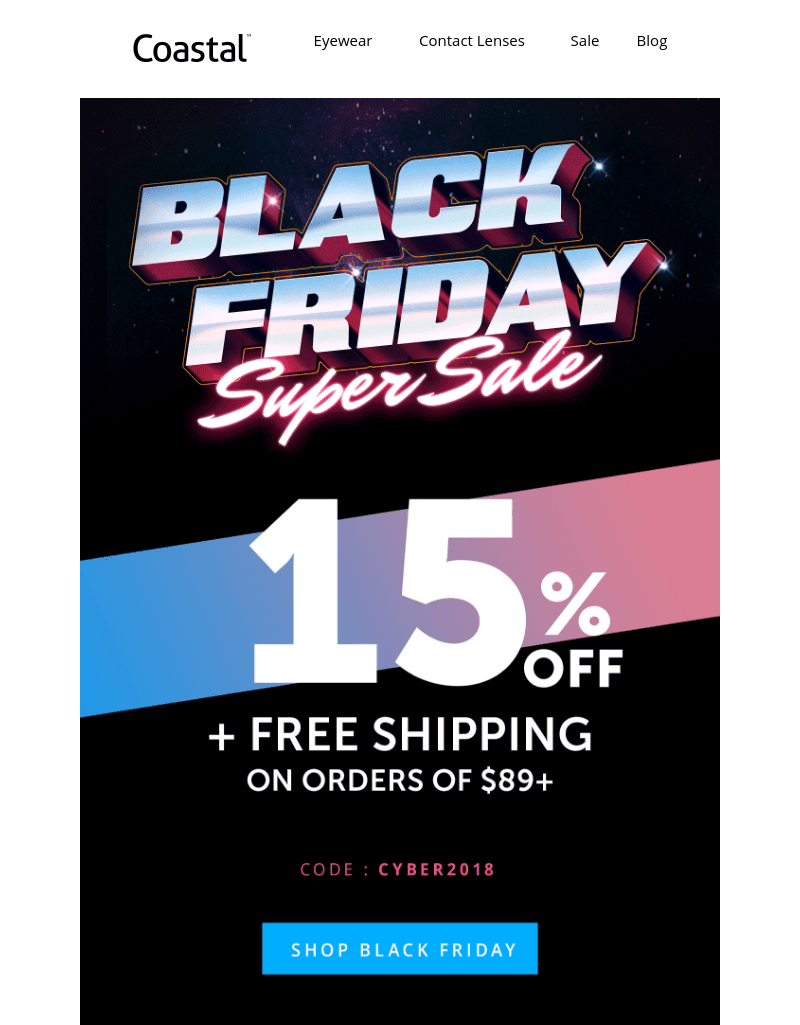 9. Reduce abandoned carts
Online shopping is a huge boon for Black Friday sales. However, customers often add items to their online shopping carts and leave the online store without making a purchase.
This Black Friday, reduce cart abandonment and drive sales. Retarget these customers with abandoned cart emails.
Email automation software allows you to automate abandoned cart email campaigns, saving you valuable time and effort. Try Brevo for free to start sending abandoned cart notifications and other automated emails.
10. Entice customers with a loyalty program
Turn your Black Friday shoppers into loyal customers. Launch a loyalty program (punch cards, referral incentives) to keep their business year-round.
Offer exclusive discounts and free gifts for every dollar they spend. This will encourage them to keep shopping. A loyalty program will also help you engage customers even after the holiday sales end.
Loyalty programs go beyond discounts. They allow you to create a deeper, more personalized bond with your customers. They're also a great Black Friday idea for small businesses.
11. Share a Black Friday gift guide
Many customers take advantage of Black Friday savings to start shopping for holiday presents. Entice them in your Black Friday marketing campaigns with a special gift guide.
Showcase your most popular products and biggest markdowns. Black Friday gift guides are a great way to make your offers shine.
This Black Friday email from TeePublic is the perfect example: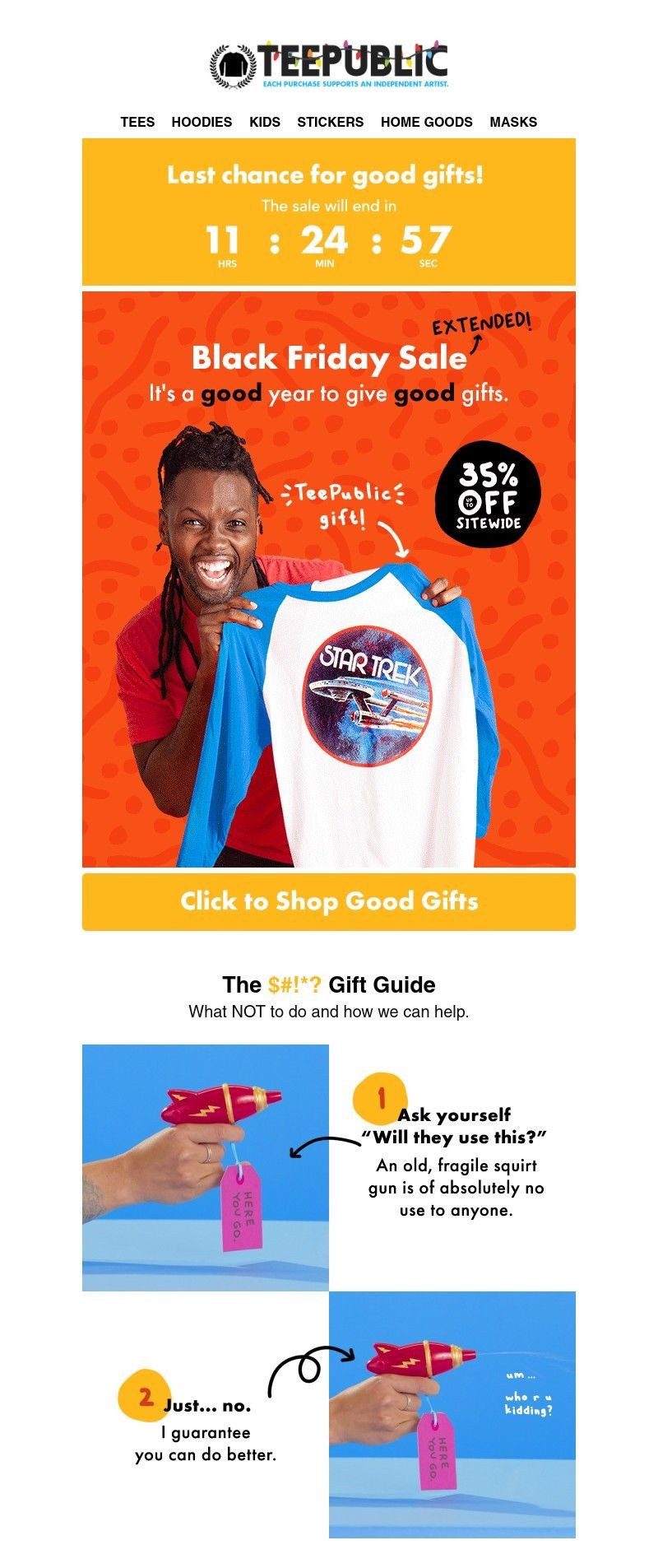 12. Run last-chance or extended Black Friday deals
The long Black Friday weekend doesn't have to end with Cyber Monday sales. Don't forget to appeal to latecomers in your Black Friday marketing campaigns.
Create a sense of urgency with last-chance discounts. Delight your customers with extended Black Friday sales.
Be sure to promote your late Black Friday deals on multiple marketing channels. That way, your customers won't miss out!
This last-chance Black Friday email marketing campaign from Green Chef adds extra urgency with a countdown timer: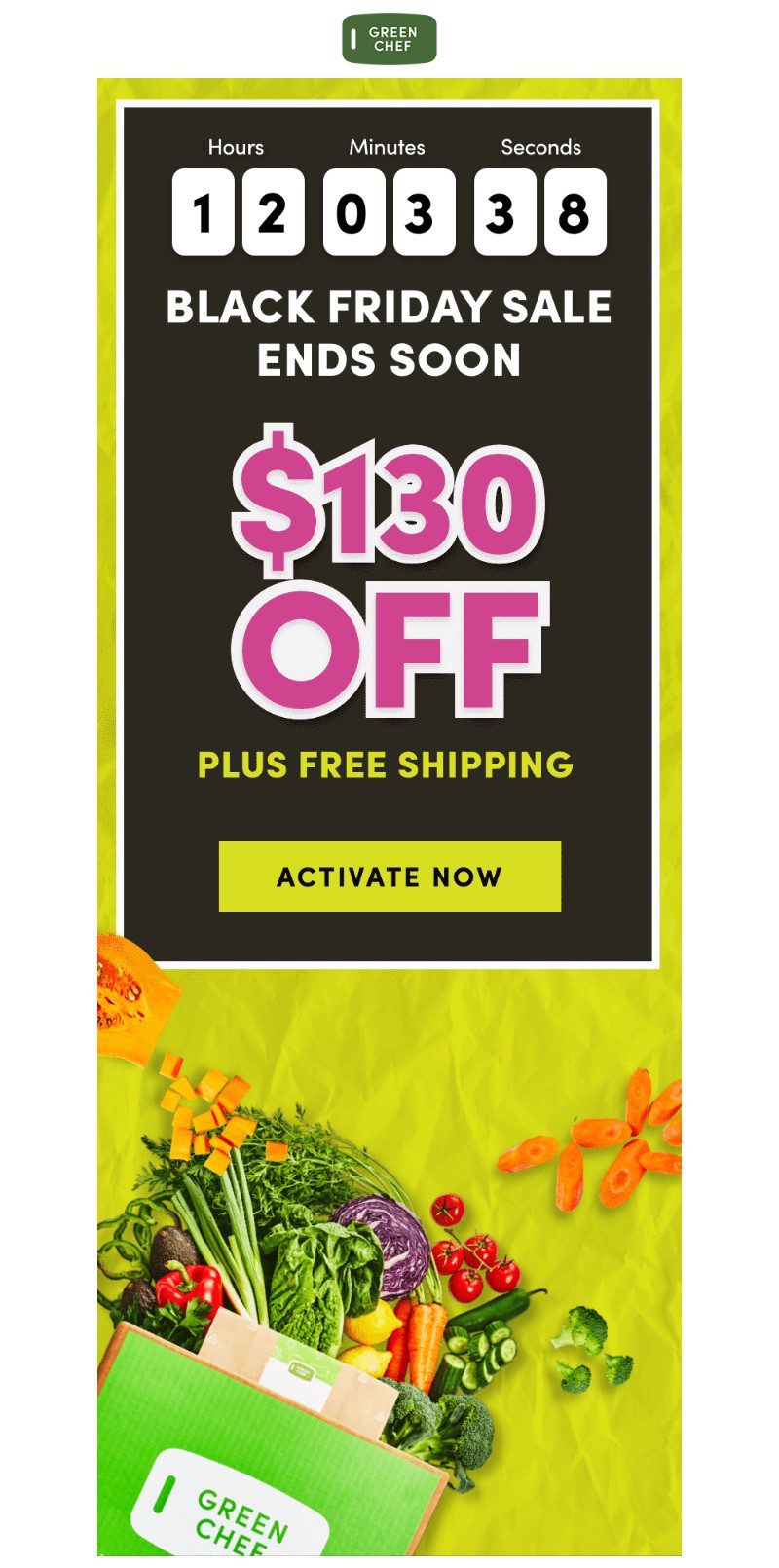 Further reading: Holiday Marketing Guide: How to Make Your Campaigns Shine
13. Run a store credit Black Friday marketing campaign
Instead of discounting your products, give your customers bonus credit to spend on more things they'll love from your store.
Offering store credit encourages the cross-selling of other products. Your customers will be delighted at a chance to get something more, for less.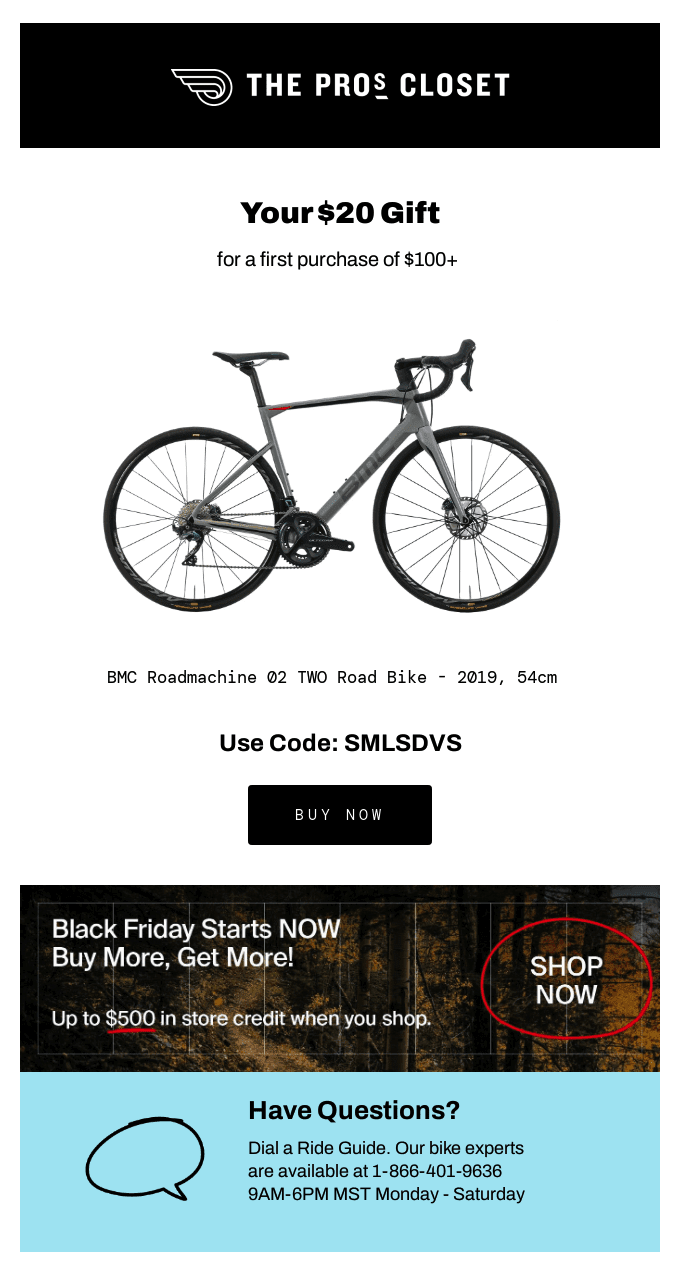 14. Upsell your products
Black Friday is your chance to sell more to customers by rewarding larger shopping carts. Take a look at this marketing campaign by Surreal.

Surreal encourages customers to bring home more boxes of cereal by offering discounts. The larger the order value, the bigger the discount.
Other upselling strategies include:
Free shipping over a certain price
Discounts on year-long subscriptions
Bundles with complementary products (this is also cross-selling)
Buy two get one free
15. Hold a Black Friday contest
Build a Black Friday strategy around your community with a contest. Give away prizes to keep it interesting and make your Black Friday campaign the center of attention this year.
Check out this contest announcement by AppSumo: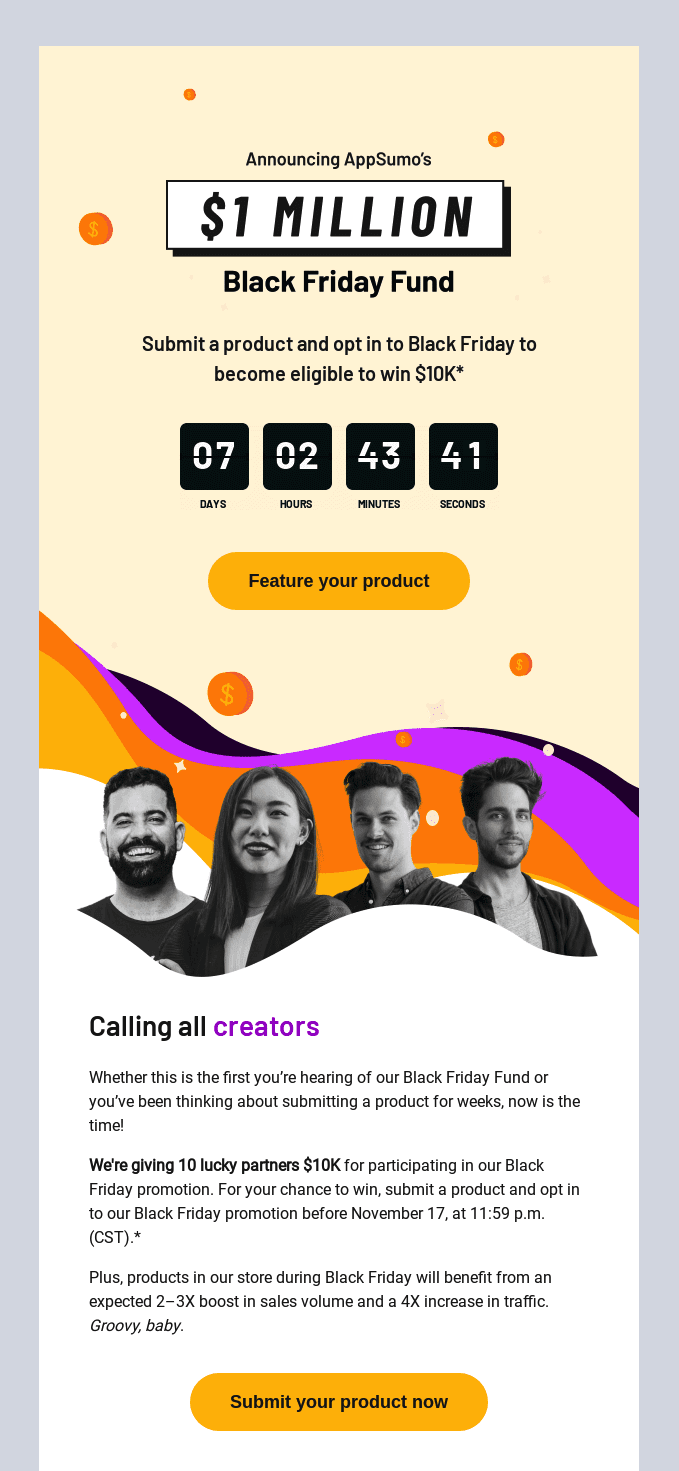 The best part about this Black Friday strategy is that it brings value to the community. Subscribers have a chance to gain exposure on top of a cash prize.

Spread the word about your Black Friday contest with promotional emails or Black Friday social media posts. Your contest can be entirely digital, or an in-store event.
Planning your Black Friday marketing campaigns
Any retailer can benefit from Black Friday, whether you're a brick-and-mortar store or ecommerce business. Get the most out of this major sales event with a winning Black Friday marketing strategy.
With Brevo, it's never been easier to plan your Black Friday marketing campaigns. Create stunning promotional emails with Brevo's email templates, send out your offer, and track your results.
Launch your Black Friday marketing campaign with Brevo
Free plan includes all core email features, unlimited contacts, live chat, and CRM.