Give your subscribers a fiesta in their inbox with a Cinco de Mayo email marketing campaign this 5th of May. Here's what marketers should know about the Cinco de Mayo celebration.
Historically, Cinco de Mayo was the day the Mexican army defeated the French at the Battle of Puebla in 1862. Today, it's a popular holiday in the US, and a chance to celebrate Mexican culture.
You, too, can run a festive campaign with a catchy Cinco de Mayo email subject line and colorful Cinco de Mayo email template.
To help you take your Cinco de Mayo email marketing campaign to the next level, we've put together some tips, subject lines, and email examples. Vamos!
Cinco de Mayo email campaign: where to start
With almost one-third of Americans planning on celebrating the 5th of May, it's a great time to share a product launch, run a social media giveaway, or have a themed sale.
As an increasingly popular holiday, it's no surprise that 14% of America's cocktail spending is shelled out on the 5th of May. But beyond indulging in rich, spicy Mexican food and tequila, younger generations are seeking a more authentic approach to celebrating Cinco de Mayo.
To help you tap into this growing trend, we've picked email examples, subject lines, and tips to make a Cinco de Mayo email campaign that is true to Mexican culture. 🔥
5 Cinco de Mayo email examples
1. Cinco de Mayo discount campaign
Papel picado (perforated color tissue paper) and the hand-written typeface give a more authentic feel to this Cinco de Mayo discount announcement than maracas and sombreros. The call to action button is easy to find. We might recommend a small improvement: while it's definitely festive, perhaps a "Join the fiesta" CTA could be more direct.
Related: 100+ Email CTA Examples and Best Practices
2. Cinco de Mayo bonus item campaign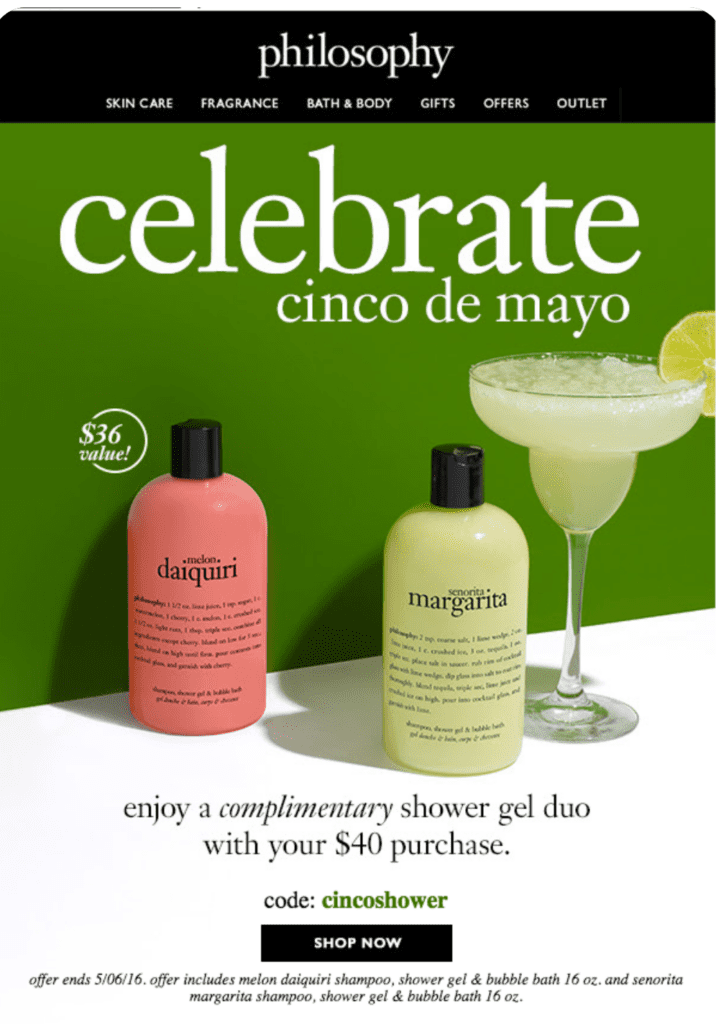 It doesn't have to be a discount — delight your customers with a complimentary gift campaign. It's a great way to get your customers to try new products and increase brand loyalty.
Stunning product photos by Philosophy complement this margarita perfectamente. If you're highlighting a new product, showcase it as the main image in your email.
3. Cinco de Mayo celebration campaign

If your product or service isn't directly related to Cinco de Mayo, that doesn't mean your subscribers won't appreciate a celebratory email. Just wishing someone a happy 5th of May is a thoughtful way to share some festivity — and items from your catalog — with your subscribers.
Sombreros can be seen as stereotypical, but it all depends on how they're used. For a clothing brand, it works.
4. Cinco de Mayo email newsletter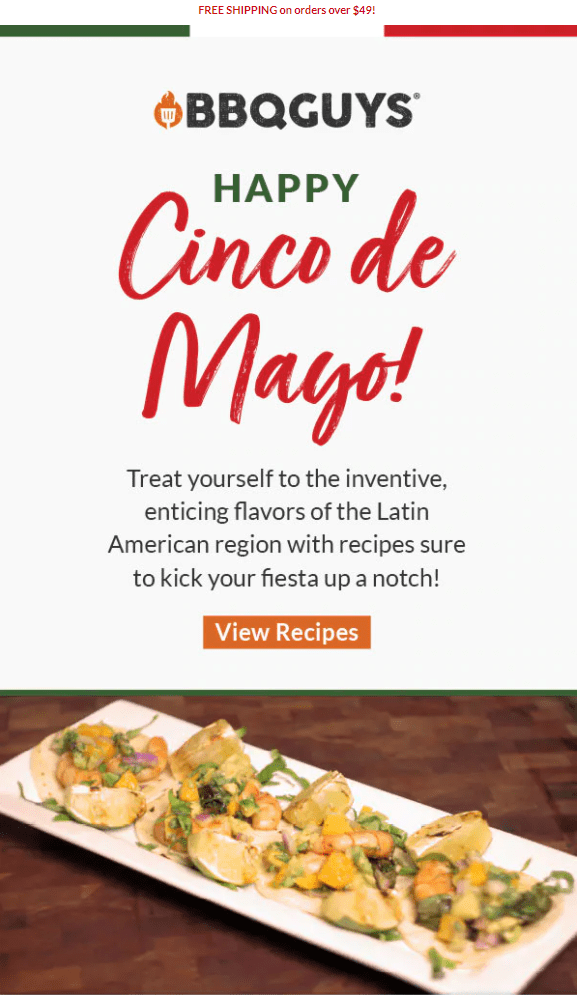 BBQ Guys sells grills, so what did it do? Sent a newsletter with delicious recipes to make on the grill.
Create context for your products or services with a newsletter. It's a nice way to celebrate Cinco de Mayo and involve your community with your brand.
Further reading: 40+ Free Email Newsletter Templates to Use Today
5. Cinco de Mayo sale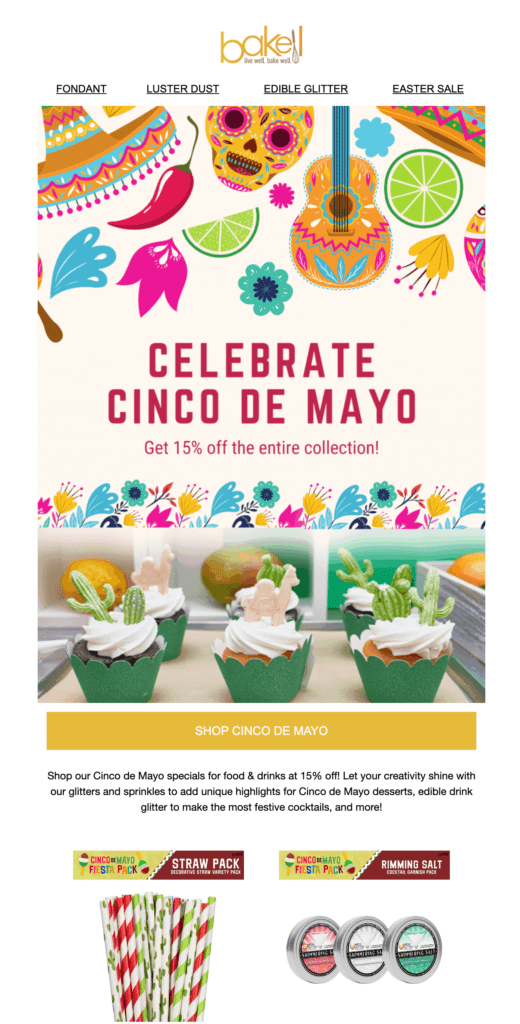 Let's say you have the perfect items for a Cinco de Mayo party. Run a limited-time sale like Bakewell.
This email campaign is also great because it shows their cactus cupcake toppers in action. Add product-in-use photos to your email campaign to inspire your subscribers.
Cinco de Mayo subject line ideas
Subject lines are like the opening act, they get your audience excited about what's to come. Here are some examples to inspire your Cinco de Mayo email campaigns.
Shop Cinco de Mayo sales!
We packed our piñata with $5 minis…take a swing!
Limited time offer: Cinco de Mayo discounts
Celebrate Cinco de Mayo with us!
Savor the flavors of Mexico this Cinco de Mayo
Get ready for a fiesta on May 5th
Celebrate Cinco de Mayo with our spicy deals
%5 off this Cinco de Mayo only
Celebrate Cinco de Mayo with traditional Mexican recipes
Let's make Cinco de Mayo delicious
Explore Mexico this Cinco de Mayo
As a general guideline, keep it under 50-60 characters. Short and to the point is best. Let your subscribers know why they're opening, and what's inside.
You can also use emojis in your subject lines, just make sure not to overdo it. One good example:
Happy Cinco De Mayo! 💚 🤍 ❤️
Other holidays coming up:
Mother's Day email subject lines
Father's Day email subject lines
Cinco de Mayo email templates
Free email templates are a great way to make your campaign stand out. They are easy to use and customize to your branding.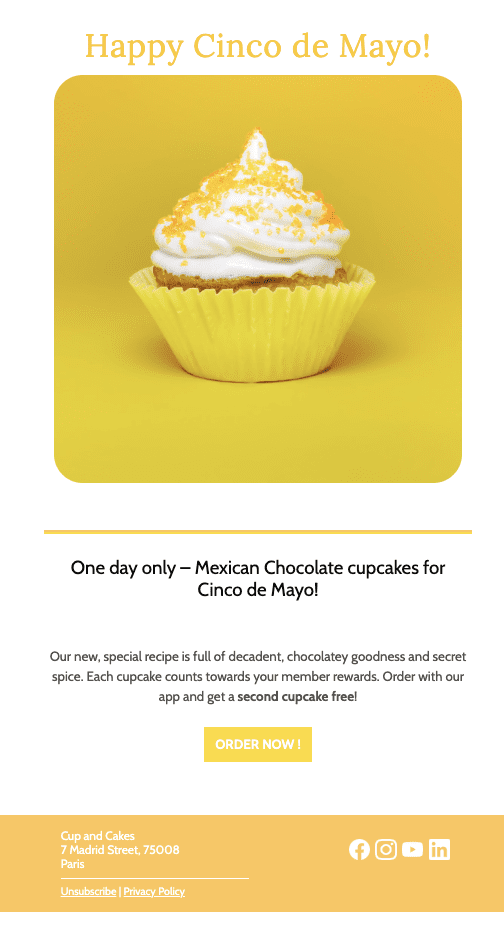 This example was made in 5 minutes with Brevo (ex Sendinblue) and some clip art.
With a drag-and-drop template, you can do things like import brand logos and colors, add images from a stock drive, and preview your email for desktop and mobile.
Discover more ready-to-use holiday email templates.
Tips for Cinco de Mayo email design
We're celebrating Mexican culture in spring — now is your chance to make your email colorful!
Use themed visuals
Consider including gifs in your email. Holiday marketing is the time to be lively, plus gifs can be easily integrated into your emails.
Pictures of your products in a festive display are another way to make a unique and lasting impression.
And definitely don't be afraid to use some traditional Mexican colors and imagery!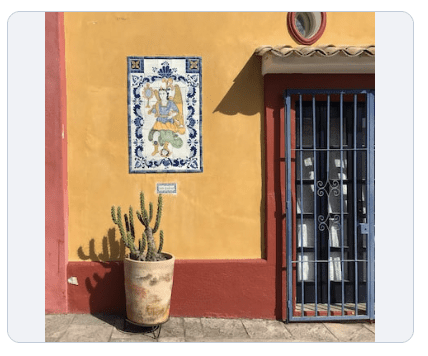 Stock photos provided within Brevo (ex Sendinblue)'s email editor — use them in your emails for free!
Don't forget to make your own branding and logo visible. It's important that people know who the email is coming from so it doesn't get marked as spam.
Include an obvious call-to-action
A CTA should be easy to find and easy to understand. A traditional "Shop now" always does the trick if you're in ecommerce. This week you can also go for a themed "Shop Cinco de Mayo" if you have related items, or "Read now" if you're linking to a blog post in a newsletter.
Link to your social media
You can include links to your social media accounts in your footer. This is standard practice and adds credibility to your emails as reassurance that your company exists. It also helps you grow your followers and widen your reach on social.
Stay away from stereotypes
When picking words, images, and subject lines, it's best to avoid stereotypes.
"Taco bouting" and "Cinco de drinko" are cringeworthy and pretty tone-deaf. Cinco de Mayo originated in Puebla, so do some research about symbols and colors from that state — or better yet about Los Angeles, where the biggest Cinco de Mayo party is held.
Fact-check your use of Spanish with a native speaker and make sure you're using it right. The whole idea of the holiday is about celebrating Mexican cultural heritage.
Looking for more inspiration? Check out our guide to St. Patrick's email campaigns.
Run your own Cinco de Mayo email campaign
By now you have all you need to create your campaign!
We hope this guide helps you embrace and celebrate this 5th of May with your subscribers.
Looking for more holiday tips and guides? Download our free holiday calendar to prepare you for every month of the year.

2023 Holiday Marketing Calendar
Downloading this calendar means you're signing up to our newsletter — a monthly roundup of the best marketing strategies to grow your audience.✨