Reading time about 10 min

Trying to create a newsletter for your business? Not sure where to start? Choose from over 40 free email newsletter templates for professional, attractive, and responsive campaigns your subscribers will love.
What is a newsletter if not one of the best ways to develop your brand image, feature your products and services, and create a loyal following? By sending consistent updates packed with value for your subscribers, you'll develop a strong customer base and boost the success of your marketing email campaigns.
One of the easiest to start is using templates. They're created by designers, ready for you to just input your own copy and customize colors as needed. No need to worry about spacing, alignment, or image sizes.
To help you, we selected a few outstanding newsletter templates for all kinds of businesses you can use for free:
Find the perfect newsletter template for your business
Ecommerce newsletter templates
Newsletters are a vital element of ecommerce email marketing. Use them to update your audience about new offerings and discounts, share valuable content, and even send personalized product recommendations.
The goal is to keep customers informed and coming back to buy again. The free email newsletter templates below showcase different ways to achieve this and drive conversions.
Newsletter template #1
This first example does a good job of showing how ecommerce businesses can benefit from a well-designed email newsletter. The template includes several classic elements of an ecommerce email campaign: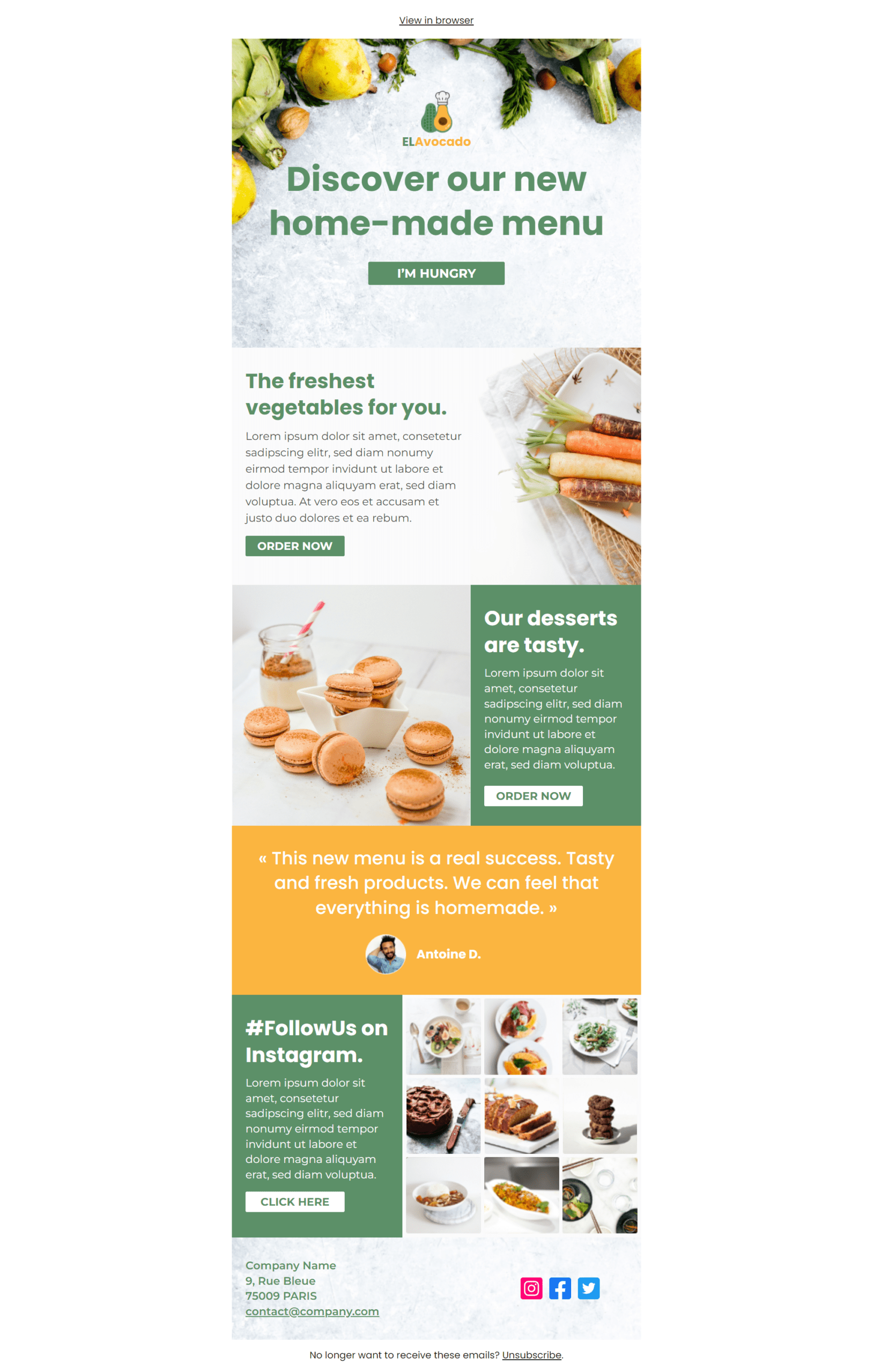 Highlighting new products: New products, seasonal updates, and highlights are all welcome in a newsletter. Its purpose, after all, is to inform subscribers of what's going on with your business.
Featured products: The spotlight on desserts is a good way to boost an underperforming category.
Customer testimonials: Including customer feedback helps bring in new customers.
Social media call: The prominent invite to follow the brand on Instagram is a nice touch as it helps strengthen the relationship with the customer and prolong the interaction on various channels.
Psst! When starting with your newsletter, don't forget to set up an automated welcome email for new subscribers.
Newsletter template #2
Our next ecommerce newsletter template example takes a slightly different approach by featuring only one product in the email: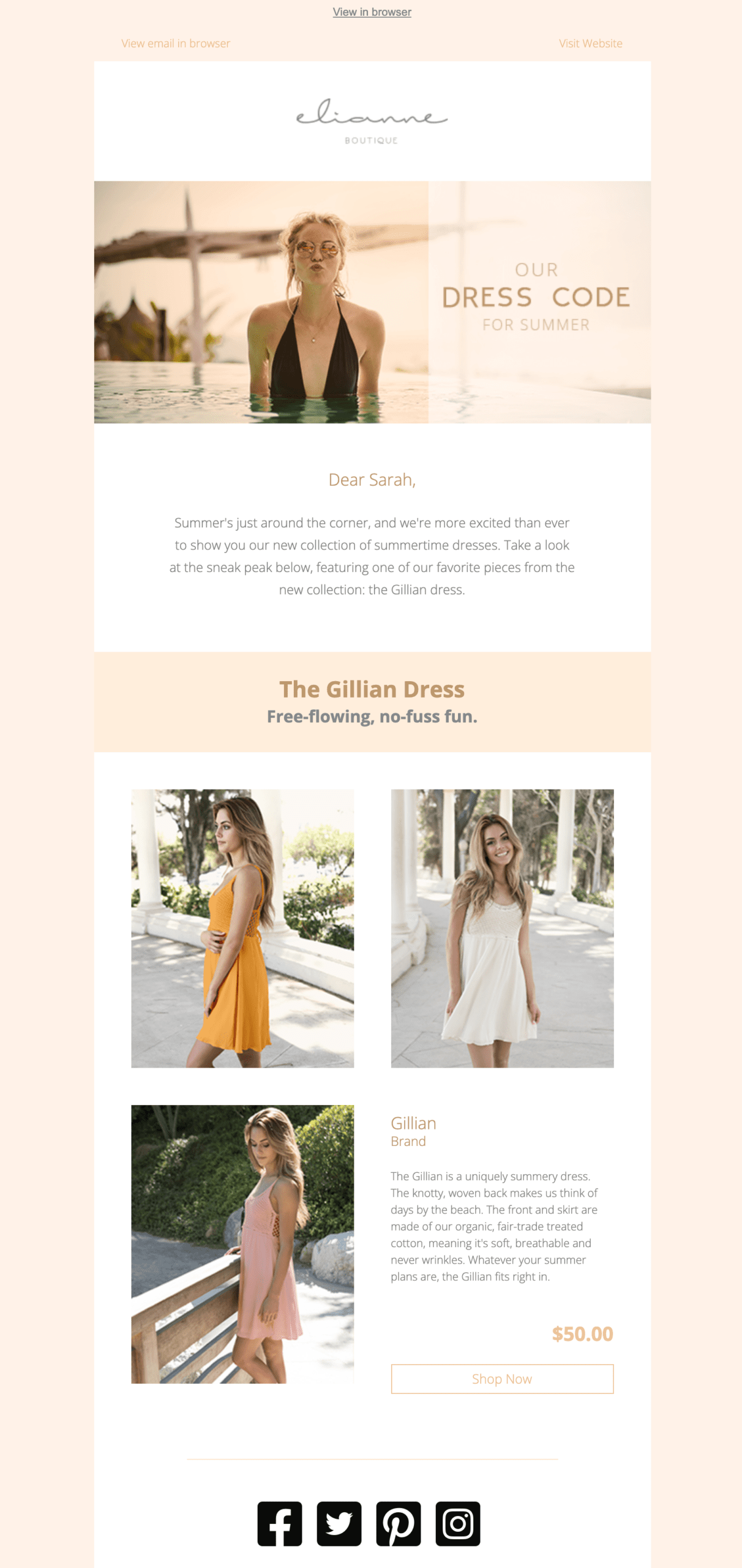 Speak directly to your subscribers: This email newsletter starts with a personalized greeting and a short note to subscribers. Beginning an email campaign this way helps connect with your subscribers in a more personal way.
Sneak peak: By only spotlighting one product from the new collection, this email campaign sparks interest. Their opening text mentions the collection, with a single featured product following. This strategy can seriously help boost your newsletter's click through rate.
Social media CTA: Besides selling a product, many ecommerce sites want to promote the lifestyle associated with it. Social media can help a lot so include links to your profiles to grow your brand's reach.
Blog and content newsletter templates
If you plan to be sharing a lot of content (see our newsletter ideas), you can go minimalist on the visual elements. Design templates that put copy front and center.
Newsletter template #3
Our next template features a local newspaper example. Pay special attention to how the newsletter provides value to readers in a few distinct sections:

Original intro: This example uses a "daily run-down" format to give their readers the most important headlines first. It's attention-grabbing and effective. Of course, it fits for a monthly or a weekly newsletter too.
Featured content: The varied boxes let you feature a certain article while the colored headings draw the readers to the rest of the email.
Newsletter template #4
This is another template with a old-school newsletter layout. It's perfect for content-heavy campaigns when you have a lot to share with your readers.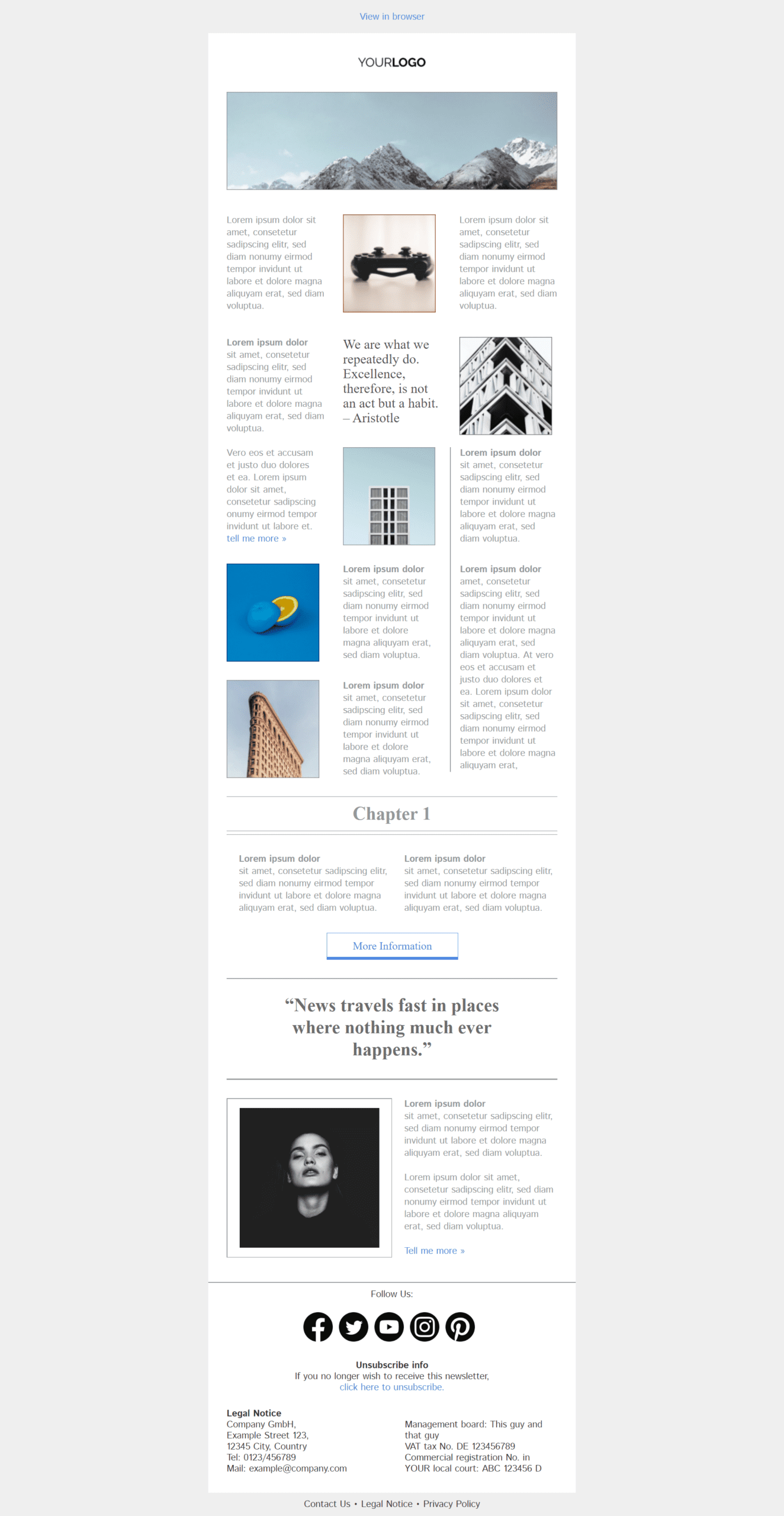 Variety of text boxes: There's enough space for copy, highlights, and quotes in different formats and nicely placed images.
Luxurious feel: The layout looks like a glossy magazine so your content can shine without the sue of design tools.
SaaS newsletter templates
For SaaS companies, newsletters nurture leads and build relationships. For this reason, they should be educational, professional, and most of all, full of value for the reader.
Our email newsletter template includes several key elements for B2B marketing: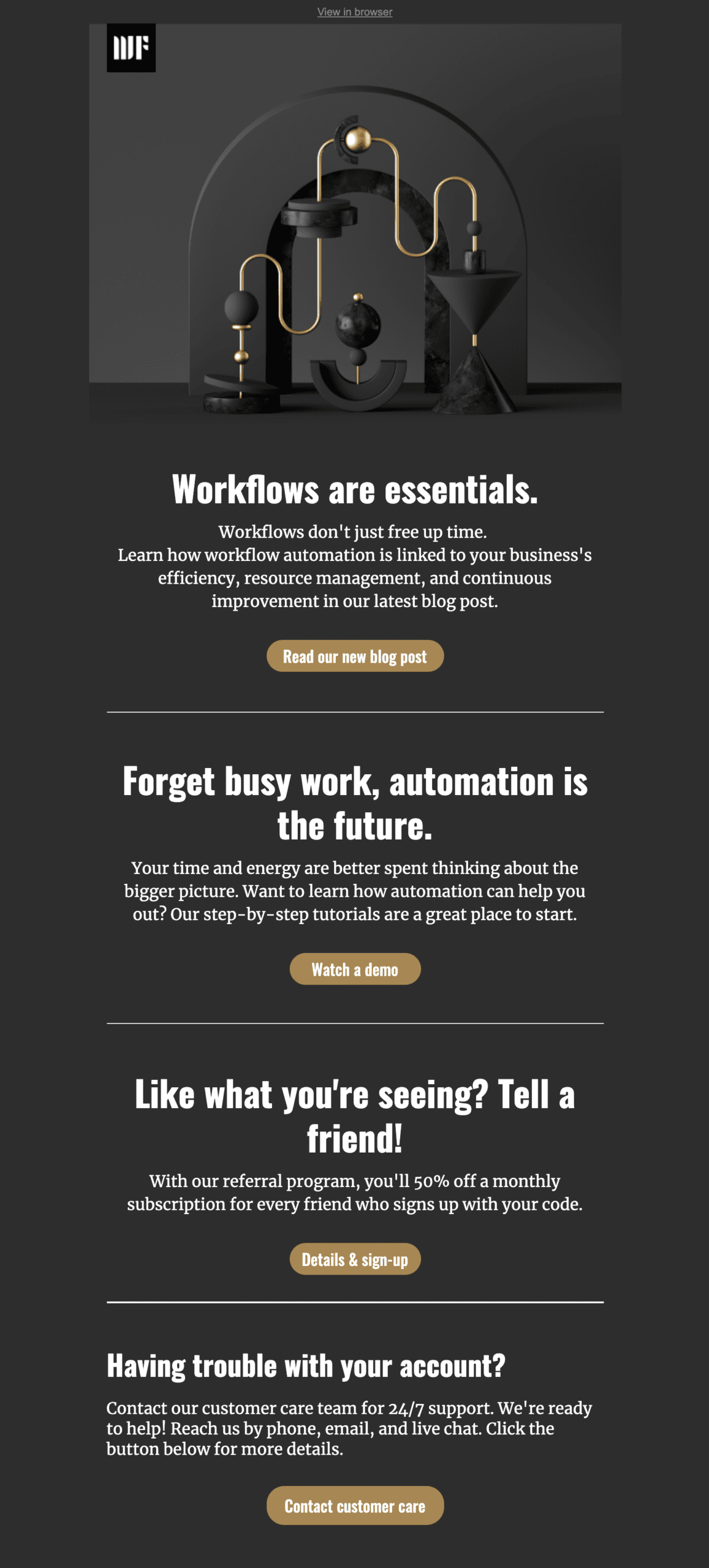 Featured articles: SaaS companies should work on establishing authority in their field. Sharing content showcasing your expertise is the first step to converting new customers.
Product tutorials: Your monthly newsletter is the perfect place to introduce updates or new features in your product. The CTAs in this template will drive people down the funnel.
Referral program: This template also includes a referral program along with an incentive. Put in your link and watch new business roll in!
Customer support contacts: Including ways to reach support in every email is not a bad idea.
Nonprofit newsletter templates
Email marketing for nonprofits differs from business newsletters as they are mission- rather than sales-driven. This means they should be educational, but also actionable. People don't automatically stand up and support a cause — they usually need some encouragement.
School newsletter template
This template uses the example of a school district. Note these key elements:

Event CTA: As most nonprofits rely on events for fund raising, highlighting upcoming events will increase signups and spread the word to new supporters. Here, the CTA is front and center.
Featured story: In this school newsletter, featured articles are a way of keeping parents informed and showcasing students' work.
Webinar signup: Webinars are popular ways to share content and build up a well-informed and dedicated following for non-profits. Alternatively, use this section of the newsletter template for an ebook or infographic download.
Charity newsletters
Another nonprofit email newsletter template focuses on thank you and results.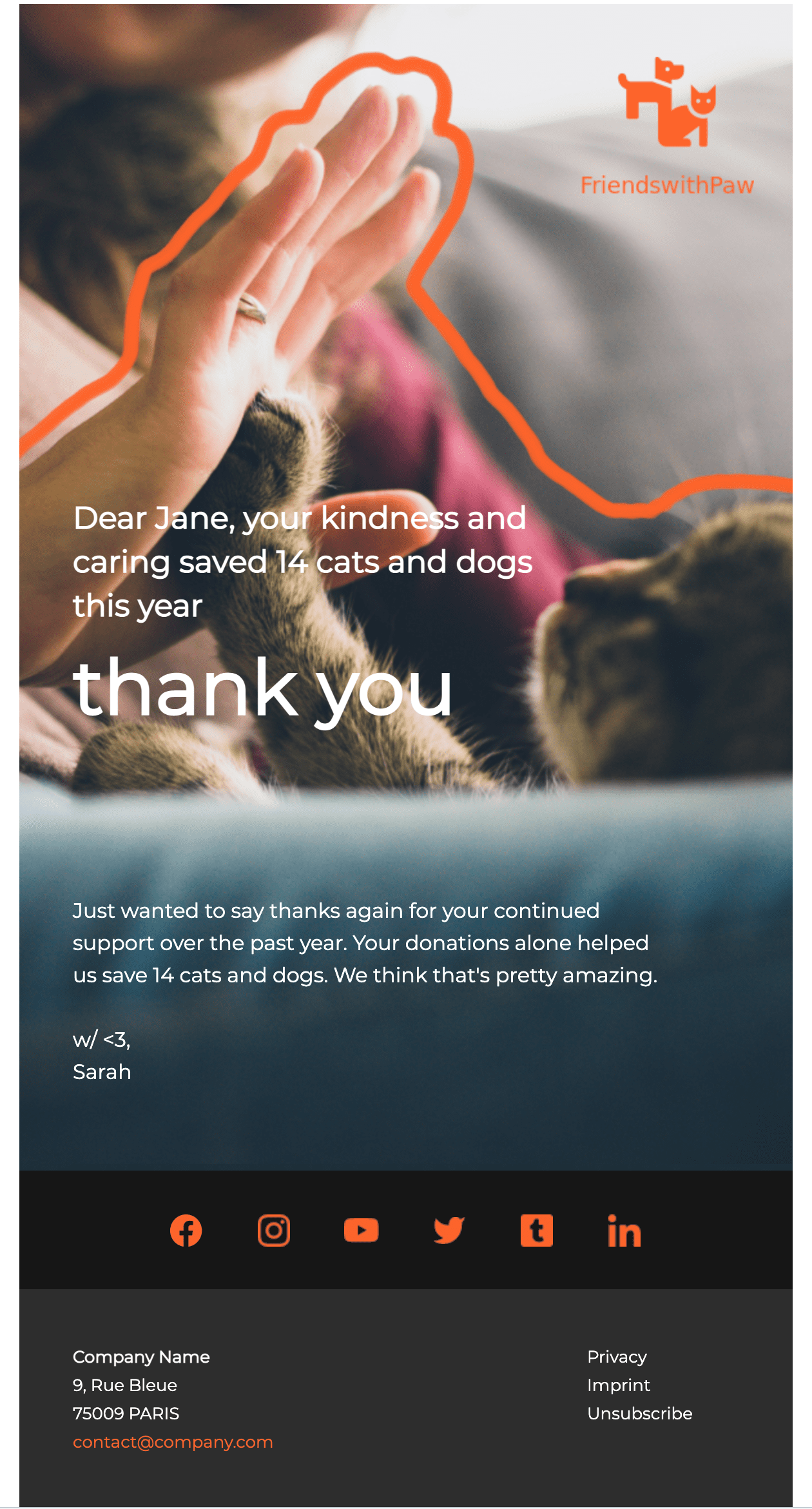 Keep it simple: An update to supporters should focus on impact, hence the short, sweet, and highly visual newsletter design.
Personalized content: Personalized emails allow you to tell each customers exactly how their donations helped your charity. Use a CRM and dynamic content to deliver a personal note to each donor.
You might be tempted to use a free email service such as Outlook or Gmail to send your newsletter. Read more to see if that's a good choice.
Holiday newsletter templates
Of course, this article on newsletter templates would be amiss without our holiday email content! The holiday shopping season is the biggest time of the year for many SMBs. Check out our Easter, Valentine's Day, Labor Day, and Christmas newsletter ideas.

A beautiful newsletter holiday-themed template
Sale or promotion: A holiday is a great time to offer a sale or promotion. Start your holiday newsletter by announcing a new discount code or special offer.
Holiday theme: Your holiday newsletter shouldn't look just like all our other email marketing campaigns. Use this and other holiday-themed email designs available in our library to stand out in inboxes. Brevo's holiday newsletter templates come prepared with on-theme color palettes to get you started.
Customized CTAs: Spice up your calls to action with related puns and jokes. Our Halloween example features a CTA button that reads, "Spooky treats this way."
For a more in-depth look, check out our article on holiday email templates!
Free newsletter templates for outstanding email marketing campaigns
There's no one-size-fits-all formula that gives you the perfect company newsletter template. It depends on your business, goals, and audience. It doesn't have to depend on your design skills, however.
You can have beautiful newsletter design without any graphic design or HTML knowledge.
As a newsletter software, Brevo offers eye-catching customizable newsletter templates for different purposes and industries. You can access them all on our Free plan. Plus, you'll get handy email marketing tools to run the whole process from one place.
These fully responsive HTML templates help you create email newsletters that look great on mobile devices and desktop. They're ideal for small businesses that want to send professional email campaigns while saving time and money.
And the best part is you don't have to design the newsletter in graphic design tool like Adobe or Canva, and then export it to an email marketing platform.
You can easily customize the newsletter branding to match yours with our intuitive drag and drop editor. Here are some of the best newsletter examples to inspire you.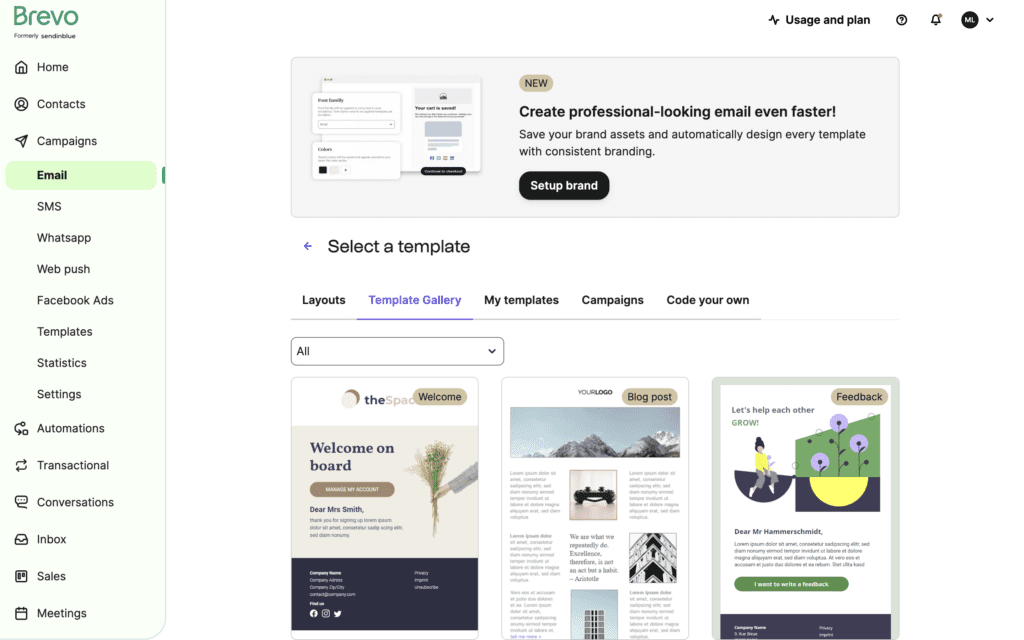 Brevo's template gallery
How to use the templates
To use our free email newsletter templates in your Brevo account, follow these simple steps:
Go to the "Campaigns" tab and click "Create an email campaign".
Complete the "Setup" information, including your campaign name and subject line.
Click "Next step" to move to the design stage, then select "Template gallery".
Select your desired template to move on to the drag and drop editor.
Customize your template! Pick the color scheme and font, customize the header and footer, add high-quality images, and add whatever else you need to perfect your email design.
What's more, these beautiful newsletter templates can be used in automation scenarios too!
Newsletters are one of the best ways to build relationships with your customers — so don't wait to start sending.
For more inspiration to make these templates your own, check out this list of our best email marketing examples (all created on Brevo).
Jumpstart your blog email strategy with Brevo
Free plan includes access to all core email features, 300 emails/day, 40+ email templates, and customizable signup forms to grow your blog email list.