The WhatsApp green tick comes up when you start planning your WhatsApp marketing efforts seriously. As it's the most used messaging app, the benefits of WhatsApp for business are a clear advantage for any business, small or large.
But what is the green badge and do you really need it? Let's take a closer look at this feature and we'll let you be the judge.
The Verified Account Badge a.k.a. Green Tick — What Is It?
The famous green tick is a verification badge that appears next to a business name in WhatsApp. It's the sign of an official WhatsApp account that has gone through an additional verification process by WhatsApp.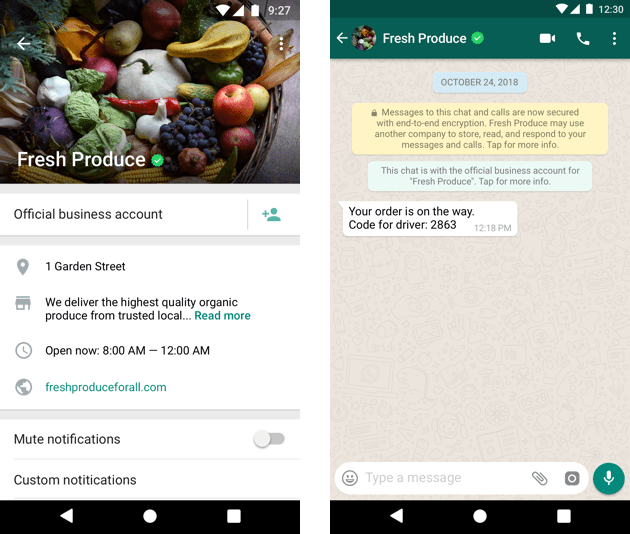 How the green verified badge looks on a business profile
Seeing this badge, users can be sure they're dealing with a real account owned by the brand and not an imposter. It adds credibility to your account and is great for brand image and trust. WhatsApp is very strict about business verification and authentication in an effort to protect its end users from spam and fake accounts.
To apply for the green tick, you need to be a user of the WhatsApp Business Platform (formerly known as WhatsApp Business API). There's no way to do it on the free business app. Check this guide for more on the difference between WhatsApp Business app and API.
Now, you probably get a business account and an official business account mixed up. Don't fret, it's quite common. Here's a quick refresher.
Types of WhatsApp Business Accounts
There are two types of accounts on WhatsApp for companies and brands.
Business account
Any company or brand signing up for WhatsApp (both on the app or the API) goes through an automatic business verification process and gets a business account by default.
That's to make it clear to end users they're communicating with a business and not a personal account. That's also why you can't use WhatsApp for business with your personal phone number.
The biggest difference from an official account is that the display name you've given your business profile only shows next to the phone number in the contacts view. In all other in-app views, people see only the number unless they save your contact details.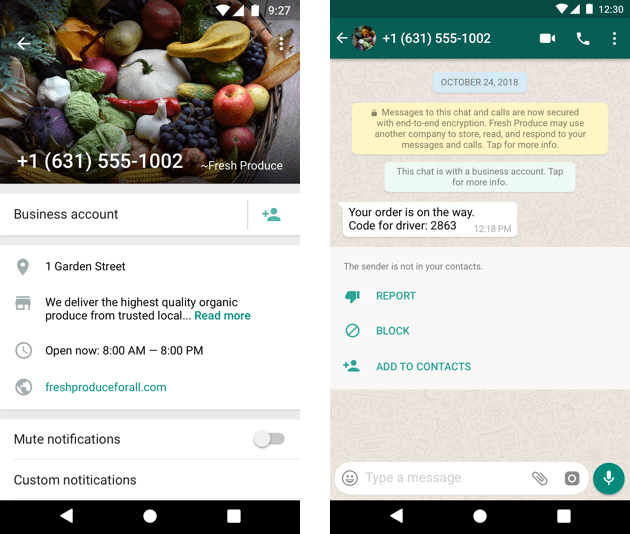 WhatsApp business account with display name next to phone number
Official business account
A WhatsApp official business account has the official badge (green checkmark) next to its name in the chat. It also displays the name instead of the phone number in all views. In a way, it's an upgrade from the business account.
The only way to get an official business account and the green tick with it is to apply for it through the WhatsApp Business Platform (formerly API) and get approved by Meta.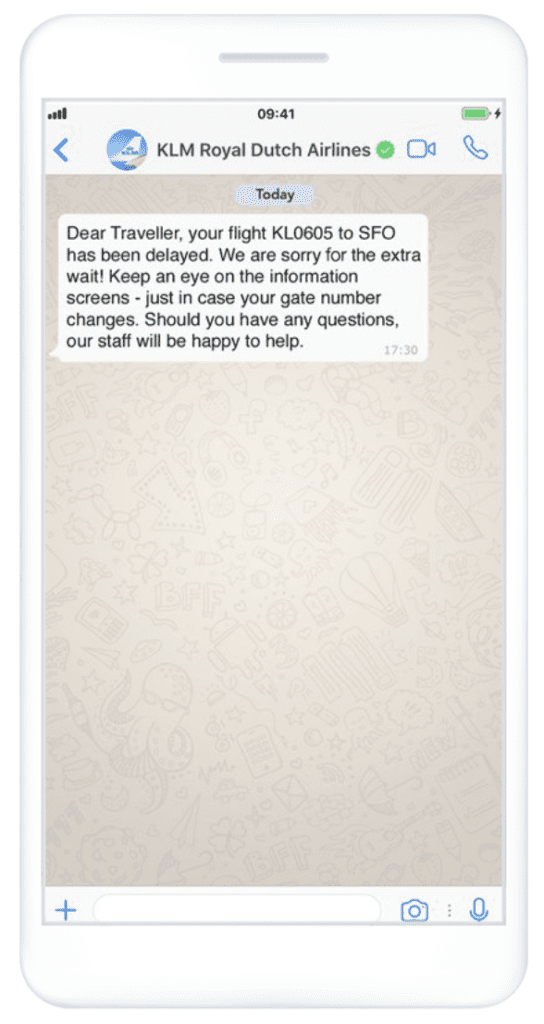 KLM's official WhatsApp account
Is It Worth Getting a Green Tick on WhatsApp??
While it adds trustworthiness to your profile, it doesn't grant access to any additional features compared to a normal business profile without the badge. So getting the green tick can help with brand image but not with creating better campaigns on WhatsApp.
| | |
| --- | --- |
| Pros | Cons |
| Shows users the account is authentic and perfectly safe to interact with so you get more engagement and less negative reactions like blocks | You have to be on the WhatsApp API to apply |
| Your brand name will be displayed instead of your phone number | Hard to obtain |
| It's free | Doesn't provide any additional features |
Applying for WhatsApp Green Tick Verification
If it sounds like something your business could benefit from, here are the steps to take to apply for a green tick verification.
1. Get WhatsApp API access
Sign up for the API and create your WhatsApp business account with a business solution provider (BSP) and you'll be up and running on WhatsApp today. Unfortunately, you can't get the badge on the free business app.
See also: The 10 Best WhatsApp Marketing Software in 2022
Reaching over 1,000 people daily with business-initiated messages increases your chances of being granted the green badge. This shows WhatsApp you're active and serious about your WhatsApp efforts.
3. Apply for the green tick through your BSP
Your API provider should be able to easily submit the green tick application to Meta on your behalf since it's already connected to your Facebook Business Manager account.
Alternatively, you can do it yourself. In your Facebook Business Manager go to "Business Settings", then "WhatsApp Accounts" and choose the one you're applying for a green tick for. Click on "Settings" -> "Contact Support" -> "Ask a question" -> "WABiz: Request official business account status". You'll be asked to submit documents and information in support of your application. Also, make sure you have two-factor authentication enabled.
4. Wait for approval
How long does WhatsApp take to make a decision about your green tick application? A few days. You'll know it worked if the green badge appears automatically in your account.
What to Do if Your Green Badge Application Gets Rejected
Nothing, you can still use all WhatsApp Platform features, e.g. send WhatsApp broadcasts.
The only difference is how your profile and contact appears to customers. Yes, it looks more official with the green badge, but everything else is the same and you can run your campaigns and support customers just like any other brand that has the badge.
And if you want, you can try again after 30 days.
Eligibility for a Green Tick on WhatsApp
Know that very few businesses are granted the coveted green tick badge. WhatsApp reserves it for popular brands so don't be discouraged if you get rejected.
Here are the main eligibility criteria — does your business stand the chance to get a green tick?
Your brand needs to be well-known (WhatsApp loosely defines that as getting news coverage from large media)
Only businesses allowed, no public figures, e.g. influencers
Need to be using the WhatsApp Business Platform (API)
It's better if you're at least on Tier 2 messaging level
The final decision lies with WhatsApp and the API provider can't influence it (although some promise to get it for you — they can't).
The criteria used are not entirely clear, but business website domain authority and brand reputation seem to play a role. The good news is that paying is not an option here and the rules apply to everyone.
🤫 Our tip: Try to get more news coverage in the weeks before applying just to boost your chances of appearing as a popular enough brand.
Also, keep in mind that some types of business are not allowed on the WhatsApp API platform to begin with, let alone getting the green tick. These categories include:
Gambling
Cryptocurrencies
Drugs
Tobacco
Alcohol
Medical products
Weapons
Adult products and services
Dating services (see full list here)
How much does it cost to apply for the green tick?
It's free! Your BSP should facilitate the application free of charge. Be careful with providers that charge for all and any services that WhatsApp offers for free.
Try WhatsApp campaigns on Brevo (formerly Sendinblue)
No coding required, signup forms to grow your WhatsApp list and unlimited contact storage! Pay only for messages, no setup or license fees. Apply for Green tick fast and easy!