Reading time about 10 min

Considering using WhatsApp Business but wondering if it's worth it? Adding WhatsApp campaigns to your existing marketing strategy and customer support tools is a big step. So it's only normal to want to know what you're getting out of it before jumping in.
As an overview, the benefits of WhatsApp for Business can be grouped into three main categories:
WhatsApp is already the most used messaging app and opens up markets for you;
WhatsApp offers customer support and marketing opportunities that improve the customer experience;
WhatsApp is a flexible and effective messaging channel to get up close and personal with your customer base.
Any company, from ecommerce to small businesses, can use WhatsApp campaigns to build stronger customer relationships.
Before we go into details, here's a quick refresher about the difference between WhatsApp and WhatsApp Business.
15 Benefits of WhatsApp Business account
1. Already the most popular messaging app
Over two billion people already use WhatsApp, which makes it a market leader in instant messaging apps.
Available in most countries (180), almost everyone in India, Brazil, Italy, Argentina, South Africa, Malaysia, Colombia, Turkey, Spain, Indonesia, Nigeria, and Kenya is a WhatsApp user. It's also gaining traction in France, Germany, and the United States.
WhatsApp's popularity is in part due to it being completely free for consumers and substituting SMS and phone calls, both paid. That makes it great for keeping in touch with family and friends abroad. They only need a phone number to get started and the messenger app is intuitive to use.
What's more, Android and iOS users alike can use WhatsApp.
In short, there are no barriers for active users, and if you decide to use WhatsApp Business, your audience is already there.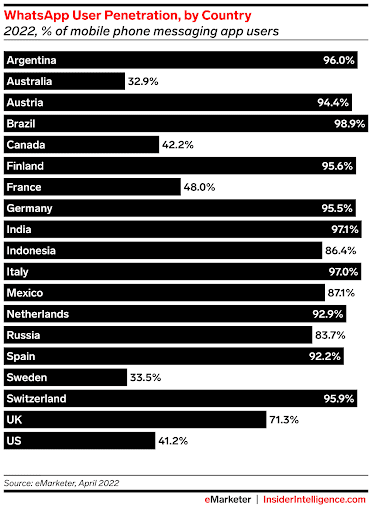 WhatsApp user penetration by country (eMarketer)
2. Reach people anytime, anywhere
WhatsApp for business is a real-time communication channel. While people often put off reading emails, they usually check incoming messages right away, even on the go. 80% of WhatsApp messages are read in the first five minutes. This gives you a much larger time window to send marketing messages. In fact, WhatsApp messages get an unbeatable 98% open rate and 45-60% click rate.
3. Private and personalized
Direct messaging is great for tailored offers and individual customer service. You can send personal account credentials, order updates, and provide assistance in a safe, one-on-one chat.
You can ask questions to make precise product recommendations, unlike on-site upsell widgets. The WhatsApp Business API also connects to your CRM suite, enabling you to use customer insights to customize your communication and is a great opportunity for improving customer satisfaction.
For more ideas, check out our guide to WhatsApp marketing.
4. Secure and trustworthy
Users enjoy the fact that all WhatsApp chats use end-to-end encryption. From a business point of view, it's secure enough to exchange sensitive information like password resets.
Also, all WhatsApp business accounts go through obligatory authentication to give customers peace of mind. This applies to both companies using the WhatsApp Business app and the API. Here's how to create such a WhatsApp business account.
Through the API, you can apply for the WhatsApp green tick as well, an official account symbol for extra reassurance.
5. GRPR-compliant
WhatsApp is adamant that only opt-in contacts are messaged through the API, making it fully GDPR-compliant. The same list building best practices as with email marketing apply.
The customer also has the power to directly impact your quality score and sending quotas by blocking or reporting you. While it sounds harsh, it ensures the platform stays free of spammers and end-users continue to enjoy the experience. If you send legitimate, relevant campaigns, it's a win-win for both sides.
6. Diverse and interactive content formats
One of the biggest benefits of the WhatsApp Business app is that it offers a wide range of formats and interactive content options for business messaging.
There are lists, CTAs, links, images, video, attachments, and products so recipients can interact with the campaign, not just read it. They can even choose from preset option buttons to answer questions from you.
In addition, messages can be far longer than SMS (1,000 characters). All this makes WhatsApp for business almost equal to traditional email marketing where you can show and tell as much as you want to.
The WhatsApp business features also include automated messages, shareable product catalogs, chatbots, and contact management, providing valuable ways to improve customer interactions.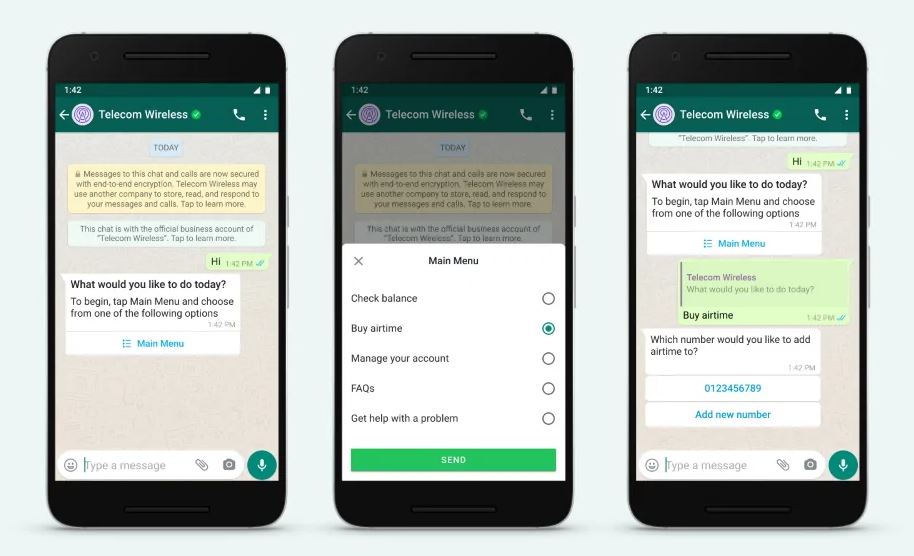 7. Supports two-way communication
Another advantage of WhatsApp for business is the ability to receive incoming messages from customers. They can proactively reach out if they need customer service without going to your website. This accessibility raises your chances of getting and keeping their business. One study found that 53% of consumers would rather shop from a company if they can message it directly.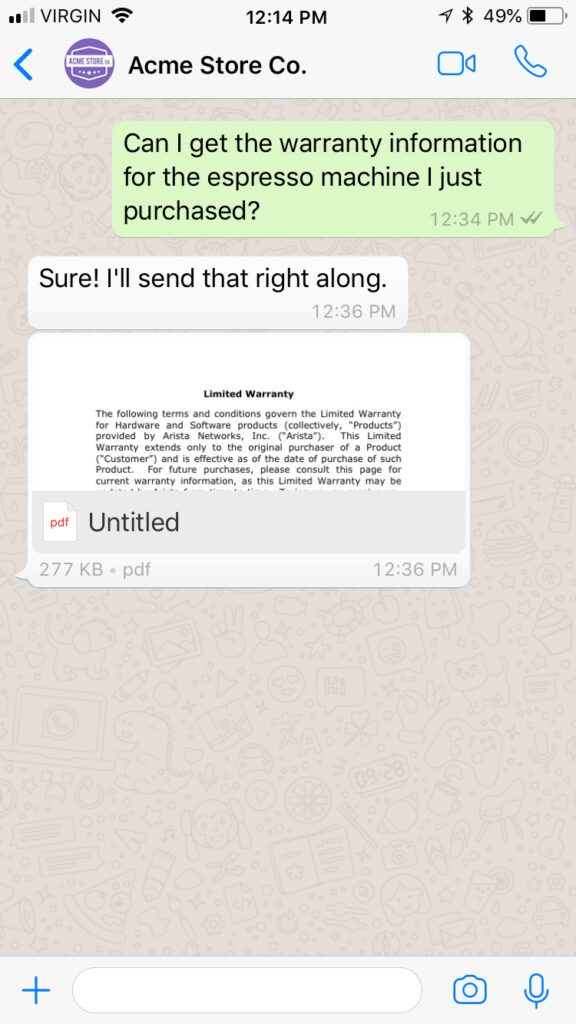 8. A way to scale your multichannel strategy
WhatsApp offers a practical and easy way to expand your multichannel strategy and increase customer engagement in new markets.
WhatsApp doubles as both a support channel and a marketing one. You can answer inquiries, take orders, resolve issues, and send updates while running marketing campaigns via direct messages.
The WhatsApp Business API allows you to use one business account with many phone numbers (including virtual), users, and devices. This way, you can grow your customer support and marketing teams as needed. That's an advantage of WhatsApp Business over live chat where you usually pay per team member using the tool.
With Brevo, you can also include WhatsApp messages as a part of your automation series. One example would be a reminder message about an appointment the client booked.
9. Automate responses to customer queries
WhatsApp offers automations and canned responses to speed up your customer support process and lessen your workload. You can set away messages or quick replies to FAQs.
Taking a step further, you can automate an onboarding sequence to introduce your service to new customers or gather feedback.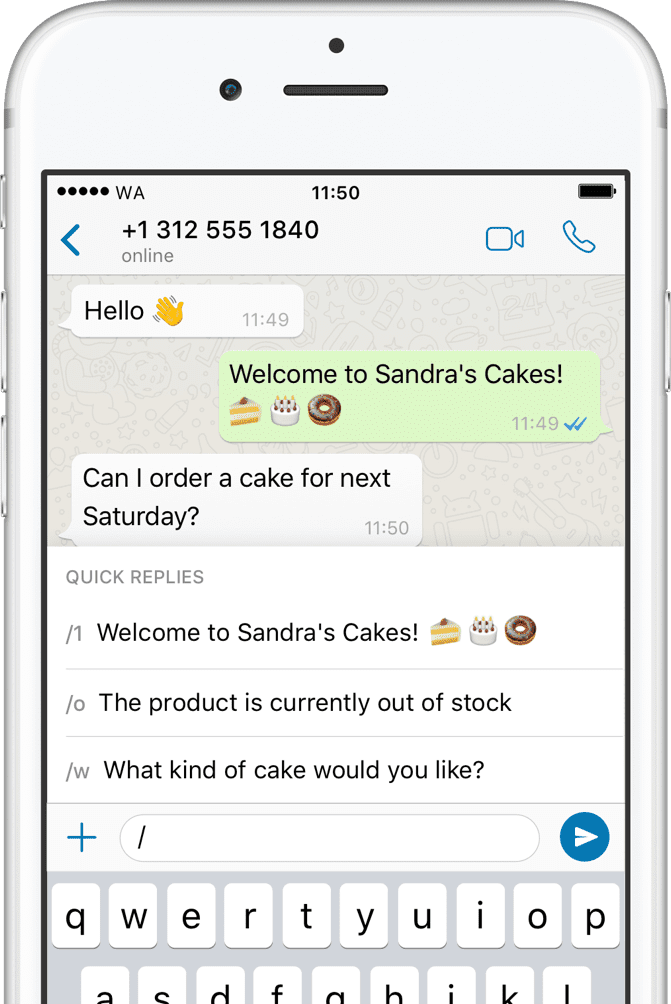 Further reading: How to Set Up Automatic Replies on WhatsApp for Your Business Communication
10. Reach an international audience
Any app relying on phone numbers can be tricky, but WhatsApp makes it easy to reach people regardless of their country code. It's true prices vary by country of recipient, but otherwise you're free to message people across the globe from one and the same account.
11. Send more relevant marketing messages
WhatsApp for business offers almost limitless possibilities for engagement. Outbound announcements (notifications), two-step authentication, reminders, status updates are just some of the messages you can send. Instead of sending too many emails, you can add WhatsApp to your mix so customers don't feel flooded. And sometimes an instant message update is more timely and convenient.
12. Another opportunity to showcase your brand
One of the major benefits of a business account on WhatsApp is the additional brand exposure.
Every WhatsApp business account has a branded business profile complete with multimedia elements (logo, image, gifs) website URL, address, etc.
You can also list some or all your products to give people an overview of what you offer right there in the app. This adds legitimacy to the communication and enhances your brand image.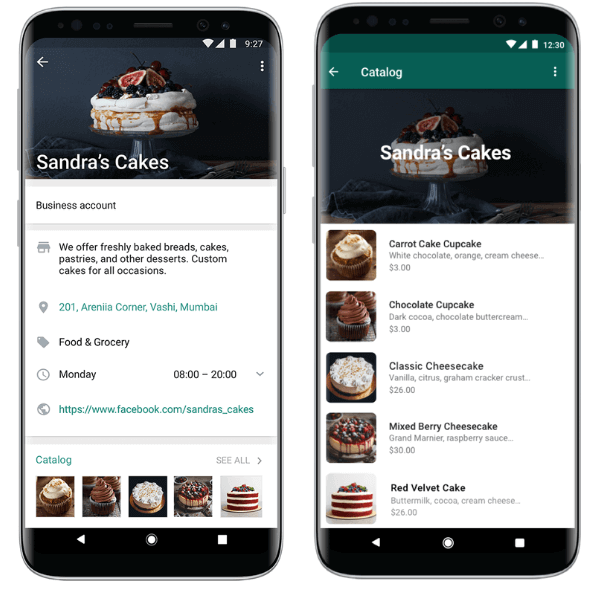 An example of a WhatsApp business profile
13. Collect subscribers using QR codes
QR codes gained popularity during the pandemic and more people are familiar with how to use them now. They're an easy way to take potential customers from offline to your digital assets.
For example, at a trade show, you can print a QR code on a poster and encourage them to scan it and sign up for your WhatsApp messages to keep in touch. That's a GDPR-proof list-building tactic. Or you can have the QR code in shipping boxes so customers can start a direct chat with you if they need help after receiving the order.
14. Improve your marketing campaigns
WhatsApp Business doesn't just give you another medium but also adds value to your marketing campaigns.
There are easy-to-use labels for managing your contacts in groups like Loyal customers, WhatsApp newsletter subscribers, Leads from trade shows, etc.
Engagement metrics show if your messages are read, clicked, or reported.
The WhatsApp Business API can be connected to a CRM and use the customer data from there for even more targeted campaigns.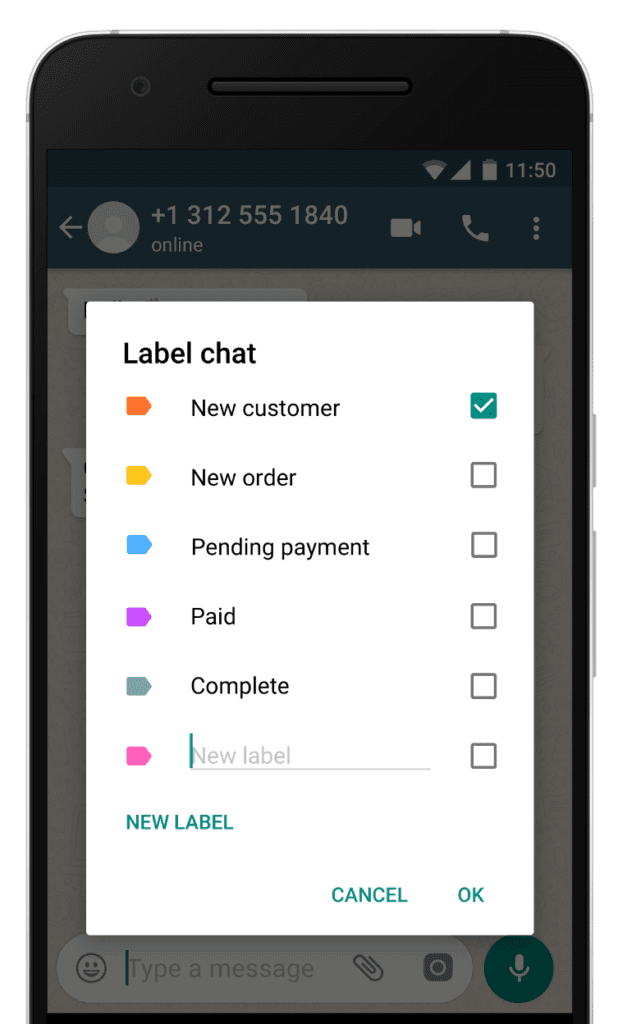 15. Fair pricing
Even small and local businesses will find value in the WhatsApp Business API because you're only charged for the customer messages you send or receive, no other fees. The best part is all business features are accessible at any sending volume.
On top of that, sending quotas go up automatically if you send quality content and get good engagement. So your marketing efforts will be rewarded with even more opportunities.
Interested in learning more? Download The WhatsApp Marketing Playbook for free.
How to get started with the WhatsApp Business API?
First, you need to choose a WhatsApp Business Solution Provider like Brevo. Look for providers on Meta's partner list to access the full range of services. Through the provider, you connect your marketing platform with the WhatsApp API and WhatsApp business account (or create one, if you don't have it yet).
Then, you'll go through a quick and streamlined verification and setup process. Once Meta approves your WhatsApp message templates, you're ready to start sending messages.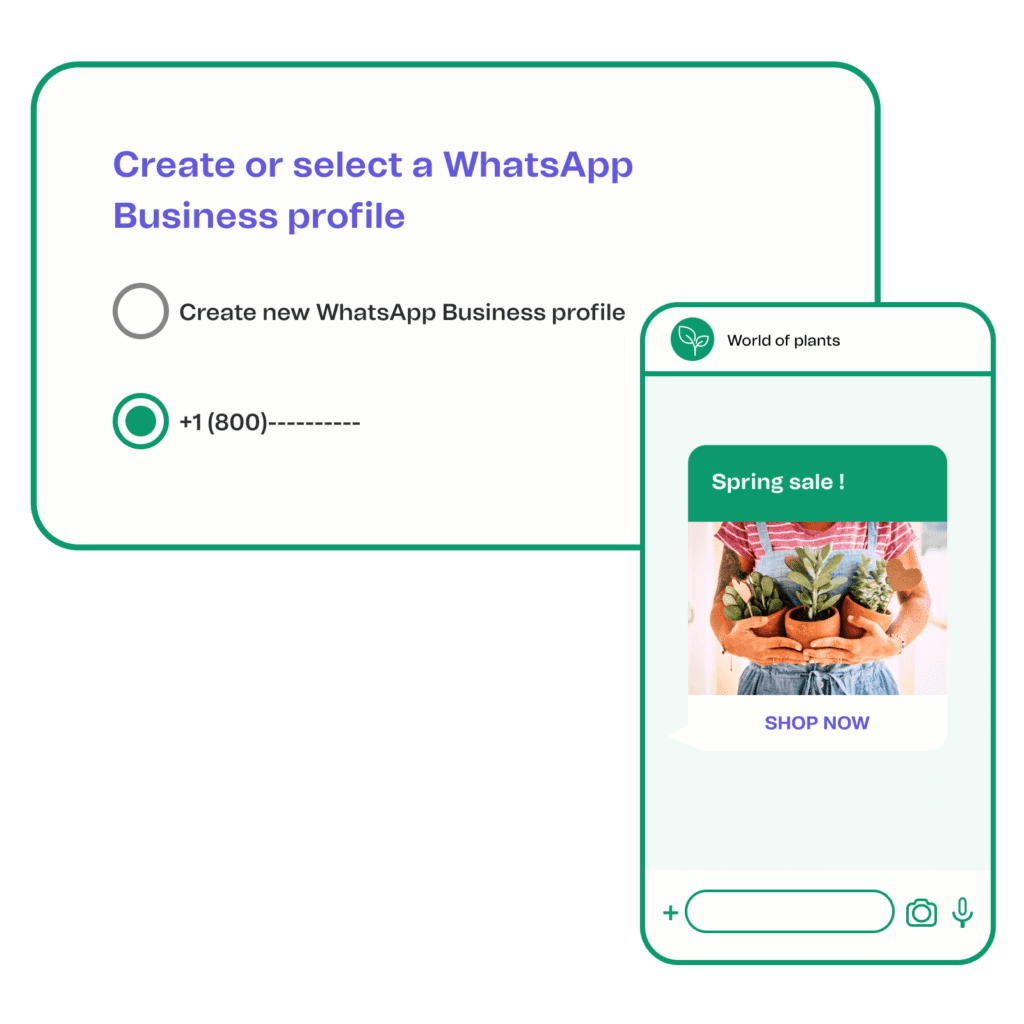 Want to explore the benefits of WhatsApp Business? Check out our top picks for WhatsApp Marketing Software. Or better yet, try Brevo for free and get started with the WhatsApp Business Platform.
Try WhatsApp campaigns on Brevo
Seamless integration, no coding required, signup forms to grow your WhatsApp list and unlimited contact storage. Pay only for messages, no setup or license fees.