Reading time about 15 min

The newsletter signup form is the first step of an email marketing strategy. It gathers email subscribers you can legally send marketing emails to.
Without it, you have no email addresses to send newsletters to, i.e. no mailing list. That's why you should create your email signup form before you need to send your first marketing email.
The newsletter signup examples here show best practices in placement, incentives, design, and copy for growing your mailing list.
Great newsletter signup examples and why they work
What's the purpose of a newsletter subscription form? To attract people to subscribe to our mailing list, right?
The best signup forms attract subscribers by looking good, playing by the rules, and answering the question, "What's in it for me?" that potential customers have. Let's look at how different companies do that.
Offer an incentive
First and foremost, an email newsletter signup should incentivize people to sign up. It's only logical — why would they give you their email address otherwise?
Potential newsletter subscribers should see a promise for value added in your emails. You need to offer them something interesting or exclusive. This is called a lead magnet and does exactly what it says — attracts people to sign up for your newsletter.
Tips and tricks, insider news, a free ebook, special deals and early access to promotions are all great incentives. Whatever you decide to include in your newsletters, make sure you advertise it to site visitors to get them to join your email list.
Travel Supermarket does this very well. Its email newsletter signup form offers inspiration, tips, and deals, all exciting for their target customer.

The next newsletter signup example from Arthur features subtle branding and a special offer that's hard to pass on. Who doesn't want customers to be invited to private sales?
Check out more ideas for email list building strategies.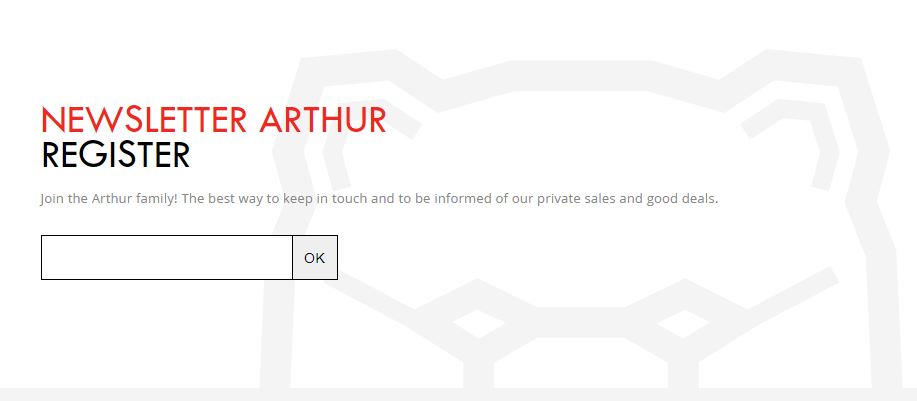 A popular incentive for joining a company's mailing list is a first-order discount. Most brands give 5% or 10% to new customers who subscribe to their newsletter. It's a win-win. For a small discount you convert the visitor easier and gain a direct communication channel to them for more pitches down the line.
That's why such a newsletter signup example from Kimondo deserves its own place on our list.

NotShy also offers a coupon to new subscribers. Their newsletter signup form, however, is on a popup to grab the attention.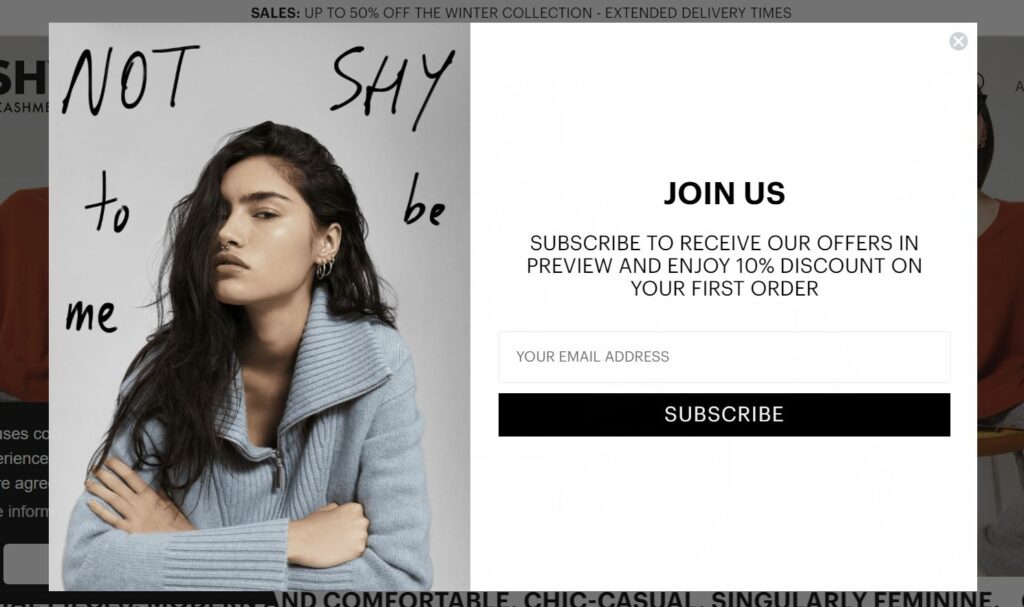 Monbouquette's newsletter subscription message is a great copywriting example. It not only offers 15% off, but lists the newsletter's contents and states the frequency as well. This way, people can give fully informed consent.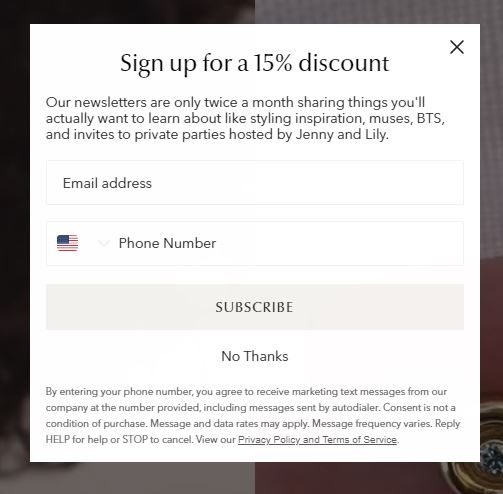 Be clear about what subscribers will get after signing up
It's newsletter best practice to spell out what your newsletter is about. You need subscribers' explicit consent to send them any marketing emails. This means your email newsletter signup form should list all that you plan on communicating — news, product updates, offers, etc. — so people know what they're agreeing to receive.
Failing to make it clear that they're agreeing to marketing can result in lower engagement, higher unsubscribe rates, and even spam reports, all of which damage your sender reputation and impact future email campaigns.
Laughing Hens is another perfect newsletter signup example. The signup form lists clearly all perks and content to be expected. This will likely lead to more engaged subscribers and higher open rates.

The Stamp Market also does a great job of their newsletter signup message, listing all that the subscriber is in for.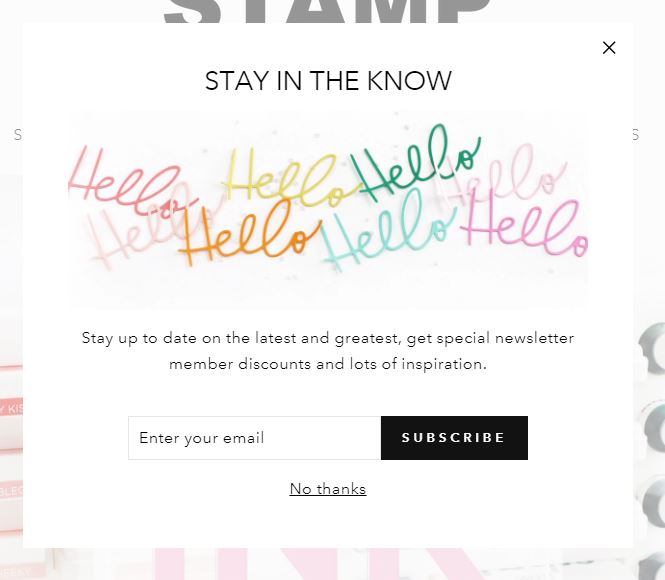 Keep your newsletter subscription form visible
You'll probably place your newsletter signup on your blog and in a popup form. It also makes sense to have it in the website footer. This way, someone specifically looking for it will find it easily. What's more, someone browsing your site might stumble upon it and subscribe.
Liligo's newsletter subscription form stands out quite well in the footer with this bold green CTA button.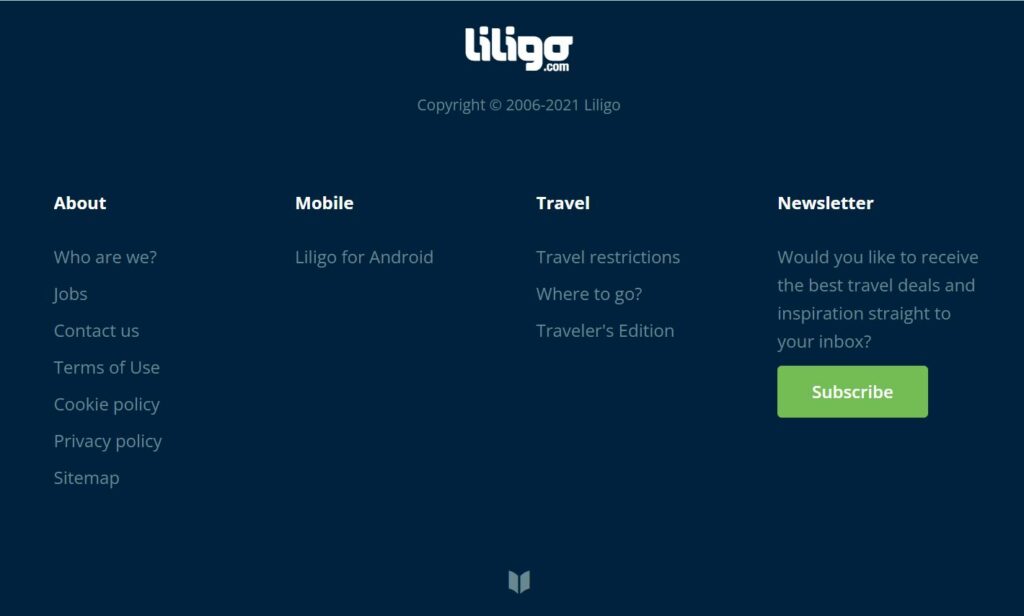 By Chef Nuit takes another approach. Their newsletter signup is in the brand colors, with the "Subscribe" button equal with the "Shop now" one.

nood co keeps things simple with a subtle newsletter sign up and social media link lined up as an alternative.

Give subscribers control
Subscribing to a mailing list shouldn't be absolute and final. People need to be able to edit their preferences easily. That's why Great British Chefs offer a great newsletter signup example with a dedicated newsletter management center where you can update what newsletters you want to receive and how often.

Dedicate a newsletter signup page
Placing your newsletter signup form on a landing page of its own is also a good approach. It gives it its own space and possible SEO juice.
That's exactly why Helen Levi Ceramics deserves a spot in our list of newsletter signup examples. Their subscription form has its own page and main site menu link. But what's even better about it is the sign up message. Humor is awesome if it fits your brand voice!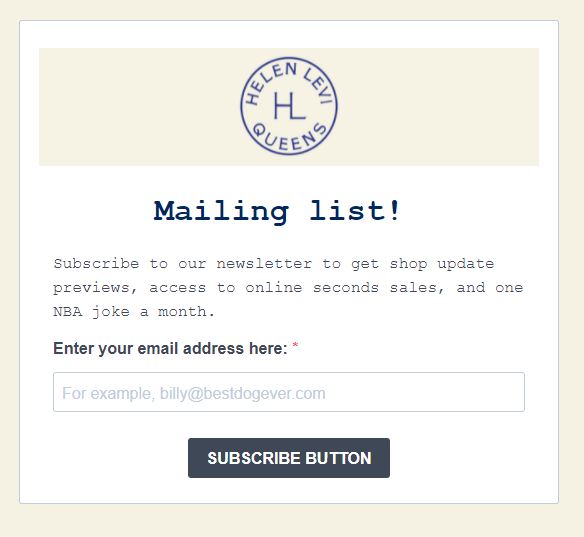 Start contact segmentation on form
Adding simple buttons like the ones in this great signup form example by Videdressing makes your life easier and your email marketing more personalized. It lets you learn more about subscribers right from the signup form and automatically puts them in the correct email list. Then, you can send two different newsletters with more relevant content and offers. That's easy to with a newsletter software like Brevo.

Craft a unique newsletter subscribe message
Email newsletter sign ups don't have to be boring! They can enhance your brand image and thus get more people to subscribe to your mailing list. There are so many ways to shake up the sign up for our newsletter wording so it reflects your brand and draws more attention.
URBAN PIKE, for example, uses word play to its hard-core fans' delight. "Galley of type" is a typography term so if you know, you'd want to sign up for this newsletter.

Flowers After Hours also uses a relevant, tongue-in-cheek pun in its sign up message. It's a little something to make the site visitor like the brand a tiny bit more and subscribe for its newsletter.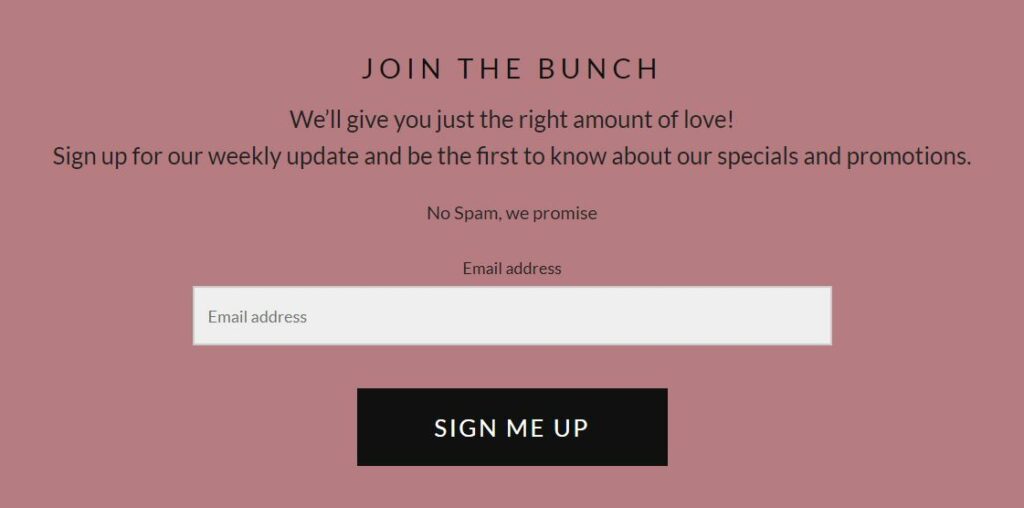 Macro Mixes is yet another great newsletter sign up example using copy well. It's fitting and fun in line with the brand.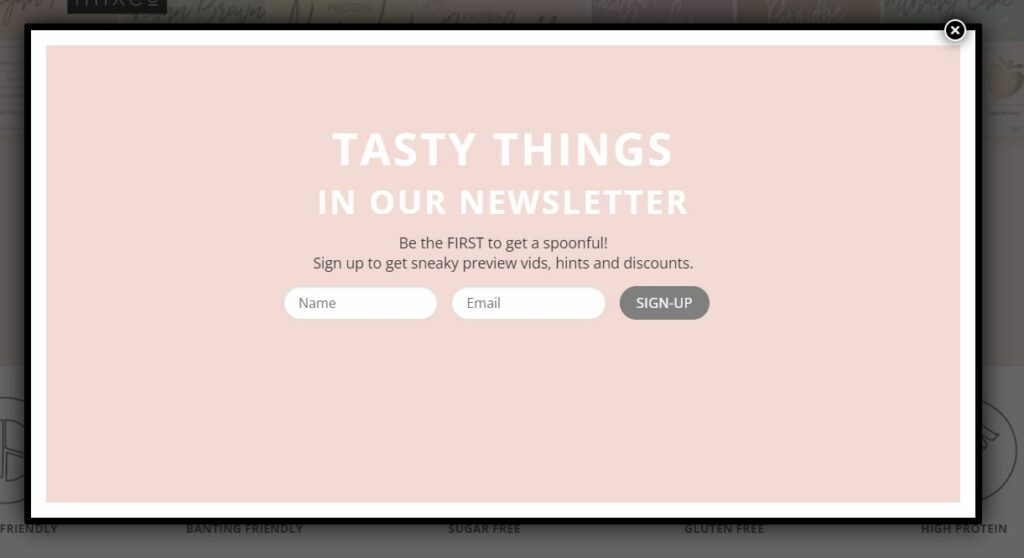 Newsletter signup form example from a non-profit
Not only ecommerce businesses can have example signup forms. Non-profit Solidarités International's newsletter subscription message is to learn from. Concisely and clearly, they manage to explain what their newsletter is about, how often it's sent, and how you can unsubscribe. All there is to know!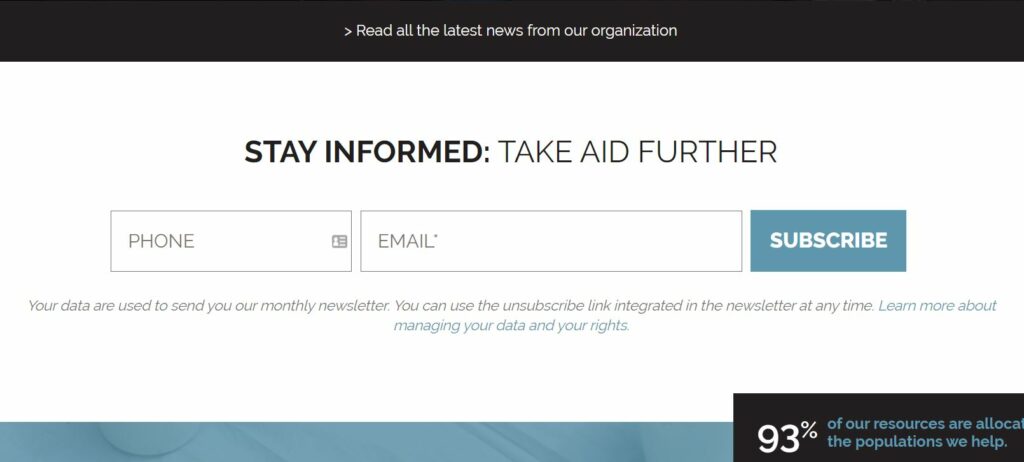 Creating your newsletter signup form
Now that you've gotten some inspiration from those great newsletter signup examples, here's how to create your own. Make sure your email marketing software offers mailing list signup forms or at least integrates with an app that does.
1. Design the mailing list signup form
The most important element of a subscription form is the information you'll be asking and the email opt-in options you provide. As for personal information, usually an email address and a (first) name are enough.
2. Stick to GDPR
If your audience includes people in Europe, your signup forms need to be GDPR compliant. Yes, you're trying to get people to subscribe for your mailing list. But at the same time, the GDPR gives people in Europe the right to know exactly how their contact information will be used and who has access to it. Here are a few key elements of GDPR to keep in mind:
Your subscription message should state exactly what you'll be sending new subscribers so they can give informed consent.
Checkboxes can't be pre-checked. Consent is opt-in by default, not opt-out.
A purchase doesn't mean automatically subscribing to your newsletter. Though you can ask with a separate opt-in at checkout like in the example below. If a customer doesn't opt in, you can only send them transactional emails because they're essential to the purchase.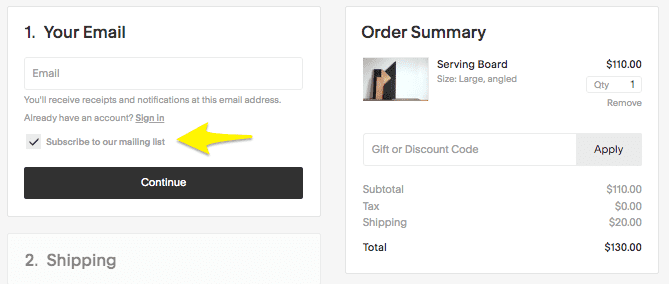 Misleading people is against GDPR and will lead to your emails being reported as spam. This is also why you should never buy an email list to speed up your customer acquisition. Here's our guide to GPDR-compliant emails.
Why should you care about not spamming people? Because negative reactions to your emails impact your overall campaign performance and deliverability. So it's better to email only the people who want to hear from you. The safest way to do so is by using double opt-in where new subscribers have to confirm twice that they want to join your mailing list. This will give you only real emails and engaged contacts, which guarantees better results.
3. Add multi-list subscription forms
To make your newsletter even better, you can ask subscribers' preferences on the content they receive. It's easy to do with multi-list subscription forms.
They help you segment your mailing list contacts by interest and provide them with content tailored to their preferences and needs. Here are a few examples of this type of form created by Brevo customers:
Oregon E-Bikes easily sends tailored offers and content to its subscribers thanks to this one additional field on their signup form example.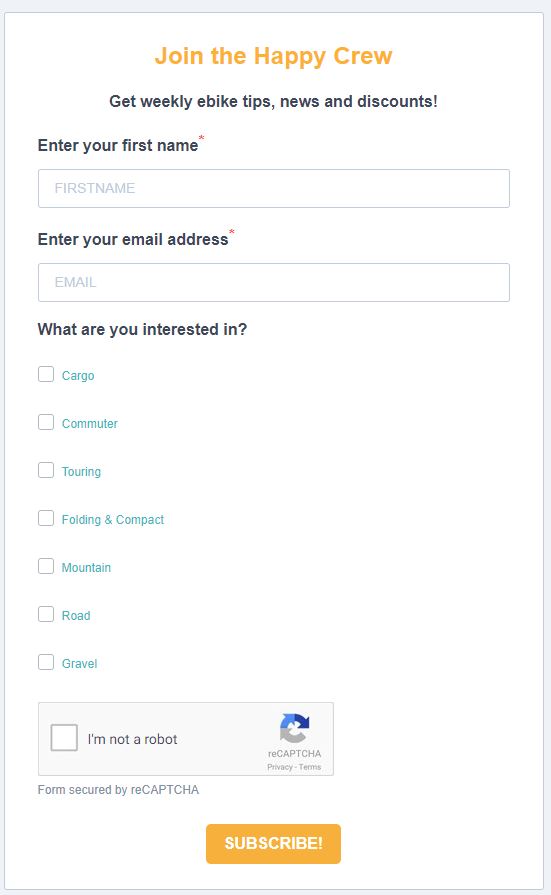 Freshly Moms have two subscription forms. The first one is placed on their home page. It's quite minimalist and states the purpose and the content of the newsletter clearly.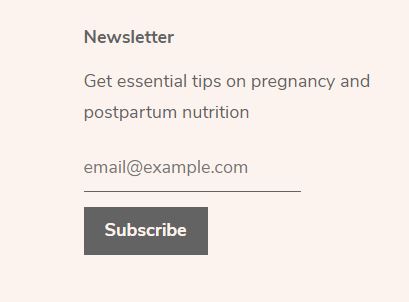 The second signup form is an exit-intent popup that tries to get people to join their mailing list before they leave the site. That's why it's more aggressive in a way, offering a discount, and adding even more value. The added question about the stage of the pregnancy the subscriber is in promises relevant content. It makes sending a personalized newsletter easier than ever.
To learn more, here's how to add multi-list subscriptions to your forms with Brevo.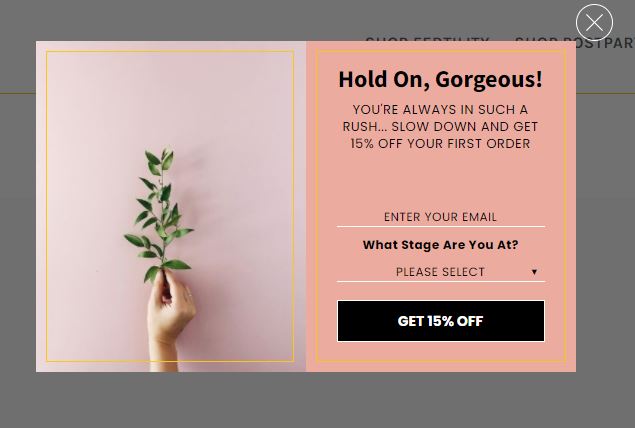 4. Don't forget branding
As you see, all these newsletter signup examples match the branding of the site. Yes, brand consistency applies to sign-up forms too! Most signup form builders let you choose your colors, fonts, and images, so be sure to let your brand identity shine through.
5. Set up your email list
A final step before going live with your newsletter subscription form is to connect it to the email list where you want new subscribers to be added. Just choose the list(s) from the dropdown menu in the "contacts" tab of your dashboard. From there, you're ready to send segmented emails!
6. Place your newsletter signup form on site
Once your signup form is ready to collect new subscribers, be sure to place it in high-traffic areas of your website. The footer, homepage, sidebars, popup windows, or embedded in a live chat are all good options. Giving your newsletter its own signup page is also smart. Try sharing the form on social media to reach even more people.
Read more: How to Add Email Subscription to Your WordPress Site in 5 Easy Steps
When you have your newsletter subscription form ready, you can go ahead and create a newsletter. Here are the Best Email Newsletter Examples and 40+ Free Email Newsletter Templates for you.
Start growing your mailing list with Brevo
Try recreating the best email signup examples yourself with Brevo! The form builder is integrated with the customer database and the rest of the marketing platform, so adding contacts to lists and emailing specific lists is a breeze.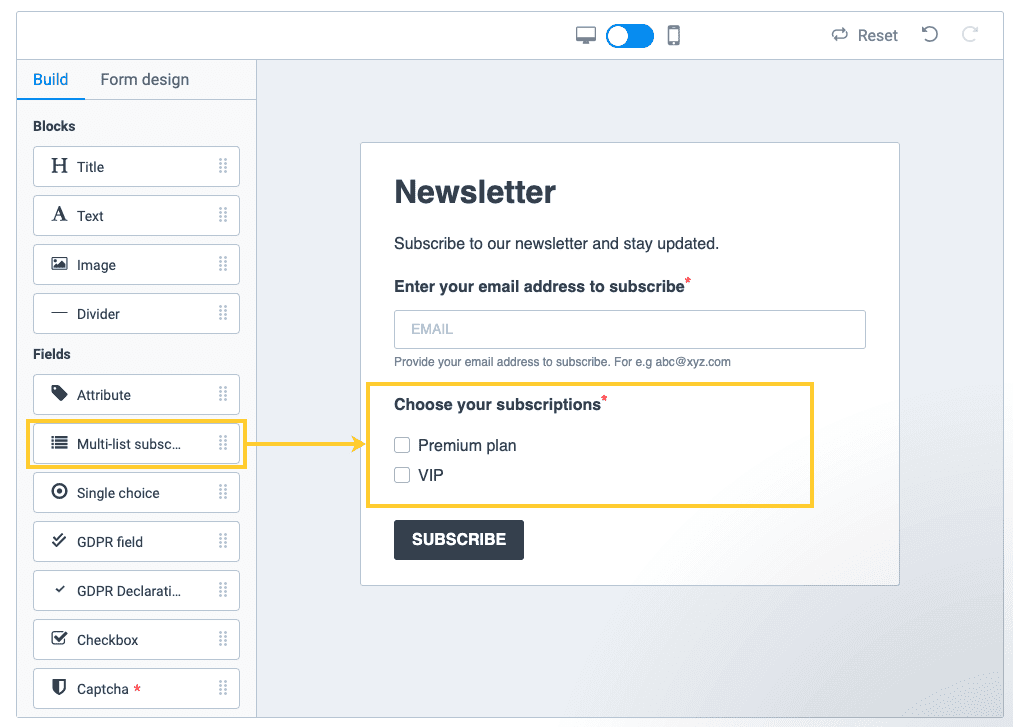 Other features worth mentioning include:
An easy drag and drop editor with a variety of design elements
Multi-step forms that put contacts in multiple lists
Automatic contact sync when preferences are updated so you never email unsubscribers
Unsubscribe links are automatically inserted in emails to save you time.
Full set of GDPR compliance tools
Pre-made email automation templates for opt-in confirmation and welcome emails
Forms are embeddable anywhere you want
Easily shareable on social media
Create a form and start sending a newsletter with Brevo
Free plan includes customizable signup forms, access to all core email features, ready email templates, and unlimited subscriber storage so you can grow your email list for free.