Building an email list is key to a successful email marketing strategy. Don't know where to start? This guide will teach you how to build an email list, starting with the top list-building tactics.
To set your email marketing campaigns up for success, you should first know how to build an email list. Often, it's not enough to simply include an email signup form on your website. Not only do you want to grow your email lists — you want to make sure your email campaigns reach the right people.
That's why email list-building tactics are crucial to reaching potential customers and growing your audience. However, this can seem like a daunting task, especially if you're building your list from scratch.
Luckily, we've put together this list to show you how to build an email list for your business.
What makes a high-quality email list?
Before diving into list-building tactics, it's important to understand what makes a good email list in the first place. In general, an email list should be:
Consent-based. You should always get permission from email subscribers before sending them campaigns. One way to do this is through double opt-in signup. This will help you maintain your sender reputation and comply with data privacy regulations (e.g. GDPR, CAN-SPAM Act).
Receptive to your content. The contacts in your email list should be interested in both your business and the email newsletters you share. That's why you should never buy an email list. Although it might help you grow your list quickly, purchased contacts are more likely to mark your emails as spam or unsubscribe.
Simple to segment. Email segmentation is a great way to send targeted email campaigns. When gathering information from new subscribers, try to capture data such as preferences and demographics (e.g. age, gender identity, location).
Increasing. You should aim to grow your email list as much as possible. This will help you reach new customers and drive conversions. To grow your email list, it's helpful to know the most effective list-building tactics.
Related: 5 Effective Email List Cleaning Tactics For Better Engagement
How to build an email list
Here's an overview of the steps to build your email list. Sticking to these best practices will only benefit your email performance and create a more valuable email list for your business.
1. Choose the right email marketing software
Having the right email service is the best way to grow and manage email lists over time. It's best to look for a tool that stores contacts in a customer relationship management (CRM) software.
This will help you keep track of customer information such as preferences and behavior. It also makes it easier to integrate email with other digital marketing channels (e.g. SMS, WhatsApp, chat).
For example, Brevo offers core email marketing tools including signup forms and a Drag & Drop email builder. You also get unlimited contacts, which are easily synced with Brevo's native CRM.
2. Create a compelling incentive
Every successful list-building tactic starts with creating something your customer values. Without a high-quality lead magnet, there's no lead generation.
What's something your customers want? And, how does it tie into what you're selling? Maybe it's a template for how to do something with your product or a timesaving checklist that will save your reader headaches.
It can be valuable content like a free ebook or case study, as well as a physical freebie. Other ideas for incentives include exclusive content or coupons.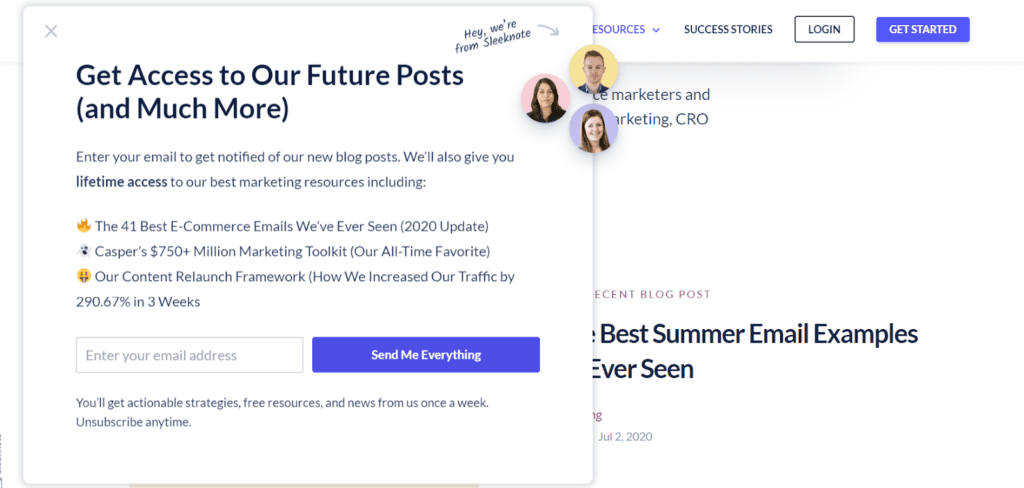 Opt-in incentive example from Sleeknote Blog
3. Optimize your call-to-action (CTA) copy
Craft call-to-action (CTA) copy so that visitors see the value of your incentive across your email opt-in forms.
Experiment with CTA copy like "subscribe," "download," and "get my ebook" to see which performs better. You can even make this part of your list-building strategy and try A/B testing different graphics and language.
Here's a clever email list-building tactic where you sign up to get a code which grants access to their presale.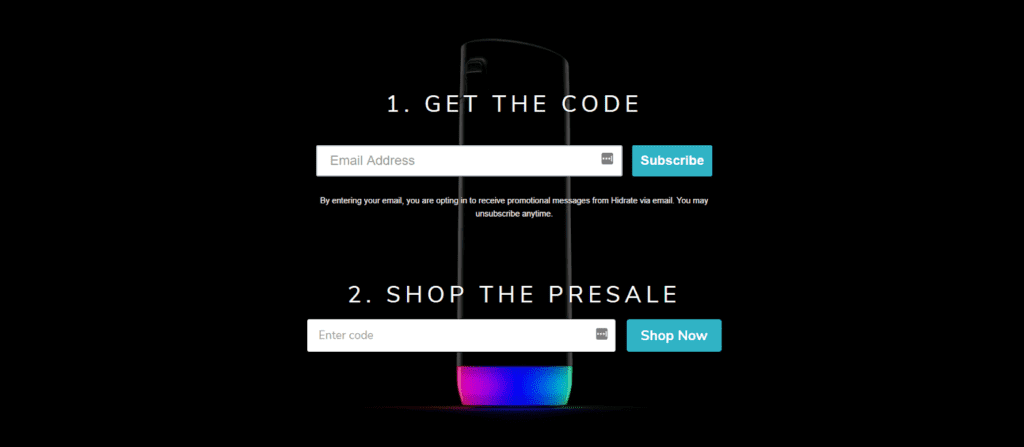 CTA example from Spark Hydrate
4. Place your signup form strategically
After you create a signup form to collect email addresses, you should place it where it will reach the most website visitors.
Try to position it on high-traffic pages of your website. Your blog homepage, headers, and footers are typically good places. Another common placement for your email signup form is on the sidebar of your website.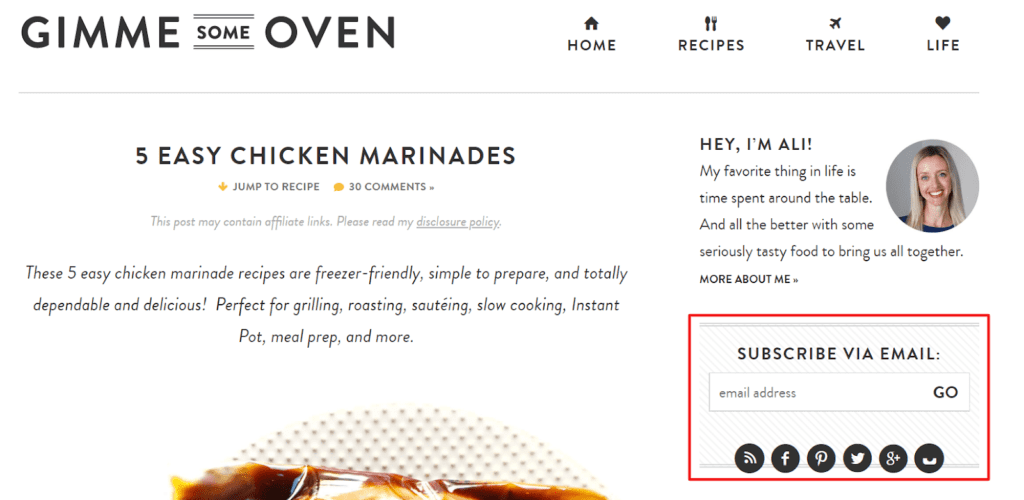 Sidebar signup form by Gimme Some Oven
Related: 20 Newsletter Signup Examples to Take Inspiration From
5. Add an exit intent pop-up form to your website
To grow your email list, trigger an email signup form to pop up just before visitors exit your website. That's because pop-up windows are often effective for building lists and increasing conversion rates.
Take this statistic from Beeketing that says ecommerce companies can salvage up to 35% of otherwise lost visitors with exit pop-ups.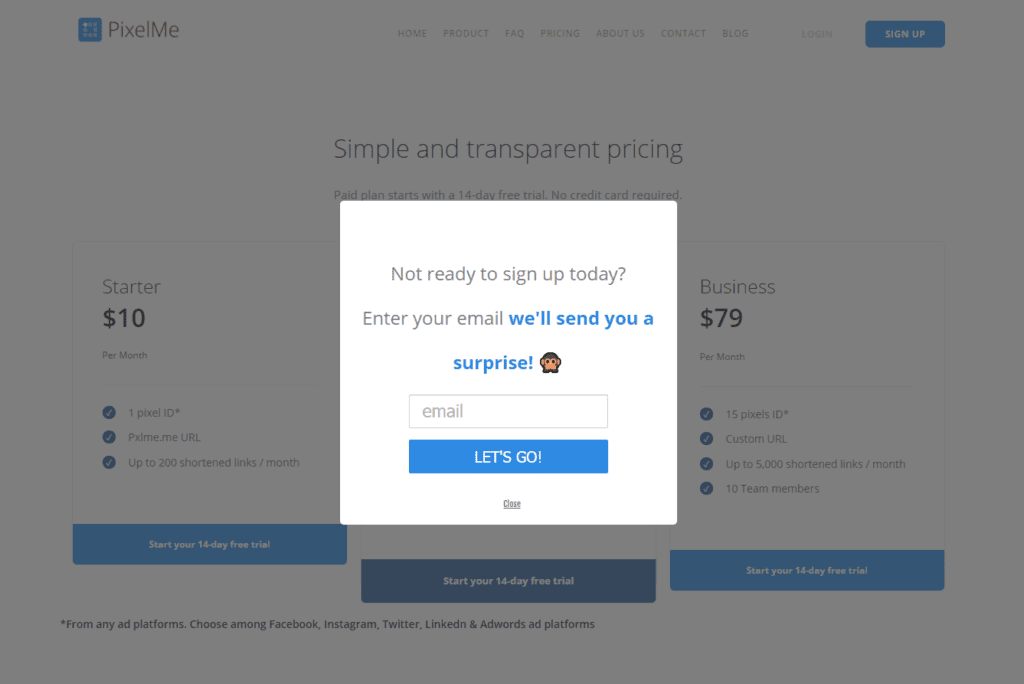 Pop-up form example from Pixelme.me
6. Create landing pages that convert
Dedicated landing pages can play a big role in growing your email list. The purpose of a landing page is to send people to "land" on it. For example, if you're a podcast or webinar guest, you can mention your incentive and send people to your landing page to sign up.
This will be easier than sending them to your homepage where they have to find your signup form on their own. Landing pages also help with SEO because someone might directly search for "sign up for X brand's mailing list" on search engines.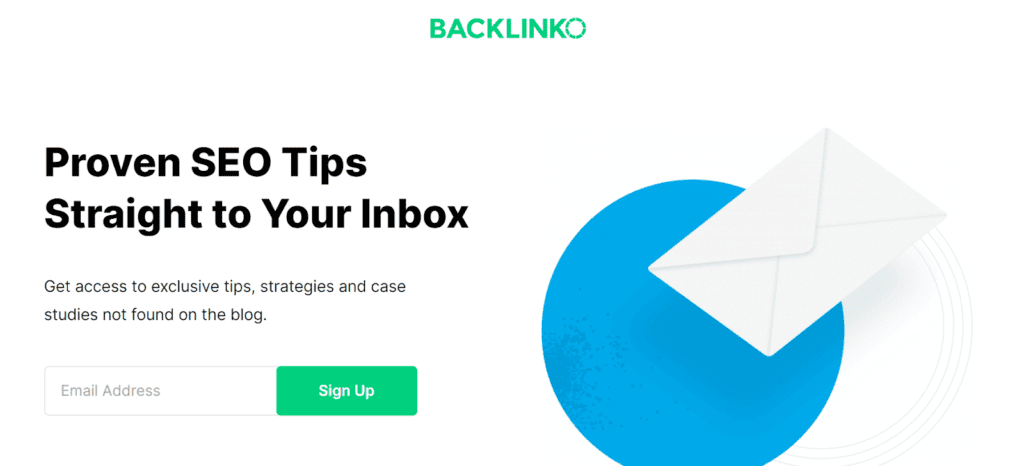 Newsletter signup landing page from Backlinko
7. Promote signups on social media platforms and your email signature
Grow your email list by promoting your newsletter across your email and social media accounts. Post a link to your signup form in social media posts. Or, gather subscribers by running social media contests or giveaways.
Adding an email signup CTA in your bio can also help grow your email list. That way, every time someone checks out your bio, you have the opportunity to gain a new subscriber.
Consider adding a subscriber link to your email signature as well. This is a great way to promote your newsletter to the people who've already been in touch with you.

Example of a signup CTA in an email signature by Kaleigh Moore
8. Create a referral program
Referral programs are another effective list-building tactic. Get existing subscribers to share your email newsletter with their networks. To further encourage them, offer an incentive such as reward points or an exclusive discount.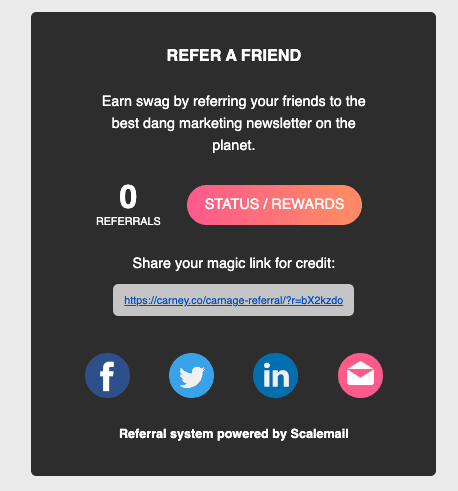 Referral program example from The Daily Carnage
9. Use chat to make signups more interactive
Install a chatbot to engage website visitors and turn them into email subscribers. That's because chat is for more than just customer support — it can also be used for lead generation.

Simply set up conversation flows to capture subscribers' email addresses and other contact details. This makes the signup process more engaging and interactive. With Brevo, it's easy to add chat to your website and customize your chat widget for email signups.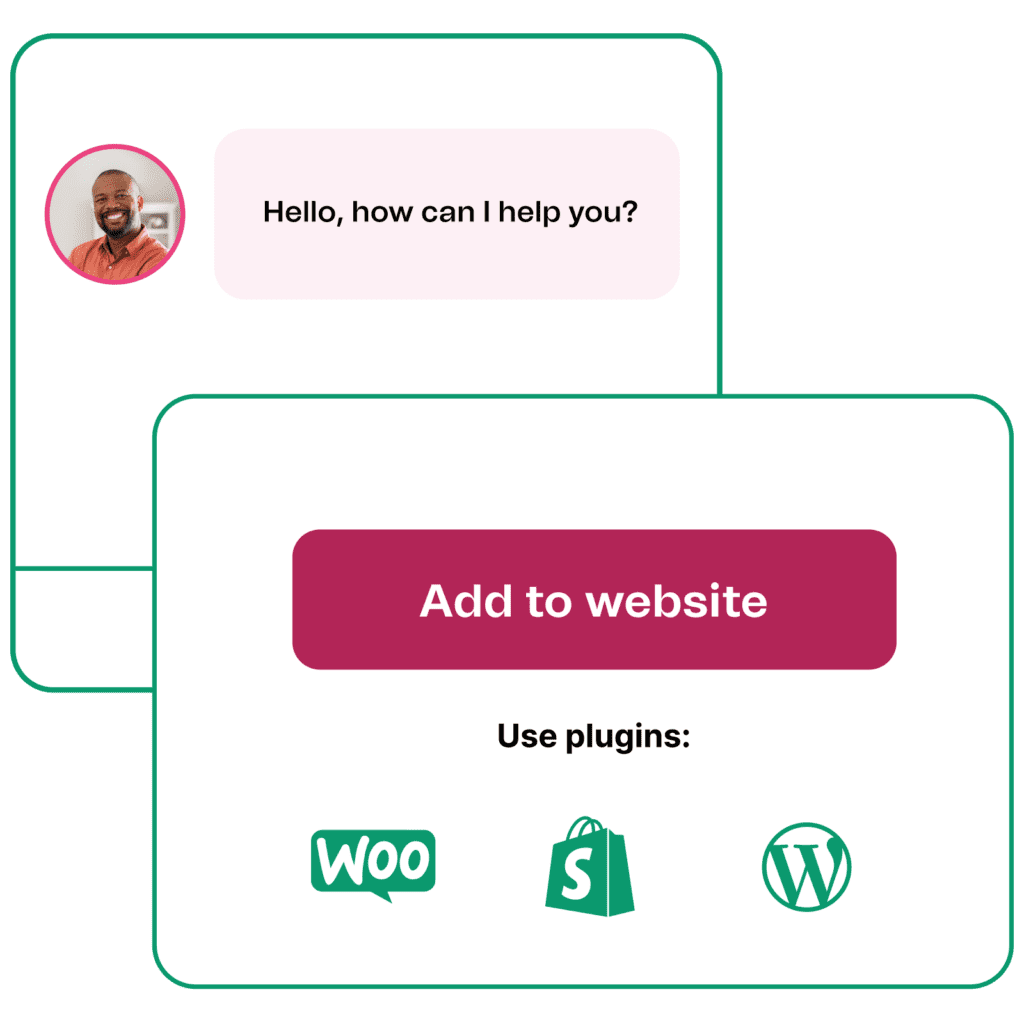 10. Encourage offline signups with QR codes
Grow your email list by collecting email addresses offline, for example at in-person events or a brick-and-mortar store. QR codes are a convenient way to bridge the gap between offline and online and grow your email list.
You can turn any signup form into a scannable QR code. Find out how to do it here.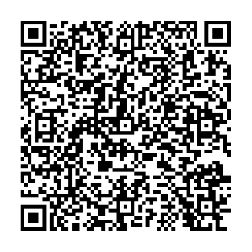 Read more: 8 Best Email List-Building Tools
Start building your email list today
Hopefully, this gives you lots of ideas on how to build an email list and kick-start your marketing strategy. With a little planning, you can build an email list for successful email campaigns.
Grow your email list with Brevo
Our free plan lets you store unlimited contacts, send up to 300 emails/day and create engaging email signup forms for your website and social media.