Reading time about 13 min

Easter is just around the corner, on Sunday, April 9. Now's the time to kickstart your Easter email marketing campaign. We've got a bunch of tips, tricks and fun examples to keep your audience interested in your Easter promotions.
Why You Should Do Easter Email Marketing
From a business standpoint, Easter can be a very lucrative holiday for most companies.
Last year, nearly 8 out of 10 Americans celebrated Easter while over half of those who didn't mark the occasion by taking advantage of Easter promotions.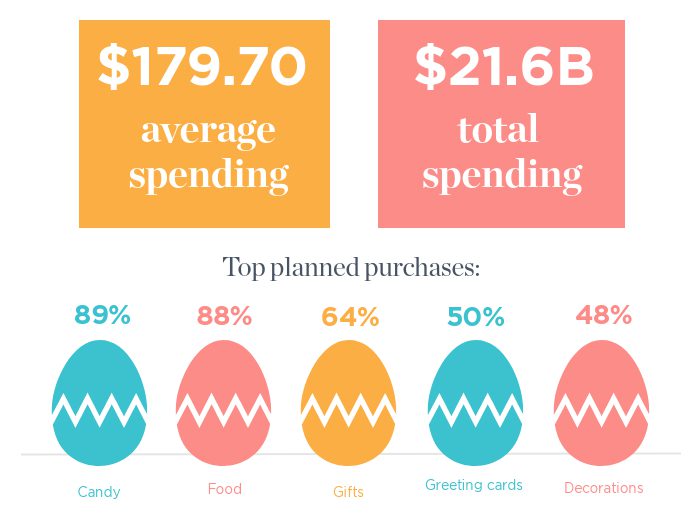 While not as widely celebrated as Christmas and Mother's Day, in terms of sales, Easter ranks ahead of Valentine's Day, Father's Day, and even Halloween.
Easter sales in 2021 rose to $21.6 billion. The average shopper spent $179 on Easter gifts and celebrations with their friends and family.
The National Retail Federation had surveyed US adult consumers on what they planned to purchase to celebrate Easter. Food, candy, and gifts were the most popular picks.
And unsurprisingly, more customers will shop for Easter deals online rather than cruise through malls.
Religious undertones aside, Easter is a festive holiday centered around gift giving and family gatherings.
With the right holiday email marketing strategy you can expect to enjoy a leap in ecommerce sales.
In this article, we'll help you choose the right theme and content to get the most value out of your easter email marketing campaign.
What Do You Put in an Easter Email Campaign?
Customers expect an Easter sale.
Wishing your customers a happy Easter would be a nice gesture, sure. But why not surprise them with an Easter treat?
An Easter email blast with a unique Easter offer can add a fun twist to your everyday marketing strategy.
You'll need to first think about whether to include an Easter egg and what that will be. We'll dig into the details later.
Then you'll need to figure out whether you want your Easter email to just have content with an Easter theme in your regular newsletter or be its own separate Easter email promotion.
Do you already have a growing subscriber list and want some fun ways to capitalize on the holiday fervor? We've got a handy list of Easter newsletter ideas that are sure to inspire you.
When Should You Send Easter Emails?
You'd be surprised how early folks start planning their Easter Holidays – 38% of Easter celebrations are planned in late January.

Part of the planning is centered around vacation and travel arrangements that fit the holiday calendar. 2 out of 5 Americans will attend family get-togethers or meet up with close friends.
Promote your Easter weekend special as early as January if it it involves extended travel or an out-of-the-way trip.
Make the upfront costs clear so that your customers can budget accordingly. Early bird discounts will work in your favor.
Want to promote an Easter weekend shopping spree or an Easter Sunday discount bonanza? Then consider putting together a teaser series for your Easter email campaign.
Sticking to the best time to send an email will ensure your Easter email campaign has a higher open rate.
To Whom Should You Send an Easter Email Blast?
Engage your audience fully to get the best conversion rates in your promotional email campaigns.
To avoid having your beautifully designed Easter emails falling into spam inboxes, focus on building your subscriber list early.
Don't buy email lists. Instead, let your audience know about holiday offers on social media. Ask your followers to subscribe to your newsletter to get the best deals, including your upcoming Easter special.
Segment your email subscribers. Ensure that each offer meets customer needs on a personal level.
Here's how to create a newsletter that your audience will love.
6 Easter Email Marketing Ideas for Campaign Success
1. Make an Easter offer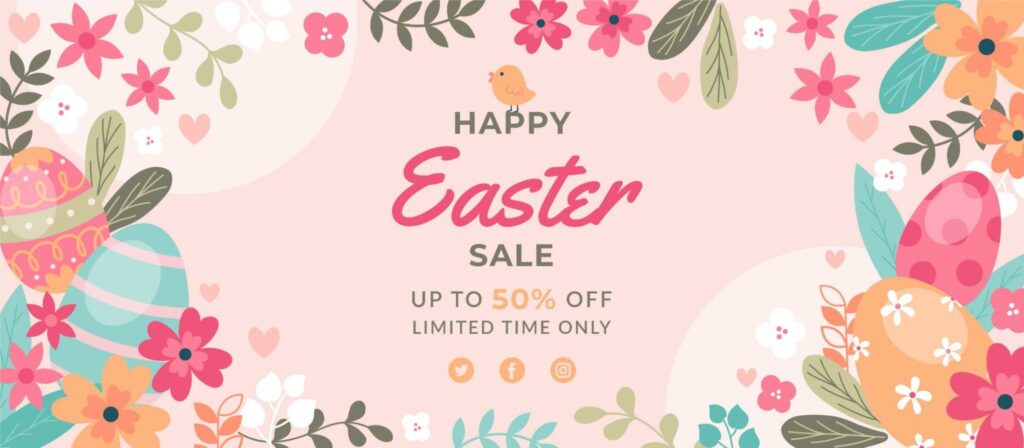 Source: Freepik
Holiday email marketing is no different from your typical seasonal sales campaign.
Again, customers will expect an Easter exclusive. Even if your Easter offer doesn't tie into an Easter theme, it's still an eggcellent time to experiment with price cuts and free giveaways.
An Easter email CTA will nudge your customers to make a quick purchase so they don't miss out on a big discount or a limited-time offer.
Link your CTA to an Easter landing page that showcases your best offers. Use persuasive copy and Easter visuals to clinch more sales.
2. Target the long weekend
Easter is the only holiday that always includes a long weekend.
Spread your Easter sales efforts over the Easter weekend so your customers have every opportunity to get the offers they want.
Include special offers for Good Friday and Easter Sunday when shopper turnout peaks.
While Easter Monday isn't a public holiday in the US, it is an official holiday in Canada, Australia, most of the UK, and many parts of Europe including France and Germany.
Lots of people take leave on Easter Monday, so treat it as part of your long weekend campaign.
Extend your Easter emails beyond the Easter Weekend with a last chance email campaign.
3. Include an Easter theme in your email design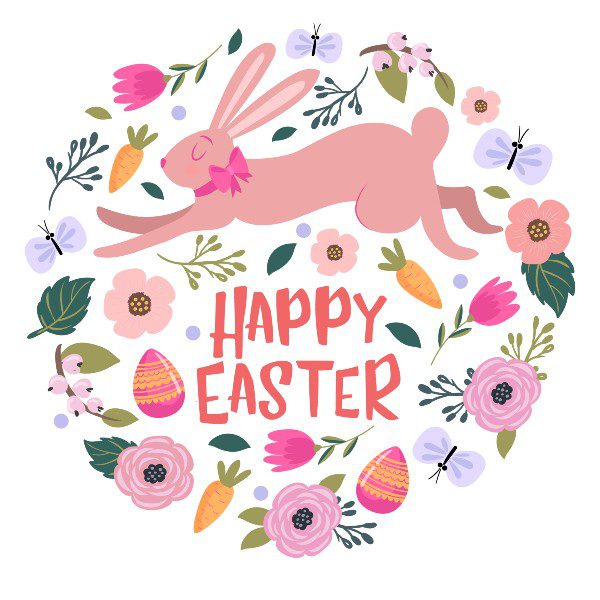 Source: Freepik
Decorate the content of your email with pastel colors, chocolate bunnies and blooming sprigs.
The more inventive your thematic tie-in, the greater the interest in your Easter offer.
However, if visuals of candies and flowers don't jive with your brand, ditch them.
You can still tap into the holiday mood by associating with warm feelings of friendship, family and new relationships.
Spring is also closely associated with Easter. So, you can safely use visuals around the idea of new beginnings and fresh opportunities.
4. Use puns and fun wordplay
Distinguish your brand from the hundreds of other businesses running Easter promotions with humor and creativity.
Catch the attention of your audience with an eggcentric Easter email subject line. Add in emojis to give your Easter email a more playful tone.
Create a short promo video or mini commercial. You can get eggstraordinary results if it goes viral. Attract more attention by including simple animated GIFs in your email.
5. Send plenty of reminders
Holidays are a time when most consumers will go shopping for gifts. 32% of Easter shoppers will buy gifts.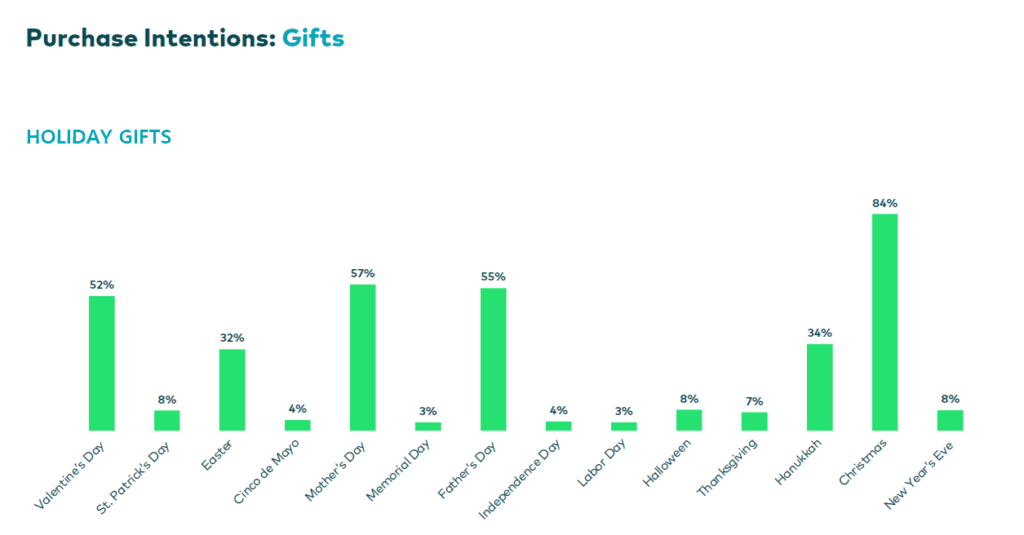 This brief window of inflated Easter sales is just as important to strip malls as it is for online outlets.
Send regular email reminders to your customers to let them know your Easter offer is either on its way or already available.
Include a countdown timer when it's time for a huge sale to go live on your website or in certain stores.
If your business is extending its operating hours to meet increased demand, let your customers know. If stock that had previously run out has been refilled, make an announcement.
6. Hide an Easter egg in your email
You might be wondering, what is an easter egg in an email?
An Easter egg is a clue that is meant to be hard (but not impossible) to find.
Here are four ways to include an Easter egg in your email:
Hide teasers of new or upcoming products
Include throwbacks to fan favorites
Let your customers search for hidden coupons
Create riddles that come with fun prizes
Build the suspense around your Easter egg email on social media before the campaign goes live. Use it as a way to get more subscribers onto your email list.
Add an eggstra limited offer into the mix and you'll have the right ingredients for a successful Easter email campaign.
Don't worry about being too sales-y. A third of Americans will plan their own Easter egg hunts. So, think of your own brand's Easter egg hunt as a time-honored tradition.
Just make sure there's something for everybunny there.
Easter Email Design Inspiration: Our Favorite Easter Campaign Examples
Here's our list of most eggciting Easter email examples. Our choices are based on how interesting each take on an Easter email theme is, in no particular order.
Easter email example 1: Shrimps
Subject Line: Easter in Gingham 💙

The London-based fashion brand Shrimps went all in on their Easter theme, complete with an Easter bunny, a giant chocolate egg, and pastel paintings.
Their Easter theme tie-in is fun and energetic. Despite the effort and care they've put in, there is no special discount in their Easter email.
Easter email example 2: Boden
Subject Line: Go straight to size (and basket): Up to 40% OFF sale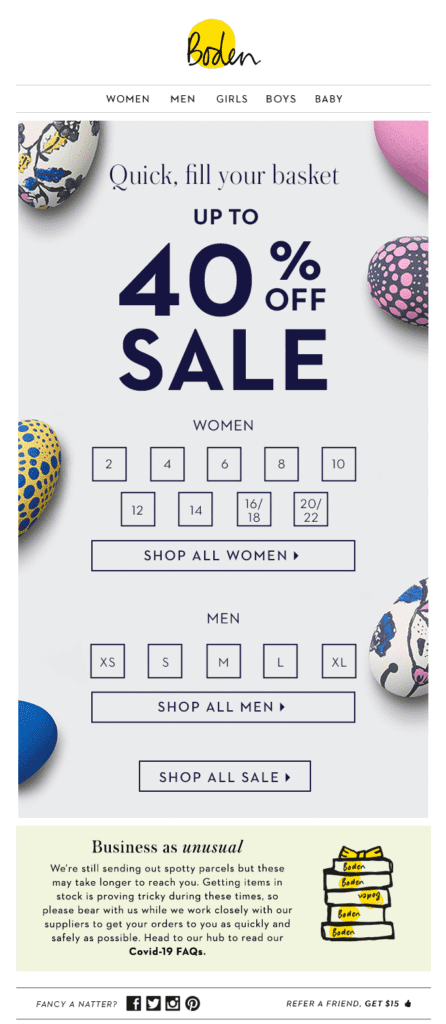 Boden brings a massive 40% discount to shoppers interested in their British apparel brand.
Their Easter email offer is an enticing site-wide sale. The background photo of intricately painted Easter eggs is friendly and inviting. It makes this rather sales-y email more colorful and interesting.
Related reading: Cinco de Mayo email
Easter email example 3: PSD2HTML
Subject Line: Join the special Easter discount hunt at PSD2HTML.com!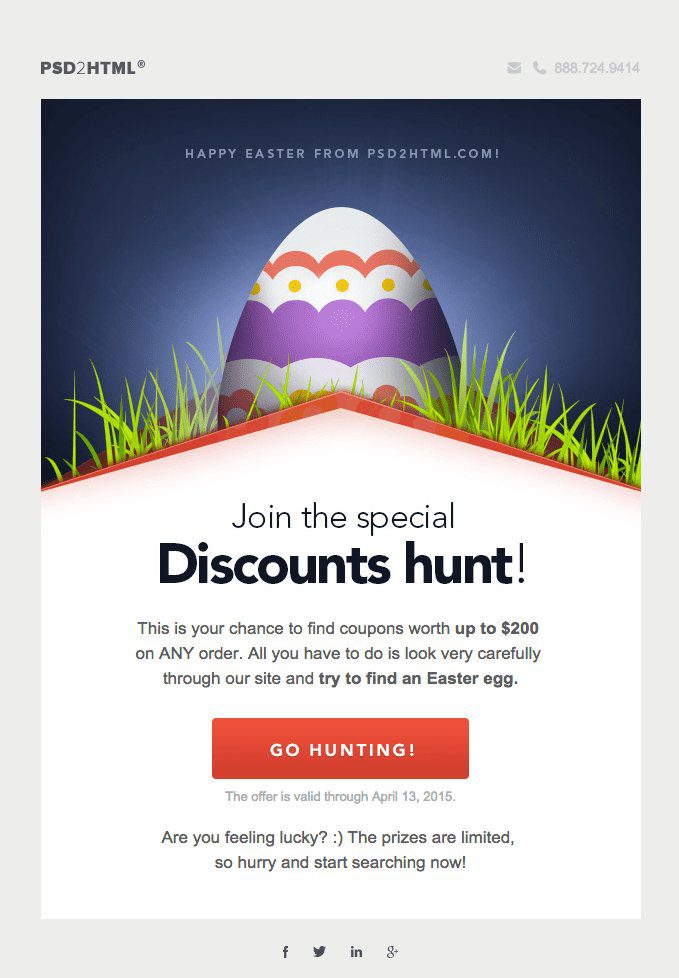 PSD2HTML invites its customers to go on an Easter egg hunt for the best discounts. In return for browsing through their site their customers stand to win a hefty discount coupon.
Their CTA inspires its customers to start their own deal hunt with the words, "Go Hunting!"
Easter email example 4: Tattly
Subject Line: DIY Tattly Eggs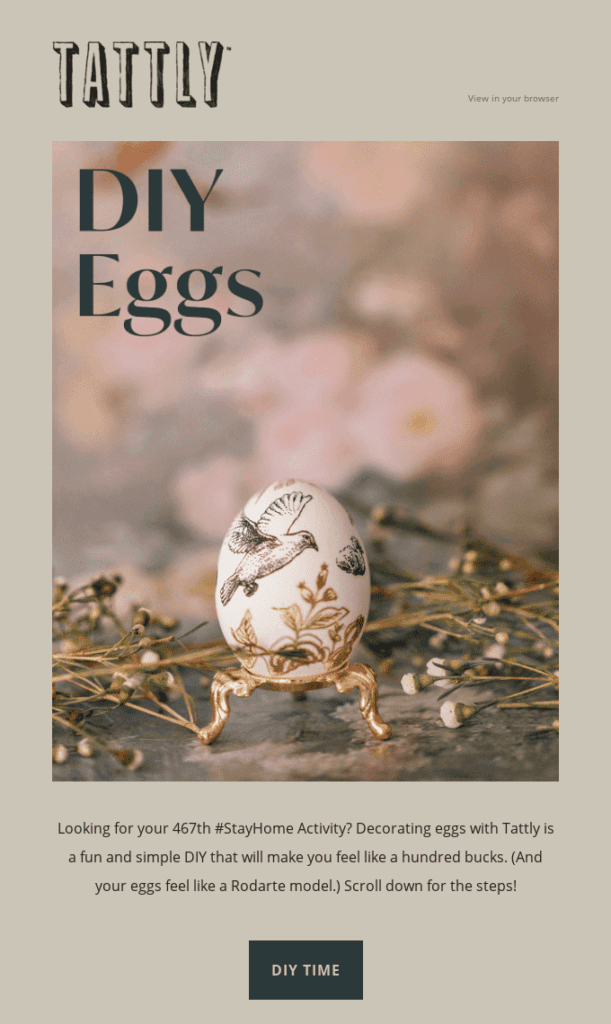 Tattly took a unique approach with their Easter email. Instead of applying the temporary tattoos they sell to your body, they've encouraged their customers to tattoo their own Easter eggs.
Easter email example 5: Fancy Sprinkles
Subject Line: Easter Sale Ends Tonight!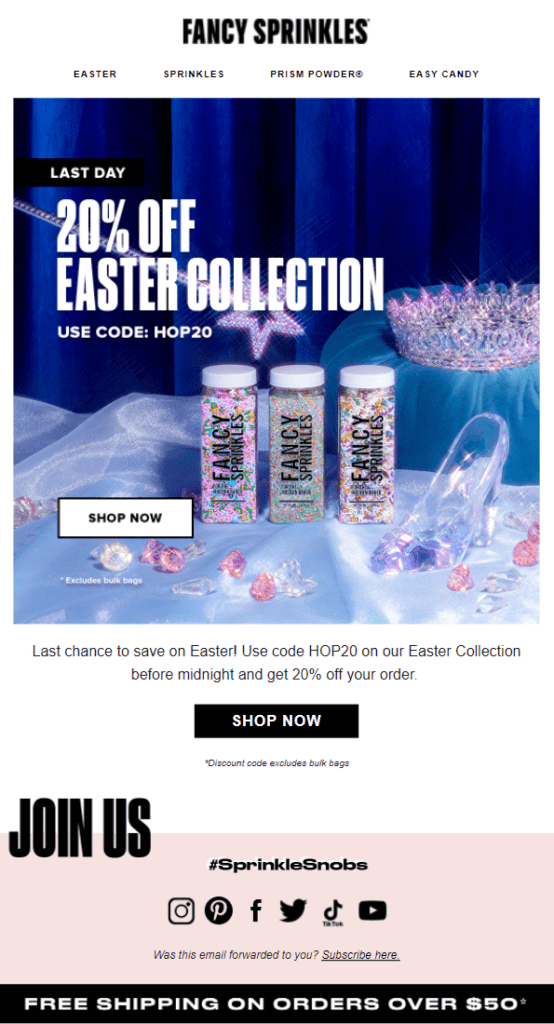 Fancy Sprinkles created their own Easter collection of sprinkles that wonderfully conveys the bright colors and light-hearted nature of an Easter holiday party.
Easter email example 6: Wightlink
Subject Line: Say bye to boredom this Easter

Wightlink arranged their own Easter themed family travel guide. There are no eggs, chocolate bunnies or pastel colors in this email. They've focused entirely on adventure and fun with the whole family.
Easter email example 7: Jackpot Candles
Subject Line: Easter Basket stuffers? We gotchu!

Jackpot Candles provides an adorable selection of Easter and spring-themed candles in their Easter email.
Their Easter subject line appeals to shoppers that want to fill their Easter baskets with new goodies.
Their discount coupon "Bunny25" is a cute and memorable play on words.
Get Your Free Easter Email Template by Brevo
Brevo has an awesome selection of free email inspiration, including this free Easter email template:

This Easter template is just waiting to be customized with our intuitive, drag-and-drop email designer. Create your free account to get started!
Access your free Easter email template
Free plan includes access to all core email features, 300 emails/day, 40+ email templates, and customizable signup forms to grow your email list.