Celebrate Earth Day with an effective Earth Day email marketing campaign. Here are a few Earth Day subject lines and marketing ideas to get you started.
Earth Day is coming up on April 22nd. Now is the ideal time to showcase your brand's commitment to sustainability.
Honor Planet Earth by promoting eco-friendly products. Share news about your company's green initiatives. Or highlight environmental issues and encourage subscribers to have a positive impact on our planet.
Even more than other holiday marketing campaigns, Earth Day is an opportunity to connect with customers using messages that matter to them.
Don't know where to start? Get inspired with these Earth Day subject lines and email campaign examples.
Calculate the carbon footprint of your Earth Day emails
Email has the lowest emissions compared to other online media channels like video. Want to learn more? Estimate your Earth Day email campaign's impact on your carbon footprint with Brevo's carbon emissions simulator.
General Earth Day Subject Lines
Make your Earth Day marketing campaign pop with an eye-catching email subject line. Use clever wordplay or Earth Day puns. Or engage subscribers with an inspiring Earth Day greeting.
Here are a few general Earth Day email subject lines to get you started.
Every day is Earth Day
Join us on Earth Day
This Land Is Your Land
Green is the new black
Make a difference this Earth Day
Climate action starts with you
This Earth Day: Reduce, reuse, recycle
Every step matters: the fight for future generations
Planet Earth needs us now more than ever
Together, we can make a difference
Celebrate like it's your B-Earth Day
Celebrate Earth Day today and every day
Why we celebrate Earth Day, every day
How are you celebrating Earth Day?
Spotlight on climate action this Earth Day
Earth Day Sale Subject Lines
Earth Day is the perfect holiday to offer limited-time discounts and promote eco-friendly products.
For all your Earth Day promotions, be sure to grab attention. Make your sale stand out with these Earth Day email subject lines.
Earth Day sale ends tonight: Last chance to save
Shop our Earth Day collection
Shop these Earth Day deals before they're gone
Save energy (and money) this Earth Day
Don't miss out on these Earth Day savings
Celebrate Earth Day with 50% off
Reduce your impact, max out your savings
Get a free eco-friendly gift with every purchase
Discounts on all eco-friendly products
This Earth Day, save big on all eco-friendly products
25% Earth Day sale extended
Take 15% off every order in honor of Earth Day
Make your Earth Day resolution come true with our sale
Earth Day free shipping ends today
Final moments of our Earth Day Sale
Try Brevo's AI subject line Assistant
Give your subject lines a fresh boost with the power of AI. Brevo's AI Assistant is a free creative resource that makes email marketing that much easier. Available in our Email editor, learn more here.
Earth Day Subject Lines With Emojis
Emojis in email subject lines are a great way to make your campaign stand out. Complement your Earth Day subject line with globes, plants, and other eco-friendly images.
Check out these Earth Day email subject lines with emojis for more ideas.
Happy Earth Day 2023 🌍
Help us plant 10,000 trees 🌳
Buy one, plant one 🌱
This April, help us make a difference 🤝
How are we helping our planet? 🌎
Discover how we're reducing our impact 📉
Earth Day special: free shipping site-wide 📦
The clock's ticking on Earth Day savings ⏳
Earth Day flash sale ends soon ⏰
Together, we made this year matter 🌿💦
Recycle these ideas this Earth Day ♻️
This Earth Day, join our movement 🌱🧑‍🤝‍🧑
Let's fight for our planet together 🌍🌊
💚 Shop green this Earth Day 🛍️
🌻 All Earth Month long, shop sustainably 🌻
5 Earth Day Email Examples
This April, make Earth Day a part of your email marketing strategy. Whether you're an ecommerce site or non-profit, anyone can send an Earth Day email newsletter.
Don't know where to start? Here are a few examples to inspire your Earth Day email campaigns.
1. Create an Earth Day email template
Make your Earth Day campaign stand out with a holiday email marketing template. Use earthy hues, such as greens, browns, and blues. Add leaves, trees, and other eco-themed graphics.
For example, this campaign from Starbucks incorporates Earth Day imagery in its iconic email design.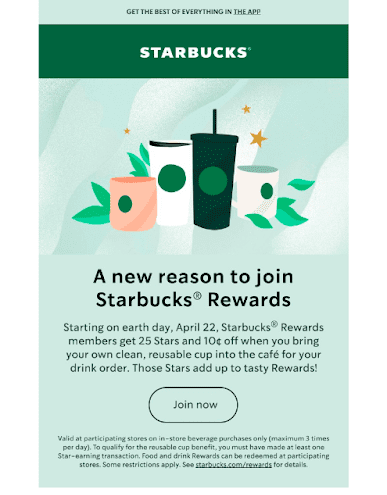 2. Show how your eco-friendly products make a difference
One of the best ways to demonstrate your positive impact is to let your products speak for themselves. Showcase your company's commitment to sustainability in the design, packaging, or distribution of your products.
Check out this Earth Day email example highlighting Nest's sustainable impact for inspiration.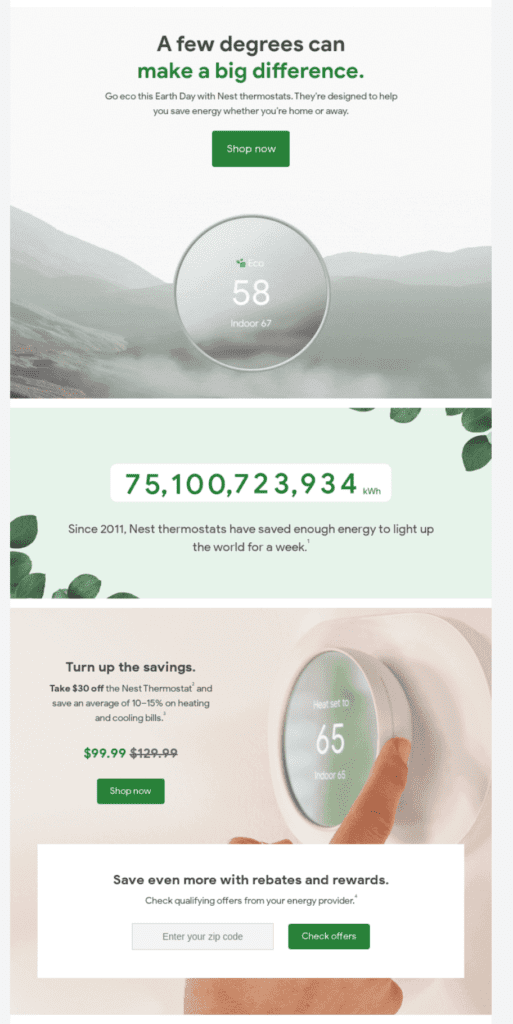 3. Offer an Earth Day freebie
This April, delight customers and drive sales by offering an Earth Day freebie. Consider throwing in an eco-friendly product or Earth Day discount.
This Earth Day email marketing campaign from Bespoke Post offering free tote bags is a good example.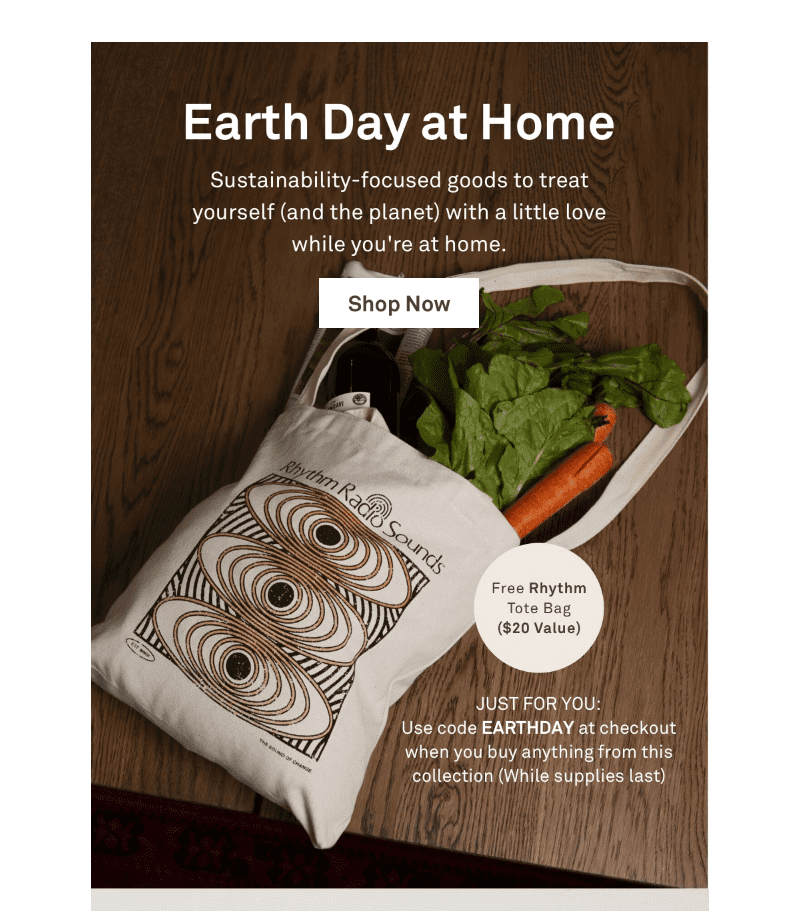 4. Share tips about sustainability
With the rising need for climate action, many people are looking for advice on sustainable living. Make it easier for your customers — share your best tips in your Earth Day email newsletter campaign.
For example, this Earth Day email from Thinx gives subscribers pointers on how to be more eco-friendly.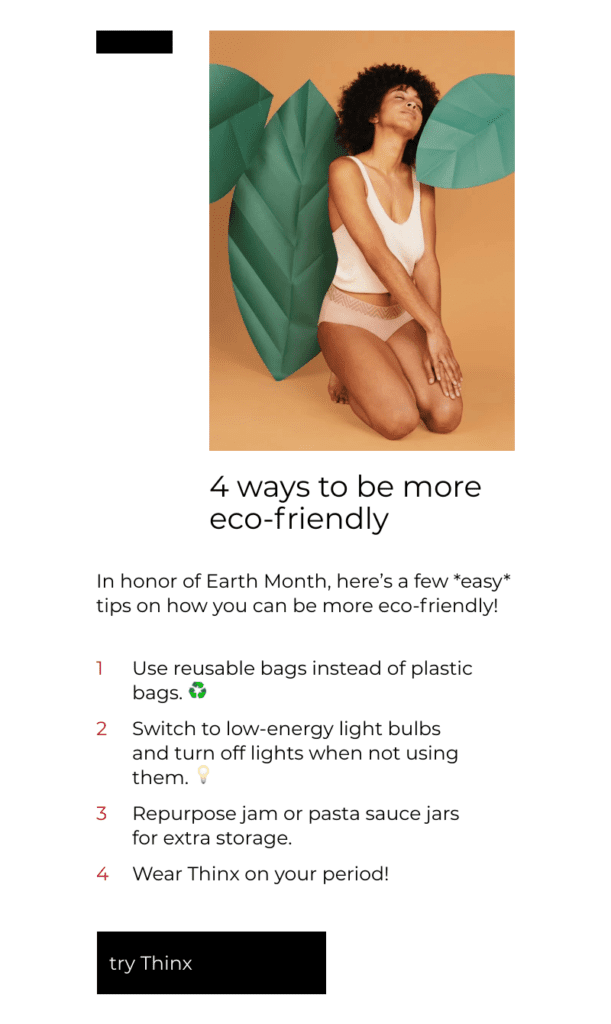 5. Run promotions throughout Earth Month
Earth Day is April 22nd — but all of April is Earth Month. Why not run environmentally themed promos throughout this period?
For instance, this Earth Day email from Gobble encourages customers to celebrate Earth Month with their vegetarian meals.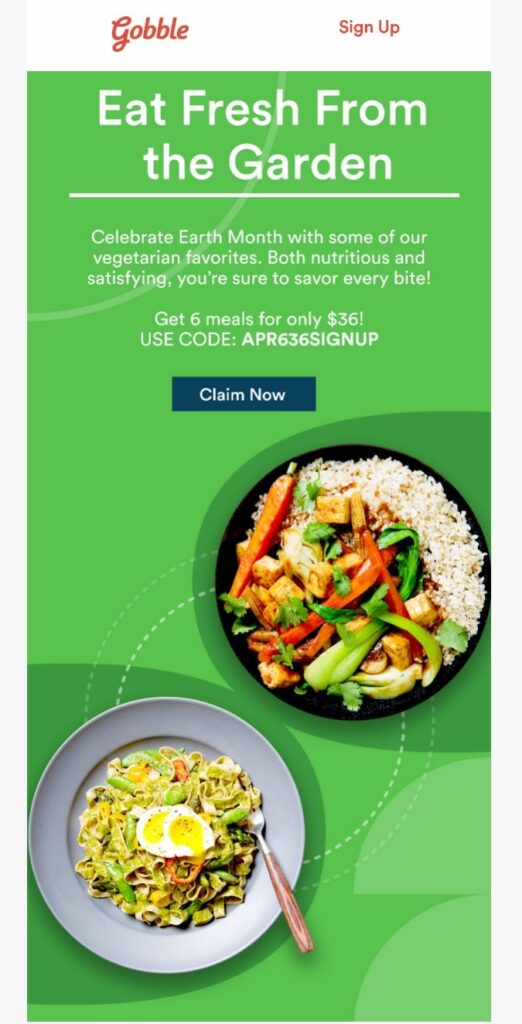 2023 Holiday Marketing Calendar
Downloading this calendar means you're signing up to our monthly newsletter, too. If you don't feel like getting regular marketing tips delivered to your inbox, you can always unsubscribe. 😉