Is conversational marketing just another buzzword in digital marketing lingo? Sure, it's a broad term but expect to hear it more and more. Chat is consumers' preferred way of communication with businesses (66%) and 45% of companies already have some conversational marketing efforts in place.
The way we do business was changed by the global pandemic. Online presence is the norm even for small businesses now. What was once only possible face to face (consulting, sales advice, fittings) is now being sought online. Going to a physical location to ask a question is a thing of the past, especially among millennials and Gen Z.
This is where conversational marketing comes in to provide live interaction, online. Let's look in detail what conversational marketing is and how you can use it for your business.
Definition: What Is Conversational Marketing?
Conversational marketing is a way of communicating with current and potential customers. It consists of one-to-one conversations, usually done via live chat on your website or messaging apps. You can use it to assist, nurture, and move prospects through the sales funnel.
How so?
Conversational marketing online is the equivalent of talking to customers in your physical store or office. Whether with chatbots or live agents, it's a two-way dialog that adds value in the form of customer support, answering questions, and ultimately helping website visitors buy.
A direct line of communication is not just a part of an ecommerce marketing strategy. Even if you don't sell online, giving people one more way to reach you and ask questions moves the sales process along. It helps build relationships with interested visitors and develop your brand image.
Conversational marketing can be both inbound and outbound. Inbound marketing is when people come to you, for example looking for more information. Outbound marketing is when you reach out to potential customers, e.g. chat pops up on a page to offer a first-order discount.
🔍WhatsApp marketing is also a kind of conversational marketing because it also allows two-way communication.
Advantages of Conversational Marketing
How is conversational marketing different from other forms of communication?
Real-time 1:1 interactions
Answering visitor questions in real time as if they were talking to a sales rep at the store. On the other hand, it can work asynchronously too: the customer can take their time to ask their next question or make a decision. A new conversation can be started at any time.
Scalability
Conversational marketing can be scaled with automated responses and chatbots. This way, you can offer 24/7 support, a great convenience for your contacts, without hiring extra people. It's a way for small businesses to grow beyond their current limits.
More conversions
Conversational marketing helps with conversions. It gives you a direct line of communication with buyers so you can persuade them. When people are hesitant, you can step up and complement the website, much like a sales assistant would do in a brick and mortar shop.
Visitor gratification and convenience
Conversational marketing makes it easy for people to find what they're looking for. They don't have to go through the whole website searching for information. Your product experts can recommend the most suitable product or variant (e.g. size) and the customer will be confident in the purchase. The result? Happier customers and less returns..
In fact, most people prefer live chat to any other form of customer service. It's low risk and requires little effort on their part, unlike phone support or going to a physical location. By giving them a convenient way to contact you, you already are building a positive relationship. In contrast, being inaccessible and unreachable turns people away.
Complement your other marketing channels
Use it to provide extra information and individual service on demand such as live sales assistance or post-purchase support. It's a way to purposefully guide the customer journey with meaningful conversation and personalized experiences.
Reach your customers where they are
With the right marketing tools, you can run conversational marketing on messaging and social media apps as well as on your site. Thus, customers can reach you from the platform they're most comfortable with and receive your replies there, without any extra effort on your side.
Humanize the customer experience
A live chat on your website creates a more direct connection with site visitors. It gives a more human face to your business, even online. This coupled with the fact that they actually talk to people (at least in some cases 😉) makes your brand accessible and likable.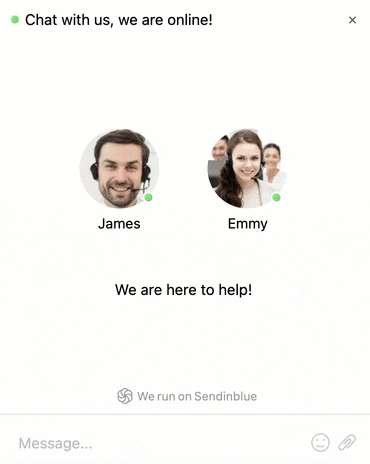 To top it off conversational marketing has room for a lot of personalization when talking to a customer. If you use an integrated CRM, you can draw customer insights (previous orders, location, spending habits, etc.) to provide tailored service.
What Do Conversational Marketing Solutions Look Like?
Conversational marketing platforms are also known as live chat software. They typically include manual and automated features:
Live chat: people responding to chat queries in real time
Canned responses: automated answers to FAQs, welcome and away messages
Chatbots: canned responses triggered by customer input (see more chatbot examples)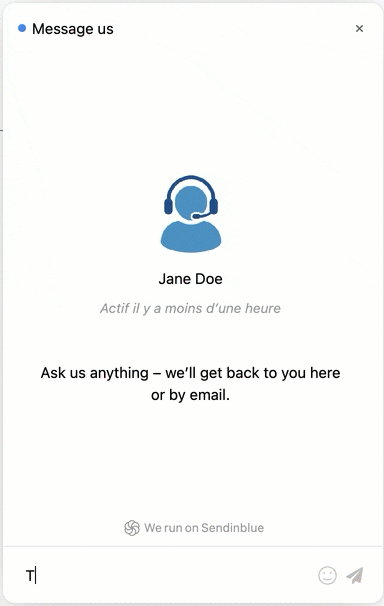 💡Facebook Messenger /Instagram direct messages also count as conversational marketing. So it's best to manage all chats from one place — a shared inbox for conversations.
Use Cases for Conversational Marketing
Not sure conversational marketing is right for your business? Here are some possible conversational marketing examples to consider:
Ecommerce: sales and purchase assistance, post-purchase support, loyalty programs
Service-based businesses: lead generation, qualification and nurturing (give additional resources and information)
Physical businesses: appointment bookings, table reservations, etc.
SaaS: 24/7 customer support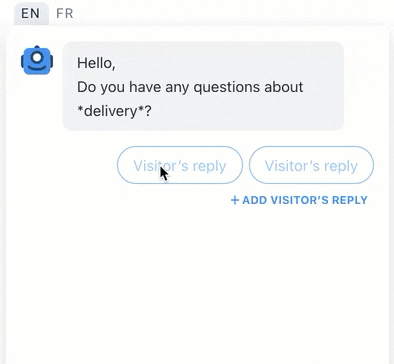 Conversational Marketing Strategies for Small Businesses
Now that we've cleared what conversational marketing is, let's look at successful strategies you can implement to make it work for your business.
1. Proactively start conversations with site visitors
Set up a welcome message to draw their attention to the chat option. Or make sure to pop up on specific landing pages where you know people need help or a little nudge. e.g. pricing or delivery terms.
2. Use automation
Simple automated responses can answer FAQs to take some of the load off of you or cover the bases outside working hours so visitors don't feel completely neglected. Your sales cycle will speed up even with a small team.
3. Personalize the customer journey
Set up triggers to offer relevant help for various scenarios, e.g. first site visit, a returning customer, specific page being visited. Thus, each visitor's experience is unique and based on their actions.
4. Use for lead generation
Conversational marketing can work as a lead gen form. Then, you can follow up on other marketing channels (email marketing, Facebook retargeting, SMS, WhatsApp, etc.). That's truly a multichannel approach.
5. Draw insights from customer interactions
You can learn a lot from talking directly with your customers. It's the perfect opportunity for market research and you're free to ask questions. See what they struggle with and what part of the site you can optimize.
6. Combine automation and live chat
Don't discard one for the other, both tools have their place! One speeds up customer service and makes it possible at scale, but the other provides premium care.
7. Connect your conversational tool to your CRM
This will enable you to use the first-party data gathered from the conversation. You'll be able to further tailor the conversation with order history and website interactions insights, and enrich your multichannel communication.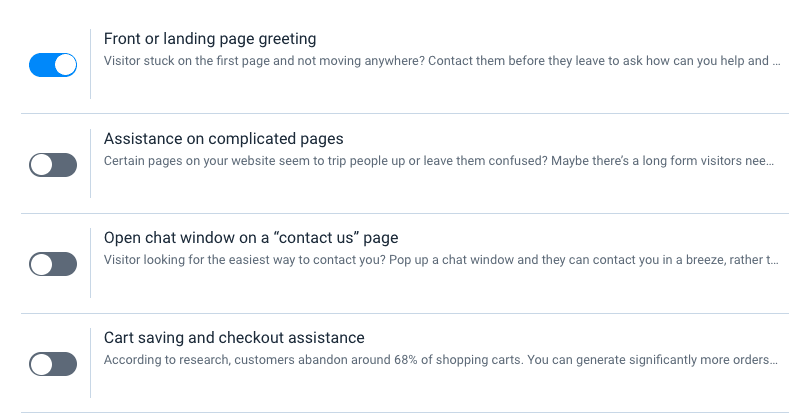 Conversational Marketing Tips to Get You Started
Conversational marketing sounds like a solid addition to your marketing efforts, doesn't it? Here's our top advice before diving in.
Find out more about Brevo Conversations.
Start small with what you can cover in terms of channels and purpose, and add more as you learn and grow. Otherwise you risk stretching yourself too thin.
Plan the customer experience you want to provide and the necessary touchpoints to complete it. Think of what information the customer needs at every step, and how to enhance what's already on your website to convert them.
Prepare scripts or at least rules for customer communication in various situations for a unified brand image and consistent quality.
If you can't offer live chat to your customers yet, use automation to tailor their experience in response to their actions. It may not be a true conversation but it'd be more personalized, relevant and well-timed.
It's best to integrate all messaging channels (social media, website chat, messaging apps) into one shared inbox for your team to manage.
Conversational marketing delivers better customer experience because it gives people a direct connection to your team. Even in its simplest form, it has the potential to increase your conversion rates and customer satisfaction.
Start chatting with your customers
Brevo offers a live chat widget on its free plan! Enjoy easy setup and brand customization, unlimited chats, CRM, and integrations for Facebook & Instagram.